Asiago Meatball Parmigiana with Garlic Roasted Broccoli
We LOVE Italian food in this house… I mean seriously.  I feel like the first thing people smell when they come over is garlic lol.  These recipes were a Pinterest find (as are most of my recipes)… and they will definitely be on our regular dinner rotation from now on!  Here's the original blog with the meatball recipe…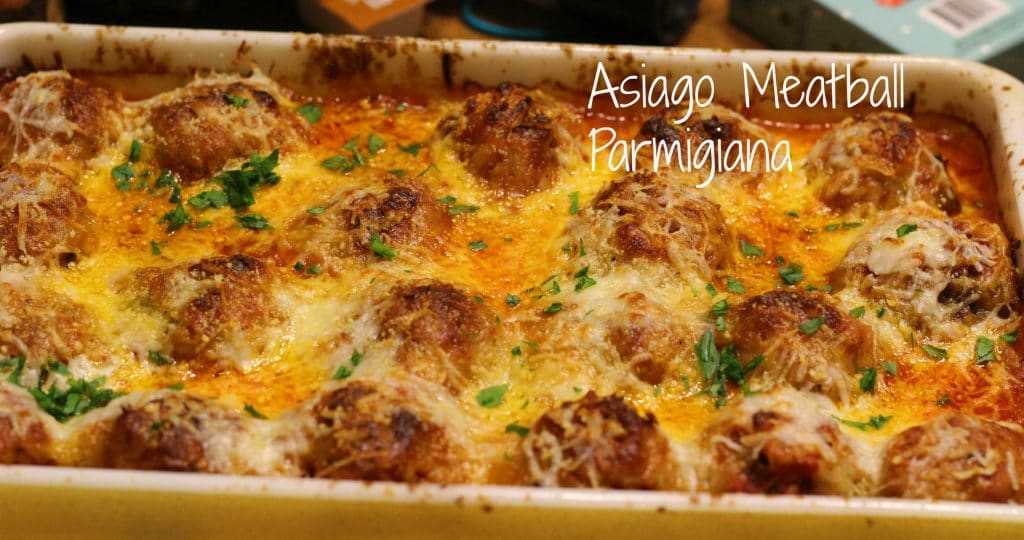 Now, as always, I have an innate inability to follow a recipe… I have to add my own spin on things.  So I added 2 extra cloves of garlic to the meatballs (what'd I tell you about the garlic?), a pinch more asiago cheese, some basil and garlic powder to my jarred pasta sauce, and more mozzarella cheese on top of the meatballs (because too much cheese is never a problem in my house lol).
The broccoli recipe is here:
http://damndelicious.net/2014/09/19/garlic-parmesan-roasted-broccoli/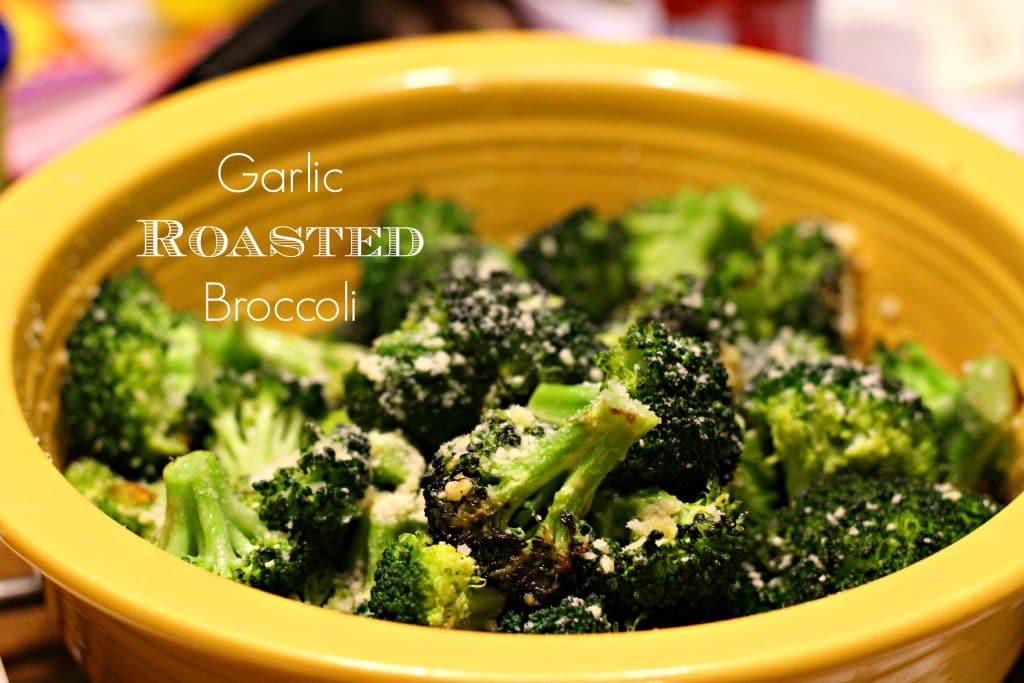 This one I actually had all intentions of following the recipe, it looked perfect!  But, I completely forgot to add the lemon juice… it was still completely delicious without it, but next time, I'm definitely going to remember it 🙂
I served some garlic knots (frozen… gasp!) and it was a hit with everyone.  Even my picky 5 year old and 1 year old chowed down.  And bonus, it made a lot, so there are plenty of leftovers!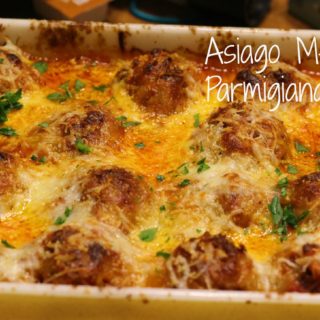 Baked Asiago Meatball Parmigiana
Classic Italian flavors combine in this hearty dish!!
Ingredients
1/2 lb ground pork
1 lb ground beef
6 cloves garlic - minced
1 cup Italian breadcrumbs
1 cup shredded Asiago cheese
Handful of fresh parsley - chopped
2 eggs
salt and pepper - to taste
1-2 jars of marinara sauce of your choice
1/2-1 cup shredded mozzarella cheese
Instructions
Mix ground meats, garlic, breadcrumbs, Asiago cheese, parsley, eggs, salt and pepper, and form meatballs (about a golf ball size).

Coat a rimmed baking pan with olive oil, place meatballs on pan. Bake at 400 degrees for 20 minutes. Lower temperature to 375 degrees.

Pour some of your marinara sauce in the bottom of your 13x9 baking dish. Lay cooked meatballs on top of the sauce.

Cover with the rest of your marinara sauce and sprinkle mozzarella cheese over the top. It should be covered in cheese.

Cover dish with foil and bake at 375 degrees for 20 minutes. Remove foil and bake an additional 20 minutes.

The last 5 minutes or so, you can raise the oven temperature back to 400 degrees to help get the cheese golden brown. Alternatively, you could also use your broiler for a few minutes after it's done baking.
Notes
Recipe from http://hugsandcookiesxoxo.com/2014/03/baked-meatball-parmigiana.html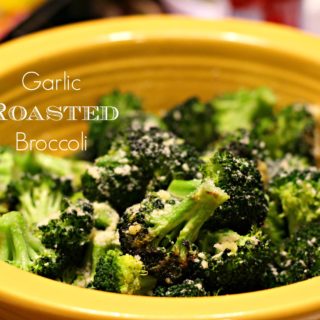 Parmesan and Garlic Roasted Broccoli
Roasting vegetables is a great way to bring out and heighten their flavor! If you haven't tried roasting vegetables, this recipe is a great place to start. And even if you're a pro at roasting... you should still give this one a try, you won't be disappointed!
Ingredients
5 cups broccoli florets
3 Tbsp olive oil
4 cloves garlic minced
1/4 cup Parmesan cheese grated
1 lemon juiced
1/2 tsp salt
1/4 tsp pepper
1/8 tsp red pepper flakes
Instructions
Preheat oven to 425 degrees. Line a baking sheet with aluminum foil and spray lightly with cooking spray.

Place broccoli florets in a large ziploc bag. Add olive oil, garlic, salt, pepper, and red pepper flakes. Close bag and shake well to coat all the florets.

Lay the broccoli florets in a single layer on the baking sheet.

Bake for 10-12 minutes, until tender and slightly golden brown.

Remove from oven, sprinkle with Parmesan cheese and add the lemon juice.