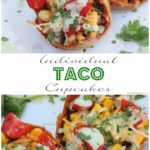 Print Recipe
Homemade Taco Seasoning
You can have your own taco seasoning without having to worry about what's in those packets. Easy to put together, easy to store, and tastes fantastic!
Stir it all together and store in an airtight container (I use a leftover spice bottle).

For use with 1 lb of ground beef, use approximately 3 Tbsp. of the mixture and 2/3 cup of

water. Basically the way you'd usually make tacos, just instead of the packet, use 3 Tbsp. of

your seasoning mix.