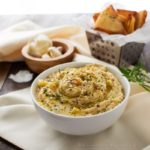 Print Recipe
Easy Roasted Garlic Hummus
Creamy, rich hummus with a deep, slightly sweet roasted garlic flavor. Whip it up in the food processor and enjoy it with some crispy pita chips or naan!
1

large head roasted garlic

recipe below

2

Tbsp

olive oil

preferably extra virgin

1

oz

can chick peas

drained and rinsed, 15

3

Tbsp

fresh lemon juice

3

Tbsp

tahini paste

1/2

tsp

salt

or to taste

tsp

scant 1/4 ground cumin

1/2

tsp

fresh rosemary

minced

2 - 3

Tbsp

water

GARNISH:

Minced fresh parsley

Minced roasted garlic

Drizzle of olive oil

Sprinkle of sumac or cayenne pepper

optional
To a food processor add chick peas, lemon juice, tahini paste, salt, cumin and rosemary, and pulse for about 1 minute.

Scrape down sides and bottom of food processor, add about 3/4 of the roasted garlic, (set the rest aside to mince for garnish). Pulse until combined.

While the food processor is on, stream in 2 Tbsp olive oil and 2-3 Tbsp water. 3 Tbsp will yield a slightly thinner hummus and 2 Tbsp will yield a slightly thicker hummus. I usually use between 2-3. Pulse until desired smoothness is reached.

To serve, place hummus in a dish, make slight indentations and drizzle with olive oil. Sprinkle with desired garnishes and serve with fresh pita, naan, pita chips or vegetables.

Keep refrigerated in an airtight container.
** Recipe adapted from Cooking Classy
** if your food processor doesn't allow for streaming liquids in while it's running, you can add the oil, pulse to combine, then add the water and pulse again.