Easy Roasted Garlic Hummus
---
Creamy, rich hummus with a deep, slightly sweet roasted garlic flavor.  Whip it up in the food processor and enjoy it with some crispy pita chips or naan!
---
Hummus is so easy to make and is guaranteed to be a party favorite!  Made easy in your food processor, you'll be making this over and over again!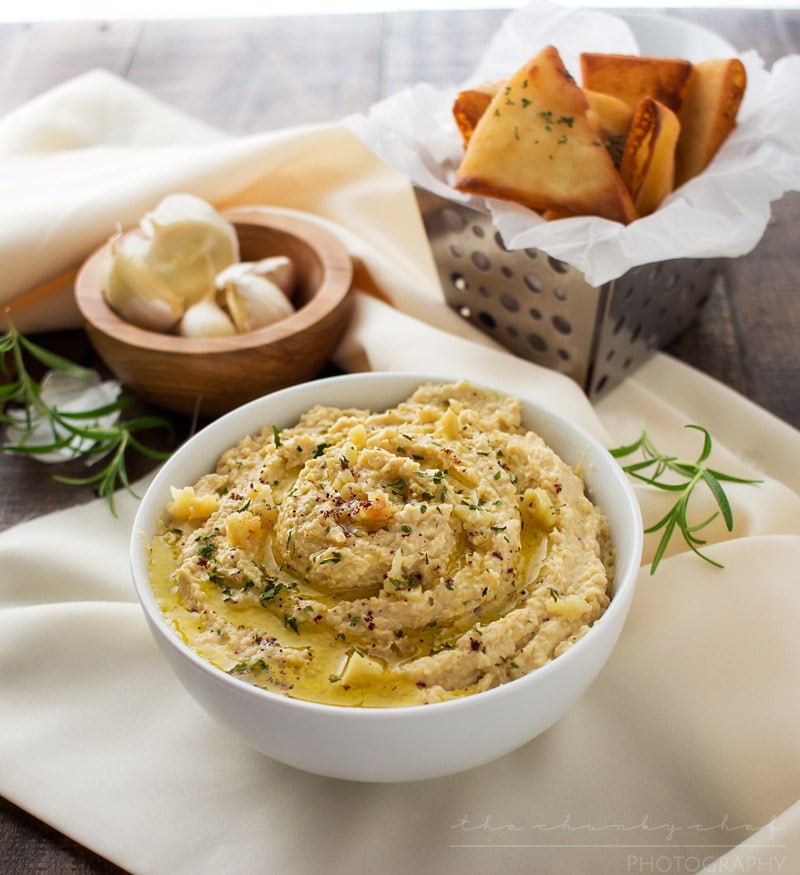 Hummus is one of those things that until I was in my mid-twenties, I'd never tried before.  Not really sure why… maybe I just wasn't sure what it was.  Once I tried it… oh man.  I fell in food-love!  There's so many great varieties of hummus, but my personal favorite has got to be roasted garlic.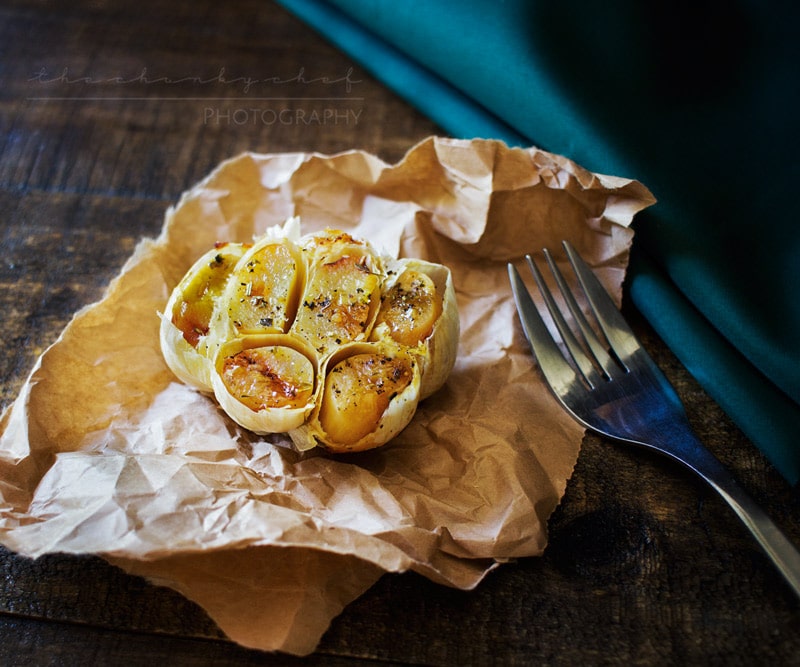 Have you ever roasted garlic before?  If you haven't… walk run to the kitchen and do it.  Trust me, you won't regret it!  It's super easy to do, and the smell that fills your house… oh it's pure heaven.  Well, if you like garlic that is lol.
I've always been a garlic fan… could never have too much.  Thank God my husband is the same way!  But once you bake the garlic, it changes.  That sharp "hot" flavor of raw garlic is gone.  The cloves are transformed into luxuriously creamy, sweet, decadent and buttery little cloves of deliciousness!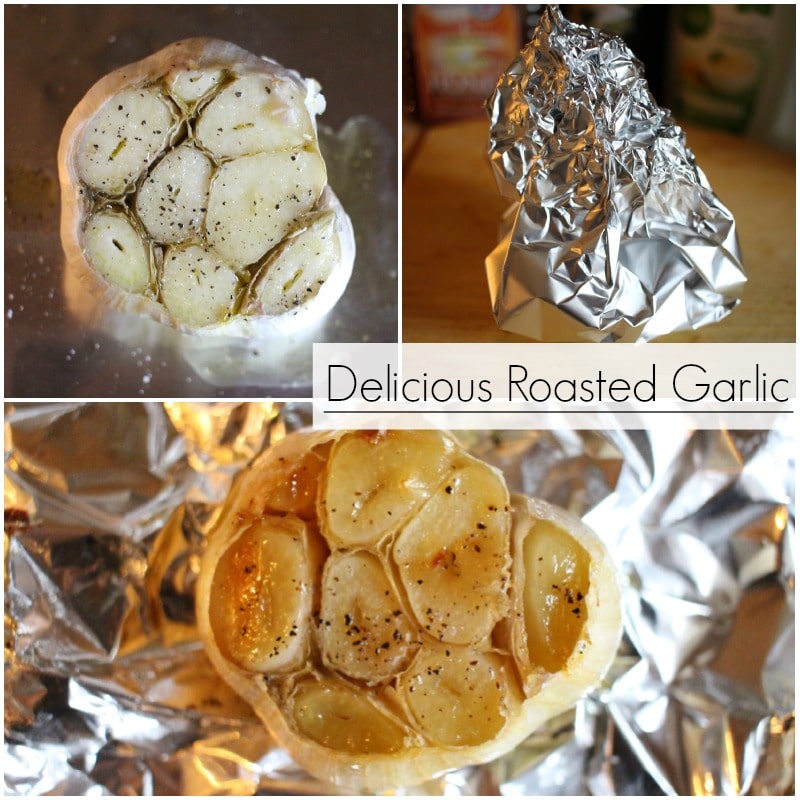 If you've never done it before… it's super easy!  Just take a head of garlic, peel off the loose paper layers, but leave the skin on.  Slice off 1/2″ or so off the top of the head (leaving the root end intact).  Place the garlic on a piece of foil, drizzle with olive oil and sprinkle with salt and pepper.  I also like to sprinkle a little herbs de provence on it as well.  Scrunch the foil up around the garlic and bake for about 40-50 minutes.
The cloves get golden and caramelized, super soft, and oh so fragrant!  Just squeeze the root end of the cloves and they'll just slide right out 🙂
I usually roast several heads of garlic and then store whatever I'm not using right away.  They keep in an airtight container in the fridge, and I usually pour in some olive oil.  That way it keeps the cloves moist and also doubles as a great way to get some amazing garlic infused oil 😉
Alright, I'll stop blabbing on about garlic and get to the actual hummus lol.  I love how easy this is to throw together, and comes together in about 5 minutes, which makes it perfect for entertaining, or when you have a snack craving!
Most of these ingredients are common and you probably have them in your pantry, with the exception of maybe one.  Tahini paste.  Made from ground sesame seeds, it's the key to having your homemade hummus taste authentic and just like the hummus from a restaurant or gourmet grocery store.  I found mine in the organic section of my grocery store and the one container has lasted me quite a while.
If you can't find it or prefer to do it yourself, here's a great homemade version!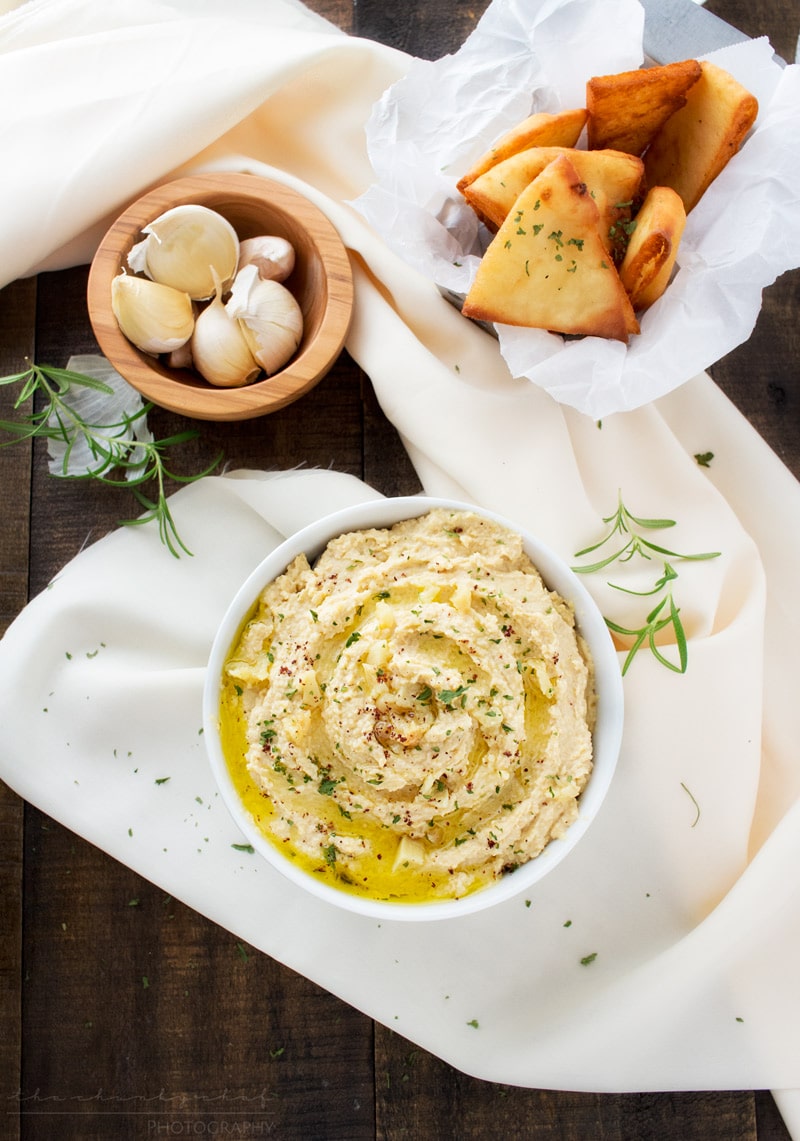 Just zip up your ingredients in your food processor and you're good to go!  I like to drizzle some olive oil on top and add some minced roasted garlic, minced parsley, and sprinkle a bit of sumac or cayenne pepper over the top.  Really makes all the flavors pop!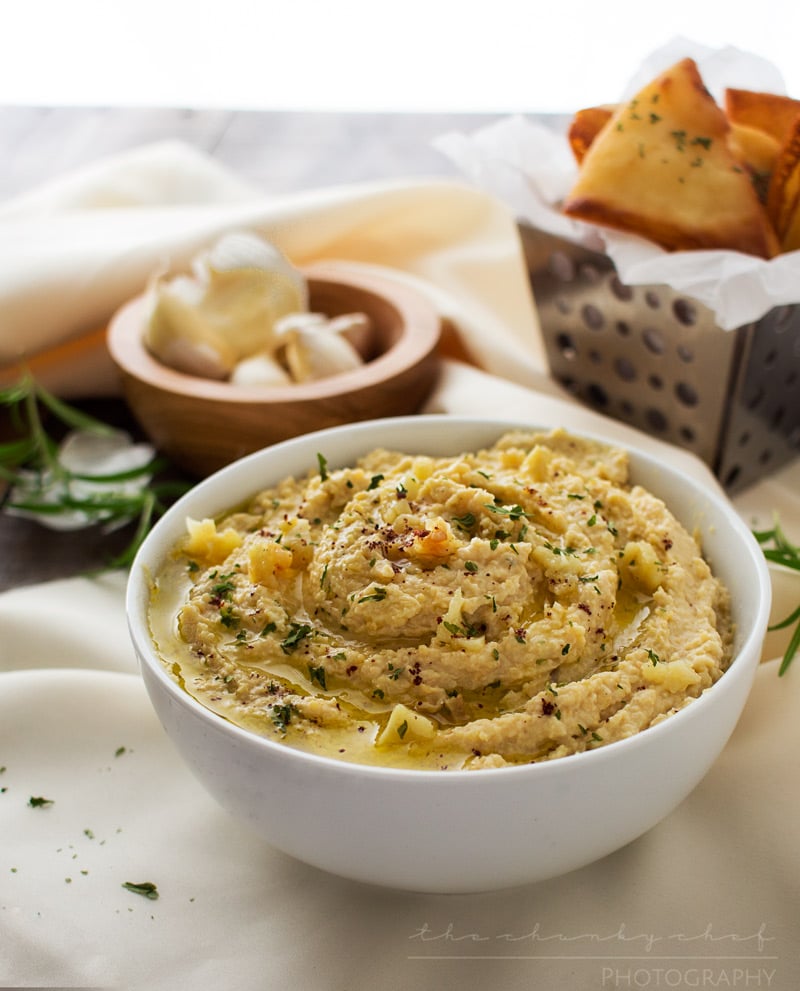 You can serve this hummus with just about anything you'd like…. some carrot and celery sticks, soft naan or pita bread, or crispy chips.  My husband likes his hummus on soft, pillowy pita breads… and I prefer mine on something crispy!  My favorite way is to slice some naan or pita bread into triangles and bake or fry them until they're crispy and golden 🙂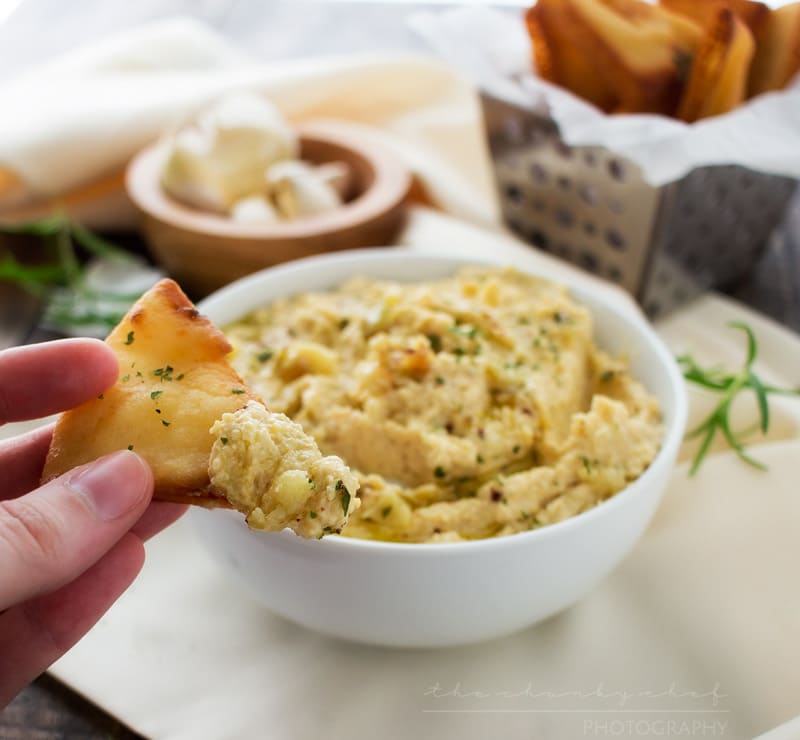 Don't you want to just grab that bowl and chip and go to town?  I had to keep re-taking this photo because I would get distracted and eat it lol.  #foodbloggerproblems 😉
I hope you guys try this one… I just know you'll fall in food-love like I did!
Recipe adapted from Cooking Classy
---
 Never miss a recipe!
[mc4wp_form]
You can find me on Facebook, Twitter, Pinterest, Instagram and Google +, so follow me if you'd like… I love keeping in touch with all of you 🙂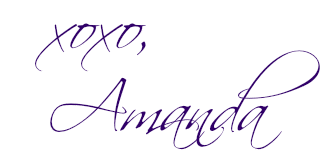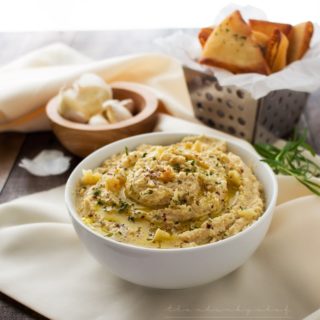 Easy Roasted Garlic Hummus
Creamy, rich hummus with a deep, slightly sweet roasted garlic flavor. Whip it up in the food processor and enjoy it with some crispy pita chips or naan!
Ingredients
1 large head roasted garlic - recipe below
2 Tbsp olive oil - preferably extra virgin
1 oz can chick peas - drained and rinsed, 15
3 Tbsp fresh lemon juice
3 Tbsp tahini paste
1/2 tsp salt - or to taste
tsp scant 1/4 ground cumin
1/2 tsp fresh rosemary - minced
2 - 3 Tbsp water
GARNISH:
Minced fresh parsley
Minced roasted garlic
Drizzle of olive oil
Sprinkle of sumac or cayenne pepper - optional
Instructions
To a food processor add chick peas, lemon juice, tahini paste, salt, cumin and rosemary, and pulse for about 1 minute.

Scrape down sides and bottom of food processor, add about 3/4 of the roasted garlic, (set the rest aside to mince for garnish). Pulse until combined.

While the food processor is on, stream in 2 Tbsp olive oil and 2-3 Tbsp water. 3 Tbsp will yield a slightly thinner hummus and 2 Tbsp will yield a slightly thicker hummus. I usually use between 2-3. Pulse until desired smoothness is reached.

To serve, place hummus in a dish, make slight indentations and drizzle with olive oil. Sprinkle with desired garnishes and serve with fresh pita, naan, pita chips or vegetables.

Keep refrigerated in an airtight container.
Notes
** Recipe adapted from Cooking Classy
** if your food processor doesn't allow for streaming liquids in while it's running, you can add the oil, pulse to combine, then add the water and pulse again.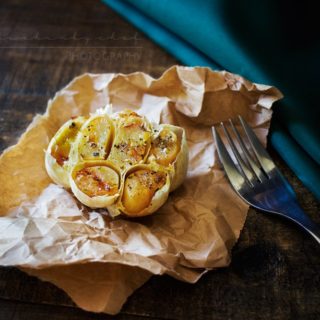 Roasted Garlic
Easily transform raw pungent garlic into decadent, creamy garlic with a deep roasted caramelized flavor. Perfect in so many dishes!
Ingredients
1 head of garlic
Olive oil
Salt
Pepper
Herbs de Provence - optional
Instructions
Heat the oven to 400 degrees and place a rack in the middle position.

Peel the loose paper off the garlic, leaving the tight paper skins intact. Keep the whole head together, don't separate any of the cloves.

Using a sharp knife, slice off the top 1/2" of the whole head of garlic, exposing the tops of the cloves.

Place garlic on a sheet of foil and drizzle the exposed cloves liberally with olive oil. Season with salt, pepper, and herbs de provence if desired.

Wrap the foil up around the garlic, place in baking dish and roast in the oven for 40-50 minutes.

Of course, exact roasting time will depend on the age, and size of your garlic.

To remove garlic from the paper cloves, just squeeze on the root end and the soft garlic will slide right out.

To store, place garlic cloves in an airtight container and keep refrigerated. Cover with olive oil if desired.
Notes
** Most garlic will be fully roasted between 40-50 minutes, but you can continue roasting for a deeper caramelized flavor if you want. Just be sure to keep checking the garlic every 10 minutes or so to make sure they're not burning.
** Easily adapt to roast as many heads of garlic as you need.