Just a few ingredients make up this luxuriously creamy roasted garlic cream sauce… perfect for dipping or swirled with your favorite pasta!
This is the ultimate cream sauce… decadently silky, creamy, and full of deep roasted garlic flavor!  
I have a small confession to make; one that may shock you.  I don't like alfredo sauce.  I know, it's just weird to not like it right??  My husband teases me about it big time lol.  For me, I guess I just love big, bold flavors, so I need some extra oomph in my pasta sauces.  I love all the components of a great alfredo sauce, butter, cream, and Parmesan cheese, but I just need… more!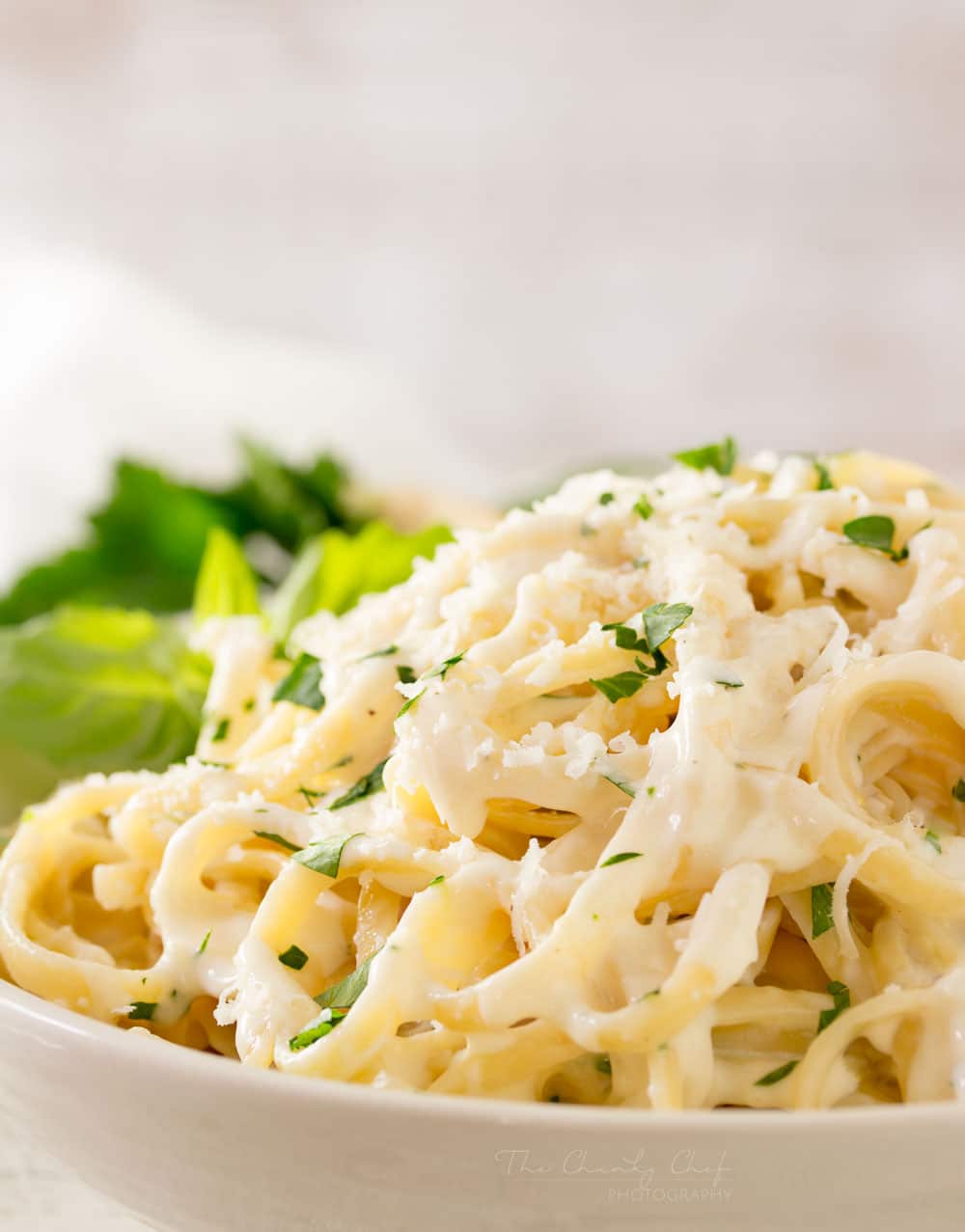 That's where this sauce came from, my need of something more.  Well, that and a restaurant we ate at once served their chicken parmesan with a garlic spaghetti that was just to die for!  I immediately came home from dinner and started brainstorming ideas to recreate that pasta!
The beauty of this cream sauce is that it also doubles as a fan-freakin-tastic dip for some crusty bread or breadsticks!  In fact, half of this batch was used for dipping… I just couldn't stop lol.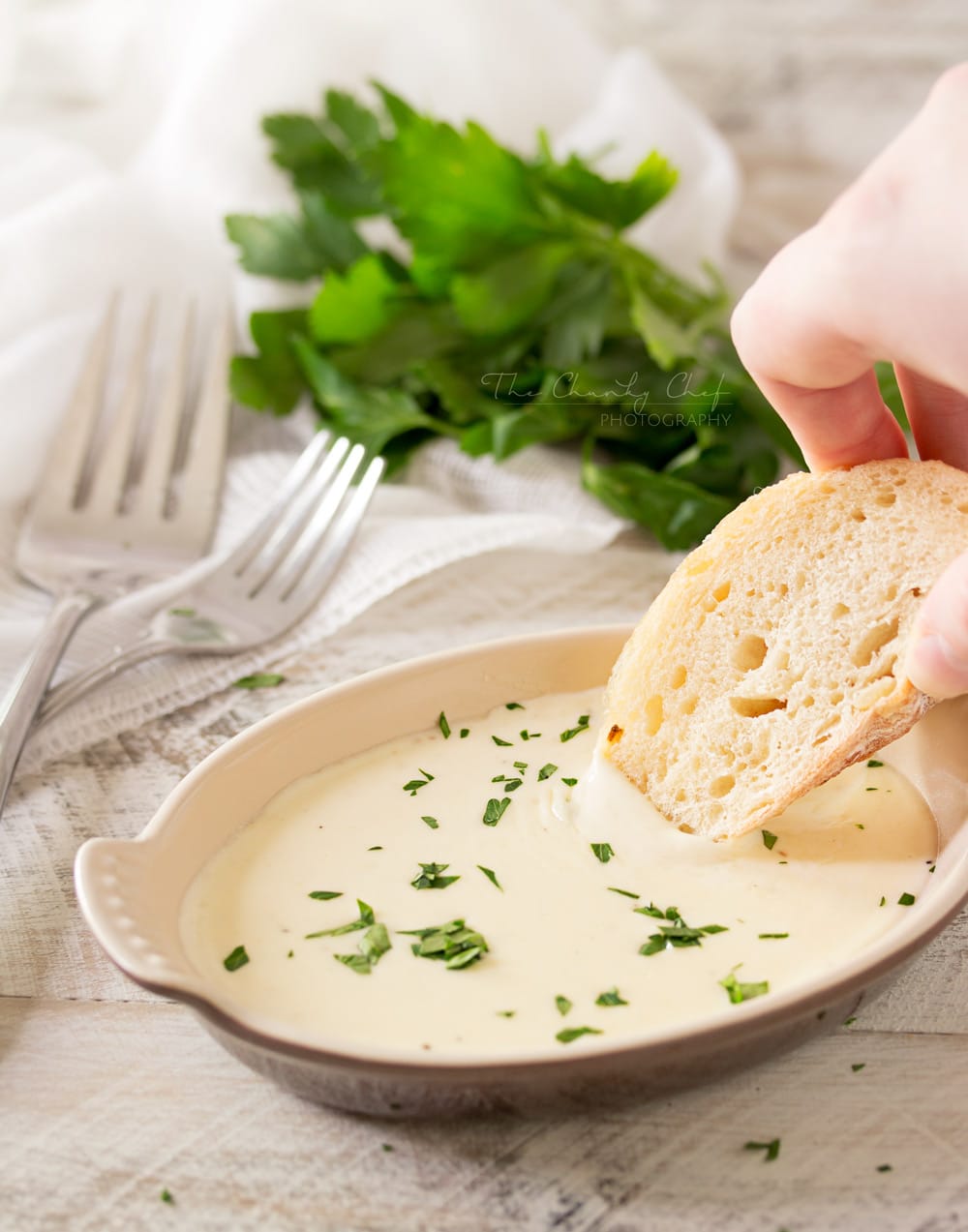 Like I mentioned, I like the big, bold flavors, so I literally use a whole head of roasted garlic here.  But feel free to temper that to your tastes 🙂  Looking for a foolproof method for perfectly roasted garlic?  I've got you covered here!  I typically roast several heads of garlic and keep the extra cloves stored in the fridge.
We have this cream sauce on pasta most of the time, but it's also good over some sauteed chicken breasts!  And it's amazing as a pasta sauce with some homemade chicken parmesan like the restaurant.  I'll probably have that recipe up here on the blog sometime over the next few months 🙂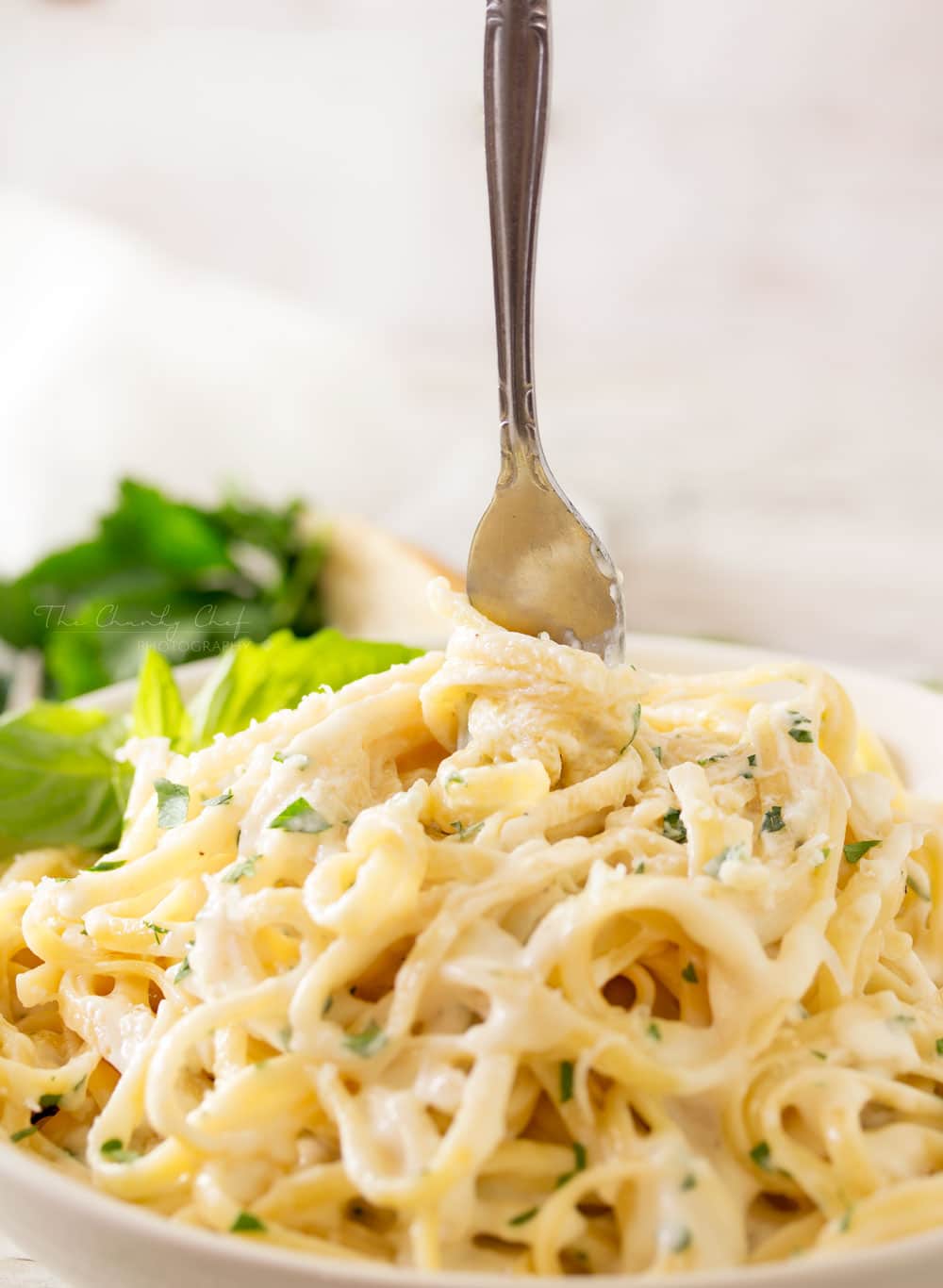 Maybe it's just my kids, but the roasted garlic flavor in this sauce doesn't phase them one bit.  They affectionately call this, "the pasta", and request it often!  I usually have to double the sauce and cook up 2 lbs of pasta!  Man my kids sure can pack away the food, lord help me when they're teenagers… I'll need a second job!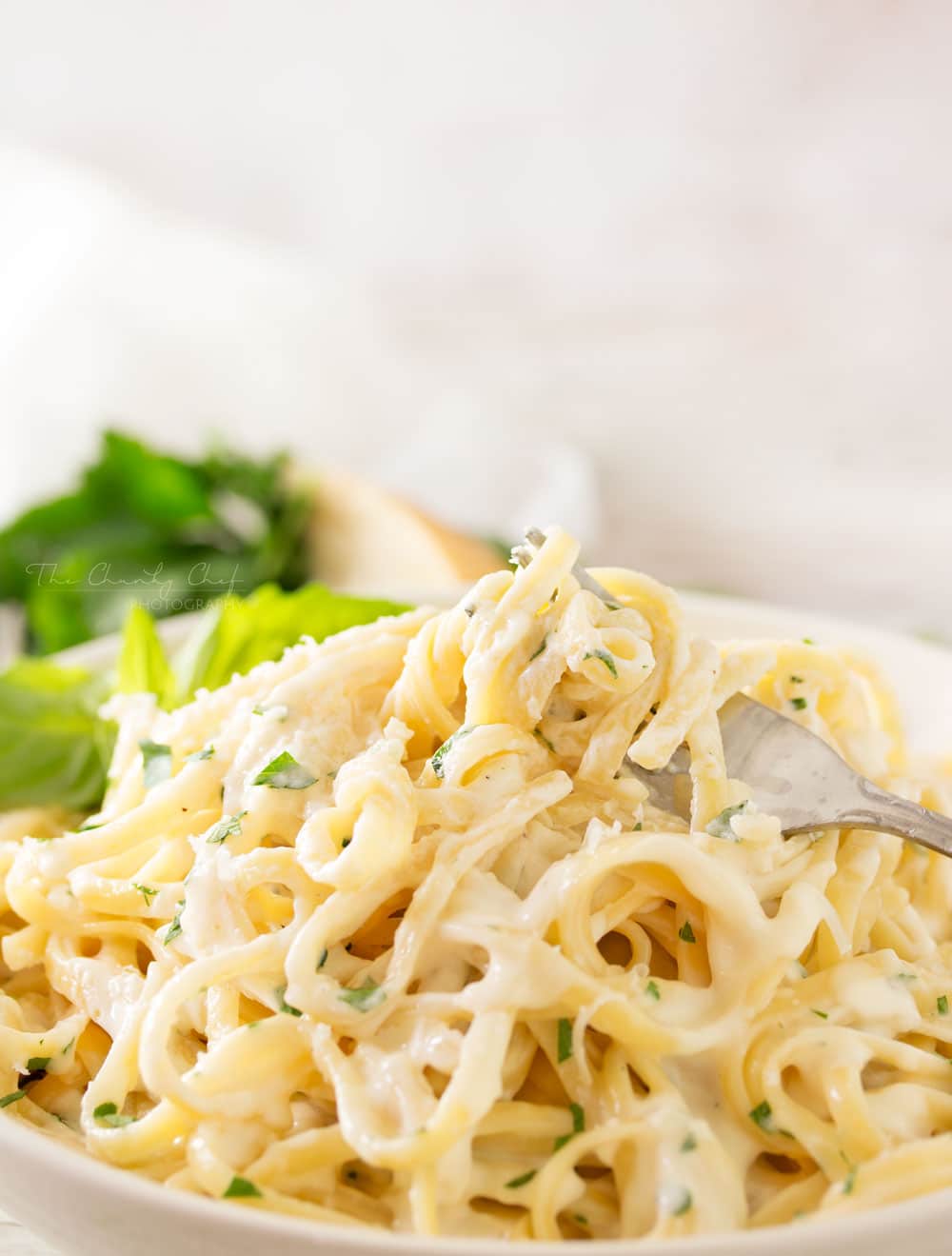 If you're a fan of alfredo sauce, or are looking for something a little different, a little bolder… give this cream sauce a try.  You won't be disappointed!!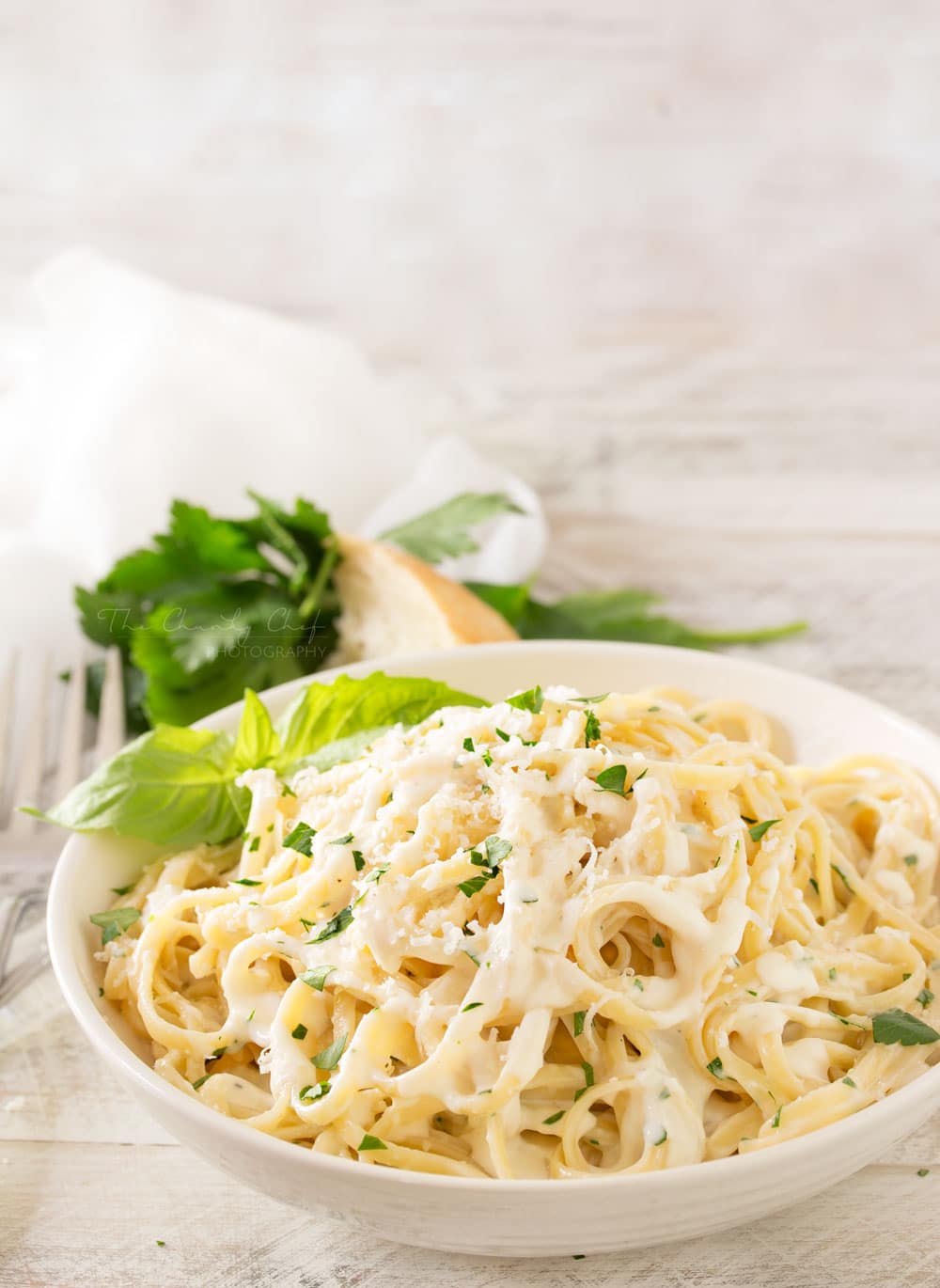 Did you make this? Be sure to leave a review below and tag me @the_chunky_chef on Facebook and Instagram!
Just a few ingredients make up this luxuriously creamy roasted garlic cream sauce... perfect for dipping or swirled with your favorite pasta!
Ingredients
1 head roasted garlic
6 Tbsp butter
1 3/4 cup heavy cream
1 1/4 cup Parmesan cheese
1/2 tsp black pepper, more or less, depending on your tastes
2 tsp flour + 1 Tbsp heavy cream
Instructions
Remove cloves of roasted garlic and mash with a fork.

In a medium saucepan over MED-LOW heat, add butter and melt.

Pour in cream and garlic and heat to a simmer.

Whisk in the black pepper and cheese.

Add flour and cream mixture, (it will be a thick paste), and whisk to remove any lumps.

Continue to whisk until sauce has thickened, a few minutes.
Want to save this recipe for later? Click the heart in the bottom right corner to save to your own recipe box!
Chef Tips
Recipe makes approximately 2 cups of sauce