Baked Potatoes made in the air fryer are absolutely the best! Potatoes are rubbed with a garlic herb salt rub, then cooked to perfection in the air fryer, without having to heat up your whole house with the oven. Ultra crispy and flavorful skins and fluffy creamy insides… ready to eat!
This is one of my Air Fryer recipes I know you'll want to keep on hand!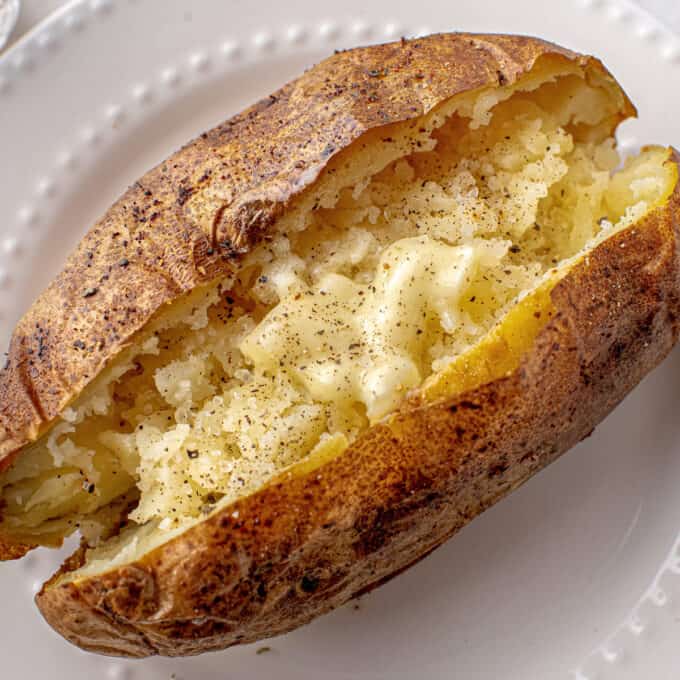 I think baked potatoes are one of the most overlooked foods. They're amazing plain, loaded, or topped with all kinds of goodies!
Not just a boring side dish right? Although some baked potatoes I've had in the past were, well, pretty underwhelming.
You know the kind, the potato interior isn't all that fluffy, maybe not even fully done, and the potato skin is just sad and flabby.
But making baked potatoes in an air fryer means you won't have any of those underwhelming qualities! The skin is absolutely crisp, perfectly seasoned, and the interior is soft, creamy, and oh so fluffy.
How to make baked potatoes in the air fryer?
This is just an overview; the full ingredients and directions are in the recipe card toward the bottom of this post.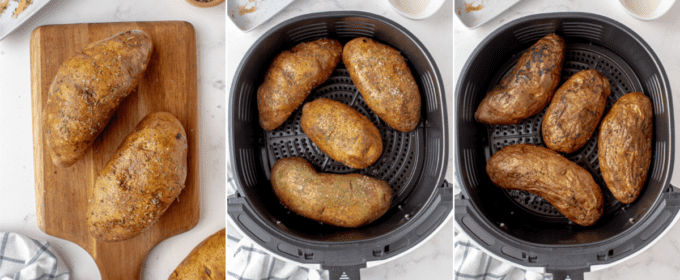 Season potatoes. Rubbing them with oil first ensures the seasoning will stick.
Air fry. The exact cooking time will vary a bit, since all potatoes are different in size, so check for fork tenderness.
Helpful Tip!
When choosing potatoes, try to choose ones that are similar in size and shape. I know that can be a challenge, but similarly shaped and sized potatoes will all cook in about the same time, so you won't have to worry about only some of them being done, and others needing to bake longer.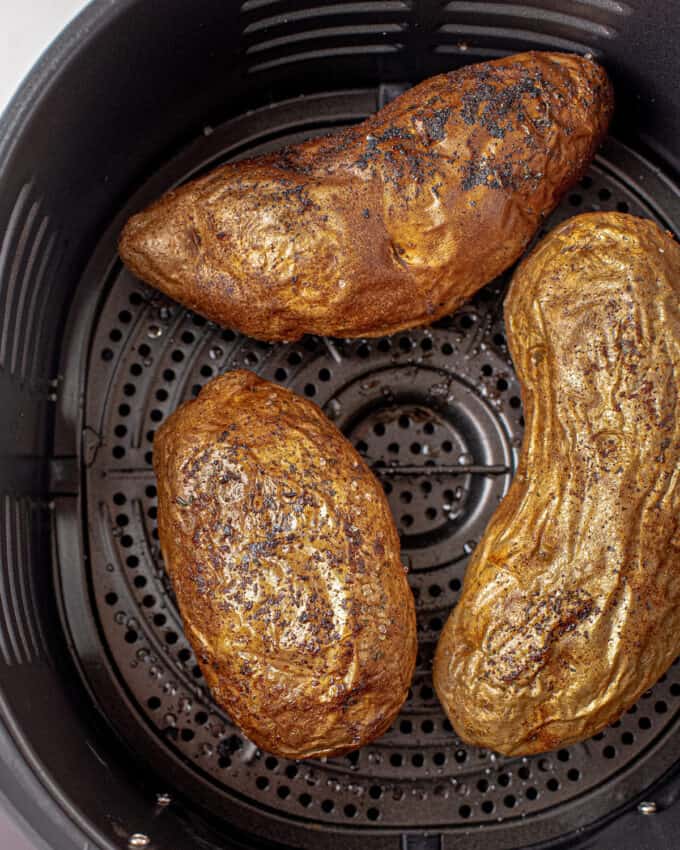 Variations of this recipe
Softer skin – if you're not going to eat the potato skin, or prefer a softer skin, wrap the potatoes in foil before air frying.
Rub – the combination of parsley, garlic and onion powder really make these potatoes taste amazing, but you can omit all but the salt if you'd like.
Oil – I love using avocado oil for this recipe, but you can use canola or vegetable oil instead. You want to use an oil with a high smoke point.
Oven – if you don't have an air fryer, or don't want to use one, you can absolutely make this in an oven. Prick several holes in each potato, season as directed, then bake at 425°F for 50-60 minutes, or until fork tender.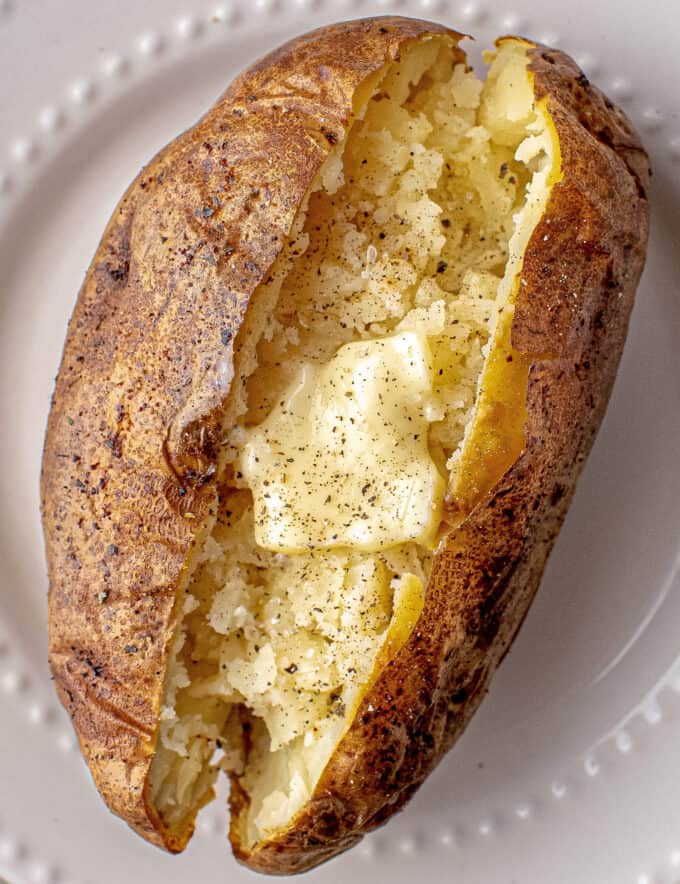 FAQ's
Why bake potatoes in an air fryer instead of an oven?
I love using my air fryer for this for many reasons. The air fryer doesn't take as long to preheat, doesn't heat up the whole house the way an oven does, saves space in the oven (in case you're cooking something else), and this method produces the crispiest potato skins and fluffiest insides I've ever had.
Do you wrap potatoes in foil before air frying?
You can, but if you want that amazingly crispy skin, don't wrap them in anything.
Making baked potatoes ahead of time
I think these potatoes taste best when eaten right after cooking, but you can technically make them ahead of time as well.
Reheat in the air fryer at 375°F for 3-5 minutes, or until hot.
Storage
Leftover potatoes should be refrigerated in an airtight container and enjoyed within 4-5 days.
Reheat in the microwave, oven, or air fryer until hot.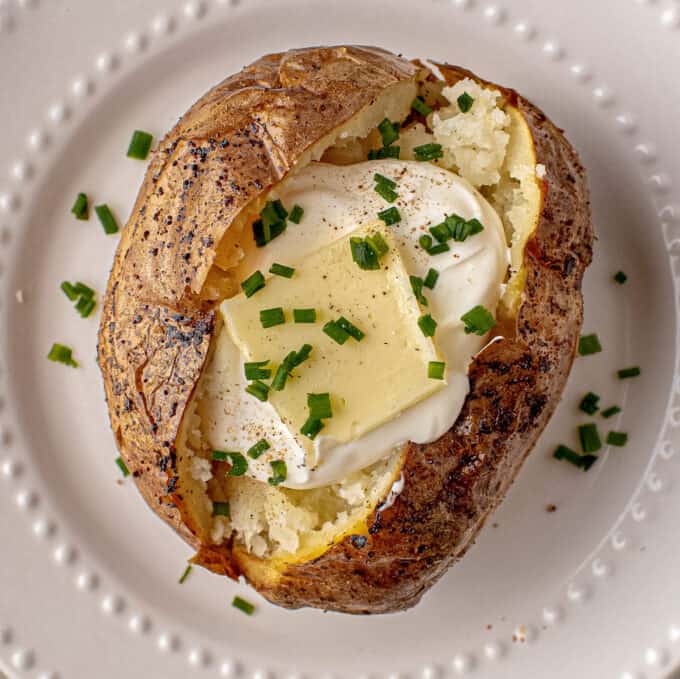 Ways to enjoy baked potatoes!
Obviously they're great as a classic side dish, but there are other great ways to serve them!
Chili – I have a few chili recipes that are great in a baked potato, beef and bean chili, Texas-style chili, or even Cincinnati-style chili!
Sloppy joes – like chili, sloppy joes are amazing on a potato instead of a bun. Top with cheese too for a great meal!
Loaded – load the potatoes up with cheddar, bacon, sour cream and chives/green onion.
Classic – plenty of butter, salt and pepper.
Sour cream and chives – butter, sour cream and fresh chives.
Broccoli cheddar – thicken up broccoli cheddar soup to a gravy consistency, and watch how quickly these broccoli cheddar potatoes disappear!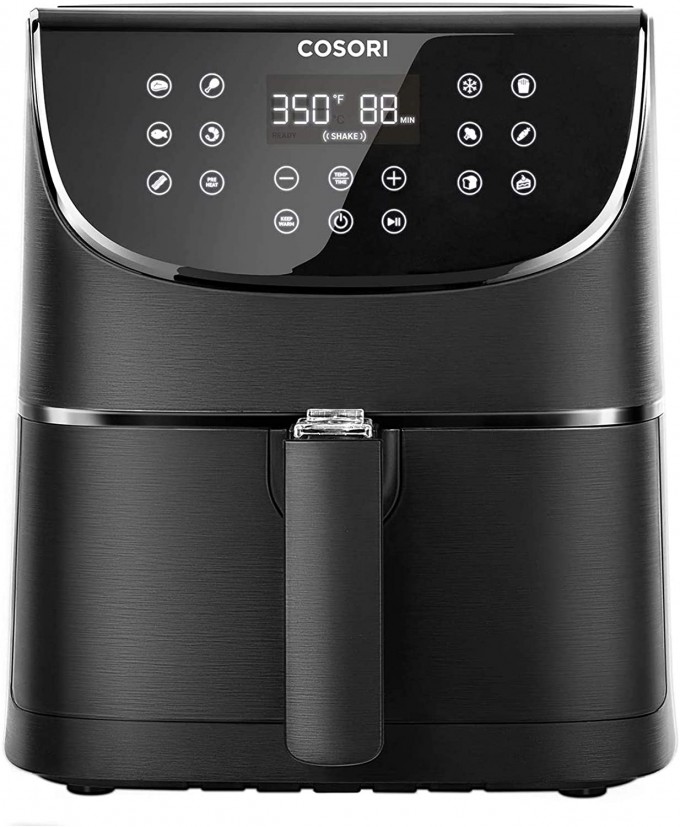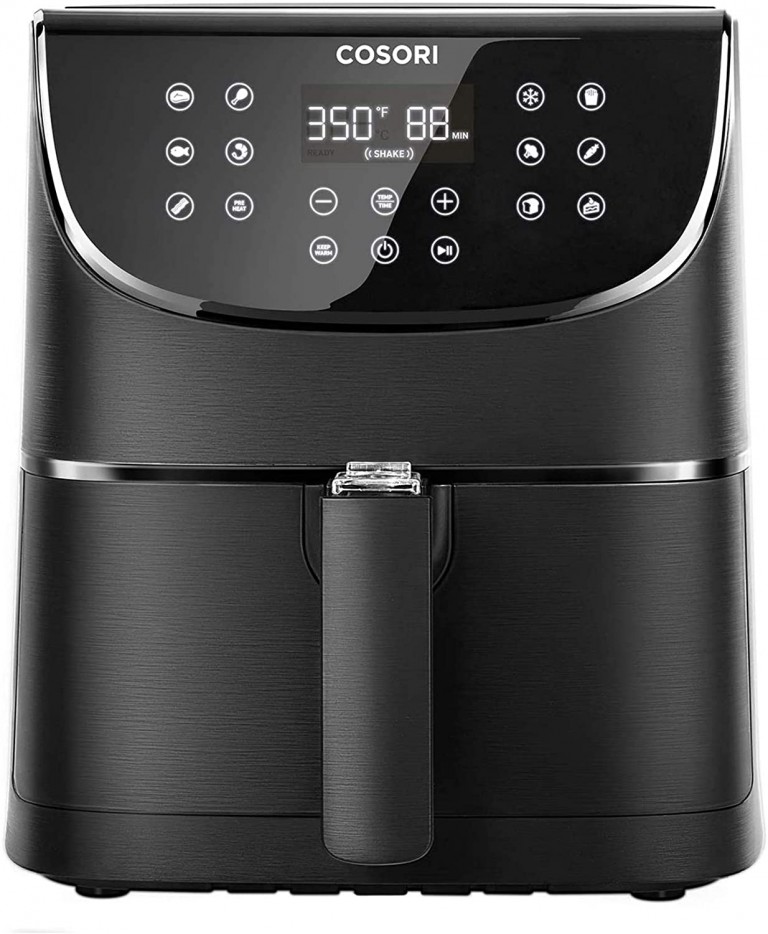 I love the larger, rectangular basket, and the basket is nonstick, removable, and dishwasher safe!
Did you make this? Be sure to leave a review below and tag me @the_chunky_chef on Facebook and Instagram!
Potatoes are rubbed with a garlic herb salt rub, then cooked to perfection in the air fryer, without having to heat up your whole house with the oven.
Ingredients
4 large russet potatoes scrubbed clean and dried thoroughly
2 Tbsp avocado oil (or vegetable/canola)
2 tsp kosher salt (if using table salt, reduce the amount by half)
1 tsp black pepper
1 tsp dried parsley optional
1 tsp garlic powder
1/2 tsp onion powder
Instructions
Prepare
Preheat air fryer to 400°F.

Rub potatoes with oil, then season with salt, pepper, parsley, garlic powder and onion powder, rubbing to make sure the seasoning sticks.
Air fry
Place potatoes in an even layer in air fryer basket and air fry at 400°F for 40-50 minutes (depending on the size of your potatoes), turning over halfway through cooking.
Want to save this recipe for later? Click the heart in the bottom right corner to save to your own recipe box!
Chef Tips
Exact cooking time will vary depending on the size of your potatoes (smaller ones taking less time and vice versa).
I find I don't need to poke holes in the potatoes when cooking in the air fryer, but if you feel more comfortable, you certainly can.
All seasonings and oil measurements are to be divided amongst the 4 potatoes.
Nutrition Disclaimer
The Chunky Chef is not a dietician or nutritionist, and any nutritional information shared is an estimate. If calorie count and other nutritional values are important to you, we recommend running the ingredients through whichever online nutritional calculator you prefer. Calories can vary quite a bit depending on which brands were used.