These everything bagel seasoned avocado fries are cooked in the air fryer and are a healthy and super easy side dish/appetizer.  Perfectly crispy on the outside and so creamy in the middle, they're great on their own with a dipping sauce, or as a topping on a burger or sandwich!
This easy avocado fries recipe is one of those recipes we have with so many of our family dinners, whether we're eating healthier, or not.  We also love easy side dish recipes like my Roasted Mushrooms and Crispy Smashed Potatoes.  This is one of my Side Dishes recipes I know you'll want to keep on hand!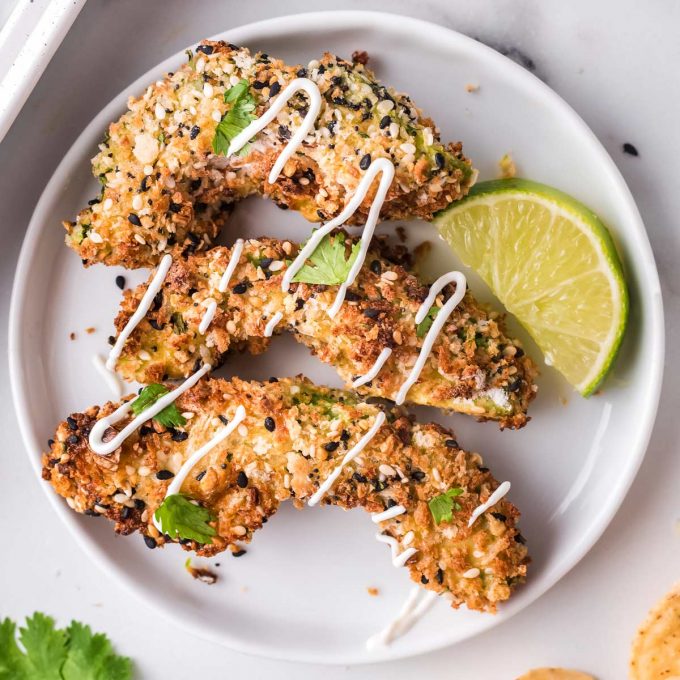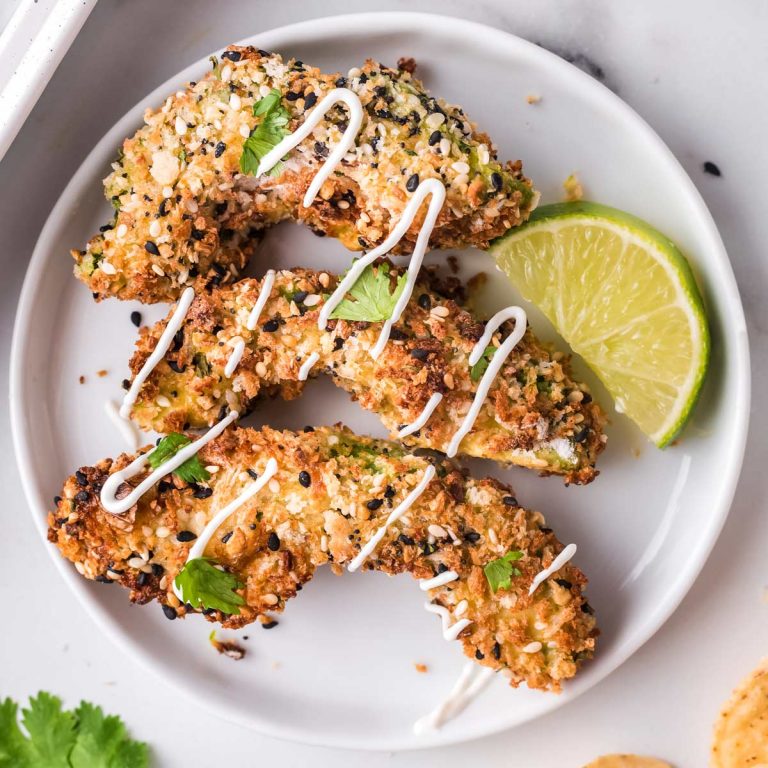 Avocado fries recipe
So tell me, are you an avocado lover?  I'm a sucker for all things avocado, and love the creamy, buttery texture.
Years and years ago at a local restaurant, I ordered some avocado fries because I was intrigued.  I wondered how well the buttery texture would hold up to the frying process.  Surprisingly, it held up well and I was hooked!
The perfectly crisp exterior combined with the creamy center made for an amazing texture combination in my mouth.
For some reason, it never dawned on me to make my own version at home… until now!  The air fryer makes these fries super crisp, with way less oil than traditional frying, and less mess.
If you don't have an air fryer, no worries, I have oven baked and traditional frying instructions down in the recipe card.
How to make avocado fries in the air fryer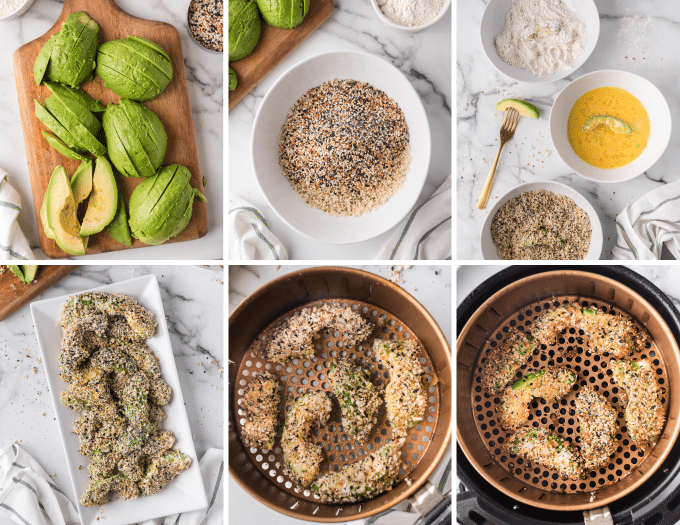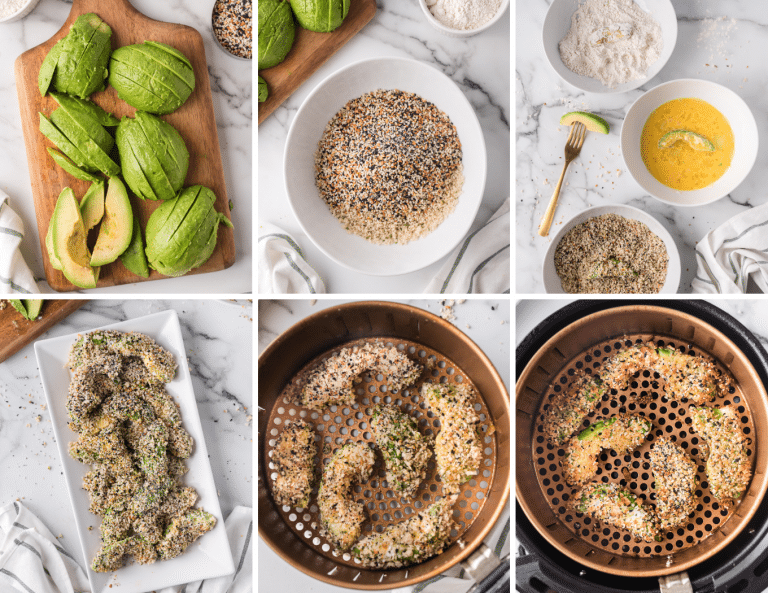 Preheat air fryer.  Just like a traditional oven, it needs to be preheated to cook the food properly.
Prep for breading/frying.  Have a wax paper lined plate or baking sheet near your air fryer, so you can put the breaded avocado slices on it before adding them to the fryer.
Make breading "station".  Mix panko and seasoning in one bowl, then add flour in another bowl, and eggs/water in another.  Whisk the eggs and water together.  Line up the bowls from left to right (for a righty, reverse if you're a lefty), in the following order.  Flour, eggs, panko mixture, plate/baking sheet, air fryer.
Bread the slices.  Dredge avocado slices, one at a time, in flour, then egg, then panko.  Then place on prepared plate/baking sheet.  Repeat with all slices.
Air Fry.  Add breaded avocado slices to air fryer basket so that slices aren't touching.  Cook 4 minutes, turn over and cook 3 more minutes.
Additional cooking tips
Choosing the right avocado – for this recipe, you want avocados that are ripe, but still firm.  Sometimes avocados can be ripe, but a bit mushy.  Those won't be terrible in this recipe, but not ideal.
How to tell if an avocado is ripe
Sometimes it can be difficult to tell how ripe an avocado is without cutting it open, but that isn't something you can do in the store!  These tips aren't foolproof, but can help 🙂
Look at the end – on one end of the avocado there should be a round little stem that looks a bit like a cap of a very small mushroom.  If the stem comes off easily and shows green underneath, the avocado is ripe.  However, if it reveals brown, the avocado is overripe.
Give it a gentle squeeze – when gently applying some pressure, the avocado should give slightly.  If it gives a lot, and is squishy, it's overripe.  If it's hard and doesn't give at all, it's not ripened yet.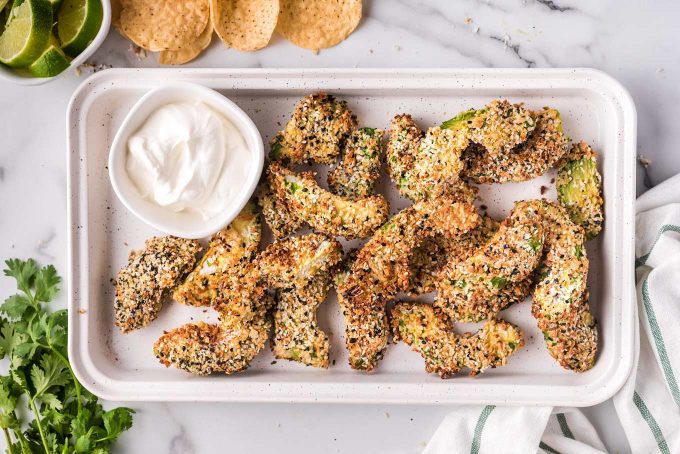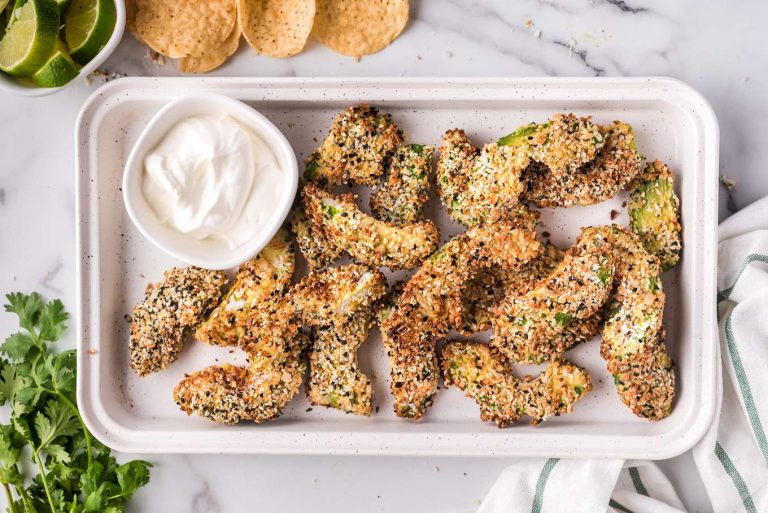 How to slice avocados
Getting hurt while slicing an avocado is pretty common; so much so that there's even a term for the injury; avocado hand.
But it doesn't have to be dangerous!  I'll walk you through it:
Place the avocado on a cutting board and keep your non-dominant hand on the top.
Carefully use a sharp knife to cut into the avocado horizontally from right to left.  You'll hit the pit, and that's okay.
Once you feel the knife touch the pit, rotate the avocado on the cutting board and keep your knife steady, so you slice all the way around the pit.
Twist the two halves, like you would with an Oreo.
To remove the pit, place the avocado half on the cutting board (not your hand!), and tap the pit with the broad end of a kitchen knife (the part closer to the handle).  Twist and it should pop right out.
Be careful, the pit is slippery.  To get the pit off the knife, I like to wrap a piece of paper towel around it and pull.
Use a large spoon to scoop the flesh out of the skin, or gently push your thumb under the skin and peel it off.
Slice as needed!
How to bread avocado fries without getting too messy
Breading anything can be very messy and frustrating, so here's how I do it.
Have one hand your designated "wet hand".  It's the one you pick up the avocado slice, toss it in the flour, give it a bath in the egg mixture, and place it in the panko dish.  Then use your other designated "dry hand" to coat it in the breadcrumbs.
This helps you not "bread" your fingers and end up with a big mess to clean.  Better yet, wear disposable gloves!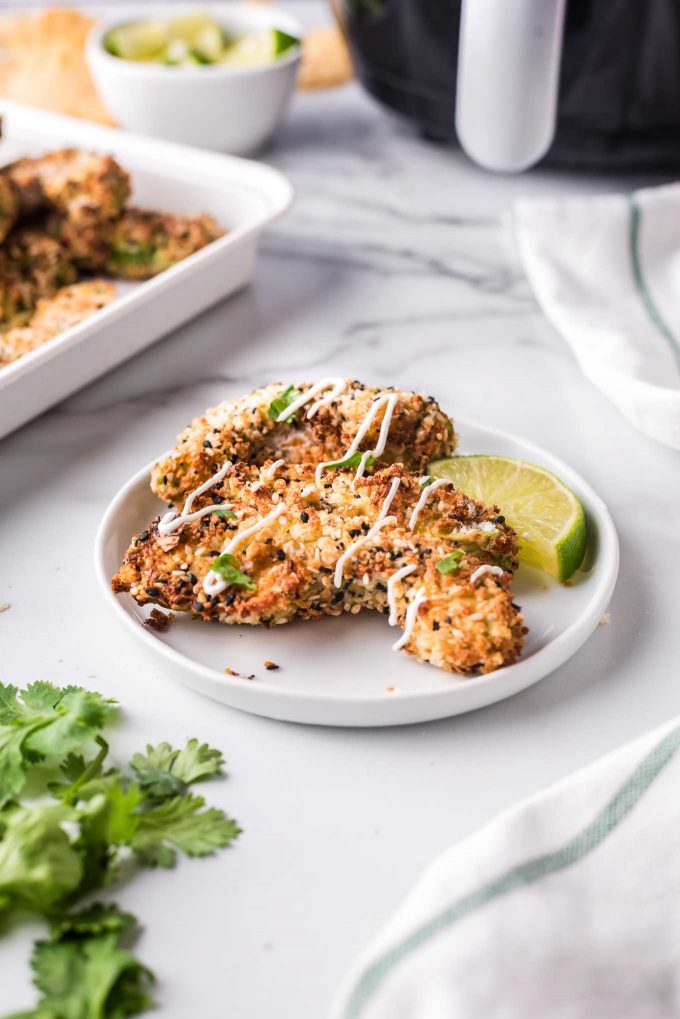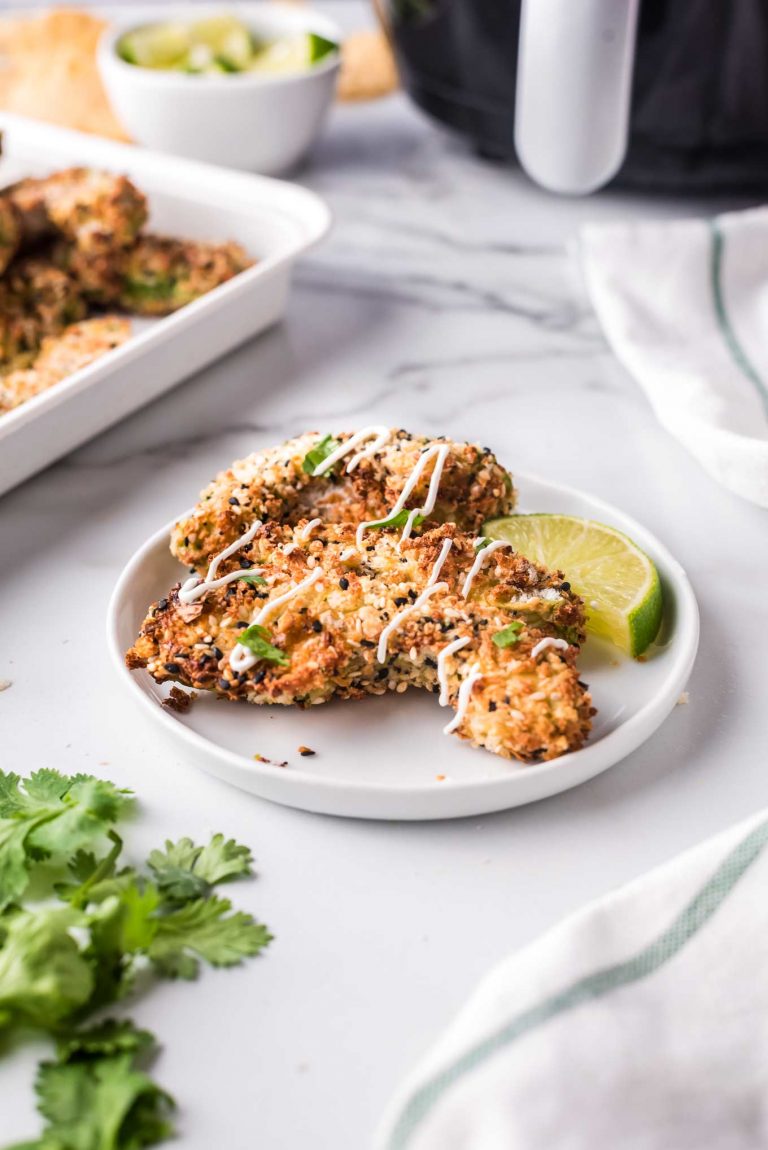 Variations of this recipe
Plain – since I'm obsessed with everything seasoning (it's amazing sprinkled on top of some fried eggs!), but if it's not your fave, feel free to omit that, and just have a panko breading.
Breading – I love the crunch of panko breadcrumbs, but if you have regular breadcrumbs in your pantry, those will work too.  You could even go for whole-wheat or gluten-free breadcrumbs.
Spices – feel free to play around with the spices here.  I chose everything seasoning, which has garlic and onion in it, but you can play around with omitting the seasoning blend and using your own if you want.
Baked – I know not everyone has an air fryer, so oven baked directions are included in the recipe card down below.
Fried – in case you want to bust out a dutch oven or deep fryer, I've included these instructions in the recipe card down below.
Making avocado fries ahead of time
I find avocado fries are best served immediately, when they're hot and crispy, so unfortunately I can't recommend making these ahead of time.
Since avocados oxidize (turn brown), slicing them ahead of time isn't really recommended either, however, you can mix up the breading mixture ahead of time.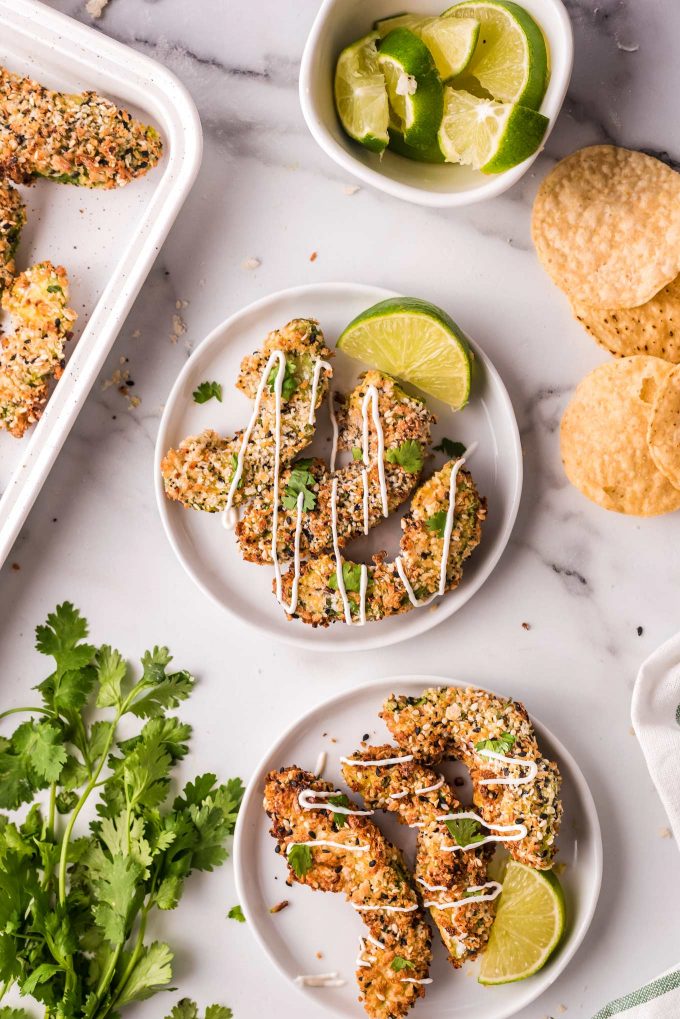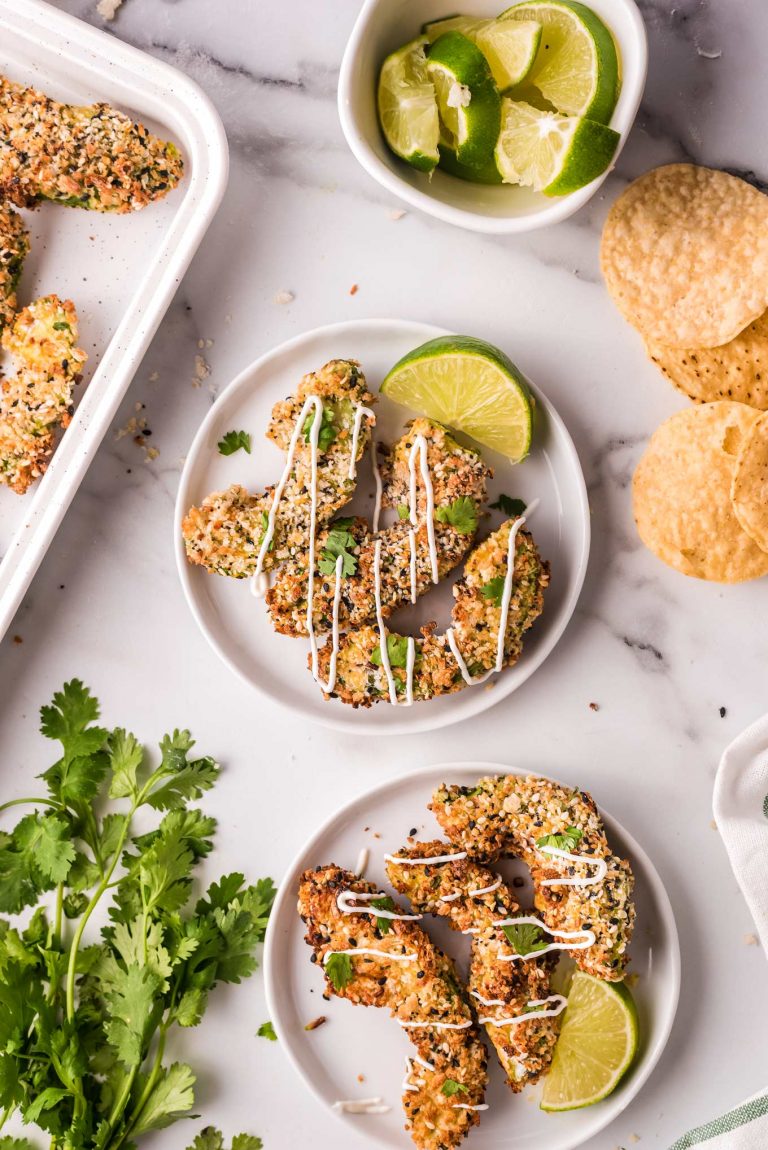 Storage
Again, these are definitely better fresh, but can be stored in an airtight container in the refrigerator for up to 2 days.
What to serve with avocado fries
Personally, I'm a dipper and will dip anything and everything into sauce.  These fries are no exception!  Here are a couple of my favorite things to dip these fries into:
Remoulade sauce
Sour cream
Chili Lime Crema (mix equal parts sour cream and mayo and stir in a little lime juice and Tajin seasoning)
Shop the recipe
The following links are affiliate links.
The Chunky Chef, LLC is a participant in the Amazon Services LLC Associates Program, an affiliate advertising program designed to provide a means for sites to earn advertising fees by advertising and linking to amazon.com.  For more information regarding this program and what it means for you, please see my Privacy page.
Air Fryer – this is the model pictured in the photos, and while great, it isn't the one I use most often.
Cosori Air Fryer – this is the model I use the most at home!
Everything Bagel Seasoning – you can use any brand, I just wanted to show you the one I have so you know what to look for at the grocery store.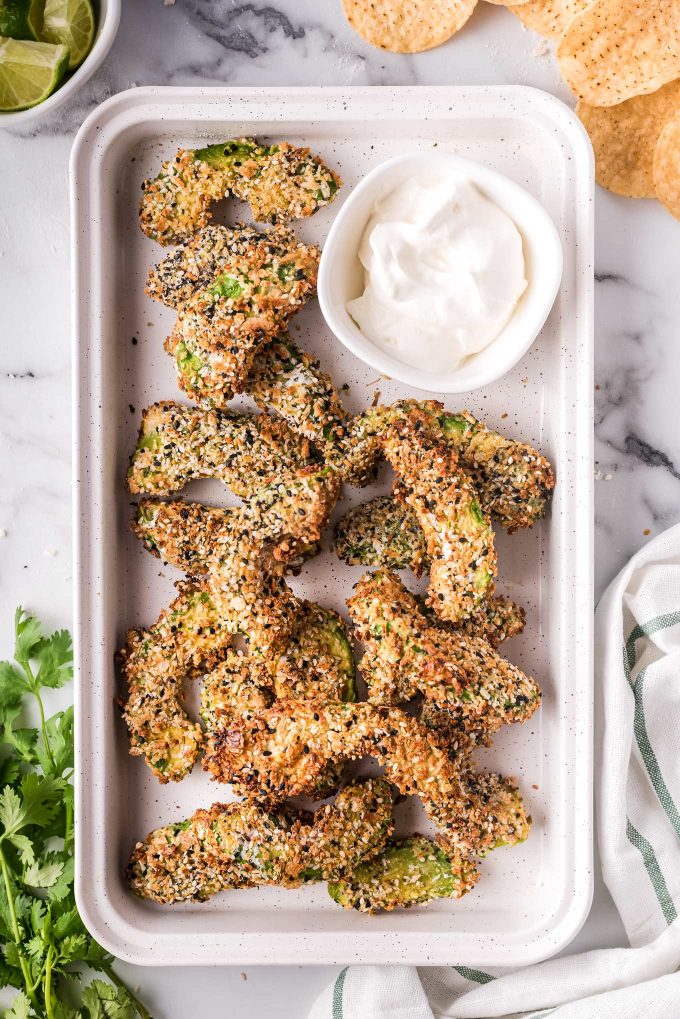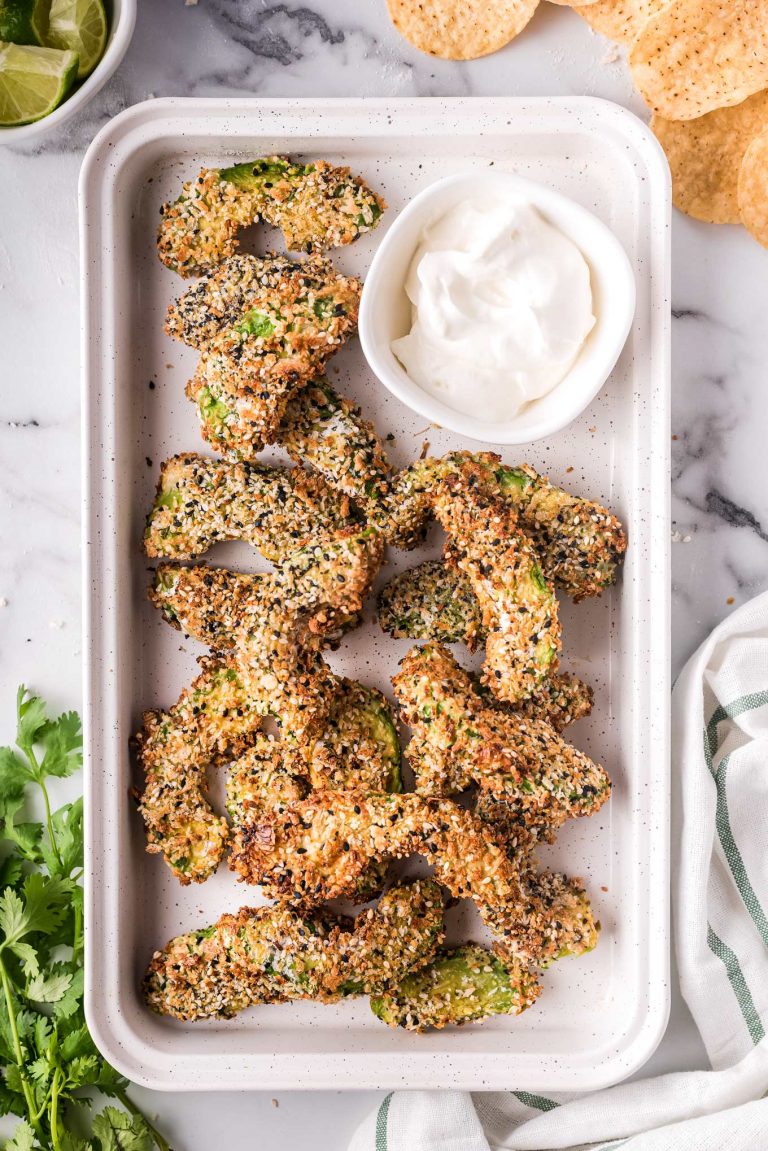 Be sure to scroll down to check out other readers' comments for tips and reviews.
And don't forget, if you've made this recipe, leave a comment and please consider giving it a star rating letting me know how you enjoyed it 🙂
Did you make this? Be sure to leave a review below and tag me @the_chunky_chef on Facebook and Instagram!
Perfectly crispy on the outside and so creamy in the middle, avocado fries are great on their own with a dipping sauce, or as a topping on a burger or sandwich!
Ingredients
3 medium avocados
1/2 cup all purpose flour
1/2 tsp kosher salt
1/2 tsp black pepper
1/4 tsp paprika
1 cup panko breadcrumbs
1/2 cup everything bagel seasoning
2 large eggs
splash of water
cooking spray
Instructions
Preheat air fryer to 400°F. Line a plate with wax paper and set aside, near the air fryer.
Slice Avocados
Slice avocados in half, lengthwise, removing the pit. Peel the skin off the avocado and slice each avocado half lengthwise into roughly 1/2" thick slices.
Bread Avocado Slices
Get out 3 shallow bowls. To the first one, add flour, 1/2 tsp black pepper, 1/2 tsp salt, and 1/4 tsp paprika. Stir with a fork until combined.

In the second bowl, add 2 eggs and splash of water and whisk. In the third bowl, add the panko and the everything bagel seasoning. Stir with a fork to combine.

Coat the avocado slices, one at a time, in the flour mixture, then in the eggs, then in the panko mixture. Set aside on a plate and repeat with remaining slices.
Air Fry
Spray basket of air fryer with nonstick spray to prevent any sticking.

Add breaded avocado slices in a single layer to the bottom of the air fryer basket, making sure they're not touching each other. You'll likely have to cook the avocado slices in batches. Lightly spray with a canola oil cooking spray, then cook for 4 minutes.

Open air fryer, turn over avocado slices, spray with cooking spray, then cook for another 2-3 minutes, or until golden and crunchy.

Set cooked avocado fries on a plate and repeat with any remaining avocado slices.
Serve
Serve immediately, served with desired dipping sauce.
Want to save this recipe for later? Click the heart in the bottom right corner to save to your own recipe box!
Chef Tips
Recipes serves approximately 6 people, with each person getting roughly half an avocado's worth of fries.
Oven Baked Directions:
Preheat oven to 425°F and line a baking sheet with parchment paper.
Bread avocado slices as written, then add them to the prepared baking sheet in a single layer, not touching each other.
Bake 12-14 minutes, turning over halfway through, until golden and crispy.
Fried Directions:
Heat about 1/2 cup of an oil with a high smoke point (such as canola, vegetable, peanut, sunflower, etc) in a deep skillet over MED/MED HIGH heat. 
Line a baking sheet with paper towels and top with a cooling rack. 
Bread avocado slices as written.
Add a pinch of breadcrumbs to the oil to test to see if it's ready.  If the crumbs sizzle, but don't burn right away, it's ready.
Add a single layer of avocado slices to the hot oil and cook approximately 2-3 minutes per side, until golden and crispy.
Remove to prepared baking sheet/cooling rack.  Repeat with remaining avocado slices.
Nutrition Disclaimer
The Chunky Chef is not a dietician or nutritionist, and any nutritional information shared is an estimate. If calorie count and other nutritional values are important to you, we recommend running the ingredients through whichever online nutritional calculator you prefer. Calories can vary quite a bit depending on which brands were used.
Any nutritional information shared is an estimate, and is automatically calculated through a program.  If calorie count is important to you, I recommend running the ingredients through whichever online nutritional calculator you prefer.  Calories can vary quite a bit depending on which brands were used.

The Chunky Chef is not a nutritionist and doesn't provide full nutritional information for recipes as she wouldn't want to potentially and unknowingly pass along incorrect information.