These roasted mushrooms are tossed in a drool-worthy combination of garlic, balsamic vinegar, dried herbs and olive oil, and roasted until perfectly tender yet caramelized.  Plus they're ready in 30 minutes, which is perfect for quick weeknight dinners!  Keto and low-carb friendly as well.
This Roasted Mushrooms recipe is one of those recipes we have with so many of our family dinners.  We also love to pair this recipe with hearty main dishes like my Bourbon Baked Pork Chops, and Creamy Garlic Chicken. This is one of my Side Dishes recipes I know you'll want to keep on hand!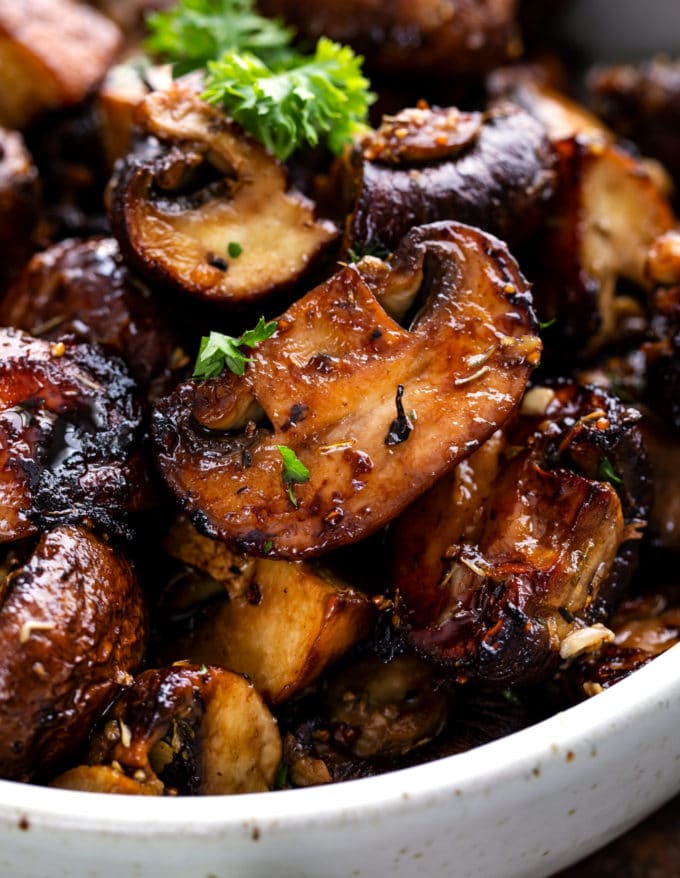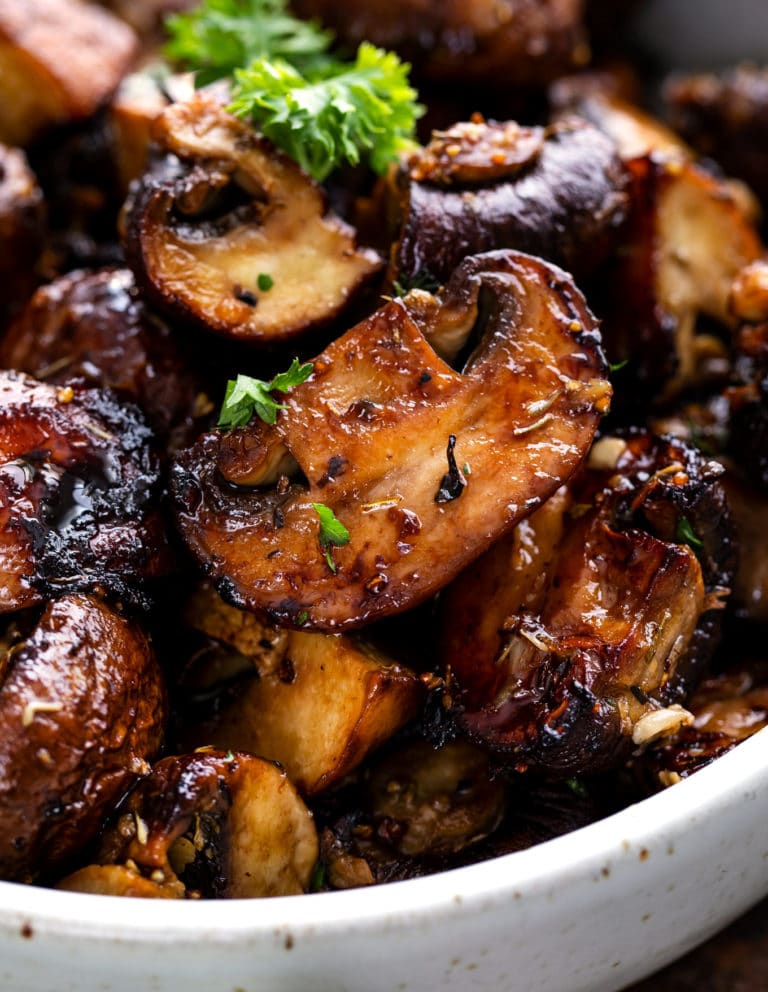 ROASTED MUSHROOM RECIPE
I don't know about you, but I could eat mushrooms with just about everything, and even make a meal out of just them!  My husband is the same way, yet we managed to spawn two children who can't stand to even look at a mushroom, let alone eat one.  Oh well, maybe some day!
When you make these, you're going to want to double it and eat half of them yourself.
This recipe is a fast one… 30 minutes!  My hubby still loves my Slow Cooker Ranch Mushrooms, but that's just because he's a ranch fanatic… whereas I, am a balsamic and garlic fanatic 😉
Just 8 ingredients and 30 minutes of your time… that's all it takes.  And you'll be rewarded with mushrooms that are positively bursting with bold flavor, and are tender yet perfectly caramelized and slightly crispy at the edges.
That texture man, that's where it's at!
Granted, this isn't a new recipe.  If you've been around the site since 2015, you've seen these before.  But let's just say the post desperately needed some updated information and of course, MUCH better photos!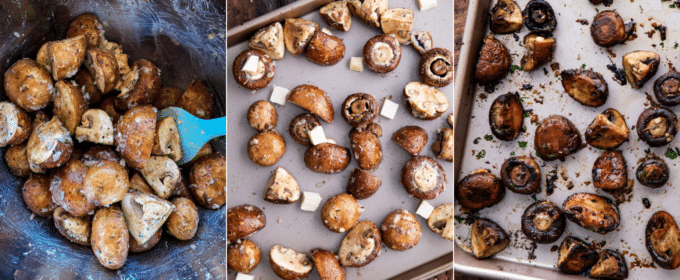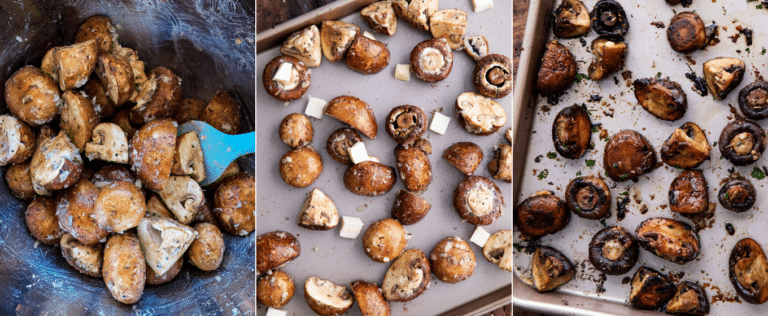 HOW TO MAKE ROASTED MUSHROOMS
Preheat oven and prepare a rimmed baking sheet.  I like to use my sheet pans that have an almost non-stick surface, so I don't have to use foil, but feel free to line your pan with foil for an easier clean up.
Clean mushrooms and trim/cut.  Wipe clean and trim long stems.  Cut mushrooms so all are roughly the same size.
Whisk together sauce, then coat mushrooms.  I find it easiest to whisk together the oil, vinegar and seasonings in a mixing bowl, then just add the mushrooms and give them a good stir until each mushroom is coated.
Spread onto baking sheet and roast for 20-25 minutes.  Make sure to spread the mushrooms in an even layer, and try to spread them out a bit.  If they're all jumbled together, they'll steam and not roast.  Give the mushrooms a stir halfway through the baking time.
Garnish and serve hot.  I like to give my mushrooms a dusting of some minced fresh parsley for color and a little fresh flavor, but it's totally optional!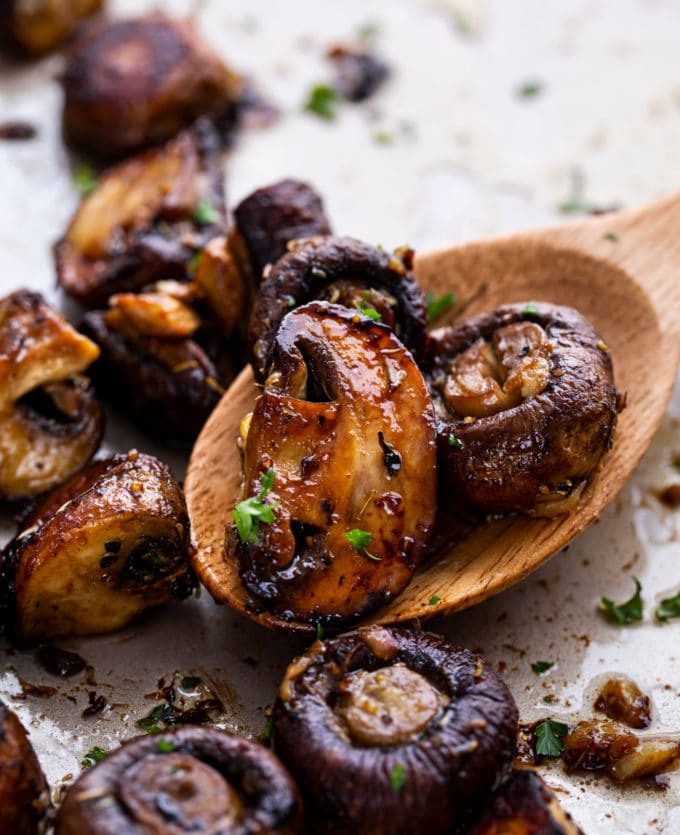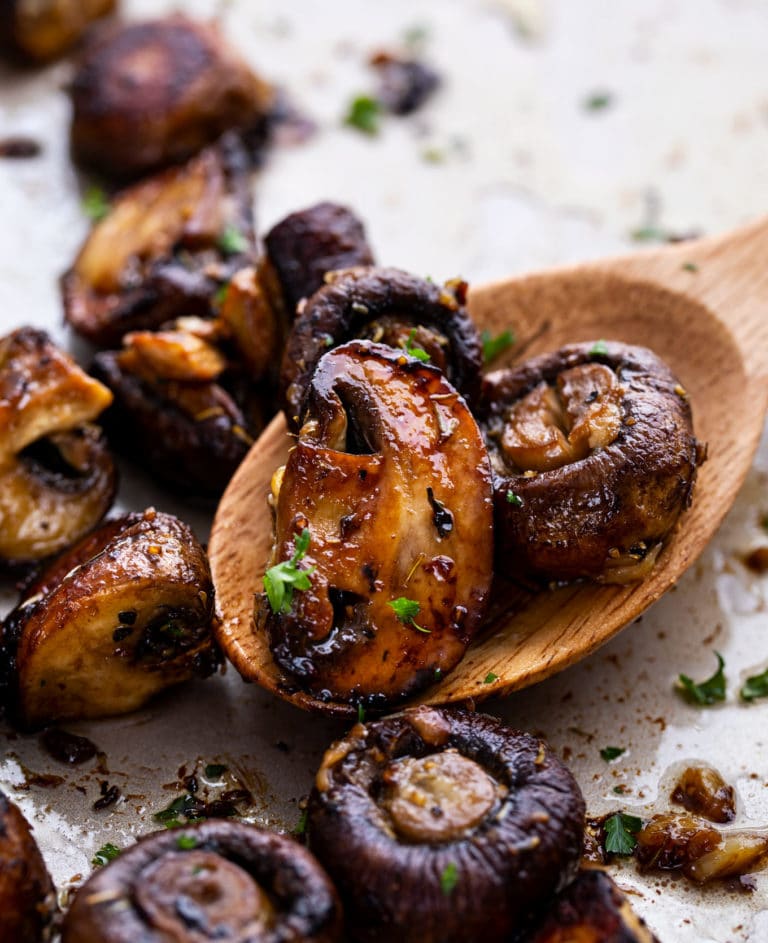 ADDITIONAL COOKING TIPS
THE DIRT – mushrooms usually have some dirt on them, but the best way to ensure wonderfully caramelized mushrooms is not to rinse them unless necessary.  A damp paper towel works to wipe away any soil.  Mushrooms are like a sponge and will soak up all that water, which means they'll tend to steam instead of roast.
SIZE – the mushrooms from my store come in packs of either 8 or 16 oz, but the size of the mushrooms in that pack can vary quite a bit!  So everything roasts evenly, you'll want to cut the mushrooms to be similar in size.  For me, that meant some mushrooms were whole, some were halved, and some were even quartered because they were ginormous!
VARIATIONS OF THIS RECIPE
SPICY – try adding some red pepper flakes or cayenne pepper to the spices.
SKILLET – if you'd rather not turn on your oven, these mushrooms can be cooked in a large skillet, but I don't think they get as caramelized and crispy around the edges.  Just saute them over MED heat for about 12-15 minutes, not stirring all that often.  I'd also cut back the butter to 2 Tbsp, and hold off on the salt until after the mushroom have finished cooking.
OTHER SEASONING – rosemary is another fabulous herb/seasoning to use with mushrooms.  If you'd like, try using a 1/4 tsp of each thyme and rosemary!
FRESH HERBS – if you have fresh herbs and want to give them a go, use 1 1/2 tsp of fresh thyme that's been minced.  In general you want to use more of the fresh herbs, since dried herbs are more concentrated in flavor.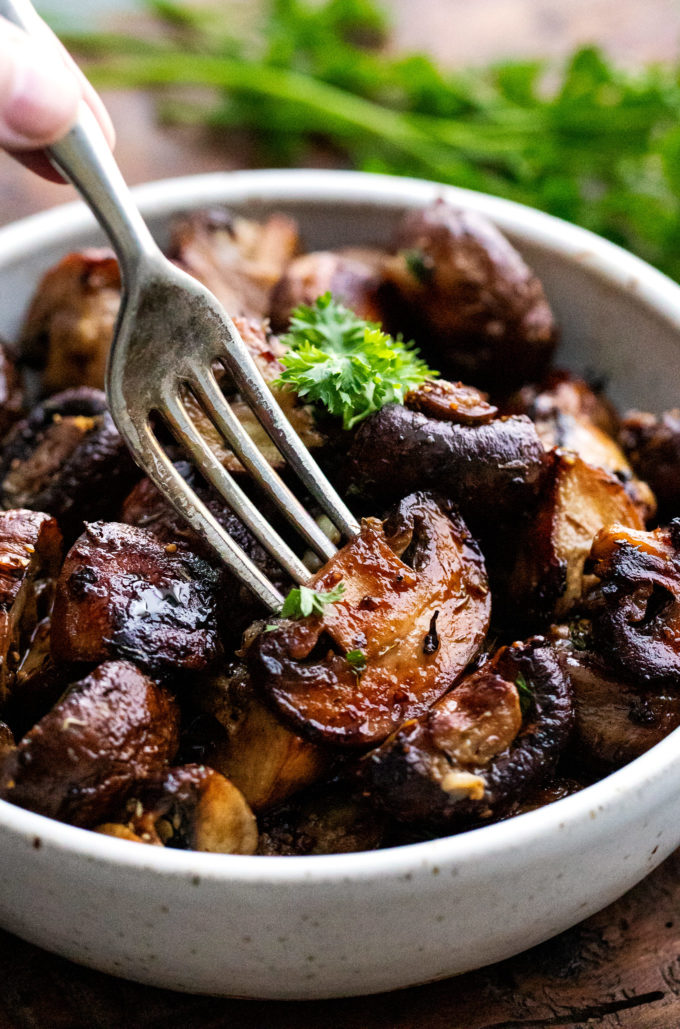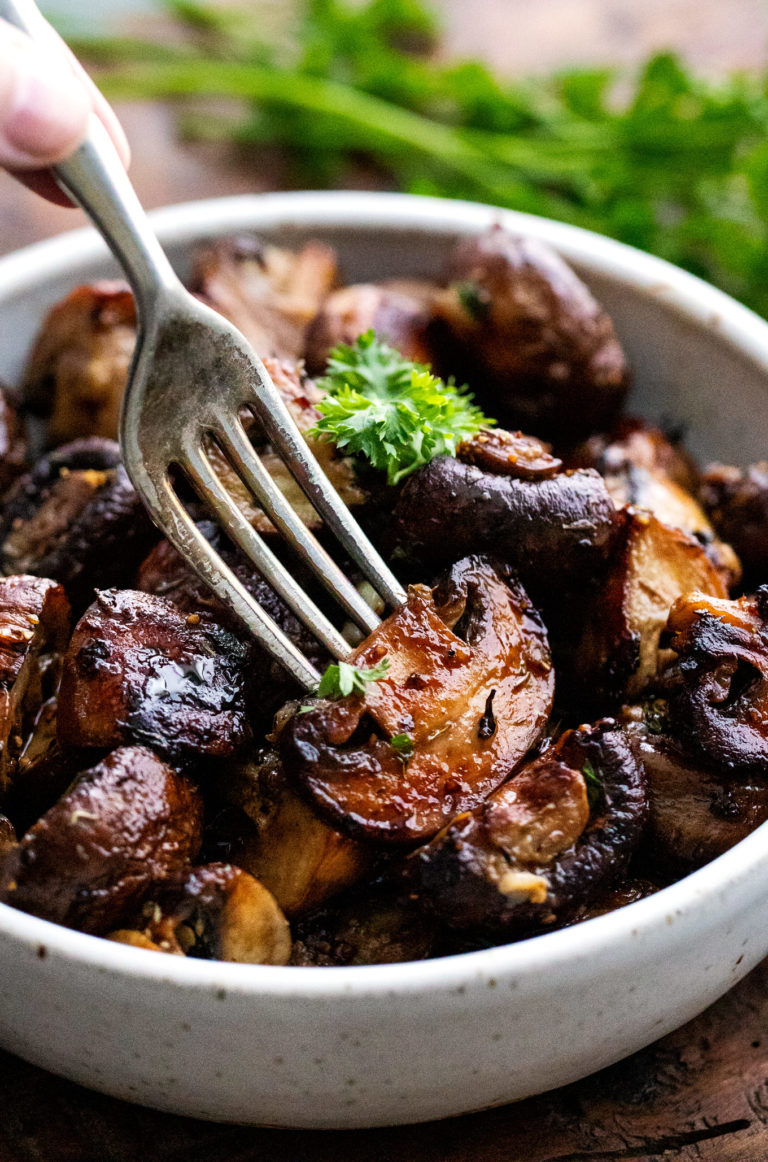 MAKING ROASTED MUSHROOMS AHEAD OF TIME
I don't advise making these ahead of time, as they're really best when they're fresh from the oven.
However, you combine the oil, balsamic, garlic, thyme, salt and pepper ahead of time and keep in a jar on the counter.
I strongly urge you NOT to wash or mess with your mushrooms until you're ready to make this recipe and eat them, otherwise they can get slimy.
STORAGE
Leftover mushrooms should be refrigerated in an airtight container and consumed within 3-5 days.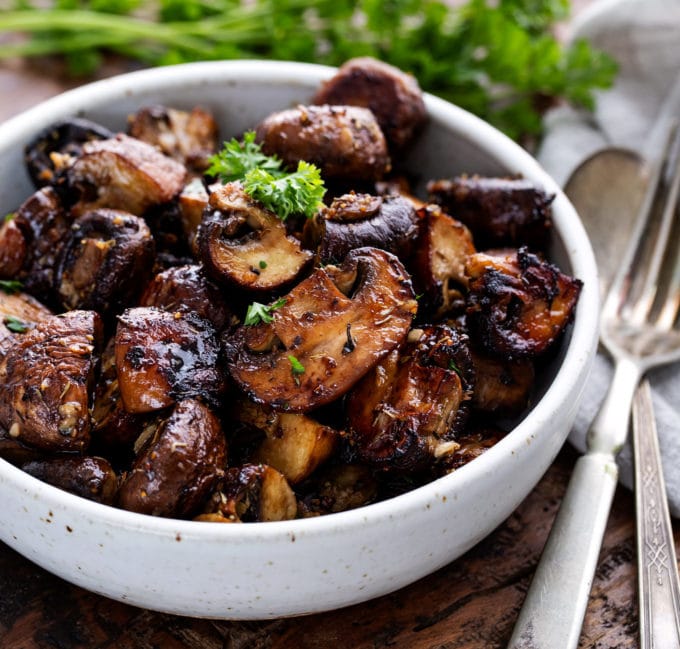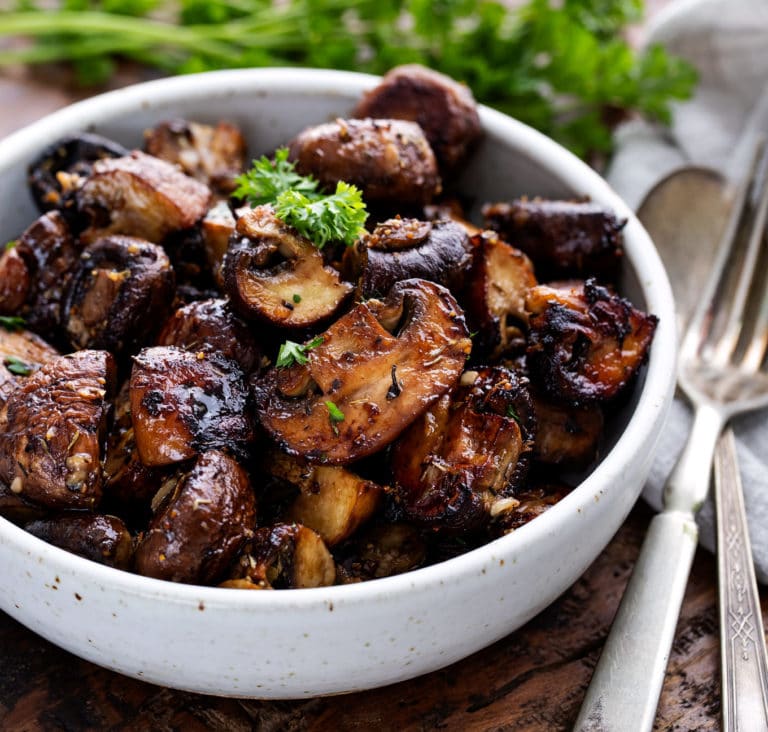 SPECIAL EQUIPMENT FOR THIS RECIPE
Sheet Pan – in case you're in the market for new sheet pans, these are my absolute favorite.


BE SURE TO SCROLL DOWN TO CHECK OUT OTHER READERS' COMMENTS FOR TIPS AND REVIEWS.
AND DON'T FORGET, IF YOU'VE MADE THIS RECIPE, LEAVE A COMMENT AND PLEASE GIVE IT A STAR RATING LETTING ME KNOW HOW YOU ENJOYED IT!
Recipe originally posted in 2015, and has been updated in 2020 with additional information.
Did you make this? Be sure to leave a review below and tag me @the_chunky_chef on Facebook and Instagram!
Roasted mushrooms, tossed in a combination of garlic, balsamic vinegar, dried herbs and olive oil, and roasted until perfectly tender yet caramelized. 
Ingredients
2 lb fresh cremini or baby bella mushrooms wiped clean
4 cloves garlic grated or minced
1/4 cup + 1 Tbsp olive oil
2 Tbsp balsamic vinegar
1/2 tsp dried thyme
1/2 tsp kosher salt
1/4 tsp black pepper
4 Tbsp butter cut into small pieces
Fresh parsley (for garnish - optional)
Instructions
Preheat oven to 425 degrees, and line a baking sheet (with a rim) with aluminum foil. Alternatively, spray a baking dish with non-stick cooking spray.

Wipe mushrooms with a damp paper towel and trim any long stems. If mushrooms are large, cut in half, or quarter if they're huge.

Add oil, vinegar, garlic, thyme, salt and pepper to a mixing bowl and whisk until well combined. Add mushrooms and toss to ensure mushrooms are coated. Spread out on baking sheet (or baking dish) and scatter butter throughout mushrooms.

Bake for 20-25 minutes, giving the pan a shake (or stirring the mushrooms) about halfway through.

If desired, sprinkle with fresh minced parsley before serving.
Want to save this recipe for later? Click the heart in the bottom right corner to save to your own recipe box!
Nutrition Disclaimer
The Chunky Chef is not a dietician or nutritionist, and any nutritional information shared is an estimate. If calorie count and other nutritional values are important to you, we recommend running the ingredients through whichever online nutritional calculator you prefer. Calories can vary quite a bit depending on which brands were used.