Garlic and Balsamic Roasted Mushrooms
---
Fresh mushrooms are tossed in a flavorful vinaigrette and roasted to perfection… savory oven roasted mushrooms, on your table in 30 minutes!
---
 Yep, I'm back with another mushroom recipe!  I told you guys, I just can't get enough of them.  This recipe is a fast one… 30 minutes!  My hubby still prefers my Slow Cooker Ranch Mushrooms, but that's just because he's a ranch fanatic… whereas I, am a balsamic and garlic fanatic 😉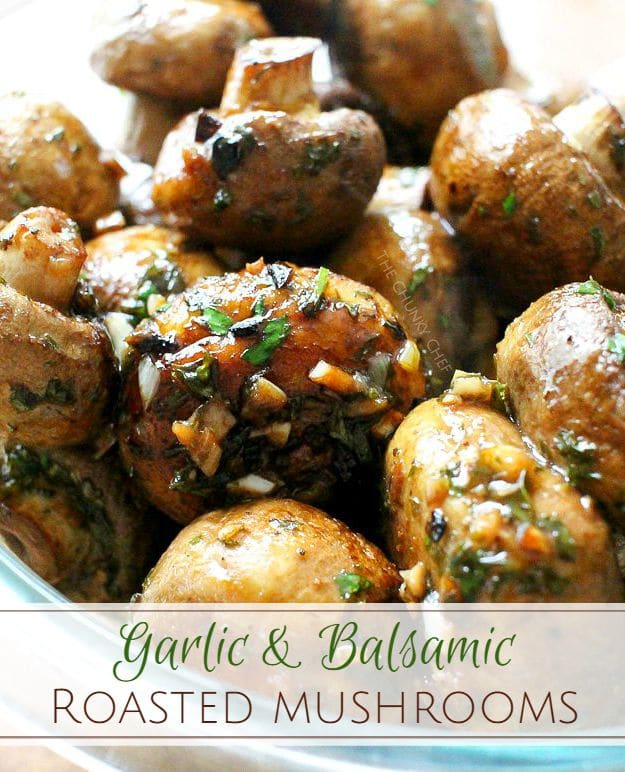 I don't know about you, but I could eat mushrooms with just about everything, and even make a meal out of them!  When you make these, you're going to want to double it and eat half of them yourself.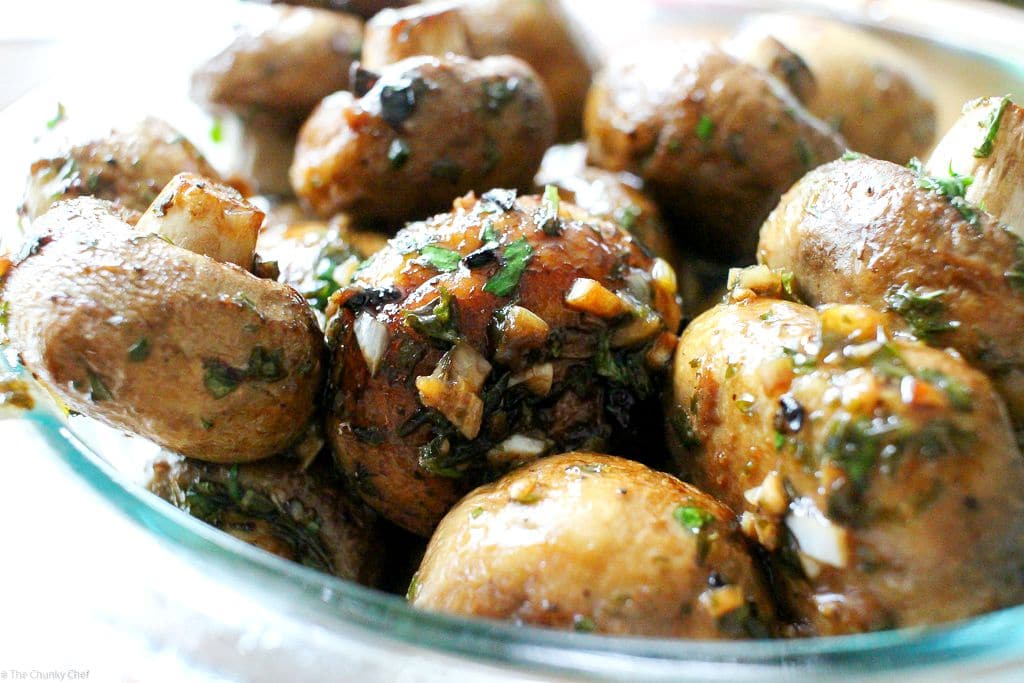 Just 8 ingredients and 30 minutes of your time… that's all it takes.  With us being back in the school year, those quick meals and side dishes are a must during the week.
The trick to great tasting mushrooms is not to wash them.  I know, that sounds kind of gross… I mean, they have dirt on them!  Instead of running them under water, which can make them sort of rubbery, just take a damp paper towel and wipe off the dirt.  Unless they're really dirty, then rinsing them is a must.
Just trim any super long stems and toss the wiped down mushrooms in a bowl with the oil, vinegar, garlic, and thyme.
Lay the mushrooms out on a baking sheet with a rim or a baking dish and scatter the pieces of butter throughout.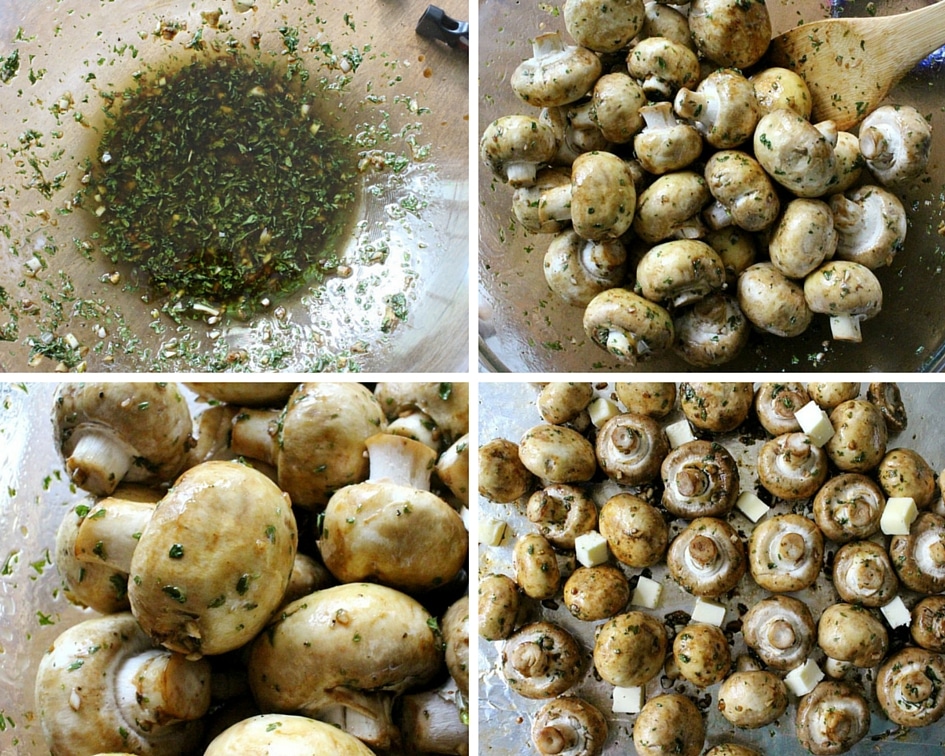 If you don't have thyme, you could substitute dried thyme or even fresh or dried rosemary.  I love the way fresh herbs elevate the flavors!
Pop the baking sheet or pan into the oven and bake for 20-25 minutes, giving it a shake about halfway through baking.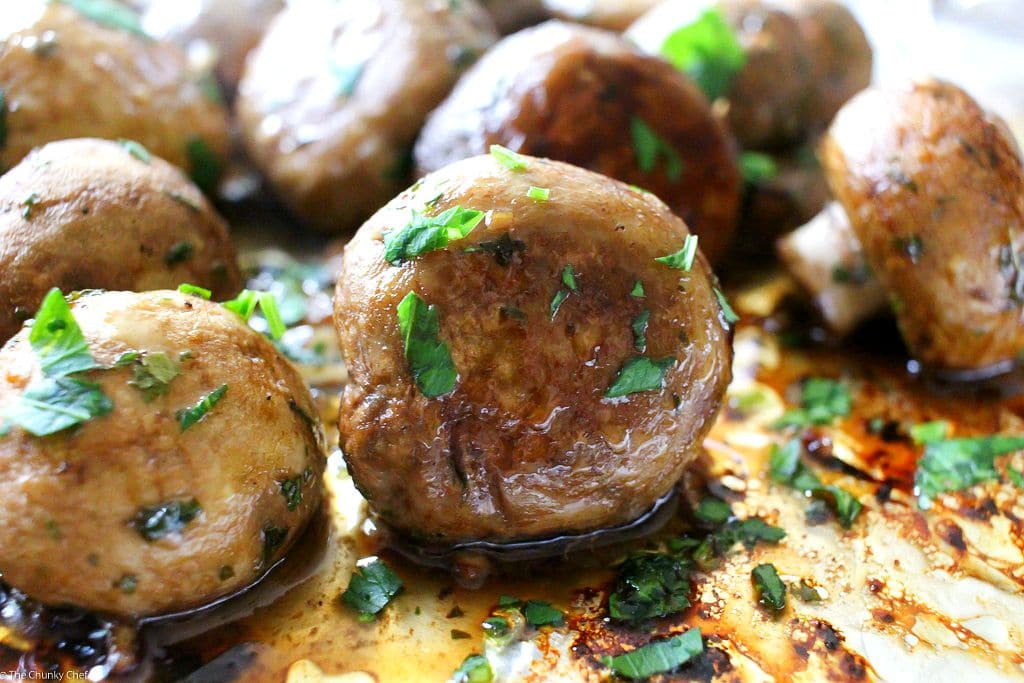 I like to sprinkle some minced fresh parsley over the mushrooms.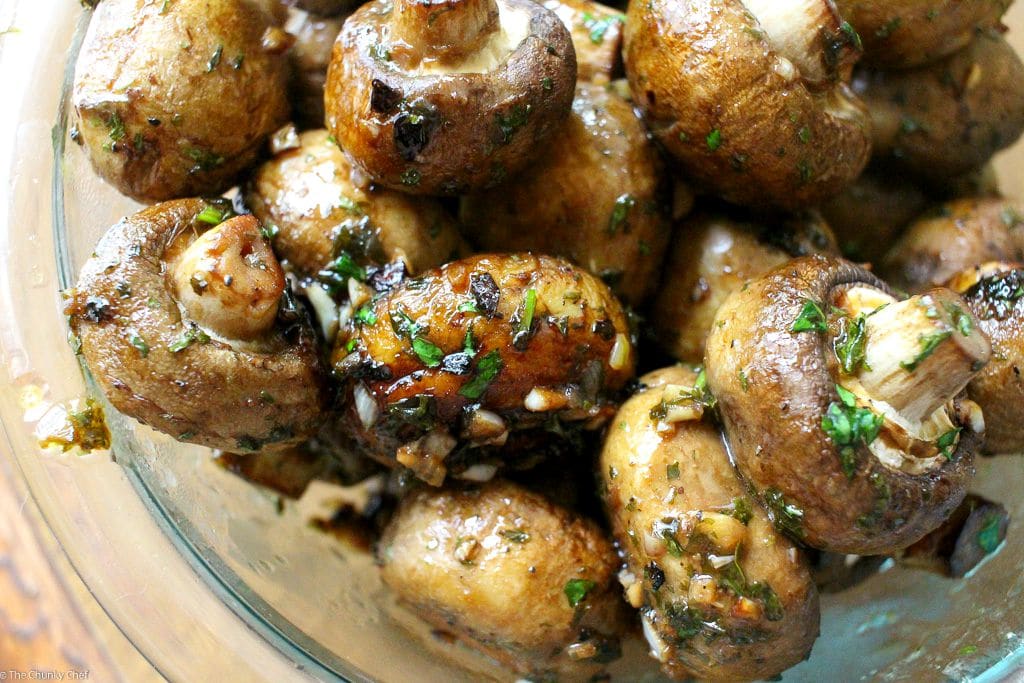 You know me and fresh herbs… I'm obsessed 🙂
These are truly so delicious, I hope you try them!  They're great alongside just about anything, but I love them with a nice steak (post coming soon for that!), some Caramelized Onion Beef Sliders, or Easy Lemon Chicken Piccata!  Or pair it with some Heirloom Tomato Bruschetta Caprese and have an appetizer dinner 🙂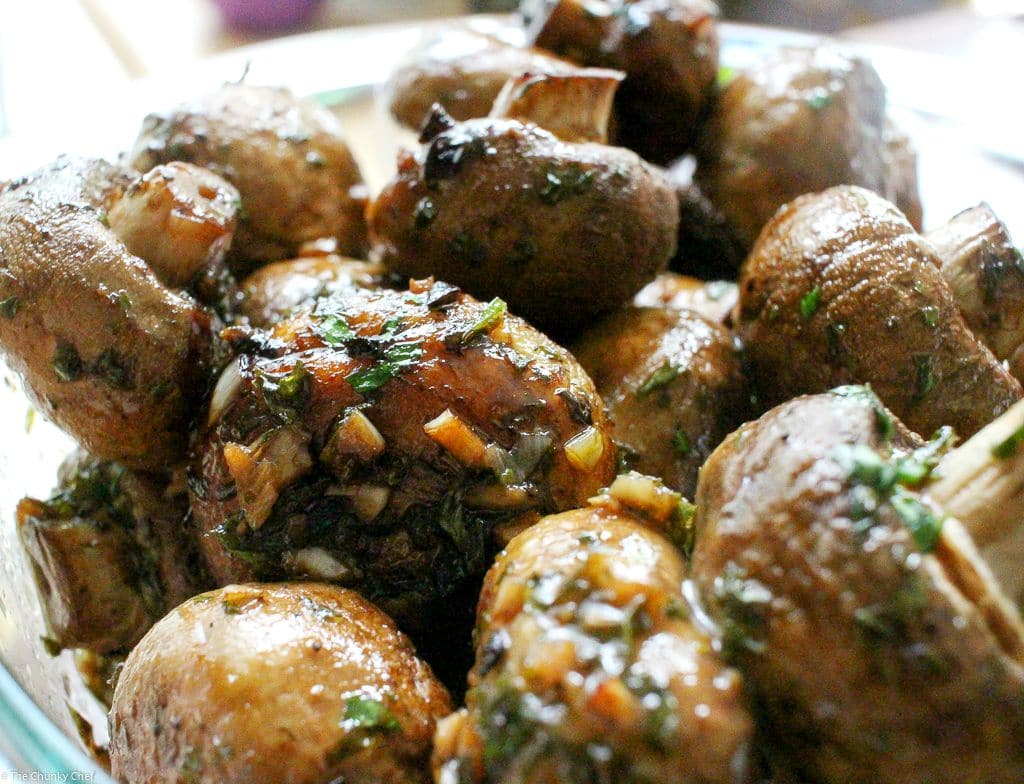 ---
Never miss a recipe!
[mc4wp_form]
You can find me on Facebook, Twitter, Pinterest, Instagram and Google +, so follow me if you'd like… I love keeping in touch with all of you 🙂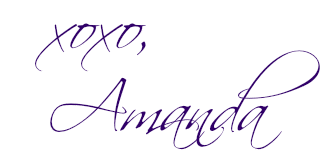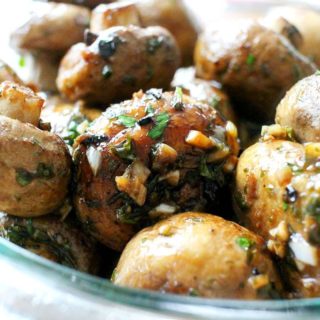 Garlic and Balsamic Roasted Mushrooms
Fresh mushrooms are tossed in a flavorful vinaigrette and roasted to perfection... savory oven roasted mushrooms, on your table in 30 minutes!
Print
Pin
comment
Prep Time: 5 mins
Cook Time: 25 mins
Total Time: 30 mins
Servings: 2 lbs
Ingredients
2 lb fresh mushrooms wiped clean
4 cloves garlic minced
1/4 cup olive oil
2 Tbsp balsamic vinegar
1 tsp fresh thyme minced
salt and pepper to taste
4 Tbsp butter cut into small pieces
Fresh parsley minced
Instructions
Preheat oven to 425 degrees, and line a baking sheet (with a rim) with aluminum foil. Alternatively, spray a baking dish with non-stick cooking spray.

Wipe mushrooms with a damp paper towel and trim any long stems.

Toss the mushrooms with garlic, oil, vinegar, thyme and salt and pepper. Spread out on baking sheet (or baking dish) and scatter butter throughout mushrooms.

Bake for 20-25 minutes, giving the pan a shake about halfway through.

If desired, sprinkle with fresh minced parsley before serving.
Are We Friends on Pinterest?
Follow me for more great recipes! The Chunky Chef!
Linked to Made By You Monday | Melt in Your Mouth Mondays | Munching Mondays | Tickle My Tastebuds Tuesdays | Try a New Recipe Tuesday | Take A Look Tuesday | Totally Talented Tuesdays | Lou Lou Girls Fabulous Party | Simple Suppers | What's Cooking Wednesdays | Whimsy Wednesdays | The Wednesday Roundup | Wordless Wednesday | Showcase Your Talent Thursdays | Full Plate Thursdays | Favorite Things Blog Hop | Foodie Fridays | Fiesta Fridays | Pure Blog Love | Pin Junkie Pin Party | Foodie Friends Friday | Foodie Friday and Everything Else | Fresh Ideas for Your Home | Friday Favorites | Show Stopper | Best of the Weekend | Show and Tell Saturday | Link Party Palooza | Saucy Saturday