Whip up a loaf of this Garlic Cheddar Beer Bread with NO yeast! No rising time, no special equipment, just mix and bake!  Tastes like Cheddar Bay biscuits, in loaf form!
This Garlic Cheddar Beer Bread is one of those recipes we love to bake for us, and for our friends/family.  We love other easy bread recipes like my No Knead Bread and Honey Beer Bread.  This is one of my Bread Recipes I know you'll want to keep around!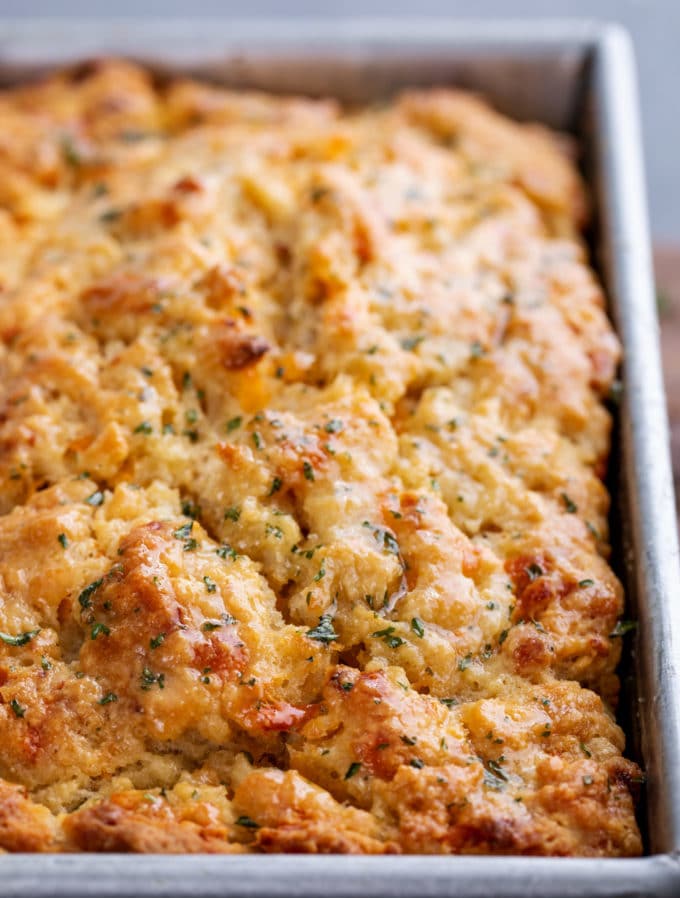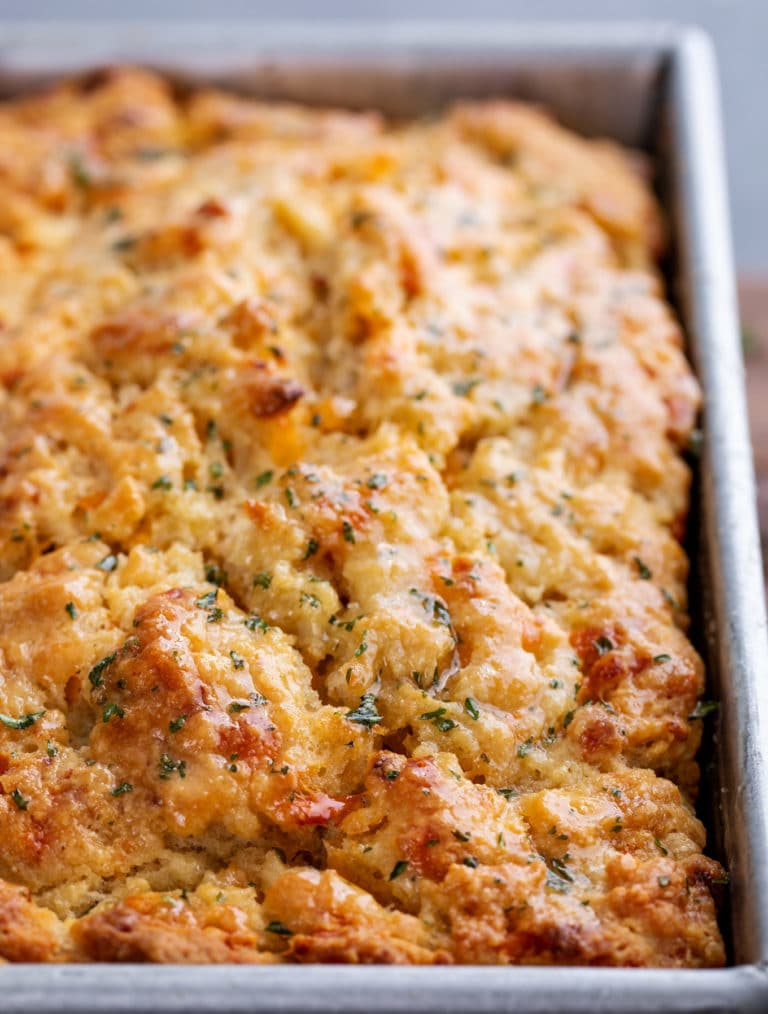 GARLIC CHEDDAR BEER BREAD RECIPE
During the past month or two I've been doing what so many of you have been doing… baking.  I decided to tackle bread making, and when I first started I was leery of using yeast.  Plus, yeast has been hard to find in the grocery stores as of late.
Helpful hint: If you're in the Midwest, GFS (Gordon Food Service) has 1 lb. packages of yeast for a verrrry reasonable price, and they always had them in stock when the other grocery stores were out of the little packets.
So quick breads have been a go-to of mine.  From banana bread to an over the top glorious cinnamon roll bread (recipe coming soon!), and to beer breads of course.
My honey beer bread has quickly become a favorite for a lot of you, so I wanted to try out some other beer bread flavors.
One of my all time favorite bread products is Red Lobster's Cheddar Bay biscuits.  I cannot get enough of them, and I'm just glad they don't have a location super close to me, or I'd be eating my weight in carbs, and that's probably not the best thing to do on a regular basis lol.
So I put those cheddar bay flavors into this loaf of beer bread!  It's garlicky, it's cheesy, it has that delicious slight bitterness, and the garlic butter topping is out of this world.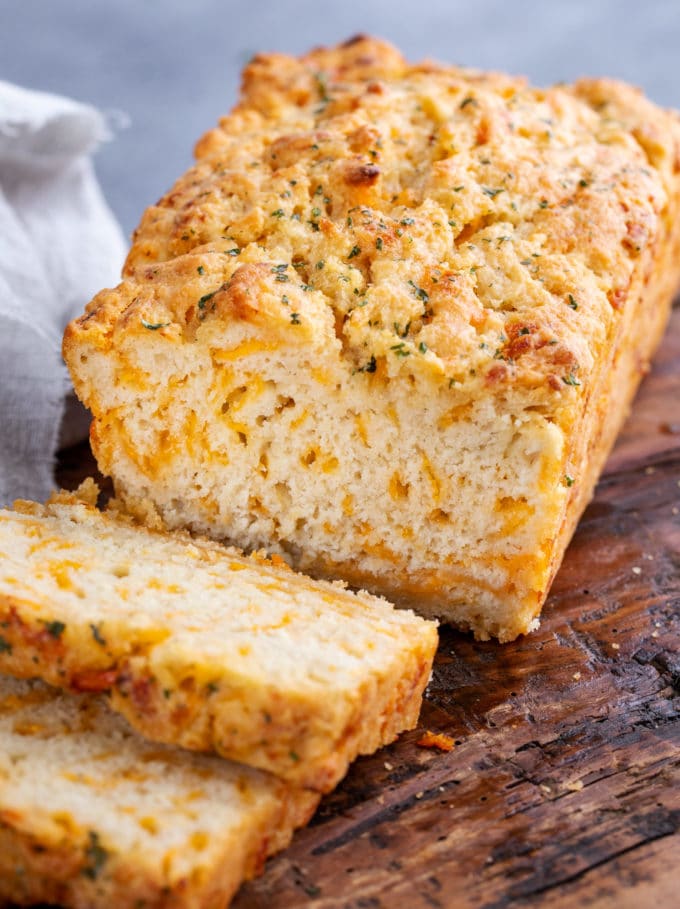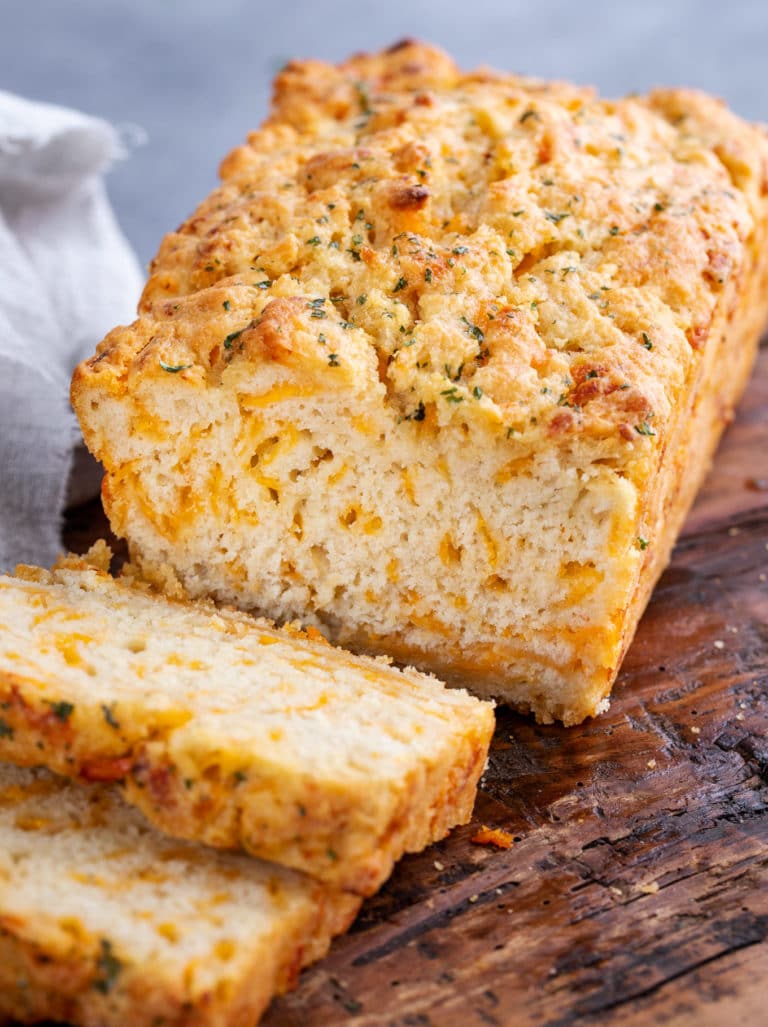 HOW TO MAKE THIS BEER BREAD
Preheat oven and prepare loaf pan.
Add dry ingredients to mixing bowl and stir.  The dry ingredients here are flour (regular all-purpose), granulated sugar (for a touch of sweetness), baking powder (helps the bread rise), garlic powder (amazing flavor), and salt (for more flavor).
Stir in cheese, then pour in wet ingredients.  Just give the shredded cheese a toss in the flour mixture, and make a little well in the center.  Then pour in your beer (choose your fave).
Stir until combined.  Just use a rubber spatula or wooden spoon and stir until all the flour is incorporated.
Add half the melted butter to the bottom of the pan.  This helps release the bread from the pan after baking, as well as adds extra buttery flavor!
Add the batter and top with remaining butter.  This ensures a nice golden brown top, plus, more buttery flavor.
Bake until golden and cooked through.  This always takes about 47-ish minutes for me, but since all ovens are different, make sure you test with a toothpick or knife to check for doneness.

Brush with garlic butter.

  The garlic butter mixture is simply butter, dried parsley and garlic powder.  Give the top a gooooood bath of that butter mixture, it's amazing!

Let cool in the pan for a bit, then turn out to cool on rack.

  After about 5-7 minutes, brush the bread again with any remaining butter mixture, then let it finish cooling on the rack.  It's SO tempting to dive right into this bread as soon as it comes out – but I think it has the best texture when it's been cooled for about 30 minutes.  Still warm, but not hot.
ADDITIONAL COOKING TIPS
USE YOUR FAVORITE BEER – I like to use a regular Budweiser or Miller to make this bread because it's cheap, and produces a very light beer flavor.  If you prefer a more robust beer flavor profile, feel free to use an ale, or your favorite brew.
TEXTURE – don't expect this beer bread to have the same texture and crumb as a sandwich bread or a loaf from your favorite bakery.  This bread is dense and hearty, with a tendency to crumble a bit as you slice it… while still being incredibly moist and tender.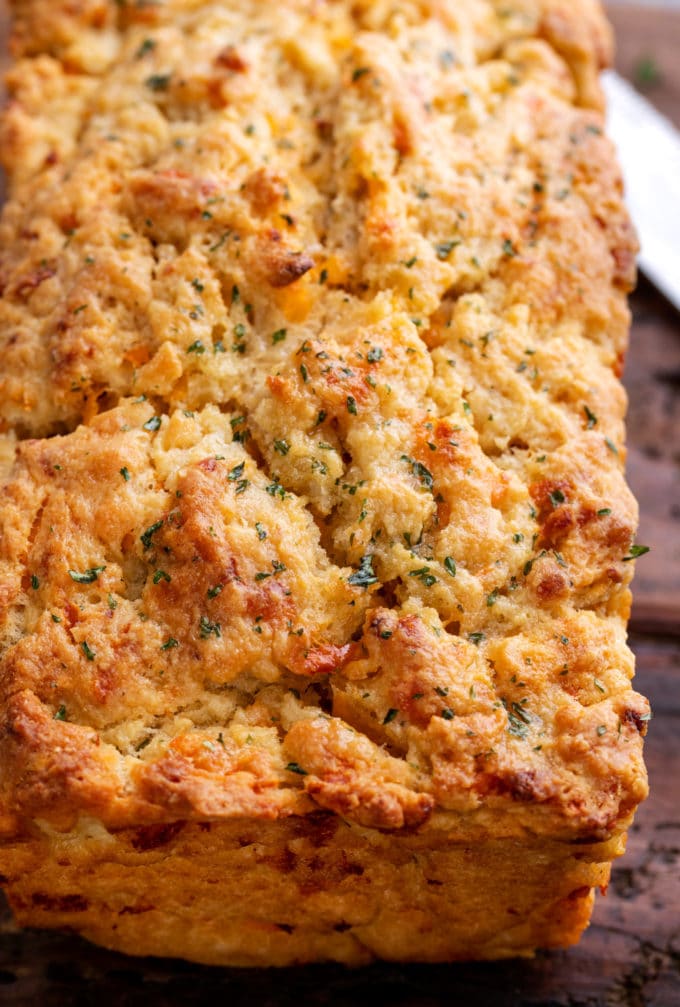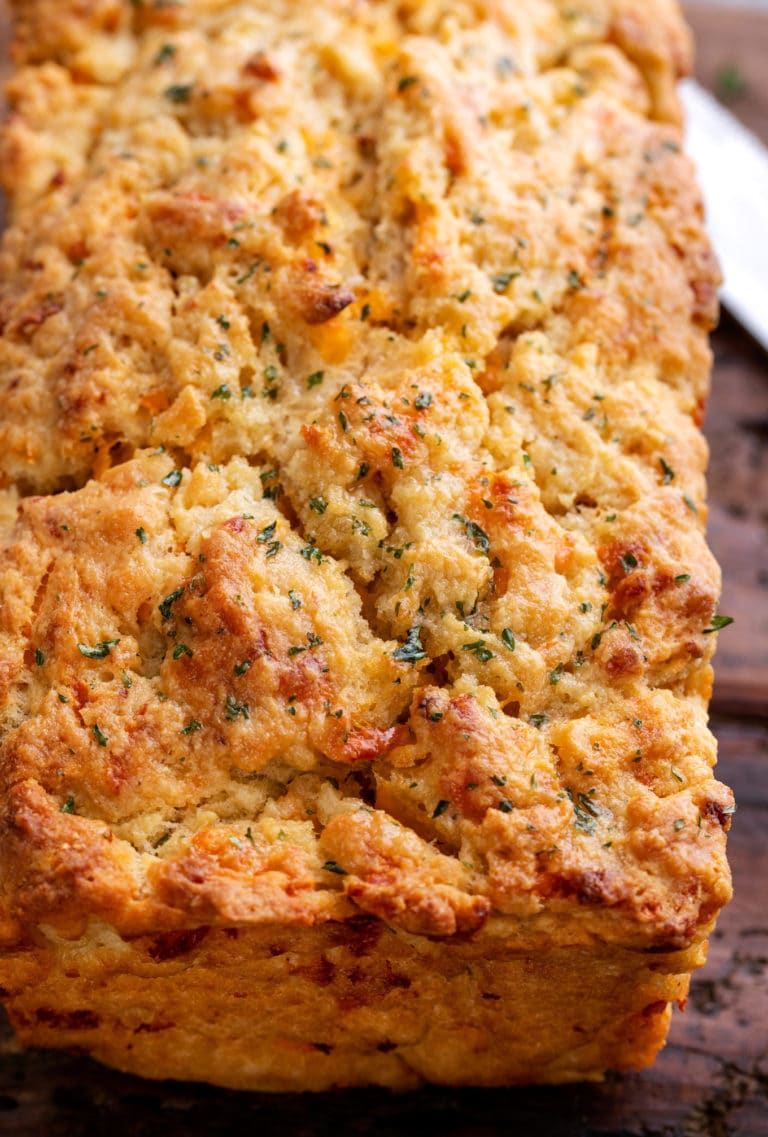 VARIATIONS OF THIS RECIPE
NON-ALCOHOLIC – a huge percentage of the alcohol is cooked away when baking this bread, so it won't give you ANY sort of buzz, but if you'd rather not consume alcohol, my best substitution would be non-alcoholic beer.  Maybe a seltzer water would work, but I haven't tested it.
MUFFINS – if you're in a hurry, you can make garlic cheddar beer bread muffins!  Just lightly grease a 12 cup muffin tin, add 1/2 tsp of melted butter in the bottom of each muffin cup, fill the cups 2/3 of the way up with batter, and spoon another 1/2 tsp of melted butter over the top of each one.  Bake at 375°F for about 15-18 minutes, until a toothpick inserted into the middle comes out clean or with just a few moist crumbs.
FLAVOR ADD-INS – you can totally customize this bread!  Feel free to add in some of your favorite seasonings, or different cheeses!  Bacon and/or chives are great additions as well.
SELF-RISING FLOUR – if you don't have any all-purpose flour, self rising flour will work – just omit the baking powder.
HONEY – You could substitute the sugar with honey if you prefer.
MAKING BEER BREAD AHEAD OF TIME
This bread is definitely best when made fresh, and other than the baking time, it comes together so quickly!
STORAGE
This bread can be kept at room temperature in an airtight container for up to 3 days without losing freshness.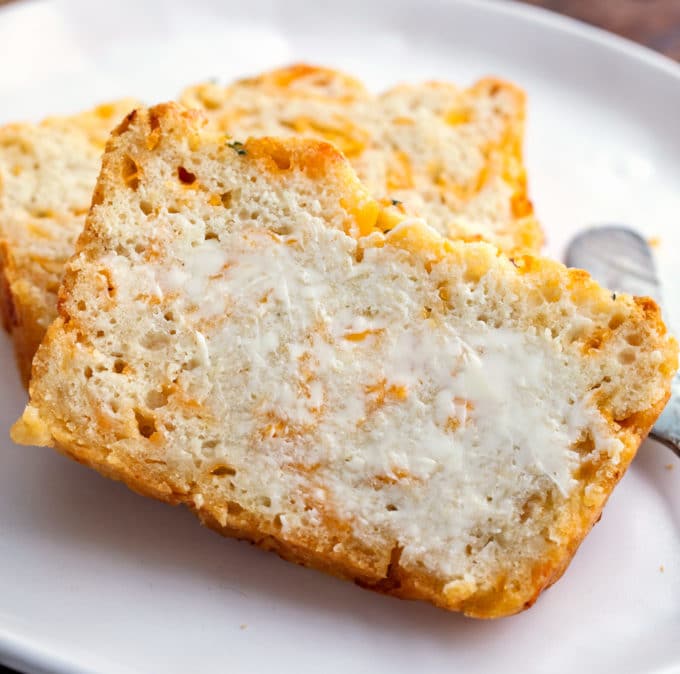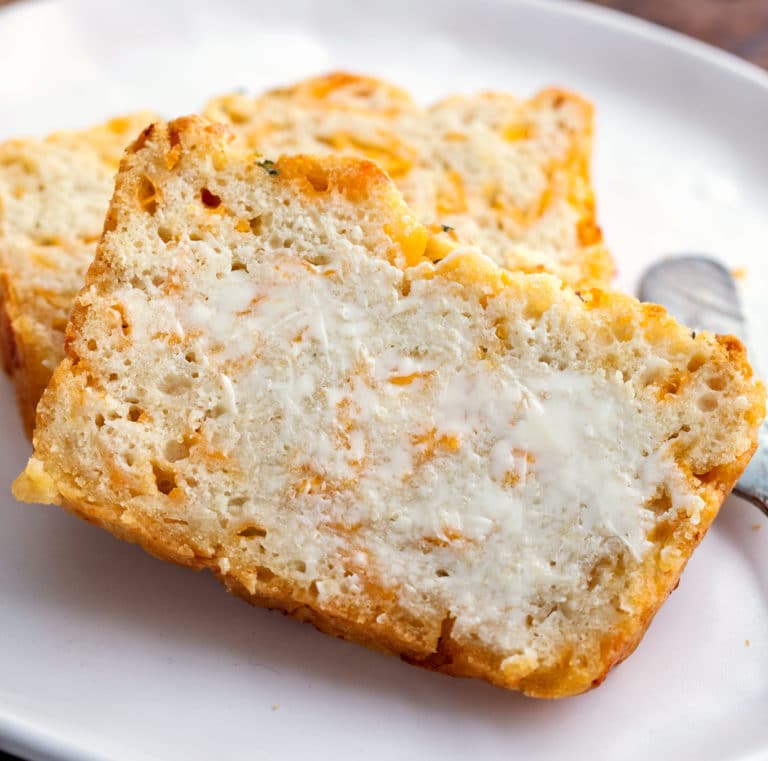 FREEZING
Baked beer bread can be frozen for up to 5-6 months!  Cool it completely and wrap tightly in plastic wrap, then place it into a freezer container.
Thaw in the refrigerator and microwave a slice for 20-25 seconds for a "warm from the oven" flavor!
SPECIAL EQUIPMENT FOR THIS RECIPE
Mixing Bowl – no fancy tools here, just a lightweight and economical mixing bowl.
Rubber Spatula – I like to use spatulas like these that are all one piece, as they seem to hold up better.


BE SURE TO SCROLL DOWN TO CHECK OUT OTHER READERS' COMMENTS FOR TIPS AND REVIEWS.
AND DON'T FORGET, IF YOU'VE MADE THIS RECIPE, LEAVE A COMMENT AND PLEASE GIVE IT A STAR RATING LETTING ME KNOW HOW YOU ENJOYED IT!
Did you make this? Be sure to leave a review below and tag me @the_chunky_chef on Facebook and Instagram!
Servings:
1
standard loaf
(hover over # to adjust)
Whip up a loaf of this Garlic Cheddar Beer Bread in practically no time - and with NO yeast!
Ingredients
3 cups all purpose flour
2 1/2 Tbsp granulated sugar
1 Tbsp baking powder
1 tsp kosher salt
1 - 2 tsp garlic powder depends on how garlicky you want it
1 cup shredded cheddar cheese
12 oz beer
3 Tbsp melted butter
GARLIC BUTTER TOPPING
2 1/2 Tbsp melted butter
1 tsp dried parsley (or around 1 Tbsp minced fresh parsley if you have it)
1/2 tsp garlic powder
Instructions
Preheat oven to 350°F and lightly spray the sides of a 9x5" loaf pan. Set aside.

To a mixing bowl, add flour, sugar, baking powder, salt, and garlic powder and stir to combine. Stir in the shredded cheese. Make a little well in the center of the dry ingredients.

Pour in the beer and stir until no flour streaks remain.

Add half of the melted butter to the bottom of prepared loaf pan and tilt the pan around so the butter coats the bottom of the pan. Transfer batter to pan, spreading it out into an even layer.

Pour remaining half of the melted butter over the top of the batter, brushing it around so it evenly coats the top.

Bake for 45-50 minutes, until golden brown and a toothpick inserted into the center comes out clean or with just a few moist crumbs.

Whisk together garlic butter topping ingredients (melted butter, parsley and garlic powder) and brush over the top of the loaf when it comes out of the oven.

Let bread cool in the pan for 5-7 minutes, brush again with any leftover garlic butter topping, then turn out carefully onto a wire rack to finish cooling.
Want to save this recipe for later? Click the heart in the bottom right corner to save to your own recipe box!
Chef Tips
** can easily be doubled to make two loaves Bread is great with butter, toasted, or alongside a bowl of chili!
Nutrition Disclaimer
The Chunky Chef is not a dietician or nutritionist, and any nutritional information shared is an estimate. If calorie count and other nutritional values are important to you, we recommend running the ingredients through whichever online nutritional calculator you prefer. Calories can vary quite a bit depending on which brands were used.