---
Ditch the frozen stuff and make this incredibly easy homemade garlic bread instead! Plus, add some mozzarella to make it extra cheesy!
---
There's something so comforting about a perfectly warm and toasty loaf of sliced bread… each sliced slathered in the most delicious garlic parmesan and herb spread!  This recipe is perfect alongside a bowl of pasta or comforting soup!  Plus, I've also shared my favorite way to have this homemade garlic bread… with plenty of gooey cheese!
This post is sponsored by Mountain Rose Herbs.  All opinions here are my own.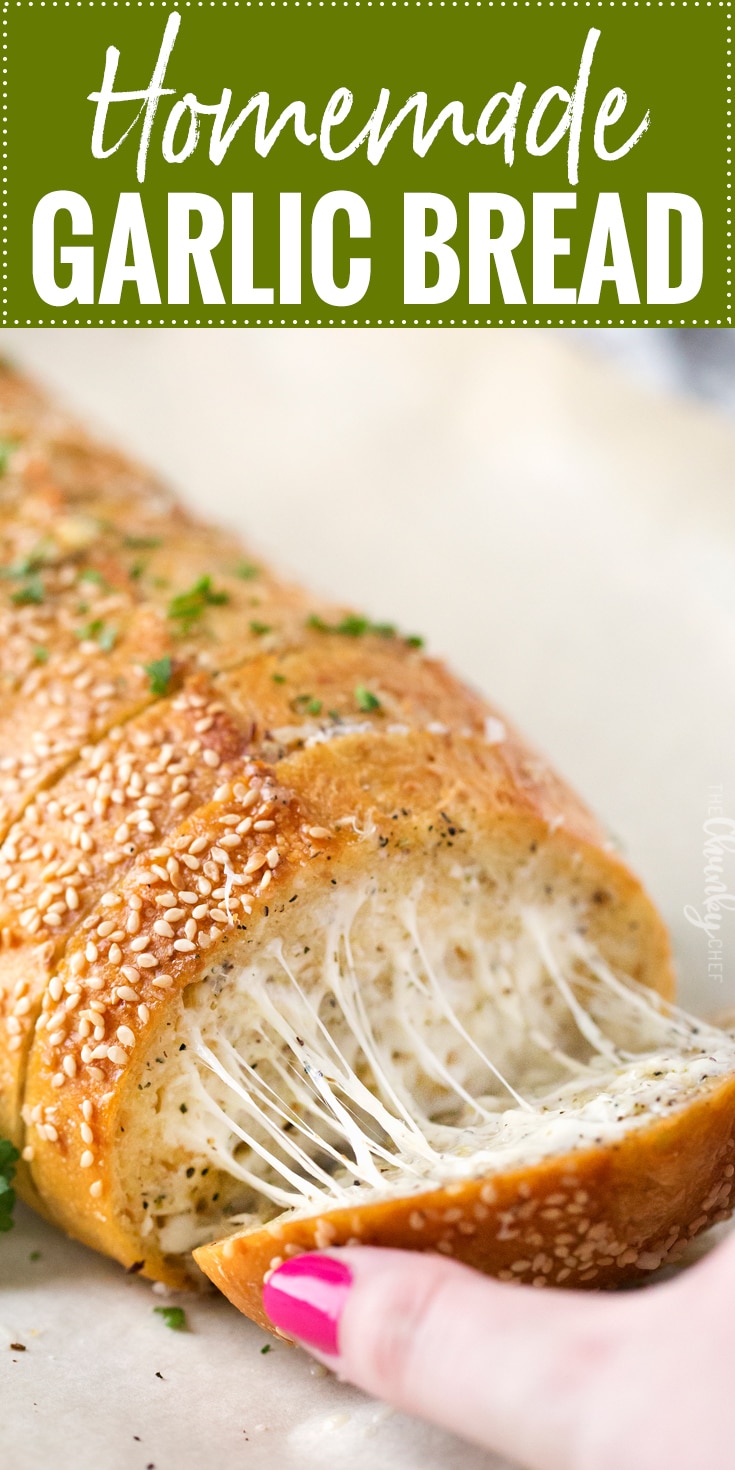 You guys… I've finally done it!  I've been struggling to perfect the perfect homemade garlic bread for a LONG time.  Everything I tried was too soft, too crispy, not enough garlic flavor, too many herbs, not super flavorful, etc.  So for our pasta nights, we always fell back to some variety of frozen garlic bread.  But no more folks!!
This bread is actually semi-homemade, since you'll be using a loaf of artisan bread from a bakery (or the bakery section of your local grocery store, like I did), but it tastes 100x better than any frozen bread!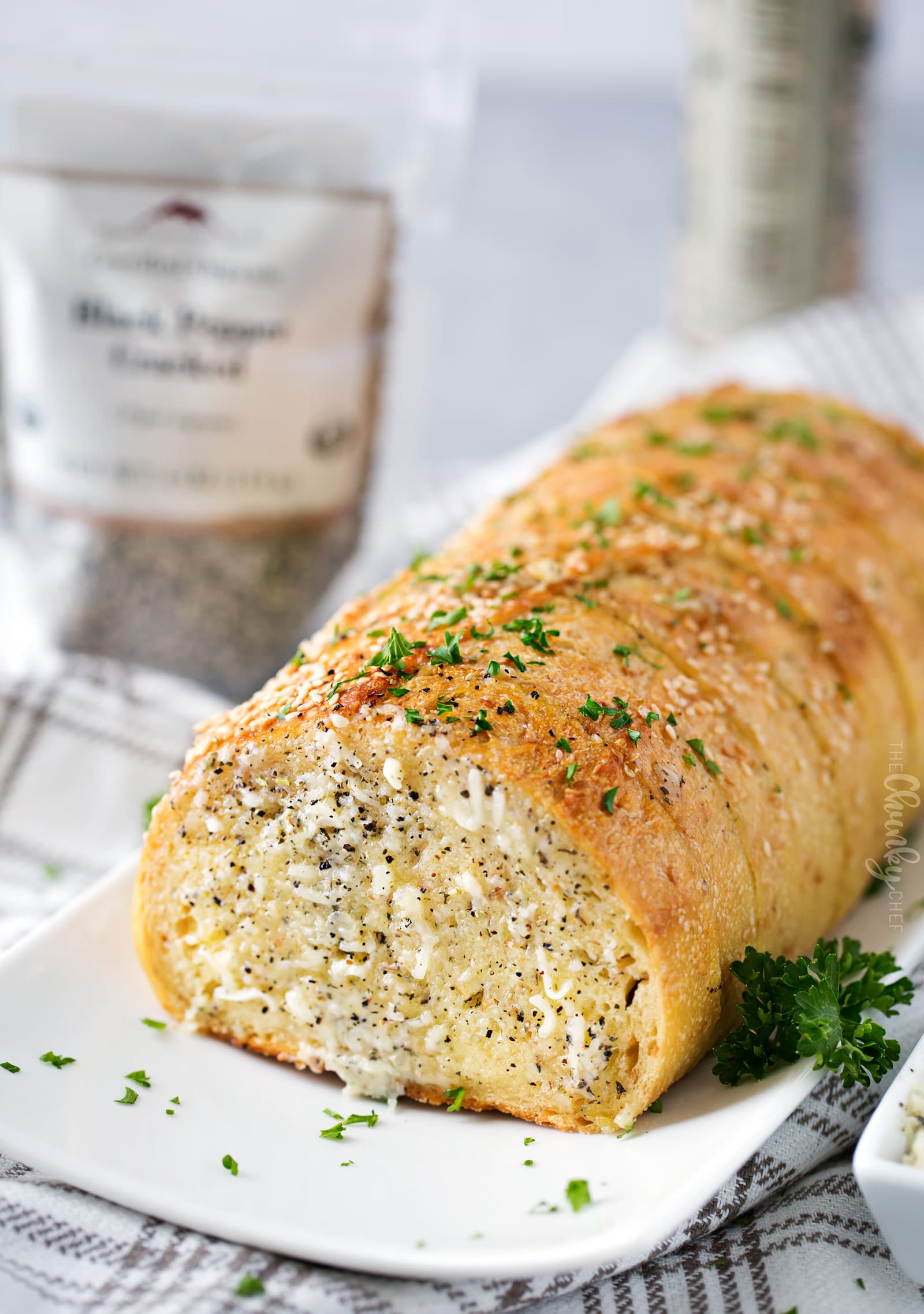 My secret weapon for getting maximum flavor into this garlic bread is using the finest dried herbs and culinary oils.  Mountain Rose Herbs is all organic, and they are committed to bringing the finest herbs and spices to you.  They're located in Eugene, Oregon, so if you're lucky enough to live out that way, you can stop in their store and say hello!  For the rest of us, they ship directly to your door!  For this recipe I used their cracked black pepper, extra virgin olive oil, and Italian seasoning blend.
I've been using an Italian seasoning from my grocery store, and I can tell you that the seasoning blend from Mountain Rose Herbs was so fresh and potent, and had a MUCH better flavor!  Plus, I can buy in bulk if I want to!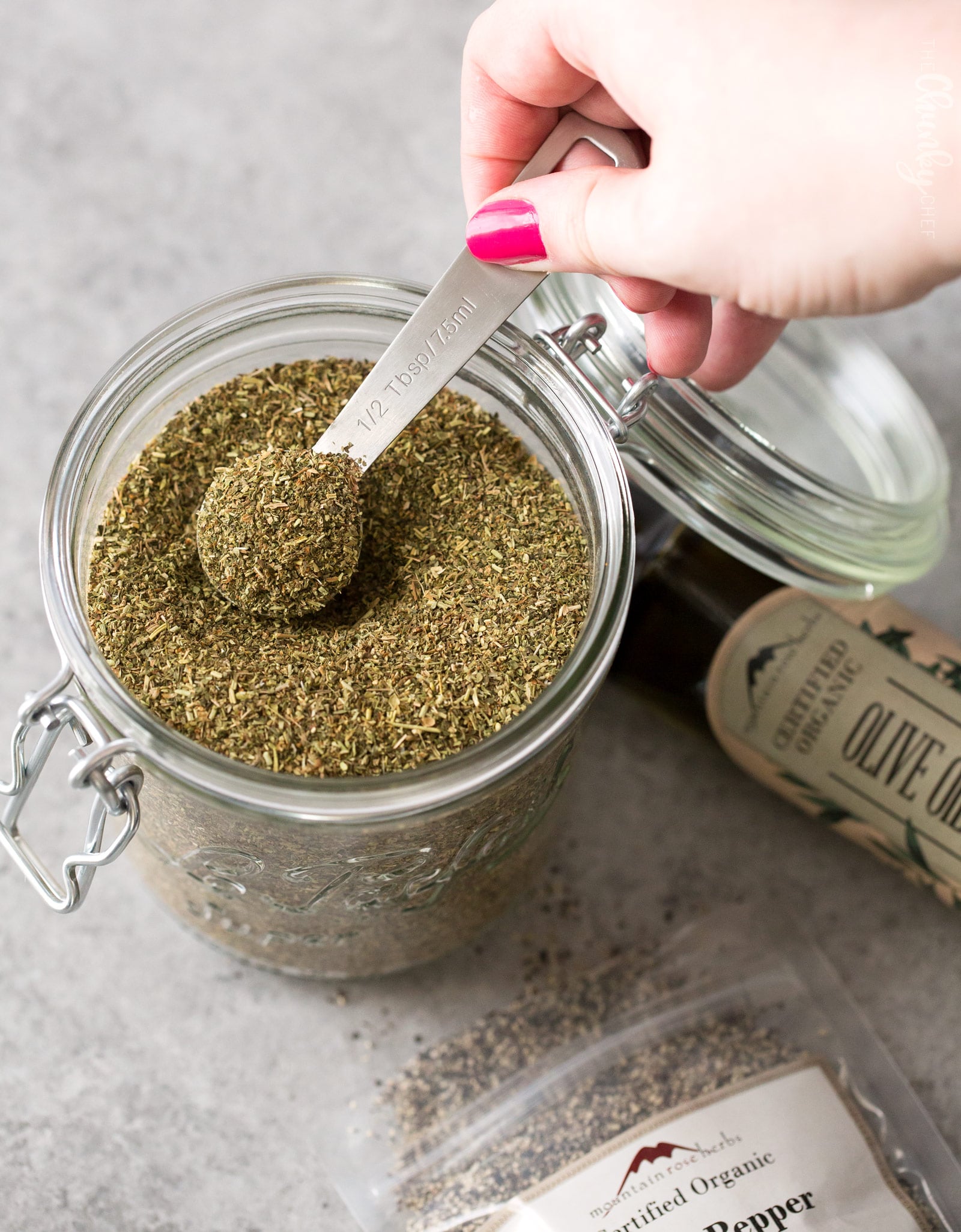 Making this homemade garlic bread is really simple and only takes about 10 minutes to assemble.  While the oven is preheating, you'll want to mix up the garlic parmesan herb butter (seriously drool worthy!).  I like to use salted butter for this, but if all you have is unsalted, that will work, just add a bit more kosher salt.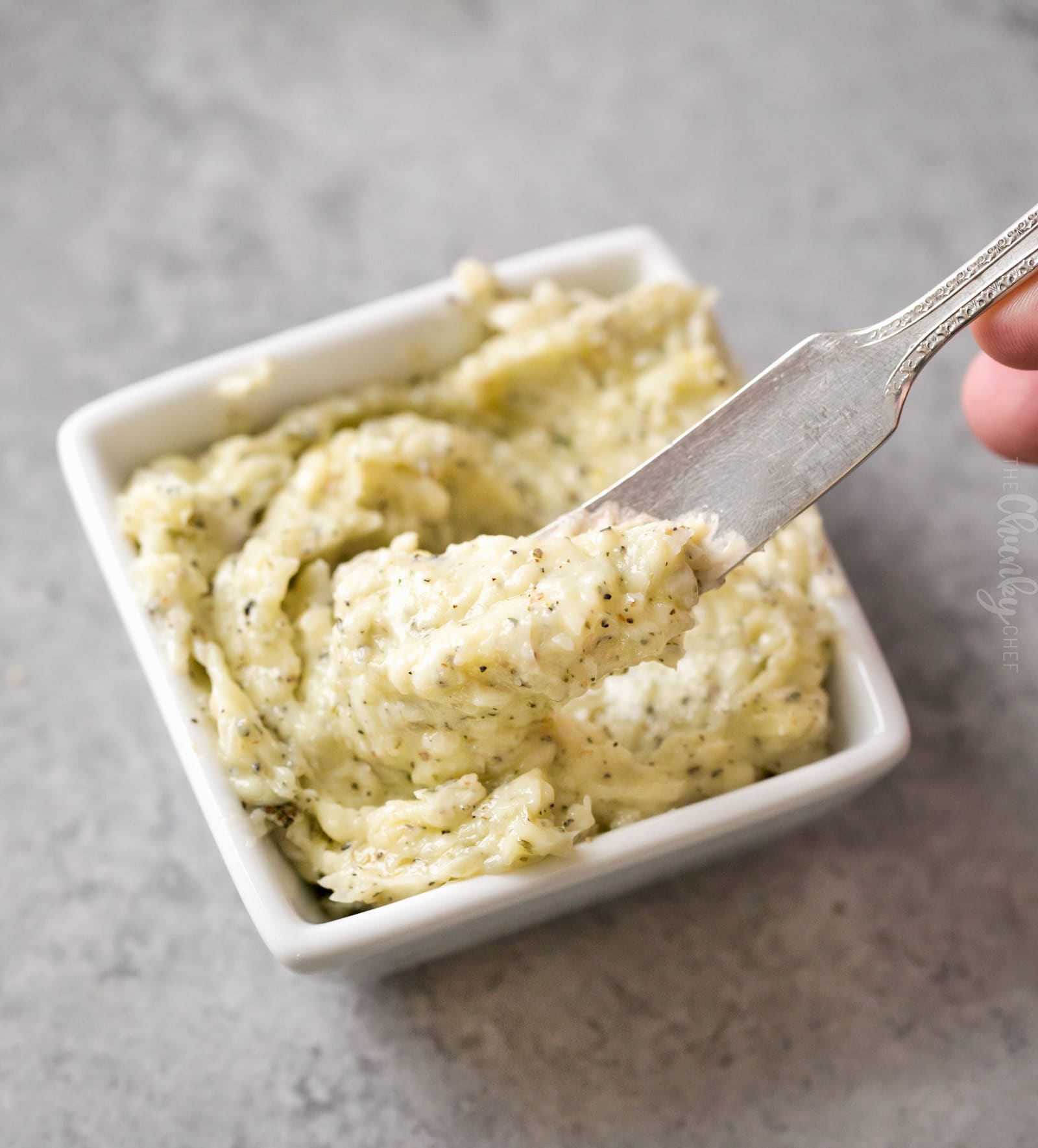 Look at all those specks of flavor!!!  Okay, now that the butter is mixed, just slice up your bread.  The secret here is to slice it alllllllmost, but not actually, all the way through.  If you slice all the way through, the bread can fall apart too easily.  Then just slather both sides of each slice, cover with foil and bake!  Easy peasy!
In the title of this post I mentioned a cheesy option… and it's a FANTASTIC way to enjoy this garlic bread!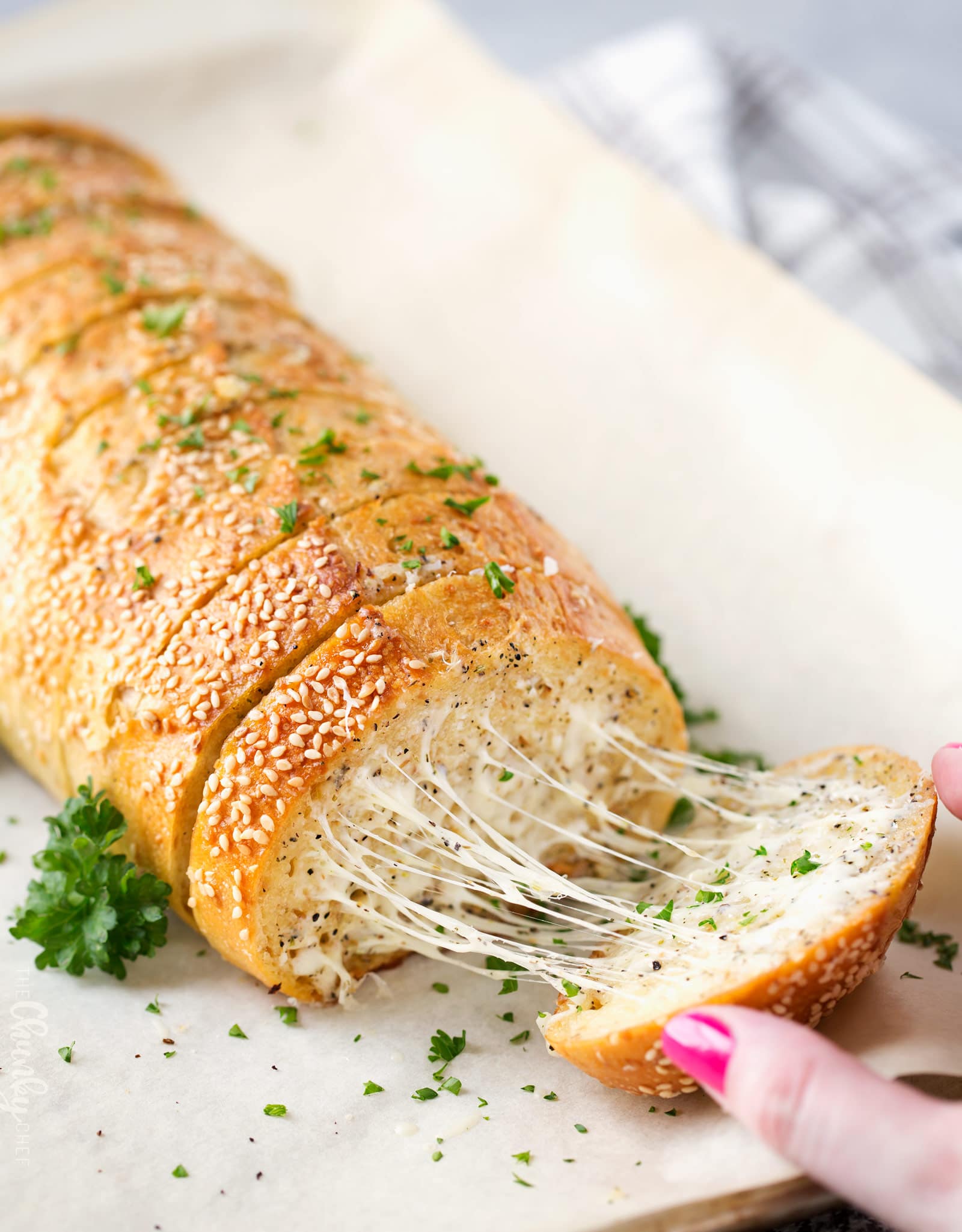 I mean, how can you go wrong with gooey, melty cheese?!  To get extra cheesy, either add shredded mozzarella to the butter mixture, sprinkle it in between each slice, or do what I did… and do both.  I was alllllll about the decadence here you guys.  Of course you can use any cheese you'd like, I just found mozzarella stayed gooey the longest, and went with the Italian flavors in the bread.
I know some of you might not like a cheesy garlic bread, so I wanted to be sure to include some shots of the warm, buttery bread without the extra cheese as well.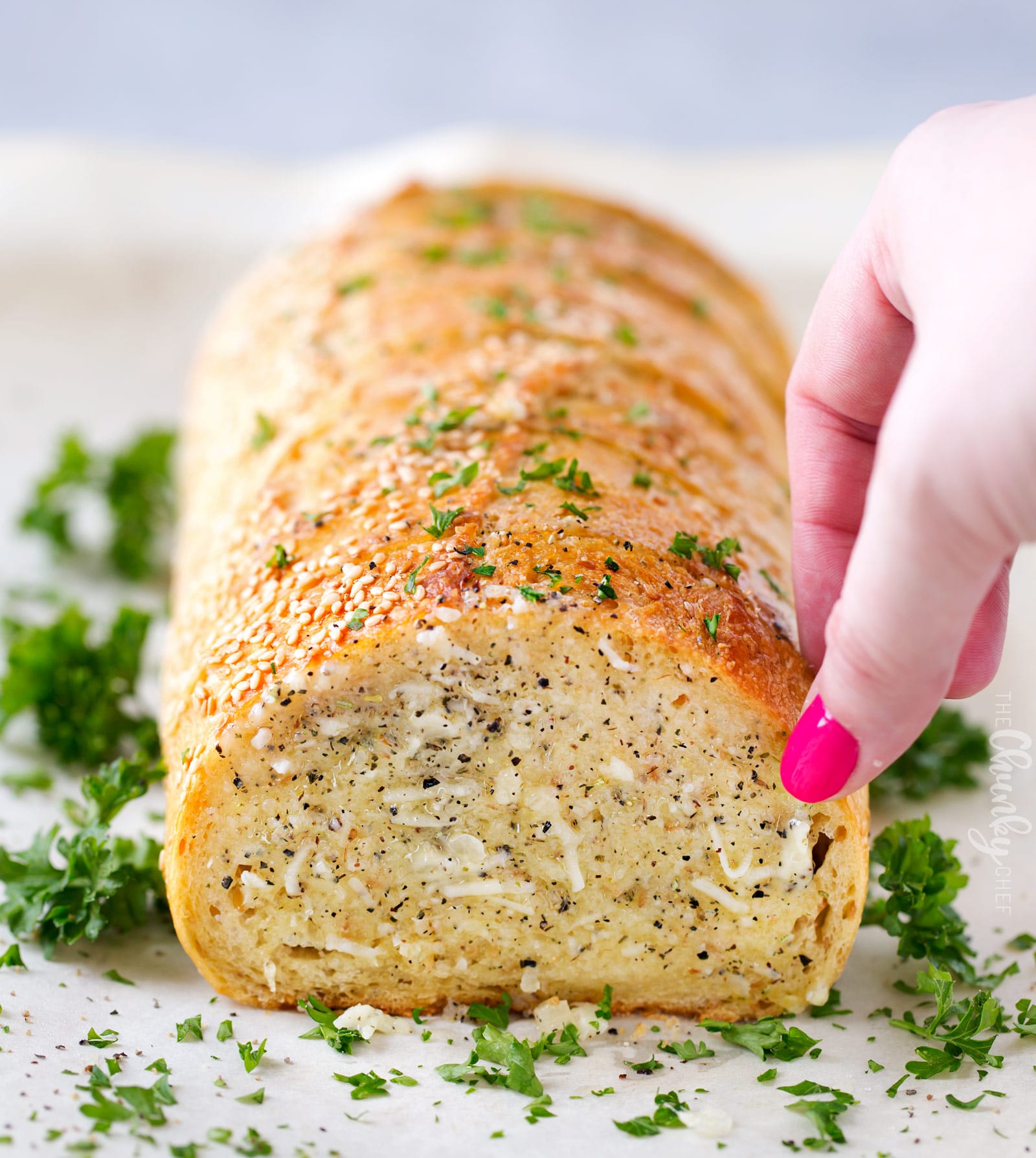 Here's a list of great meals to have with this homemade garlic bread: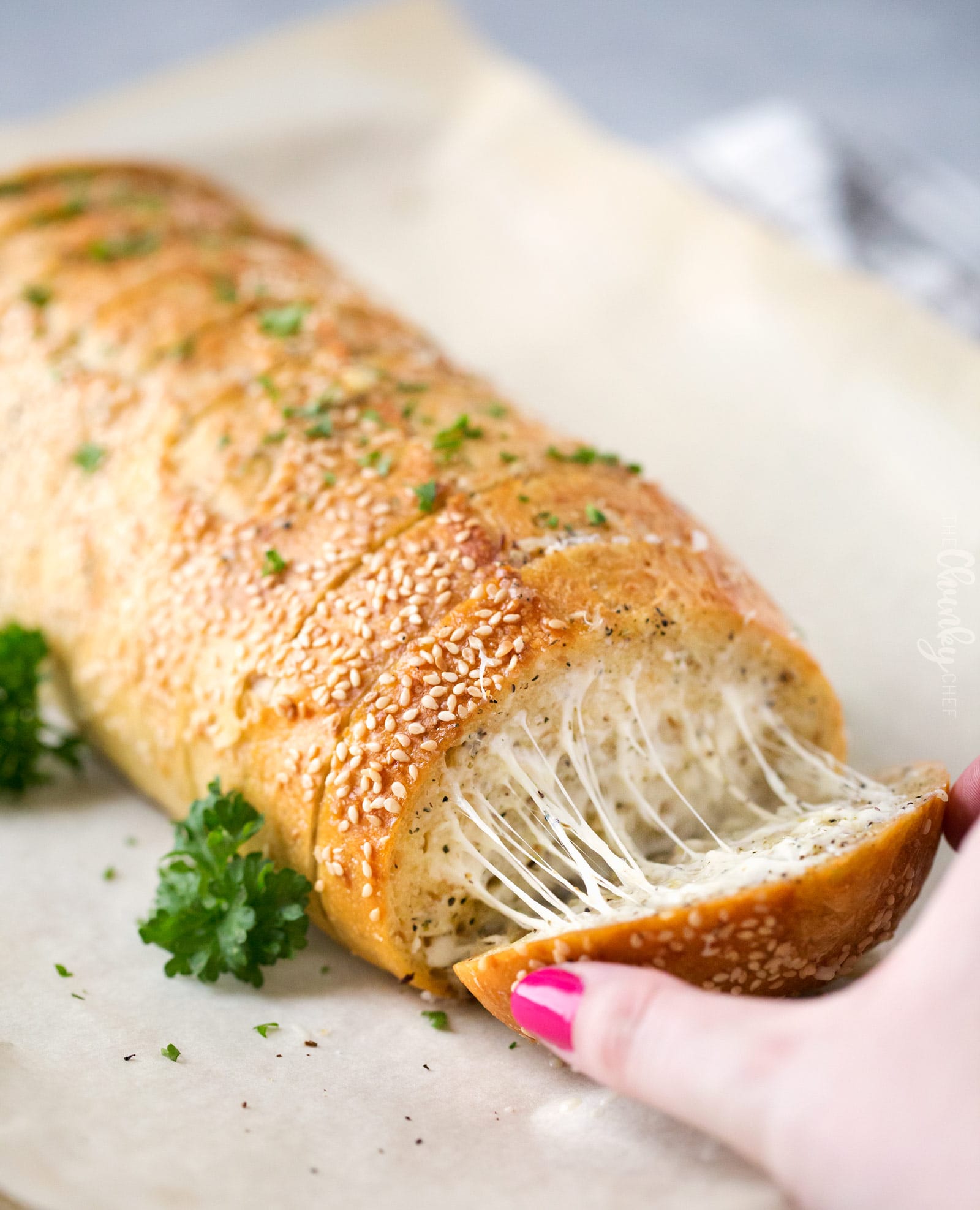 I really hope you all try out this warm, gooey, buttery and flavorful homemade garlic bread on your next pasta night (or even alongside a great bowl of soup!).  And don't forget to head over to Mountain Rose Herbs to pick up some amazing herbs and spices to make all your recipes fantastic!!
---
WANT TO TRY THIS HOMEMADE GARLIC BREAD?
PIN IT TO YOUR ITALIAN OR DINNER BOARD TO SAVE FOR LATER!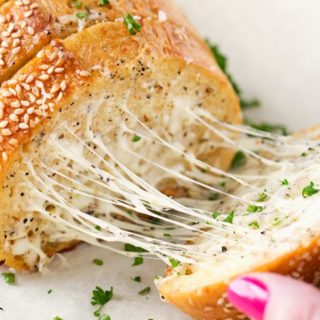 Homemade Garlic Bread
Ditch the frozen stuff and make this incredibly easy homemade garlic bread instead! Plus, add some mozzarella to make it extra cheesy!
Servings
6
servings (approximately 2 slices per person)
Ingredients
1/2

cup

salted butter, softened to room temperature

(1 stick)

1/4

cup

grated Parmesan cheese

(use the good stuff - no jarred or canned varieties)

1

Tbsp

extra virgin olive oil

3-4

cloves

garlic, grated or very finely minced

1/2

tsp

grated lemon zest

(optional but recommended)

1

tsp

Italian seasoning blend

1/4

tsp

cracked black pepper

pinch of kosher salt

1

loaf of artisan bread (my personal favorites are sesame seed or any other bread with a tight crumb to hold the butter)

1/2

cup

shredded mozzarella cheese

(optional)
Instructions
Preheat oven to 425 degrees F. Set a baking sheet aside.

While oven is preheating, combine butter, Parmesan cheese, olive oil, garlic, lemon zest, Italian seasoning blend, cracked black pepper, and salt in a small mixing bowl. Mix together with a small rubber spatula or wooden spoon. Set aside.

Using a bread knife, slice bread into roughly 1 inch thick slices, not cutting all the way through, just down to about 1/2 inch from the bottom.

Spread an even coating of butter mixture on both sides of the bread slices. Be generous, and if there's any butter left over, refrigerate in an airtight container. For an extra cheesy version, add some shredded mozzarella cheese in between each slice of bread.

Wrap loaf of bread completely in aluminum foil (this will likely take two pieces, one on the bottom and one on the top). Place wrapped bread on baking sheet and bake for 15 minutes.

Open the top of the foil and bake another 5 minutes to let the top of the bread toast a little.
Recipe Notes
I highly suggest Mountain Rose Herbs cracked black pepper, extra virgin olive oil, and Italian seasoning blend.
NEVER MISS A CHUNKY CHEF RECIPE: