One Pot Pepperoni Pizza Pasta
Classic pepperoni pizza flavors are mixed with cheesy pasta in this one pot dish that is perfect for a busy weeknight! Ready in just 30 minutes!
Everything you love about a pepperoni pizza, with added flavors like Italian sausage, green bell pepper, and sweet onion, in a fun, kid-friendly pasta dish made in one pot, and in just 30 minutes.  What's not to love?!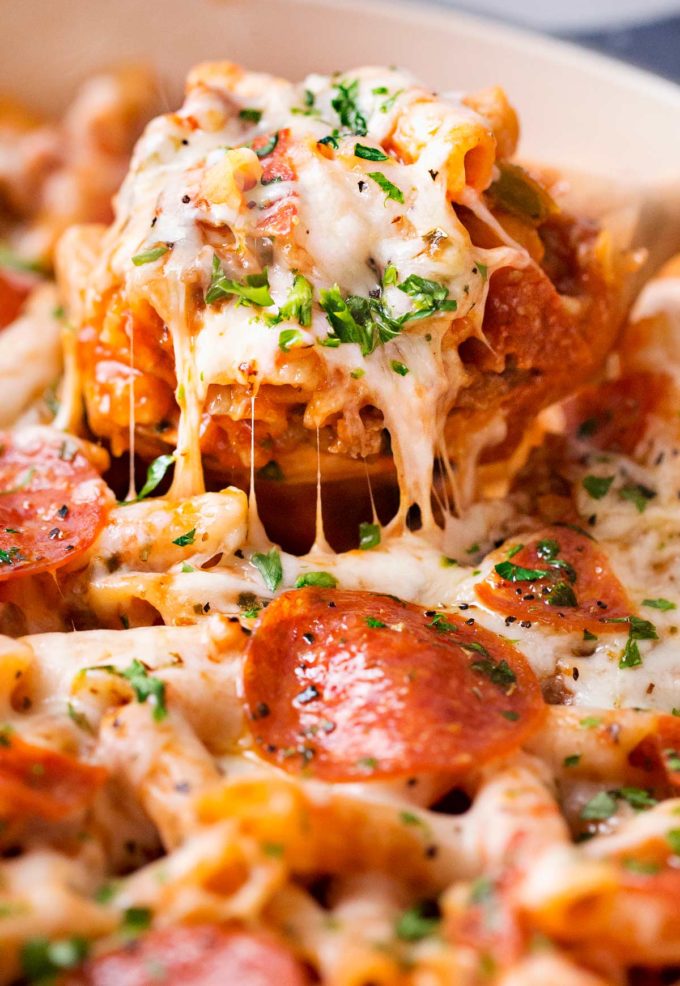 A couple of weeks ago I promised you guys that I had some more one pot meals coming, and here's the next one!  Since transforming chicken parmesan and Philly cheesesteak into one pot pasta dishes, I just KNEW a pizza one had to happen.  I am a pizza fanatic!!  And my family, well they love pizza too, but they also love pasta… so why not combine the two?!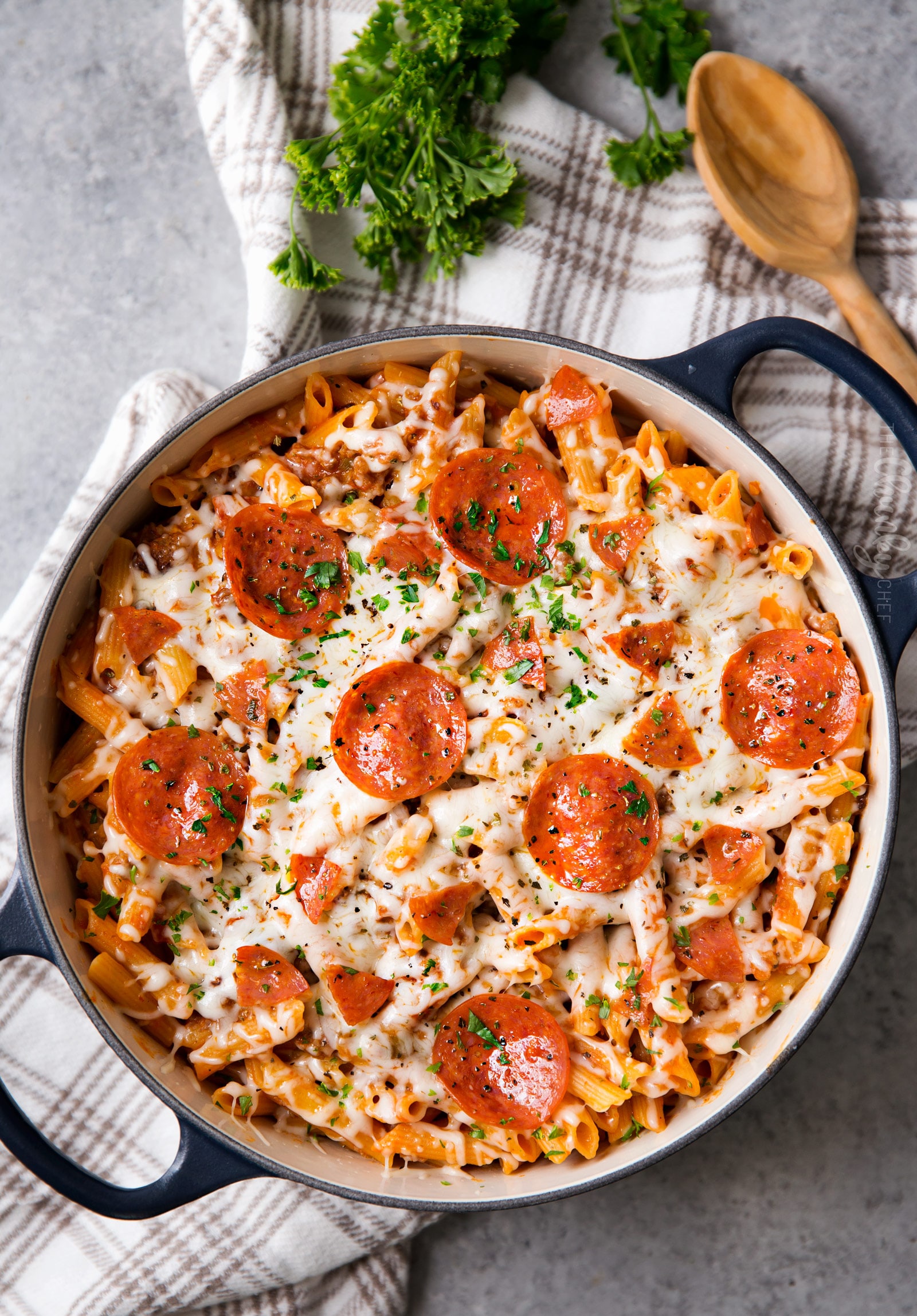 Once combined, you have the most mouthwatering pasta, full of pizza flavors, and tons of ooey gooey cheese.  You will LOVE this meal!
I named it pepperoni pizza pasta, but there's more than just pepperoni going on here.  I also added some crumbled Italian sausage, and sautéed green pepper and onion!  So I guess it's sort of a deluxe pizza pasta, but my favorite part is the crispy pepperoni.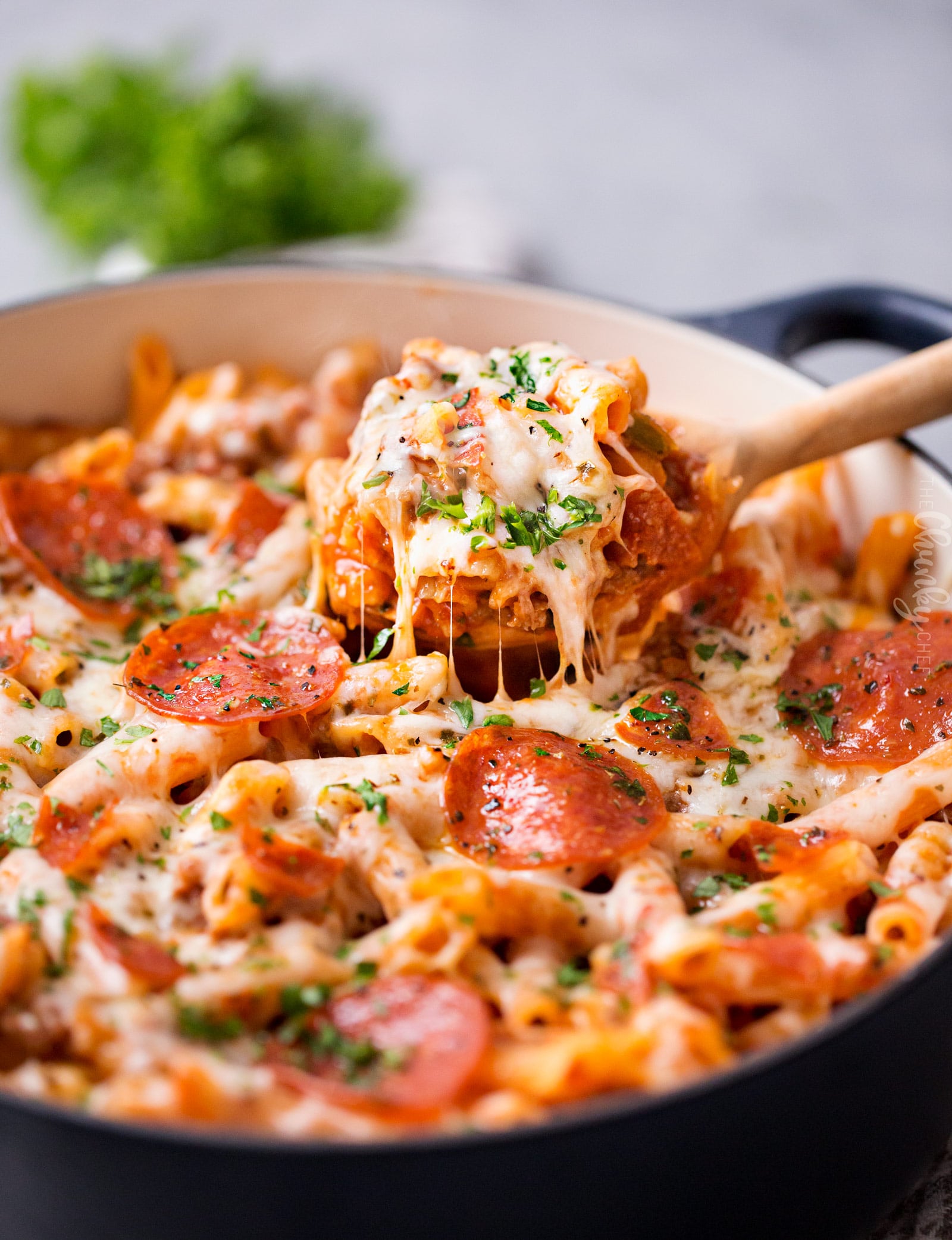 Okay, so maaaaaybe my favorite part is actually the cheese… I mean just look at the gooey cheese there!!  Does it get any better than plenty of gooey cheese?  I think not!!
Making one pot pasta meals isn't difficult, but there can be a few bumps along the way.  Here are my tips.
SECRETS FOR PERFECT ONE POT PASTA RECIPES:
Use the right pasta – long cut pastas like spaghetti or fettuccine might work, but when a recipe has been tested with short cuts, use those for the best results.
Make sure you use plenty of liquid – don't skimp on the water… I promise it won't water the flavor down.  You need that liquid to cook the pasta properly.
Stir, stir, stir – this isn't a recipe you can set to simmer and walk away for a while.  You need to give the pasta a stir several times throughout the cooking process, and more so the last 4-5 minutes.  If you don't stir, the pasta can stick to the bottom of the pot.
Watch the burner temperature – every stove is different, so while I can put mine on simmer and have it work perfectly, maybe your simmer is too low (or vice versa).  You want the liquid to just be simmering… if the temperature is too hot, the pasta will boil too quickly, and there will still be too much liquid in the pot.  If you have the temperature down too low, the pasta won't be cooked enough.  A good rule of thumb is to check and adjust if needed each time you uncover the pot to stir the pasta.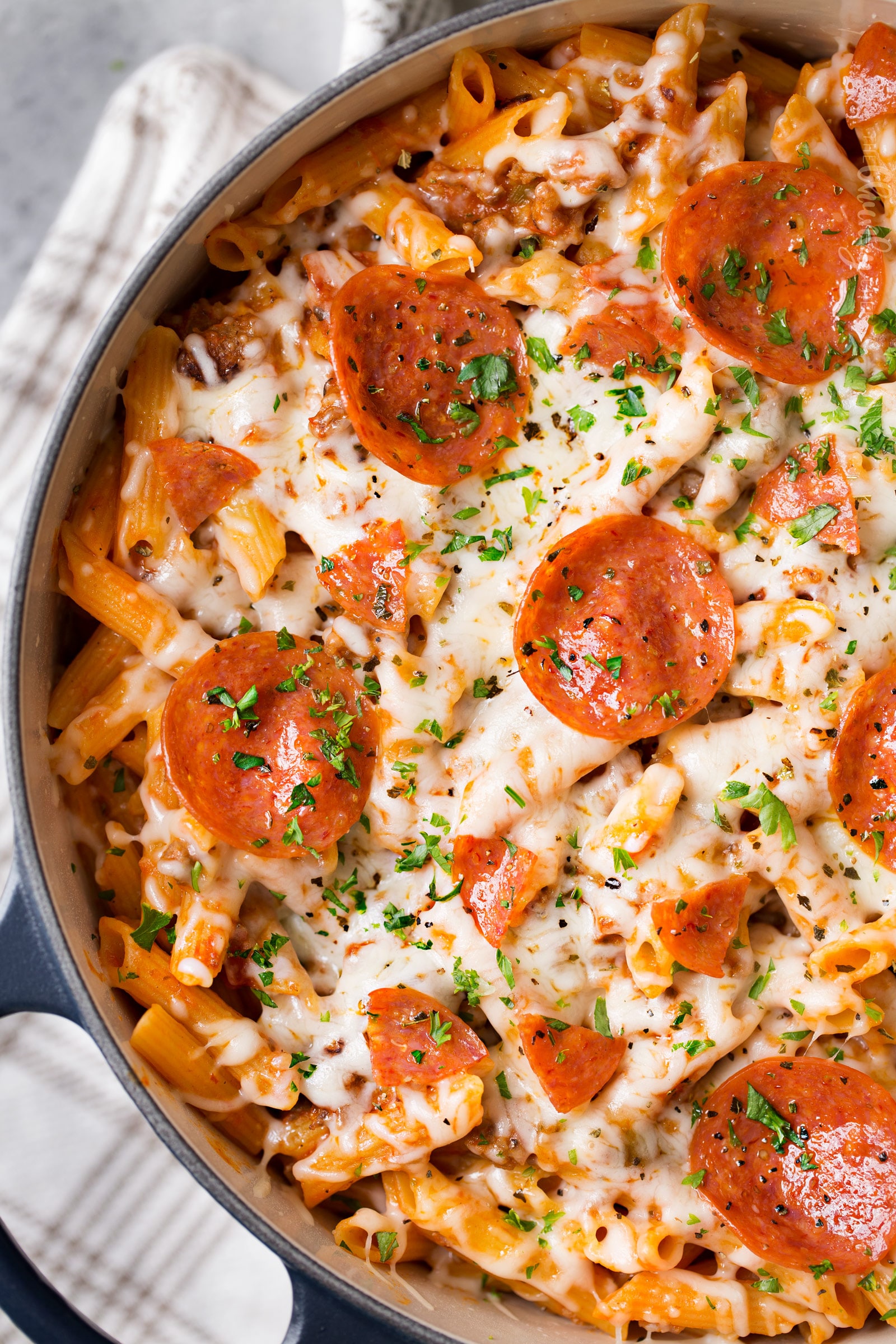 For this dish I used penne pasta, which I love.  All those ridges let the sauce just cling right to the noodle!
The next time you need a great 30 minute, one pot meal… try this pepperoni pizza pasta… your taste buds deserve it!!  Try some great semi-homemade cheesy garlic bread alongside!
OTHER GREAT ONE POT MEALS: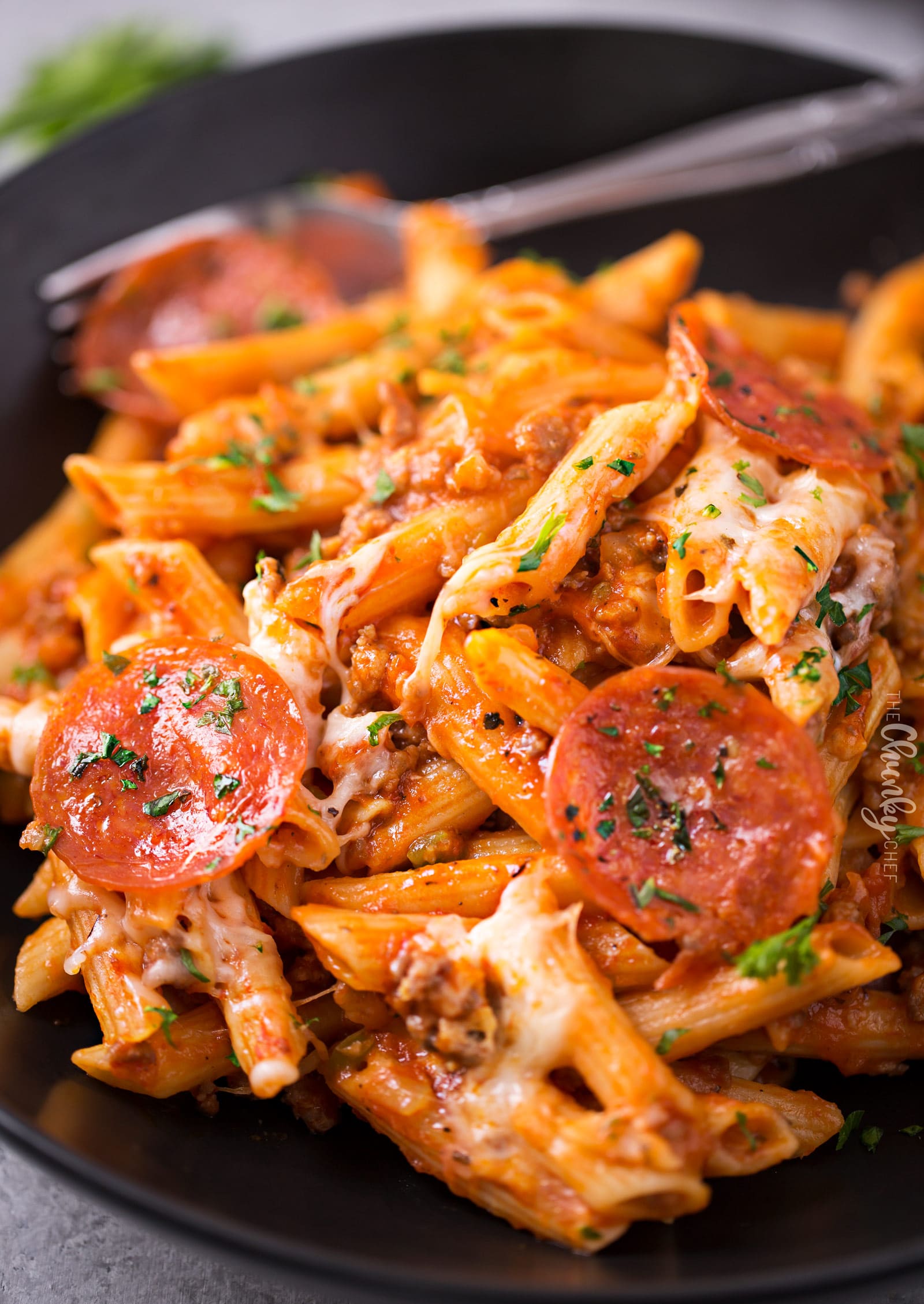 BE SURE TO SCROLL DOWN TO CHECK OUT OTHER READERS' COMMENTS FOR TIPS AND REVIEWS.
AND DON'T FORGET, IF YOU'VE MADE THIS RECIPE, LEAVE A COMMENT AND PLEASE GIVE IT A STAR RATING LETTING ME KNOW HOW YOU ENJOYED IT!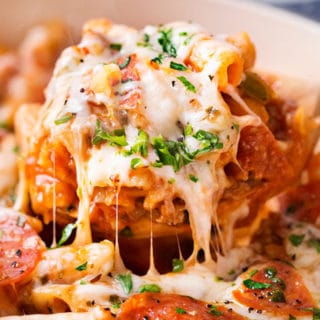 One Pot Pepperoni Pizza Pasta
Classic pepperoni pizza flavors are mixed with cheesy pasta in this one pot dish that is perfect for a busy weeknight! Ready in just 30 minutes!
Print
Pin
comment
Prep Time: 7 mins
Cook Time: 23 mins
Total Time: 30 mins
Servings: 8 servings
Calories: 441
Ingredients
1 lb mild Italian sausage, casings removed (or buy pre-ground sausage)
1/2 cup sliced pepperoni, divided
1/2 green bell pepper, diced
1/2 yellow onion, diced
4 cloves garlic, minced
24 oz jar of marinara sauce
1/2 tsp dried oregano
1/4 tsp dried basil
3 cups water
1 lb dry, uncooked short cut pasta (like penne, rigatoni, etc)
2 cups mozzarella cheese, divided
salt and pepper, to taste
fresh minced parsley or basil, for garnish
Instructions
Cut 1/2 the pepperoni slices into 4 pieces, set aside.

Heat a dutch oven or deep pot over MED HIGH heat. Add drizzle of olive oil and brown Italian sausage, crumbling it with a wooden spoon or potato masher as it cooks, about 4-5 minutes. Drain excess grease and return to pan.

Add cut pepperoni pieces, diced onion, and diced green pepper, and cook until softened, about 3 minutes. Add garlic and cook another 30 seconds, or until fragrant.

Stir in marinara sauce, oregano and basil. Add water, stir and bring to a boil over HIGH heat. When boiling, add pasta, stir, reduce to a simmer, cover with lid and simmer about 12-15 minutes, until pasta is tender and most of the liquid is gone.

Stir in 1 cup of mozzarella cheese, remove from heat. Taste and add salt and pepper as needed. Sprinkle top with remaining mozzarella, and lay remaining slices of pepperoni on top.

Broil on HIGH for 1-3 minutes, until cheese is bubbly, melted and slightly golden. Serve garnished with minced parsley or basil.
Notes
If your cooking pot isn't oven/broiler safe, alternatively, you can add the cheese and pepperoni slices on top, then cover with lid and heat on low a few minutes until cheese is melted.  The pepperoni slices won't be as crispy this way, so here's my solution to that:
before browning the sausage, add the uncut pepperoni slices to the bottom of the cooking pot with a drizzle of oil over MED-HIGH heat.  Cook until crispy, then remove to a paper towel lined plate for the end of the dish.  Continue cooking recipe as directed.
Are We Friends on Pinterest?
Follow me for more great recipes! The Chunky Chef!