---
Classic cheesesteak flavors mix with pasta in this easy one pot, 30 minute meal! The best comfort food just got a lot easier!
---
Rich, creamy, and LOADED with cheesesteak flavors… this pasta dish is made in just ONE pot, and ready in 30 minutes!  It doesn't get much easier than that!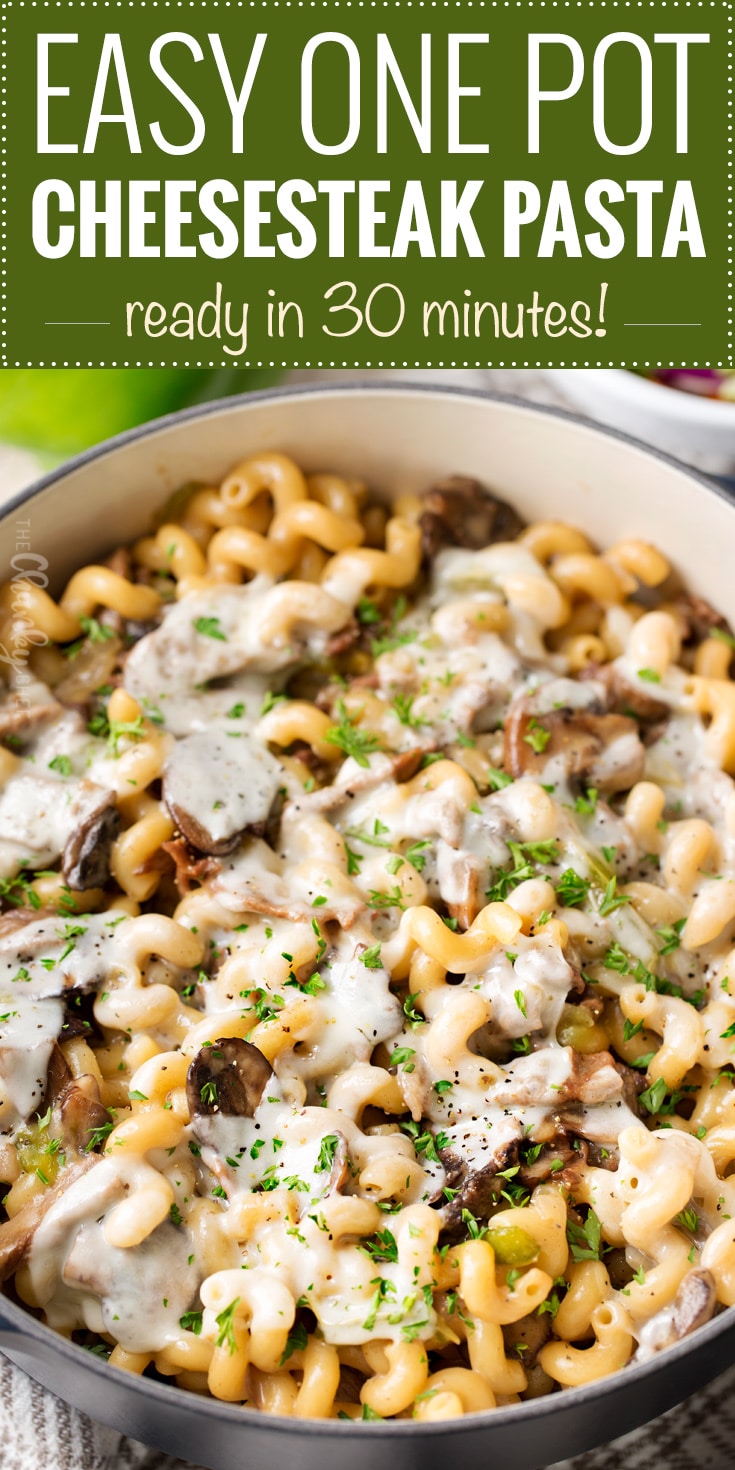 Ever since I posted this one pot chicken and dirty rice last year, I've been hearing from you all that you loved one pan/pot meals.  So I've added a few others, and I certainly have more in the works for you as this Fall/Winter go on!  Because truthfully, I LOVE one pot meals too!  And not even just for dinner.
I cook the recipes here on the blog during the day… early in the day actually (I work around the best natural light for photos), and usually end up cooking/shooting/cleaning up all before noon.  After cooking/cleaning up breakfast, then cooking for the blog, the LAST thing I feel like doing is creating a bunch of dishes that I have to deal with.  As a side note, anyone want to come wash blog dishes for me daily?  I'll pay you in food 😉 Lol, but in all seriousness, y'all should see my sink after a recipe gets cooked and shot.  The stuff of nightmares you guys… the stuff of nightmares.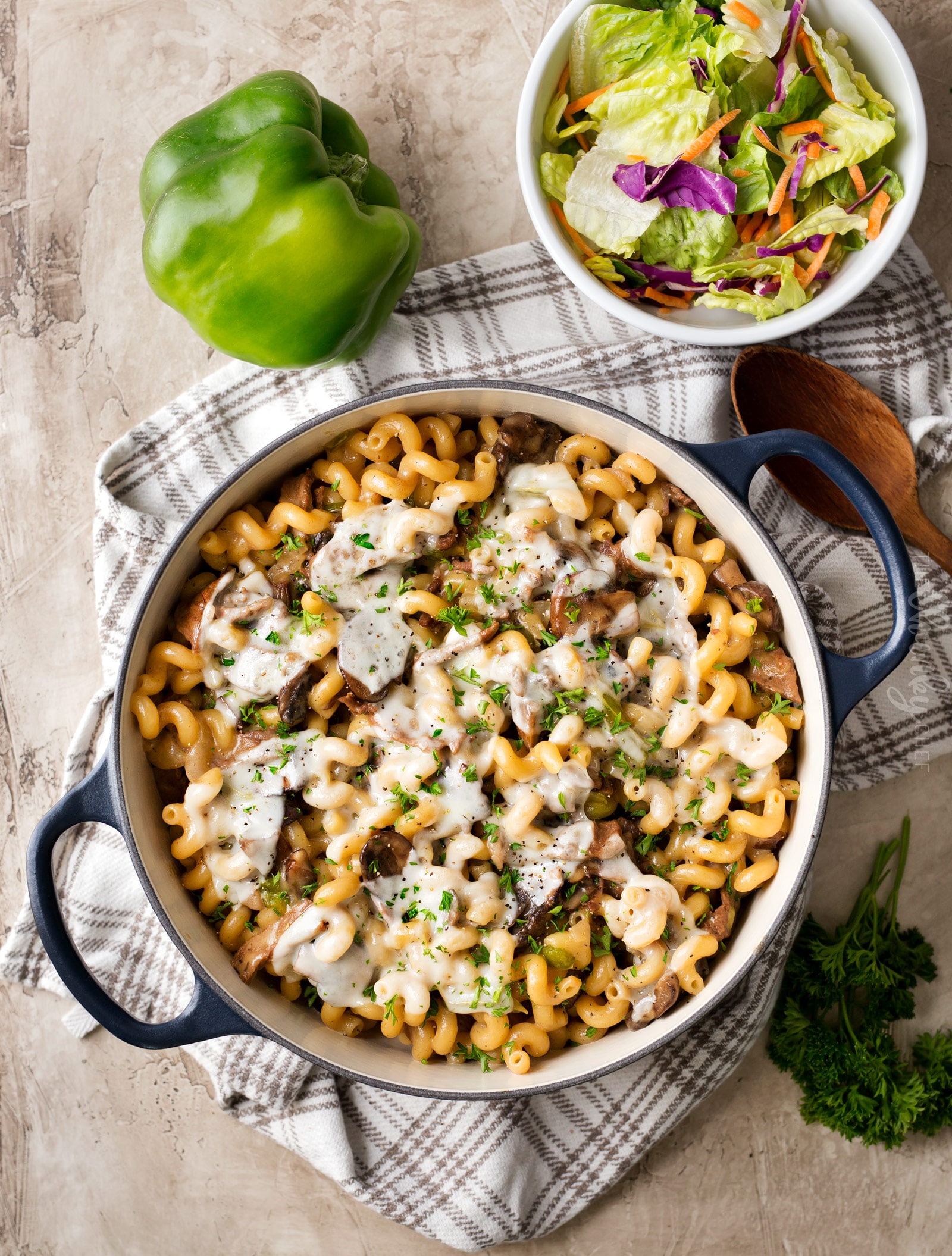 To my fellow bloggers, you know what I'm talking about… all the props, extra plates, linens, garnish plates, special silverware/servingware… PLUS the normal cooking dishes.  It wears me out just thinking about it!  Food photography is a messy business folks!
And of course, when it comes to cooking an actual dinner… there's no way I'm cooking something that requires multiple pans when I can do it all in one pot!  Why make extra work for yourself?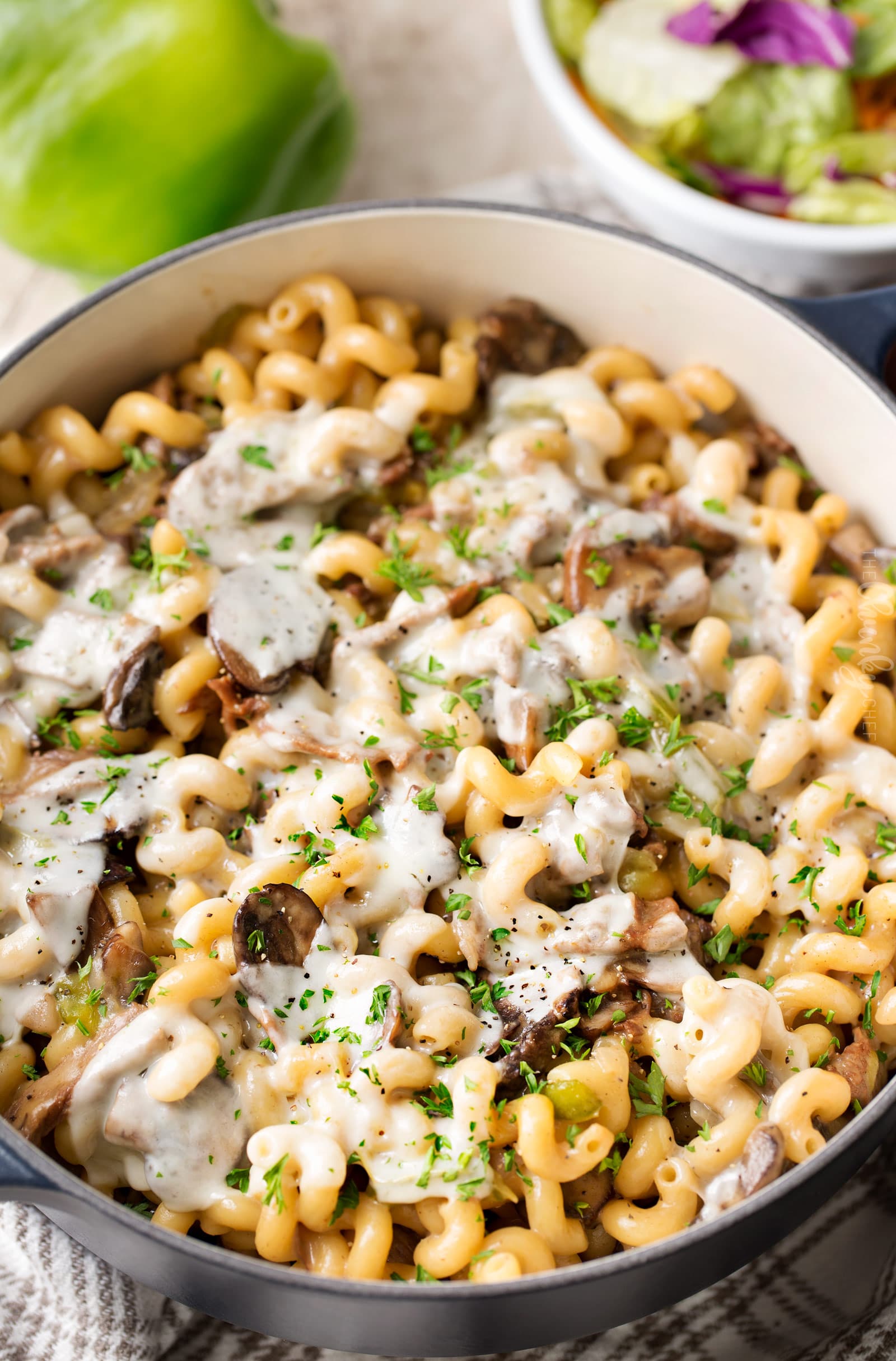 I'm not sure what your family's go-to comfort food is, but here in the Chunky Chef household… it's pasta.  We LOVE it, in all shapes, with any sauces, baked or straight off the stovetop.  I have a feeling a lot of you are pasta lovers too, so I kept that in mind when creating a group of these one pot meals.  I took all my favorite dishes, and morphed them into a one pot pasta dish!  A few weeks ago I shared the first of the collection, my one pot chicken parmesan pasta, and you guys have loved it!  I've already received several emails detailing how amazing it was.  By the way, those kinds of emails seriously make. my. DAY!  I love hearing about your kitchen successes and sharing in your joy!!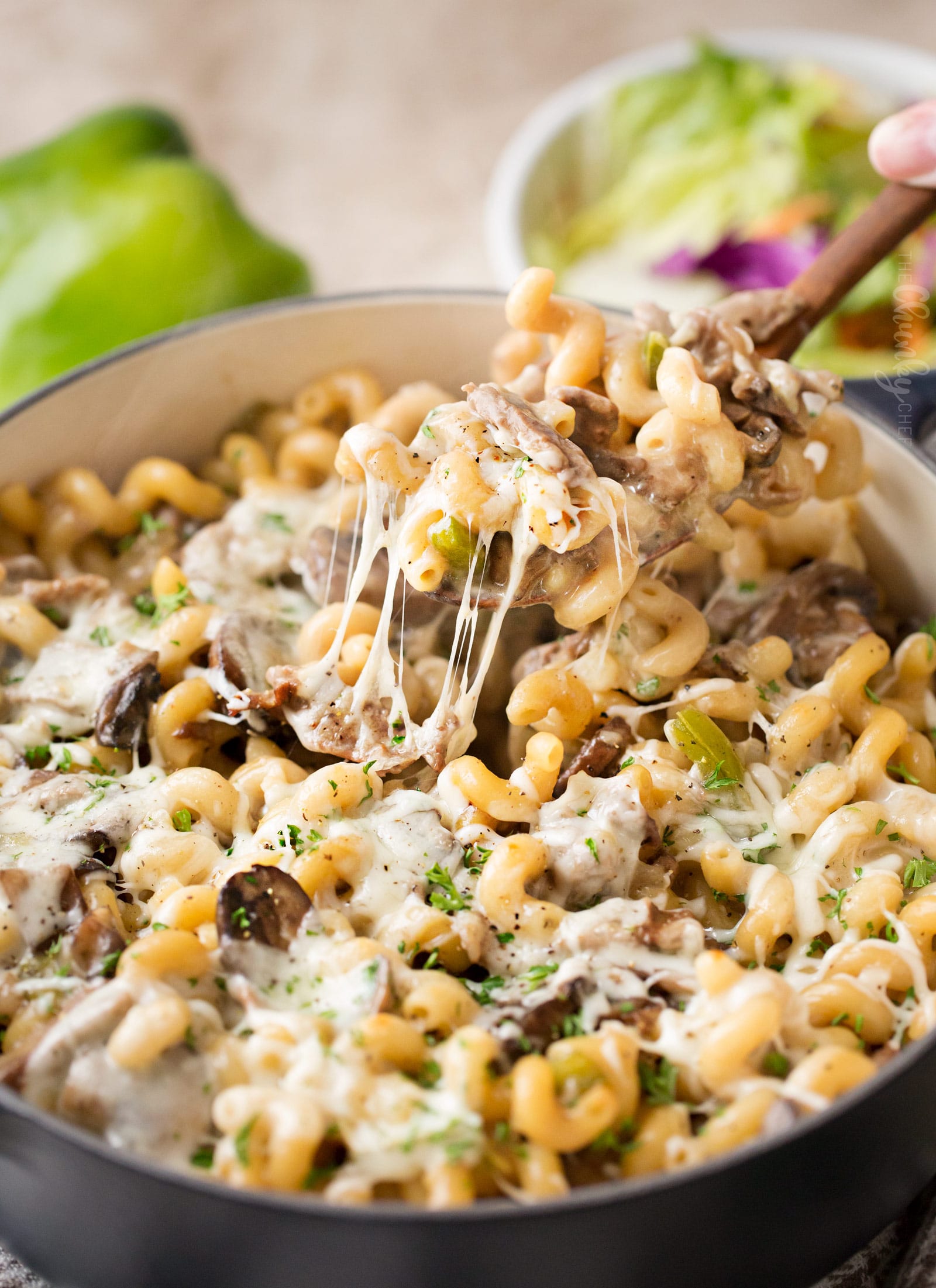 In all honesty here, I've never been to Philadelphia, so I've never had a true, authentic Philly cheesesteak.  It's on my list to do at some point though… because steak is the bomb!  Around here, cheesesteaks are typically made with steak (duh right?), onions, green or banana peppers, mushrooms and provolone cheese.  However, I've heard that some folks think provolone on a cheesesteak is just blasphemy, and prefer some good ol' cheez whiz.  If that's your jam… go for it.  You can switch up the cheeses, omit the pepper, add in whatever makes it the perfect cheesesteak for YOU 🙂
As far as what steaks to use, I prefer to use a boneless ribeye, because I just love the marbling in the meat.  When you slice it super thinly… that plus the fat marbling makes for the most tender amazing slices of steak!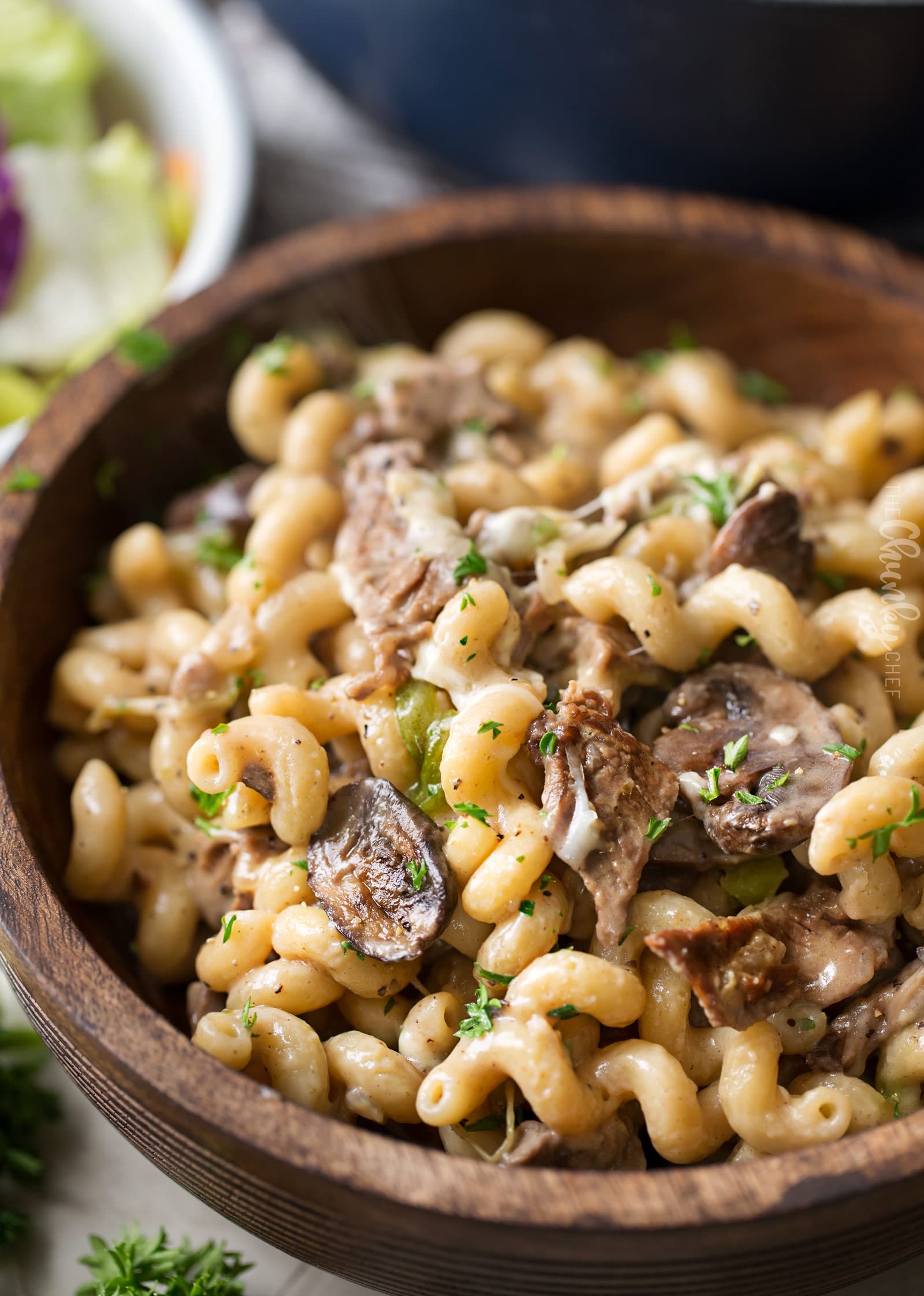 Also, if you wanted a chicken cheesesteak, some thinly sliced chicken would also work beautifully in this dish!  It's really versatile.  Just make sure you use a short cut of pasta, like cavatappi (what's used in these photos), penne, rigatoni, campanelle, etc.  Longer pasta like spaghetti or fettuccine would be harder to cook in the dish, plus you want the pasta to be about the same size/length of the steak slices.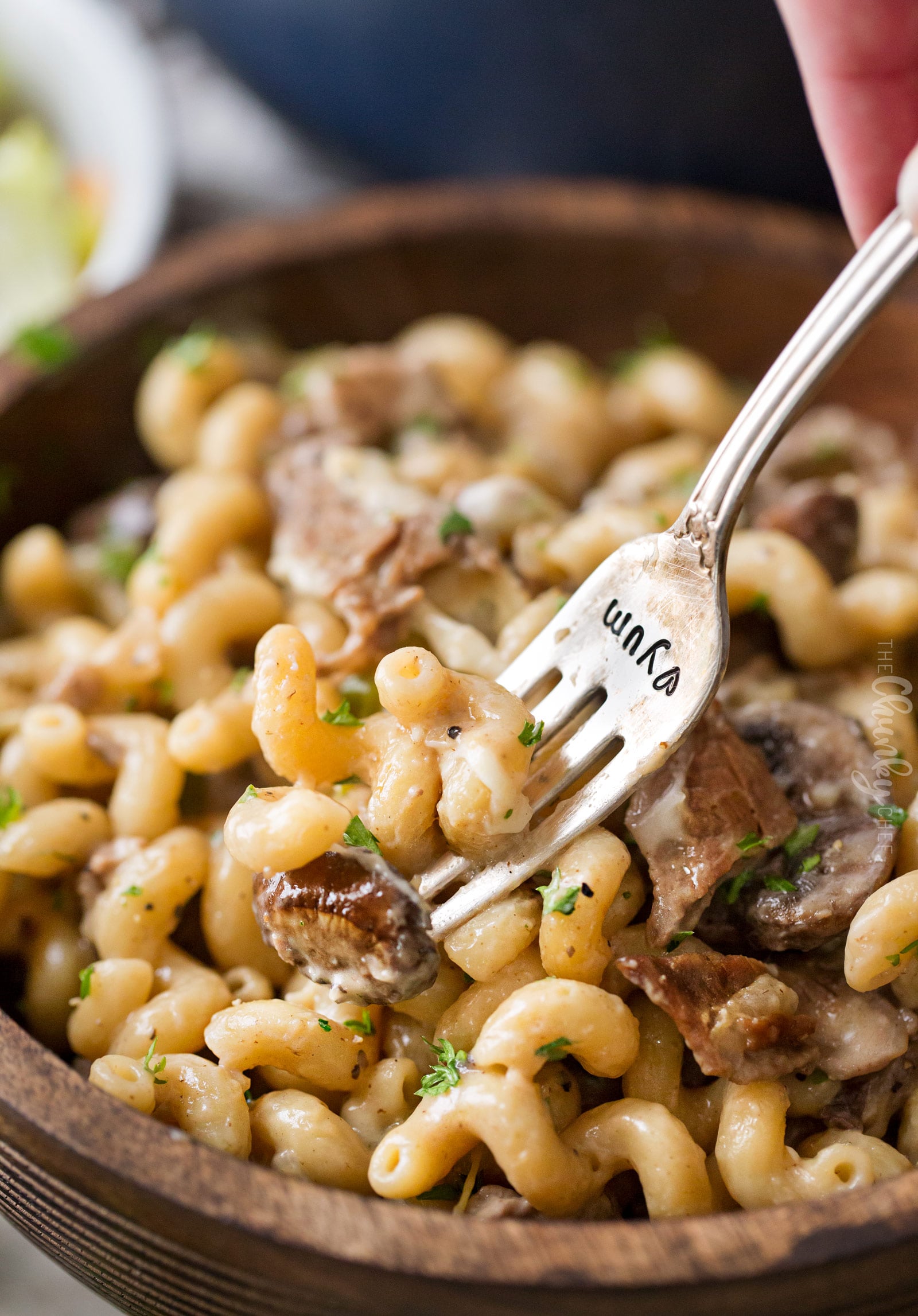 The next time you have a hankering for some classic Philly cheesesteaks, I hope you give this one pot cheesesteak pasta a try!  Since it cooks in just 30 minutes, it's perfect for a busy weeknight meal!
OTHER ONE POT MEALS:
I highly recommend using a dutch oven for this dish… it's the perfect size and gives a great sear on the steak!  Here are my two favorite (other than Le Creuset, which is awesome, but super pricey!).
Marquette Castings – this is a great mid-price range dutch oven, that's oven safe up to 500 degrees!
Lodge – For a slightly cheaper option, yet still good quality, I like this one… it's a workhorse in my kitchen!
---
WANT TO TRY THIS ONE POT CHEESESTEAK PASTA?
PIN IT TO YOUR DINNER OR PASTA BOARD TO SAVE FOR LATER!

Did you make this? Be sure to leave a review below and tag me @the_chunky_chef on Facebook and Instagram!
Classic cheesesteak flavors mix with pasta in this easy one pot, 30 minute meal! The best comfort food just got a lot easier!
Ingredients
2 Tbsp olive oil, divided
2 Tbsp unsalted butter, divided
1 - 1 1/2 lbs boneless ribeye steak, excess outer fat trimmed, sliced into thin slices
12 oz cremini (or baby portobello) mushrooms, sliced
1 large yellow onion, cut in half, then sliced thinly
1 green bell pepper, seeds and ribs removed, then thinly sliced
1/2 tsp dried thyme
1 lb dried cavatappi pasta (or other short cut)
4 cups beef stock
1 cup water
1/2 cup sour cream
1/4 cup cream cheese
8 slices provolone cheese, chopped, divided
salt and black pepper, to taste
minced fresh parsley, for garnish
Instructions
Heat a dutch oven, or large heavy bottomed pot, over MED HIGH heat. Add 1 Tbsp oil and 1 Tbsp butter and let butter melt. Add steak slices in an even layer. You may need to cook this in batches, depending on the size of your pot. Let steak cook undisturbed for 1 minute, then stir around for about 30 seconds to 1 minute more. Don't cook any longer or they'll be too overcooked. Remove steak to a plate.

Add remaining 1 Tbsp of oil and 1 Tbsp of butter to hot pot, then add mushrooms, onions and green pepper. Cook, stirring occasionally, 5 minutes or so, until tender and mushrooms have browned. Season with thyme and a pinch of salt and pepper.

Pour in beef stock and water, bring to a boil. Add pasta, reduce heat so liquid is at a gentle boil, and boil for approximately 12-15 minutes. Stir pasta frequently to prevent uneven cooking and pasta sticking to the bottom of the pot.

When most of the liquid has been absorbed, turn off the heat. Add sour cream, cream cheese, cooked steak slices, and half the chopped provolone slices. Stir to combine well. Taste, and add salt and pepper if needed.

Top pasta with remaining chopped provolone and broil for 2-3 minutes, until cheese is melted and gooey. Sprinkle with black pepper and minced parsley (optional), and serve hot.
Want to save this recipe for later? Click the heart in the bottom right corner to save to your own recipe box!
Chef Tips
Tip for slicing ribeye thinly:
Place steak in the freezer for 30-40 minutes prior to slicing
Recipe adapted slightly from The Garlic Diaries
Nutrition Disclaimer
The Chunky Chef is not a dietician or nutritionist, and any nutritional information shared is an estimate. If calorie count and other nutritional values are important to you, we recommend running the ingredients through whichever online nutritional calculator you prefer. Calories can vary quite a bit depending on which brands were used.
NEVER MISS A CHUNKY CHEF RECIPE: