Hearty One Pot Chicken Stroganoff
This family favorite hearty chicken stroganoff is made in one pot and ready in 30 minutes, which makes it a perfect busy weeknight meal!
Everyone has heard of beef stroganoff, but this chicken version is every bit as hearty and comforting!  Plus, the egg noodles cook right in the same pot, to make this a one pot, 30 minute meal!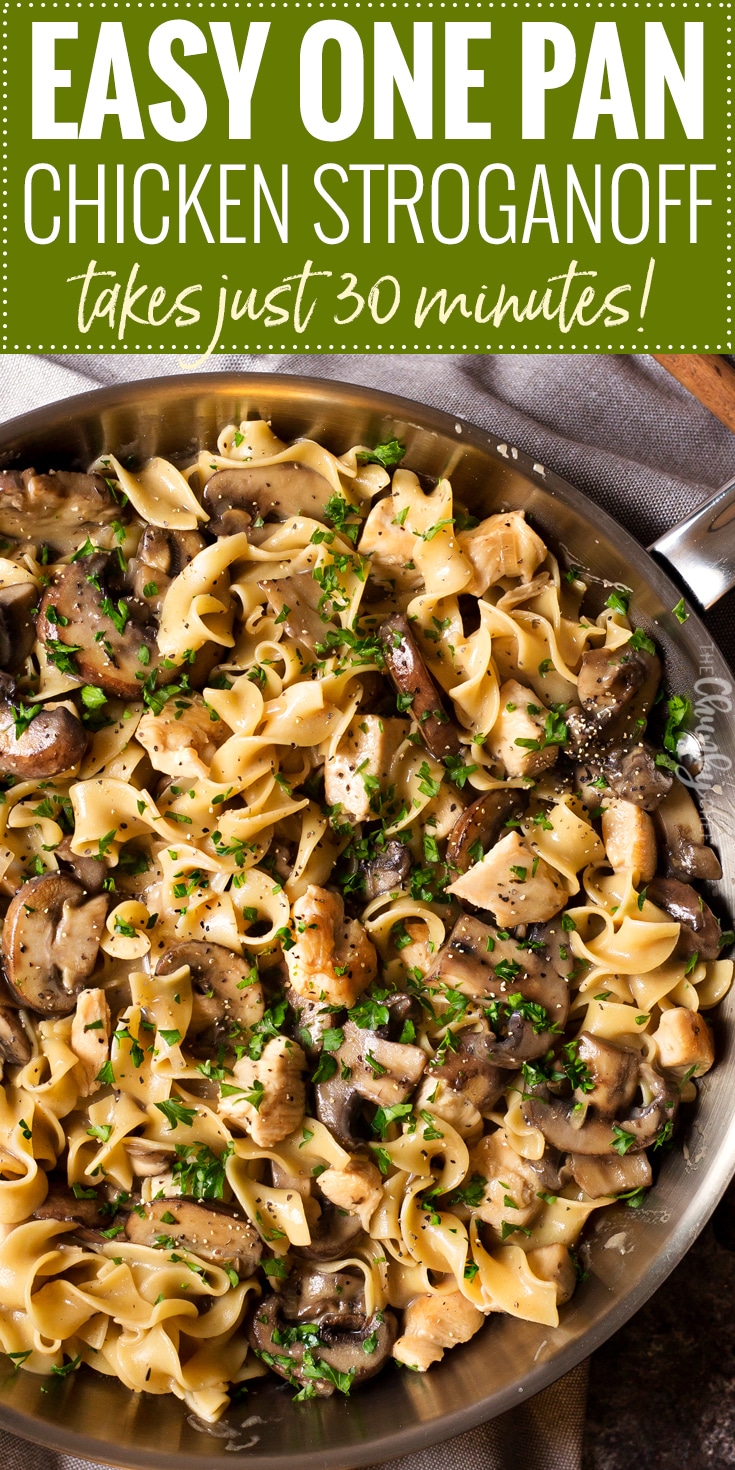 You guys.  I hit the mother load with this dish.  All those classic stroganoff flavors, with lean chicken breast, made in one pan, and ready in just 30 minutes!  I love dishes like this… they're so perfect for a busy weeknight!  But you know, this dish is tasty enough, you could easily serve it to extended family for a Sunday dinner as well.
With school back in session, I don't know about you, but I'm definitely short on time these days.  Standing in the kitchen for an hour or more is just NOT going to happen on a weekday, but I still want to serve my family a wholesome, home-cooked meal.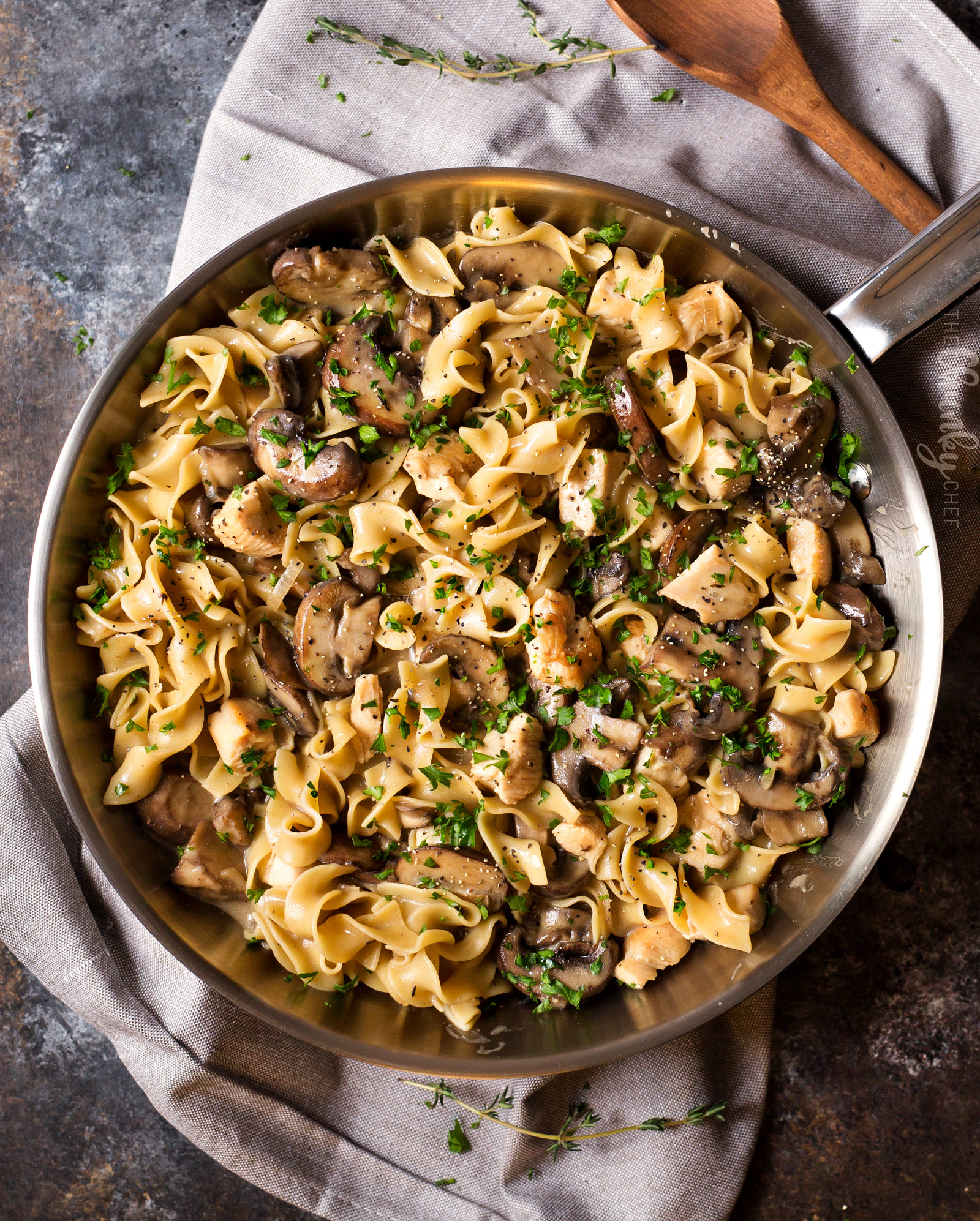 This meal does use white wine to deglaze the pan, but if you're really opposed to using alcohol, just use an equivalent amount of chicken stock.  I love the little zip of flavor the wine gives, but it's optional 🙂
My favorite part about this chicken stroganoff is that it's a TRUE one pot meal!  A lot of one pot meals call for cooked pasta, which meals unless you happen to have cooked pasta hanging out in your refrigerator, means you have to use a second pot to boil the pasta, plus use the colander to drain the pasta.  That's two extra dishes to wash.  I'm definitely not looking to ADD to my dishwashing load!
With this meal, the dried pasta cooks right in the same pan!!  Literally the only pan you'll have to wash is the one you're cooking in.  Now that's what I call a great one pot meal!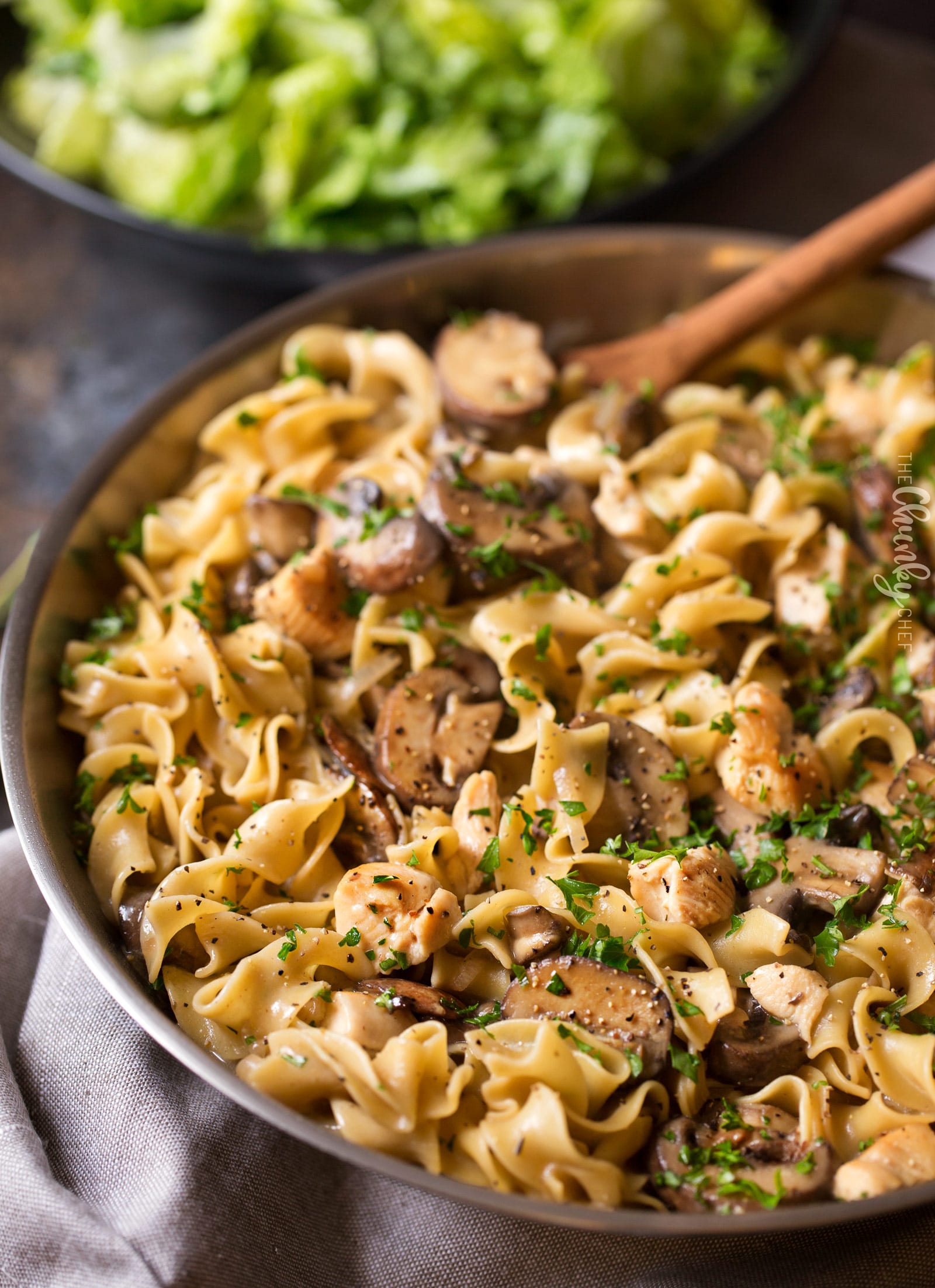 I like to serve this chicken stroganoff with a crisp green salad, but we also really love to have these cheesy Brussels sprouts with bacon alongside.  A big piece of crusty bread is also perfect to soak up the luscious sauce!
If you're a die-hard beef fan, you could also swap out the chicken breast for your favorite cut of beef.  Personally, I love to use a sirloin steak and slice it thinly, but even ground beef would work!
The garnish is optional, but I highly recommend it!  A sprinkle of fresh chopped parsley and a bit of cracked black pepper really takes this dish from great to ahhhh-mazing!!!
I hope you all give this one pot chicken stroganoff a try… it's pure comfort food to keep you warm and happy all Fall and Winter long!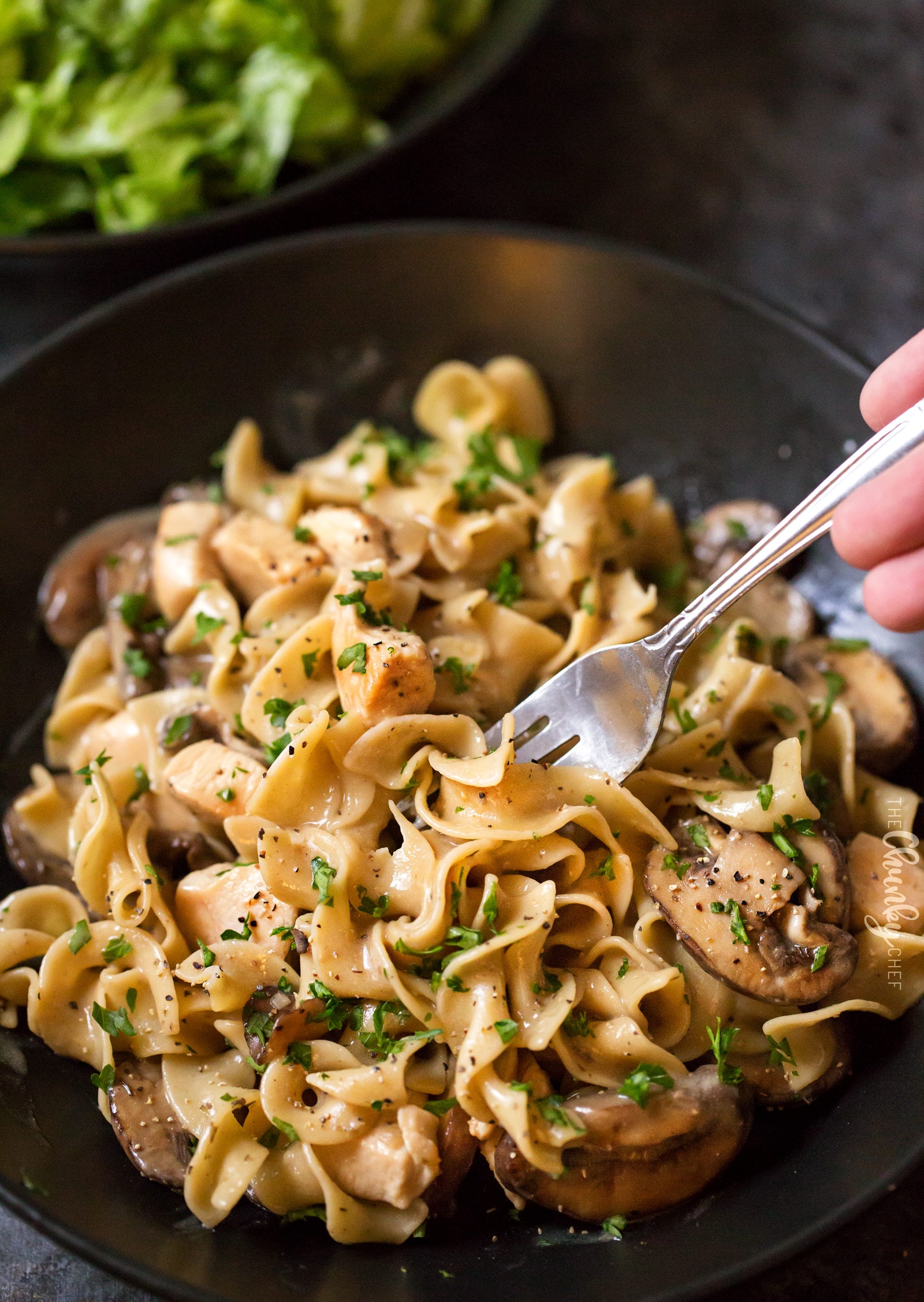 Looking for other great one pot meals?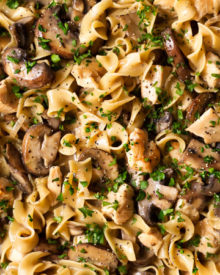 Hearty One Pot Chicken Stroganoff
This family favorite hearty chicken stroganoff is made in one pot and ready in 30 minutes, which makes it a perfect busy weeknight meal!
Ingredients
3 Tbsp olive oil divided
1 lb. chicken breasts, cut into approximately 1 inch pieces
1 tsp kosher salt divided
3/4 tsp cracked black pepper, divided
2 1/2 cups reduced sodium chicken stock divided
1 Tbsp all purpose flour
12 oz baby portobello mushrooms, sliced
1/2 yellow onion, finely chopped
3-4 cloves garlic, minced
1/4 tsp dried thyme
1/2 cup dry white wine (I used a chardonnay)
6 oz uncooked extra wide egg noodles
1/3 cup sour cream
1 tsp whole-grain or dijon mustard
chopped fresh parsley for garnish
Instructions
In a small bowl, add all purpose flour and 1 Tbsp chicken stock and whisk to combine. Set aside.

To a large dutch oven or deep bottomed skillet, add 1 1/2 Tbsp of olive oil and heat over MED-HIGH. Add chicken pieces to pan, add 1/4 tsp EACH kosher salt and black pepper. Cook 5 minutes, until golden brown and cooked through. Remove to a plate.

Add remaining 1 1/2 Tbsp of oil to the pan and add sliced mushrooms and onion. Add remaining 1/2 tsp black pepper and 1/4 tsp dried thyme. Cook mushrooms about 6-7 minutes, until cooked and slightly golden. Add garlic and cook 30 seconds, stirring often so it doesn't burn.

Pour in wine, scraping the bottom of the pan with a wooden spoon to loosen any browned bits of flavor. Cook wine about 2 minutes, or until reduced by about half.

Stir in remaining chicken stock and bring to a simmer. Once simmering, add remaining 3/4 tsp salt and egg noodles, stir and cook, uncovered, 8 minutes or until cooked. Stir every so often as the noodles are cooking.

Pour in chicken stock/flour mixture, stir and cook 1 minute.

Turn off the heat. Add in cooked chicken, sour cream and mustard.

Sprinkle with chopped parsley and serve.
Recipe Notes
Recipe originally posted on Real Housemoms (where I contribute recipes) and syndicated here