Easy Chicken Marsala
---
This easy chicken Marsala dish takes just 30 minutes to make!  Classically savory and flavorful, this is one dish you'll love to cook time and time again! 
---
Chicken Marsala is such a classic dish… and one that is very easy to make at home!!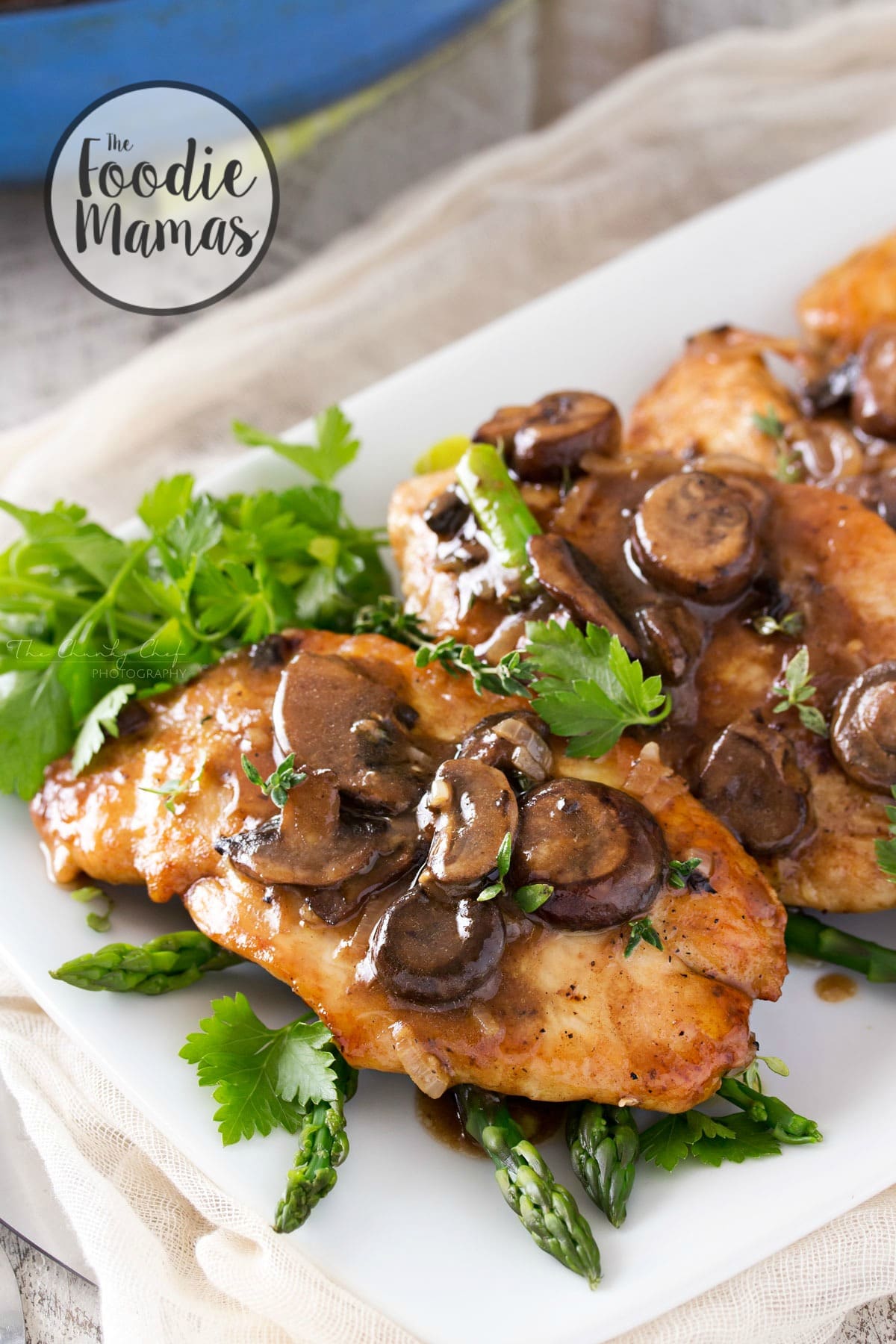 How many of you have ordered chicken Marsala from a restaurant before?  When it came, and hopefully was delicious, didn't you wonder how they could make such an amazing meal?  The chicken is thin, crispy around the edges, and coated in a luxuriously flavorful sauce.  And of course, the mushrooms!!  Mmmm, the mushrooms.  While the basics of the recipe are very similar across all versions, the sauce can vary from creamy to dark.  For this version, I chose to keep the sauce dark and rich, but feel free to add a splash of cream to lighten it up if you'd like!
You all know that each month the #FoodieMamas post a roundup based on an ingredient… well this month was my month to pick and I chose mushrooms.  It's noooooo secret that mushrooms and I go wayyyy back.  I LOVE them.  From slow cooked, boldly roasted, or stuffed… I can't seem to get enough!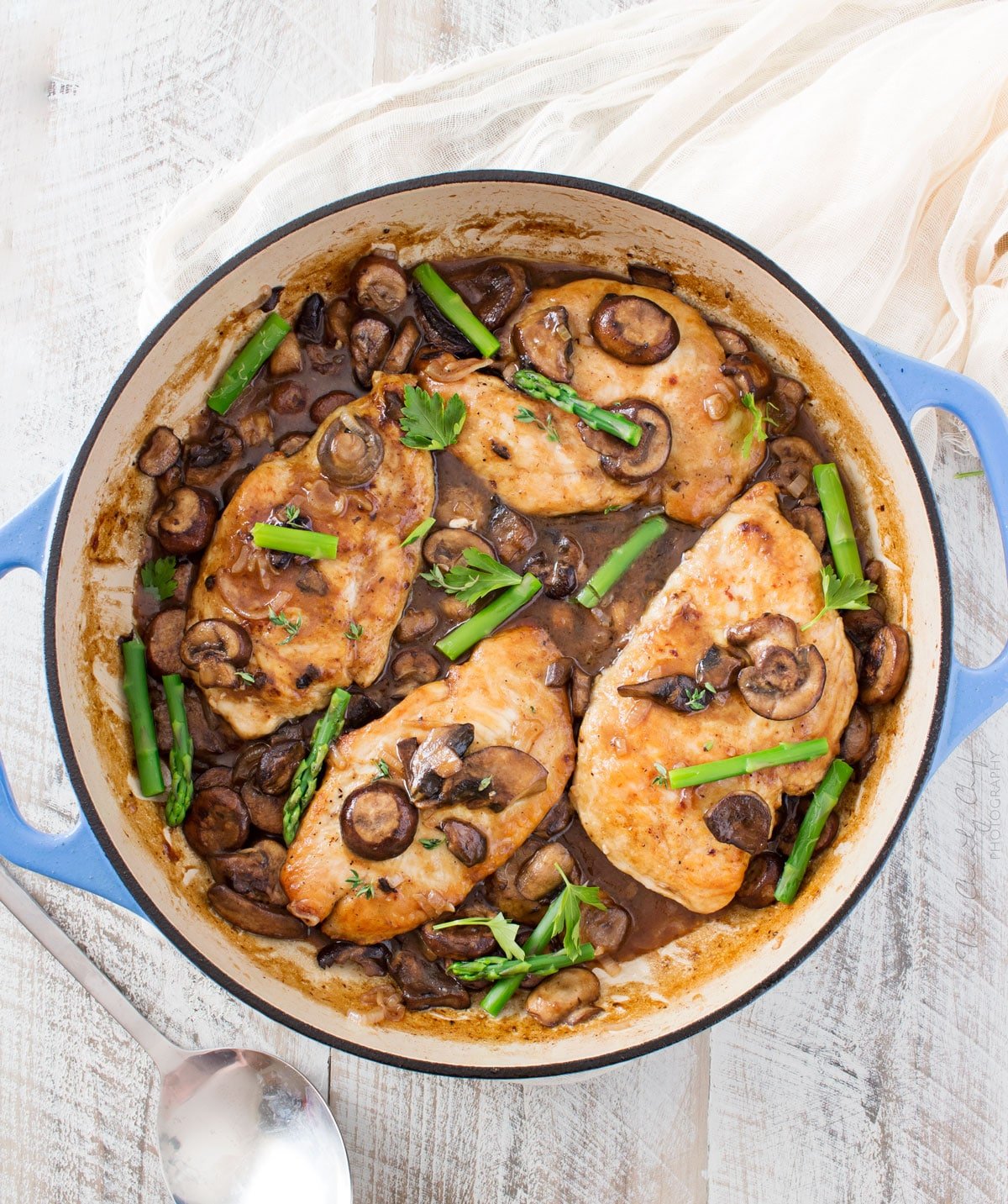 I love that chicken Marsala is a one-pot dish… easy cleanup!!  Speaking of dishes… that pan is one of my absolute favorites.  It's an enameled cast iron pan made by Lodge
… a fraction of the price of LeCreuset, with great functionality.
Another amazing one-pot chicken dish we love is Florentina's Italian Chicken Cacciatore recipe.. such amazing flavor!!
Asparagus isn't a traditional part of the dish, but since it's in season right now, I couldn't resist grabbing some when I was at the store.  It looked so vibrant!  I like to blanch mine in boiling water for a few minutes, then shock it in an ice bath.  Then I just chopped it and tossed it right into the pan with the chicken Marsala for some great flavor, not to mention great color 🙂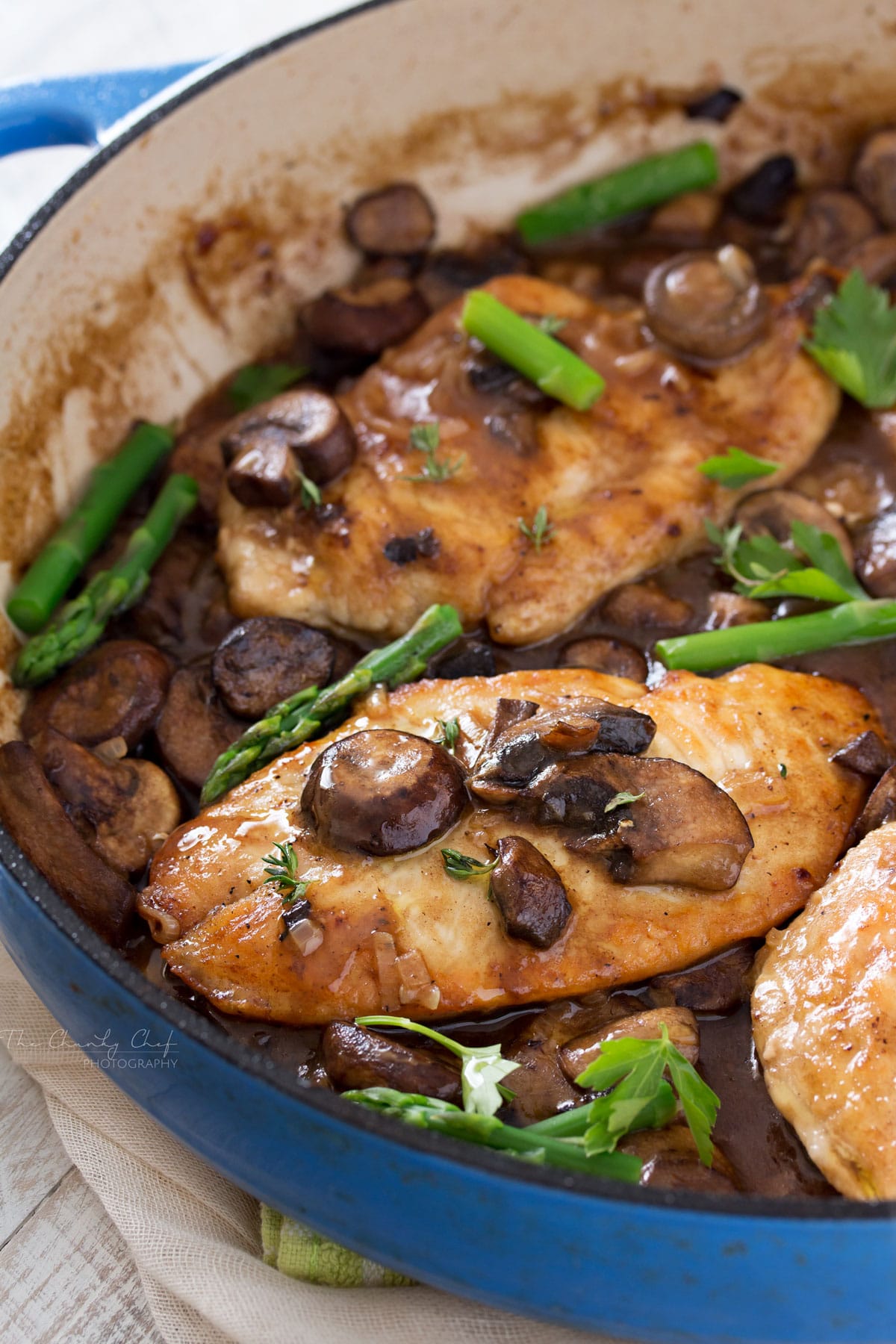 While it may look fancy, this is a meal that's perfect for a busy weeknight!  Just 30 minutes is all it takes, and you could be sitting down to this amazing meal.  One reason why I love cooking the chicken in my enameled cast iron is that it leaves glorious brown bits that are stuck on the bottom of the pan.  Then when you add the Marsala wine and stock, you deglaze the pan and scrape up those brown bits, which lends an enormous amount of great flavor.  Brown = flavor!
I use two types of mushrooms in my recipe, but you could stick to one if you'd like.  Told ya… mushroom fanatic here!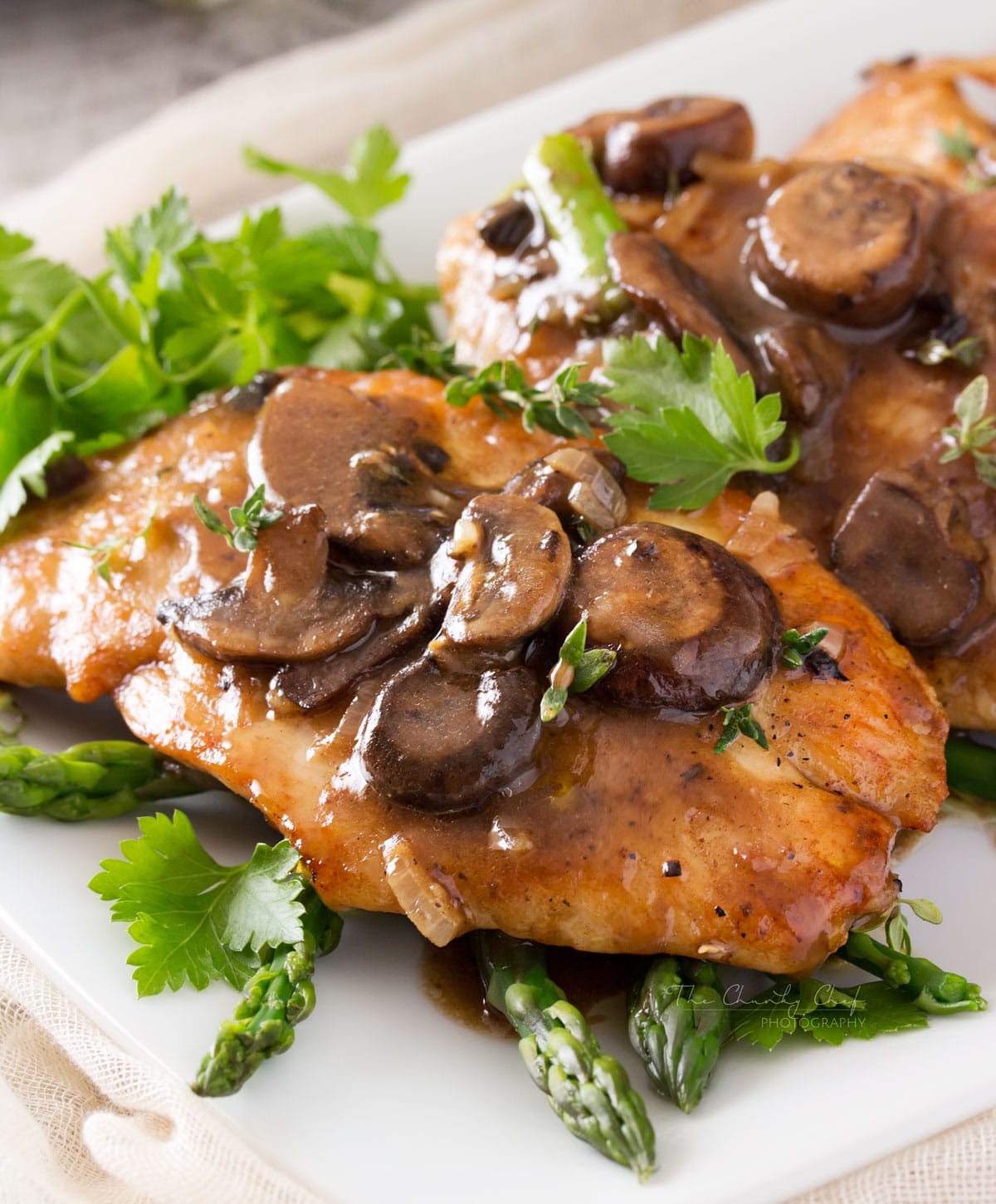 I hope you all try this one, I know you'll love it!!
---
Let's Connect!
You can find me on Facebook, Twitter, Pinterest, Instagram and Google +, so follow me if you'd like… I love keeping in touch with all of you 🙂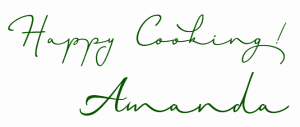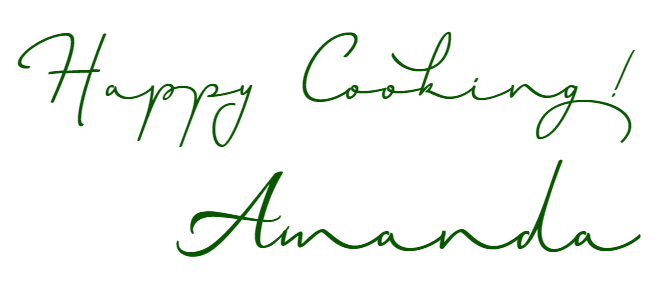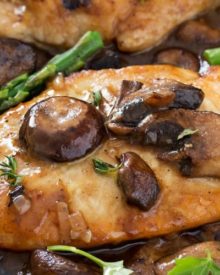 Easy Chicken Marsala
This easy chicken Marsala dish takes just 30 minutes to make! Classically savory and flavorful, this is one dish you'll love to cook time and time again!
Ingredients
4 chicken cutlets pounded until 1/2 - 1⁄4" thick
Salt and pepper to taste
1/3 cup + 1 Tbsp. all-purpose flour
5 Tbsp olive oil
3 tbsp unsalted butter
8 oz white button mushrooms sliced
8 oz cremini mushrooms sliced
2 Tbsp shallots (or your favorite onion) minced
2 cloves garlic minced
2/3 cup dry Marsala wine
2/3 cup beef stock
Fresh thyme for garnish
Fresh parsley minced, for garnish
Instructions
To a large pan or skillet, add 2 Tbsp olive oil and 1 Tbsp butter and heat over MED-HIGH heat.

Sprinkle pounded chicken cutlets with salt and pepper on both sides, then lightly dredge in the 1/3 cup flour. Shake off excess flour and add chicken to hot pan. Work in batches if needed, as over-crowding the pan will prevent the chicken from crisping up.

Cook chicken about 2-3 minutes per side, until golden.

Transfer chicken to a plate and set aside.

Add 2 Tbsp olive oil and 1 Tbsp butter to the pan and add mushrooms.

Saute about 5-8 minutes, seasoning with salt and pepper about half-way through cooking.

Remove mushrooms to plate with the chicken and set aside.

Add remaining 1 Tbsp olive oil, then add shallots and garlic. Saute about 1 minute, until soft and fragrant.

Sprinkle in the 1 Tbsp flour and stir to coat. Cook for a minute to get the flour taste out.

Pour in Marsala wine and beef stock, scraping the bottom of the pan with a wooden spoon.

Cook, stirring often, for 2 minutes, or until sauce is slightly thickened.

Slide chicken and mushrooms back into the pan, making sure to get all the juices from the plate into the pan - that's pure flavor there!

Add 1 Tbsp butter to the center of the pan, toss a sprig of thyme in there if desired, then cover the pan and let cook about 2 minutes.

Stir and spoon sauce over chicken.

Garnish with fresh thyme and parsley if desired and serve.
Recipe Notes
1. Recipe adapted slightly from Saveur
2. Can be served over pasta, rice, quinoa, veggies, whatever you'd like.
3. If you want asparagus in your recipe, like in my photos, here are those instructions:
Blanch asparagus in boiling water for about 2 minutes, then shock them in a bowl of ice water.
Dry asparagus on paper towels, then add them to the pan when you cover it and cook it the last two minutes.