Slow Cooker Zuppa Toscana
---
The classic zuppa toscana soup, in slow cooker form!  It tastes WAY better than Olive Garden's, and is sure to be a crowd pleaser!
---
Now that the weather will be slowly cooling down, it's time to break out your slow cooker!  Maybe you're like me and use yours year round, (like for my slow cooker honey balsamic pulled pork).  When the weather gets cooler, I immediately want some comfort food, soups in particular!  My husband's favorite soup is Olive Garden's Zuppa Toscana, so naturally I wanted to find a way to have it at home (for way less money)!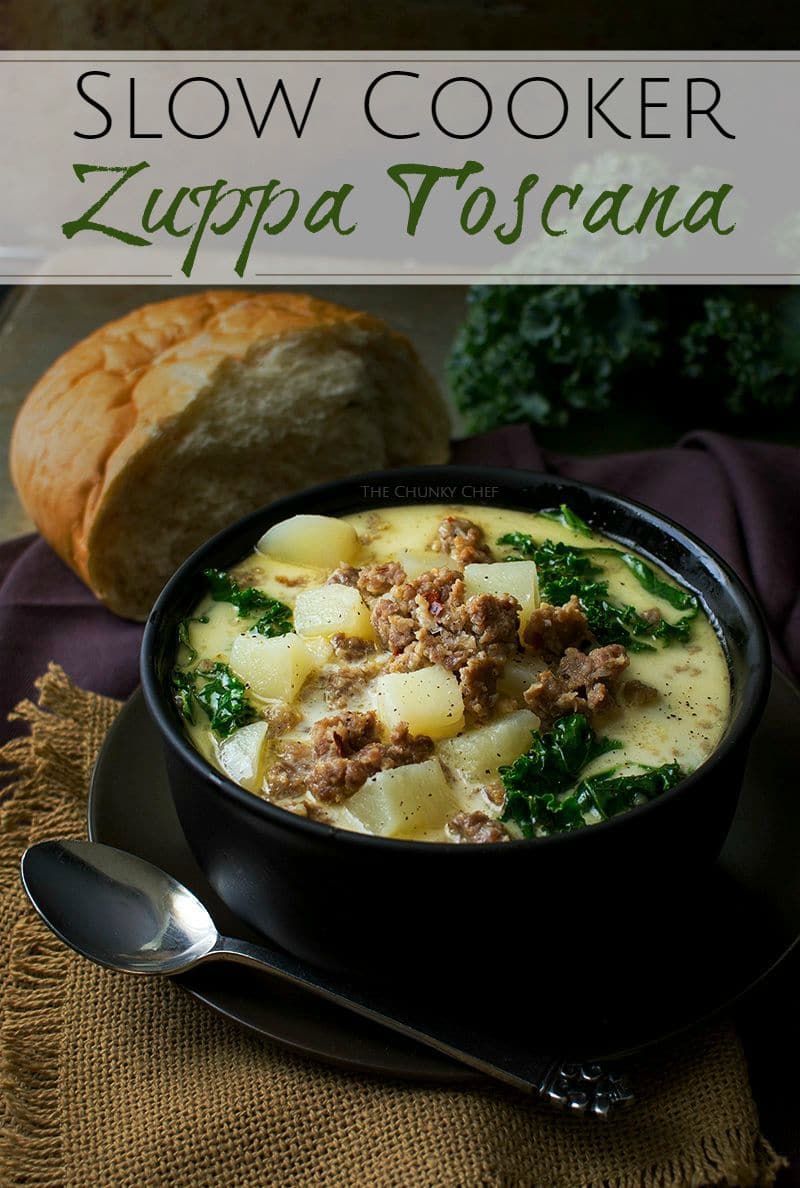 This soup has all the great flavors of the Olive Garden soup, but making at home is much more convenient, and I think it tastes way better!  If you've never had this soup… it's a creamy soup with tender potatoes, spicy Italian sausage and healthy kale.
My original recipe for this was to make it on the stovetop, but then I thought about it, and I just love slow cooker soups so much, I knew I had to make this one too!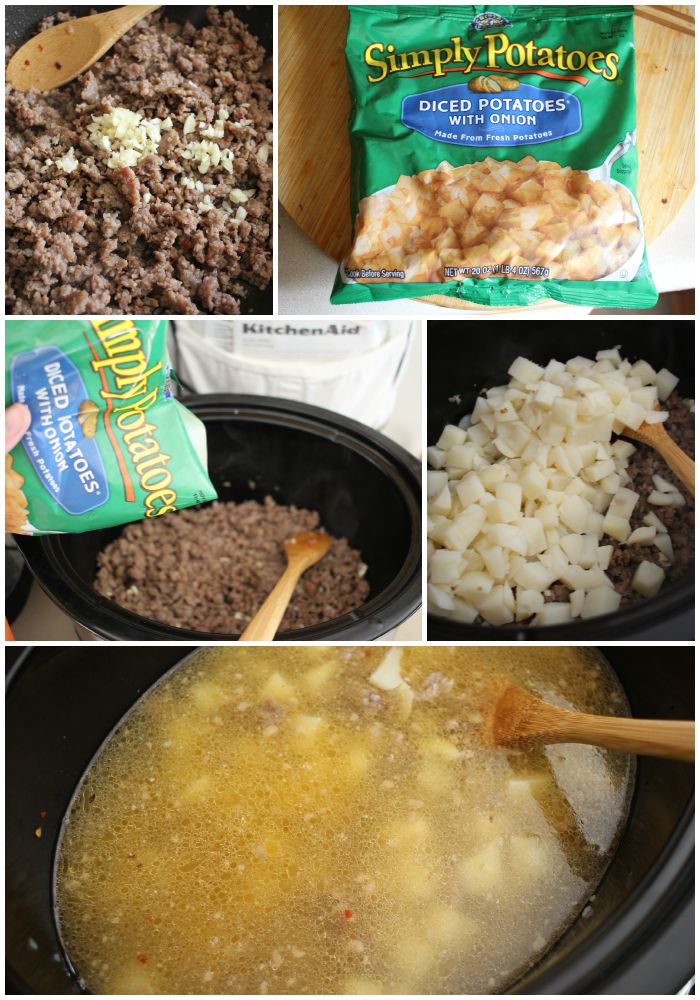 Just 7 ingredients (plus seasonings) is all you'll need, and getting this soup in the crockpot and on it's way to deliciousness takes about 5 minutes.  Just brown your Italian sausage, and stir in some minced garlic.  Add that to the bottom of your slow cooker and add in a bag of Simply Potatoes diced potatoes and onion.  Pour chicken stock over the top and stir to combine.  If there's not enough liquid to cover the potatoes, add in a splash of water until they're covered.  Pop the lid on and cook on LOW for 5-6 hours or HIGH for 3-4 hours.
30 minutes before you want to eat, whisk some flour into a cup of heavy cream until smooth and pour it into the slow cooker.  Add in some kale (or swiss chard, or even spinach), stir, cover and cook on HIGH for 30 minutes.  This will thicken the soup slightly and give it that delicious creaminess!
If you're worried about the cream, keep in mind that it's only 1 cup for the whole slow cooker, (which is about 6 servings).  I *think* it would be okay to use half and half, although, keep in mind, I haven't tested it.  If you try it that way, let me know how it works! 🙂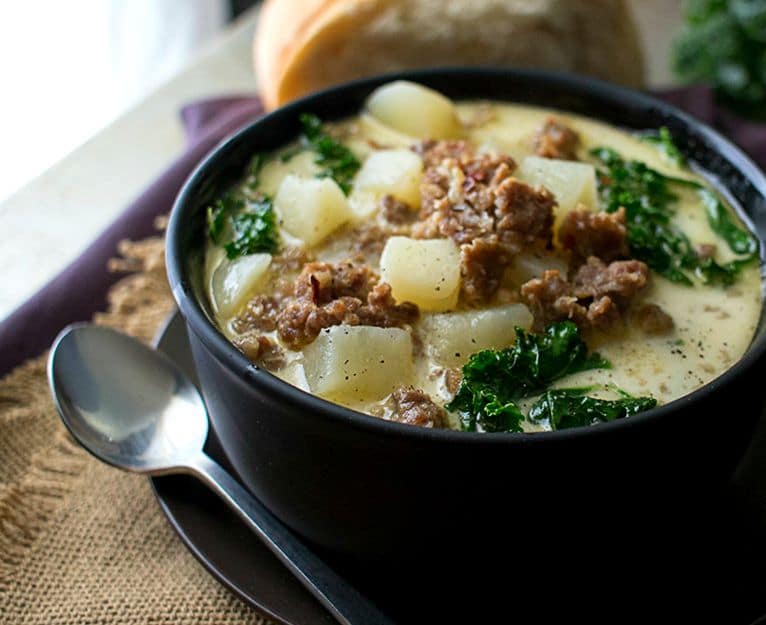 The traditional way to make this soup is to use spicy Italian sausage, but if you're really worried about the heat, you can use mild and just add red pepper flakes to your taste.  I think the cream masks the heat pretty well though.
To me, no soup is complete without some bread alongside, and to dunk inside!  So feel free to serve this up with some breadsticks, rolls, or just a crust piece of bread.  For a fuss-free no-knead bread, I like THIS one 🙂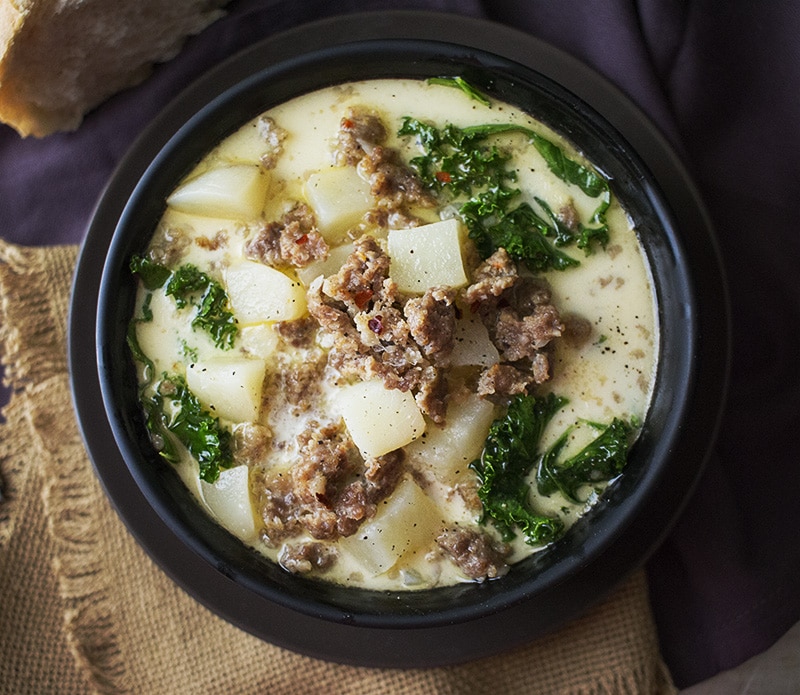 Imagine curling up on the couch on a crisp early fall evening with a bowl of creamy comfort soup!  Casual enough for a relaxed dinner or lunch at home, yet also fancy enough to serve at a dinner party.  Perfect!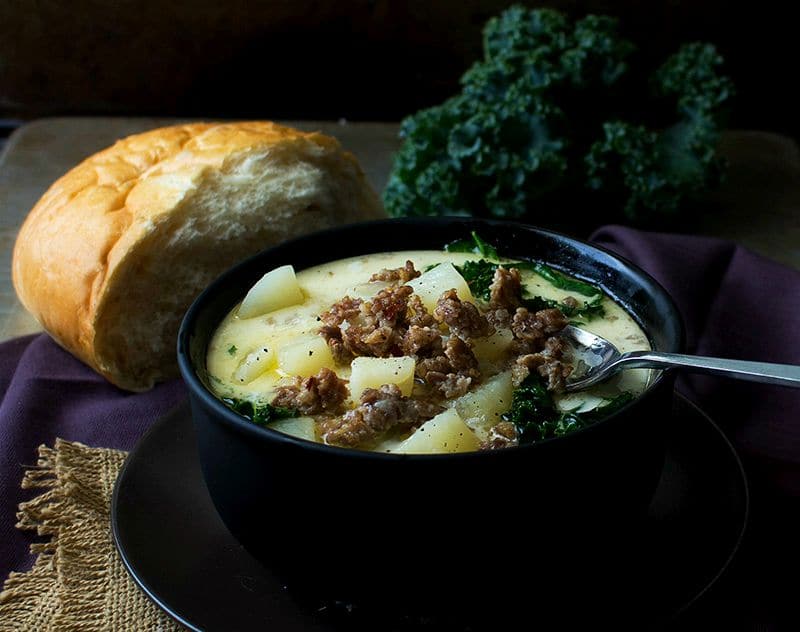 Now you could totally use regular potatoes and onion for this soup… but have you guys checked out Simply Potatoes?
They're made with REAL ingredients and are fresh, NOT frozen.  It's all the great potato-y goodness, and none of the hassle of peeling!  Easy to keep on hand, and they make slow cooker meals a cinch!  Especially this variety…  NO peeling and chopping potatoes and NO chopping an onion 🙂  Score!  I love to have a bag of Simply Potatoes on hand, it makes dinner a lot easier!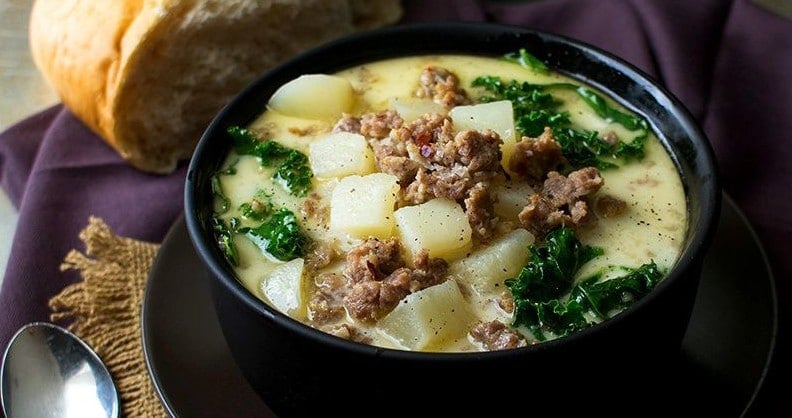 Helpful Tools for This Recipe:
This is a sponsored post written by me on behalf of Simply Potatoes.  All opinions are 100% mine.
Many of you have asked for a stove-top version of this recipe, so check the recipe notes section below the recipe for that converted recipe!
---
WANT TO TRY THIS SLOW COOKER ZUPPA TOSCANA?
PIN IT TO YOUR SLOW COOKER OR DINNER BOARD TO SAVE FOR LATER!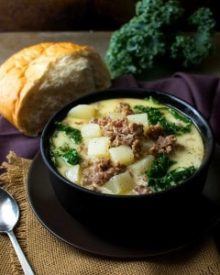 Slow Cooker Zuppa Toscana
The classic zuppa toscana soup, in slow cooker form! It tastes WAY better than Olive Garden's, and is sure to be a crowd pleaser!
Ingredients
1 lb ground Hot Italian sausage
1 bag Simply Potatoes diced potatoes and onions (can substitute with 1 diced yellow onion and 4 russet potatoes, peeled and cubed)
2 cloves large garlic minced
32 oz chicken stock
1/2 bunch kale (a couple of handfuls) de-stemmed and torn into bite sized
1 cup heavy cream
2 Tbsp flour
Salt and pepper to taste
Pinch of red pepper flakes optional
Instructions
Heat large saute pan over medium high heat and brown sausage.

Add minced garlic and stir to combine.

Drain off the grease and then add sausage and garlic to the bottom of

slow cooker

.

Add bag of diced potatoes and onion, cover with chicken stock and water (if necessary) to completely cover potatoes and sausage.

Cover and cook on LOW for 5-6 hours or HIGH for 3-4 (potatoes should be soft)

BEFORE SERVING:

Whisk together heavy cream and flour until well mixed. Pour into

slow cooker

, add kale and stir to combine.

Cover and cook on HIGH for 30 minutes until soup has thickened slightly.

Taste, season according to your tastes, and serve.
Recipe Notes
** if desired, top soup with slices of crumbled peppered bacon
** goes great with a nice crusty bread
STOVETOP INSTRUCTIONS 
In your dutch oven or large soup pot, brown the Italian sausage and red pepper flakes over MED-HIGH heat. The last minute or two, add minced garlic. Drain.
Add chicken stock and bag of diced potatoes and onion (or substituted russet potatoes and diced onion), bring to a boil.
Keep at a low boil for about 20 minutes, or until potatoes are fork tender (this time will vary based on your stove).
Whisk flour and heavy cream and add to pot, stirring to combine.
Add in kale, stir, reduce heat to a simmer, cover and cook for about 5-10 minutes (or until soup has thickened slightly).
Season with salt and pepper, and serve.
NEVER MISS A CHUNKY CHEF RECIPE: