Tender flank steak rolled up with garlic, herbs, prosciutto ham, provolone cheese… flavorful steak pinwheels that are every bit tasty as they are fancy-looking!
If you're ready for a gourmet steak meal with a twist, this is the flank steak recipe for you!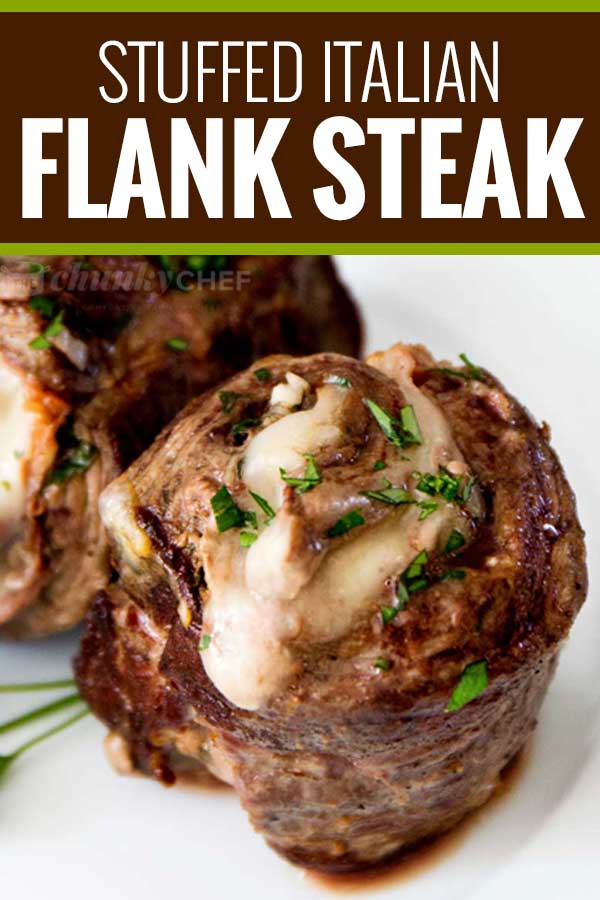 Looking for a fancy schmancy meal to serve up for a dinner party?  Or maybe your boss is coming over for dinner?  Or you know what, maybe you just want to treat yourself to a fancy looking meal… you deserve it! 🙂  Look no further than this stuffed flank steak recipe.  It's a great twist on a regular grilled steak.
It may look incredibly complicated, but trust me, it's not!  It uses flank steak, which I've used before in my garlic beef stir fry, and my slow cooker Mongolian beef… I love it for it's versitality and relatively good price tag.
HOW TO MAKE STUFFED FLANK STEAK
This is one of those total fake-out meals, because it looks super impressive… yet is actually fairly easy to make!
You'll make this steak go a little further by butterflying it open and pounding it thin.  While the steak is resting on your cutting board, take your knife and slice it horizontally across the steak, so you end up with 2 halves of the steak.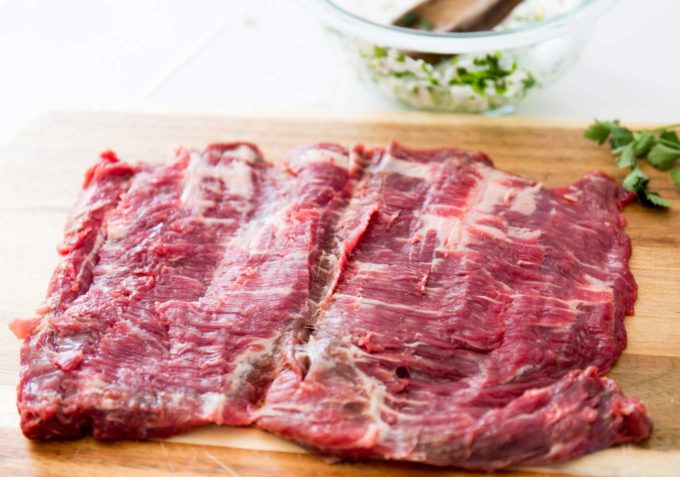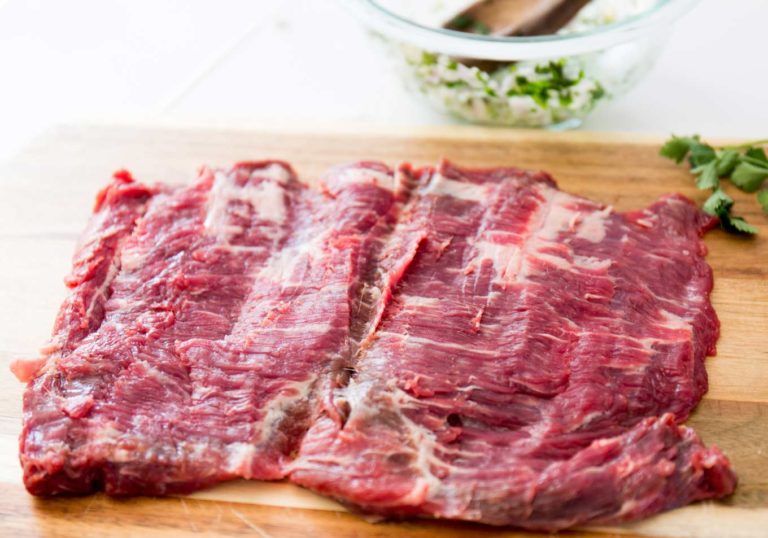 Now you're going to need some wax paper and either a small heavy skillet, rolling pin, or a meat tenderizer tool.  Place wax paper on top of your cutting board, put your steak on top of that, then add another layer of wax paper on top of the steak.  Get to work pounding it pretty thin.  You can pound it as thin as you'd like, but keep in mind that you'll need to roll it up, so don't make it so thin that there are holes.
Combine your minced garlic, shallots, parsley, sage, basil and olive oil in a small bowl.  After the steak is thin, spread an even layer of the garlic mixture over the surface.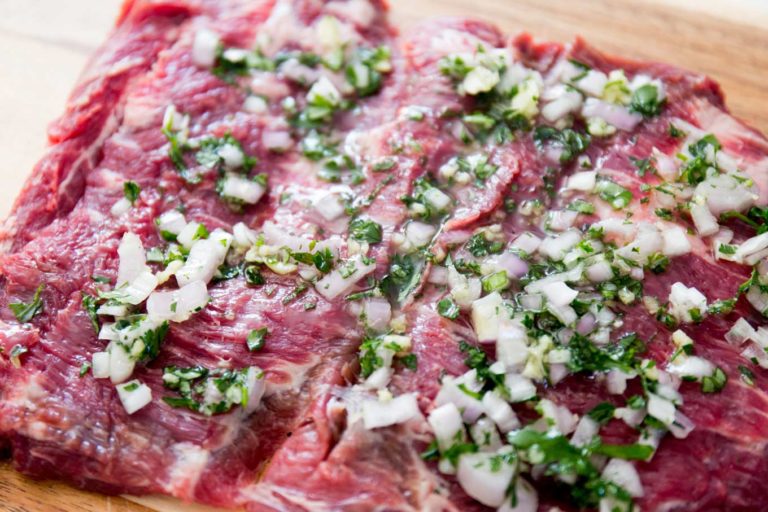 Then lay the prosciutto slices on top of that, followed by the slices of provolone cheese.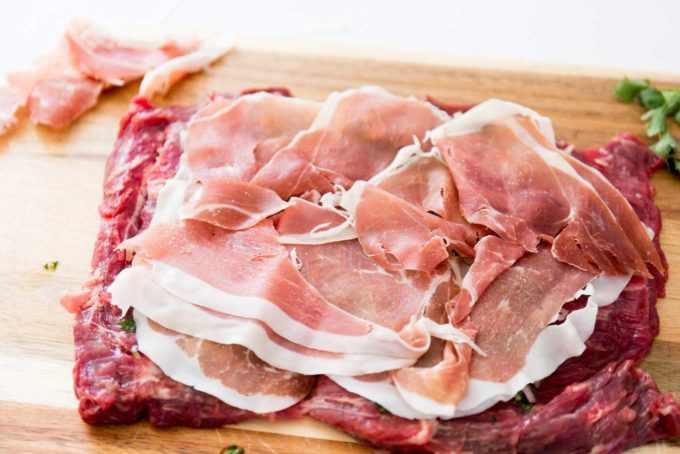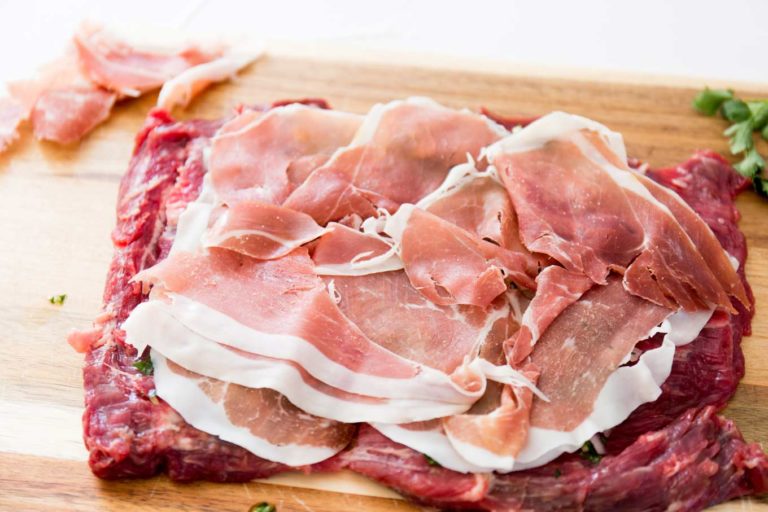 Now comes the fun part!  Start with the end of the steak closest to you and roll it up towards the top into a tight log, and place the seam side down on the cutting board.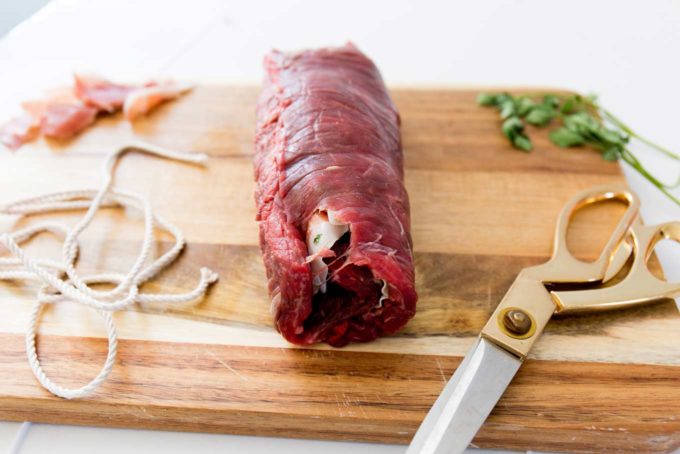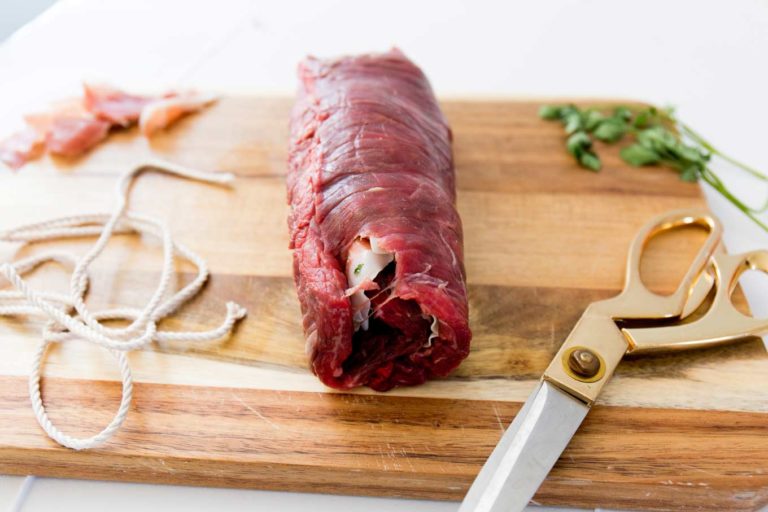 Grab some kitchen twine and tie up the steak in one to one and a half inch intervals all down the log.  Take your knife (make sure it's sharp!) and slice in between the twine so the steaks are little pinwheels.  Take a toothpick and skewer the pinwheel so it's secure.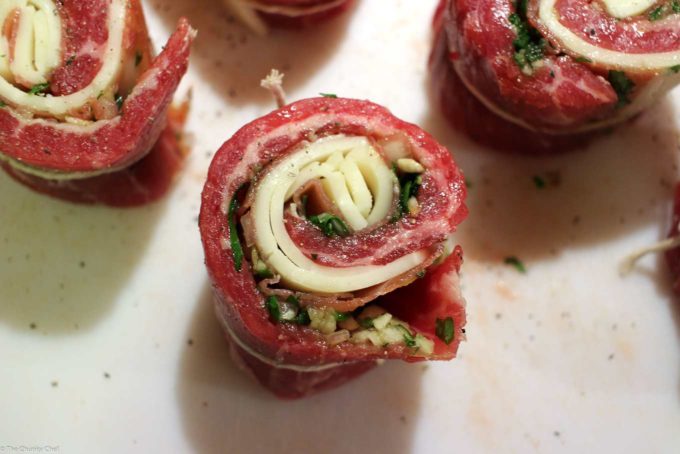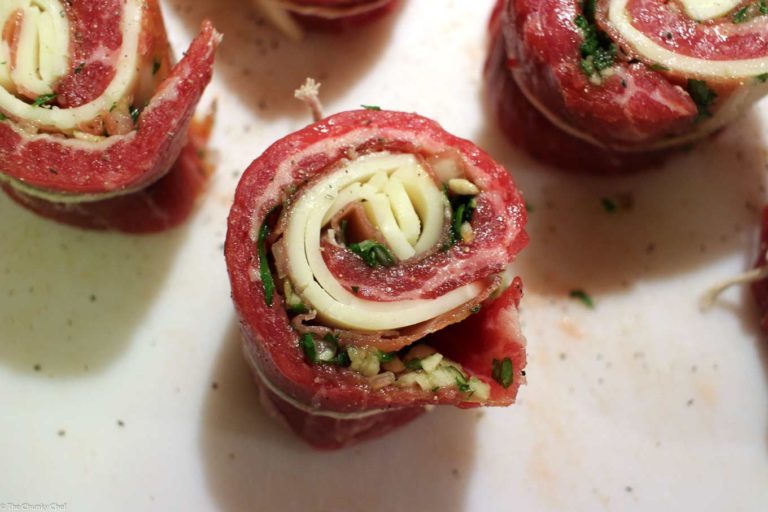 In the summer I send these outside with my husband to be grilled to perfection, but when it's raining or off-season, I sear them in my cast iron pan, and slide the pan into the oven to finish cooking.  It works really well!!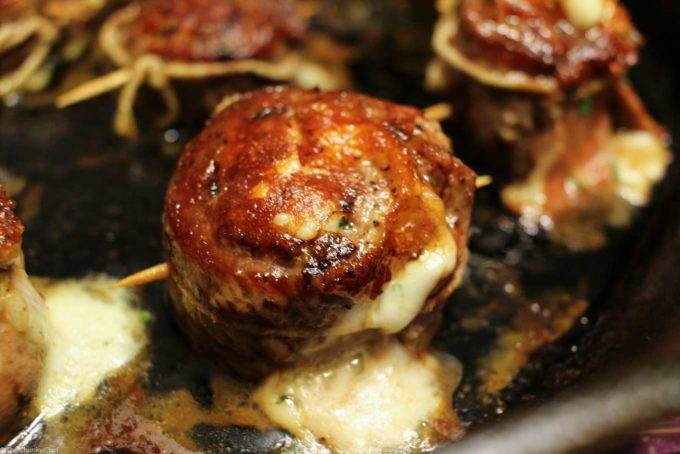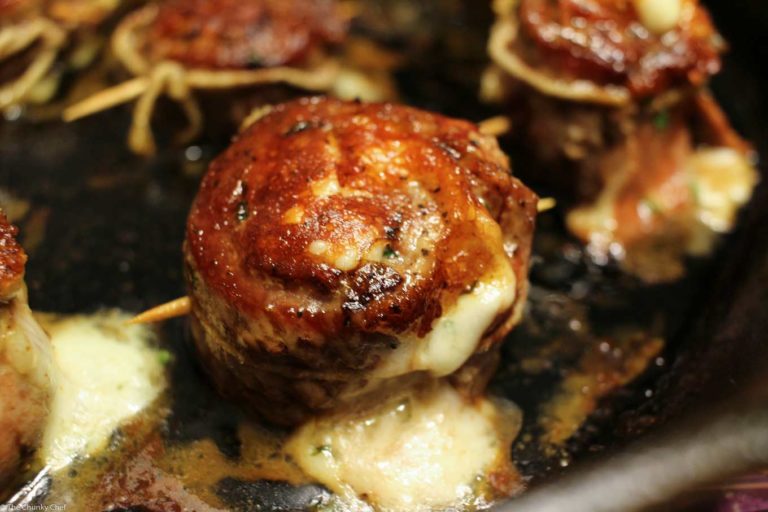 HOW LONG DO YOU COOK STUFFED FLANK STEAK
You may have seen a few stuffed flank steak recipes where the entire "log" is cooked, then it's sliced right before eating.  That type of recipe will cook longer, about 30-40 minutes in a 350 degree oven.  Since this recipe calls for slicing the meat into pinwheels BEFORE cooking, the cook time is shorter, about 13-15 minutes, or until your steak reaches your desired temperature.
HOW DO I KNOW IF MY STEAK IS COOKED TO THE DESIRED TEMPERATURE
It's hard to judge this type of steak recipe by feel as it cooks, so a meat thermometer will really be your best bet.  They're pretty inexpensive these days, and are crucial to making sure your steak is perfectly cooked.  Since all meat continues to cook after you remove it from the oven or grill, you'll want to pull your stuffed flank steak at the following temperatures, and let it rest 5-10 minutes (tented with aluminum foil), which will bring it up to the perfect temperature.
Rare: 120 F degrees (will come up to 125 F degrees)
Medium Rare: 130 F degrees (will come up to 135 F degrees)
Medium: 140 F degrees (will come up to 145 F degrees)
Medium Well: 145 F degrees (will come up to 150 F degrees)
Well Done: 155 F degrees (will come up to 160 F degrees)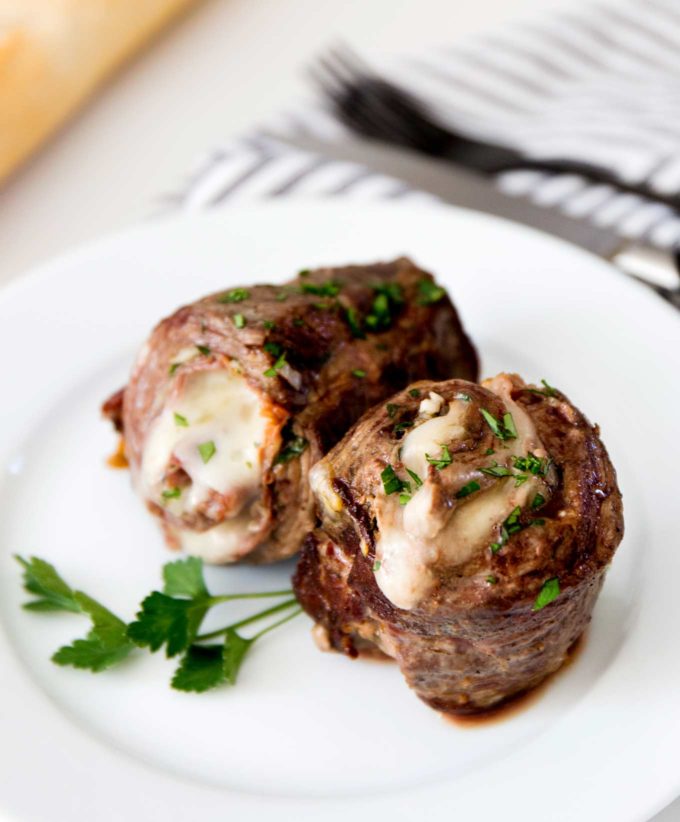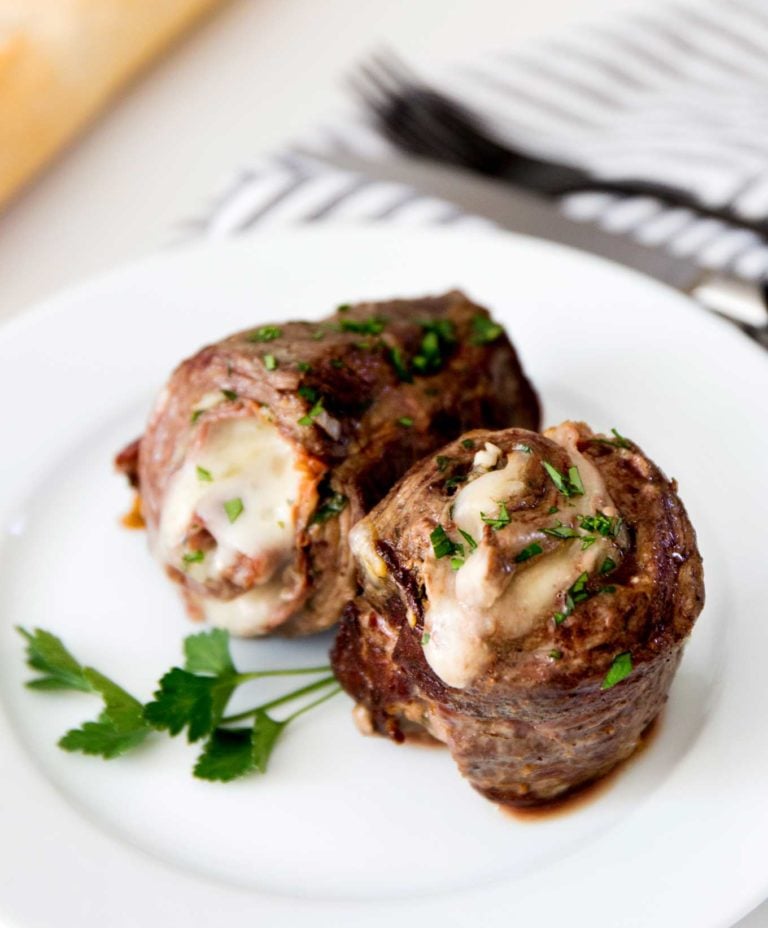 I'm telling you… these wow'ed my family!  Even my kids scarfed these down… for real!
These flank steak pinwheels don't really need any sauce, they're flavorful enough as is… but I felt like being a little decadent and drizzled some balsamic glaze over the top.
But if you'd rather go for something else, your favorite steak sauce could also be used.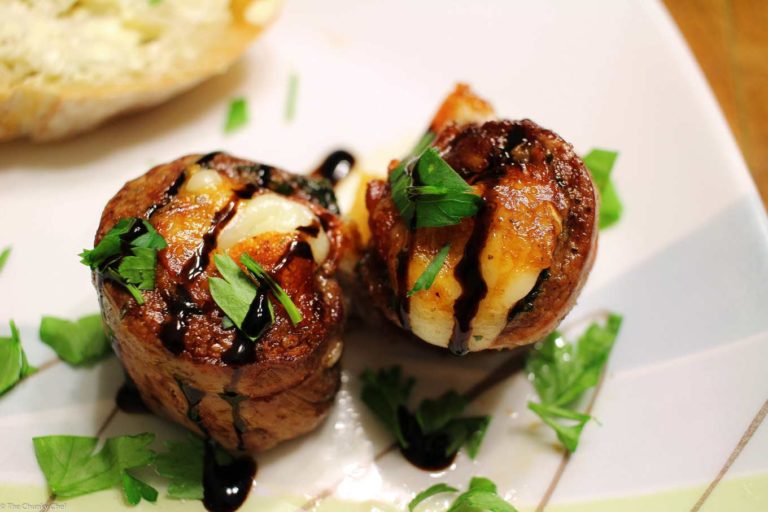 IS THIS FLANK STEAK RECIPE HEALTHY
I would say traditionally, no.  Even though flank steak is a lean cut of meat, it's still red meat, and it's stuffed with cheese and salty ham.  However, if you're following a low-carb or keto way of eating, it's a fabulous healthy recipe!  At only 2 grams of carbs per serving (without the optional balsamic glaze), you can enjoy without the guilt.  It's also a great source of protein and fat, as well as giving you over 22% of your daily iron!
Recipe originally posted in 2015, and has been updated in 2018.
HELPFUL TOOLS
Want to try this Stuffed Flank Steak?

PIN IT to your DINNER or BEEF board to save for later!

Find me on Pinterest for more great recipes!
Did you make this? Be sure to leave a review below and tag me @the_chunky_chef on Facebook and Instagram!
Tender flank steak rolled up with garlic, herbs, prosciutto ham, provolone cheese... flavorful steak medallions that are tasty as they are good looking!
Ingredients
3 - 4 cloves garlic minced or pressed through garlic press
1 small shallot minced
2 Tbsp fresh parsley finely minced
1 tsp sage leaves finely minced
1 tsp basil minced
2 Tbsp olive oil
2 - 2 1/2 pounds flank steak
4 ounces thinly sliced prosciutto
4 ounces thinly sliced provolone cheese
toothpicks soaked water for 10 minutes
Salt and pepper to taste
Instructions
Combine garlic, shallot, parsley, basil, sage, and olive oil in small bowl.

Slicing horizontally across the steak, butterfly and pound flank steak into 2 thin rectangles. Position steak so that the grain runs parallel to the edge of the counter, spread herb mixture evenly over surface of steak.

Lay prosciutto evenly over steak, leaving 1-inch border along top edge.

Cover prosciutto with even layer of cheese, leaving 1-inch border along top edge.

Starting from bottom edge and rolling up away from you, towards the top, roll steak into tight log and place on cutting board seam-side down.

Starting in the middle of the steak roll, tie a piece of kitchen twine to secure the steak. Working outward from the center, place more ties of kitchen twine, in one inch intervals, until the whole steak roll is tied up.

Using a sharp knife, slice roll between pieces of twine into 1-inch-thick pinwheels. Season pinwheels lightly with salt and black pepper.

Skewer each pinwheel with a toothpick.

Preheat oven to 350.

Heat a cast iron skillet over medium high heat. Place pinwheels in pan and brown for 3 minutes or so. Flip over and brown on the other side for 2 minutes.

Slide skillet into preheated oven and cook for about 8-10 minutes or until steak reaches desired doneness.

Remove from oven, tent with aluminum foil and let rest for 5 minutes.

Remove twine and toothpicks and enjoy!
Want to save this recipe for later? Click the heart in the bottom right corner to save to your own recipe box!
Nutrition Disclaimer
The Chunky Chef is not a dietician or nutritionist, and any nutritional information shared is an estimate. If calorie count and other nutritional values are important to you, we recommend running the ingredients through whichever online nutritional calculator you prefer. Calories can vary quite a bit depending on which brands were used.
Calories: 599 | Carbohydrates: 2g | Protein: 59g | Fat: 37g | Saturated Fat: 14g | Cholesterol: 174mg | Sodium: 558mg | Potassium: 909mg | Sugar: 0g | Fiber: 0g | Vitamin A: 8.2% | Vitamin C: 4.5% | Calcium: 27.2% | Iron: 22.2%
I'm not a nutritionist, and nutritional values here on my recipes should be used for general information purposes only.  This information is not a substitute for medical advice or treatment for specific medical conditions. You should seek prompt medical care for any specific health issues and consult your physician before starting a new diet and fitness regimen.