Perfect for a party, or as a side dish for your meal… you have to try these sausage stuffed mushrooms! They're creamy, flavorful, and EASY!
Stuffed mushrooms are perfect to serve at a party, and your guests will be raving about these!  Filled with the most delicious filling with wine, cheese, Italian sausage, herbs and more!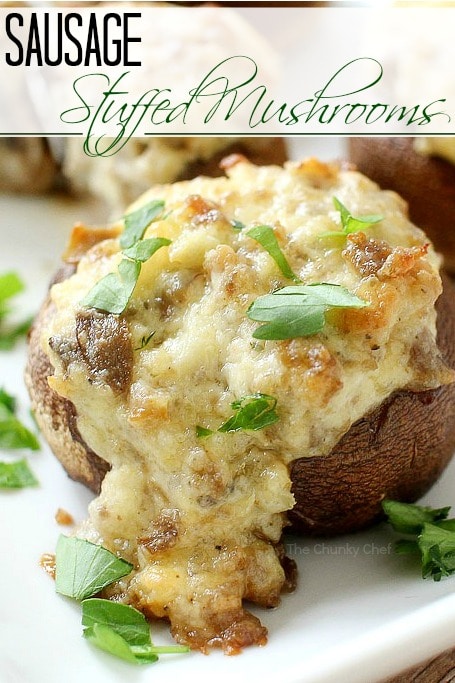 You all know I love mushrooms… ummm, like a LOT.  One of my favorite ways to eat a mushroom, is stuffed!  There are so many varieties of stuffed mushrooms, one for every type of filling you could want.  You guys have to try these Italian sausage stuffed mushrooms… you'll love them!!
When I first made these, my husband hadn't even finished his first mushroom before he was reaching for another one and proclaiming that I needed to make these again 🙂  Needless to say, they are definitely our family's favorite!
When we go out to eat, especially at an Italian restaurant, we allllllways want to get the stuffed mushrooms on the appetizer menu.  Problem is, they're usually one of the more expensive items, and you get about 5 mushrooms per order.  Uhhhh, I could eat more than 5 by myself, let alone share them!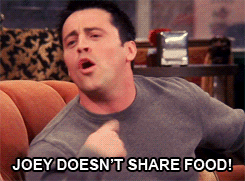 Okay, that… is me, just in male form.  I don't like to share my food.  If I let you have some of my food… I must realllllly love you 😛
What about you… do you share your food?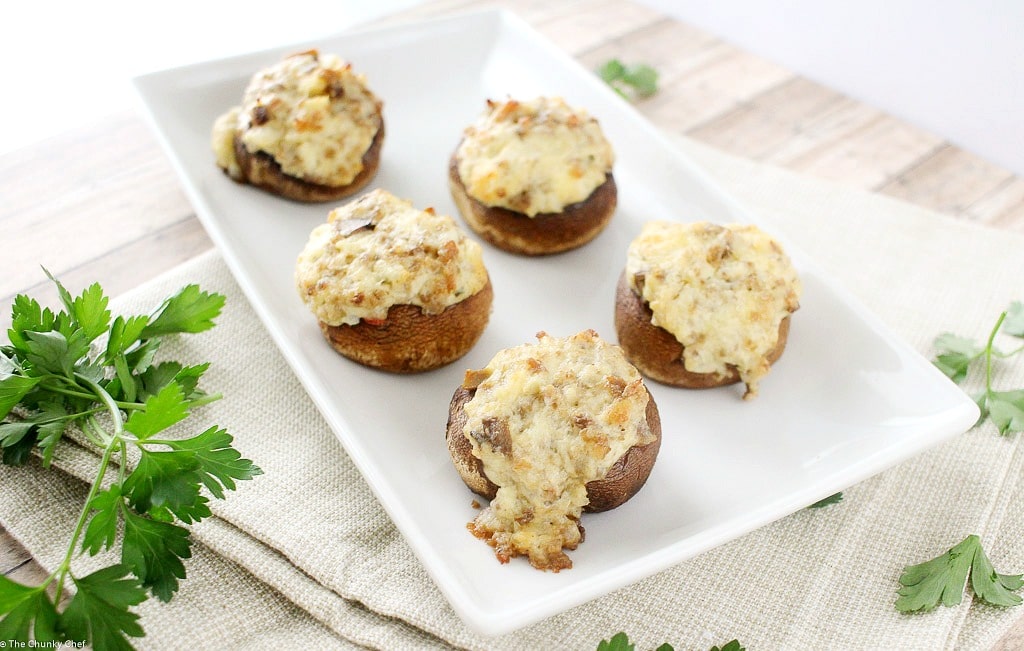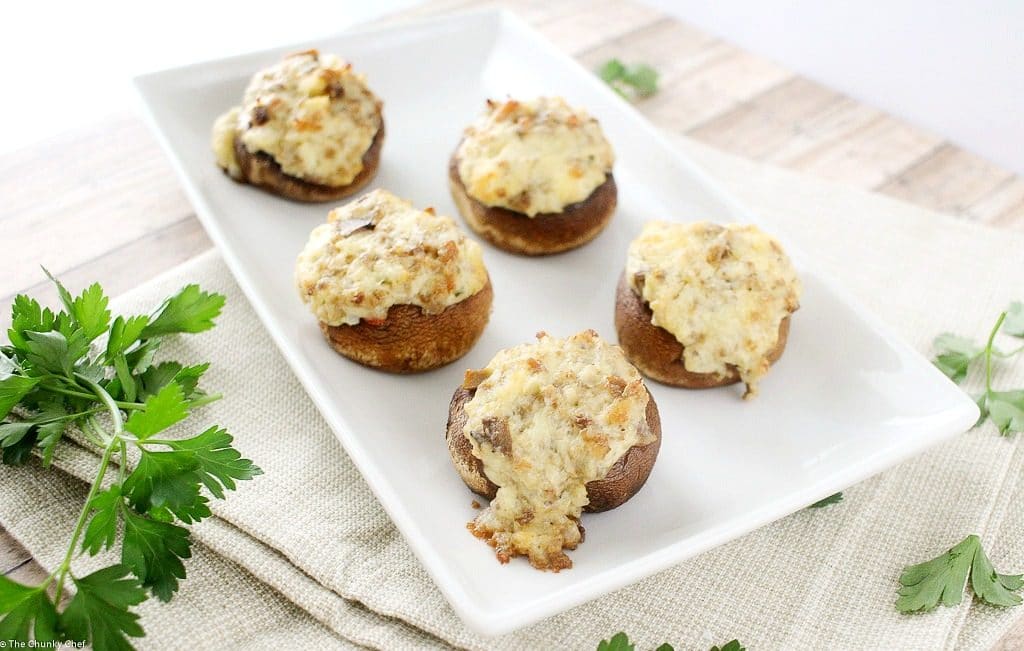 You don't need to save this recipe for your next party, (although they are delicious as a party appetizer!), they make a great side dish, or just a snack!  I swear I can just eat and eat and eat these things.  See… this is why I'm the Chunky Chef 😛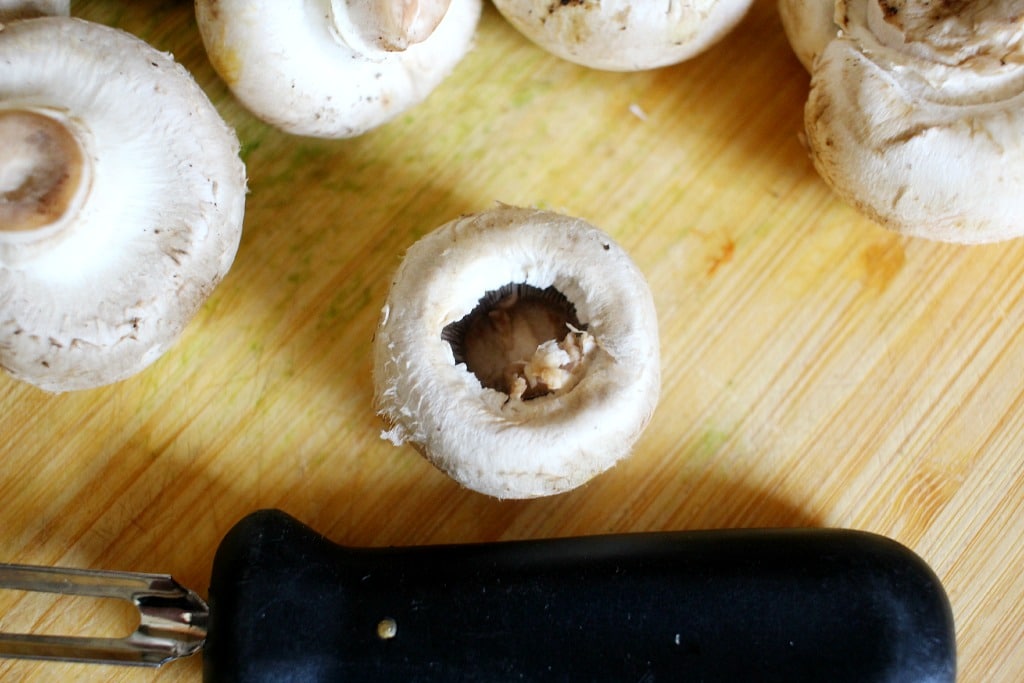 Making sausage stuffed mushrooms is easier than you may think 🙂  To start, you need to clean your mushrooms.  Some people rinse them under cold water, but I just wipe them off with a damp paper towel (unless they're really dirty, then I rinse them).  Once they're clean, pop out the stems so you have a cavity to fill.  Most of them will come off just by twisting the stem, but if they don't, a paring knife or vegetable peeler end will do the trick.
I don't like to waste food, so I love that this recipe from The Pioneer Woman goes along those lines.  Chop up the stems of the mushrooms and set them aside to add to the filling.  It'll add extra flavor, plus you're not wasting food 🙂
Now brown and crumble your Italian sausage.  You can actually use any sausage that you'd like, I just like the flavor of the hot Italian sausage.  Once it's cooked, remove it to a plate to cool.  Now toss in your onions and garlic and let them saute in the rendered grease from the sausage.  That grease = flavor!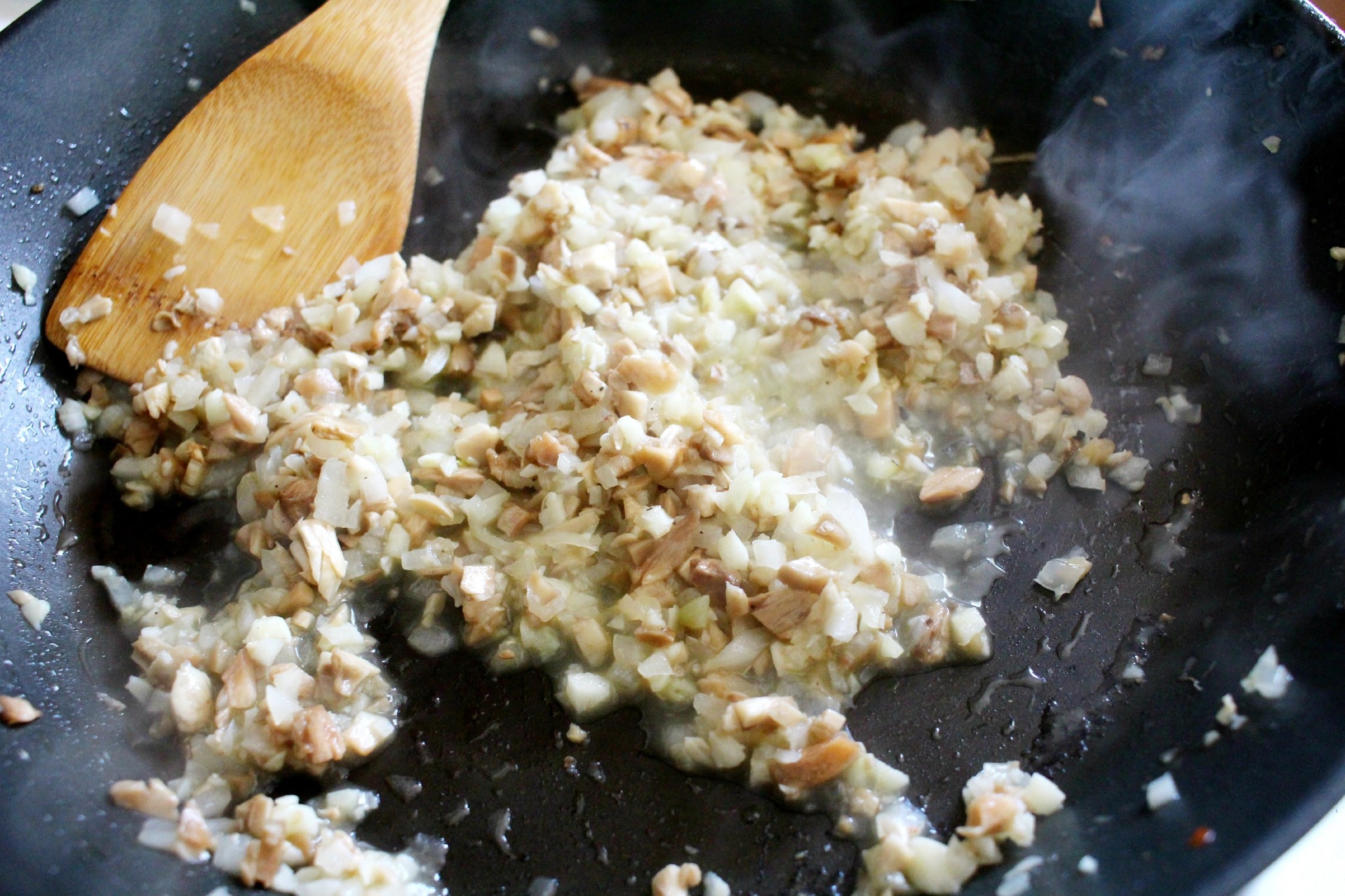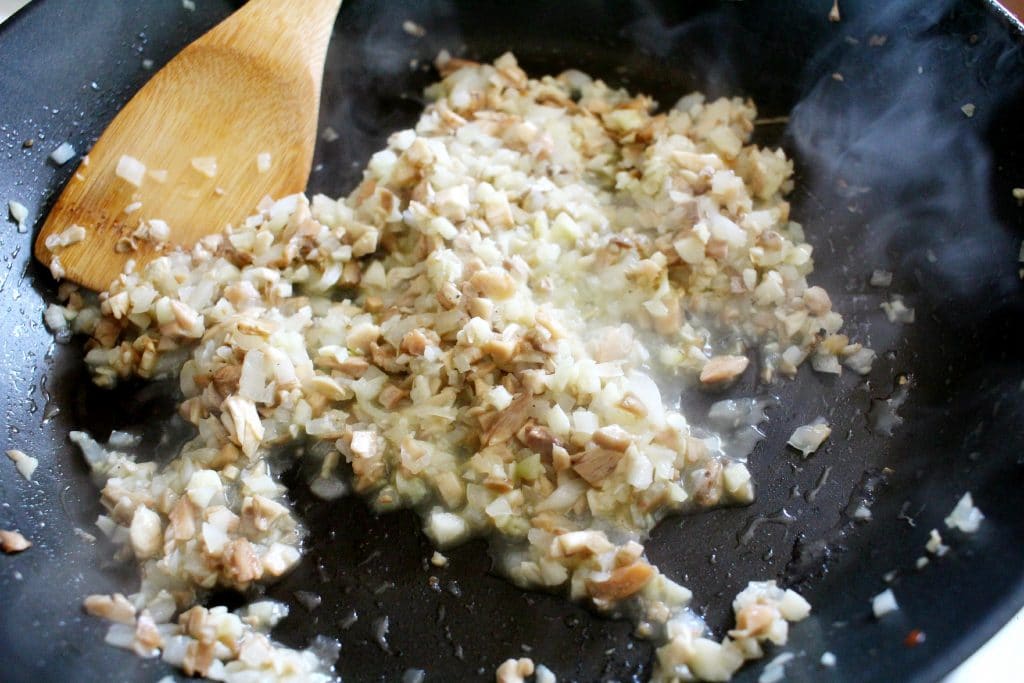 Add some white wine to deglaze the pan and let most of the liquid cook off.  Toss in your chopped mushroom stems and some fresh thyme and cook for a few minutes.  Set the mixture aside to cool down a little.
Mix together the cream cheese, egg yolk, cheese, sausage, and onion mixture.  Now you're ready to fill these babies up!
Use a spoon or a teaspoon measuring spoon to fill the mushroom cavity and create a mound on top of the mushroom.
Now just pop the baking sheet into the oven for about 25 minutes.  I broiled mine for a minute at the end to get a more golden brown top 🙂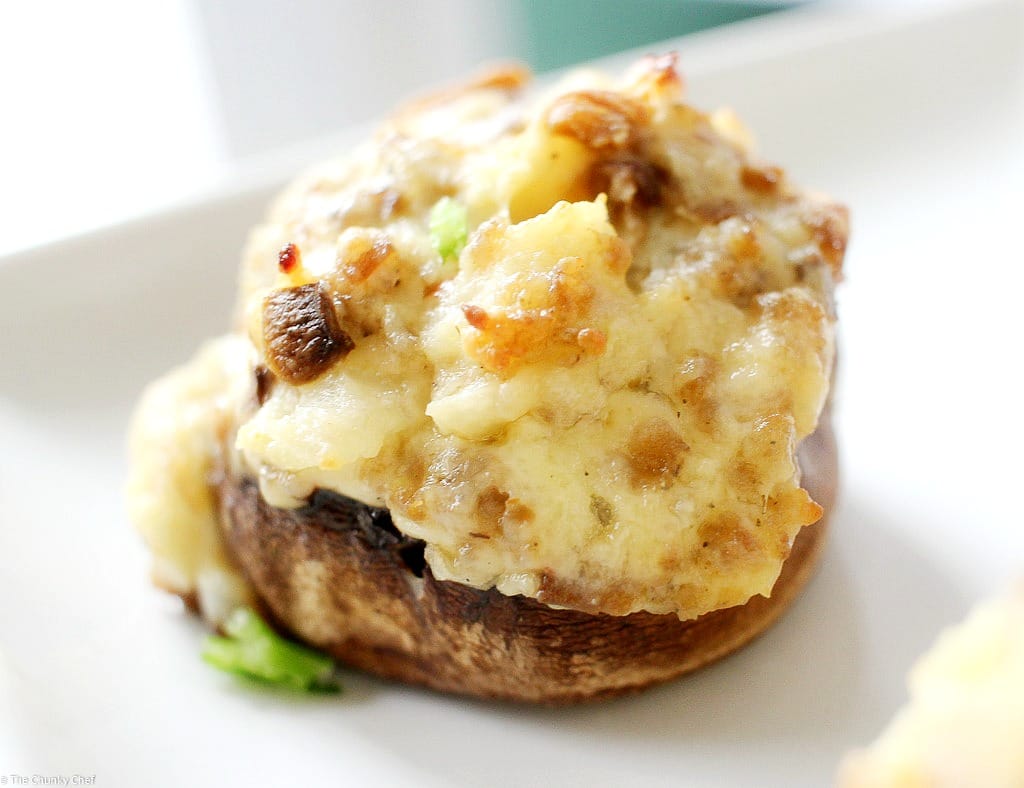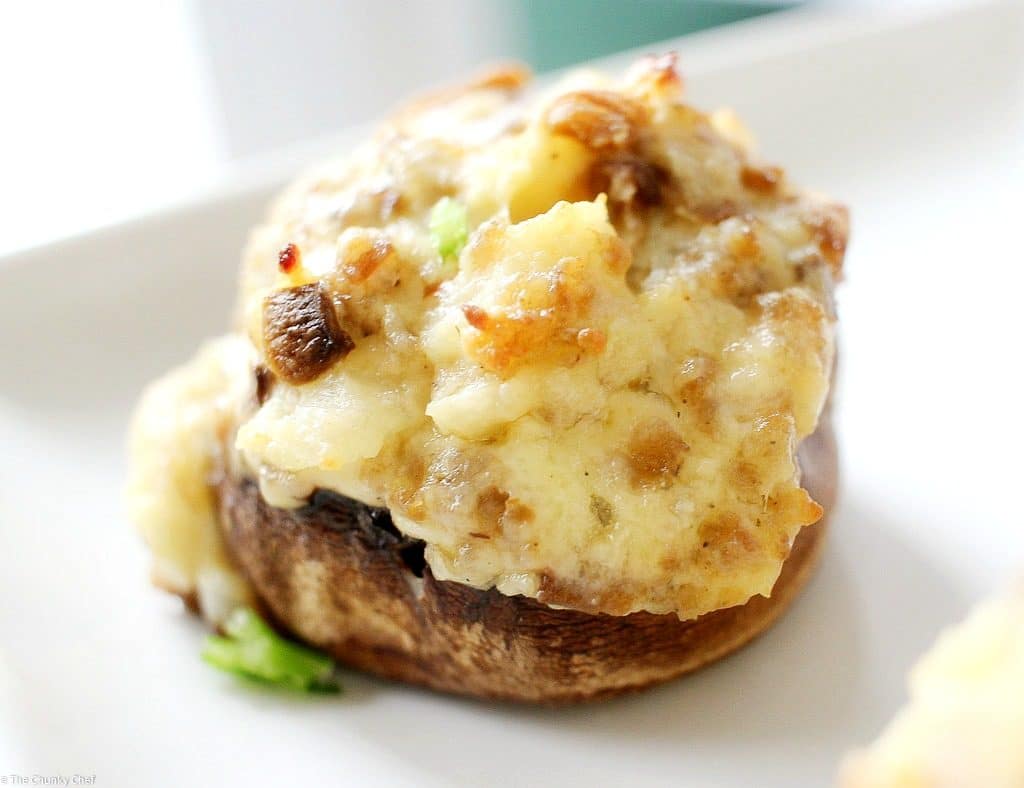 I served with a sprinkling of minced parsley, but that's optional.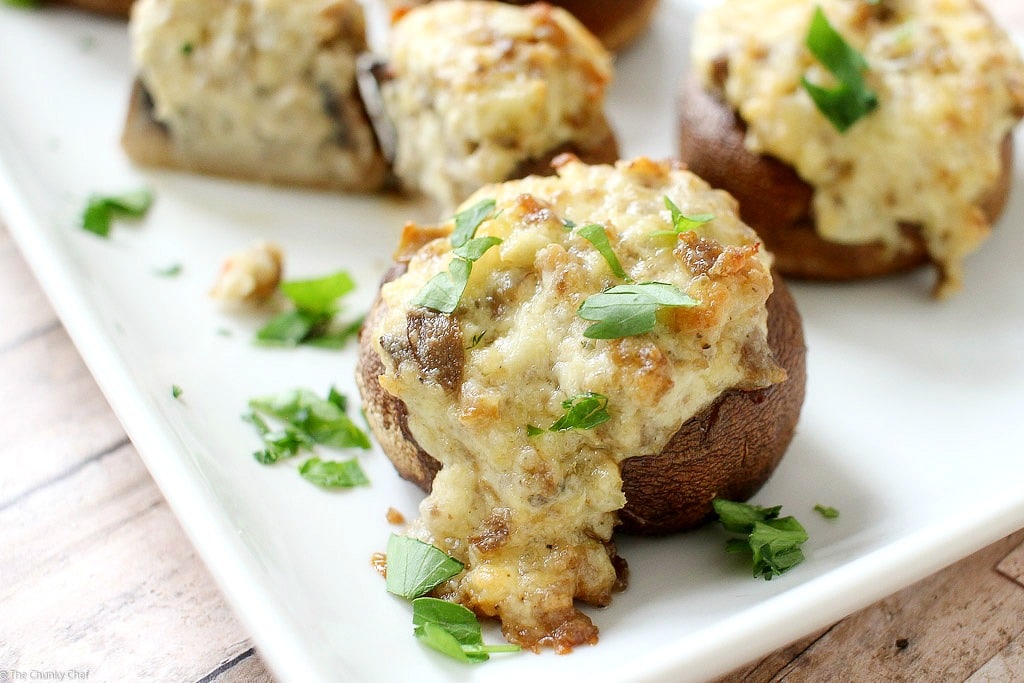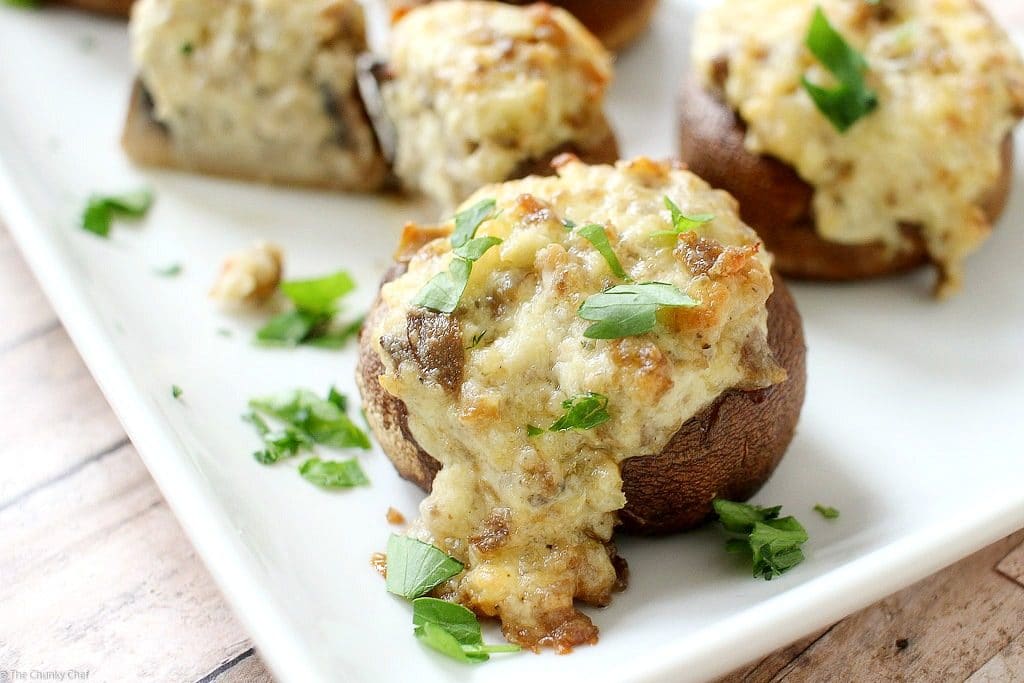 For a light meal you could serve these with a Caesar salad on the side, or serve them alongside some Stuffed Italian Flank Steak, Lemon Chicken Piccata, or Roasted Cauliflower and Mushroom pasta.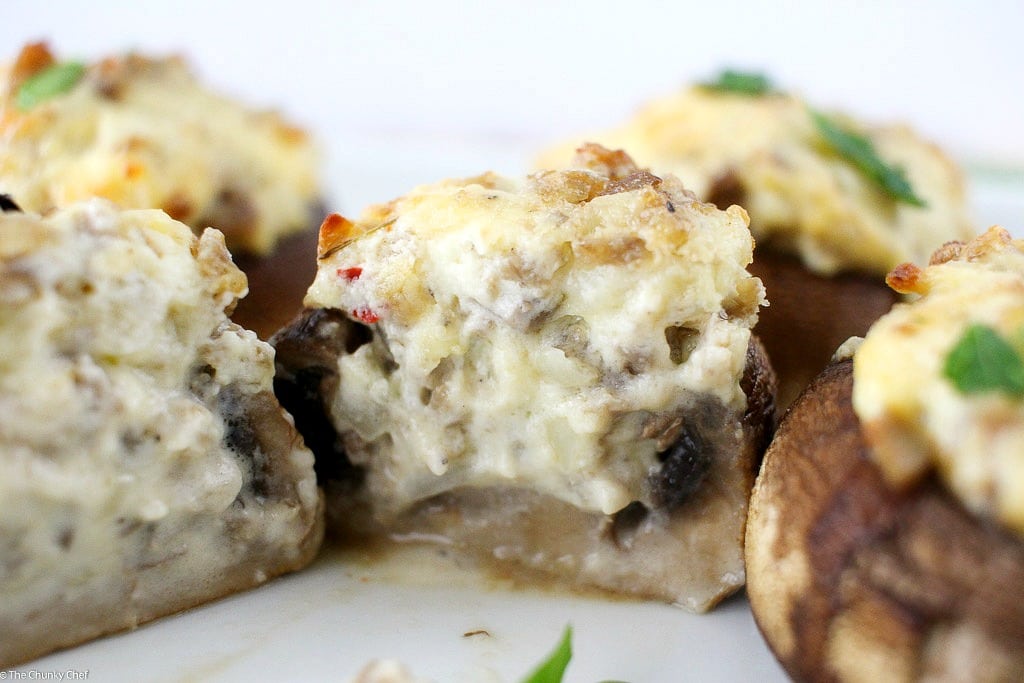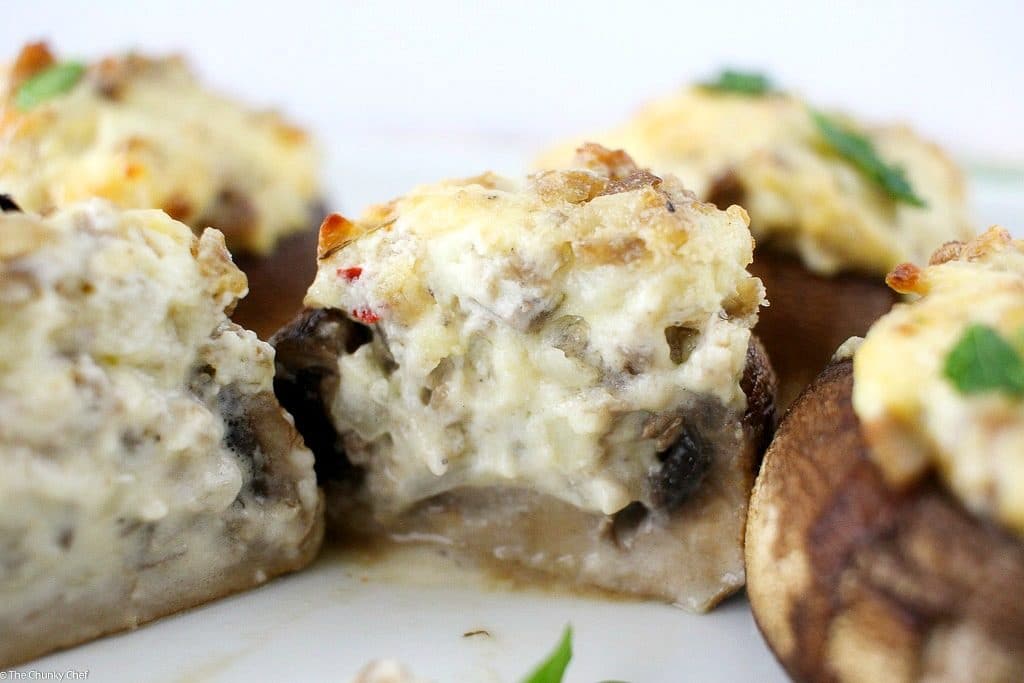 These mushrooms are so creamy, so savory, so full of flavor… I know you won't be able to just eat one!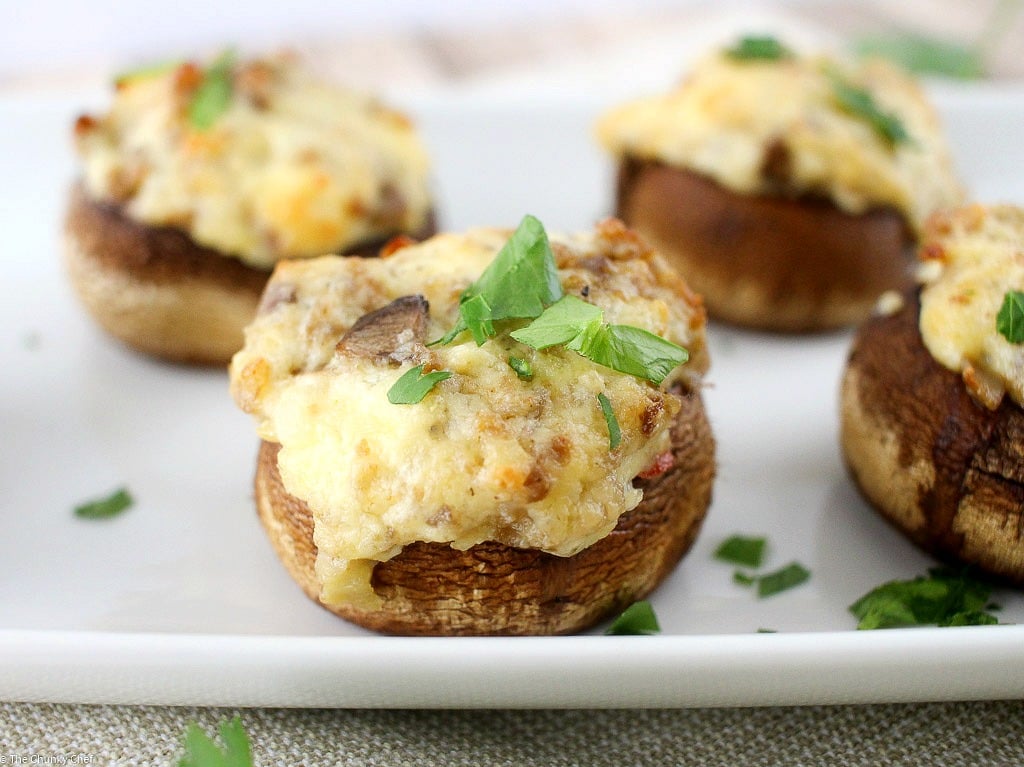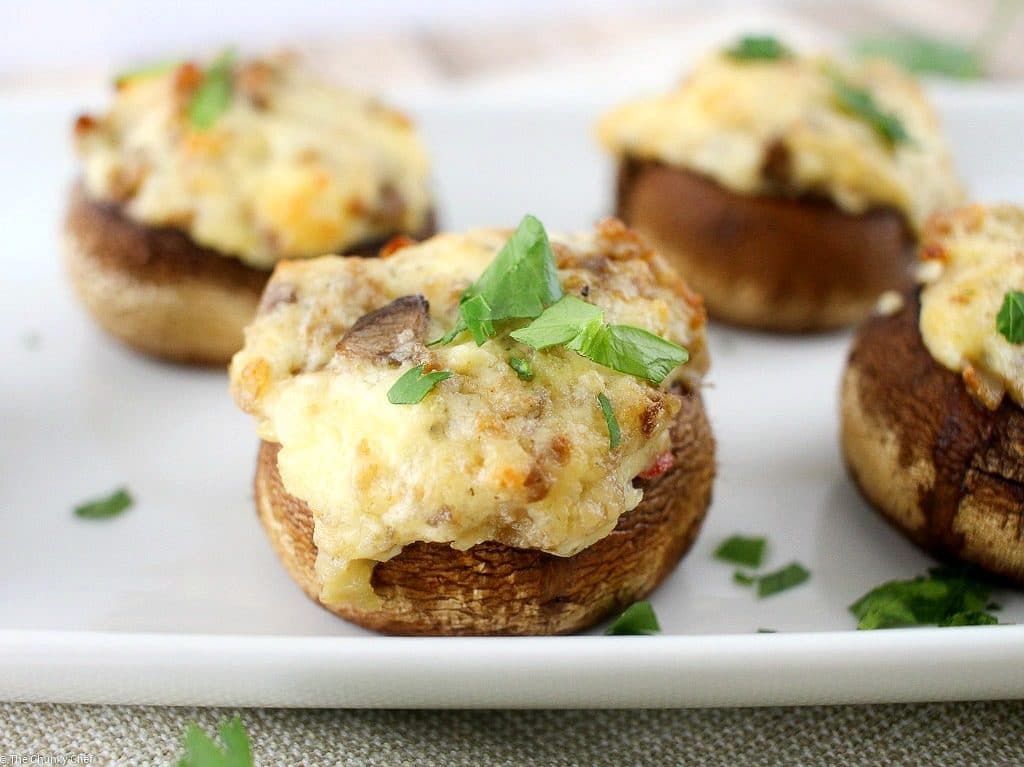 Did you make this? Be sure to leave a review below and tag me @the_chunky_chef on Facebook and Instagram!
Perfect for a party, or as a side dish for your meal... you have to try these sausage stuffed mushrooms! They're creamy, flavorful, and EASY!
Ingredients
24 oz white button mushrooms
1/3 lb hot Italian sausage ground
1/2 yellow onion finely diced
6 cloves garlic finely minced
1/3 cup dry white wine I used pinot grigio
2-3 tsp sprigs of fresh thyme chopped (or 1/4 dried thyme leaves)
8 oz cream cheese
1 egg yolk
3/4 cup Parmesan cheese grated
salt and pepper to taste
Instructions
Wipe off mushrooms with a damp paper towel. Twist stems of mushrooms to remove (or use a paring knife).

Chop mushroom stems finely and set aside.

Cook and crumble sausage finely. Remove to a plate to cool.

Reduce heat to MED-LOW and add onions and garlic to the same skillet with sausage grease. Saute for 3 minutes.

Pour in wine to deglaze pan, using a wooden spoon to scrape the pan to release the brown sausage bits, and allow most of the liquid to cook off.

Stir in chopped mushroom stems and thyme and saute for 2 minutes. Add salt and pepper to taste. Set mixture aside on a plate to cool.

In a bowl, combine softened cream cheese, egg yolk, and Parmesan cheese. Stir to combine well.

Add cooled, cooked sausage and cooled onion mixture. Stir well, cover with plastic wrap and refrigerate for 30 minutes or so to firm up.

Preheat oven to 350 degrees, line a baking sheet with parchment paper.

Using a spoon or teaspoon measuring spoon, add mixture to the top of the mushrooms, pressing slightly to fill the cavity. Add a little extra to create a mound on top of the mushroom.

Bake for 25 minutes, or until golden brown. Broil the last minute if you want a more golden brown topping.

Let cool a few minutes, sprinkle with chopped fresh parsley, and serve.
Want to save this recipe for later? Click the heart in the bottom right corner to save to your own recipe box!