Perfectly moist and tender bone-in turkey breast, made easily in the slow cooker! Great to free up your oven for side dishes, and the perfect size for a smaller family Thanksgiving. Enjoy a more stress-free holiday!
This is one of my Thanksgiving recipes I know you'll want to keep on hand!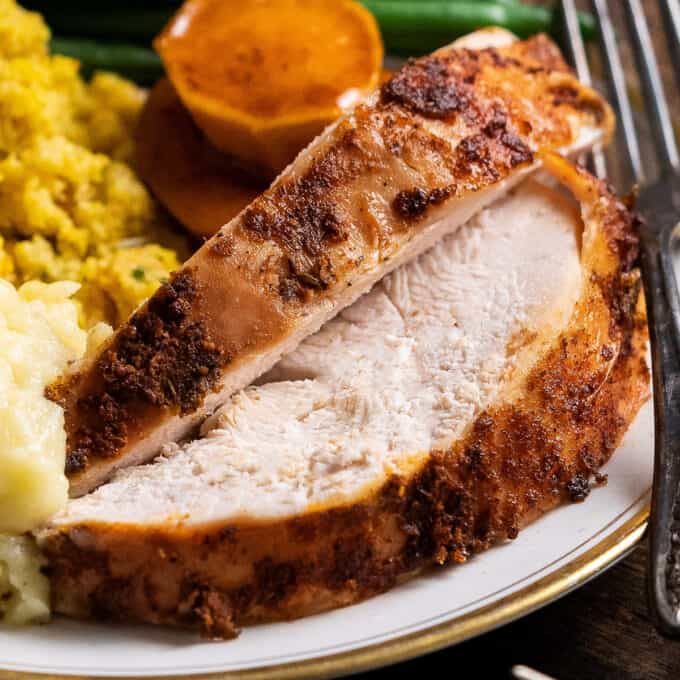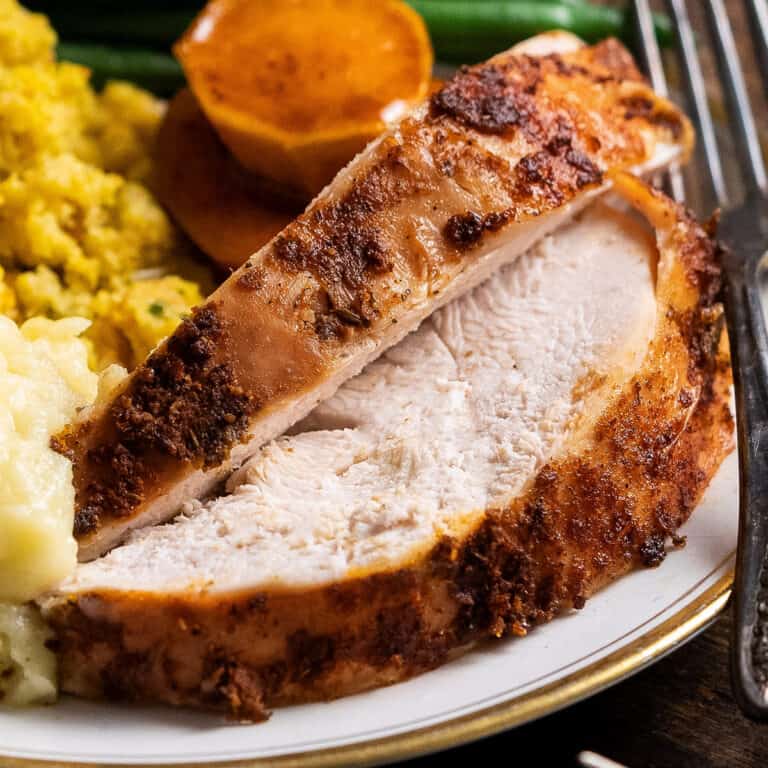 If you're anything like me, cooking the huge Thanksgiving turkey can be really nerve-wracking. It's a big deal, and when it's the star of the dinner, you really need it to be amazing.
So I actually prefer to cook a turkey breast instead! Not only are they smaller and easier to cook, they're also a lot more economical, and easier to fit in your freezer and/or refrigerator.
This recipe takes the ease of cooking a turkey breast to a whole new level by cooking it in the slow cooker. The slow, gentle heat makes this a pretty forgiving recipe, and makes for a moist, not dry, turkey.
Leaving your oven free for all the other holiday side dishes, and knocking the main course out of the park with flavor and tenderness? Sounds like a great holiday meal to me!
How to make slow cooker turkey breast?
This is just an overview; the full ingredients and directions are in the recipe card toward the bottom of this post.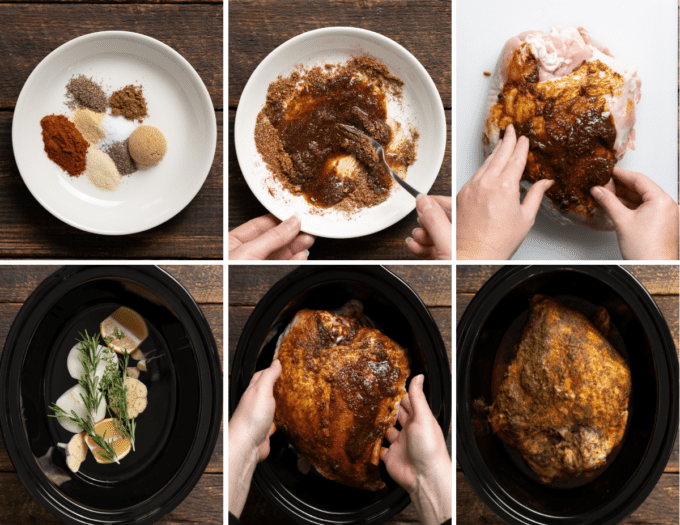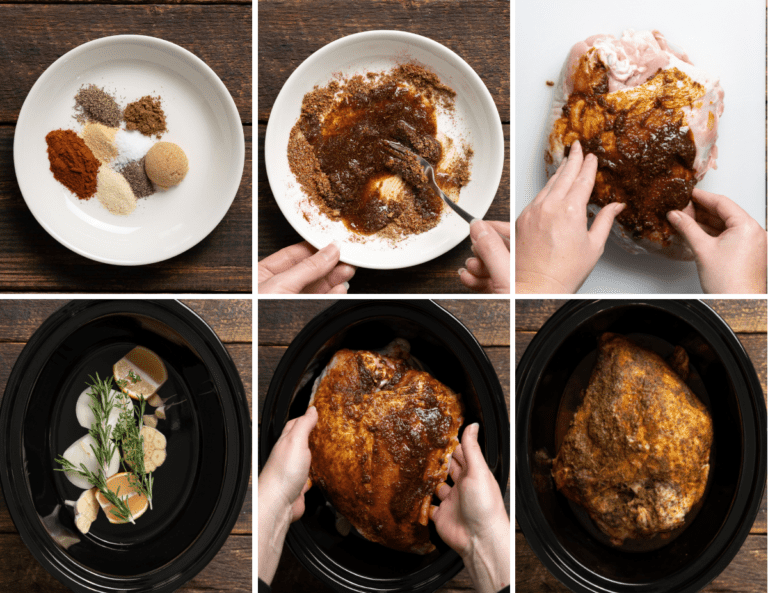 Combine rub. Stir in oil until a paste forms.
Spread onto turkey. Pat the turkey dry first, then massage it in.
Add aromatics. To the slow cooker, add onion, garlic, lemon and herbs.
Add turkey. Adding the turkey on top of those aromatics means the turkey (and eventually the gravy) will absorb those flavors, but it also keeps the turkey out of the cooking liquid.
Cook. Cover and cook on LOW for about 6 hours.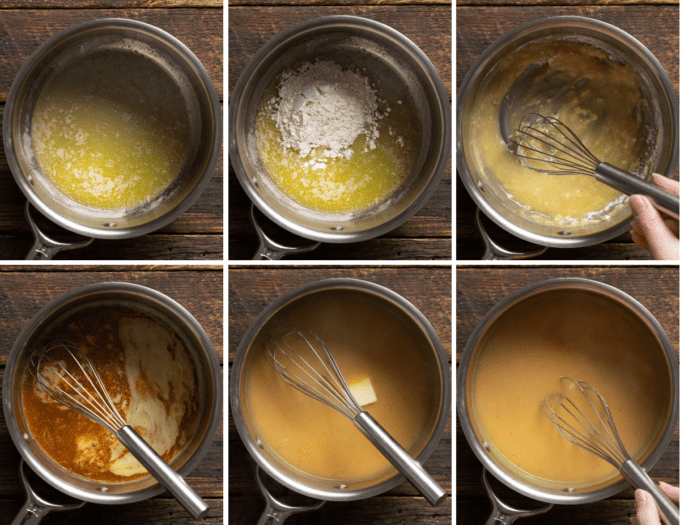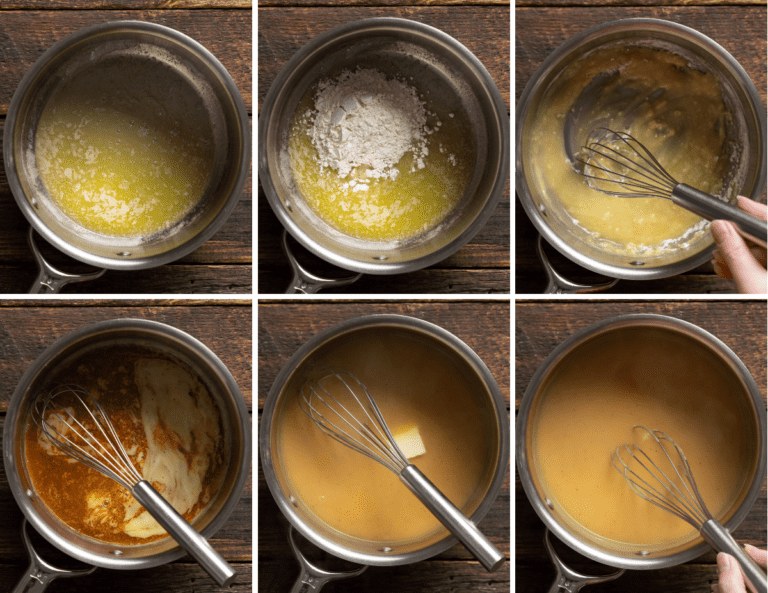 Broil turkey. If you want crispy skin, add it to your oven set to broil.
Strain cooking liquid. You'll want about 2 cups, so if you don't have enough, add chicken broth until you have 2 cups of liquid.
Melt butter, make roux. Once the butter is melted, add flour and whisk until smooth.
Whisk in cooking liquid. Whisk as you slowly pour.
Simmer. Season and simmer until thickened to your liking.
Whisk in cold butter.
Helpful Tip!
When you look at the recipe, you'll see there is no liquid added to the slow cooker. There's an old myth that cooking meat in a slow cooker without liquid is bad. While it's a good rule of thumb to add liquid in some recipes, foods that create their own juices as they cook, do not need liquid. The turkey breast essentially bastes itself and steams in it's own juices.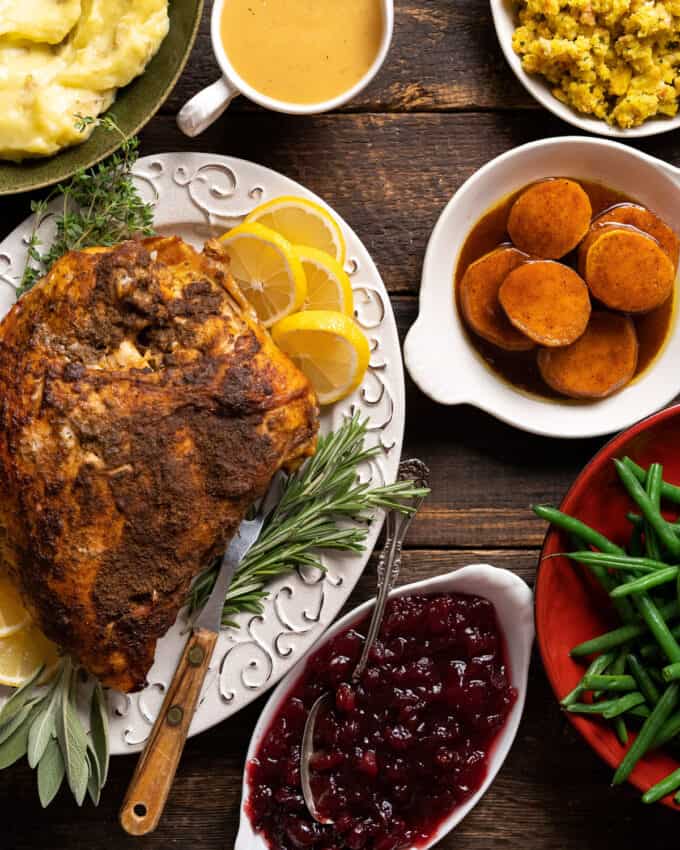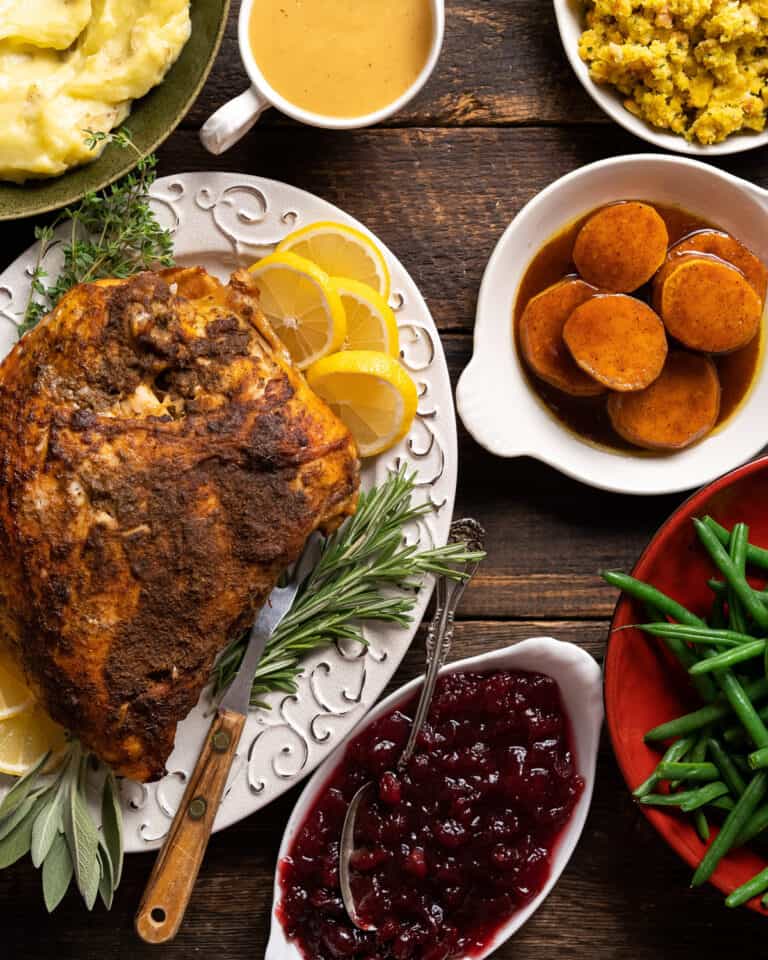 Variations of this recipe
Double breast/turkey crown – I used a half breast, meaning instead of having both breasts, there's only one. However, you can absolutely use a full/double breast (or it's also sometimes called a turkey crown). As long as it will fit in your slow cooker!
More intense rub – if you'd like even more of the rub flavor, add half of the rub/paste underneath the turkey skin, then top the skin with the remaining rub/paste.
No drippings – I highly recommend using the drippings to make the gravy in this recipe. But if you'd rather not use them, I do have a gravy recipe that can be made with no drippings.
No fresh herbs – while the rub uses dried herbs, this recipe calls for fresh herbs in the slow cooker to lend their fresh flavor to both the turkey and gravy. If you don't have any fresh herbs, just omit them from that step.
Other cooking methods – if you'd prefer to roast your turkey breast in the oven, I've included oven directions down in the "Chef Tips" section right below the full recipe.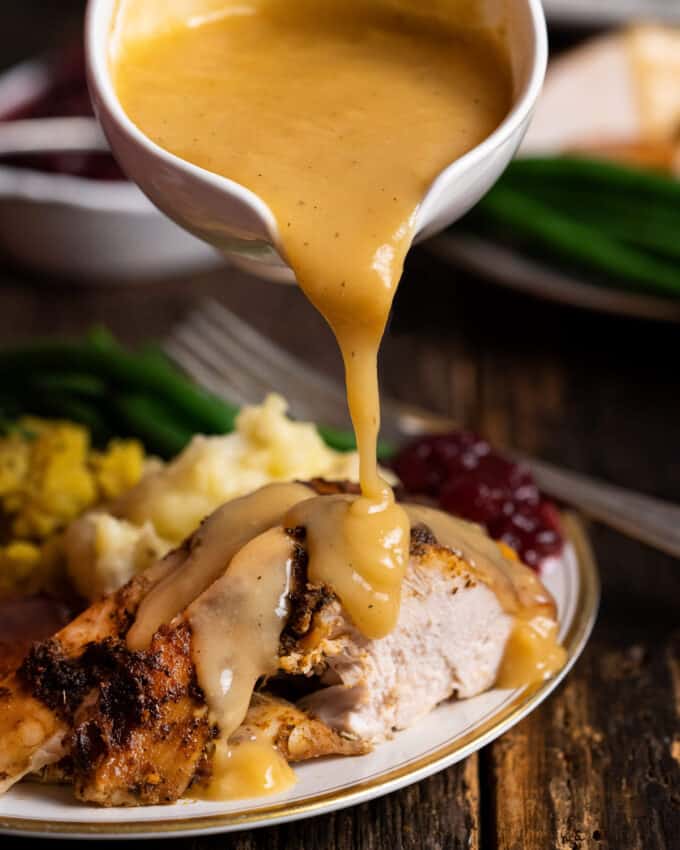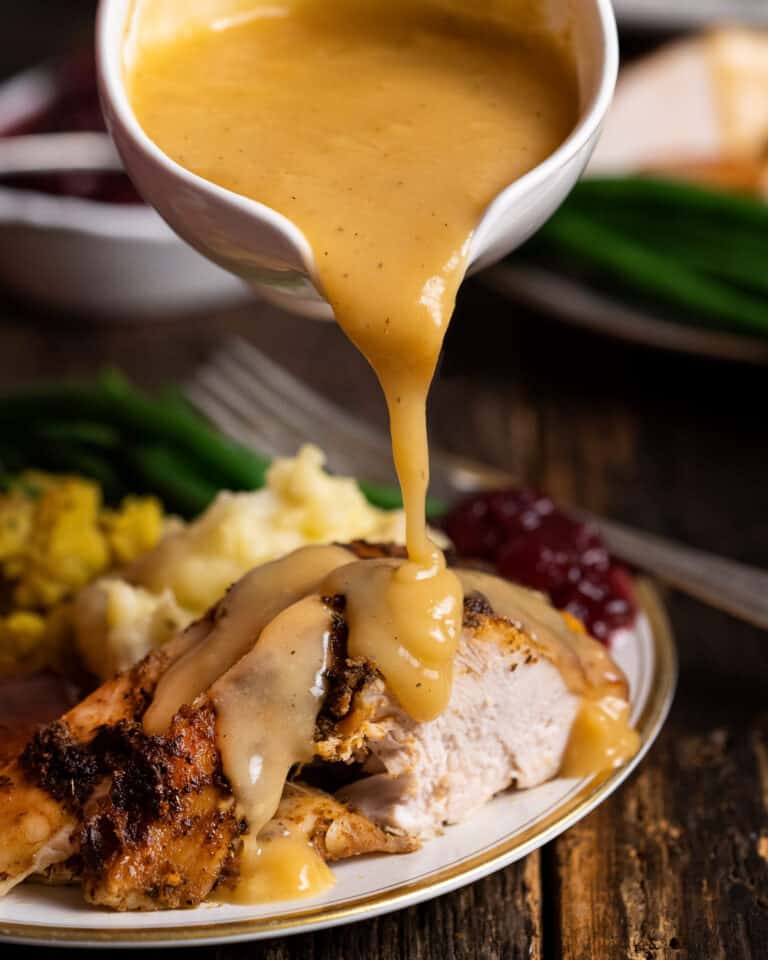 FAQ's
How much turkey is needed per person?
I would plan for at least 1 pound of person, but up to 2 pounds per person (depending on how hungry your guests are, and if you want leftovers).
Can this recipe be made with a boneless turkey breast roast?
This slow cooker turkey breast recipe was developed for a bone-in breast. Using a boneless turkey breast roast is not recommended, as it would have different cooking times.
What size slow cooker is needed for this recipe?
I would say at least a 6 quart, oval shaped slow cooker is ideal. Smaller than that, and in a round size, may not be large enough for the turkey breast to fit.
Making a turkey breast in the slow cooker ahead of time
Turkey tastes best when made fresh, so I don't recommend making this recipe entirely ahead of time.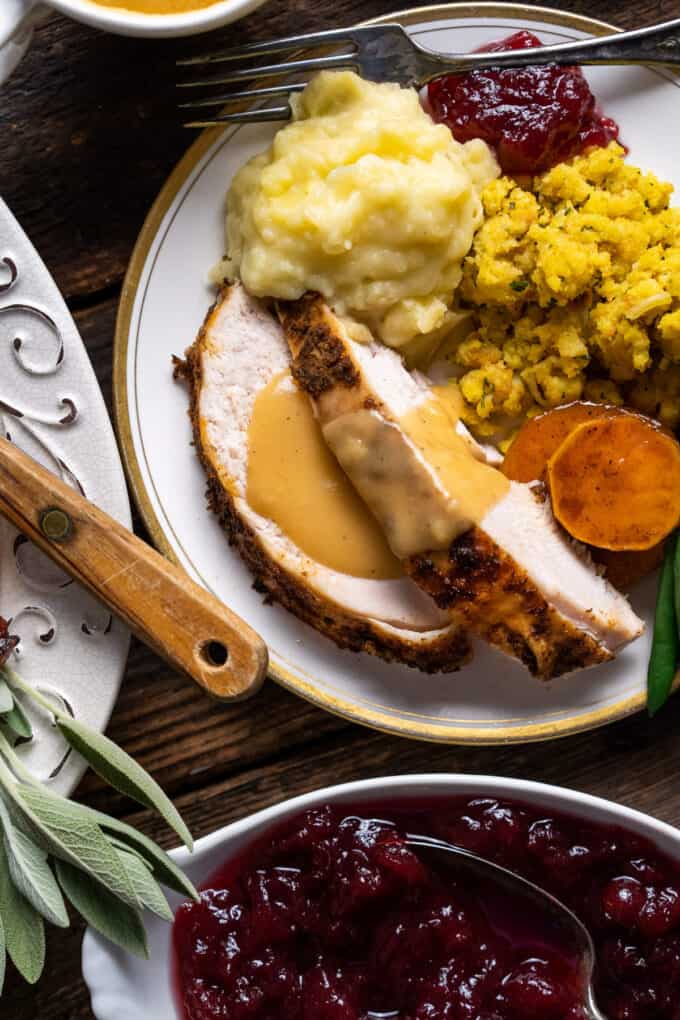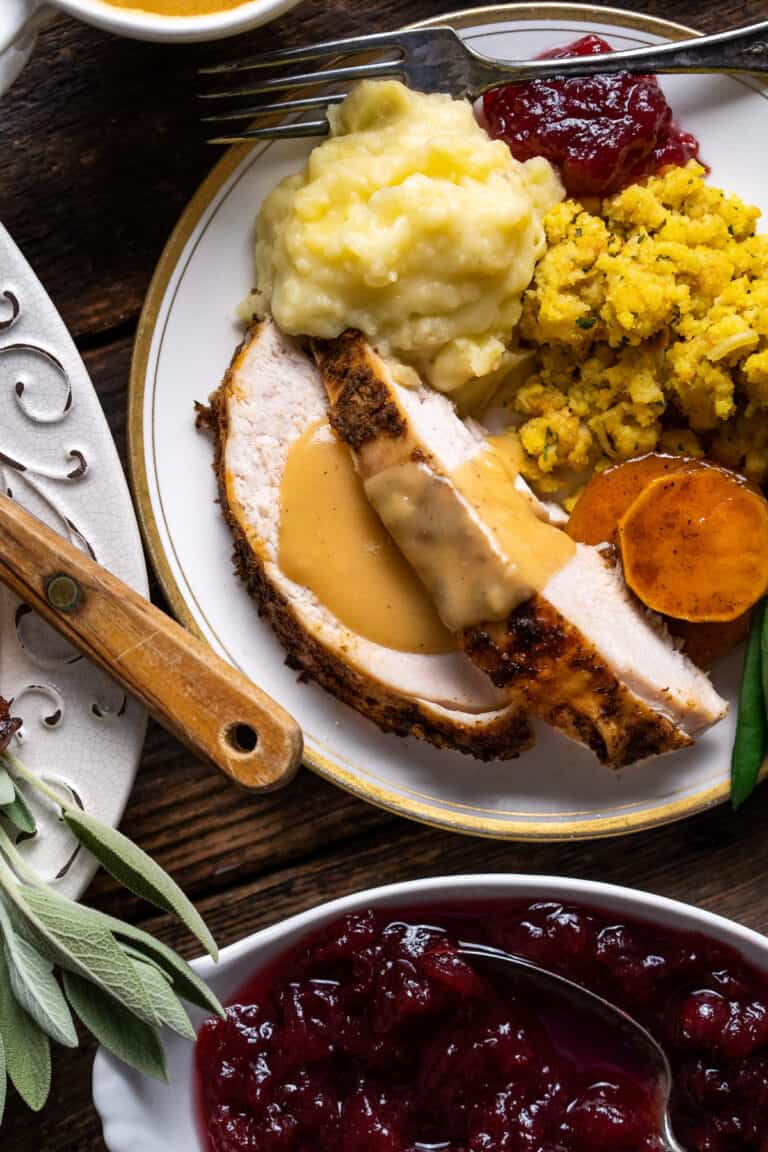 However, parts of the recipe can be prepped ahead.
Seasoning rub – the seasoning rub plus the oil can be combined and stored in an airtight container in the refrigerator until ready to cook.
Aromatics – the onion, garlic and lemon can be sliced and stored in an airtight container in the refrigerator until ready to cook.
Gravy – the flour can be measured ahead of time, as well as the salt and pepper, then kept at room temperature until ready to cook.
Storage
Leftover turkey should be refrigerated in an airtight container and eaten within 3-4 days.
Freezing
Cooked leftover turkey can also be frozen for longer storage! Let the turkey cool completely, then wrap slices in plastic wrap and place in an freezer-safe container and freeze for up to 3 months.
Thaw in the refrigerator, then heat up as desired.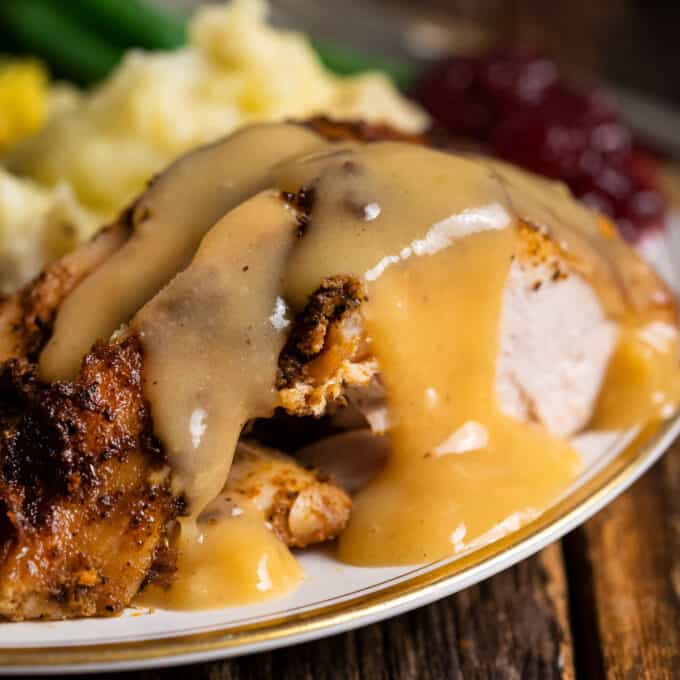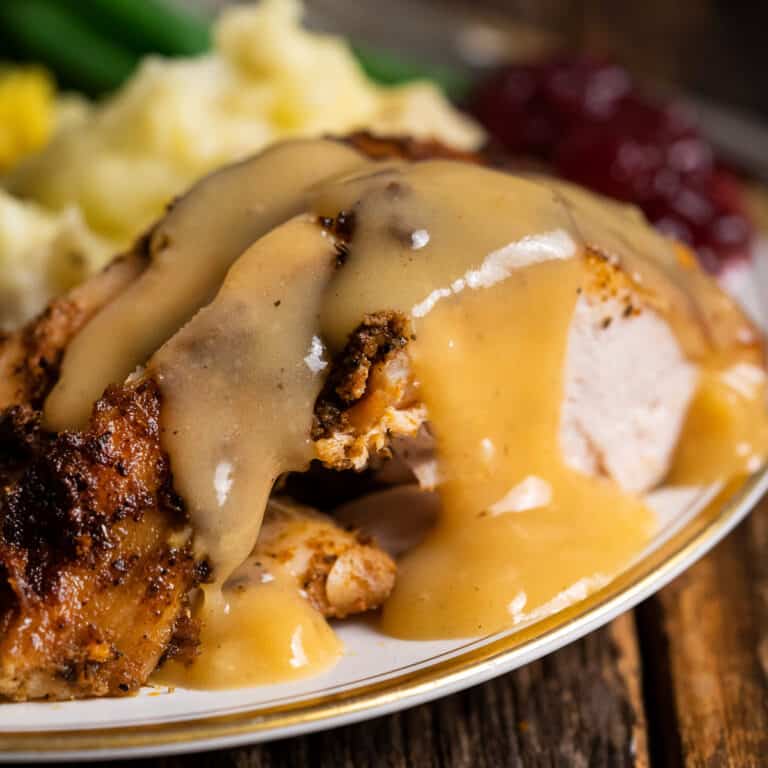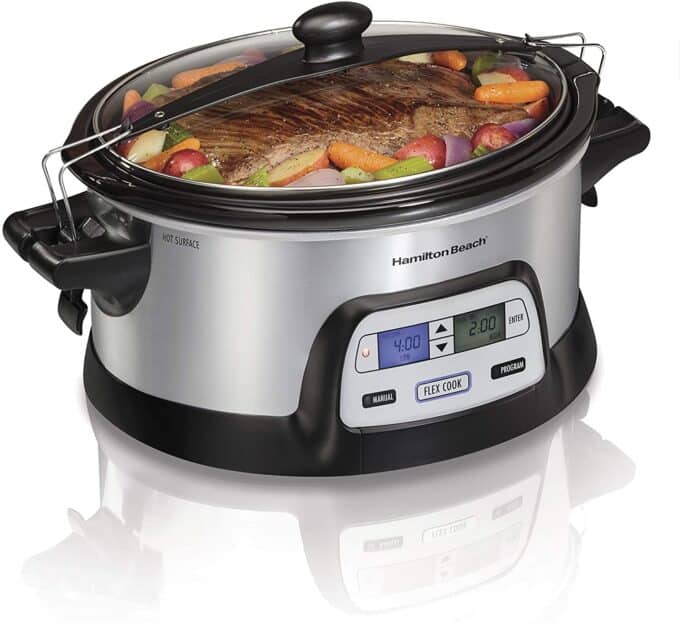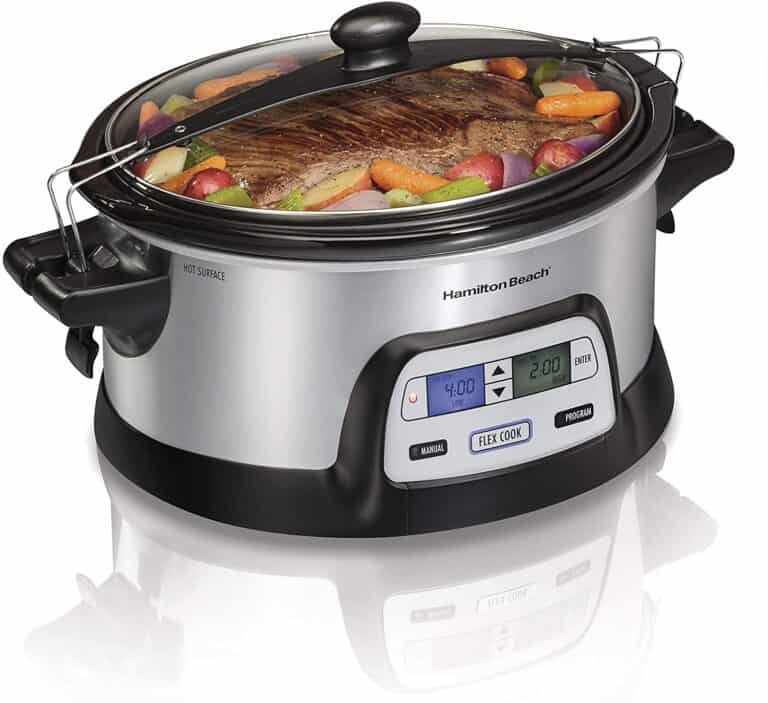 I had this crockpot for a while now, and I really love how it cooks. The locking lid feature is amazing for taking foods to potlucks or other gatherings!
Did you make this? Be sure to leave a review below and tag me @the_chunky_chef on Facebook and Instagram!
Perfectly moist and tender bone-in turkey breast, made easily in the slow cooker! Great to free up your oven for side dishes, and the perfect size for a smaller family Thanksgiving.
Ingredients
Turkey/Slow Cooker
4 lb bone-in, skin-on turkey breast
1 large yellow onion peeled and cut in half
1 head garlic extra paper skins removed, then cut in half horizontally
2 lemons sliced in half lengthwise
3 sprigs fresh thyme
3 sprigs fresh rosemary
Seasoning rub/paste
1 Tbsp packed light brown sugar
1 1/2 tsp smoked paprika
3/4 tsp garlic powder
3/4 tsp kosher salt
1/2 tsp black pepper
1/2 tsp onion powder
1/2 tsp dried thyme
1/4 tsp ground cumin
2 Tbsp vegetable or olive oil
Gravy
1/4 cup unsalted butter
1/4 cup all purpose flour
2 cups cooking liquid from bottom of slow cooker
1/2 tsp kosher salt
1/2 tsp black pepper
1 Tbsp cold unsalted butter
Instructions
Prepare slow cooker and turkey
In a small mixing bowl, combine rub ingredients and stir to combine well.

Pat turkey breast very dry with paper towels.  Spread rub onto turkey breast, using hands to really massage it in.

To the insert of a slow cooker, add halved onion, garlic and lemon.  Add sprigs of fresh thyme and rosemary.

Place the seasoned turkey breast on top of the onion, garlic and lemon.
Cook the turkey breast
Cover and cook on LOW for approximately 6 hours, or until an internal thermometer reads 165°F when inserted into the thickest part.

Remove turkey breast from slow cooker and set aside on a cutting board or rimmed baking sheet.

Preheat broiler to high and adjust oven rack to the middle position.

Add turkey breast to a baking dish or rimmed baking sheet. Drizzle turkey breast with a little extra olive or vegetable oil.

Broil for 3-5 minutes, until skin is golden and crispy. Set aside to rest for 10-20 minutes.
Make gravy
While turkey breast is resting, strain the cooking liquid out of the slow cooker.  If there's not enough to liquid to get to 2 cups, supplement with chicken broth.

In a small saucepan, melt butter over MED heat.  Once melted, add flour and whisk to combine. Cook approximately 1 minute, then slowly whisk in cooking liquid.

Stir in salt and pepper, and simmer for several minutes, or until thickened to your liking.  

Remove from heat and whisk in cold butter. Taste and adjust seasoning if needed.
Serve
Slice turkey into 1/2 inch thick slices and drizzle with gravy (or serve gravy on the side).
Want to save this recipe for later? Click the heart in the bottom right corner to save to your own recipe box!
Chef Tips
For the best results, I highly recommend using an internal meat thermometer to check the internal temperature of the turkey breast.  The cook time given is what it took for me, but all slow cookers cook a little differently, and even things like how cold the turkey breast was before cooking can alter the total cook time.
Insert the thermometer into the thickest part of the breast, and you're looking for it to read 165°F.
Oven Directions
Make sure the oven rack is one rung below the middle, so the turkey breast will be in the center of the oven as it cooks.
Preheat oven to 375°F and add onion, garlic, lemon, fresh thyme, and fresh rosemary to either a roasting pan or large baking dish.
Add turkey and rub in the seasoning rub/paste.
Roast turkey breast for approximately 20 minutes per pound (so for a 4 lb turkey breast, cook for 80 minutes), basting with the pan juices every so often if you'd like (basting isn't necessary though).
Use an internal meat thermometer inserted into the thickest part of the breast and when the turkey breast is 165°F, remove the pan from the oven.
Transfer turkey breast to a platter or cutting board to rest for about 15 minutes while you make the gravy.
Make gravy as directed in main recipe and serve as directed.
Nutrition Disclaimer
The Chunky Chef is not a dietician or nutritionist, and any nutritional information shared is an estimate. If calorie count and other nutritional values are important to you, we recommend running the ingredients through whichever online nutritional calculator you prefer. Calories can vary quite a bit depending on which brands were used.