This classic recipe for perfect Instant Pot Mashed Potatoes is the only one you'll need!  So creamy, buttery and rich, they're great as a holiday side dish for Thanksgiving, or alongside a roast, steak, or juicy piece of chicken!
Perfect for any holiday dinner, and so easy to make!  These mashed potatoes are a classic for a reason, they're delicious.  We love holiday sides like my Baked Mac and Cheese and Classic Green Bean Casserole and this is one of my Thanksgiving recipes you'll definitely want in your recipe box!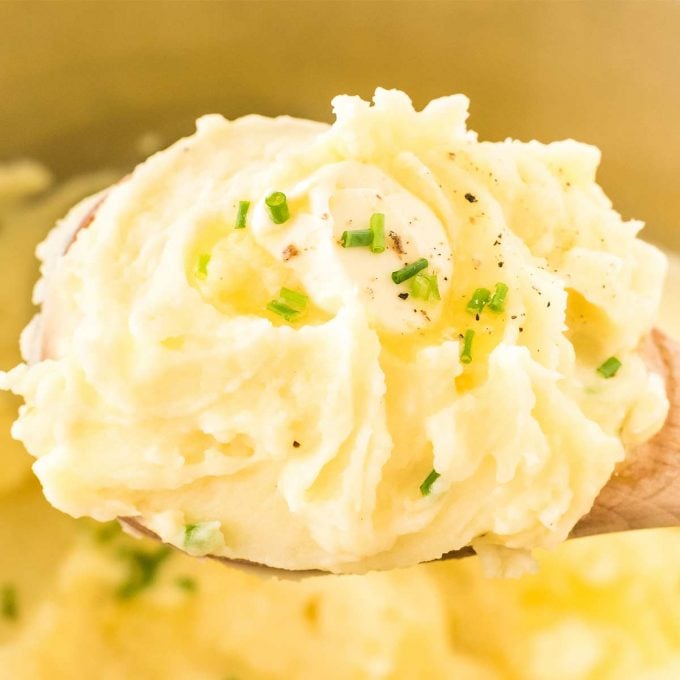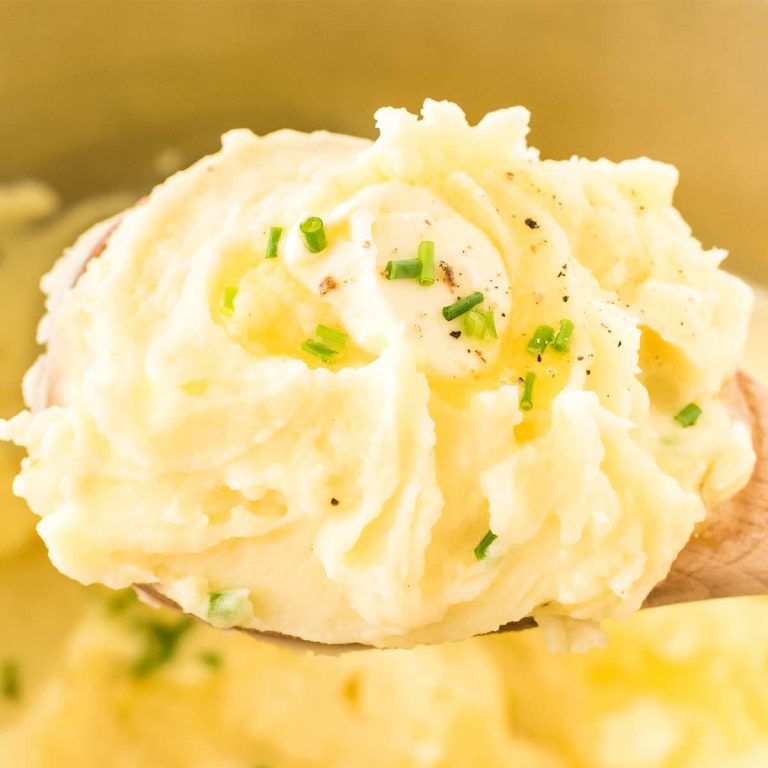 MASHED POTATOES RECIPE
Can you tell I'm getting excited for Thanksgiving? I've been sharing plenty of holiday side dishes and desserts, and I'm back today with another one!
Mashed potatoes are one of those side dishes that are fabulous year-round, with pot roasts, chicken, and so much more.
Fluffy, creamy, and oh so rich, these potatoes are simply the best!  Definitely my go-to recipe.
Even though mashed potatoes are really easy to make, with this recipe there's no standing around over the stove and waiting for a bit pot of water to boil.
Just add things to the Instant Pot, set it, and walk away!
No need to take up valuable stovetop space, especially on a busy holiday or even a weeknight.
HOW TO MAKE MASHED POTATOES IN THE INSTANT POT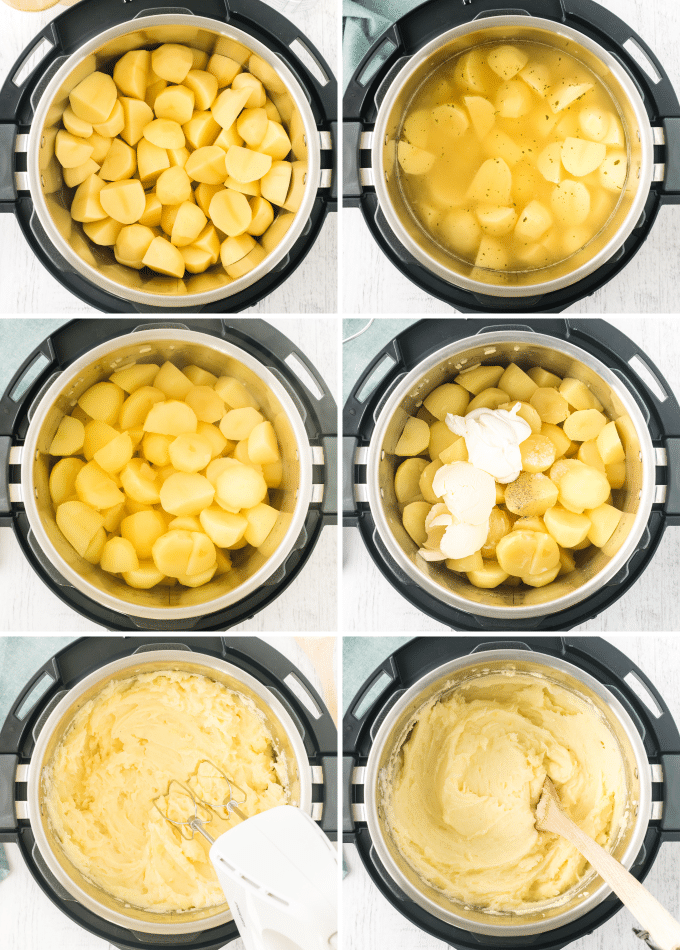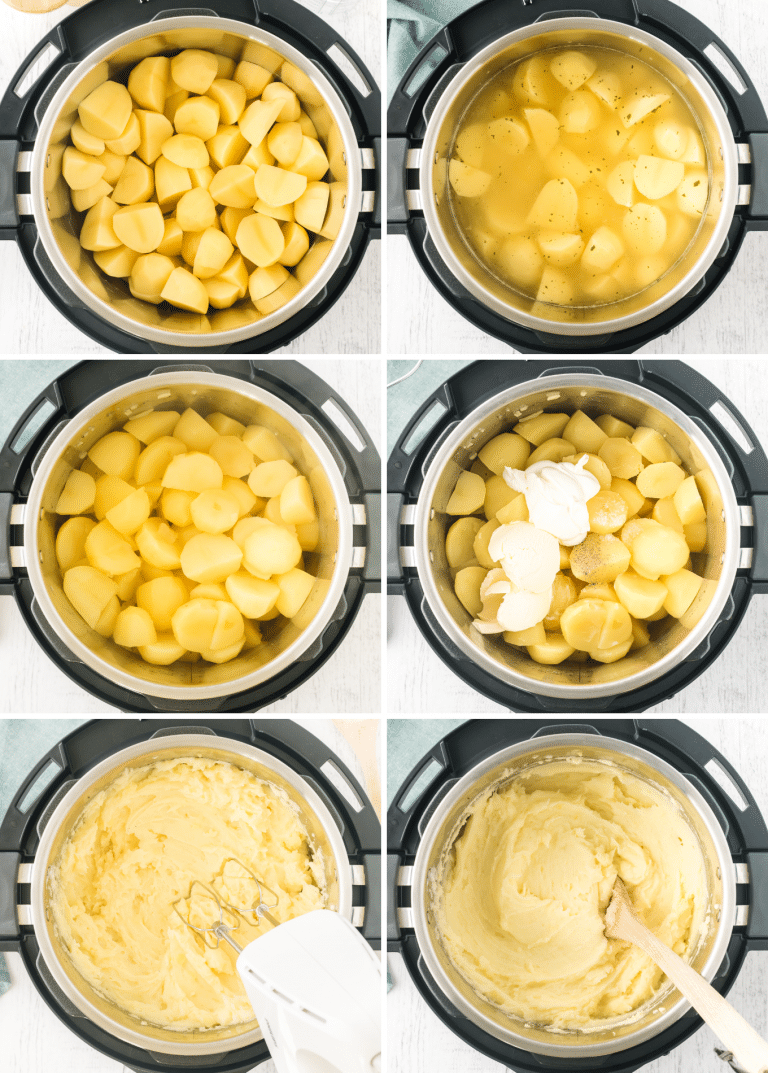 Add potatoes and liquid to pot.  No need to spend a ton of time chopping the potatoes, just a quick quarter will do.  
Pressure cook.  Pressure cook on high for 12 minutes, then release the pressure.
Drain and mash.  Drain the liquid, then add the potatoes back to the pot.  Season, add sour cream, butter and cream.  Mash.
Serve.  Serve hot, topped with a few pats of butter and sprinkle of fresh chives.
ADDITIONAL COOKING TIPS
Since mashed potatoes are such a classic dish, you want them to be perfect.  Here's a few helpful tips!
TYPES OF POTATOES TO USE
Technically it all comes down to personal preference, but my favorites are russets or yukon golds.  Beyond them just being my favorite potatoes in general, they're starchier, which make for very fluffy and smooth mashed potatoes.  Waxier varieties, like red or white potatoes usually need more mashing to get as creamy, which can sometimes make the mashed potatoes gluey or pasty.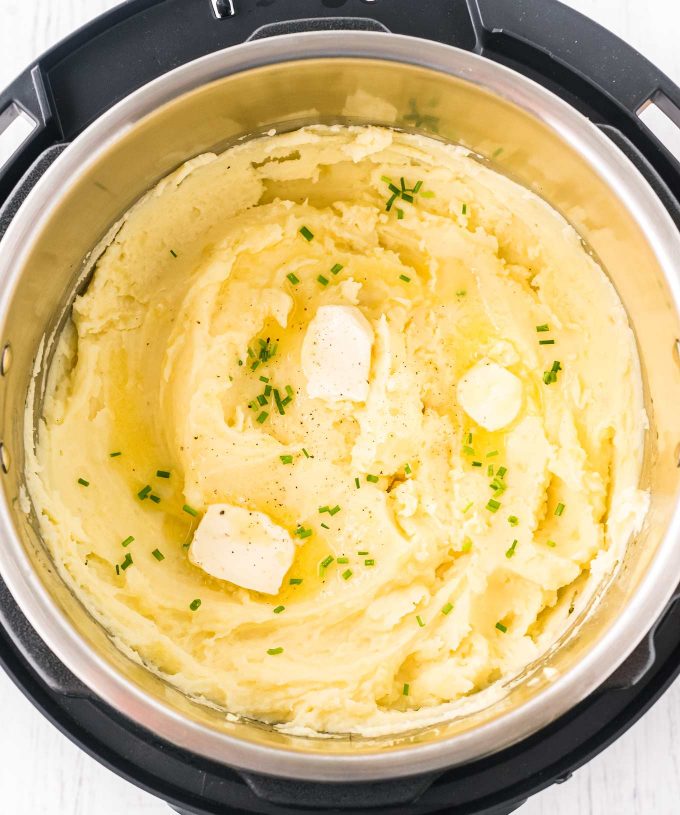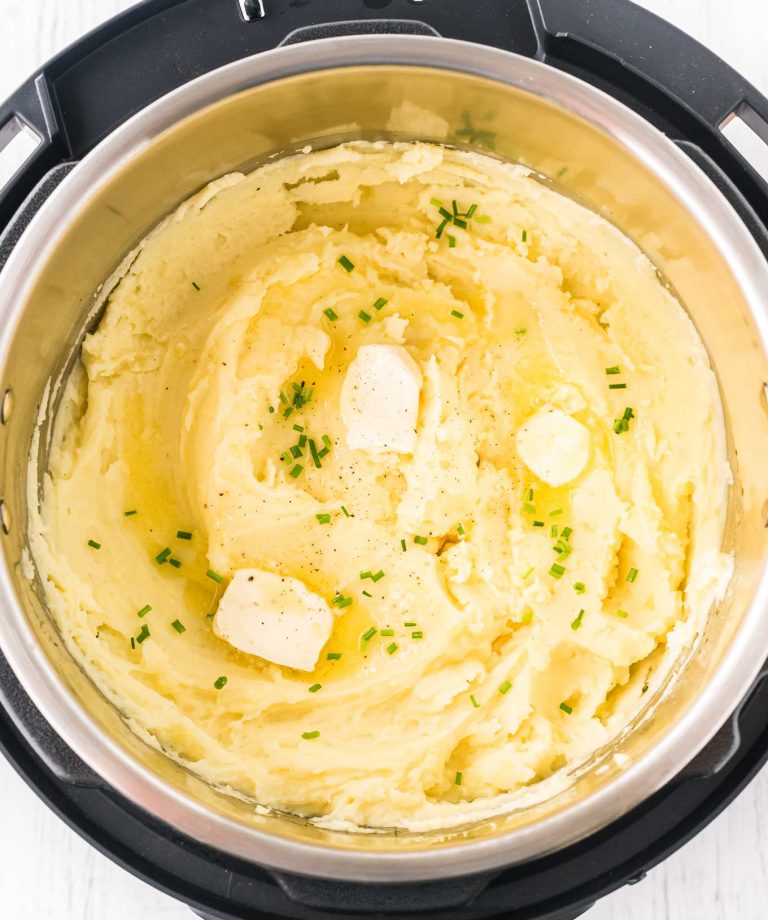 HOW MANY POTATOES TO USE PER PERSON FOR MASHED POTATOES
The rule of thumb is around 1/2 lb of potatoes per person.  So this recipe uses 5 lbs of potatoes and serves 10 people.  If you have huge potato lovers you'll be serving, you might want to go with 3/4 lb per person.
DON'T SKIMP THE SALT
Season the potatoes well.  A lot of people under-salt their mashed potatoes.  This recipe is written per my family's tastes, but use them as a guideline.  If you're sensitive to salt, start with 1/2 tsp of kosher salt, then take a quick taste.  Add more salt, a pinch at a time, tasting in between until they're just right.  When in doubt, ask a family member to take a quick taste too.
WARM THE LIQUIDS
When adding liquids to cooked potatoes (like heavy cream), make sure they're at least at room temperature, or warmed if you have the time.  Adding cold liquids to hot potatoes can cool the potatoes down.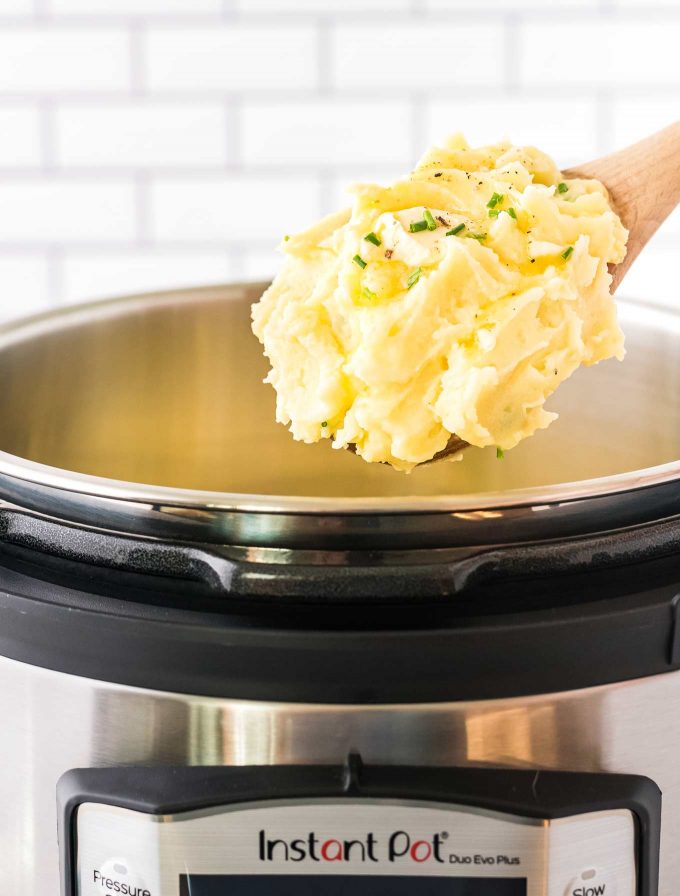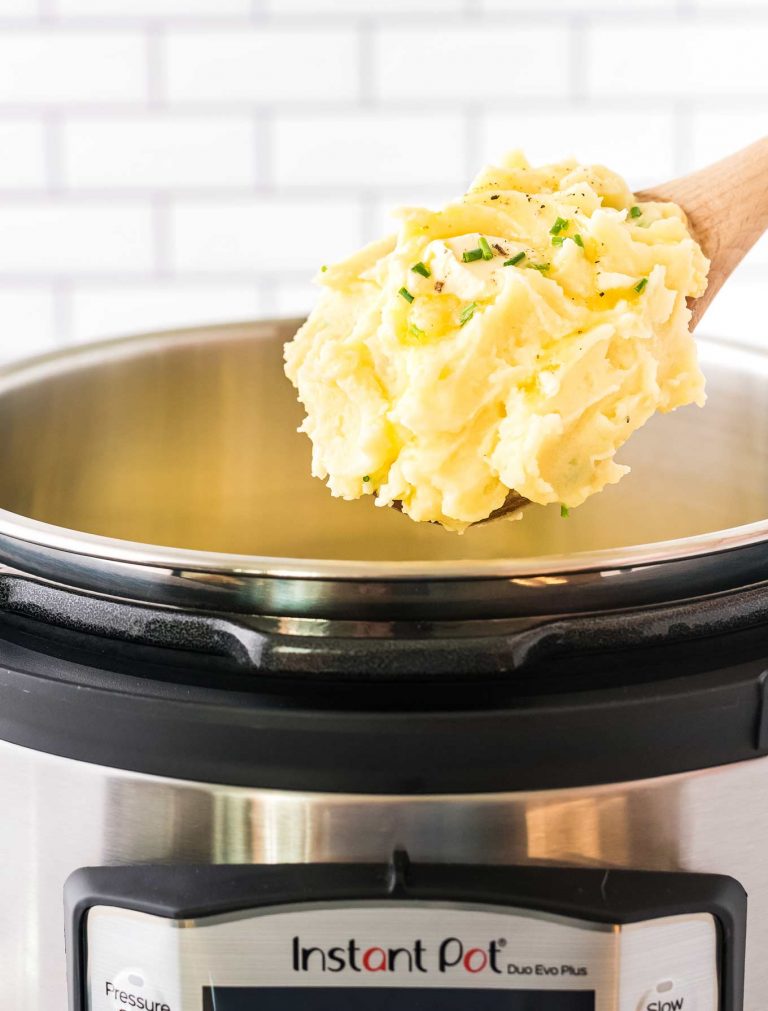 HOW TO MASH
There are three main ways to mash potatoes.
Potato Masher – this is the most common way, and the cheapest.  Potato mashers are generally less than $10.  The downside is that it's hard to get perfectly smooth potatoes by just mashing.
Hand Mixer – it's very easy to mash potatoes this way, and quick!  The downside with this method is that it can be easy to overmix and potentially turn your potatoes into a gluey paste (especially if you used a waxier potato variety, like red or white potatoes).
Potato Ricer – the most time consuming method, but hands down the most fool-proof way to have perfectly velvety smooth potatoes.  I usually use this method for Thanksgiving, but for a simple weeknight meal, I use my hand mixer.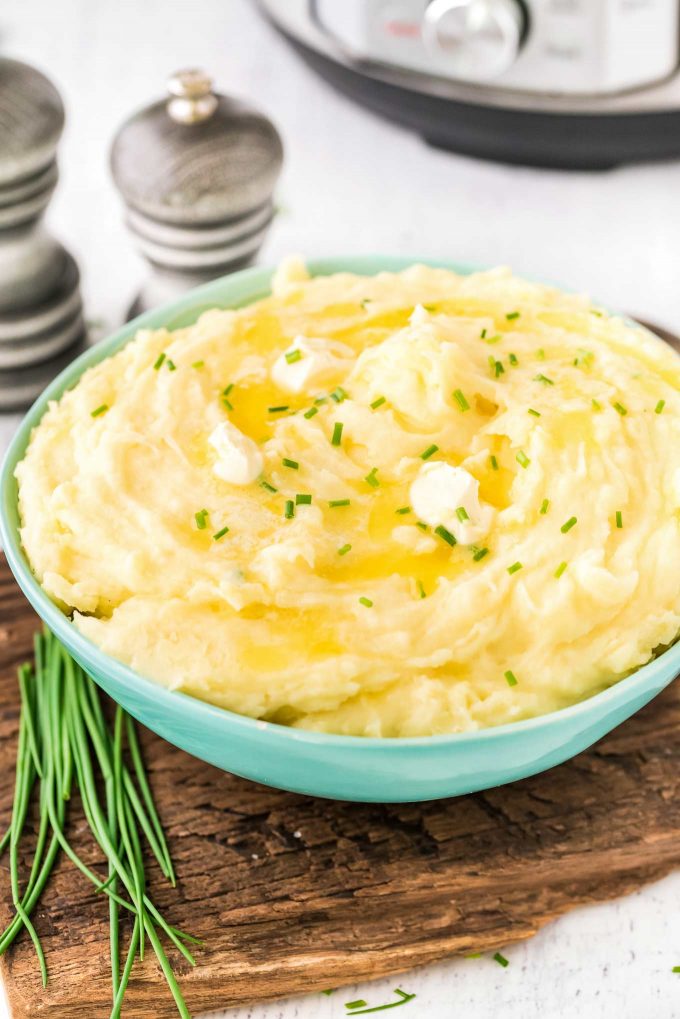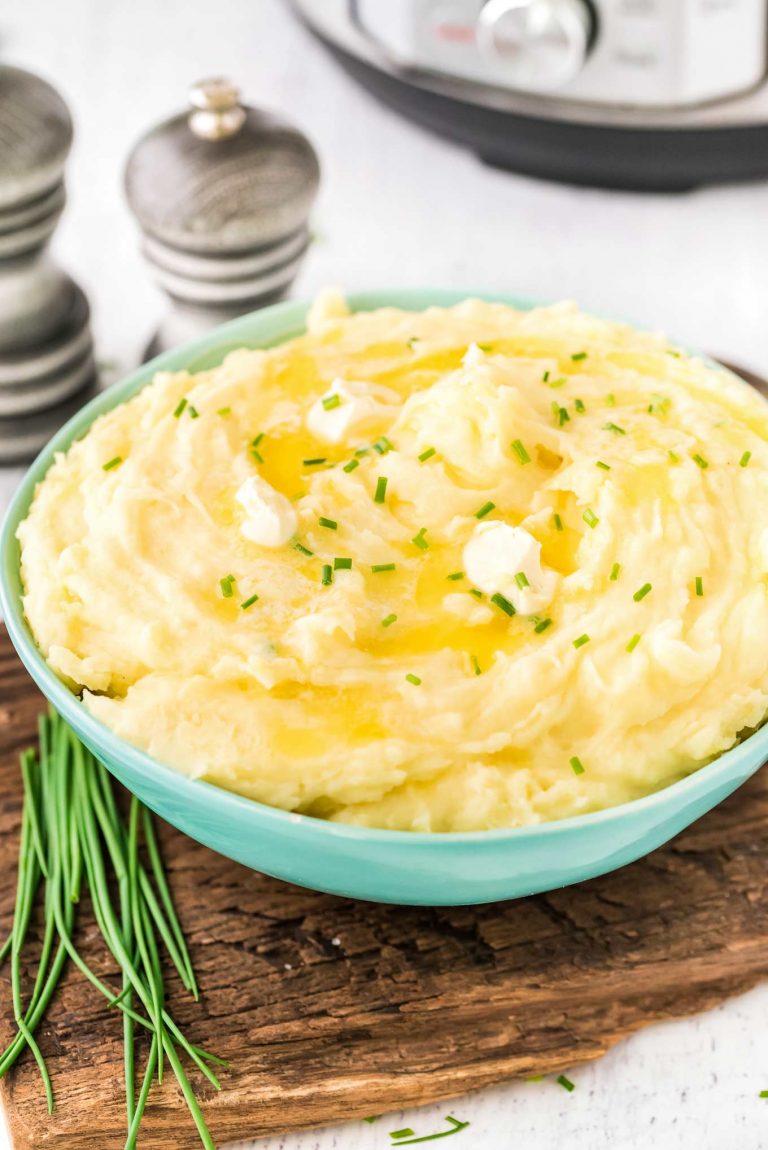 VARIATIONS OF THIS RECIPE
CREAM CHEESE – use up to 6 oz of softened cream cheese (cubed) for a subtle tang and extra creaminess.
GARLIC – peel and smash (use the back of your knife to smash the cloves) 5 garlic cloves, and add them to the Instant Pot with the potatoes before pressure cooking.
CHEESY – stir in a handful of your favorite cheeses!
LOADED – stirring in some sour cream, cheddar cheese, bacon pieces and extra chives or green onions gives these potatoes a loaded baked potato flavor.
BROWNED BUTTER – halfway through the potatoes cooking, add 1/2 cup butter to a sauce pan and brown.  For an in depth description of how to brown butter, look for the section of this post titled "Tips for Browning Butter".  Stir in about 2/3 of the butter when mashing, and reserve the rest for drizzling over the top of the mashed potatoes.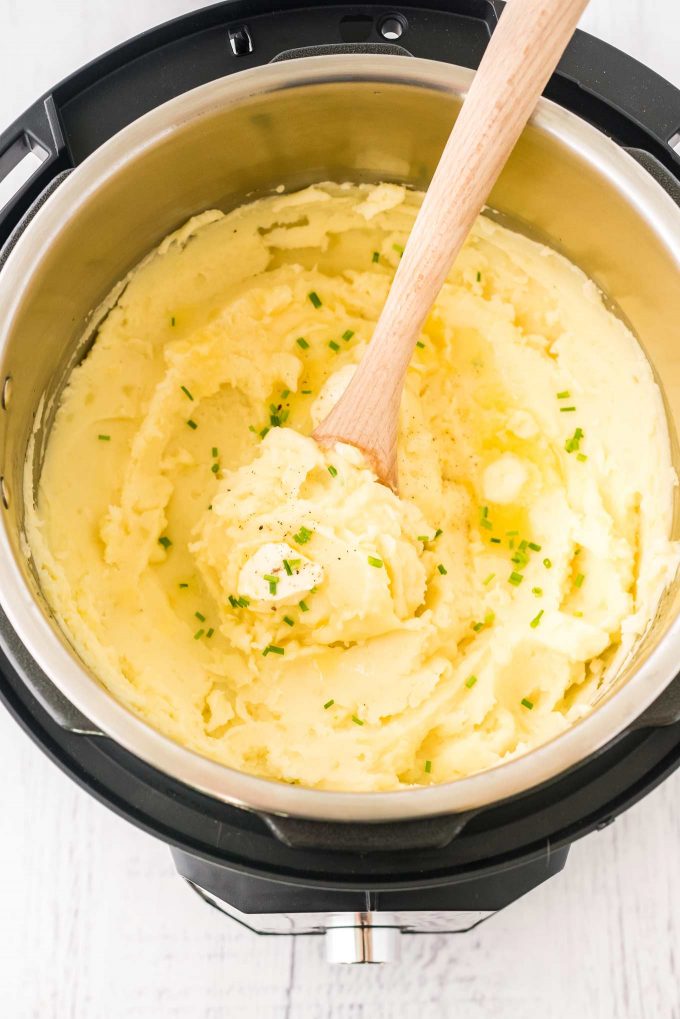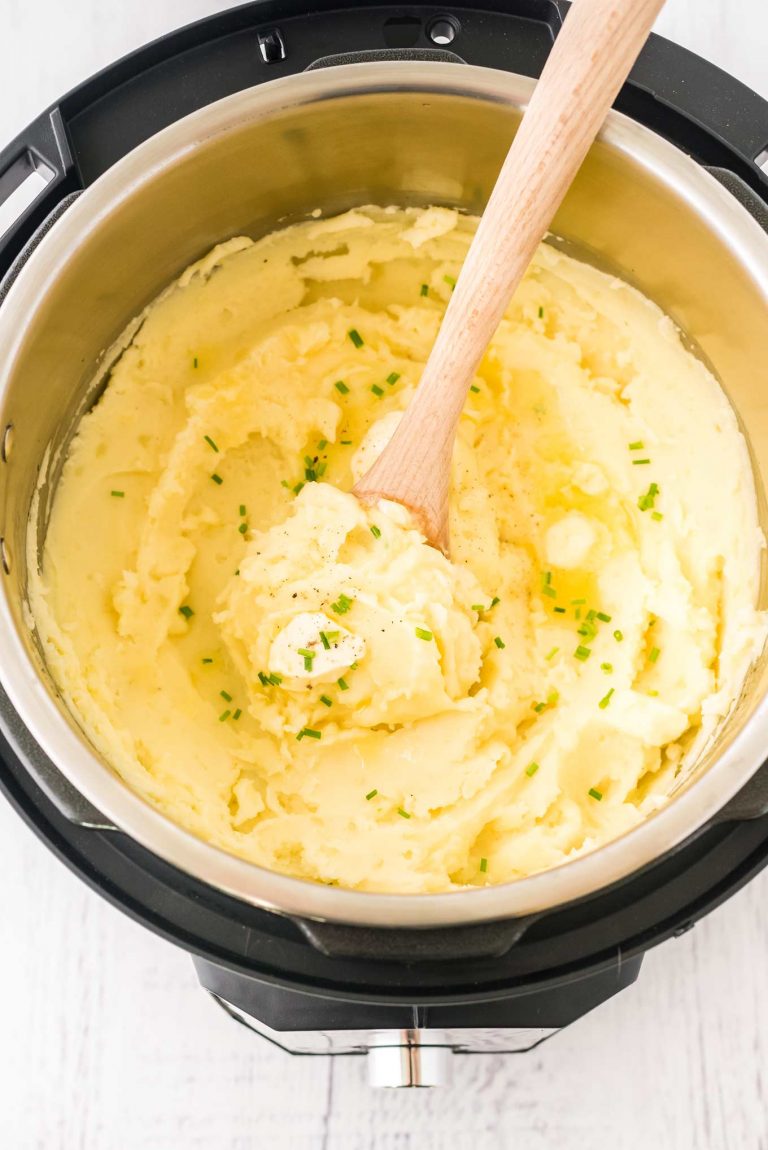 MAKING MASHED POTATOES AHEAD OF TIME
You can make the mashed potatoes then cool them completely and refrigerate in an airtight container.  This can be done 1-2 days ahead of time.  The day you want to serve them, you have a couple of options to reheat them:
Instant Pot – add mashed potatoes to Instant Pot insert, secure the lid and press "keep warm". Stir occasionally and warm until potatoes are heated through.  Top with a few pats of butter, stir and serve.
Crockpot – add mashed potatoes to slow cooker, cover and cook on LOW for 3 hours, stirring a few times.  Right before serving, dollop with a little bit of butter and stir.
Oven – add mashed potatoes to pan, and bake at 375 for 30-45 minutes, stirring once or twice.  Add additional butter or cream if needed before serving.
You can also make these potatoes up to 3 hours before serving, secure the lid, and keep them on the "keep warm" setting.  Side dish, done!
STORAGE
Leftover mashed potatoes should be refrigerated in an airtight container and consumed within 3-5 days.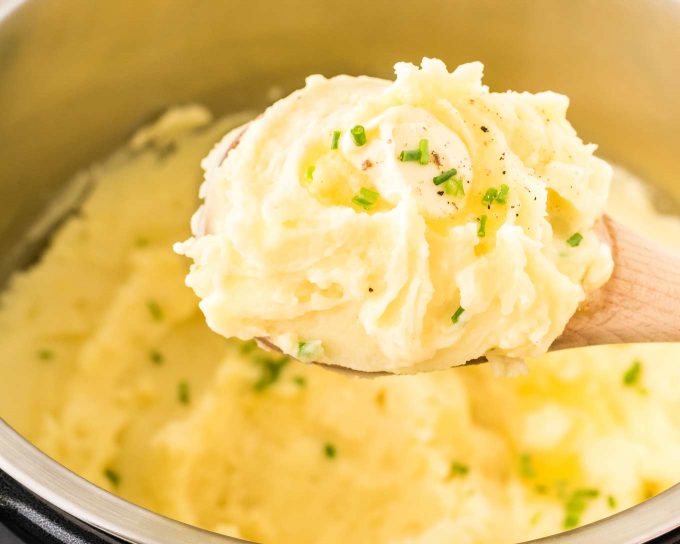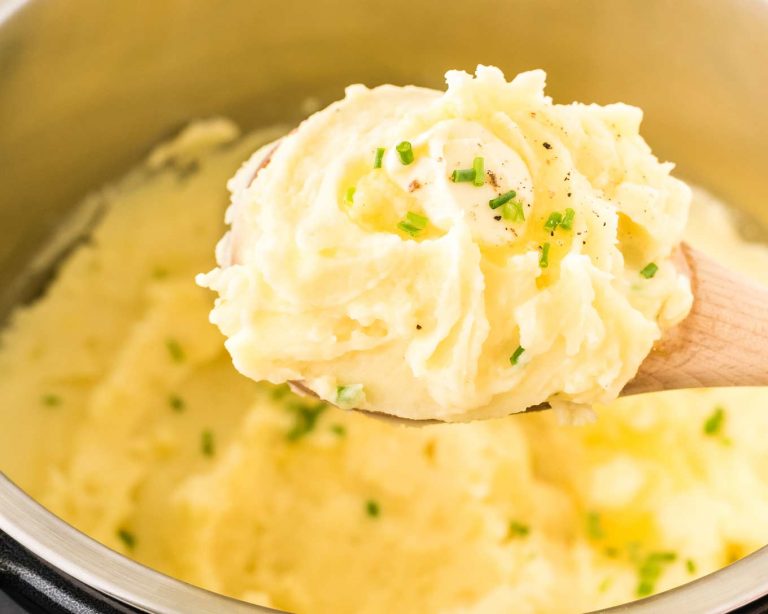 SPECIAL EQUIPMENT FOR THIS RECIPE
The following links are affiliate links.
The Chunky Chef, LLC is a participant in the Amazon Services LLC Associates Program, an affiliate advertising program designed to provide a means for sites to earn advertising fees by advertising and linking to amazon.com.  For more information regarding this program and what it means for you, please see my Privacy page.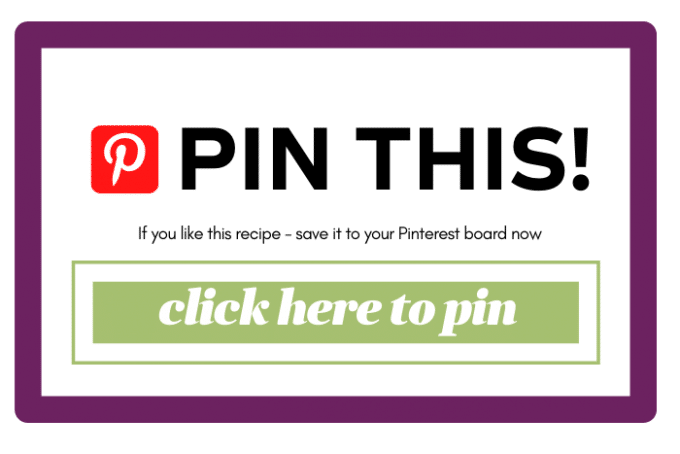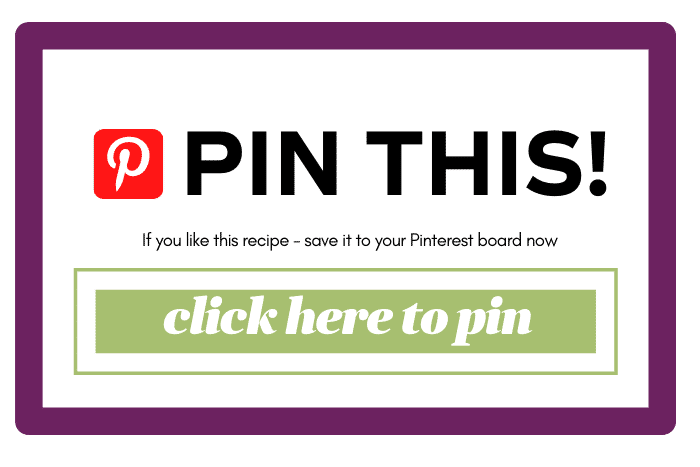 BE SURE TO SCROLL DOWN TO CHECK OUT OTHER READERS' COMMENTS FOR TIPS AND REVIEWS.
AND DON'T FORGET, IF YOU'VE MADE THIS RECIPE, LEAVE A COMMENT AND PLEASE GIVE IT A STAR RATING LETTING ME KNOW HOW YOU ENJOYED IT!
Did you make this? Be sure to leave a review below and tag me @the_chunky_chef on Facebook and Instagram!
This classic recipe for perfect Instant Pot Mashed Potatoes is the only one you'll need!  So creamy, buttery and rich, they're great as a holiday side dish for Thanksgiving, or alongside a roast, steak, or juicy piece of chicken!
Ingredients
5 lbs. russet potatoes peeled
3 cups chicken broth reduced sodium
3 cups water just enough to cover the potatoes
2 tsp kosher salt divided
1/3 cup sour cream
1/2 cup unsalted butter
1/3 cup heavy cream or whole milk or more, depending on the texture you want
1/2 tsp black pepper
chopped fresh chives for garnish
additional pats of butter for garnish
Instructions
Quarter potatoes and add to pot.  Cover with chicken broth and water.  Add 1 tsp of the salt and secure lid, making sure it's set to "sealing".
PRESSURE COOK
Select manual/pressure cook and use the +/- buttons to set the timer for 12 minutes.

Once pressure cooking is finished, perform a quick release by carefully moving to valve to "venting".
DRAIN AND MASH
Drain potatoes, then return to inner pot.  Add remaining 1 tsp salt, black pepper, sour cream, butter, and heavy cream.  Use a potato masher/hand mixer and mash until potatoes have reached desired consistency.
SERVE
Serve topped with additional pats of butter and sprinkled with chives and a pinch of black pepper.
Want to save this recipe for later? Click the heart in the bottom right corner to save to your own recipe box!
Chef Tips
Nutrition Disclaimer
The Chunky Chef is not a dietician or nutritionist, and any nutritional information shared is an estimate. If calorie count and other nutritional values are important to you, we recommend running the ingredients through whichever online nutritional calculator you prefer. Calories can vary quite a bit depending on which brands were used.