Creamy Homemade Baked Mac and Cheese
This baked mac and cheese is a family favorite recipe, loved by both children and adults.  My version uses a combination of cheeses for a gloriously cheesy dish!
Everyone has their favorite baked mac and cheese recipe… and this is mine.  It uses a combination of cheeses, layered in the dish as well as melted into a rich and creamy cheese sauce, for the ultimate in cheesy deliciousness!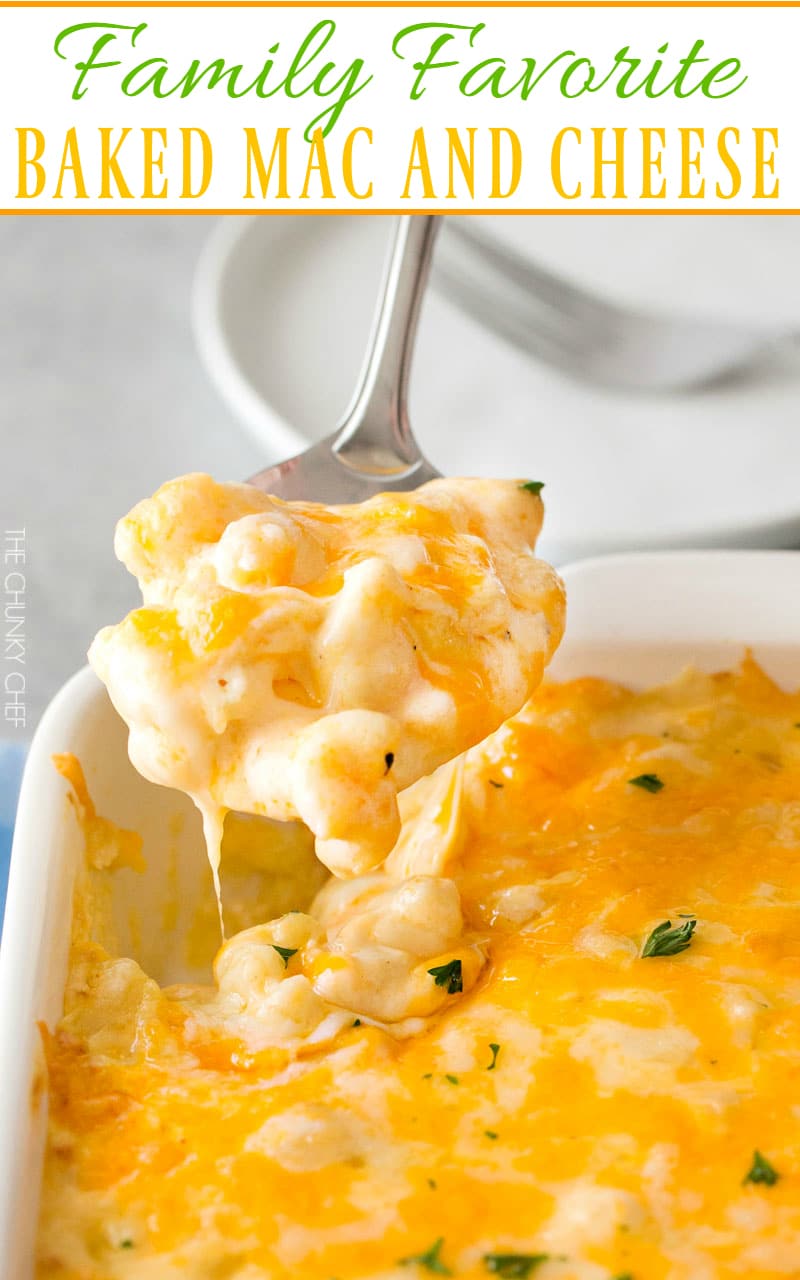 Baked mac and cheese.  It's nearly the universal comfort food, and there are SO many variations!  I have some other variations in the development stages, so expect them to come to the blog at some point 🙂  In fact, I almost didn't post this recipe today, as there are SOOOO many mac and cheese recipes available, and most people already have their favorite way of making it.
Of course, there's no "right" way or "wrong" way, so I'm here sharing the way I like to make my mac and cheese (the way my family loves it too).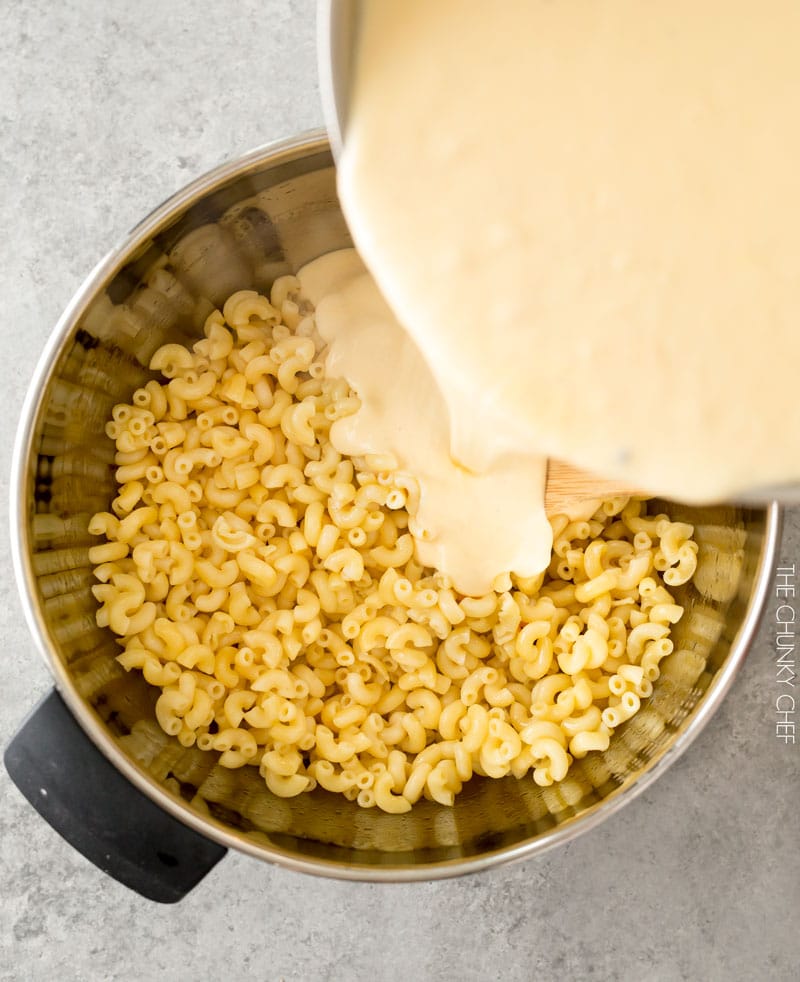 It all starts with pasta, cooked about a minute shy of al dente.  You don't want to cook it all the way to al dente, since it will be baking a bit in the oven and will finish cooking there.  You can use any shape you'd like.  I kept it original here with the classic elbow shape, but I've done rotini, farfalle, cavatappi, etc.  Pick the shape you and your family love the most!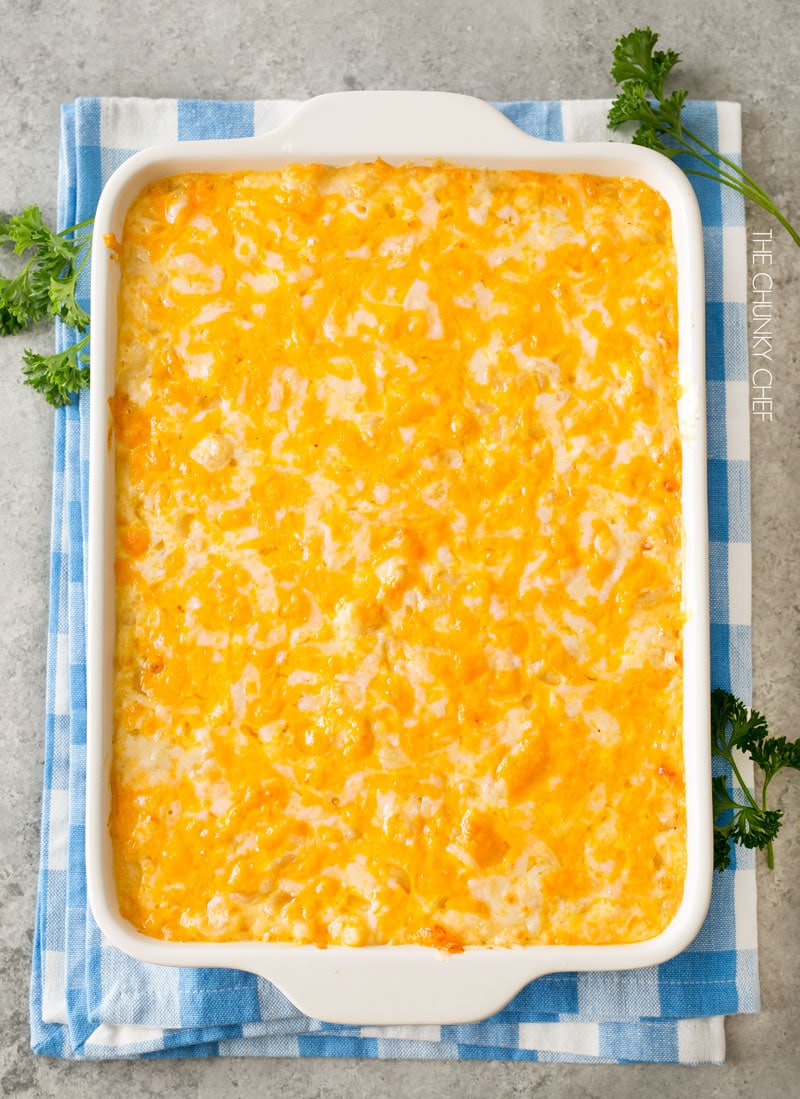 I love to use a mixture of cheeses in my baked mac and cheese… specifically a medium cheddar and Gruyere.  The sharp tang from the cheddar and the creaminess of the Gruyere are a great combination!  But you could make this with white cheddar, all mild cheddar, sharp cheddar, etc.
Even with the tang from the medium cheddar, my kids literally gobble this up!  Every time I make it, which is often, they have multiple servings and happily eat any leftovers the next day 🙂  Whenever my kids love a recipe, I consider it a winner!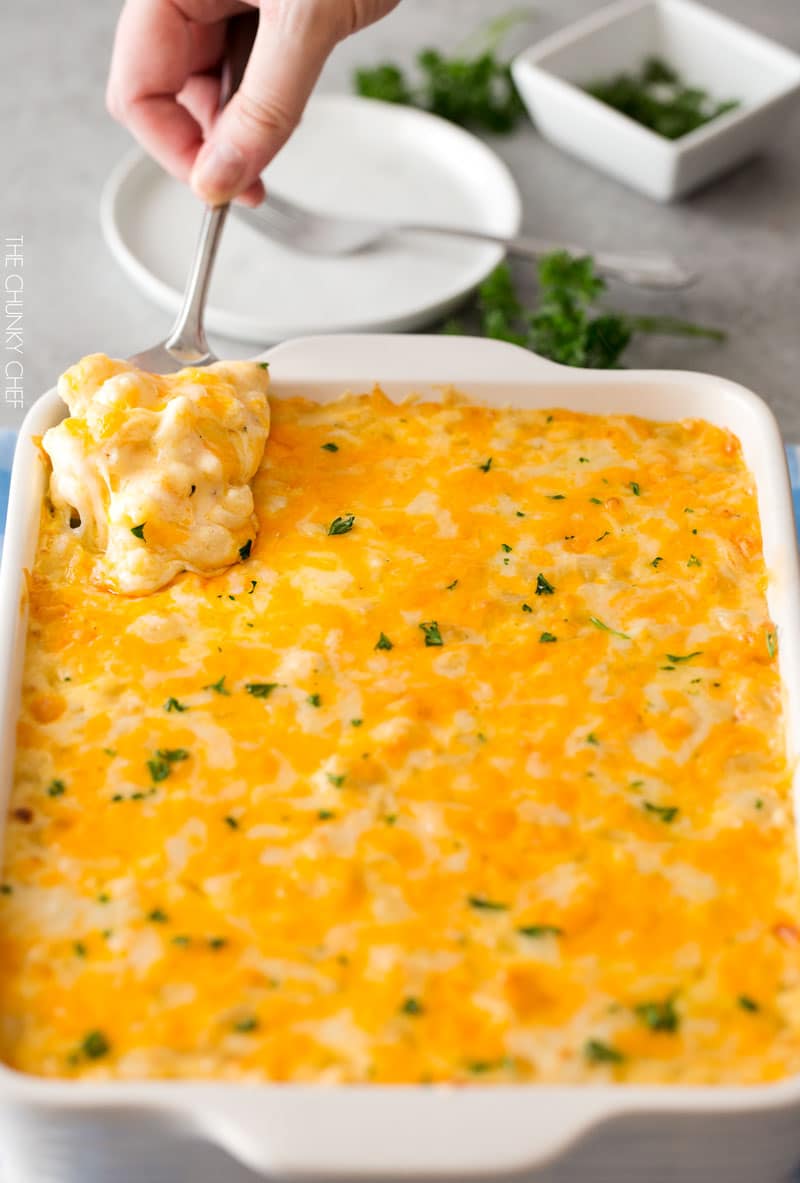 Now for the secret to making this baked mac and cheese SO cheesy and irresistible… the layers.  First, there's the rich and creamy cheese sauce, made with part whole milk and part half and half, with 2 generous handfuls of grated cheese swirled and melted in.  Seriously, when you're cooking this sauce, you might find it incredibly hard to not lick the stirring spoon!  Secondly, there's an inner layer of grated cheese… the secret weapon.  Once you add half the pasta and cheese sauce to the baking pan, sprinkle on a generous layer of grated cheese, then top it with the remaining pasta and cheese sauce.  You could even be extra decadent and divide the pasta and cheese sauce into thirds and layer in 2 layers of the grated cheese!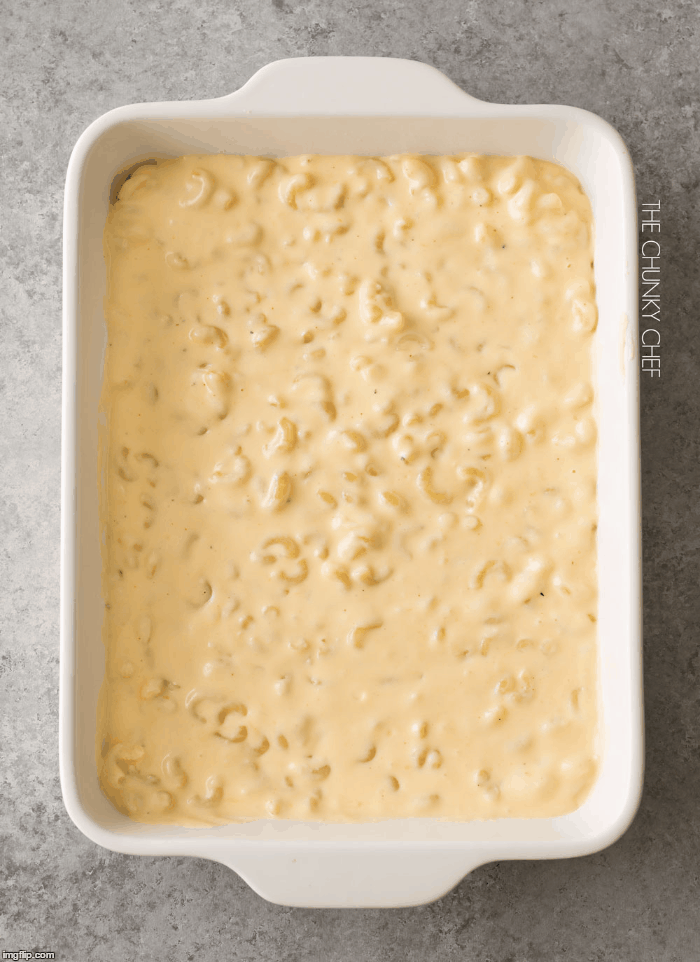 DO YOU COVER BAKED MAC AND CHEESE IN THE OVEN
You could, but then you wouldn't get that glorious bubbly cheesy "crust".  I don't know about you, but it's my favorite part!  If you really love that crust, go ahead and broil it for several minutes after baking.
HOW TO TOP BAKED MAC AND CHEESE
Grated cheese (my personal favorite – and what I've done here in these photos)
Buttered panko breadcrumbs (feel free to add some herbs to this as well)
Bacon pieces/panko breadcrumb combo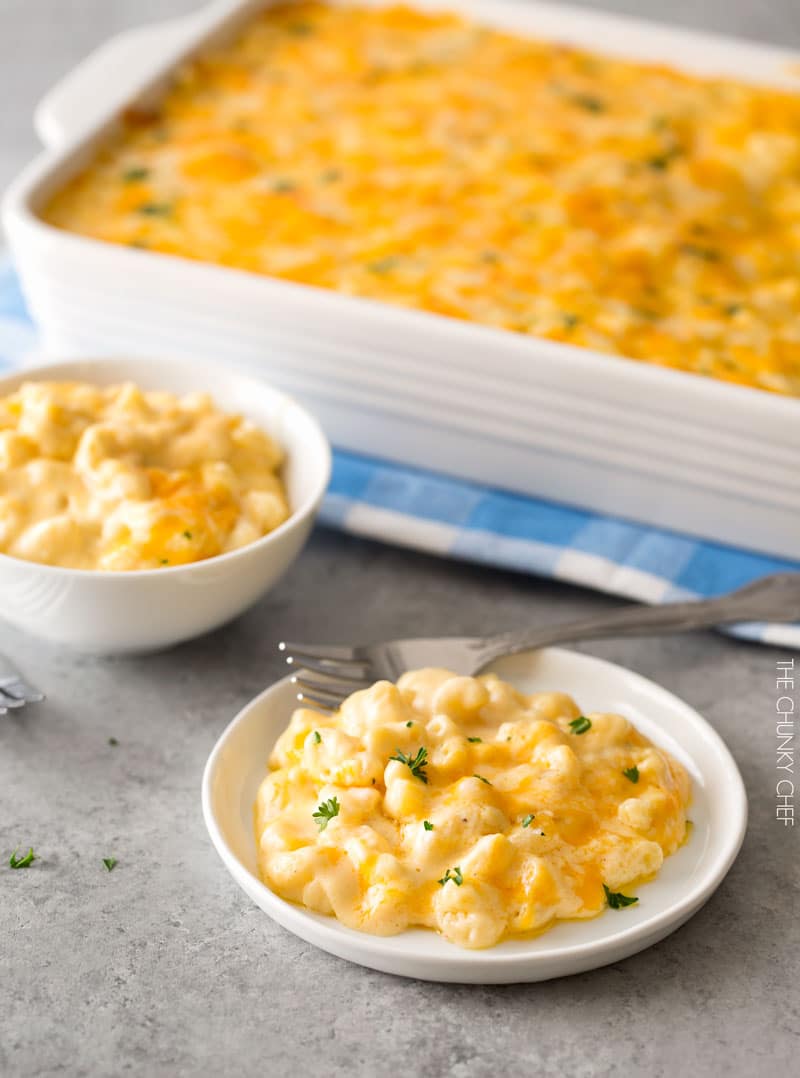 HOW LONG DO YOU BAKE MAC AND CHEESE
This recipe doesn't bake long at all, but I've actually baked it longer before, and it's still every bit as delicious!  Most baked Mac and cheese recipes call for it to be baked 15-30 minutes.  My kids aren't huge fans of the cheesy "crust", so I bake mine at 325, but 350 or even 375 work as well.  It's a very forgiving dish!
Of course, you could alternately not bake this mac and cheese at all, and just combine the pasta with the cheese sauce if that's what you prefer 🙂
I really hope you all give my family favorite mac and cheese a try… I'm sure you'll love it as much as we do!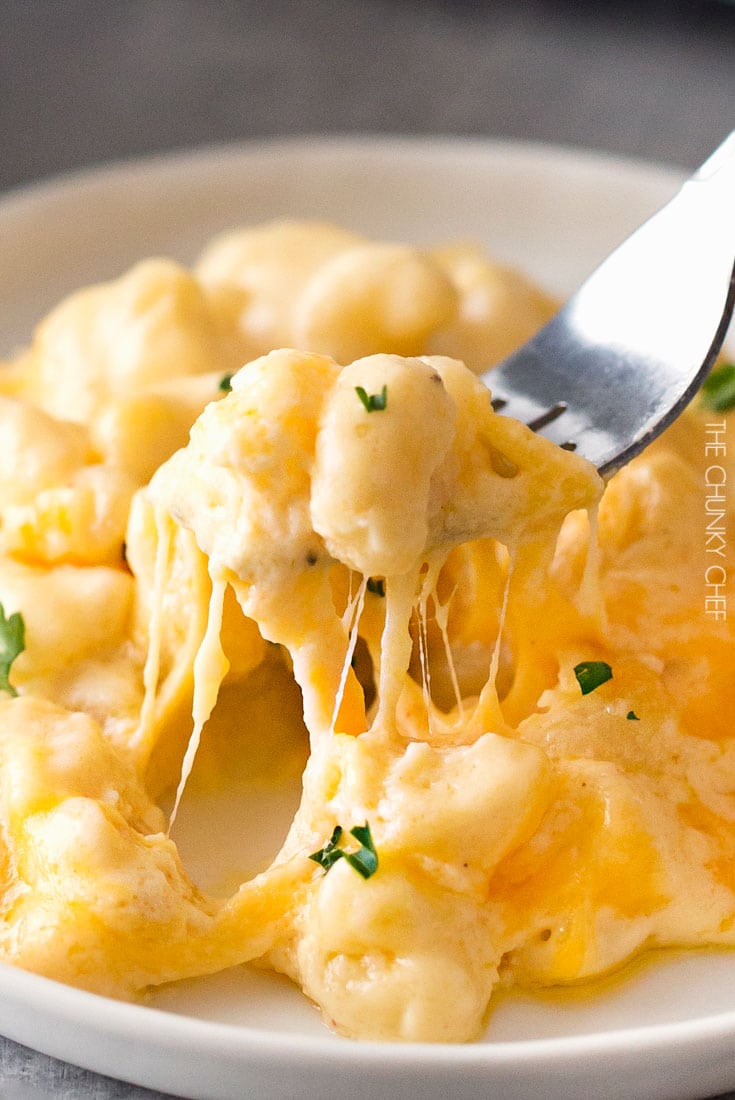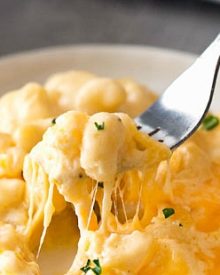 Creamy Homemade Baked Mac and Cheese
This baked mac and cheese is a family favorite recipe, loved by children and adults. My version uses a combination of cheeses for a gloriously cheesy dish!
Print
Pin
comment
Prep Time: 20 mins
Cook Time: 15 mins
Total Time: 35 mins
Servings: 8 - 10 servings
Calories: 665
Ingredients
1 lb. dried elbow pasta
1/2 cup unsalted butter 1 stick
1/2 cup all purpose flour
1 1/2 cups whole milk
2 1/2 cups half and half
4 cups grated medium sharp cheddar cheese divided
2 cups grated Gruyere cheese divided
1/2 Tbsp. salt
1/2 tsp. black pepper
1/4 tsp. paprika
Instructions
Preheat oven to 325 degrees F and grease a 3 qt baking dish (9x13"). Set aside.

Bring a large pot of salted water to a boil. When boiling, add dried pasta and cook 1 minute less than the package directs for al dente. Drain and drizzle with a little bit of olive oil to keep from sticking.

While water is coming up to a boil, grate cheeses and toss together to mix, then divide into three piles. Approximately 3 cups for the sauce, 1 1/2 cups for the inner layer, and 1 1/2 cups for the topping.

Melt butter in a large saucepan over MED heat. Sprinkle in flour and whisk to combine. Mixture will look like very wet sand. Cook for approximately 1 minute, whisking often. Slowly pour in about 2 cups or so of the milk/half and half, while whisking constantly, until smooth. Slowly pour in the remaining milk/half and half, while whisking constantly, until combined and smooth.

Continue to heat over MED heat, whisking very often, until thickened to a very thick consistency. It should almost be the consistency of a semi thinned out condensed soup.

Stir in spices and 1 1/2 cups of the cheeses, stirring to melt and combine. Stir in another 1 1/2 cups of cheese, and stir until completely melted and smooth.

In a large mixing bowl, combine drained pasta with cheese sauce, stirring to combine fully. Pour half of the pasta mixture into the prepared baking dish. Top with 1 1/2 cups of grated cheeses, then top that with the remaining pasta mixture.

Sprinkle the top with the last 1 1/2 cups of cheese and bake for 15 minutes, until cheesy is bubbly and lightly golden brown.
Notes
Mac and Cheese can be made ahead:
Make as directed (but do not bake), transfer to baking dish and cool completely.  Cover tightly with foil and refrigerate 1-2 days ahead.  
Before baking, let dish sit on counter for 30 minutes.
Bake at recipe temperature for 25-35 minutes, until hot and bubbly.  
FIVE CHEESE VARIATION:
Replace cheese amounts with the following:
2 cups cheddar cheese, shredded
1 cup Colby cheese, shredded
1 cup Muenster cheese, shredded
1 1/2 cups Gruyere cheese, shredded
1/2 cup mozzarella cheese, shredded
FOR A CRUNCHIER TOPPING AND FIRMER CONSISTENCY:
Prepare recipe as directed but bake at 350 or 375 F degrees for 20-30 minutes.  Broil at the end of baking for approximately 2-5 minutes, until golden brown and crunchy.
Are We Friends on Pinterest?
Follow me for more great recipes! The Chunky Chef!