The Best Crockpot Meatloaf is a great way to enjoy classic comfort food, with less stress, and dinner is ready when you get home!
The most amazing meatloaf recipe, made so easily in your slow cooker!  No more waiting over an hour for meatloaf after you get home from work.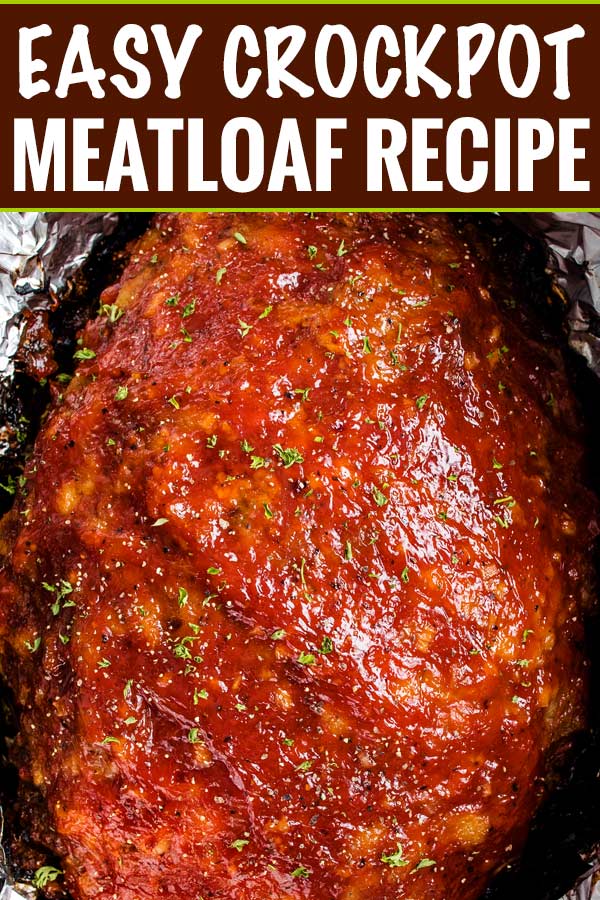 Amazingly tender meatloaf, made easily in the crockpot!
Do you have a go-to dinner recipe?  My family LOVES my baked mac and cheese, but sometimes I need something that isn't pasta.  That's when I turn to this classic meatloaf recipe!
This recipe is amazingly flavorful and easy, thanks to using dried stuffing mix in place of breadcrumbs.  It may seem odd, but all the great seasonings are already in the stuffing mix, so it's several steps in one!  The glaze on top of the meatloaf is lip-smackingly good; made with ketchup, minced onion, brown sugar and vinegar for a little tang.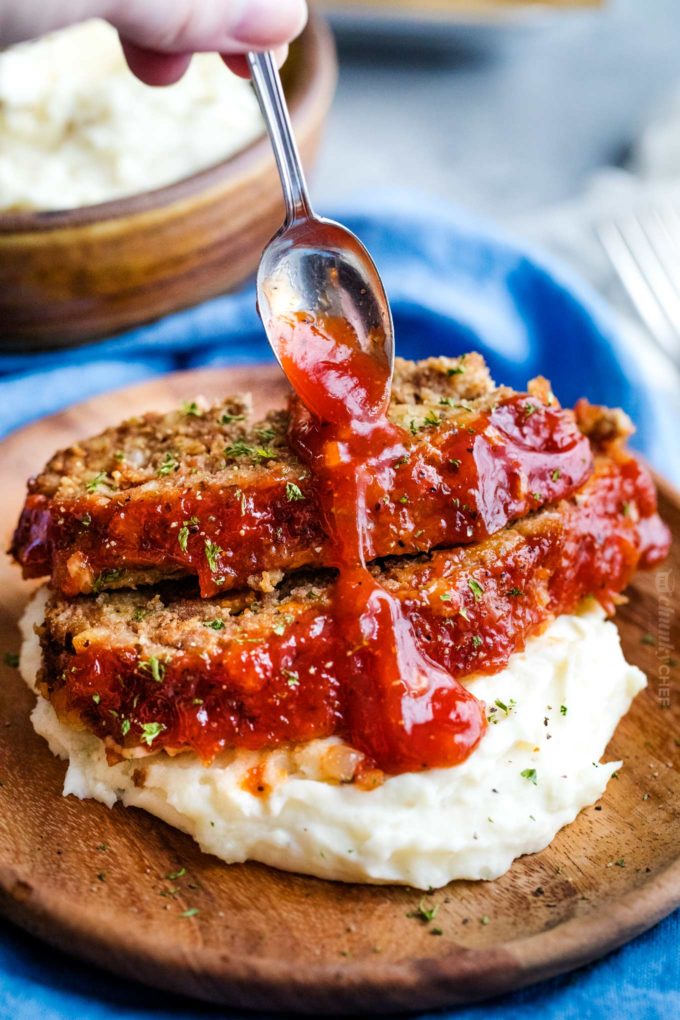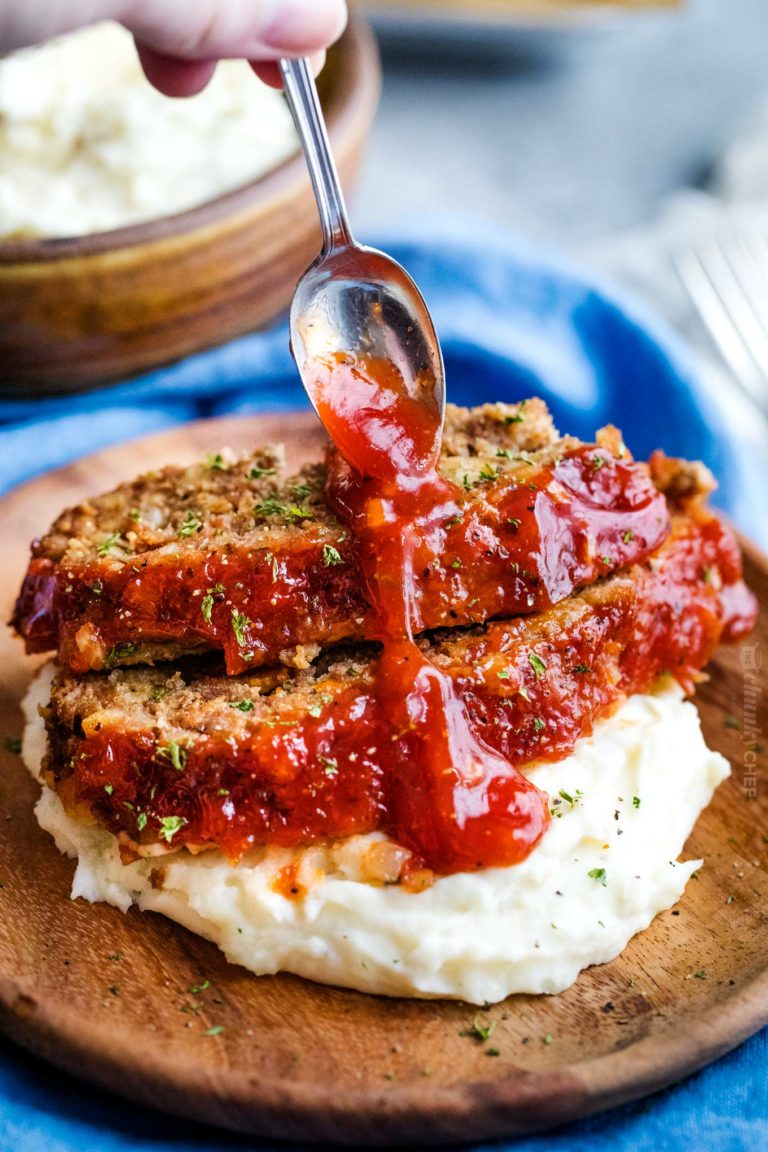 WHY COOK MEATLOAF IN THE CROCKPOT?
I love cooking meatloaf in the crockpot for two main reasons.  First, a meatloaf cooked in the crockpot is much more harder to "mess up" and be dry or tough.  The cooking process of cooking in the crockpot lends to a much more tender and moist dish.  Secondly, it's ready when you get home.  Traditional meatloaf takes an hour or more to bake, so if you wait until you get home to bake it, you'll be having a LATE dinner.  This way, dinner is mostly finished!
Plus, I can generally fit more beef into my crockpot than I can in my meatloaf pan.
How to Make Meatloaf in a Crockpot
Making meatloaf in a crockpot is SO easy!  Using aluminum foil makes for easy cleanup, but it also helps you remove the crockpot so you can broil it at the end.
Line crockpot with foil (heavy duty works best)
Combine meatloaf ingredients, mix well, place in crockpot and shape into a loaf-shape.
Top with glaze, cover, and cook.
Lift out foil and broil to brown the top.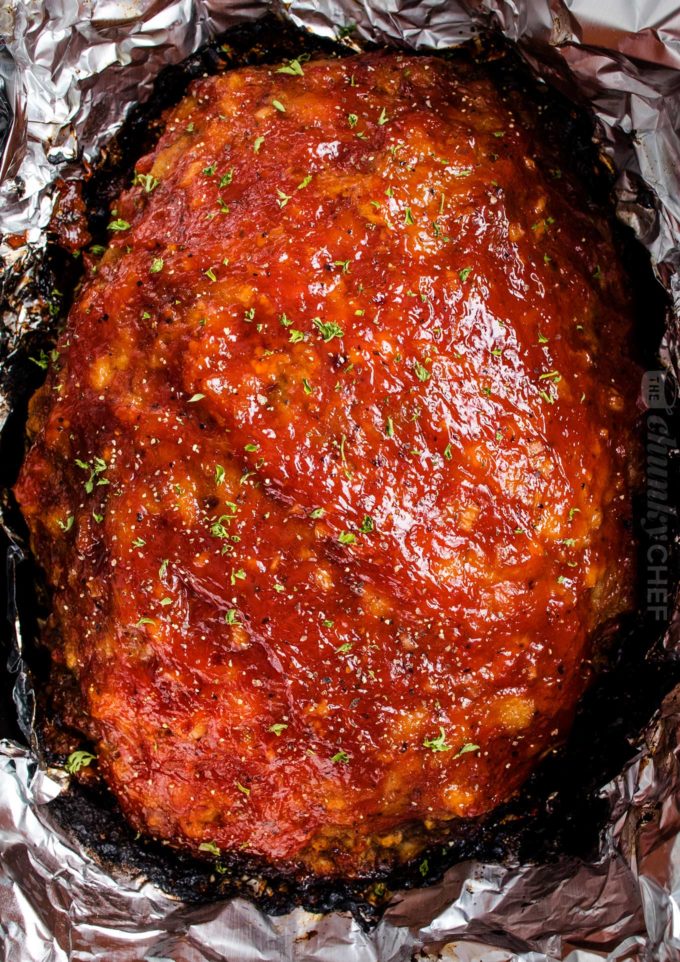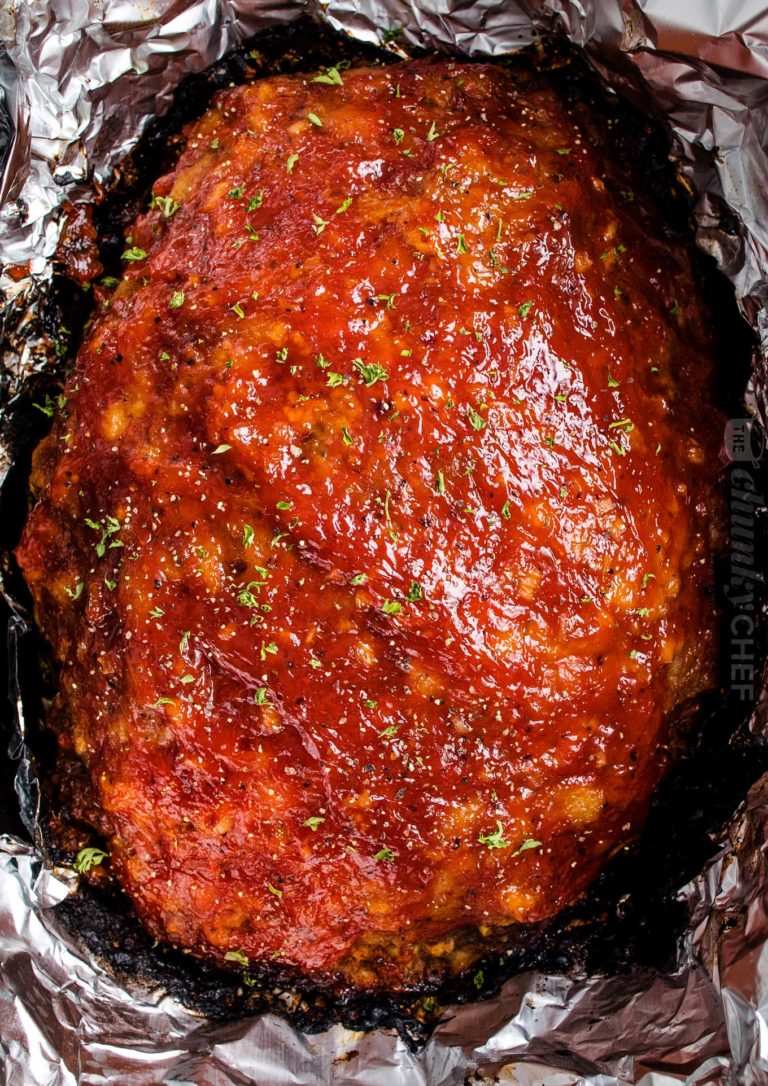 HOW LONG DOES IT TAKE TO COOK MEATLOAF IN THE CROCKPOT?
It depends on how big of a loaf you're making, but for this 2lb meatloaf, it'll take about 6 hours on LOW, or 3 hours on HIGH.  If you have an instant read meat thermometer, check for doneness by cooking until meatloaf is at 160 F degrees.
CAN THIS MEATLOAF RECIPE BE MADE IN THE OVEN INSTEAD?
Absolutely!  I've included oven directions following the recipe at the bottom of this post.
PRO TIPS FOR MAKING THE PERFECT CROCKPOT MEATLOAF:
Use beef with a good ratio of beef to fat.  I like to use 80/20 or 85/15, but no leaner.  Beef that is too lean can lead to a drier meatloaf.
Avoid over-mixing your meat.  You only want to mix until the ingredients have just combined.  Mixing too much will make the meatloaf tough.
Use your hands to mix.  Some people like to use a wooden spoon, but I find your hands are the best tools for the job.  Wear latex/nitrile gloves if you don't want meatloaf hands.
Use milk if you can.  I love the richness that milk lends to meatloaf.  If you can't use dairy, you could try substituting with a non-dairy milk, or use water/chicken broth/beef broth.
Add a little bit of onion and the sauce to the meatloaf mixture itself.  They both not only add flavor, but add moisture as well.
Don't skip the topping!  The sauce is sweet and tangy, and really takes the meatloaf from good to great.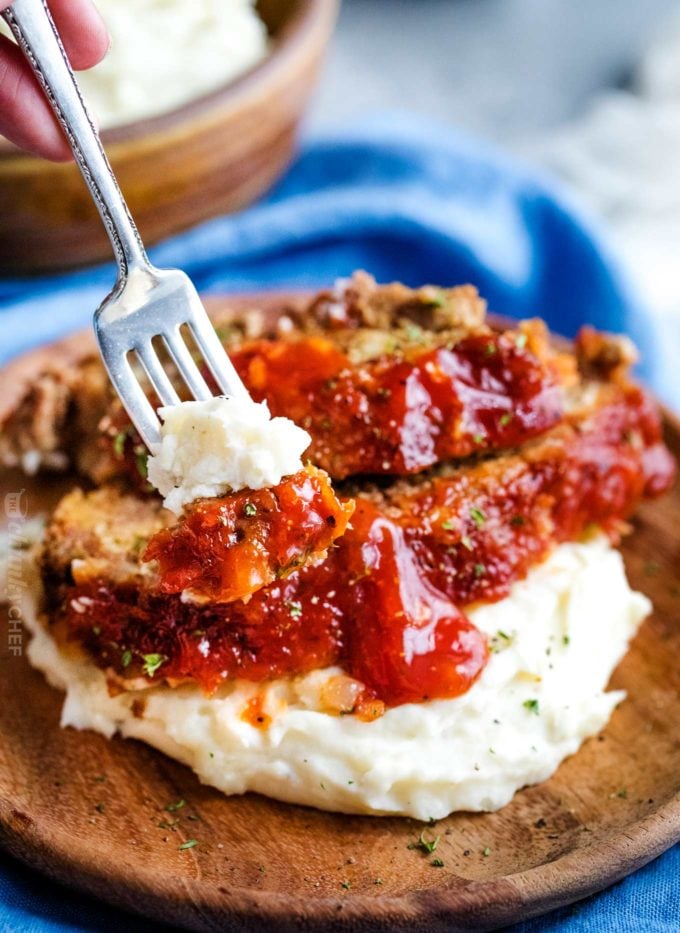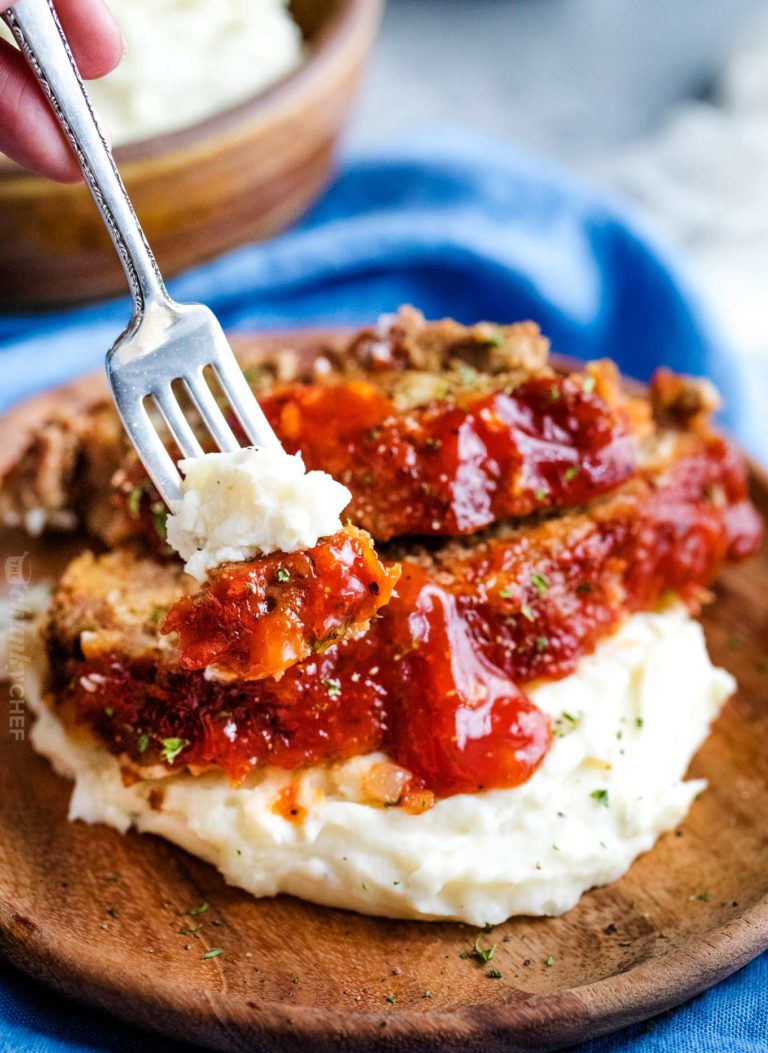 GREAT DISHES TO SERVE WITH MEATLOAF:
SHOP THE RECIPE:


Recipe previously contributed for Spend With Pennies
Did you make this? Be sure to leave a review below and tag me @the_chunky_chef on Facebook and Instagram!
The Best Crockpot Meatloaf is a great way to enjoy classic comfort food, with less stress, and dinner is ready when you get home!
Ingredients
MEATLOAF
2 lbs. ground beef
1 large yellow onion, finely minced (divided)
2 boxes (6 oz each) dried stuffing mix (I like the savory herbs variety)
1 1/3 - 1 1/2 cups whole milk
2 large eggs
2 Tbsp glaze (see below)
1 tsp kosher salt
1/2 tsp black pepper
BROWN SUGAR KETCHUP GLAZE
1 1/2 cups ketchup
1/4 cup light brown sugar
2 Tbsp finely minced onion
1 Tbsp yellow mustard
2 tsp white vinegar
1/2 tsp black pepper
Instructions
Tear off a large strip of aluminum foil (heavy duty works well), and press it into the bottom and up two of the sides of a 6 quart or larger slow cooker. Spray lightly with non-stick cooking spray, then set aside.

Combine all ketchup glaze ingredients in a small mixing bowl and whisk to combine. Set aside.

Add ground beef, all but 2 Tbsp of the minced onion, stuffing mix, milk, eggs, 2 Tbsp glaze, salt and pepper. Use your hands to mix until just combined.

Shape into an oval-like shape and place into the foil lined crockpot. Top with ½ cup of the glaze, cover, and cook on LOW for 6 hours.

When finished cooking, carefully lift out the meatloaf, using the foil overhang, and place on a baking sheet. Top with 2/3 cup of the glaze and broil until glaze is sticky and bubbly.

Serve sliced, with remaining glaze sauce served on the side for drizzling.
Want to save this recipe for later? Click the heart in the bottom right corner to save to your own recipe box!
Chef Tips
TO MAKE IN THE OVEN Make glaze as directed, and mix meatloaf as directed.  Shape meatloaf, spread with glaze, and transfer to a greased meatloaf pan or baking dish.  Bake in a 350 F degree oven for 60-70 minutes.
Nutrition Disclaimer
The Chunky Chef is not a dietician or nutritionist, and any nutritional information shared is an estimate. If calorie count and other nutritional values are important to you, we recommend running the ingredients through whichever online nutritional calculator you prefer. Calories can vary quite a bit depending on which brands were used.