Slow Cooker Beef Barley Soup Recipe
---
This ultra comforting beef barley soup recipe is made easy in the slow cooker, which makes for incredibly tender beef and vegetables with perfectly textured barley!
---
Tender beef, hearty vegetables and plump barley… it's the perfect beef barley soup!  Get out the slow cooker and get ready to enjoy one of the best comfort foods, with minimal effort!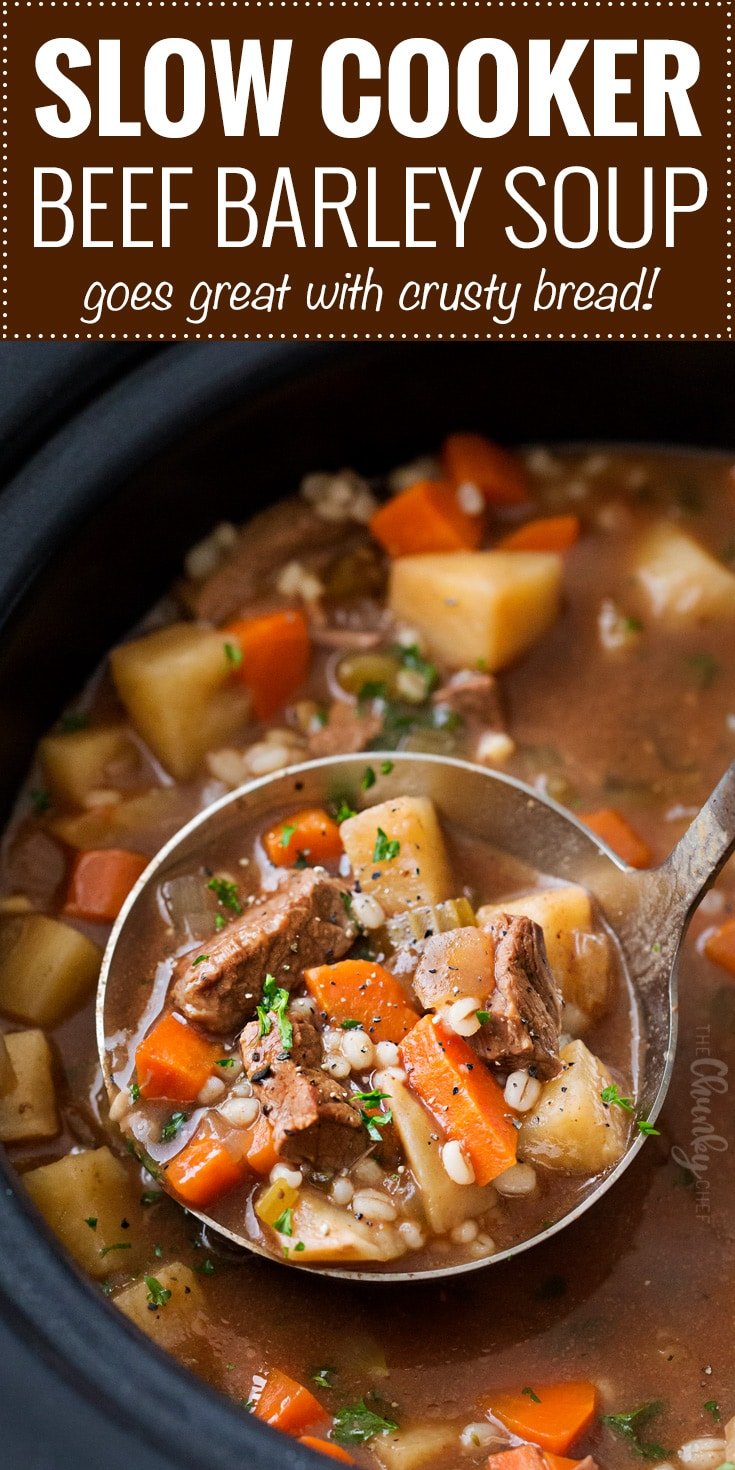 Have you been under the weather lately, or know someone who is?  I'm telling you, the germs are in full effect here in Ohio!  I just got over the flu and viral pneumonia, and am now dealing with a nasty case of bacterial bronchitis.  And I know a lot of other people going through the same thing.  Now's the time for some SERIOUS comfort food… and this is my all time favorite.
Soup is so perfect this time of year, whether you're sick or not.  Especially slow cooker soups, since there's not a lot of hands-on cooking time!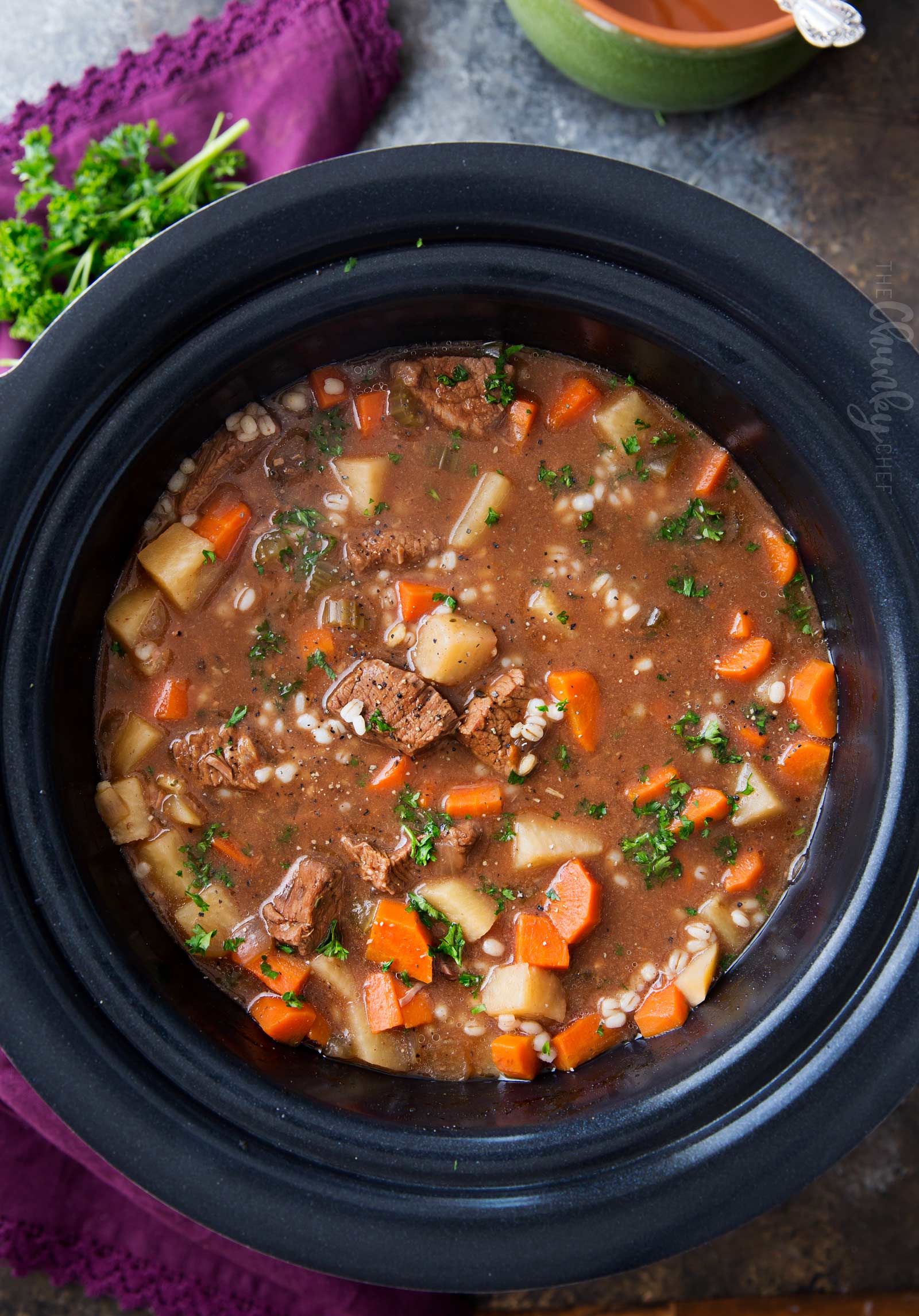 As I mentioned, beef barley soup is my favorite soup… ever!  Despite loving it so much, for the longest time, I never made it at home.  I was perfectly happy opening a can.  But now that I've been working on and perfecting this recipe… I'll never have canned beef barley soup again!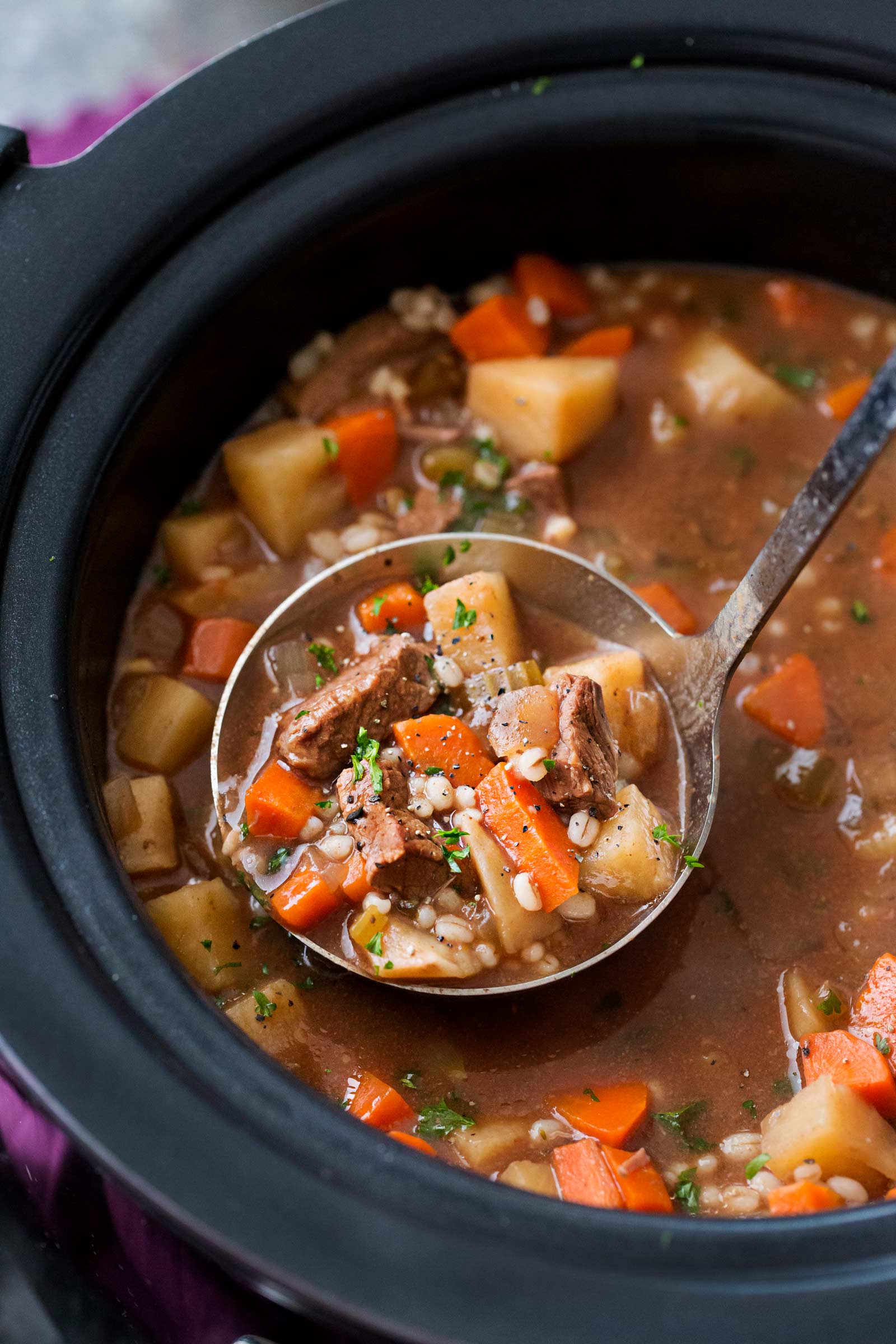 WHAT IS THE BEST MEAT FOR SOUP?
Since this soup cooks for a long time in the slow cooker, a tougher cut of meat is usually used.  I like to use chuck roast or chuck shoulder.  The low and slow simmer will turn these marbled cuts of beef into incredibly tender bites of meat that can be literally cut apart with a spoon.
WHAT DOES BARLEY TASTE LIKE?
Barley is such an underused grain.  It's texture is chewy with an almost nutty flavor, and it cooks perfectly in the slow cooker.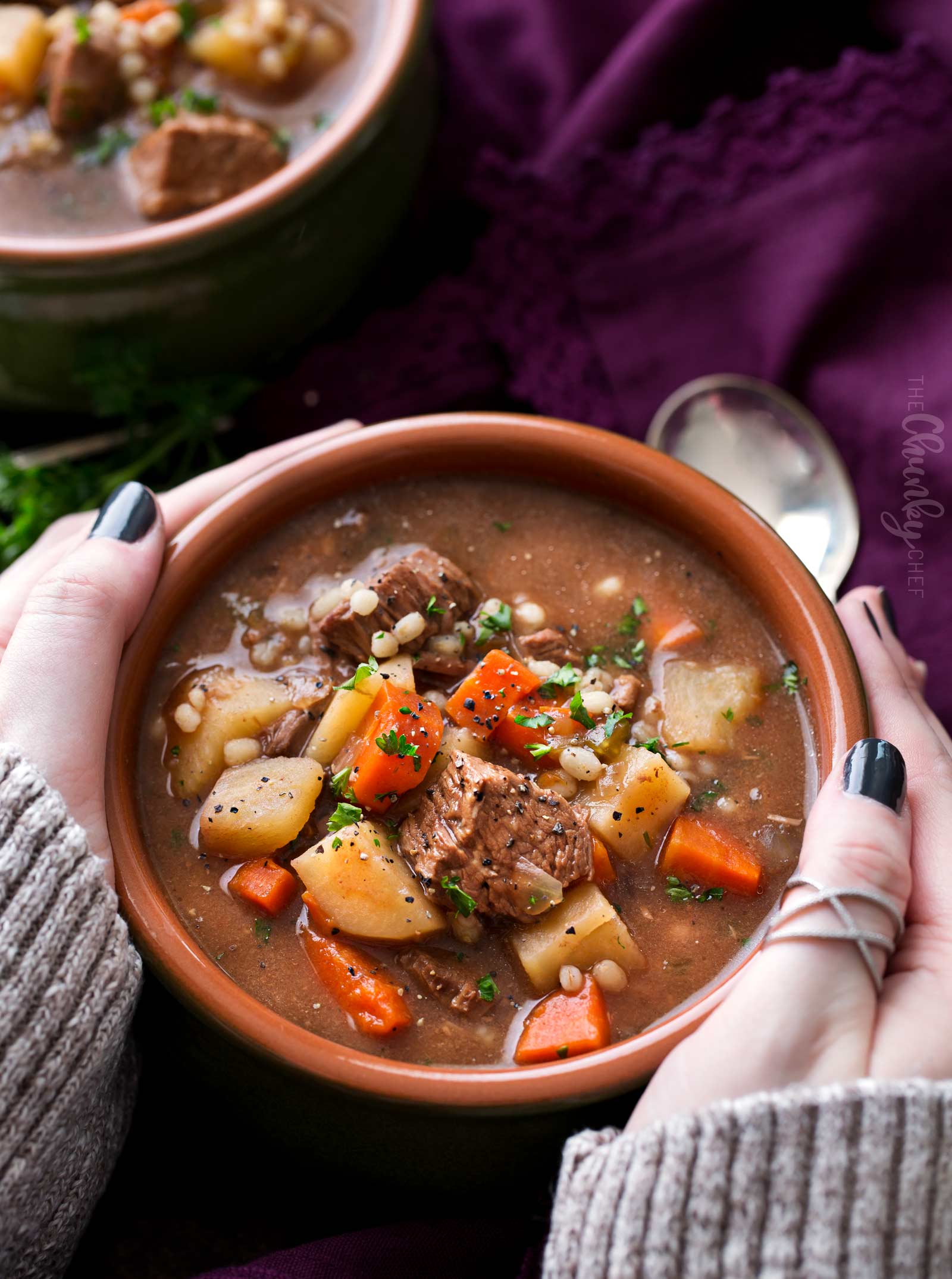 CAN YOU FREEZE BEEF BARLEY SOUP?
Yep!  Since this soup doesn't contain any dairy, it freezes beautifully.  Cool the soup completely (or any leftovers), then transfer to an airtight container and freeze for up to 3 months.  To thaw it out, place it in the refrigerator the night before you want to eat it, and reheat it in a saucepan on the stovetop.
TIPS AND TRICKS FOR MAKING BEEF BARLEY SOUP:
Use a tough cut of meat.  Like I talked about earlier, this is a prime example of when to use a tougher cut of meat like a chuck roast or shoulder.  No need to buy expensive sirloin tips or anything.
Prefer a different meat?  Go for it!  This soup can be made with ground beef if you'd prefer.  Just fully brown and drain the beef before adding all the ingredients to the slow cooker.
Potatoes are optional.  I always prefer some buttery potatoes in my soup, so I added them here… but if you'd rather not add them, no worries, the soup will still taste amazing!
In fact, feel free to switch up the veggies to ones that you love.  Mushrooms are a lovely addition as well!
Browning the beef adds flavor but isn't absolutely essential.  I love to brown my beef pieces, since I love that extra deep flavor it adds… but I've made this several times without taking that extra step, and it still tastes delicious.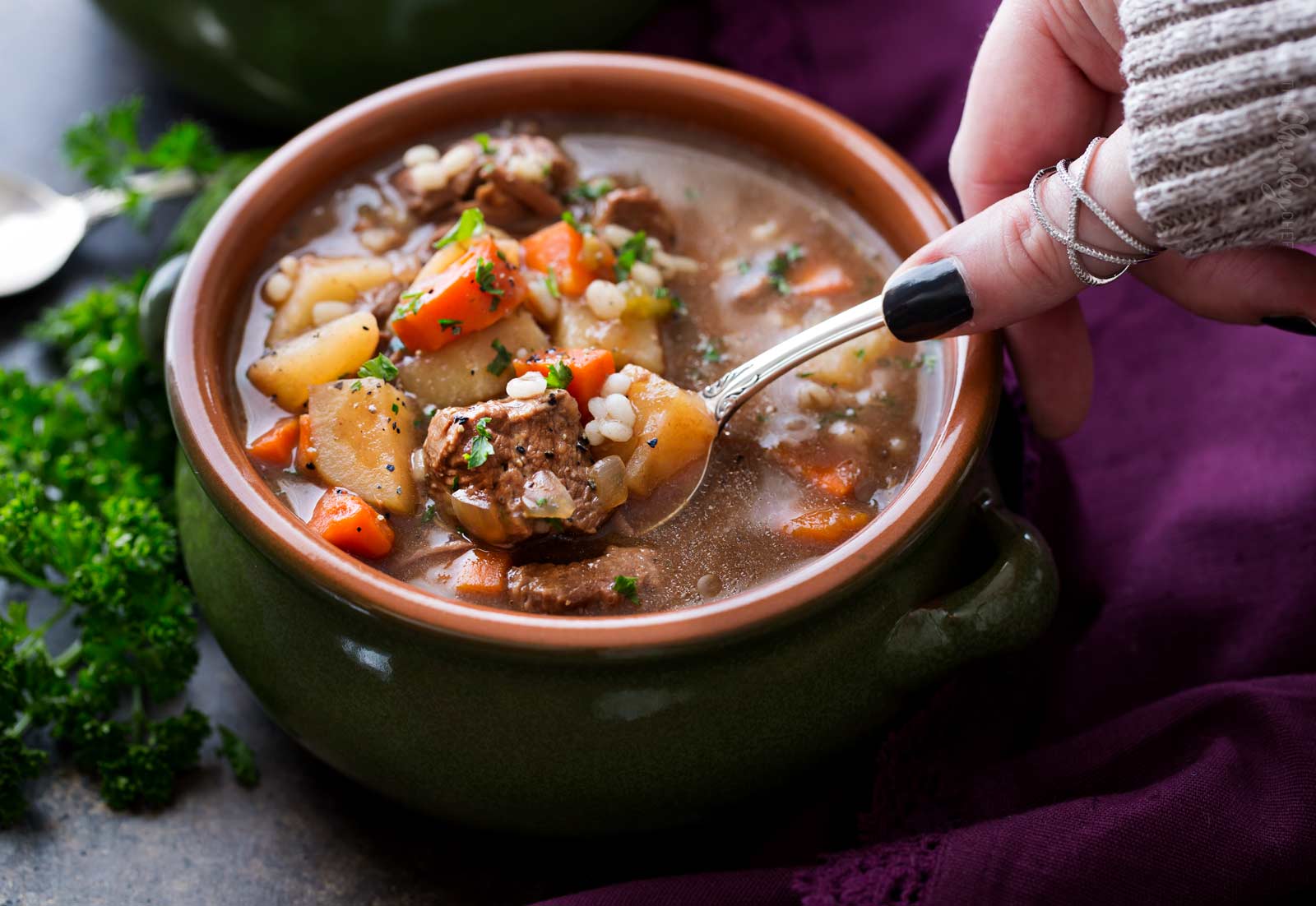 HELPFUL TOOLS:
Slow cooker with aluminum insert – I LOVE using a slow cooker like this, since you can brown the beef in the slow cooker without losing any of those browned bits of flavor!
More economical slow cooker – This slow cooker has been a workhorse for me, and at the price, you can't beat it!
Plastic cutting boards – These are perfect for cutting up the chuck roast so you don't have the juices running into your wooden cutting board.
---
WANT TO TRY THIS BEEF BARLEY SOUP?
PIN IT TO YOUR SOUP OR SLOW COOKER BOARD TO SAVE FOR LATER!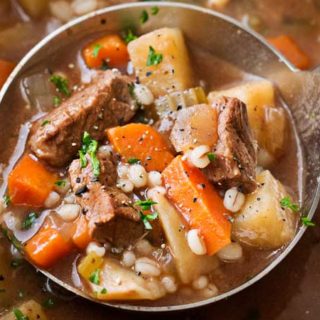 Slow Cooker Beef Barley Soup Recipe
This ultra comforting beef barley soup recipe is made easy in the slow cooker, which makes for incredibly tender beef and vegetables with perfectly textured barley!
Print
Pin
comment
Prep Time: 15 mins
Cook Time: 6 hrs
Total Time: 6 hrs 15 mins
Servings: 6 - 8 servings
Calories: 378
Ingredients
1.5 lbs beef chuck roast, trimmed of excess fat and cut into 1 inch pieces
1 - 1 1/2 lbs potatoes, peeled and diced into 1/2 inch pieces (Yukon gold or russets are preferred)
2 carrots, peeled and cut into 1/2 inch pieces
1 medium yellow or sweet onion, peeled and diced
2 ribs celery, sliced in half lengthwise, then cut into 1/2-1 inch pieces
4 cloves garlic, minced
2 Tbsp tomato paste
2 Tbsp better than bouillon beef base (optional but recommended)
2 tsp Worcestershire sauce
1/2 tsp kosher salt
1/4 tsp black pepper
2 sprigs fresh thyme
2 bay leaves
6 cups beef broth or stock
2/3 cup pearl barley
Instructions
If desired, heat 1 Tbsp vegetable oil in a large skillet over MED HIGH heat. Add beef cubes and brown for 1-2 minutes per side.

Add beef and all remaining ingredients to slow cooker and stir to combine. Cover and cook on LOW for 7-8 hours or on HIGH for 4-5 hours.

Remove bay leaves and thyme stems and serve. Goes perfectly with some crusty bread.
Are We Friends on Pinterest?
Follow me for more great recipes! The Chunky Chef!
NEVER MISS A CHUNKY CHEF RECIPE: