Creamy Crockpot White Chicken Chili
This creamy white chicken chili is made super easy in your slow cooker!  Creamy with plenty of spice, it's the perfect companion on a chilly night!
There are so many varieties of chili out there, but this creamy white chicken chili will soon be your favorite!  Just dump everything in your slow cooker and let it do the hard work for you!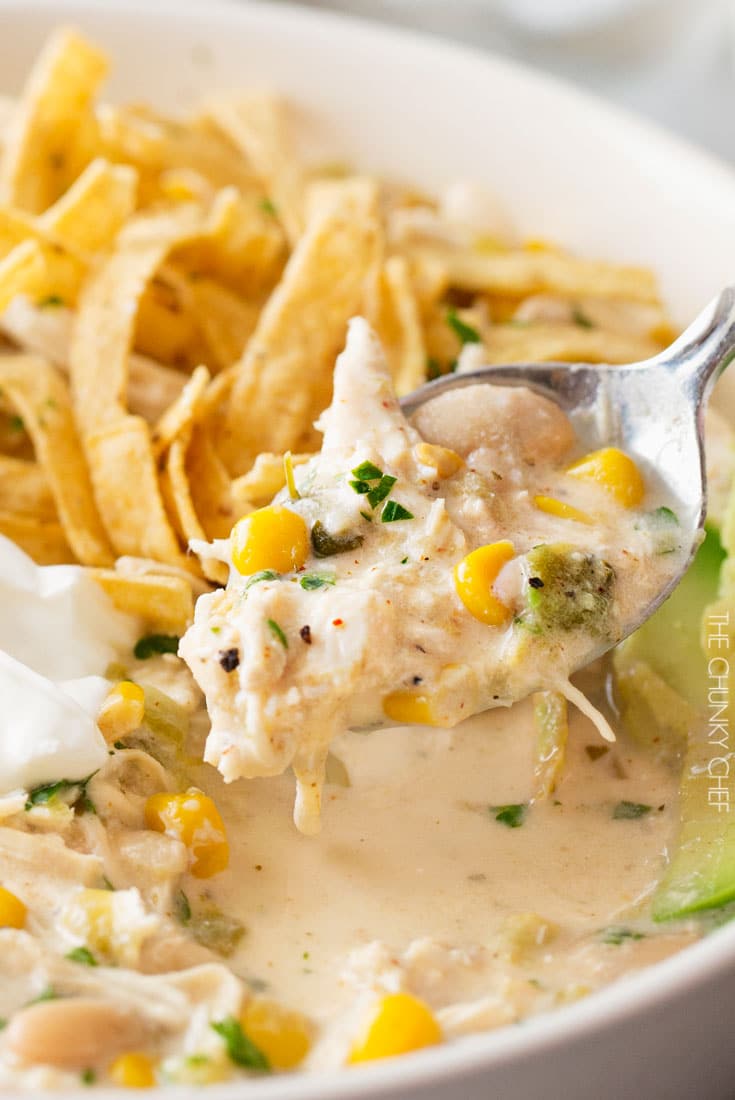 We have officially entered chili season!!  Until now, our hands-down favorite has always been my healthier turkey chili.  While it still holds a special place at our dinner table, this creamy white chicken chili has taken the top spot.  It's so deliciously savory with just the right amount of spice!  Plus, it's almost effortless since it cooks in your slow cooker!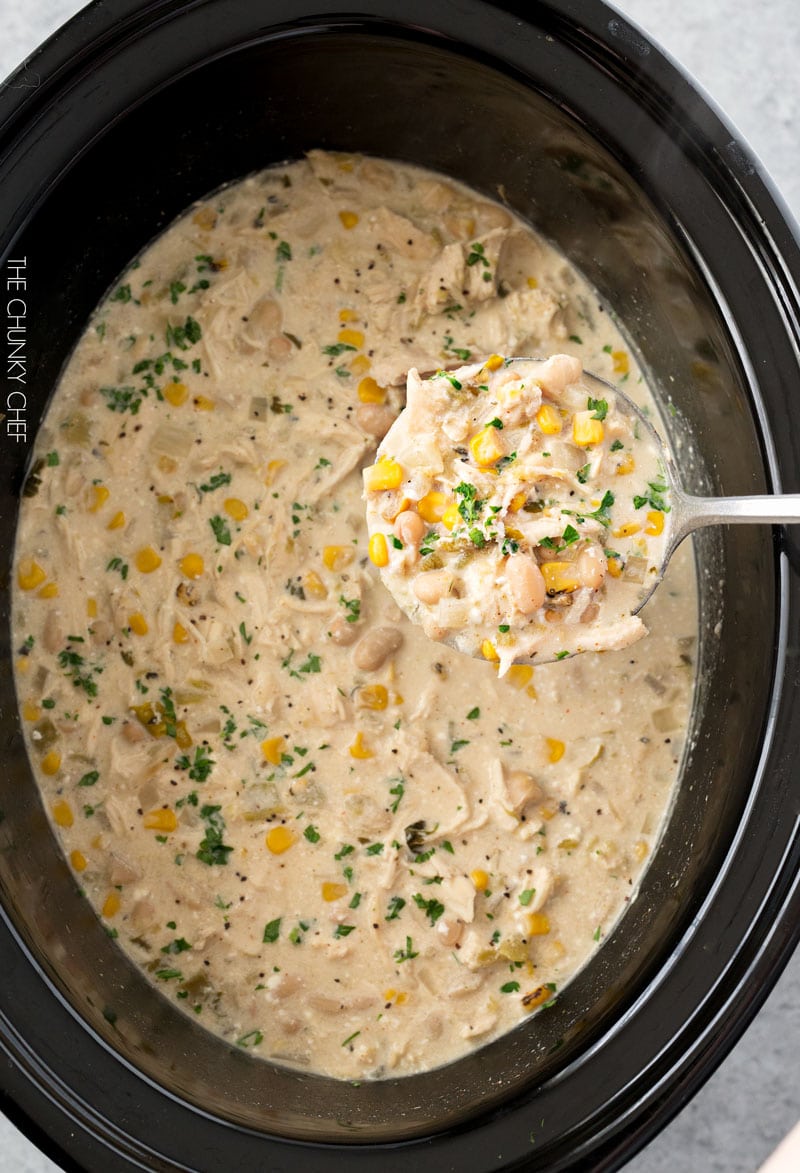 Slow cooker soups are truly amazing, like my slow cooker creamy tomato soup or zuppa toscana.  I'm all about that great homemade flavor without all the effort!
The inspiration came from a combination of a previous recipe of mine, and this recipe from The Cookie Rookie.  Her website is amazing!  Originally I had planned to make this a stovetop soup, but I had this brand new slow cooker from my brother (birthday present), so I figured I'd convert it!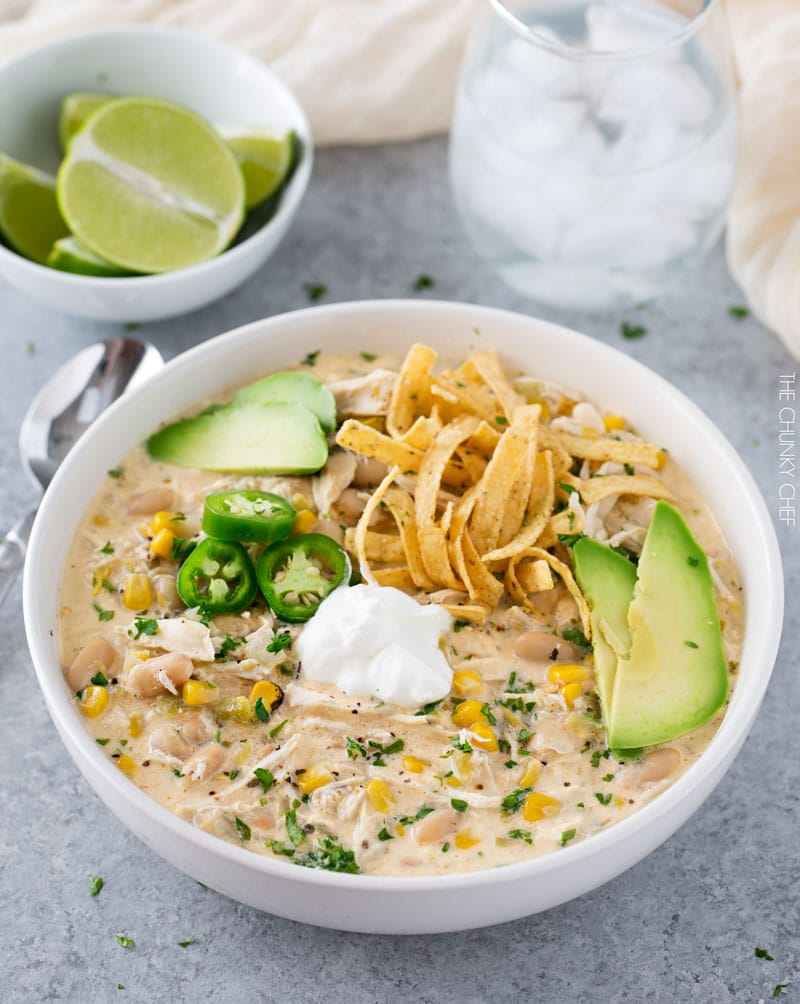 I won't claim that this creamy white chicken chili is healthy… but I do think it's a little healthier.  My old recipe for white chicken chili used all heavy cream to make it smooth and creamy, but this one uses reduced fat cream cheese and a splash of half and half!  I also like to forgo the shredded cheese on top and go for a small dollop of sour cream (I gotta have it!), a few jalapeno slices, some slices of healthy avocado, and some lightly salted tortilla strips.  Tons of great flavor, with a little less calories.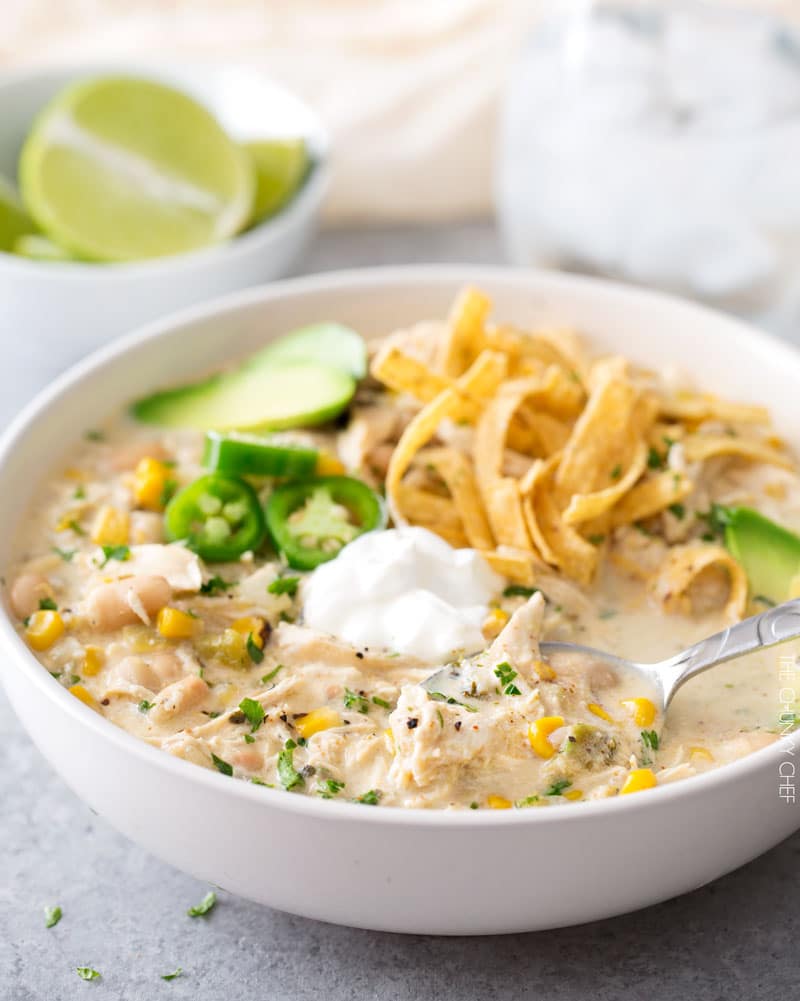 A lot of creamy white chicken chili recipes don't have corn in them, but I added some here because the subtle sweetness goes really well with the heat level from the green chiles.
While this chili is perfect for those chilly Fall nights, where you can curl up on the couch with a big bowl and switch on the tv, it's also really great for game day!  You can feed quite a few people with this chili (especially if you have a big slow cooker like this one, and you can double the recipe), and even pick up a carrying case so you could take this chili tailgating!
I've even seen some people having a chili bar at a party, where you whip up a big batch of this creamy white chicken chili, then set out a big variety of toppings and let your guests make it their own.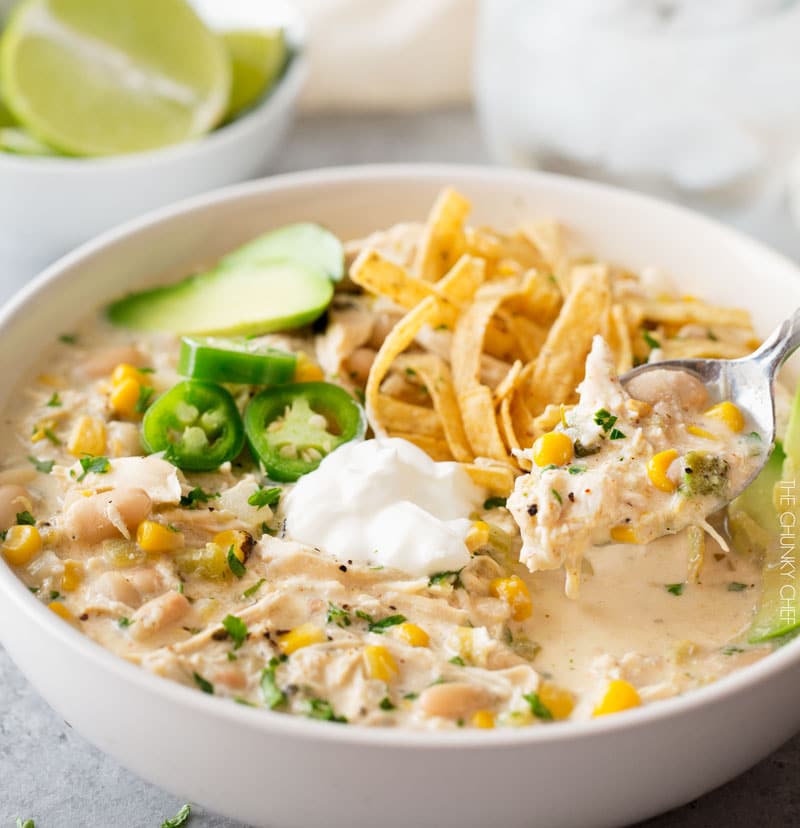 This is one meal you definitely need to try this Fall or Winter… trust me, you deserve it!
Try a big slice of this skillet cornbread alongside this chili… you'll love it!!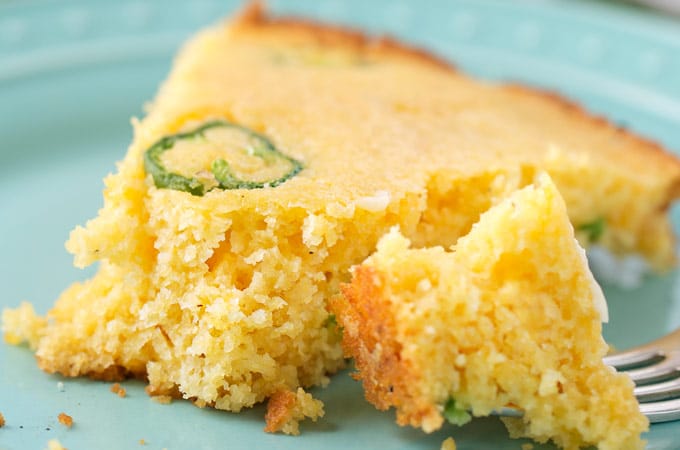 Helpful Tools for This Recipe:
PROGRAMMABLE SLOW COOKER – This is the one I have, and I really love it!  It won't break the budget, but works really well.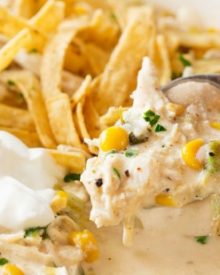 Creamy Crockpot White Chicken Chili
This creamy white chicken chili is made super easy in your crockpot! Creamy with plenty of spice, it's the perfect companion on a chilly night!
Print
Pin
comment
Prep Time: 5 mins
Cook Time: 8 hrs
Total Time: 8 hrs 5 mins
Servings: 6 servings
Calories: 155
Ingredients
1 lb boneless skinless chicken breasts trimmed of excess fat
1 yellow onion diced
2 cloves garlic minced
24 oz. chicken broth (low sodium)
2 15oz cans great Northern beans drained and rinsed
2 4oz cans diced green chiles (I do one hot, one mild)
1 15oz can whole kernel corn drained
1 tsp salt
1/2 tsp black pepper
1 tsp cumin
3/4 tsp oregano
1/2 tsp chili powder
1/4 tsp cayenne pepper
small handful fresh cilantro chopped
4 oz reduced fat cream cheese softened
1/4 cup half and half
TOPPINGS:
sliced jalapenos
sliced avocados
dollop of sour cream
minced fresh cilantro
tortilla strips
shredded Monterey jack or Mexican cheese
Instructions
Add chicken breasts to bottom of slow cooker, top with salt, pepper, cumin, oregano, chili powder, and cayenne pepper.

Top with diced onion, minced garlic, great Northern beans, green chiles, corn, chicken broth and cilantro. Stir.

Cover and cook on LOW for 8 hours or on HIGH for 3-4 hours.

Remove chicken to large mixing bowl, shred, then return to slow cooker.

Add cream cheese and half and half, stir, then cover and cook on HIGH for 15 minutes, or until chili is creamy and slightly thickened.

Stir well and serve with desired toppings.
Are We Friends on Pinterest?
Follow me for more great recipes! The Chunky Chef!