Creamy Skillet Bacon Cheeseburger Dip
Sure to be the MVP of any party, this bacon cheeseburger dip is creamy and tastes just like a gooey cheeseburger! Everyone will want the recipe!
This dip is for anyone who loves a gooey bacon cheeseburger!  It's so creamy and addicting… serve it at a party and watch it disappear, quickly!!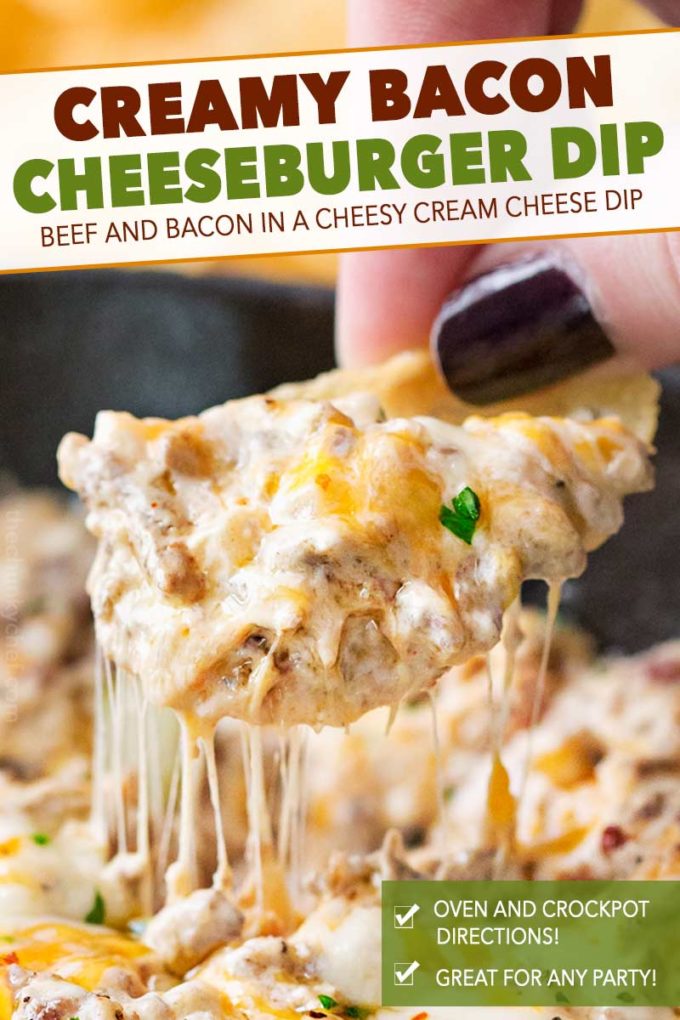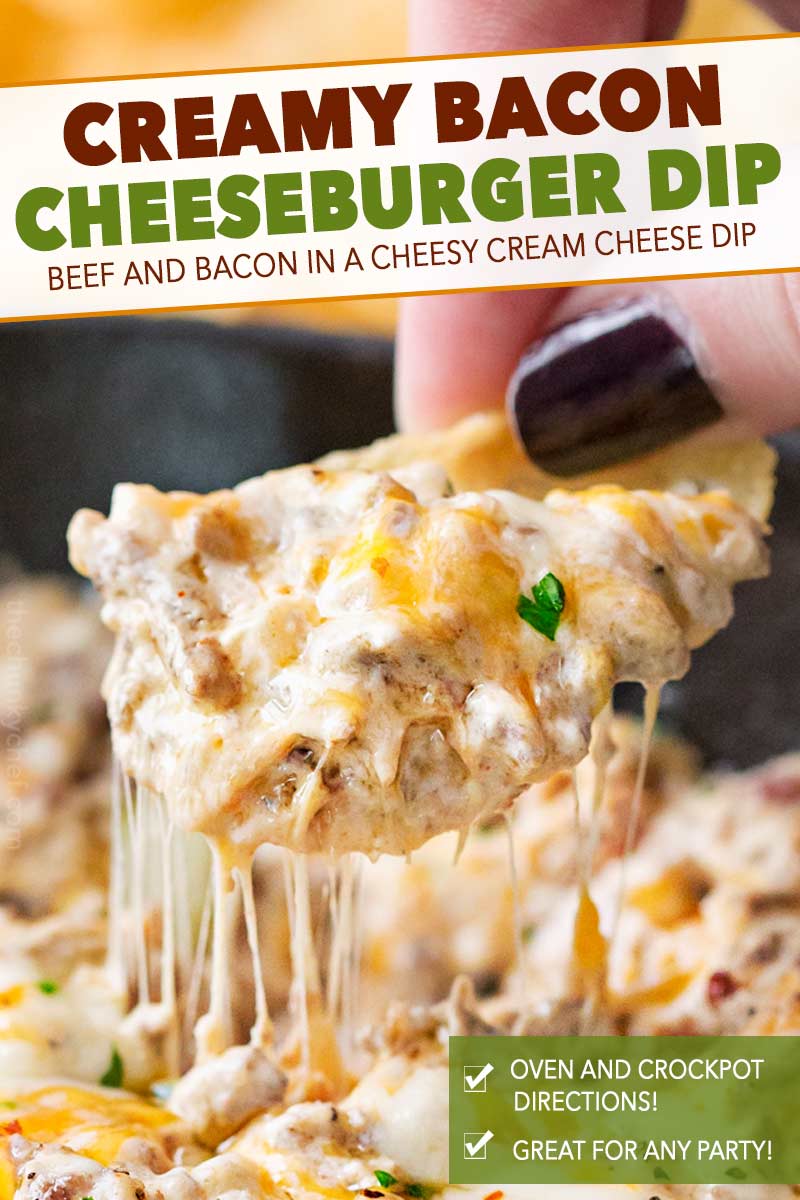 Does it get much better than a great dip at a party?  I don't know about you guys, but for me, the best part of a party is the food!  Hanging out with great friends gets even more awesome when you're hanging out around a spread of amazing party food.  Wings, finger foods, and dips!!
I've always been a sucker for a great dip.  There are SO many flavor combinations!  I can't take all the credit for this one though, I saw it on Delish and knew I had to try my hand at it.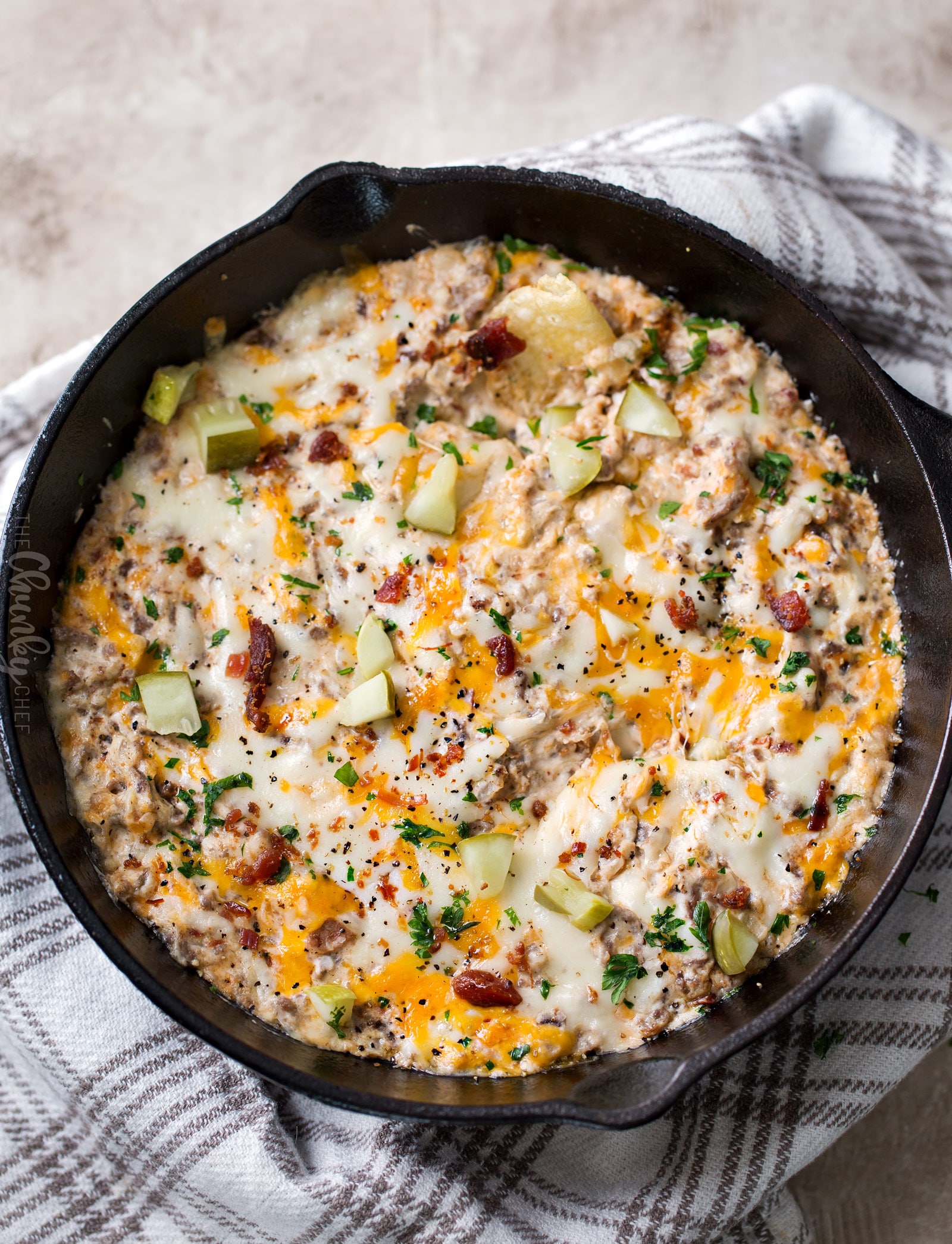 I added a little extra bacon, more cheese on top, and garnished with chopped dill pickles (my favorite part!!), and let me just say… WOW!!!  This is one of those dips that you literally won't be able to just have one bite of… you're going to be going back for seconds, thirds, fourths, etc.
For all the party foods I share here on the blog, I might give off the impression that I live this grand life full of parties and gatherings.  Not really lol.  Since having kids, we've settled down and prefer to either be with family, or hanging out here at home… which makes this introvert happy!!  In years past, on Christmas Eve, we all would gather at my grandma's house and everyone brings an appetizer/snack food… and we all just graze and spend time together.  If we do that this year, I know I'll be bringing this dip!!!  Once it's baked, you could transfer it to a small slow cooker and keep it on warm.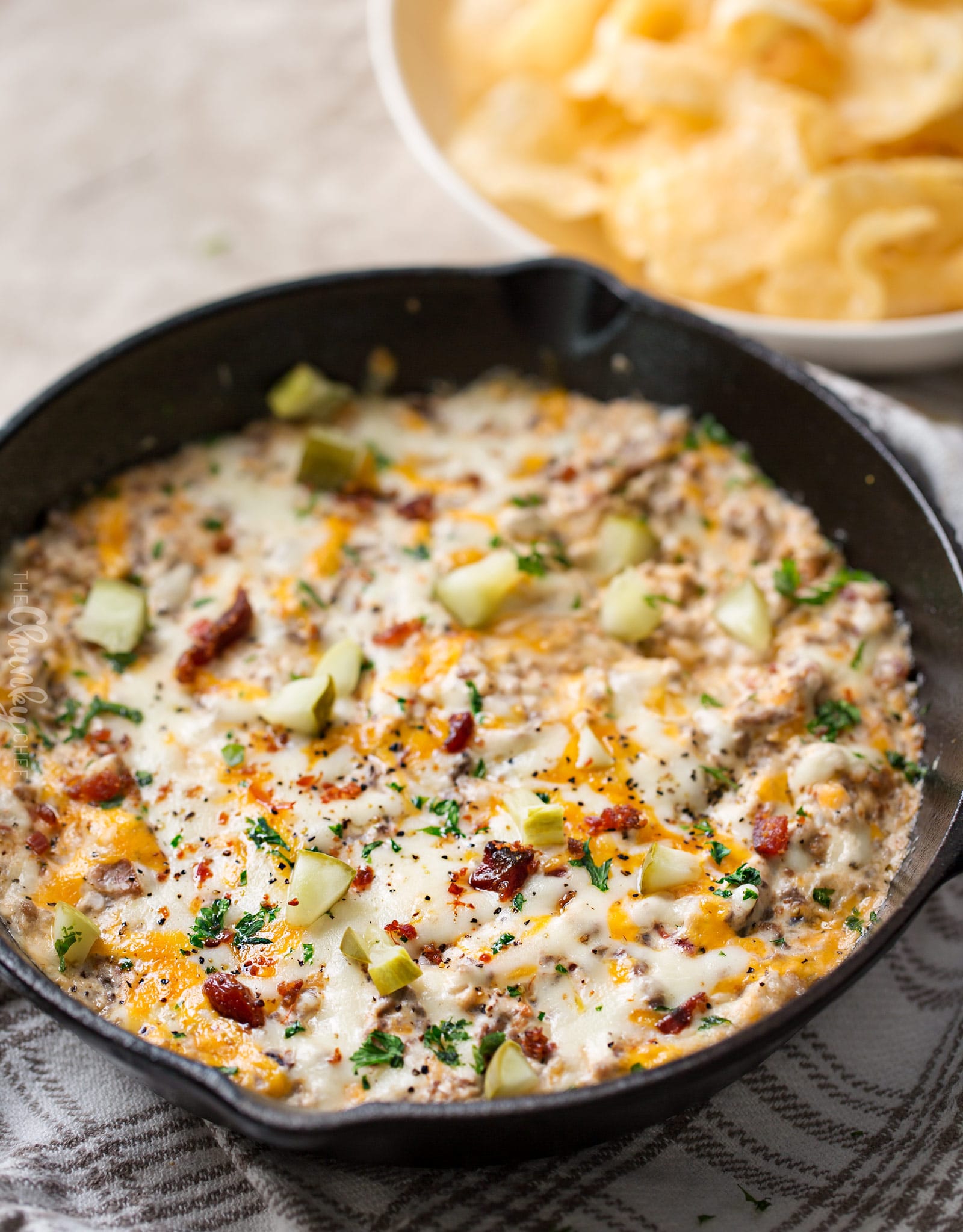 Our daughter's birthday is actually on New Years Eve, so that holiday is spent at home as a family… but I'm going to start a new tradition where I'll make all of our favorite appetizers for dinner that night (plus her cake of course).  Everyone loves an appetizer dinner right?!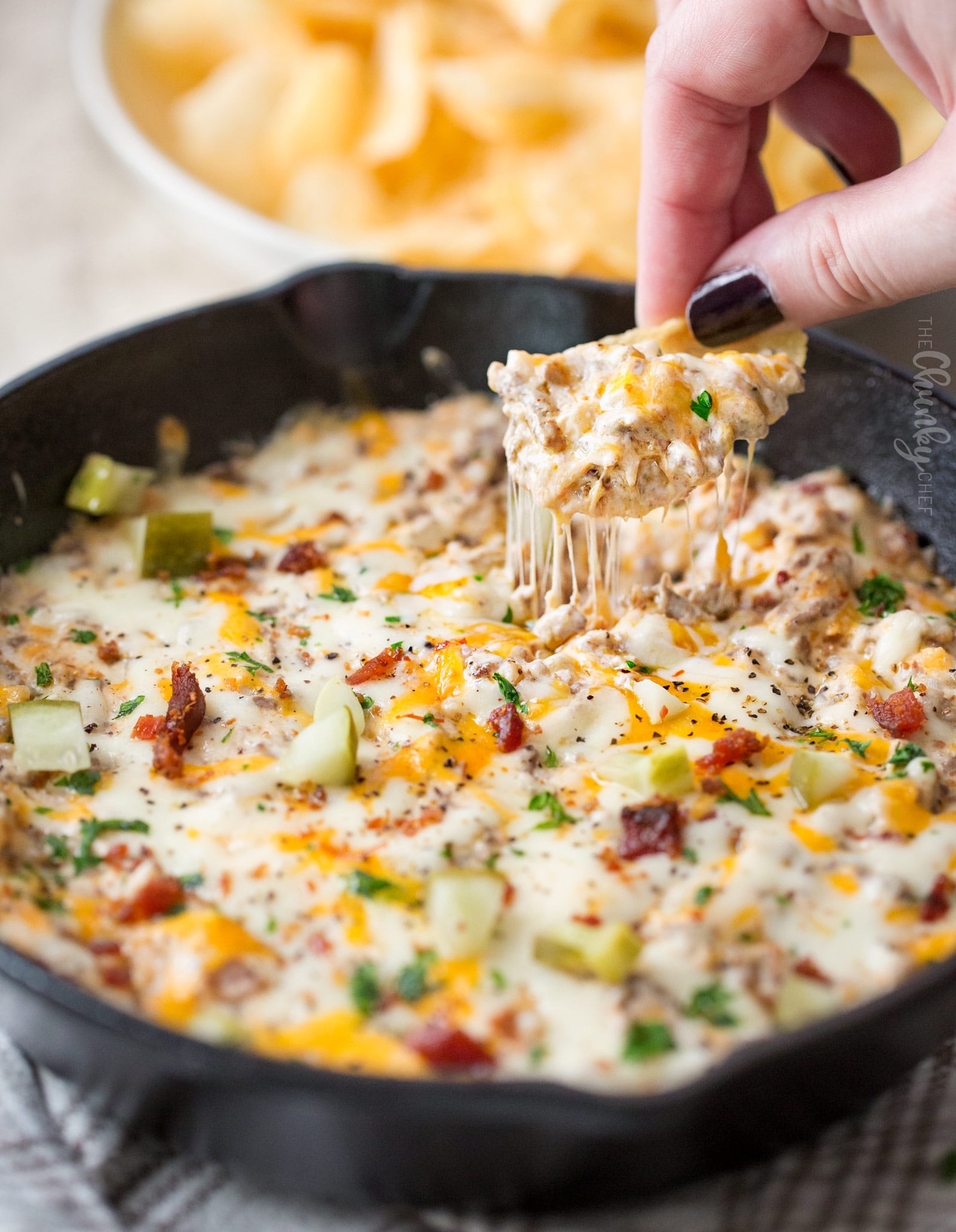 As far as dippers go, I stayed with the potato chips (that salty crunch is so satisfying!), but some toasted baguette slices would work too!  This bacon cheeseburger dip is gooey, cheesy, creamy, and incredibly delicious!!  I hope you guys give it a try… whether it's for a party, game day, or even just as a fun snack to share.
WANT MORE APPETIZER RECIPES?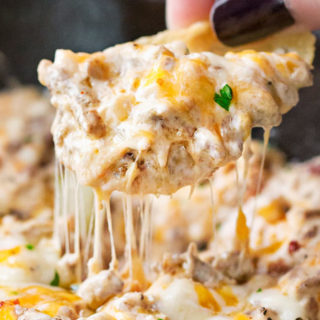 Creamy Skillet Bacon Cheeseburger Dip
Sure to be the MVP of any party, this bacon cheeseburger dip is creamy and tastes just like a gooey cheeseburger! Everyone will want the recipe!
Print
Pin
comment
Prep Time: 20 mins
Cook Time: 12 mins
Total Time: 32 mins
Servings: 6 servings
Calories: 513
Ingredients
1-2 Tbsp olive oil
1 yellow onion, diced
1/2 lb. ground beef (I used 80/20)
7 slices bacon
8 oz cream cheese, softened
3/4 cup shredded Monterey Jack cheese
3/4 cup shredded cheddar cheese
1 Tbsp Worcestershire sauce
1 tsp garlic powder
kosher salt and black pepper, to taste
diced dill pickles, for garnish
minced fresh parsley, for garnish (optional)
Instructions
Preheat oven to 350 F degrees. Spray an 8 inch cast iron skillet or 1.5-2 qt baking dish with non-stick cooking spray and set aside.

To a large skillet, add bacon slices and cook over MED-LOW heat until browned and crispy. Remove to paper towel lined plate, reserving grease in skillet.

Increase heat to MED-HIGH. Add onions and cook until soft and translucent, about 4-5 minutes. Add ground beef, crumble and cook until cooked through, about 4-5 minutes. Transfer beef to another paper towel lined plate to absorb excess grease.

When bacon is cool enough to handle, crumble. Add crumbled bacon, cooked hamburger and onion, cream cheese, 1 cup of the cheeses, Worcestershire sauce, garlic powder, salt and pepper to a large mixing bowl. Mix well.

Transfer mixture to prepared skillet or baking dish, top with remaining 1/2 cup cheeses and bake until bubbly, about 12-15 minutes.

Top cooked dip with diced dill pickles and a sprinkling of fresh parsley (if desired), and serve hot. I like to serve this with potato chips.
TO COOK IN SLOW COOKER:
Complete steps 2, 3, and 4 as directed. Next, transfer to a 2 quart slow cooker, sprinkle with remaining cheeses, cover, and cook on LOW for 3-4 hours or HIGH for 1 1/2 - 2 hours, or until warmed through and bubbly. Proceed with step 6 as directed.
Notes
For a large party, or if you have hungry guests, I suggest doubling the recipe.
Are We Friends on Pinterest?
Follow me for more great recipes! The Chunky Chef!