Spicy Brown Sugar Bacon-Wrapped Little Smokies
---
The classic little smokies appetizer gets an upgrade from the cayenne and brown sugar rub, not to mention crispy bacon wrapped around the smokies!
---
No party would be complete without the deliciousness of bacon-wrapped little smokies… but I've taken that one step further with a spiced brown sugar rub that renders them absolutely mouthwatering!  Bake them for game day, a cocktail party, or just a casual night in!  Just 5 ingredients!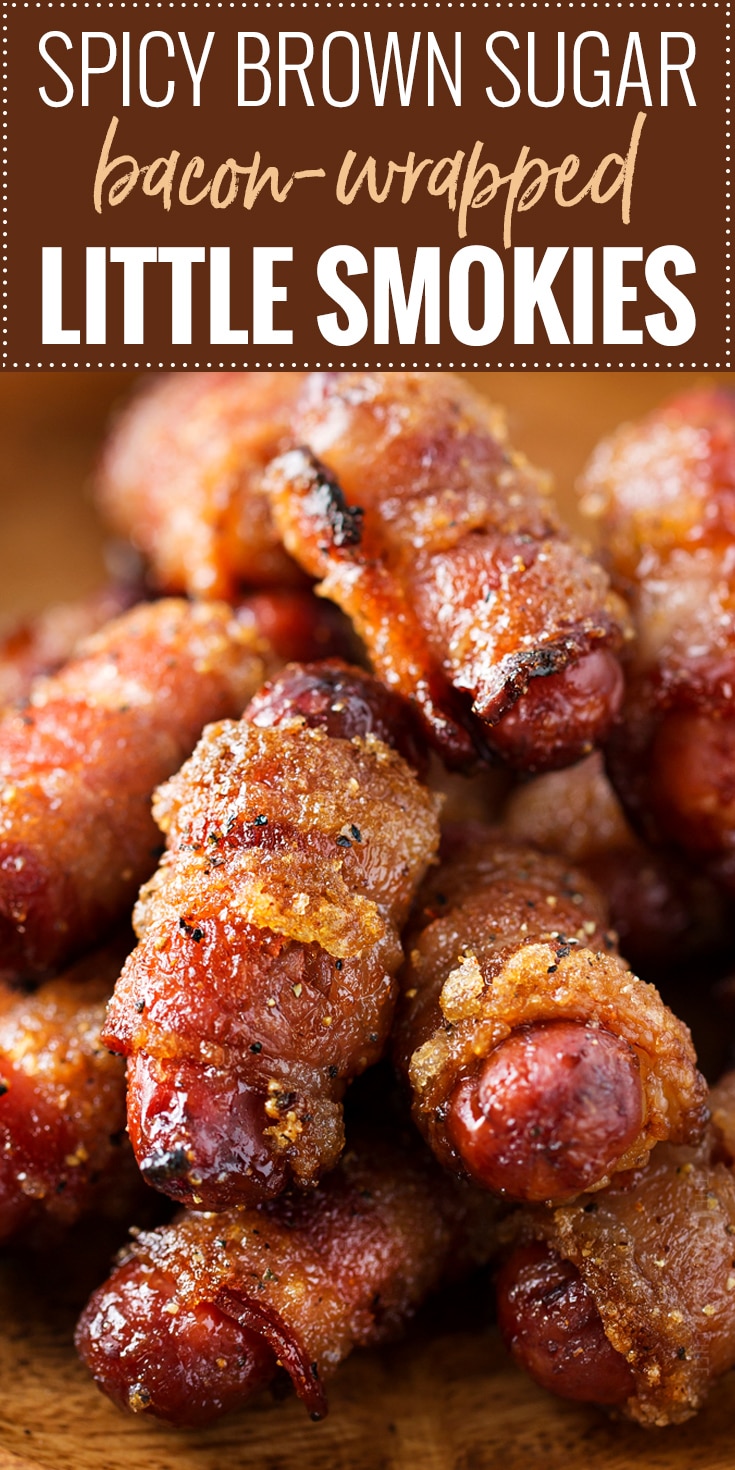 You guys, this is my favorite time of year.  Not just for the chillier days, sweatshirts, bonfires, and all things pumpkin… but for football!!  I've always been a huge football fan, for both the game and the FOOD!  Game day foods are just the best aren't they?  They're so comforting and fun!  It's really hard for me to pick a favorite, but one that ranks pretty high on the list are these little smokies!
Most everyone has had little smokies at some point in their lives.. whether they've been wrapped in bacon or simmered in bbq sauce in the slow cooker.  I decided that my love of all things sweet/spicy needed to extend to these!  And of course, everything is better with bacon right?!
This is one fabulous flavor combination, with the little snap from the little smokies, the savory salty bacon, the sweet brown sugar, and the spice kick from the cayenne pepper and black pepper.
If you're worried about the heat level, you can adjust the amount of the cayenne, or even omit it altogether.  I've had both versions, and they're equally delicious, just in different ways!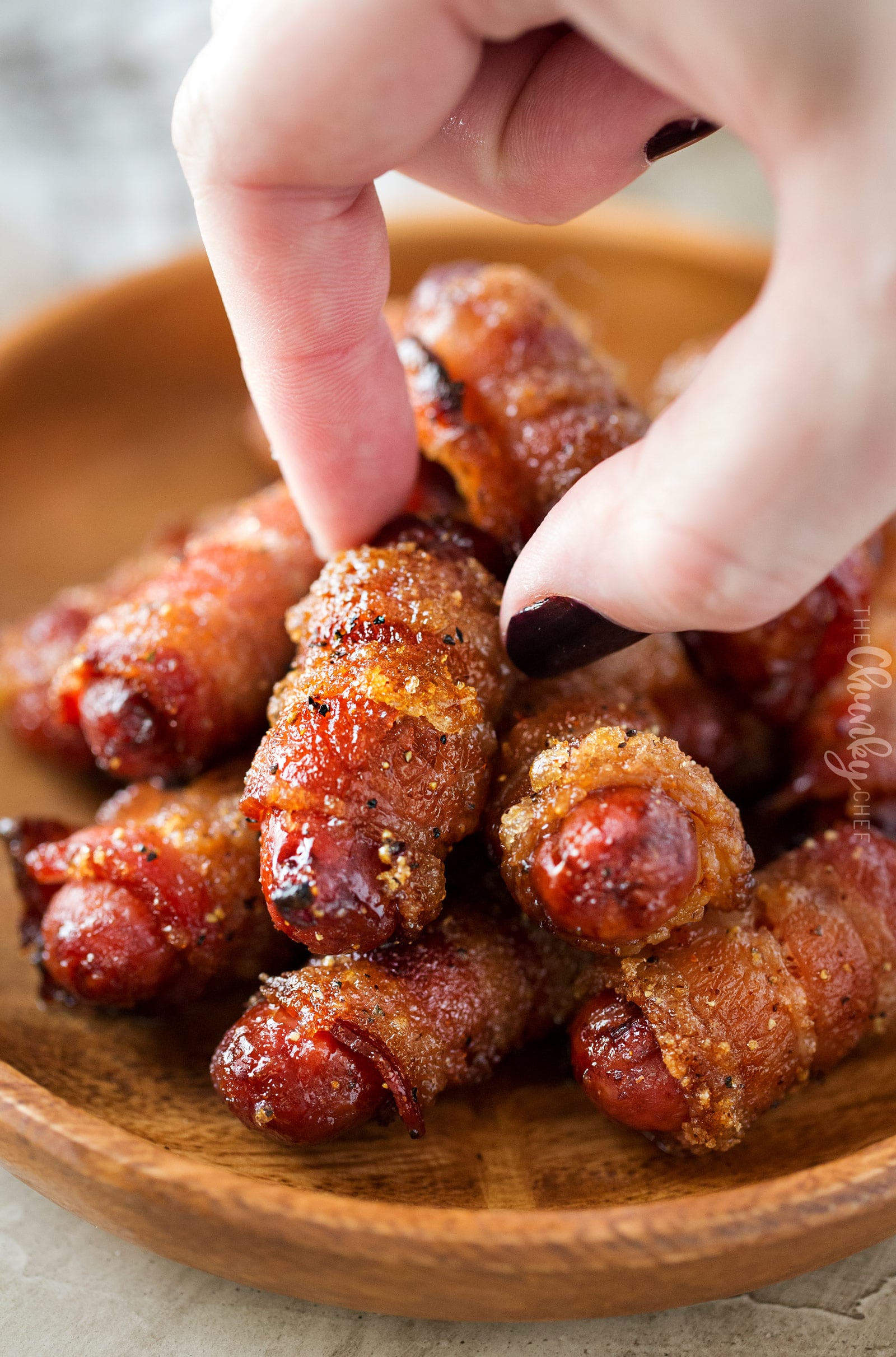 TOOLS YOU'LL NEED FOR THIS RECIPE:
Half Sheet Pan – this is my most used sheet pan, it holds up so well!
Toothpicks – if you get lucky, the bacon can stick to itself and seal, but to be safe… I always use these.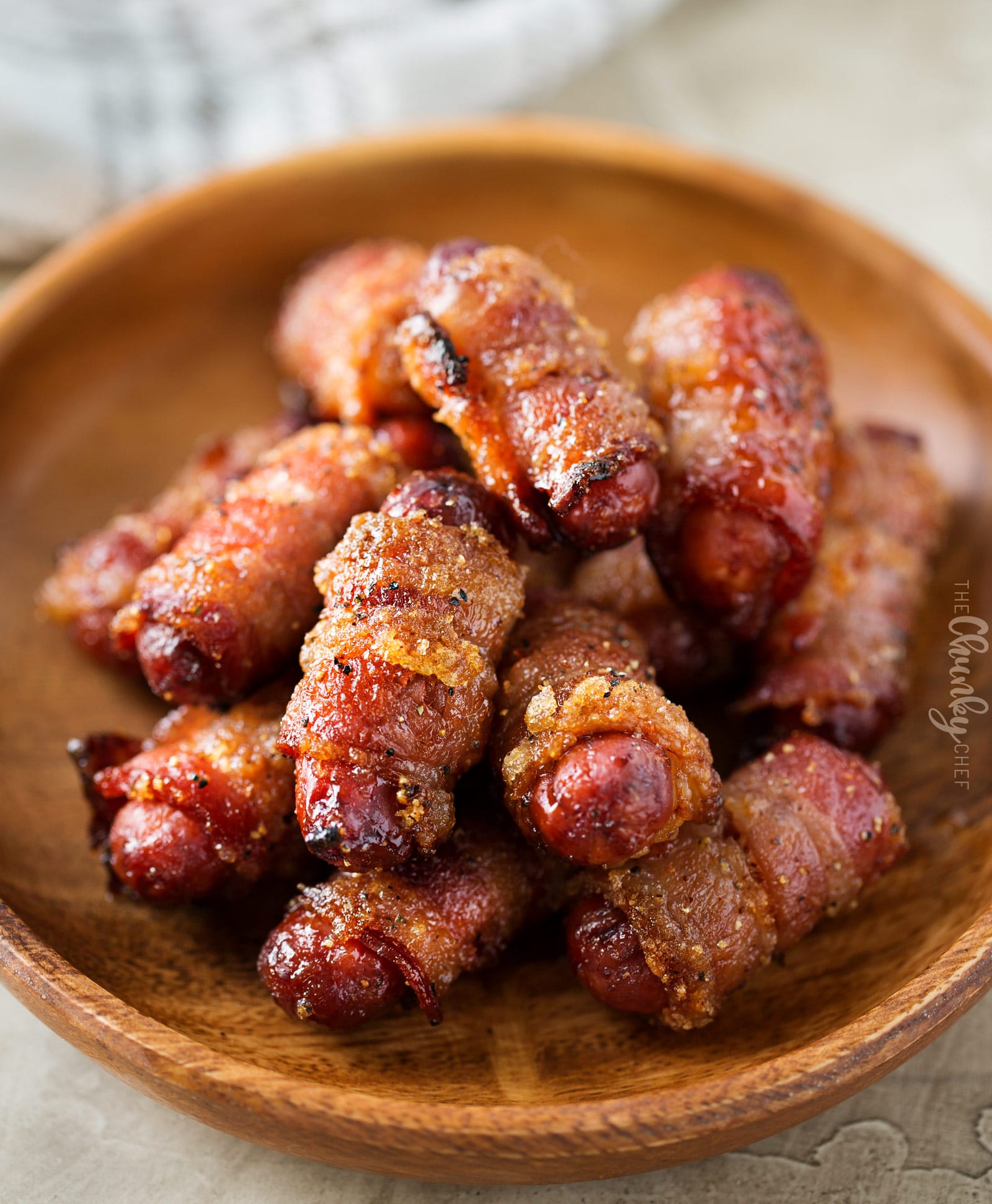 If you're wanting a little extra flavor boost, consider using some bbq sauce!  It's only one extra step.  After you bake the little smokies, remove the pan from the oven and switch it to broil.  Baste the cooked smokies with a little bbq sauce (whatever flavor you love the most!), and broil several minutes, until it's sticky.
LOOKING FOR MORE GREAT GAME DAY FOODS?
---
WANT TO TRY THESE LITTLE SMOKIES?
PIN THEM TO YOUR APPETIZERS OR PARTY BOARD TO SAVE FOR LATER!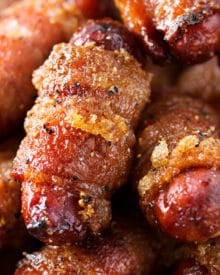 8 servings
Spicy Brown Sugar Bacon-Wrapped Little Smokies
The classic little smokies appetizer gets an upgrade from the cayenne and brown sugar rub, not to mention crispy bacon wrapped around the smokies!
Ingredients
16 oz package of little smokies (or small cooked sausages) I use Hillshire Farm brand
15 slices bacon, each cut into 3 smaller sections
3/4 cup light brown sugar, packed
1/4 tsp cayenne pepper more or less, according to your tastes
pinch of black pepper
Instructions
Prepare a jelly roll pan (or large baking sheet with a rim), with a layer of aluminum foil, lightly coated with non-stick cooking spray. Set aside. Preheat oven to 350 F degrees.

Pat sausages dry with a paper towel and wrap each individual sausage with a piece of the cut bacon. Secure with a toothpick.

Add brown sugar, cayenne and black pepper to a large resealable plastic bag. Use a spoon to combine the sugar with seasonings. Add several bacon wrapped sausages, seal bag and shake gently to coat. Repeat with all remaining sausages.

Line sugar rubbed sausages on prepared baking sheet and bake 30 -35 minutes, until bacon is browned. For some extra crispness, broil for a couple of minutes after baking.
Recipe Notes
For a bbq version, bake as directed, then baste with bbq sauce and broil on high until sausages are sticky, approximately 3-4 minutes.
NEVER MISS A CHUNKY CHEF RECIPE: