The classic party food, pigs in a blanket, gets a flavor boost from "everything" bagel seasoning baked right on the top of the flaky crescent roll!
Perfect for a party, or even as a fun spin on dinner, these "everything" pigs in a blanket taste amazing!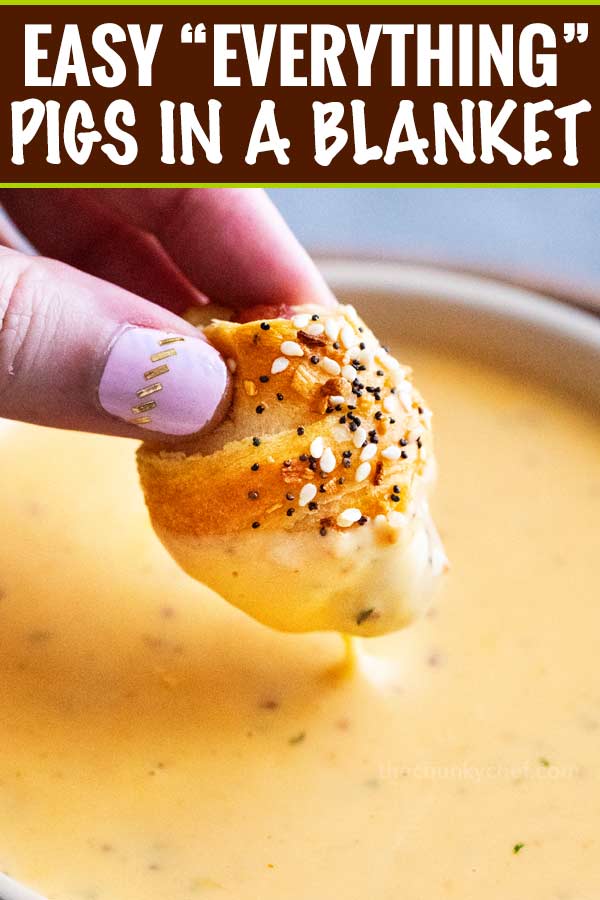 "Everything" Pigs in a Blanket
You ever have one of those things that you love, but no one else is really into, and then all of a sudden it becomes super "trendy"?  Growing up, I LOVED, and still do, everything bagels.  There's something about that fantastic combination of poppy seeds, sesame seeds, garlic, onion and salt… all the savory flavors and crunchy textures that I love.  Back then, no one else that I knew liked everything bagels, and now, everything bagel seasoning is the hottest seasoning around!
You can usually buy everything bagel seasoning in grocery stores and on Amazon, but in case you can't find it, or prefer to make your own, it's pretty simple to create your own mix.
What goes into everything bagel seasoning?
The classic mixture is made from poppy seeds, sesame seeds, dried minced garlic, dried minced onion and kosher or sea salt.  My favorite homemade mixture is as follows:
1 1/2 Tbsp poppy seeds
1 Tbsp white sesame seeds
1/2 Tbsp black sesame seeds (optional – if not using, add another 1/2 Tbsp of white sesame seeds)
1 1/2 Tbsp dried minced onion
1 1/2 Tbsp dried minced garlic
1 – 1 1/2 tsp kosher salt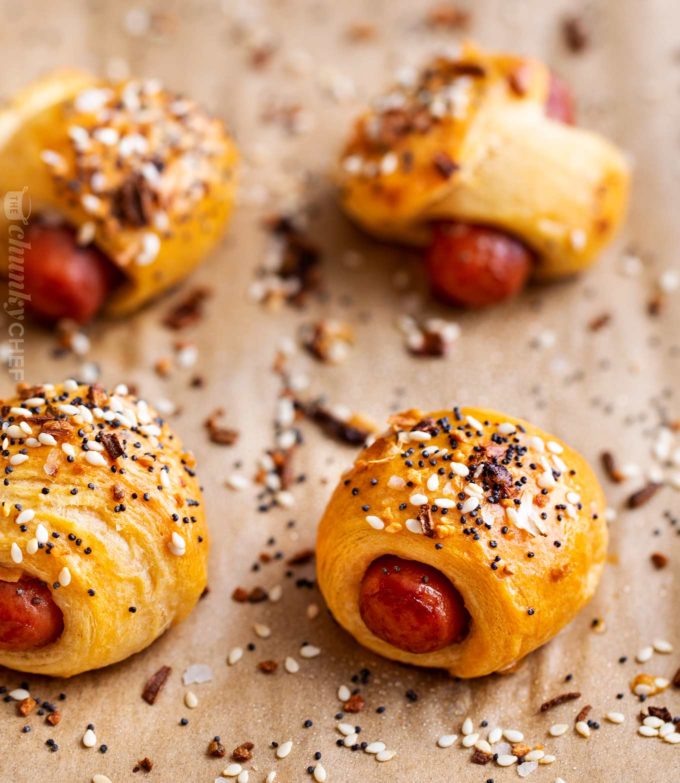 What else can everything bagel seasoning go on?
Just about anything!  I love this seasoning blend on chicken, pork, salads, eggs, avocado, hummus, dinner rolls, and cottage cheese!
Can you make pigs in a blanket ahead of time?
Sure can!  Go ahead and wrap the crescent roll dough around the cocktail franks, and place them on a wax paper lined plate in the refrigerator (covered in plastic wrap).  As your oven preheats the next day, brush with egg and season.  Bake as usual!  This is a perfect trick for a stress-free party.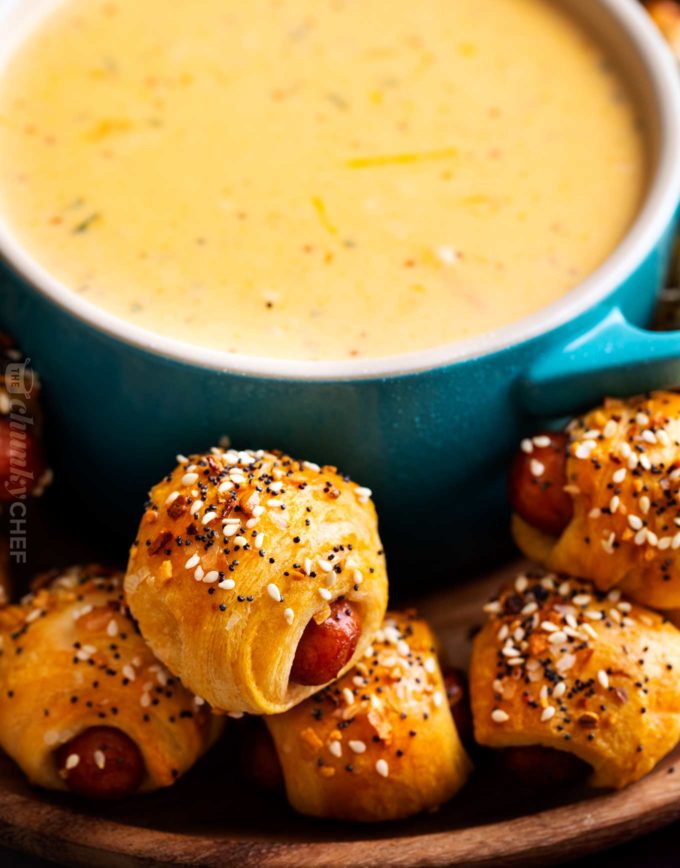 How do you keep pigs in a blanket warm for a party?
You can either keep them in a low-heat oven (around 225 F degrees), and just pull out one plate-full at a time, or you can keep them warm in a slow cooker.  The slow cooker method may make them a bit soggy, but it's less hands-on than the oven method.  Add a layer of pigs in a blanket to the bottom of your slow cooker, then top with a piece of parchment paper (I like to cut the parchment into ovals about the size of my crockpot).  Add a layer of pigs in a blanket to the parchment, and keep layering until no pigs in a blanket are left.  Cover and turn the slow cooker to LOW or KEEP WARM.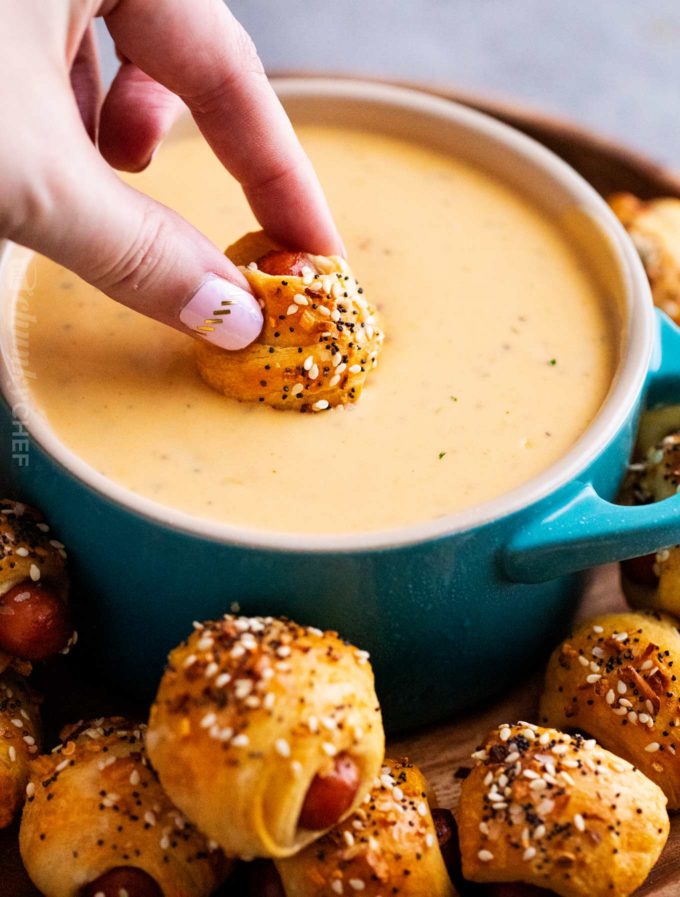 What to serve with pigs in a blanket?
In my book, you absolutely need a dipping sauce!  I LOVE to dip!  My personal favorite, and the sauce shown in these photos, is my ultra easy 15 minute beer cheese sauce.  I also love this homemade mustard, garlic hummus, and honey mustard.
Pro tips for making everything pigs in a blanket:
Use your favorite variety of cocktail franks.  I love the beef variety, but there are plenty of types to choose from.
Make sure you pat the franks dry.  They'll come packed in a bit of liquid, and the crescent roll dough will adhere better to a dry frank.
To make larger pigs in a blanket, use a full-sized hot dog (again, I like the beef ones), and a whole triangle of crescent roll dough.  Bake the same amount of time, but check to make sure they're golden brown before you pull them from the oven.
Other great party foods: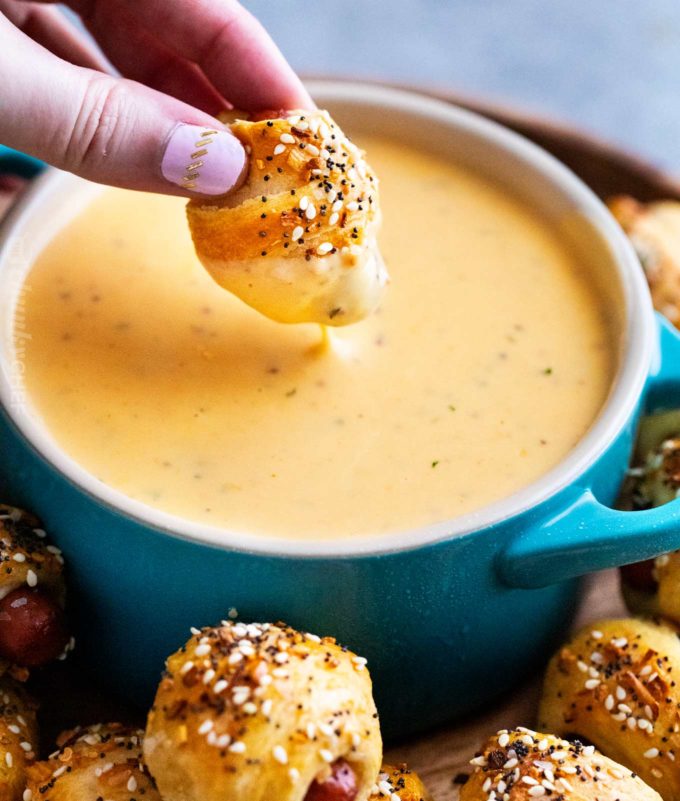 Be sure to scroll down to check out other readers' comments for tips and reviews.
And don't forget, if you've made this recipe, please consider leaving a comment and star rating to let me know how you enjoyed it!
Did you make this? Be sure to leave a review below and tag me @the_chunky_chef on Facebook and Instagram!
Servings:
24
pigs in a blanket
(hover over # to adjust)
Classic pigs in a blanket, made with cocktail franks and flaky crescent rolls, baked with a sprinkle of savory "everything" bagel seasoning!
Ingredients
8 oz tube crescent roll dough, separated along perforated edges into triangles
24 beef little smokies cocktail franks, patted dry
1 large egg
2-3 Tbsp "everything" bagel seasoning
Instructions
Preheat oven to 375 F degrees. Line a baking sheet with parchment paper and set aside.

Slice each triangle of crescent roll dough into 3 long strips. Wrap each strip around a cocktail frank, pressing to seal the edges. Place seam-side down on prepared baking sheet.

Beat egg, and brush over the top of each crescent/cocktail frank. Sprinkle liberally with everything bagel seasoning.

Bake 15 minutes, or until golden brown. Serve warm.
Want to save this recipe for later? Click the heart in the bottom right corner to save to your own recipe box!
Chef Tips
Depending on your preferences, you might use more or less bagel seasoning. I prefer beef cocktail franks, but you can use any variety you like.
Any nutritional information shared is an estimate, and is automatically calculated through a program.  If calorie count is important to you, I recommend running the ingredients through whichever online nutritional calculator you prefer.  Calories can vary quite a bit depending on which brands were used.

The Chunky Chef is not a nutritionist and doesn't provide full nutritional information for recipes as there is a potential for error and we wouldn't want to potentially and/or unknowingly pass along incorrect information.