The ultimate light and fluffy dinner rolls, made with yeast for a classic holiday side dish. Top them off with some whipped honey butter!
The best homemade dinner rolls… perfect for holidays, and with a make-ahead option!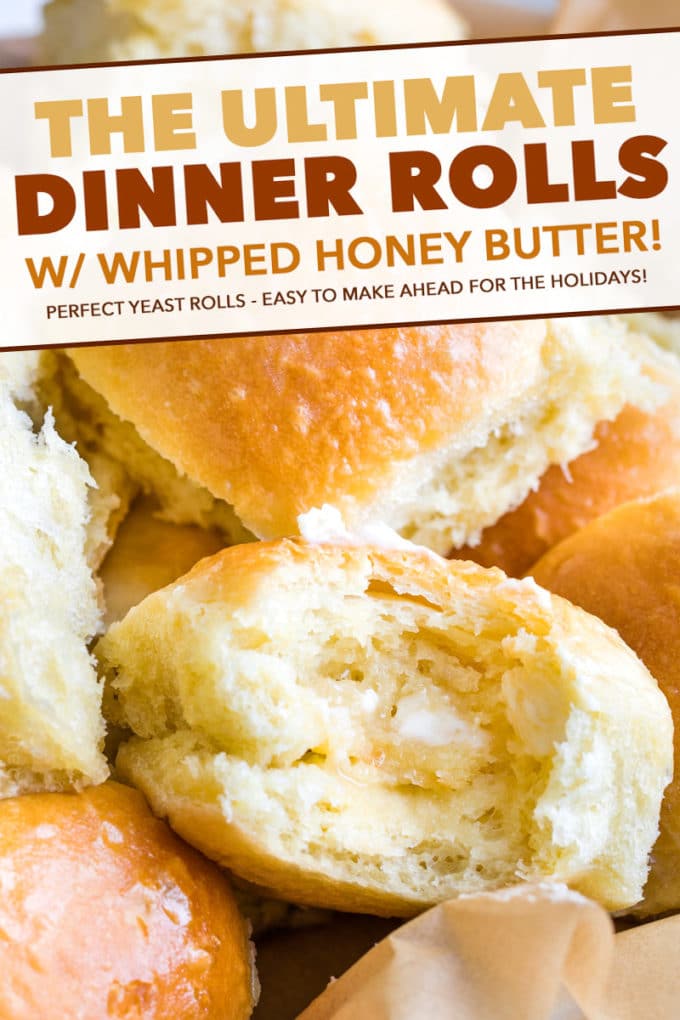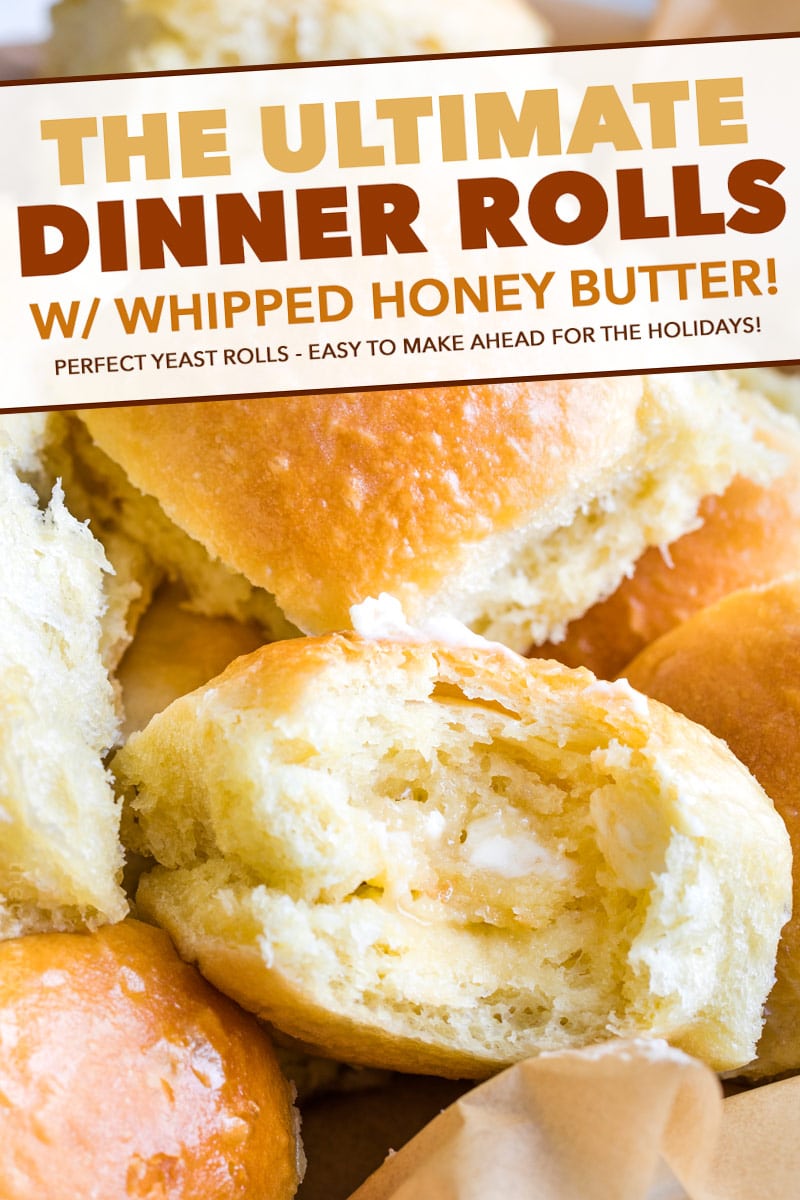 Have you ever made homemade dinner rolls?  They have this reputation of being difficult and super time-consuming… but in reality, they're not that bad!  Most of the time involved is hands-off time while the dough is rising, which frees you up to go relax, hang out with guests, or work on other dishes for your meal.  And yeast, well it gets a bad rap too, but I'll go into more about yeast in the post.  But, bottom line.. you CAN do this!!
DO YOU HAVE TO USE YEAST FOR DINNER ROLLS?
Yes… dinner rolls without yeast are possible, but they have a whole other texture.  What we're looking for in a dinner roll is a soft and fluffy texture, with that slightly crispy top.
WHAT TYPES OF YEAST ARE THERE?
There are several types, which can be divided into two categories.  Fresh and Dry.  Fresh yeast is very perishable, comes in compressed "cakes", and mainly used by professionals.  Dry yeast has two main types: active-dry and instant (also called rapid rise).  Active-dry yeast needs to be "proofed" first, by adding it to a warm liquid (such as milk or water), with some sugar or honey and left to sit for 5-10 minutes.  Instant yeast is made of finer granules and can be added directly to the flour and mixed right in with no proofing needed.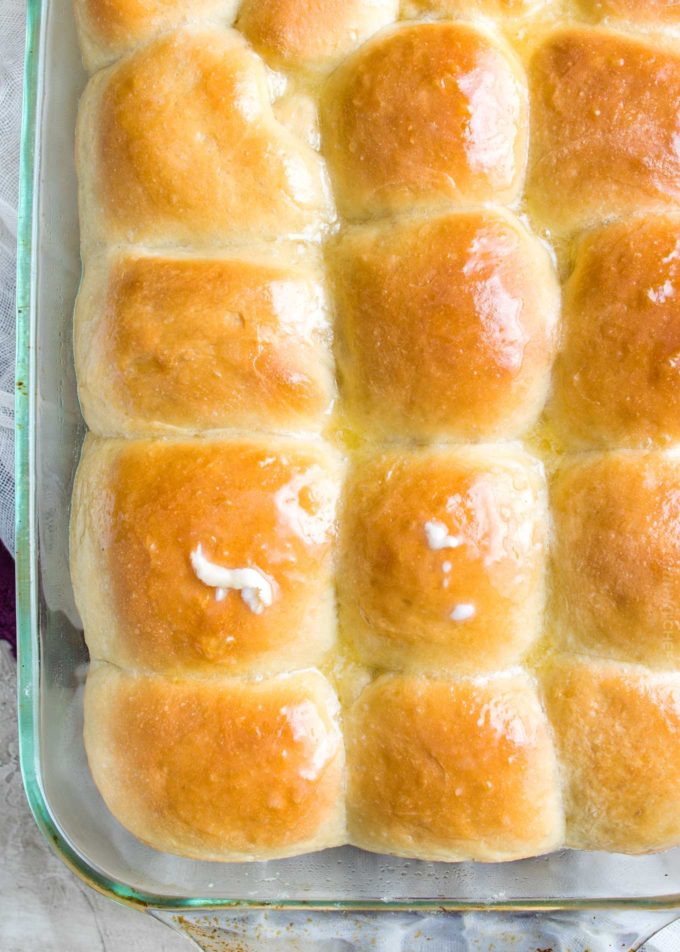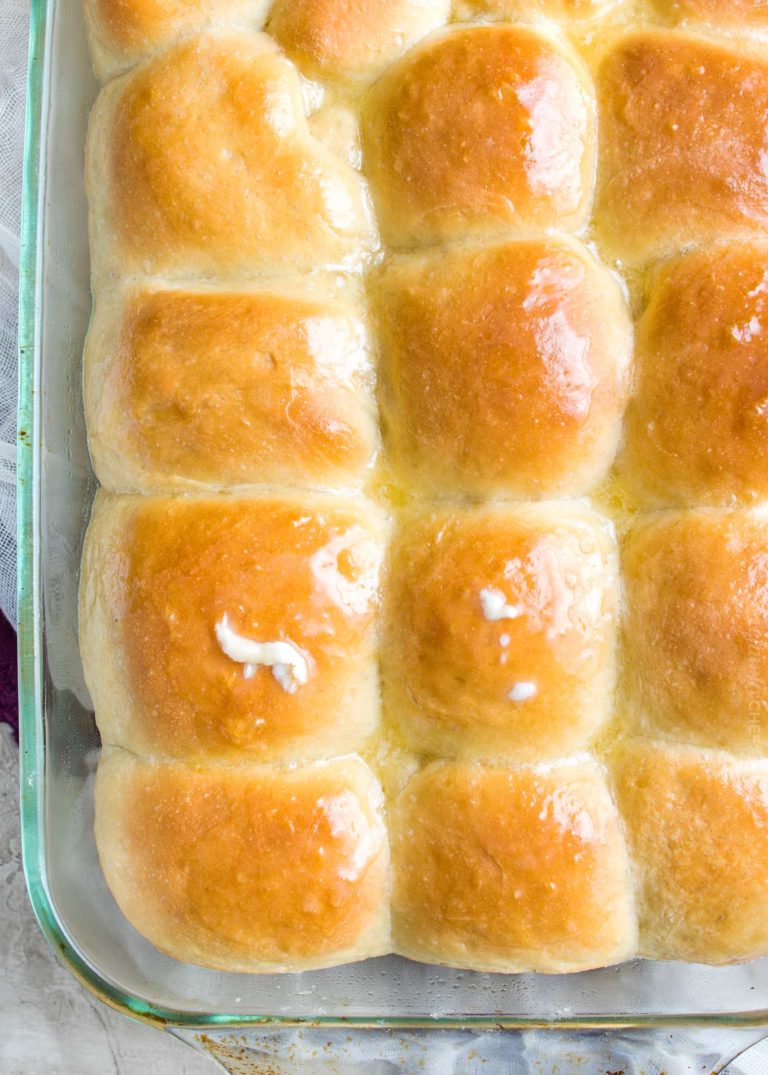 HOW DOES YEAST WORK?
As a science nerd, I'll try not to go too crazy into the details… but let's step back a tad.  There are two types of leavening agents (what causes things to rise): chemical and biological.  Chemical leavening agents, like baking soda and baking powder, literally cause a chemical reaction which releases carbon dioxide gas, rising the dough.  Biological leavening agents, like yeast, work by fermentation.  Yeast is a fungus, which consumes sugar and excretes carbon dioxide and alcohol as by-products.  That's why when you proof yeast, you always add some kind of sugar.  Basically the yeast "eats" the sugar, and then releases the carbon dioxide into air bubbles in the dough and expand them (like blowing a bubble with bubblegum), causing the dough to rise!
DO YOU HAVE TO USE BREAD FLOUR FOR DINNER ROLLS?
I've made dinner rolls with all-purpose flour before, and they do have a denser texture… although I haven't specifically tested these rolls using all-purpose.  I recommend using bread flour for these dinner rolls though.  Bread flour contains more gluten and protein, which gives the rolls a beautiful chewy, yet light texture.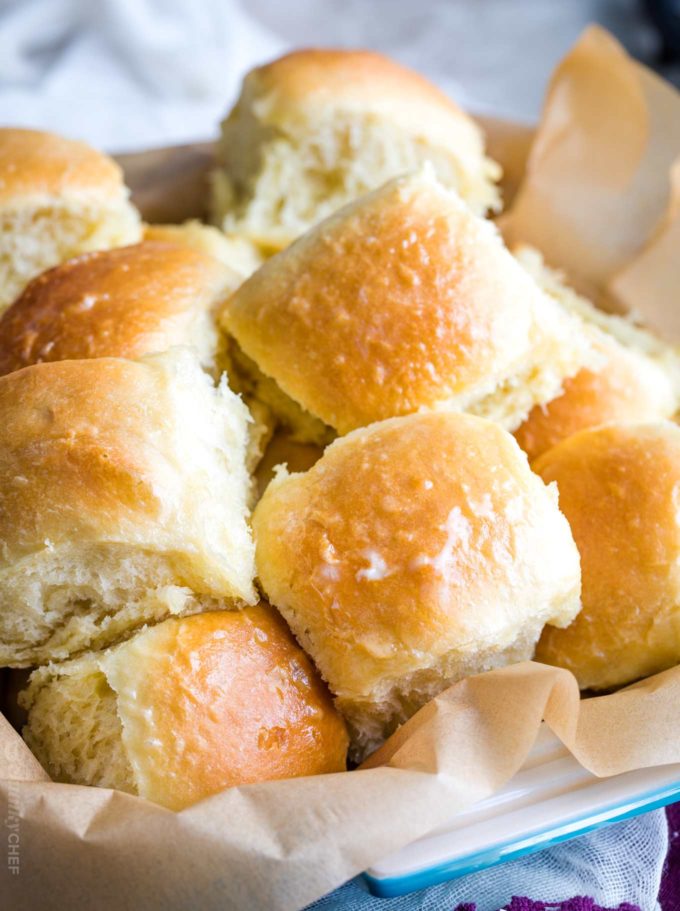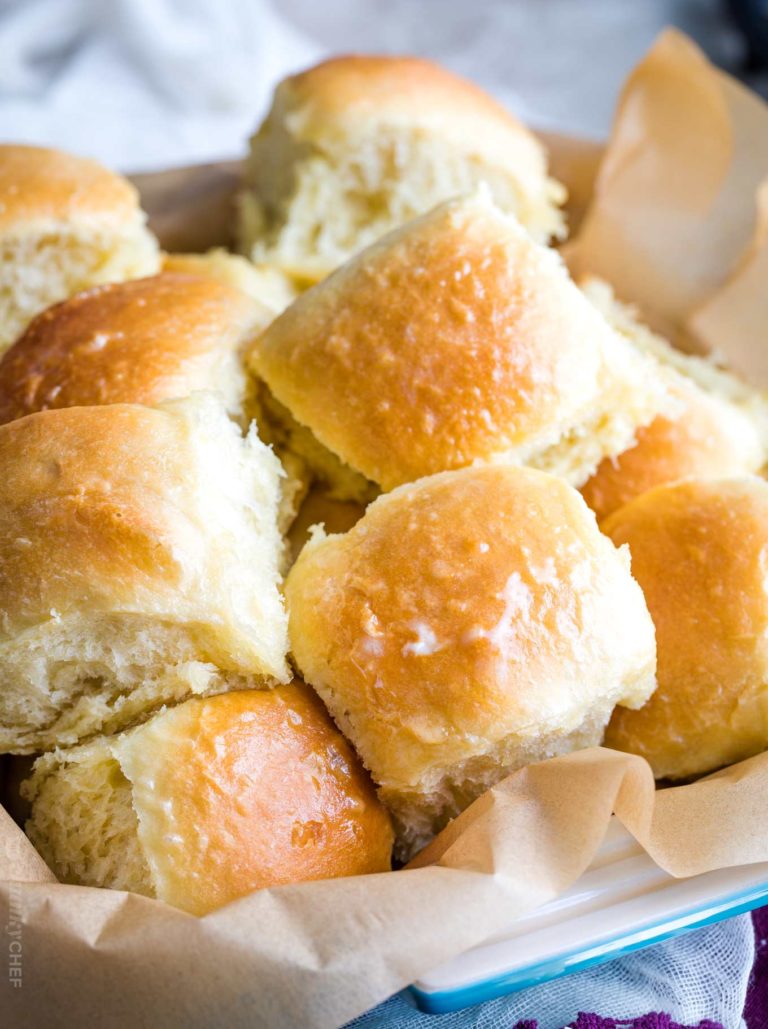 HOW CAN YOU MAKE DINNER ROLLS AHEAD?
If you're pressed for time on the day you'll want to serve these dinner rolls, you can make them ahead in two ways!
Refrigerator:
Let the dough rise for the 2 hours, punch it down, then cover tightly and refrigerate overnight or for 1-2 days.  Remove dough from refrigerator, cut into 16 pieces, form into rolls and place in buttered baking dish and let rise until doubled in size, about 1 – 1 1/2 hours.
Freezer:
Let the dough rise for the 2 hours, punch it down, cut into 16 pieces, form into rolls, place in buttered baking dish, then cover tightly and freeze for up to 2 months.  Thaw overnight in the refrigerator, then let rise until doubled in size, about 1 – 1 1/2 hours. 
Make-ahead dinner rolls are a great option for those that like to prep ahead, but as a general rule, the longer a yeast dough sits, the stronger the "yeasty" flavor will be.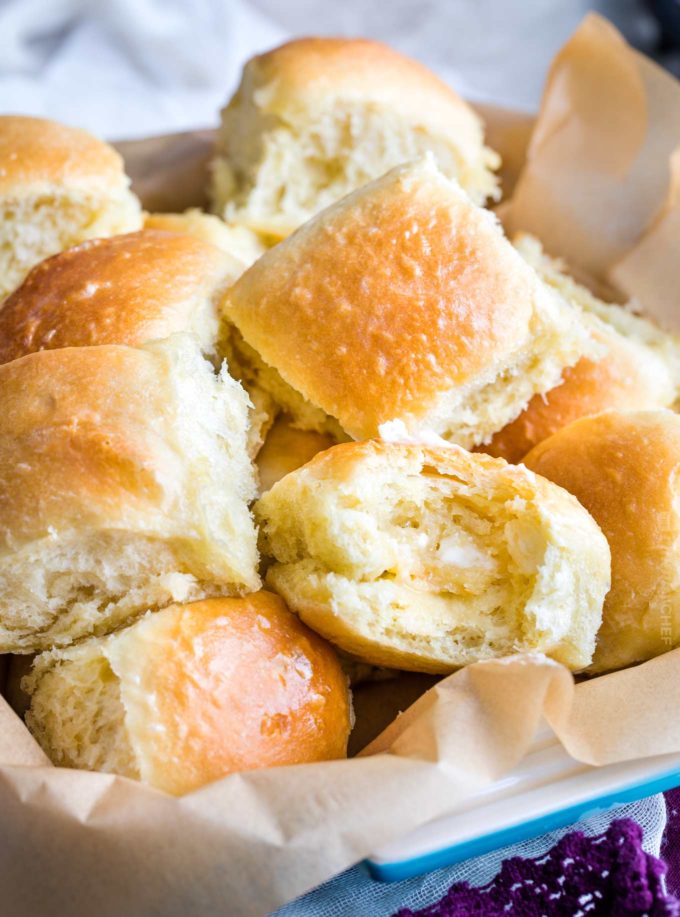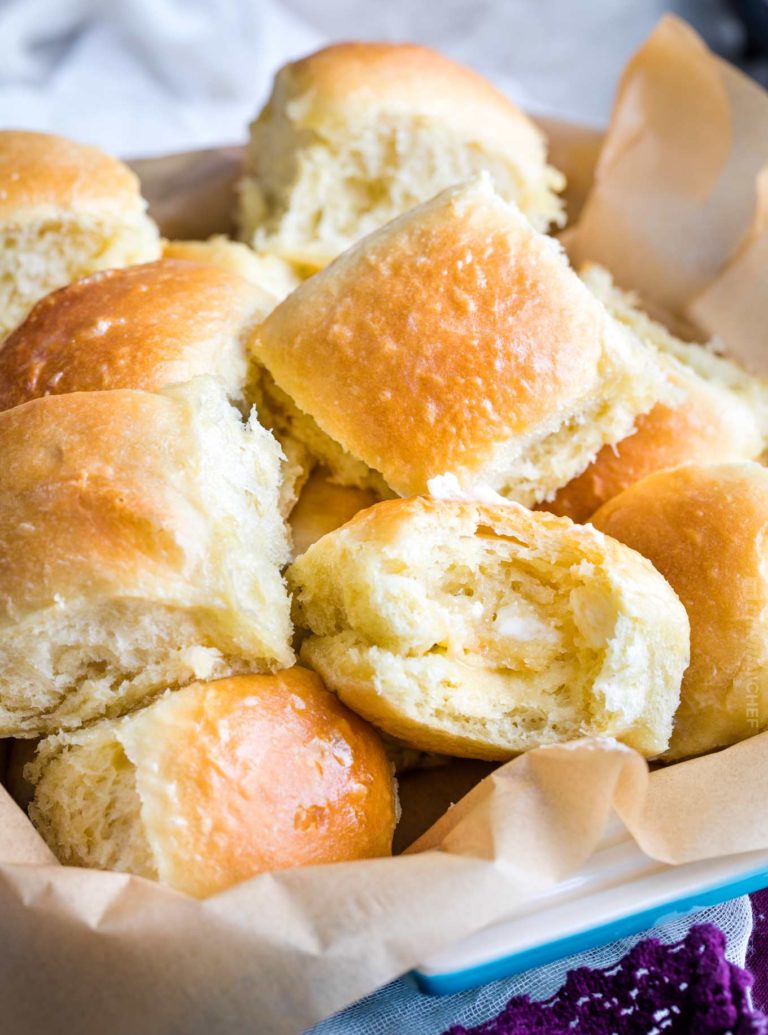 DO YOU HAVE TO USE A STAND MIXER?
Of course not, but if you have one, definitely use it to save yourself the arm workout!  You can use a hand mixer or go old school and use a wooden spoon, but you'll have to knead by hand.
PRO TIPS FOR MAKING DINNER ROLLS:
First things first… deep breath.  Bread-making is not as difficult as it's made out to be, and you can absolutely do this!
Watch when proofing your yeast.  After sitting with the warm milk and sugar, the yeast should be frothy and foamy looking.  If it doesn't, then start over with a new batch of yeast.  It should look like this: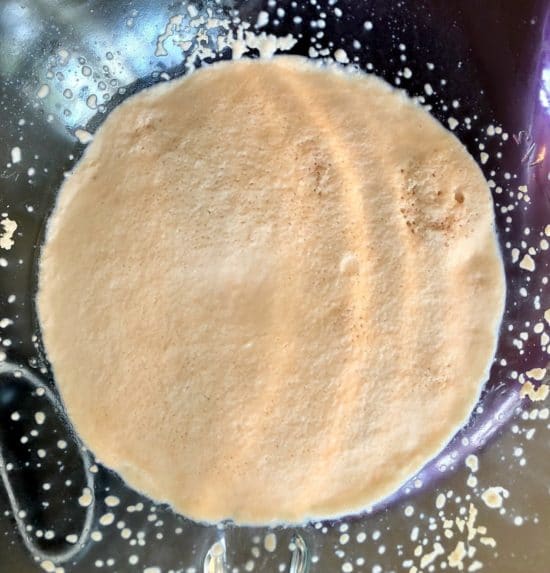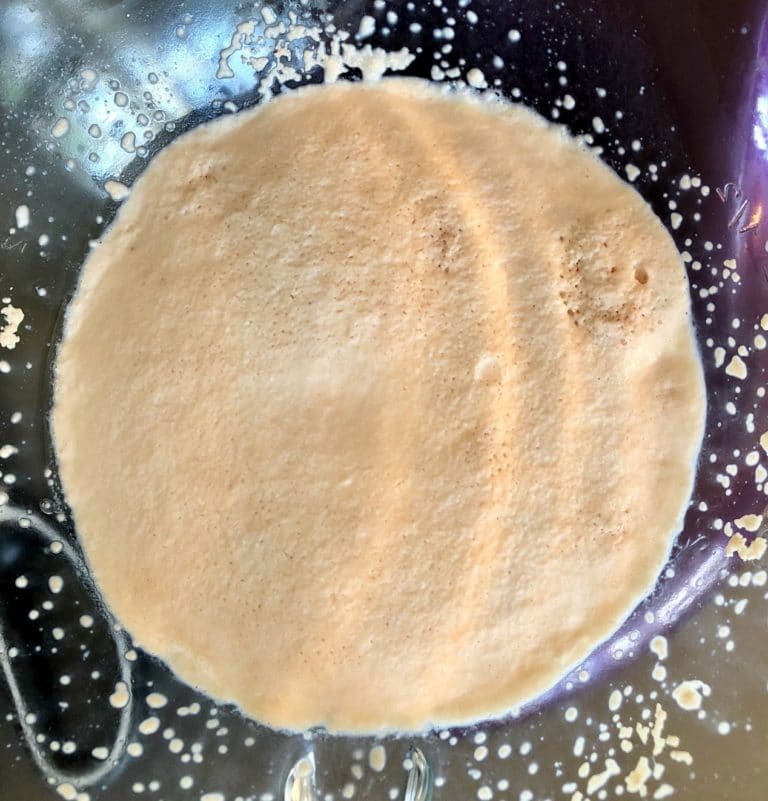 Make sure you oil your bowl before adding the dough to rise.  Otherwise it can stick to the sides of the bowl too much.
No warm spot in your kitchen?  No problemo.  Preheat your oven to 175 F degrees, then turn OFF the heat and place the bowl of dough in the oven to rise.  Perfectly risen dough, even in the frigid winter.
Don't worry if the shaped balls of dough don't look like perfectly round rolls.  No one will care once they take a bite, I promise!
Don't forget the whipped honey butter topping… it really takes these dinner rolls from great to amazing.
OTHER GREAT HOLIDAY DISHES:
SHOP THE RECIPE:
Baking Dish – normally I bake in ceramic dishes, but I like to use glass here so I can see how things are baking on the sides.
Stand Mixer – my FAVORITE kitchen appliance… been a workhorse for years and still going strong!
Yeast – I use this brand all the time… consistently perfect results!


Did you make this? Be sure to leave a review below and tag me @the_chunky_chef on Facebook and Instagram!
The ultimate light and fluffy dinner rolls, made with yeast for a classic holiday side dish.
Ingredients
1 cup whole milk, warmed to 105-110 F degrees
2 1/4 tsp active dry yeast
1/2 tsp granulated sugar
1/3 cup honey
1 large whole egg
1 egg yolk
1/4 cup butter, melted and cooled slightly
1/2 - 3/4 tsp kosher salt
3 1/2 cups bread flour
WHIPPED HONEY BUTTER
1/2 cup unsalted butter, softened completely to room temperature
1/4 cup honey
Instructions
Grease bottom and sides of a very large mixing bowl, set aside for later.

Add warmed milk to bowl of a stand mixer fitted with the dough hook. Add yeast and sugar, then stir and let sit for 5 minutes. Mixture should be frothy/foamy.

Add honey, egg, egg yolk, melted butter, salt and 3 cups of flour. Mix on LOW speed for a minute or two, then add remaining 1/2 cup flour. Mix on LOW for another minute, until it all combines.

Dough should be soft and thick, and slightly sticky. You're looking for the dough to pull away from the sides of the bowl as it mixes.

Increase mixer speed to MED to "knead" the dough for a minute or two. The dough will slap against the sides of the bowl when finished.

Turn dough out into prepared mixing bowl, turning dough to coat all sides. Cover with plastic wrap and a kitchen towel, then place in a warm spot to rise for about 2 hours, until dough has doubled in size.

When dough has doubled in size, punch the dough down (this removes air bubbles), then turn dough out onto a lightly floured surface (I use my countertop).

Cut dough into fourths, then cut each fourth into 4 equal sized pieces, for a total of 16 pieces of dough.

Form into balls and place into a buttered 9x13 baking dish. Cover with plastic wrap and let rise until doubled and puffy in appearance, about 45 minutes to an hour.

Preheat oven to 350 F degrees. Bake dinner rolls for 18-22 minutes, or until golden brown and the tops of rolls have a hollow sound when tapped.
MAKE WHIPPED HONEY BUTTER:
Add butter and honey to a mixing bowl and beat with a hand mixer until whipped, smooth and completely combined.

Spread honey butter on top of freshly baked rolls, and store any leftovers in an airtight container in the refrigerator.
Want to save this recipe for later? Click the heart in the bottom right corner to save to your own recipe box!
Chef Tips
Recipe makes 16 rolls.
Prep time does not include rising times, as these will vary slightly from individual to individual.
Flour amount is an approximation, as things like humidity in your house can effect how much flour needs to be added.  Start with the 3 1/2 cups, and add more, 1 Tbsp at a time, if needed to get a soft, slightly sticky dough.
Leftover rolls can be kept for up to 1 week in the refrigerator, or frozen for 2-3 months.  Warm in 300-325 F degree oven for 10 minutes or so to reheat.
Nutrition Disclaimer
The Chunky Chef is not a dietician or nutritionist, and any nutritional information shared is an estimate. If calorie count and other nutritional values are important to you, we recommend running the ingredients through whichever online nutritional calculator you prefer. Calories can vary quite a bit depending on which brands were used.
Recipe slightly adapted from Sally's Baking Addiction