Everything you love about the soft, pillowy, classic dinner rolls from scratch, but made in SO much less time. Less than 1 hour is all you need!
Yes… you read that correctly… yeast dinner rolls… in LESS than 1 hour!!  Craziness!!  This recipe is a game changer, an eye opener, one for the books… seriously, it's just awesome.
I have an unnatural obsession with bread, and dinner rolls… well sometimes I'd like to make my dinner JUST be the rolls.  But, alas, I don't have a lot of patience, and during the day, usually not much time.
Like many of you, most days, I just don't have the time or gumption to make dough and let it rise for hours and hours.  So typically, I reach for some frozen rolls.  From now on, I'll be making these!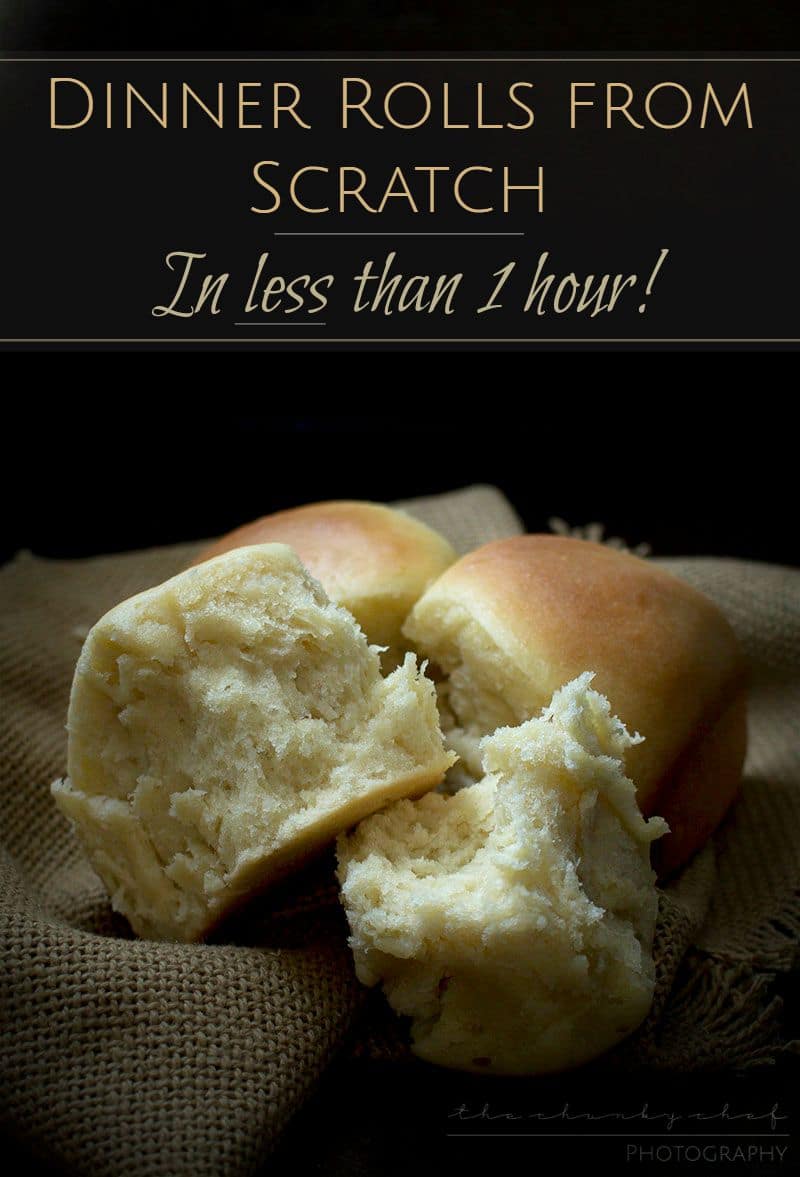 I found this recipe gem on Pinterest, and whoa… I knew once I made them, I HAD to share them with you all 🙂  These rolls were featured at my family's Thanksgiving, and they went FAST!  I couldn't believe how simple they were to make… no fussing, rolling out, kneading for 10 minutes… nope, none of that.  
Just add the oil, sugar, warm water and yeast to the bottom of your stand mixer, stir and let sit for 15 minutes.  Now if you don't have a stand mixer, don't fret.  You could do this in a large mixing bowl as well 🙂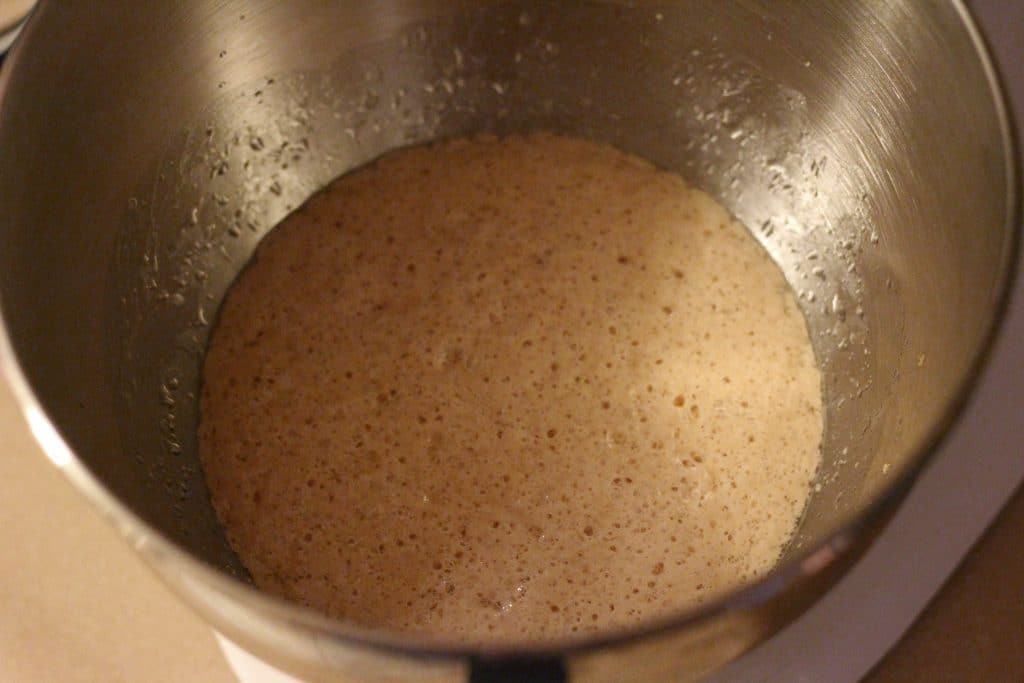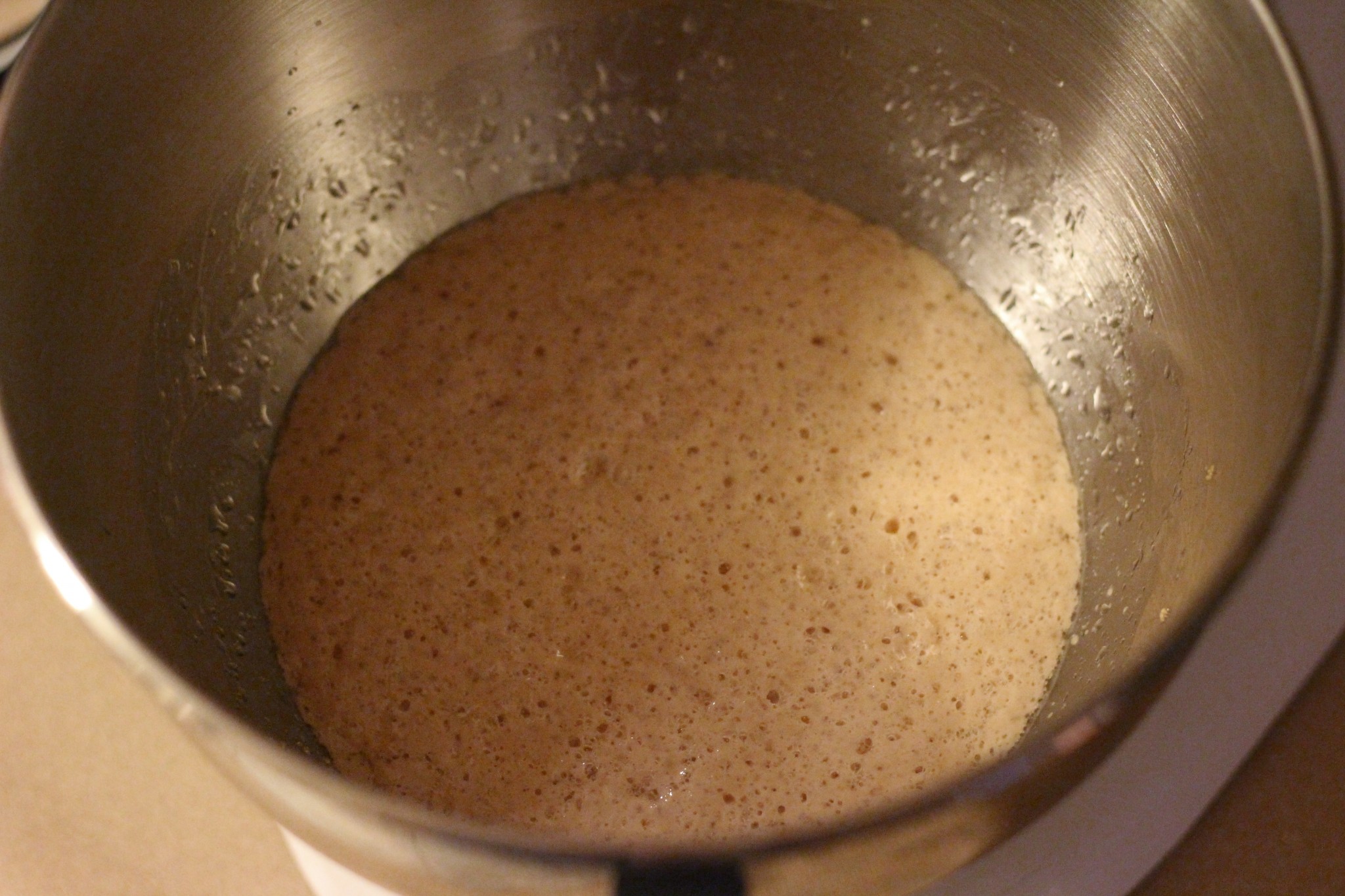 Once it has set for 15 minutes and looks like the picture above, add your egg, salt and flour.  The recipe calls for bread flour, which I realize many of you may not have laying around in your pantry… you CAN make this with regular ol' all purpose flour… the rolls will be a little heavier and denser, but will still turn out.
I've made them both ways and do prefer the bread flour, as it creates a lighter, fluffier roll, but don't feel like you absolutely have to run out and buy bread flour 🙂
Turn on your mixer, fitted with a dough hook attachment, and mix slowly to incorporate flour.  Once incorporated, turn speed up to medium and let it mix/knead for a few minutes until dough is smooth.  If you don't have a stand mixer, use a wooden spoon or spatula to mix until dough is smooth.  This will take some elbow grease, but is do-able.
Turn off your mixer, lightly flour your counter or other surface and your hands.  Caution… this dough is STICKY!  Elastic and sticky… don't worry, it's supposed to be that way.  It is kind of a pain to get it all out of the mixing bowl, but the end result is worth it 😉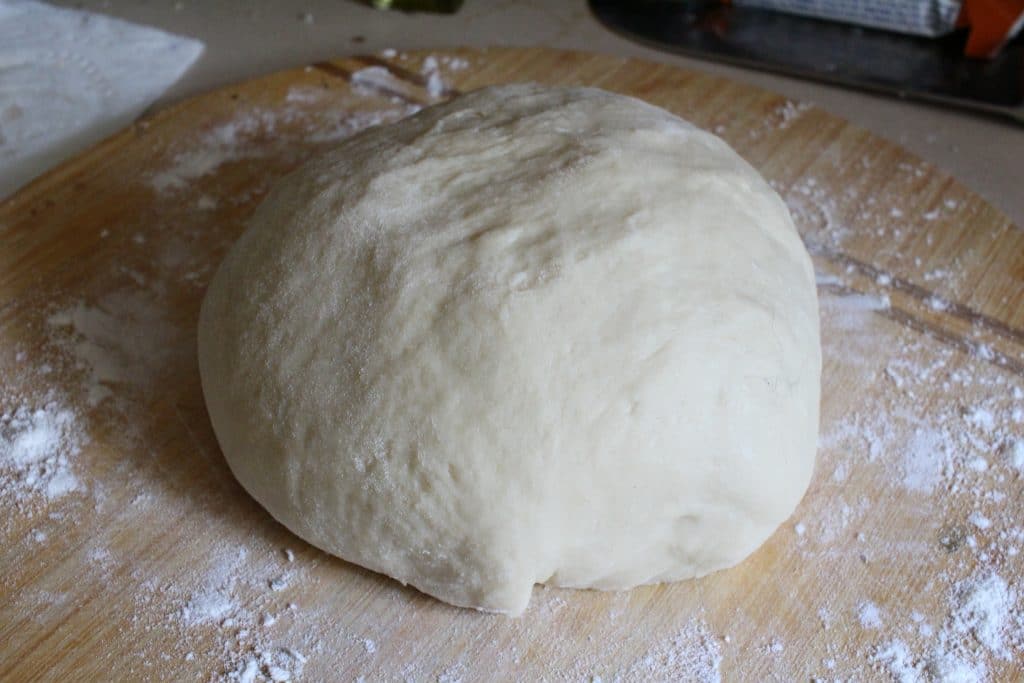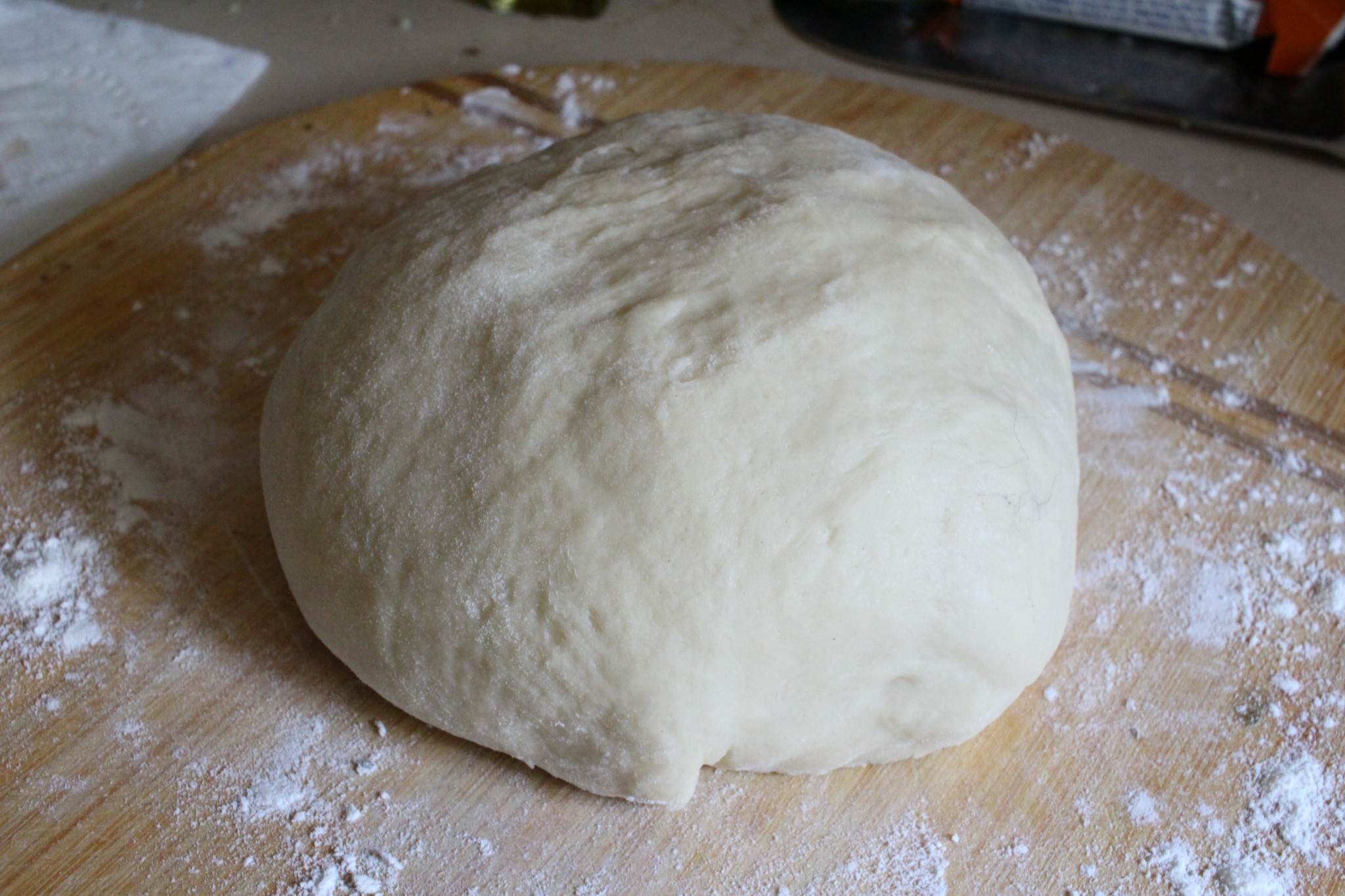 Shape dough into a round, cut in half, and cut each half into 6 pieces.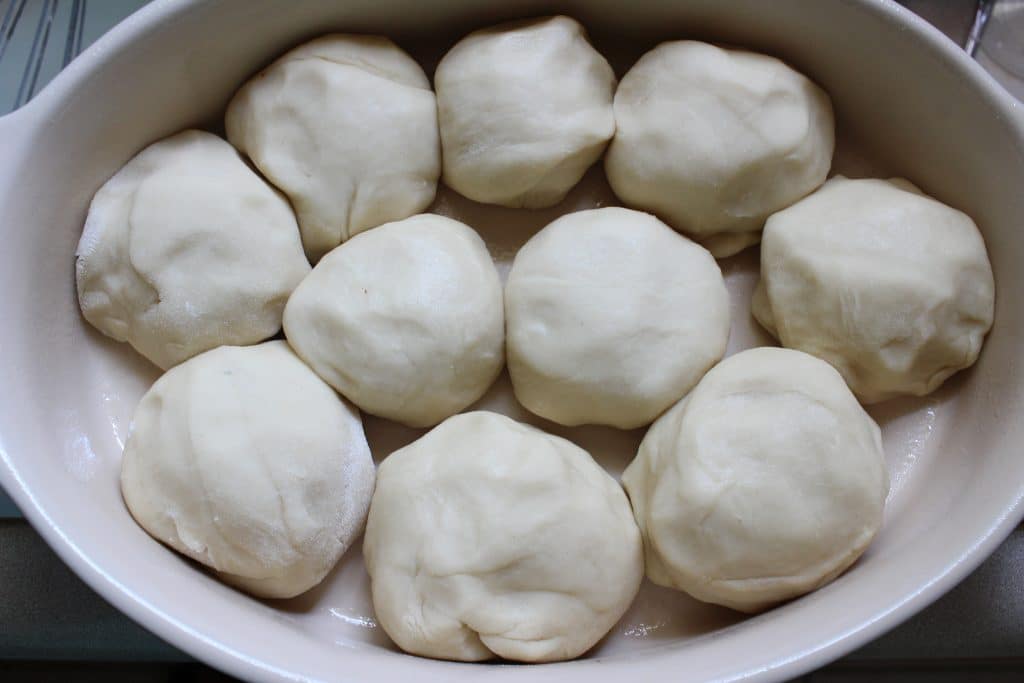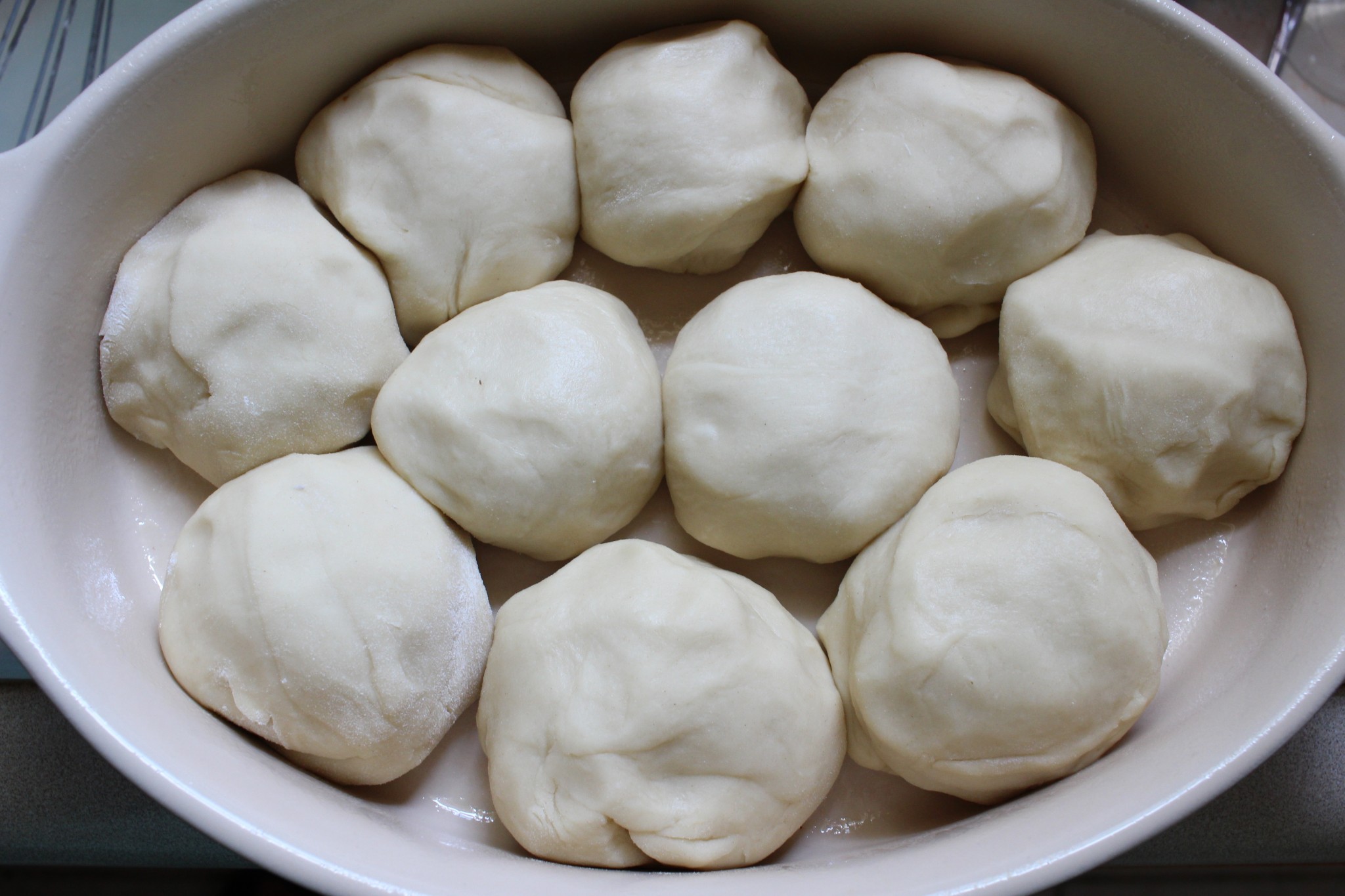 Roll each piece into a ball shape (doesn't have to be perfect), and place in a greased 13×9 pan.  Granted, the photo above isn't a 13×9 pan… all mine were being used/soaking when I made these the last time, but any pan will do.  I made my balls a little larger since only 10 would fit in my pan.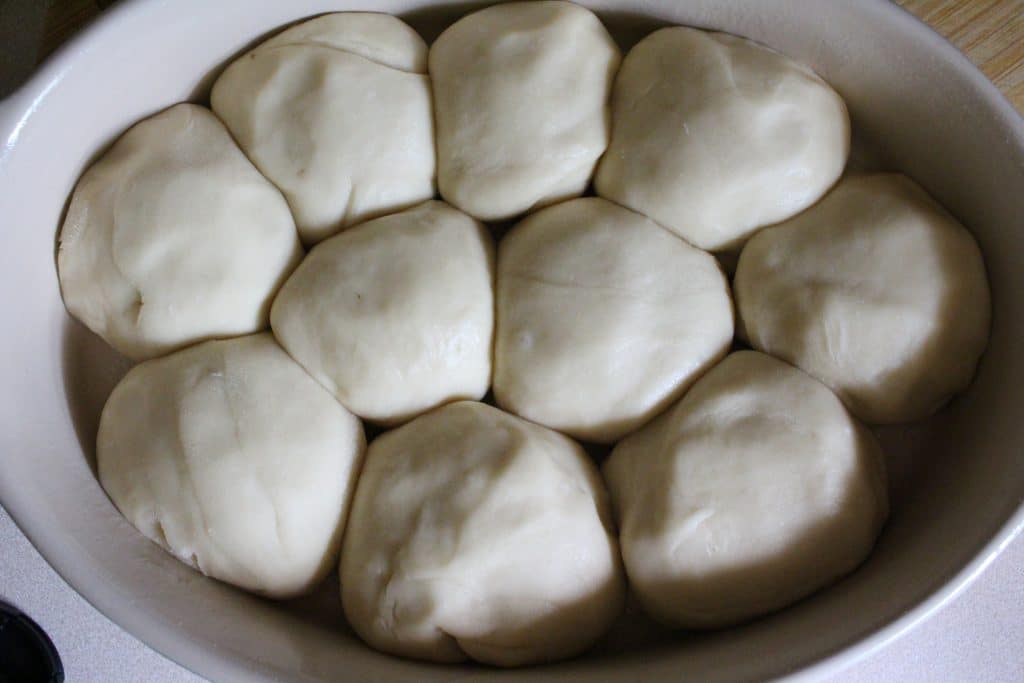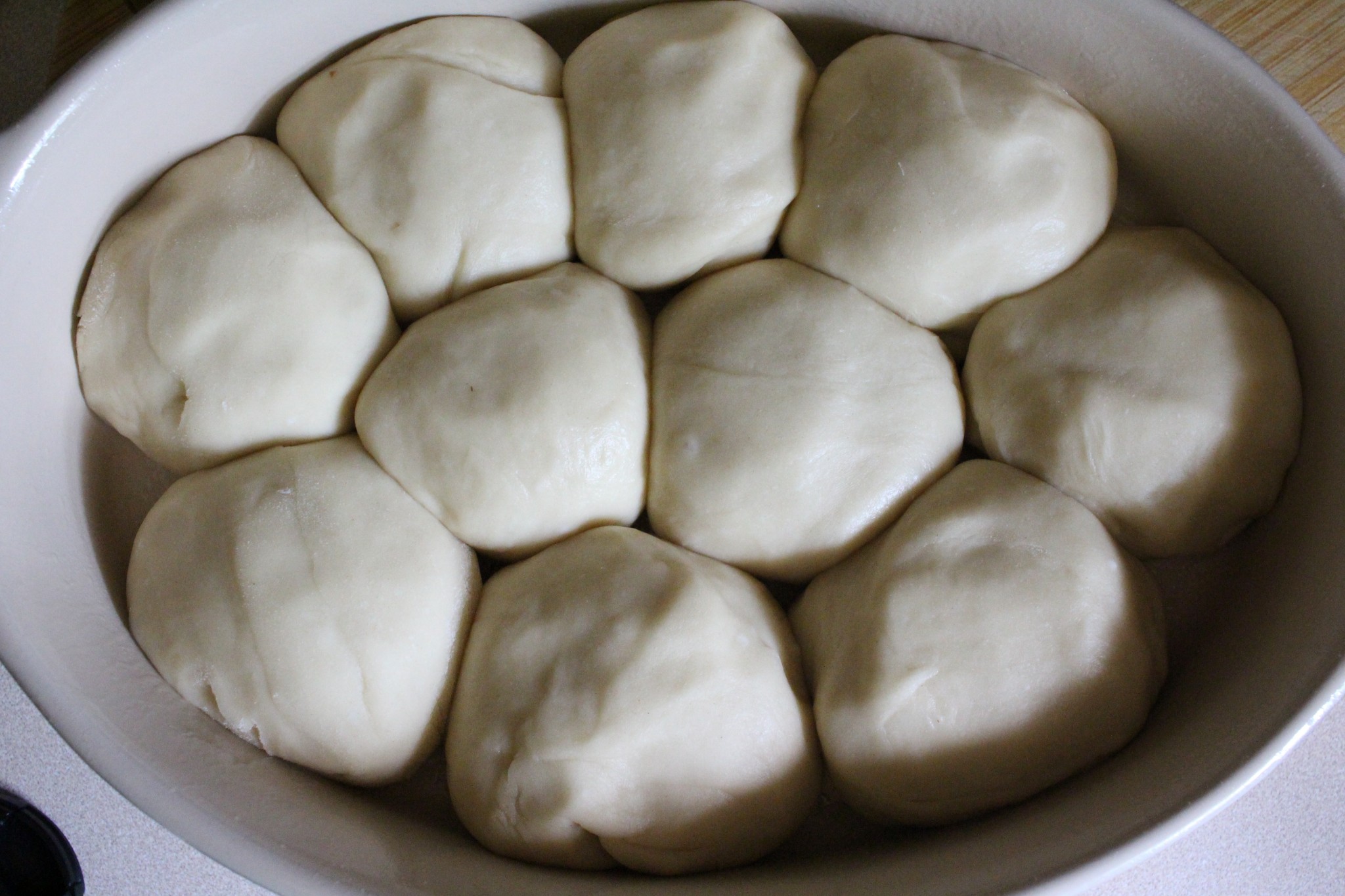 Cover and let them rise for 10 minutes.  That's right… just 10 minutes!!  You can see they don't really rise all that much, just sort of puff up a bit.
Preheat your oven to 400 degrees while the rolls are rising.  After 10 minutes, just pop the pan into the oven for 12-15 minutes.  If desired, you can brush the tops of the rolls with melted butter once they come out of the oven.  It's optional… but c'mon… melted butter on rolls?  That's definitely a must in my book!  You'll be left with these beauties…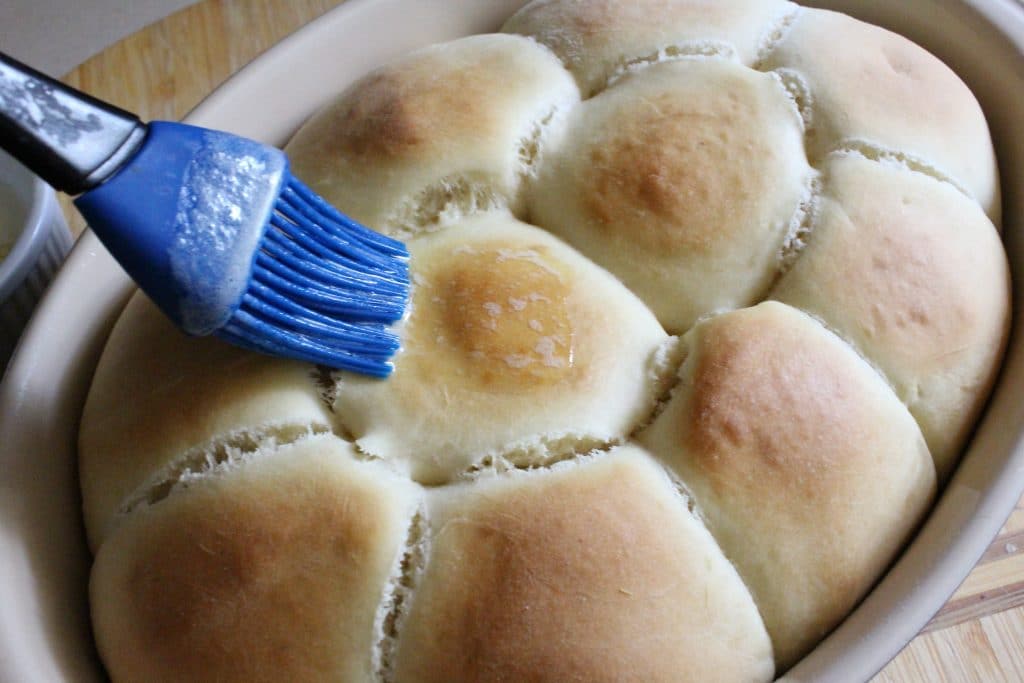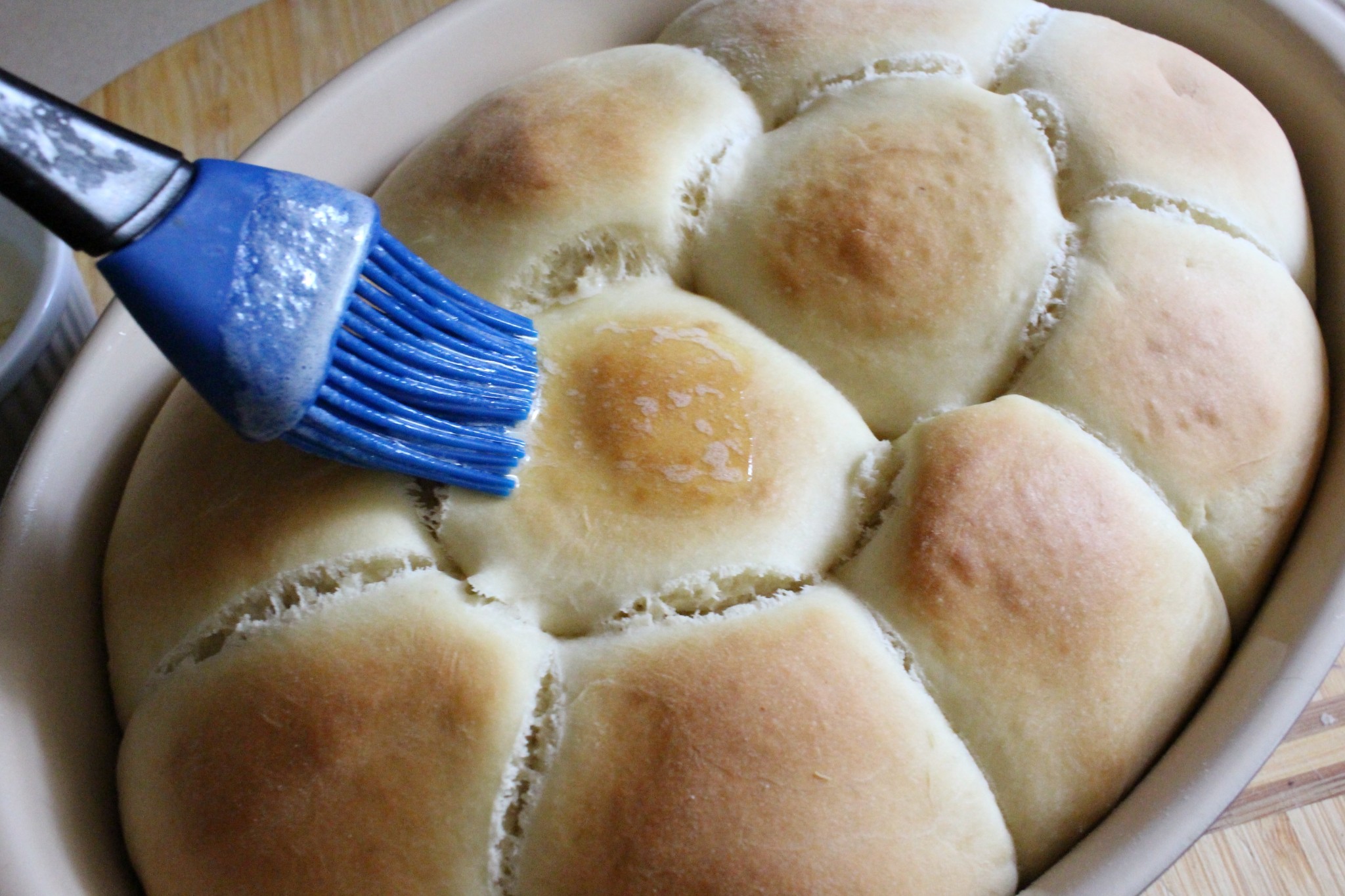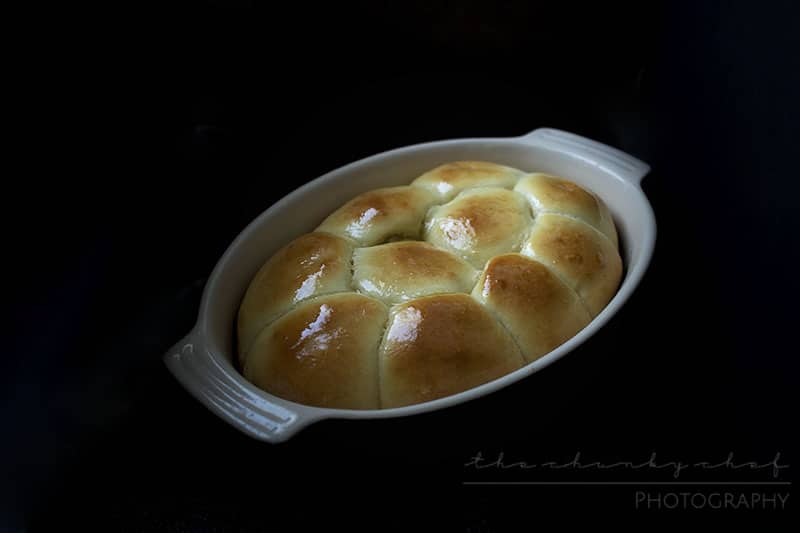 My favorite variation of these rolls is to add about a tablespoon of honey to the dough.  Slightly sweet and buttery, they're perfect!  Don't get me wrong, they're delicious as is, but they can be adapted to just about any type of roll you like!
If you'd like a garlic and herb roll, add in some garlic powder and fresh or dried herbs… add in some cheese to the dough as it mixes or even sprinkle it on top of the rolls before they bake.
These are just about the perfect dinner rolls for any occasion from a casual weekday dinner to your holiday meals 🙂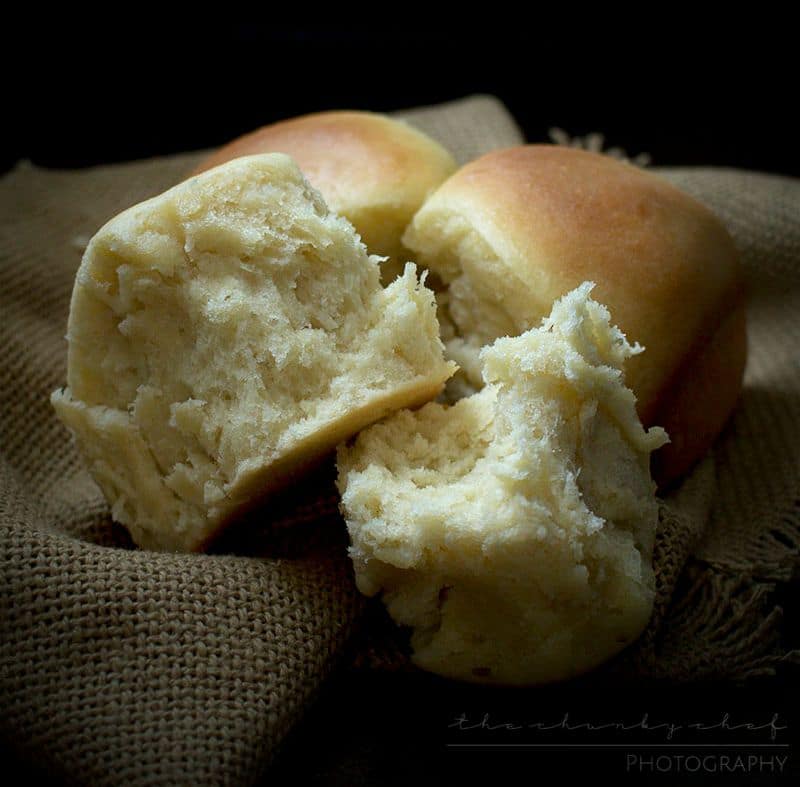 I know you all will love these dinner rolls!!
Did you make this? Be sure to leave a review below and tag me @the_chunky_chef on Facebook and Instagram!
Everything you love about the soft, pillowy, classic dinner rolls from scratch, but made in SO much less time. Less than 1 hour is all you need!
Ingredients
1 cup + 2 Tbsp warm water
1/3 cup vegetable oil one third
1/4 cup sugar
2 Tbsp dry active yeast this is between 2 and 3 packets
1 1/2 tsp salt
1 egg
3 1/2 cup bread flour (all purpose works as well for a heavier, denser roll)
Instructions
In your mixer bowl combine the water, oil, yeast, and sugar and allow it to rest for 15 minutes.

Using your dough hook attachment, slowly mix in the salt, egg and flour.

Knead with hook until will incorporated and dough is soft and smooth (about 2-3 minutes)

Preheat oven to 400 degrees.

Form dough into a round, cut in half, and cut each half into 6 pieces... giving you 12 pieces. Shape into 12 balls and then place in a greased 13x9 pan and allow to rest for 10 minutes.

Bake in oven for 12-15 minutes, until golden brown. Brush baked rolls with melted butter if desired.
Want to save this recipe for later? Click the heart in the bottom right corner to save to your own recipe box!
Chef Tips
** optional add-ins: a drizzle of honey, sprinkle of cheese, or a sprinkle of dried herbs and garlic powder
** Recipe from Your Homebased Mom
Nutrition Disclaimer
The Chunky Chef is not a dietician or nutritionist, and any nutritional information shared is an estimate. If calorie count and other nutritional values are important to you, we recommend running the ingredients through whichever online nutritional calculator you prefer. Calories can vary quite a bit depending on which brands were used.
NEVER MISS A CHUNKY CHEF RECIPE: