Hands down, the BEST way to cook chicken wings. Dry rubbed, smoked to perfection, basted with a bourbon bbq sauce, then charred until crispy!
Having a BBQ?  Check out my insanely easy 3-2-1 Smoked Ribs, Perfect Potato Salad, and mouthwatering (and award-winning!) Mac and Cheese.
This post is made in partnership with Traeger.  As always, my opinions are my own.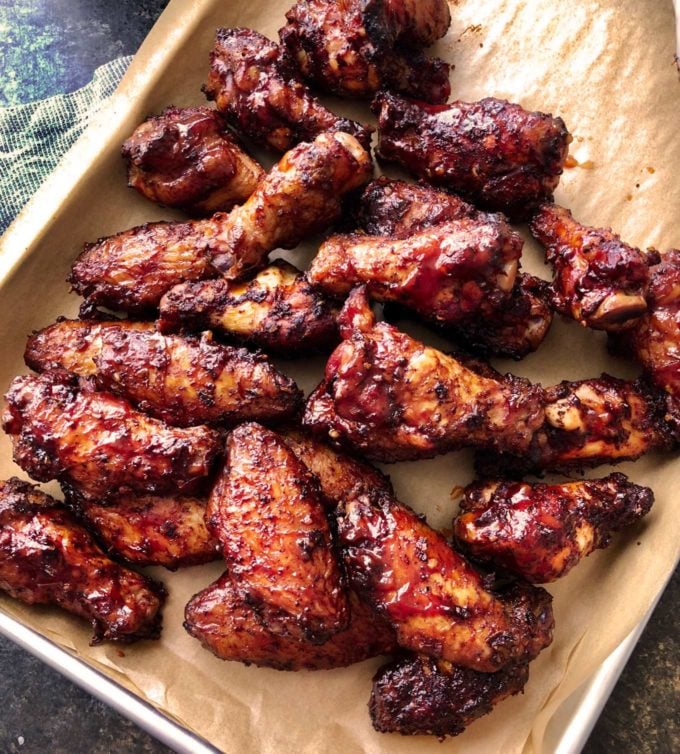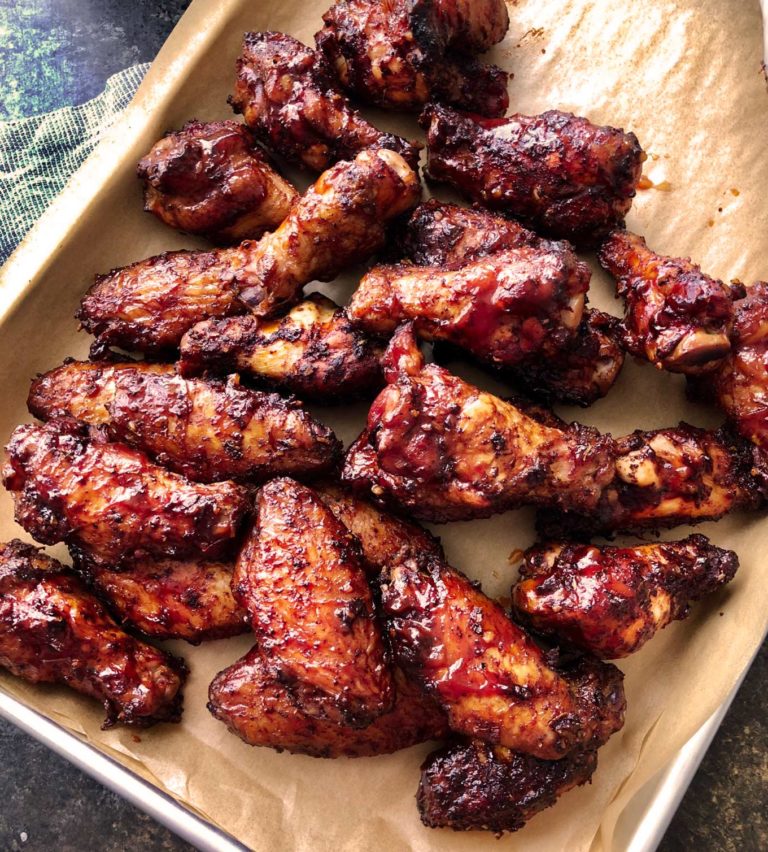 Y'all.  I officially have a new obsession.  Smoking!  I've always watched bbq competitions in awe as the pit-masters created absolutely masterpieces of deliciousness, and never thought I could create the same quality at home.  I was wrong!
We have a Traeger wood pellet grill and OMG I'm in love.  Not only does it yield the most amazing foods, but it's so incredibly easy to operate!
This is coming from the woman who's never cooked a single thing on a traditional propane or charcoal grill, and wouldn't even know how to… so you know it's easy!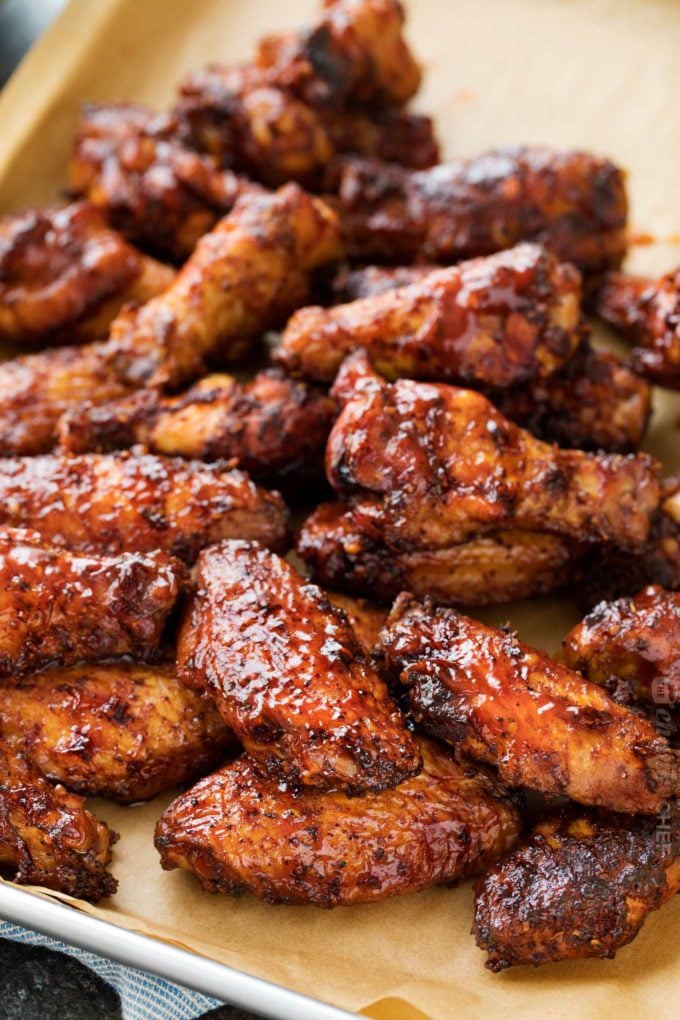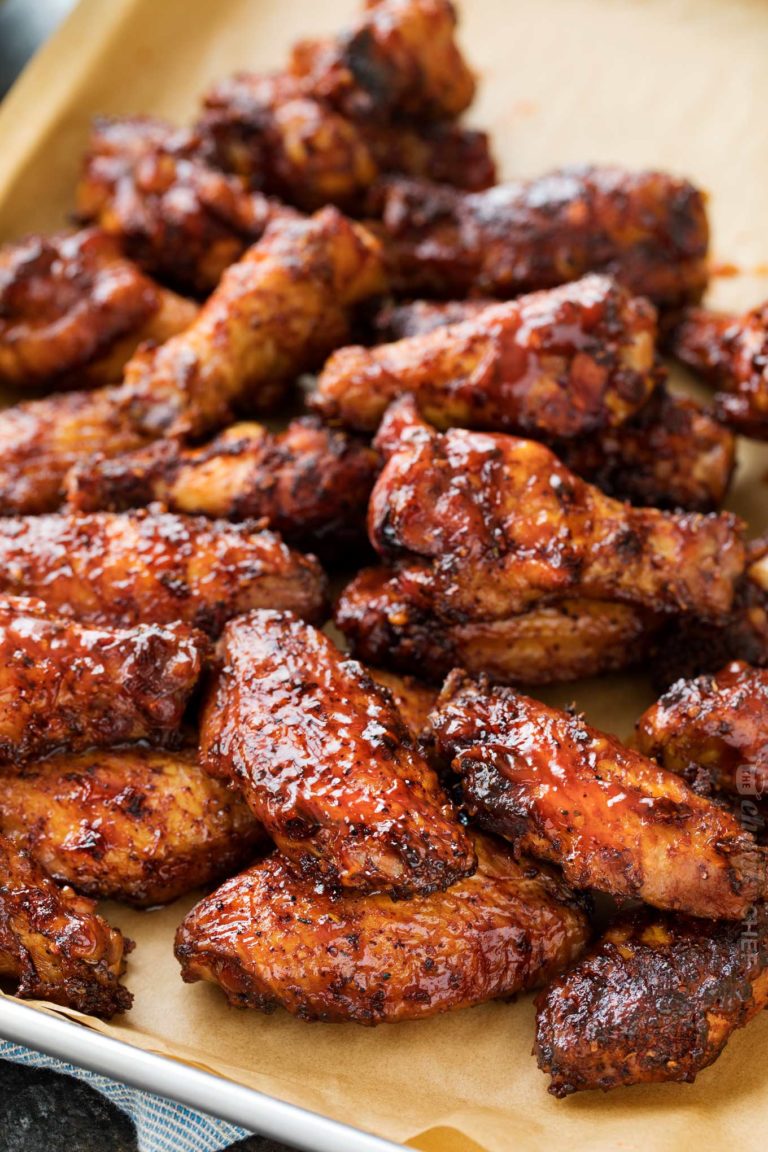 HOW TO SMOKE CHICKEN WINGS
First you'll want to select your wood.  My smoker is a wood pellet grill, so I used hickory wood pellets.  Hickory is a good all-purpose wood, but applewood, pecan or even cherry would work as well!  
Preheat your smoker.  All smokers are different, so consult your manual for specific directions.  On a Traeger wood pellet grill, open the lid and select the SMOKE setting and let it preheat and smoke for 5-10 minutes.
Pick the perfect temperature.  A lot of people smoke chicken wings at 225 F degrees, which will absolutely work.  I chose 250 F degrees as that's what my favorite restaurant does.
Choose a smoking time.  Depending on the size of your wings and the smoking temperature, this can take anywhere from 2 – 3 1/2 hours.  Use a meat thermometer to check for an internal temperature of 165 F degrees to make sure the chicken wings are finished.
Crisp them up.  Crank up your smoker as high as it goes and really crisp and char the wings.  If you don't like how crispy they're getting, check out my 2 additional tips for crispy skin in the recipe notes section below.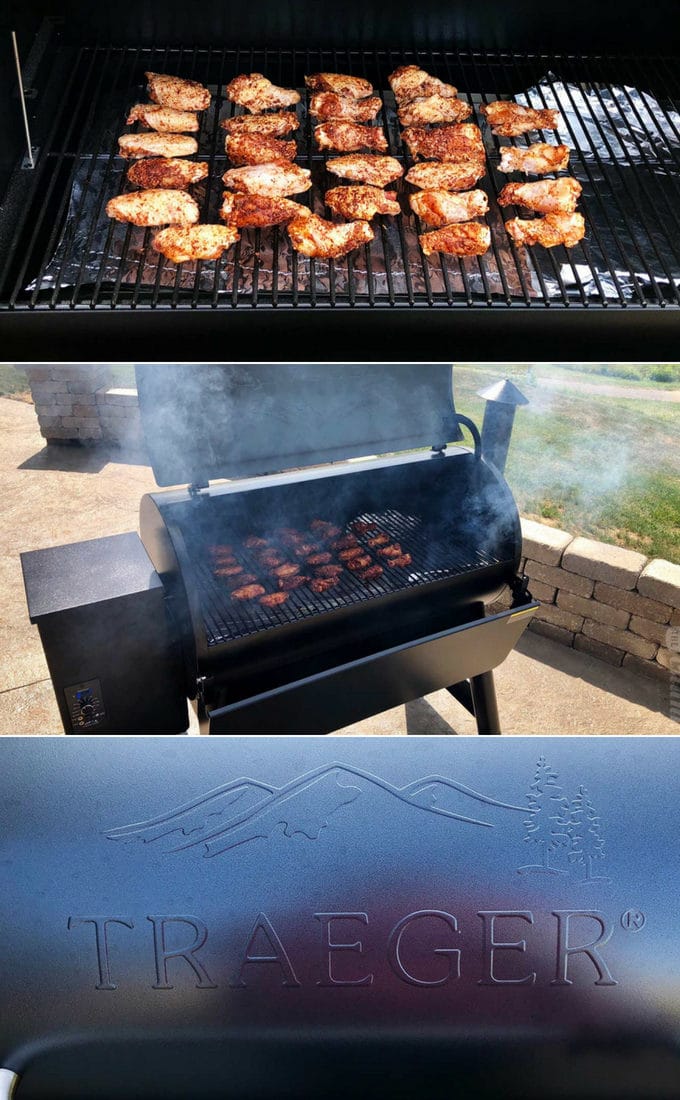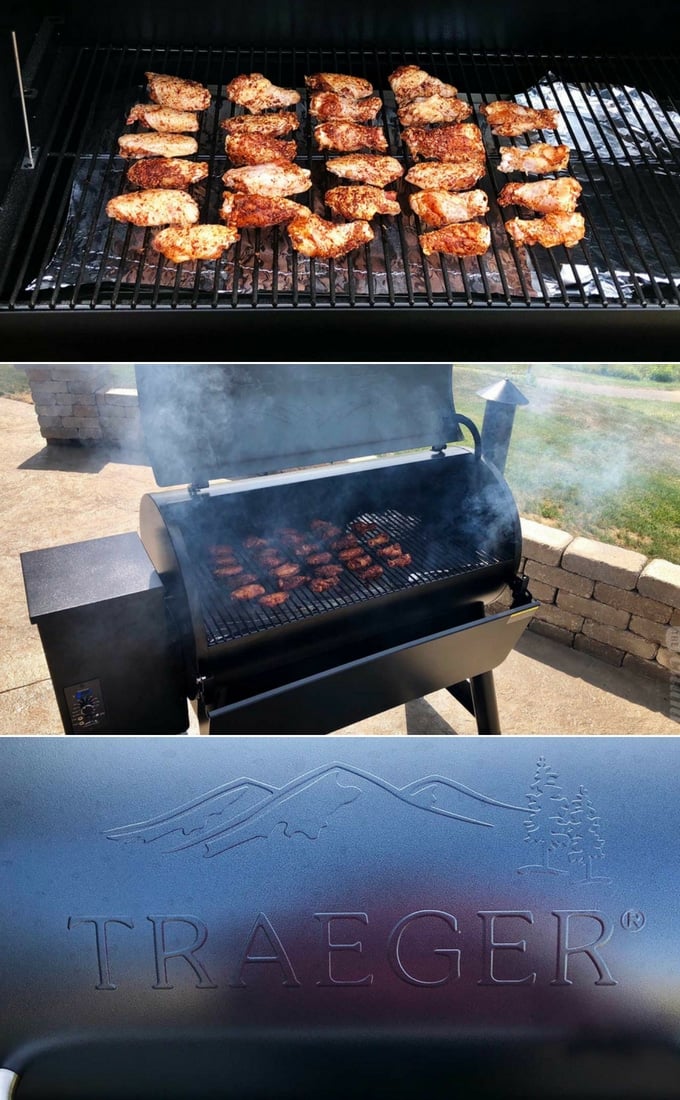 SMOKING CHICKEN 101
I like to smoke my chicken wings at 250 F degrees, and how long it can take depends on how big the wings are.  My wings were pretty big, so they took 2.5 hours.  If they were on the smaller side, I think 2 hours or a little under that would have worked just fine.  The magic number you're looking for is 165 F degrees internal temperature.  As long as the wings hit that, you're good to go!
PRO-TIP:  If you're going to be grilling or smoking, you'll want to pick up an instant read meat thermometer.  They're fairly inexpensive these days and are essential to knowing when your food is finished cooking!
NO SMOKER?  NO PROBLEM
Not everyone has a smoker, but you still deserve great BBQ!  It doesn't have quite the same flavor, but here are a few tips to give your regular grilled wings a smoke-like taste.
Pick up a disposable (foil) loaf pan.  You're going to make a make-shift smoker box with that pan and some aluminum foil.
You'll also need some wood chips (not pellets).  These can be purchased from most home improvement stores (near where they sell the grills) and online.
Make sure you soak the wood chips in water for at least 30 minutes; and longer is better.
Turn on your grill, lighting only 1 burner, and try to set it to about 300 degrees (using the lid thermometer if you have one).
Add soaked wood chips to loaf pan, and top pan with a sheet of aluminum foil.  Using a knife, carefully cut 15 small slits in the foil, to allow the smoke to escape and permeate the chicken wings.
Place pan on the grate over the lit burner.
Add chicken wings to the grates where the burners are not lit.
Cook about 2-2/12 hours, or until internal temperature reaches 165 F degrees.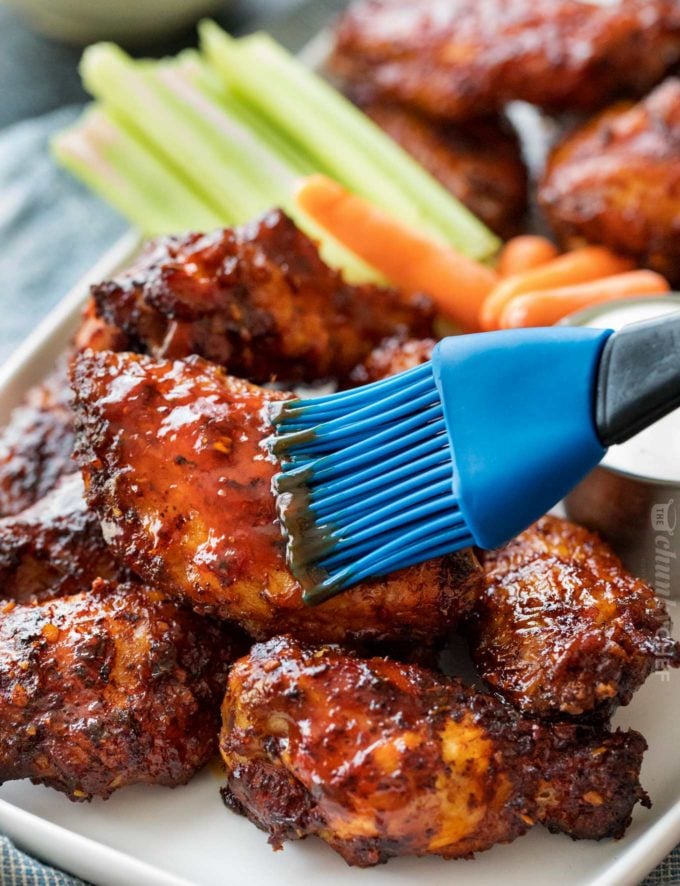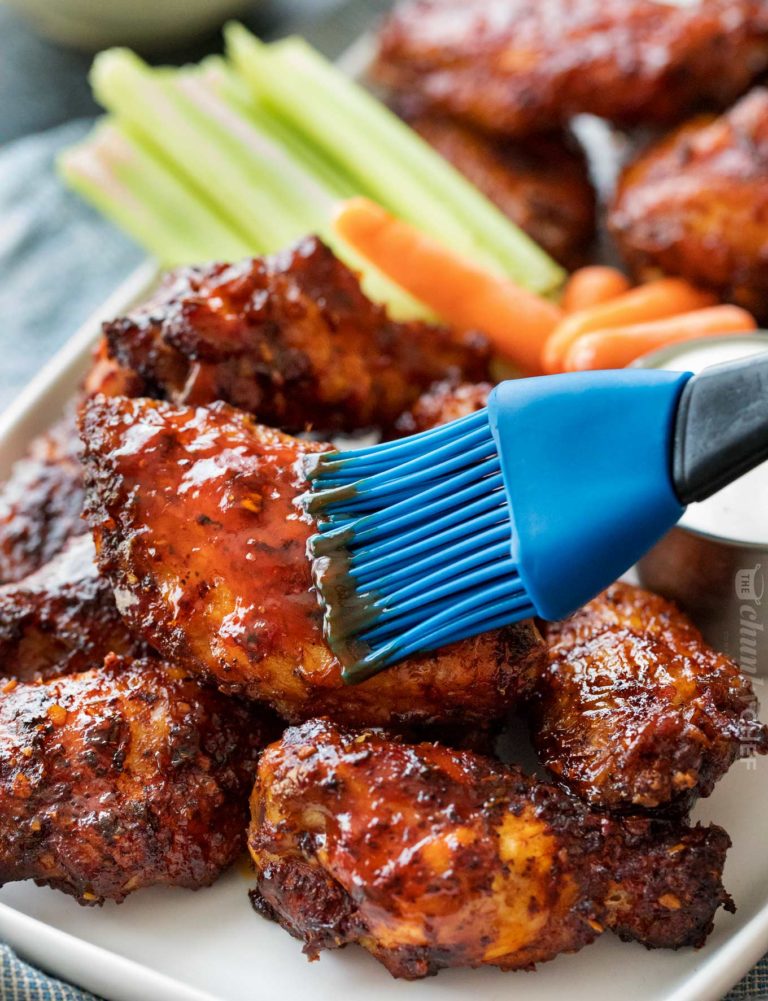 When Traeger reached out to partner with me, I was excited!  And intimidated, but I figured it was time to put on my big girl pants, because I was going to learn how to smoke!  These wings were my first introduction into the world of smoking, and literally the next day I was texting my husband about alllllll the things I was planning to smoke.  It's a LONG list.
My inspiration for these bad-ass wings comes from a local restaurant here called Broadway Barrel House.  They have the most amazing smoked wings, that my husband and I get every single time we go there.  I knew the wings there were dry rubbed and smoked, then slathered with a bourbon bbq sauce, so I set out to attempt to replicate that.  It's not exact, or even a copycat, just my spin on it.The bourbon bbq sauce is a little smoky, a little sweet, a little spicy, and a whole lot of amazing!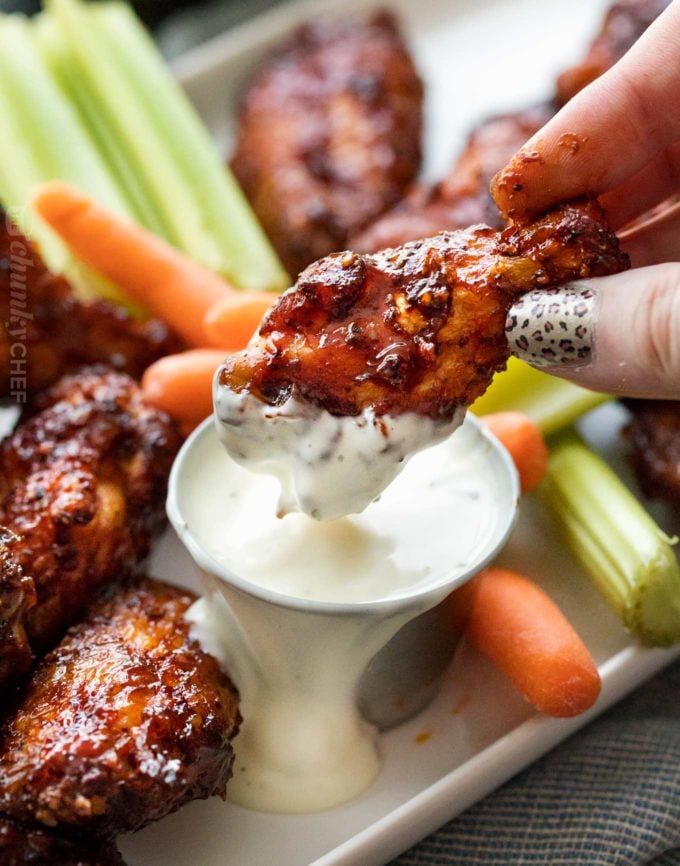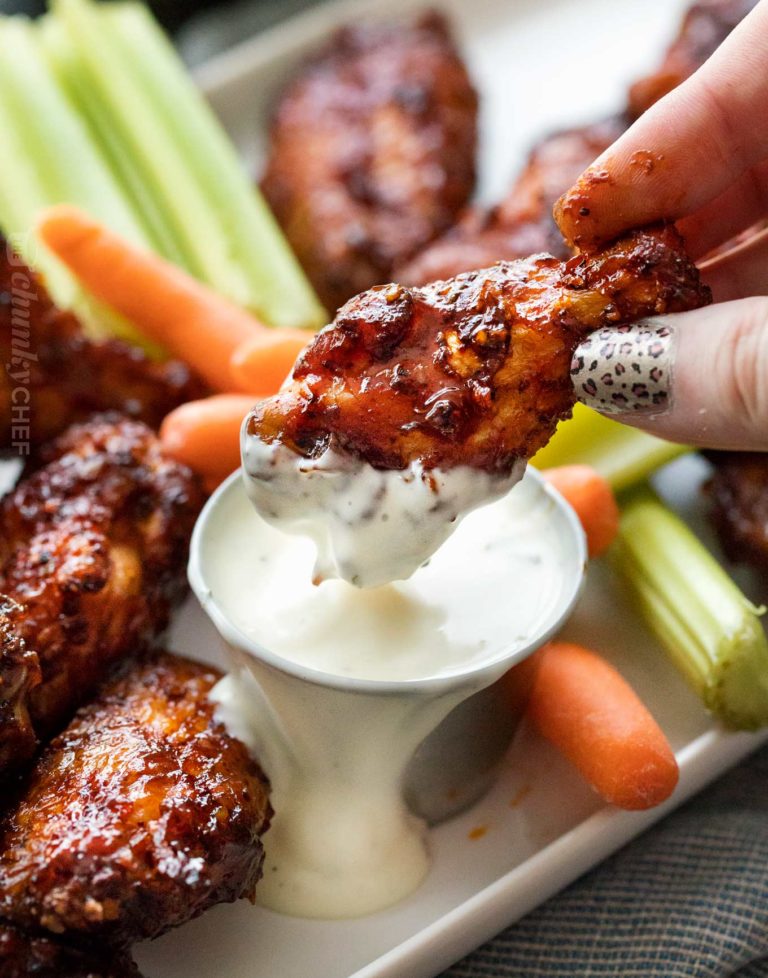 Words can't even describe to you how incredibly delicious these wings are.  They're incredibly smoky, with a sticky sweet/spicy glaze, and I'm telling you, you will NOT be able to just eat one!  Make these smoked chicken wings for a party and watch them disappear!
HELPFUL TOOLS
OTHER GREAT CHICKEN WING RECIPES
Dry-Rubbed Baked Chicken Wings
Slow Cooker Honey Buffalo Wings


BE SURE TO SCROLL DOWN TO CHECK OUT OTHER READERS' COMMENTS!
AND DON'T FORGET, IF YOU'VE MADE THIS RECIPE, LEAVE A COMMENT AND PLEASE GIVE IT A STAR RATING!
Post originally posted in July 2018, and has been updated with additional information.
Did you make this? Be sure to leave a review below and tag me @the_chunky_chef on Facebook and Instagram!
Servings:
6
servings (as an appetizer)
(hover over # to adjust)
Hands down, the BEST way to cook chicken wings. Dry rubbed, smoked to perfection, basted with a bourbon bbq sauce, then charred until crispy!
Ingredients
BOURBON BBQ SAUCE
1/2 medium sweet yellow onion , finely minced
5 cloves garlic , finely minced
1/2 cup bourbon (use a good quality)
1/4 cup tomato paste
2 cups ketchup
1/2 cup packed light brown sugar
1/3 cup apple cider vinegar
1/4 cup Worcestershire sauce
2 Tbsp liquid smoke
1/2 Tbsp kosher salt
1/2 tsp black pepper
1/4 tsp cayenne pepper
a few dashes of hot sauce (optional)
Instructions
BOURBON BBQ SAUCE
Add a drizzle of olive oil to a saucepan over MED heat. Add onion and garlic and cook about 5 minutes. Add in bourbon and continue cooking about 3 minutes.

Add tomato paste and whisk to break it up. Add all remaining sauce ingredients and whisk to combine. Increase heat to MED-HIGH and bring to a boil. Reduce heat to MED-LOW or LOW and simmer for about 15-20 minutes.

Pour sauce through a fine mesh sieve to strain out onion and garlic pieces if you like a smooth, glossy sauce. Set aside and cool. Store leftover bbq sauce in an airtight container in the refrigerator for 2-3 weeks.
SMOKE CHICKEN WINGS
Pat chicken wings dry with a clean paper towel. Add wings to a large mixing bowl and toss with vegetable oil. Add rub and massage into the wings, making sure each wing is coated.

Add hickory wood pellets to hopper. Turn on smoker, open lid and set to the SMOKE setting. Heat on SMOKE, with the lid open, for 5-10 minutes, until very smoky. Add chicken wings to oiled grill grates, set smoker to 250 F degrees. Close smoker lid and smoke for 2 hours 30 minutes, or until chicken wings reach an internal temperature of 165 F degrees. Use an instant read meat thermometer to insure accurate cooking temperatures.

Change smoker setting to HIGH and baste chicken wings on both sides with bourbon bbq sauce. Cook wings for 5 minutes, then flip them over and cook 3-5 minutes on the other side.

Select SHUT DOWN on smoker and remove chicken wings to a foil or parchment lined plate or baking sheet. Let rest 5-10 minutes. Turn smoker off and unplug it.

Eat wings as is, or brushed with additional bbq sauce. Dip in blue cheese or ranch dressing and serve with celery and carrots for a traditional experience.
Want to save this recipe for later? Click the heart in the bottom right corner to save to your own recipe box!
Chef Tips
For extra crispy chicken wing skin, there are two options. 
First, lay UNCOOKED chicken wings on a baking sheet and refrigerate, fat side up, uncovered for several hours or overnight.  This dries out the skin which allows it to crisp more.  Cook as directed. 
Secondly, you can bring the cooked wings inside and blast them under a super hot broiler for a few minutes.
** Recipe developed and tested using a Traeger wood pellet grill.  If using another brand, use your discretion when it comes to settings, as they will likely not be exactly the same as mentioned here.
Nutrition Disclaimer
The Chunky Chef is not a dietician or nutritionist, and any nutritional information shared is an estimate. If calorie count and other nutritional values are important to you, we recommend running the ingredients through whichever online nutritional calculator you prefer. Calories can vary quite a bit depending on which brands were used.