Perfect Potluck Potato Salad Recipe
The perfect potato salad truly does exist, and it's incredibly easy to make!
My version of potato salad has many nods to the classic version, with a creamy dressing, crunchy diced celery, diced hard-boiled eggs, and crisp sweet pickles.  It also has crunchy bacon, and I have a secret way to make the potatoes themselves incredibly flavorful, and never wet and mushy!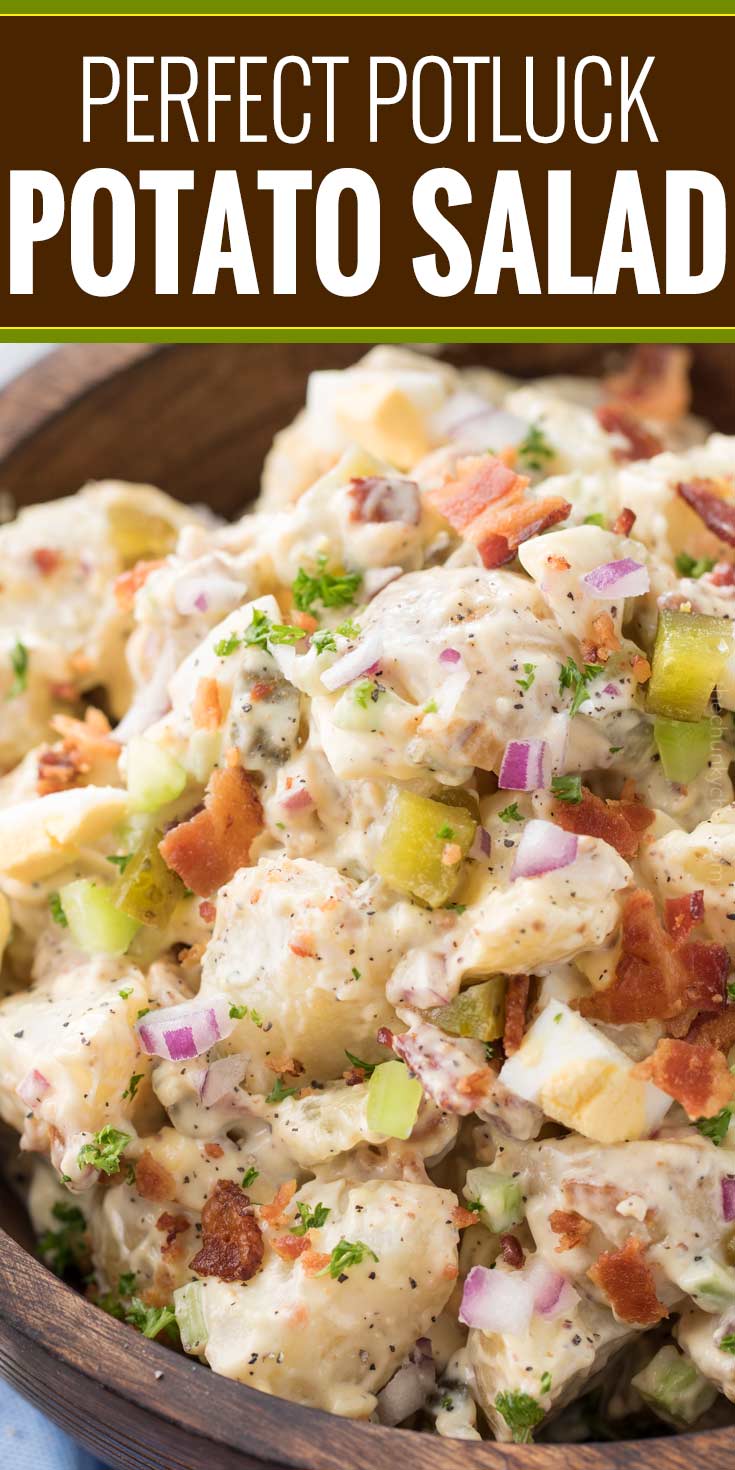 This is one of those recipes that I kept meaning to get up here on the blog, and somehow it always got pushed to the proverbial back burner.  I'd get new recipe ideas, or a great sponsored post and here we are about 9 months from when I wanted to post it!
Potato salad has always been something I was intimidated by.  I'd made it a few times, and it always seemed a bit wet, mushy, and every recipe I tried was LOADED with mayo.  I like mayo, but even I thought it was too much!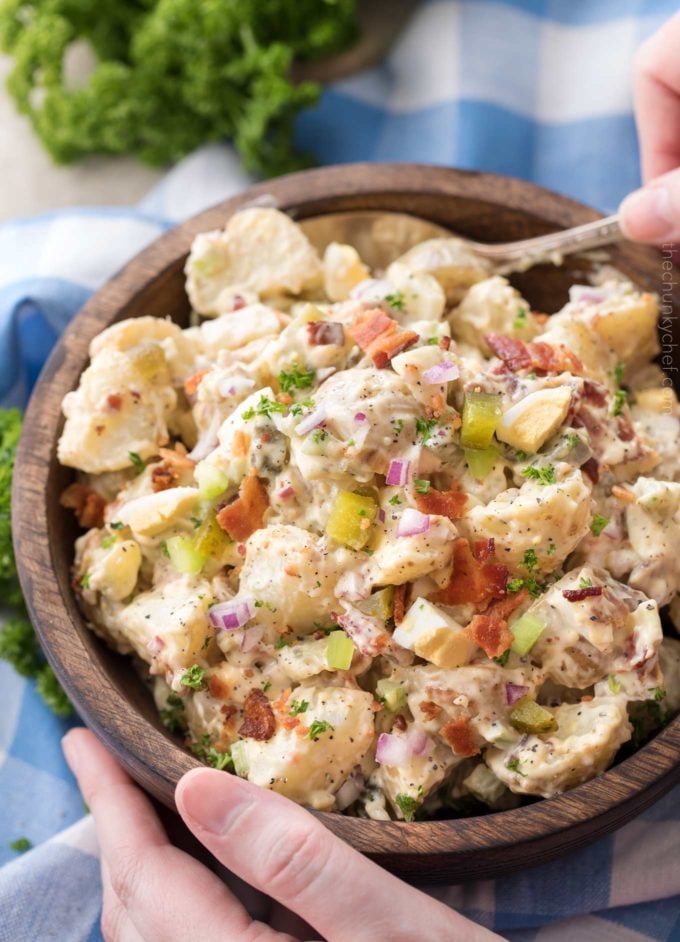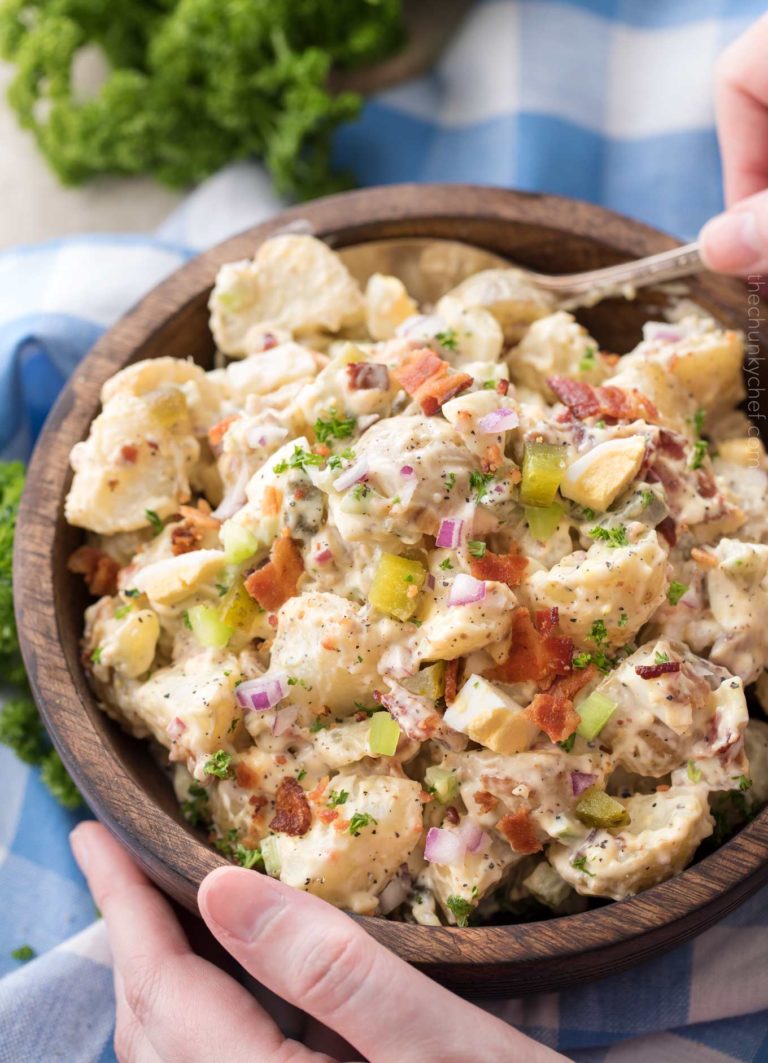 So I've been on a mission to make a potato salad that was worthy of the "perfect" title… and I've got it!  My version is definitely a nod to the classic with a mayo-based dressing, hard-boiled eggs, celery and pickles, but with fun twists from a whole package of bacon (ohhhh yeah, a whole 12oz package!), crisp red onion, a jazzed up dressing, and ultra flavorful potatoes.
Other potato salad recipes I'd tried only had the flavor in the dressing and stir ins (like the bacon, eggs, etc).  The potatoes were completely flavorless!  So how do we add flavor to those potatoes?
First, when boiling the potatoes, add plenty of salt.  In the recipe I say to use 1 1/2 tsp, but in reality you could use a little more.  Basically you want to do the same thing you do for pasta.  Adding the salt flavors the potatoes from the inside out!
When the potatoes are draining and cooling, toss them with a little vinegar.  I usually use apple cider vinegar because it has a more mild flavor.  After you add it, the potatoes will smell REALLY strongly of vinegar, but that's okay, once they're tossed with the dressing, it all mellows out in to a wonderful creamy, slightly tangy flavor that keeps you coming back for more!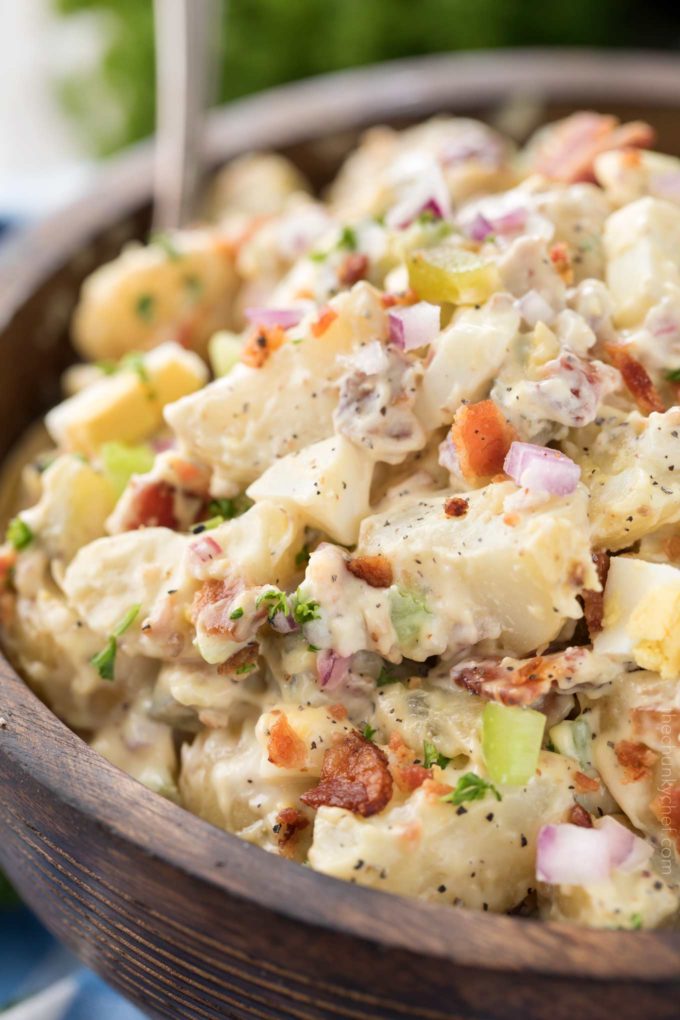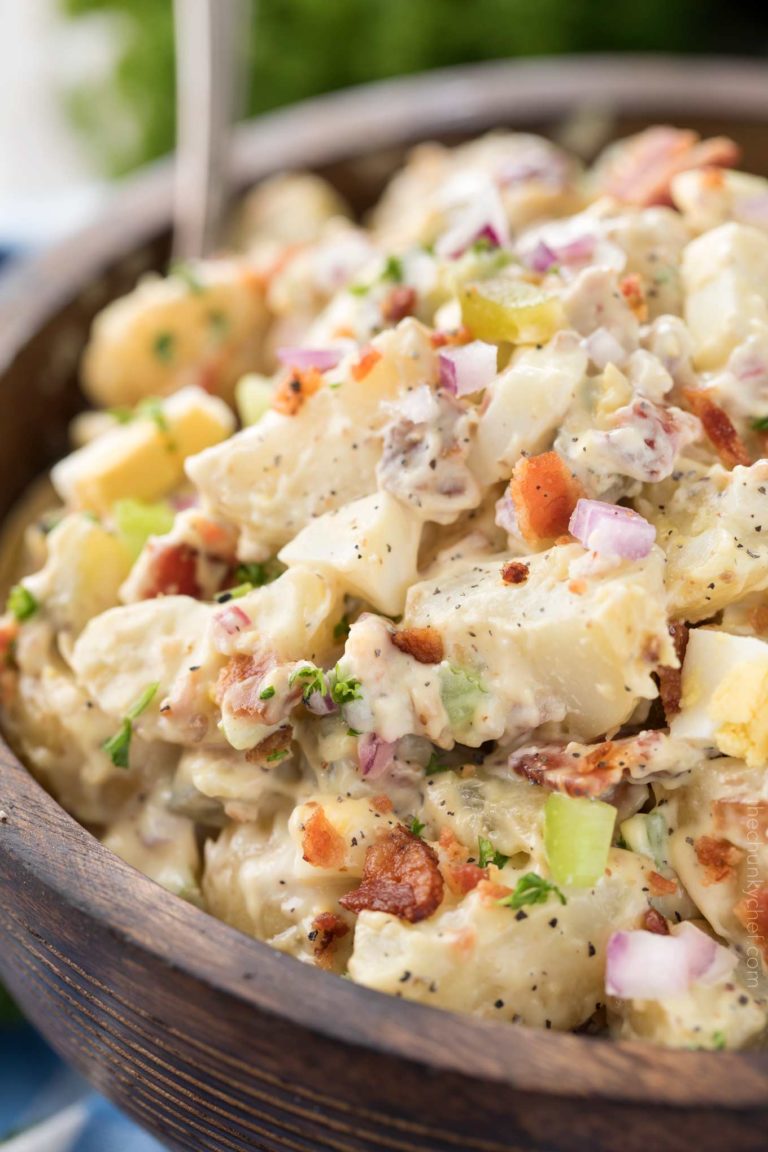 WHAT'S THE BEST KIND OF POTATOES FOR POTATO SALAD
I've found that waxier potatoes seem to hold up better and not be as mushy.  Starchy potatoes like russets break down a lot when cooked and they can make for a potato salad that is almost like mashed potatoes.  Baby red potatoes, baby Yukon gold, or baby white potatoes are my go-to's.  Actually you don't have to get the "baby" or "petite" varieties, I just like to because there's less chopping involved!
HOW TO COOK POTATOES FOR POTATO SALAD
Traditionally they're boiled, as they are for this recipe as well.  Add all cut potatoes to a pot, cover with water (about an inch above the tops of the potatoes), and bring to a boil over MED-HIGH heat.  Once they're boiling, adjust the heat so the potatoes are at a low-boil… meaning they're boiling, just not vigorously.  The foam created by boiling potatoes can boil over quickly, and it's a starchy mess to clean up, so keep an eye on them.  Boil about 10-15 minutes, until you can easily pierce one potato piece with a fork.
HOW TO AVOID A "WET" POTATO SALAD
Since the potatoes are boiled, they're naturally water-logged.  There's a simple two step process to avoid all that excess water going into your potato salad.
Drain potatoes in a colander.  Shake them a few times to get excess water out, then transfer potatoes right back into the pot you cooked them in, on the stove (with the burner off).  The hot pan eliminates the extra water for you!  In this recipe, this is where you'd add the vinegar and give them a stir.  Let potatoes sit for about a minute or so, stirring occasionally.
Transfer the potatoes back to the colander to cool.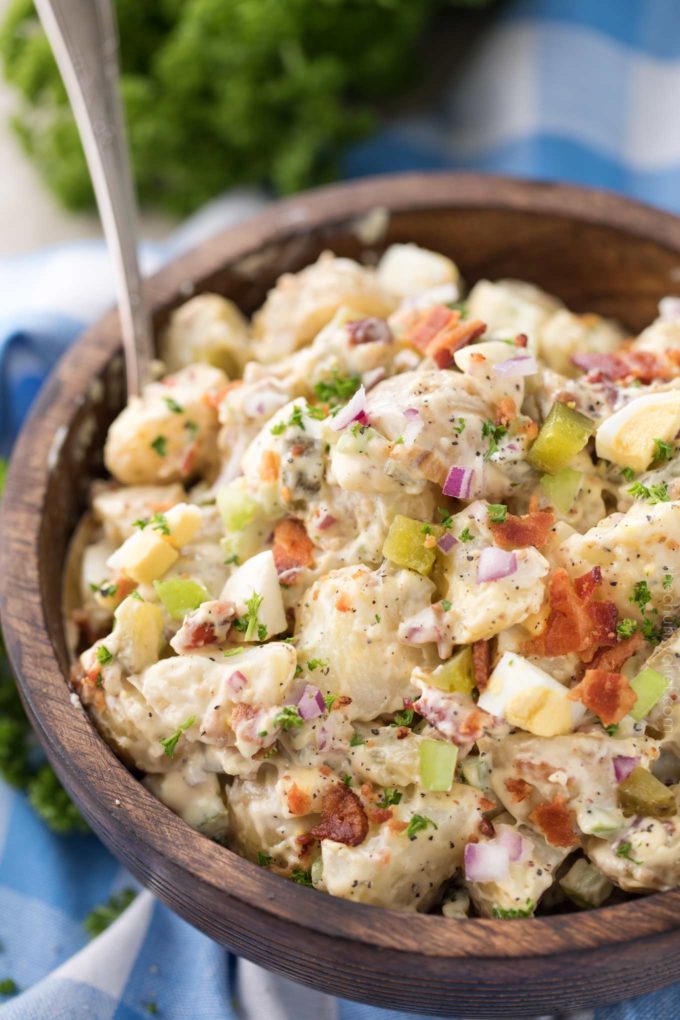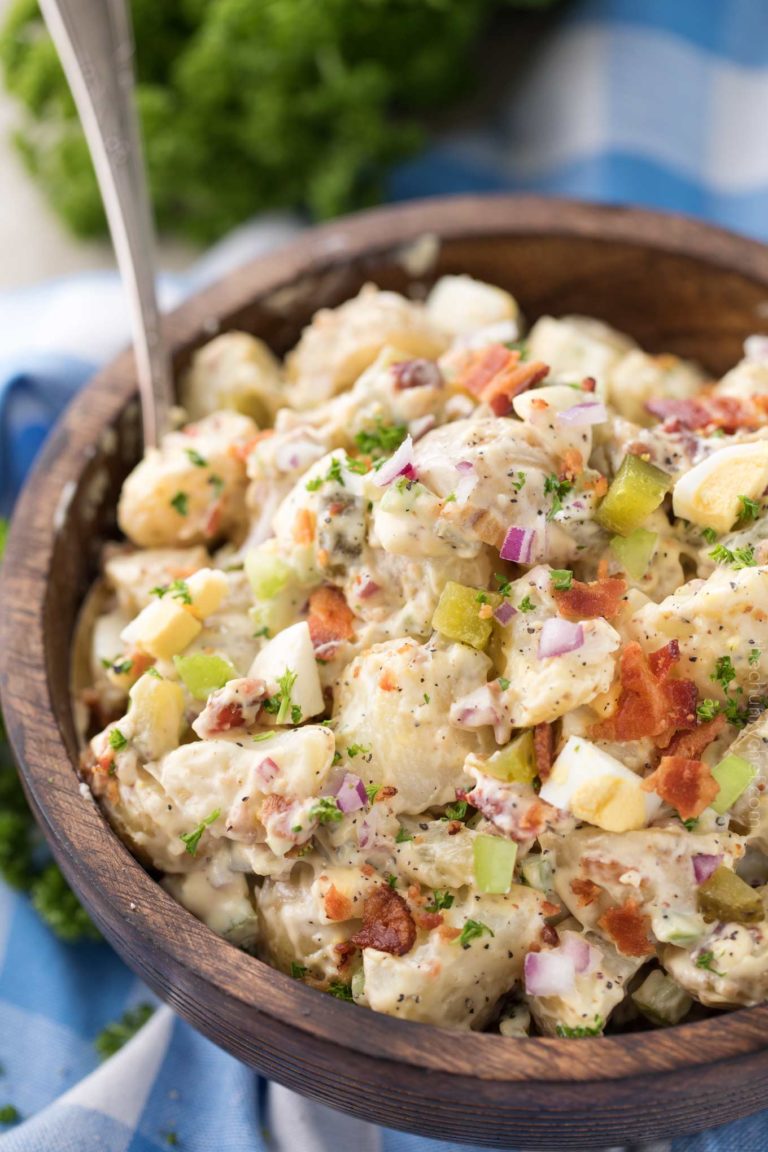 CAN I MAKE POTATO SALAD AHEAD OF TIME
Yes, absolutely!  In fact, just like my skinny coleslaw recipe, it's better if you DO make it ahead of time.  All the flavors really combine together.  I usually make my potato salad the night before, or early in the morning the day we want it for dinner.  Once it's made, potato salad will keep, sealed in a container in the refrigerator, for 3-4 days.
I mentioned how much I didn't like mayo-laden potato salad recipes, yet my recipe does use mayo.  However, it also has grainy mustard, and some bacon grease.  Bacon grease REALLY makes this dressing pop, but if you don't have it, or are opposed to it, you can leave it out, I just think the flavor is much better with it!
If you'd like, you can experiment with substituting some of the mayo for sour cream.  Regardless of what you alter, it will still have dairy in it, so when serving, try to keep it cool and refrigerate it as soon as people are done eating.  I like to take a huge plastic punch bowl, fill it about halfway with ice, then nestle my bowl of potato salad down in it to keep it cool!  Just be careful not to push the potato salad bowl down too much, you don't want ice getting in the salad.
HELPFUL TOOLS
Enameled cast iron pot – this pot keeps a beautiful even heat, which means potatoes come out evenly perfect every time!
Mixing bowl – I love the easy clean up, no-slip bottoms, and they have lids!
Want to try this Perfect Potato Salad?

PIN IT to your SUMMER or SIDE DISHES board to save for later!

Find me on Pinterest for more great recipes!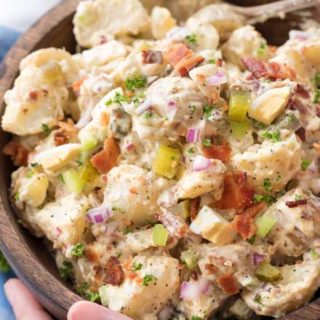 Perfect Potluck Potato Salad
The perfect potato salad truly does exist, and it's incredibly easy to make!
Print
Pin
comment
Prep Time: 20 mins
Cook Time: 15 mins
Total Time: 35 mins
Servings: 6 - 8 servings
Ingredients
POTATO SALAD
1 1/2 lbs petite (or baby) red or white potatoes, cut into 4ths
2 1/2 tsp kosher salt, divided
2-3 Tbsp apple cider vinegar
12 oz package of bacon, cooked and crumbled
3-4 hard-boiled eggs, peeled and coarsely chopped
1/2 small to medium red onion, peeled and finely diced
1/4 cup finely diced celery (2-3 stalks)
1/4 cup finely chopped sweet pickles (or a few tablespoons of sweet pickle relish)
DRESSING
3/4 cup mayonnaise
1 Tbsp whole-grain dijon mustard
2 Tbsp bacon grease (optional, but highly recommended)
2 tsp granulated sugar
pinch ground celery seed
1/4 tsp black pepper
Instructions
Add sliced potatoes to a large saucepan. Cover with cold water, about an inch above the tops of the potatoes. Bring to a boil over MED-HIGH heat. Covering the pan helps this happen faster, but pay attention that it doesn't boil over!!

Once boiling, add 1 1/2 tsp kosher salt and stir. Boil, for 10-15 minutes, until potatoes are fork tender. Watch out for the foam on top of the water, it can boil over if you're not careful. Adjust the heat so that the potatoes are still boiling, but not so hot that they're roaring.

Drain potatoes in a colander, then return potatoes to the same hot pot you boiled them in. Add vinegar and stir to combine. Let sit a minute or two, then return to the colander to cool slightly.

While potatoes are cooling, add dressing ingredients plus remaining 1 tsp kosher salt to a large mixing bowl. Whisk together and set aside.

Chop eggs, red onion, celery and pickles. Add cooked potatoes to the dressing in the mixing bowl and top with chopped eggs, onion, celery, pickles and crumbled bacon.

Gently stir it all together, until well combined. Cover tightly and refrigerate until cold, at least 3-4 hours.
Notes
This potato salad can absolutely be made the night before. Leftovers can be kept for 3-4 days, in a sealed container. If you prefer a less sweet potato salad, omit the sweet pickles, and reduce the granulated sugar to 1 tsp.  The little bit of sugar counters all the bold savory flavors and makes for a smoother tasting salad.
Are We Friends on Pinterest?
Follow me for more great recipes! The Chunky Chef!