Cranberry Almond Broccoli Salad
---
Traditional broccoli salad is made better with the addition of crunchy almonds and sunflower seeds, tart cranberries and a creamy citrus poppyseed dressing!
---
Upgrade your side dish game this year by making this cranberry almond broccoli salad!  So full of bright, fresh flavors, and drizzled liberally with an ultra creamy (yet easy to lighten up), citrusy poppyseed dressing!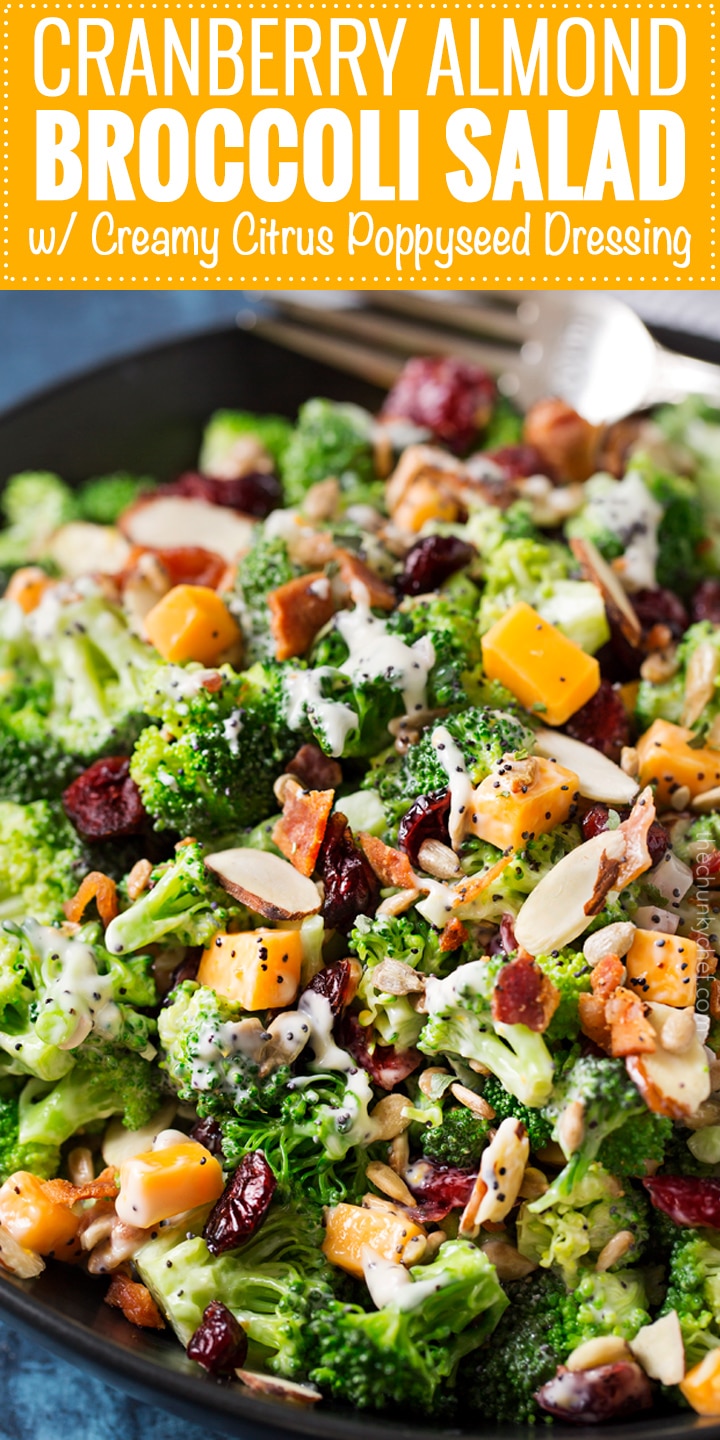 The first day of Spring is tomorrow (how is that even possible?!), so I can't think of a better time to share this broccoli salad recipe!  This is a twist on a classic family recipe… with a tip for extra flavorful broccoli.  Not that the original recipe from my Grandma isn't absolutely amazing… it totally is… I wanted to lighten it up a little bit, and add some extra zings of flavor!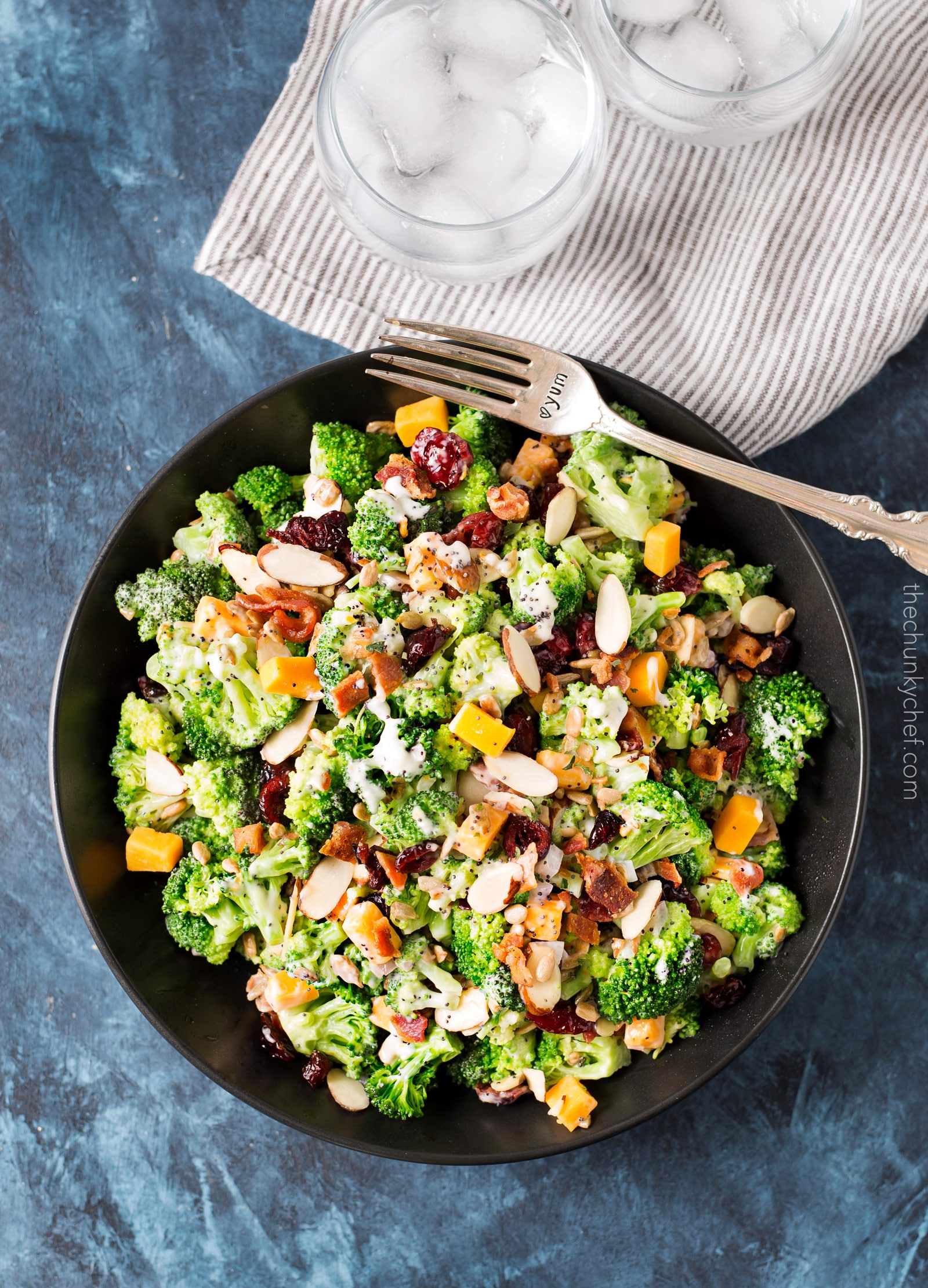 My version uses dried cranberries, sliced almonds, roasted sunflower seeds (although pumpkin seeds would be yummy as well), sharp cheddar cheese cubes instead of shredded cheese, and is all tossed together in a lightened up creamy citrus poppyseed dressing!
Every bite of this broccoli salad will be full of great flavors and textures, which all compliment one another.  To make the broccoli extra flavorful and allow the dressing to really stick to the broccoli, you'll want to blanch it first.  Just bring some water to a boil, add the chopped fresh broccoli and boil it for about 20 seconds.  Then transfer the broccoli to a bowl filled with ice water to stop the cooking process.  Drain the broccoli on paper towels, and allow it to continue to air dry while you make the dressing and chop other ingredients.  If the broccoli isn't dry when you try to toss the salad with the dressing, it'll slide right off the broccoli and won't be nearly as flavorful.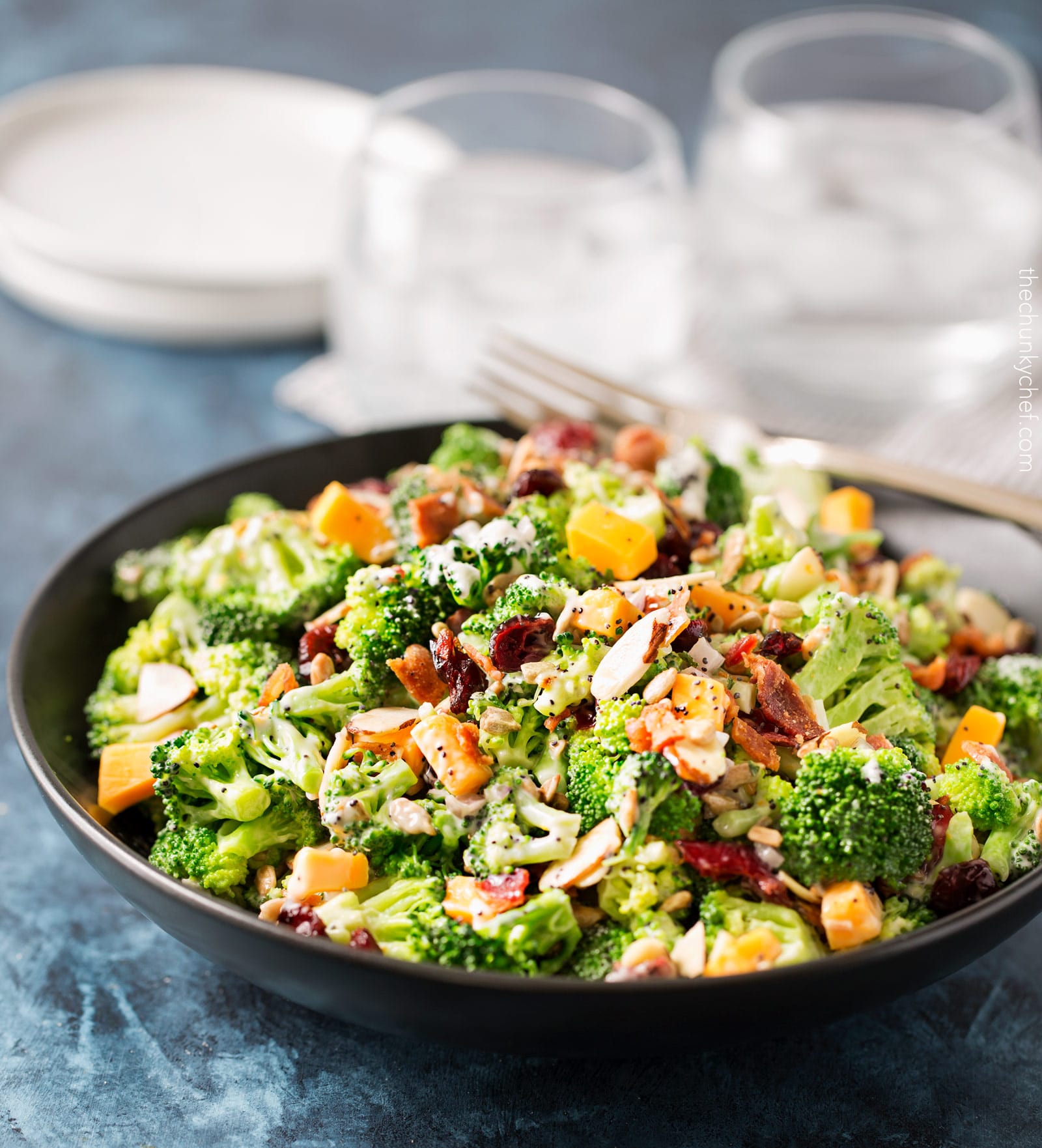 I love to have this broccoli salad as a side dish for some bacon cheeseburgers here at home, but of course, it's also a staple at nearly every cookout/bbq we have during the late Spring and all summer long!  Plus of course, it'd be perfect as a side dish for an Easter get together.
Speaking of Easter, some other dishes that would be perfect alongside this salad are: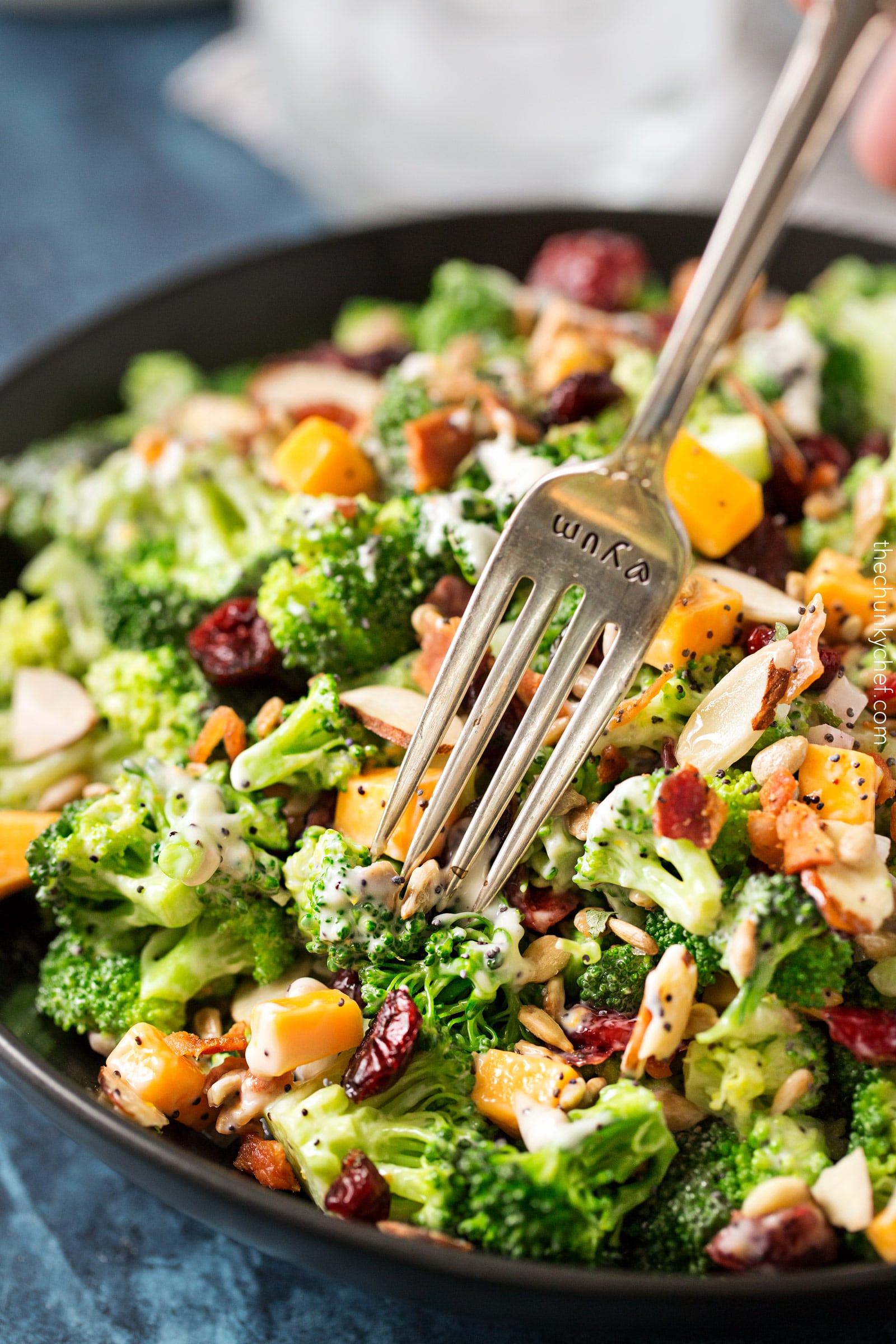 Feel free to play around with the toppings here, and change things up to make this recipe more of your own.  Also, the dressing… I use 3 Tbsp of sugar in mine, but feel free to adjust that as well.  Some recipes call for MUCH more… upwards of 1/2 cup, but I found that with the sweet/tart combo of the cranberries, combined with the citrus flavors, you don't need as much sugar.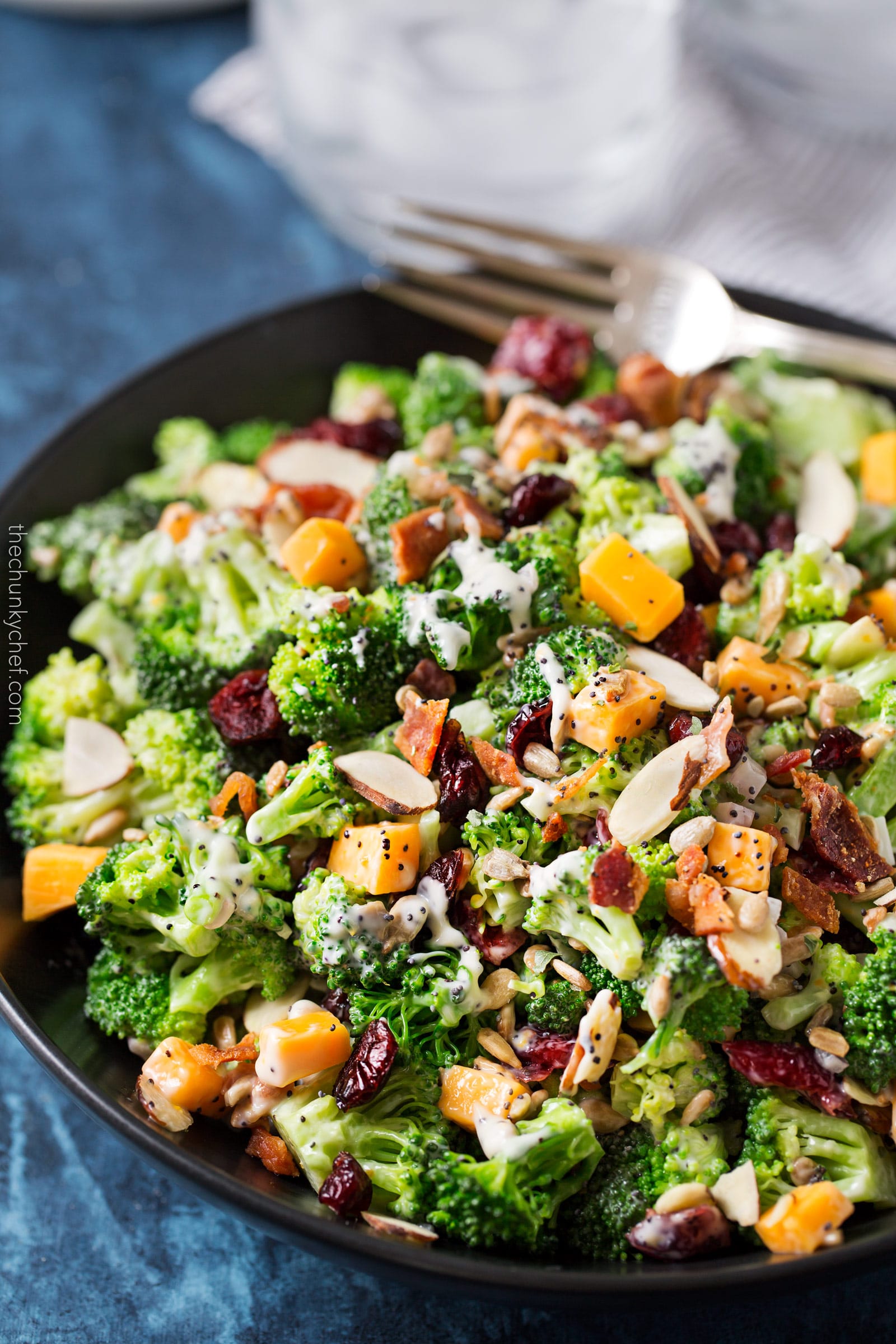 I hope you try this Cranberry Almond Broccoli Salad… I know it'll be a hit with you and anyone you make it for!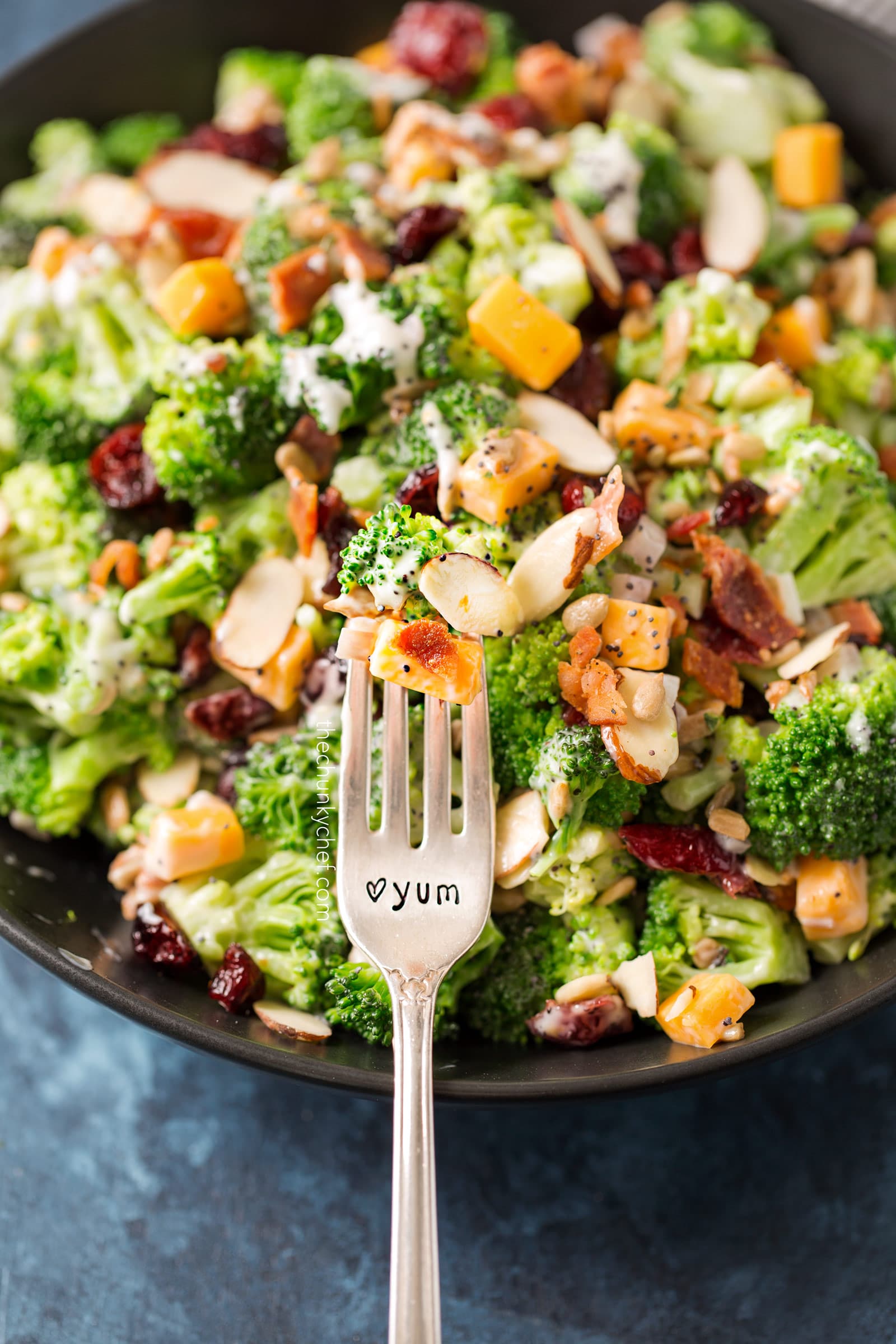 ---
Let's Connect!
You can find me on Facebook, Twitter, Pinterest, and Instagram, so follow me if you'd like… I love keeping in touch with all of you 🙂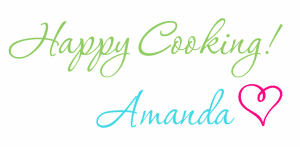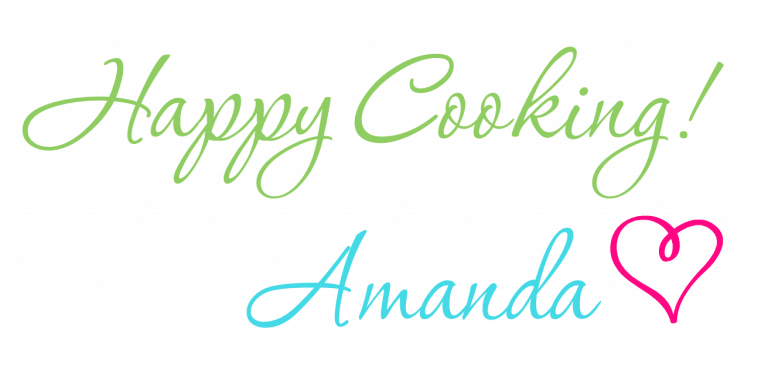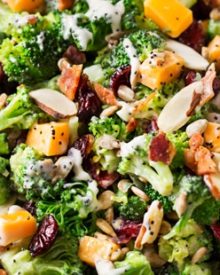 Cranberry Almond Broccoli Salad
Traditional broccoli salad is made better with the addition of crunchy almonds and sunflower seeds, tart cranberries and a creamy citrus poppyseed dressing!
Print
Pin
comment
Prep Time: 15 mins
Cook Time: 1 min
Total Time: 16 mins
Servings: 8 servings
Calories: 408
Ingredients
4 1/2 cups fresh broccoli, cut into small florets about 2 heads of broccoli
5 slices center cut bacon, cooked and crumbled
1/4 cup red onion, finely chopped
2/3 cup dried cranberries (reduced sugar would work too)
1/2 cup sliced almonds
1/3 cup roasted sunflower seeds
1 cup sharp cheddar cheese, cut into very small cubes (or shredded if you prefer)
CREAMY CITRUS POPPYSEED DRESSING:
2/3 cup canola mayo (or regular full-fat mayo)
1 Tbsp apple cider vinegar
3 Tbsp granulated sugar
zest of 1 small lemon
zest of 1/2 orange
1-2 Tbsp lemon juice freshly squeezed
1/2 Tbsp poppy seeds
pinch of black pepper
Instructions
Bring a pot of water to boil. Chop broccoli into very small florets and set aside. Fill a large bowl with cold water and a cup of ice cubes.

Add a generous pinch of salt to boiling water and add broccoli. Boil for 20 seconds. Drain broccoli and transfer to prepared bowl with ice water. Let broccoli sit in cold water for a few minutes, until cool. Drain and lay broccoli out onto some paper towels to drain. Allow to continue air drying while you prepare other parts of the recipe.

To a small mixing bowl, add poppyseed dressing ingredients, then whisk together until smooth and combined. Set aside.

Add finely chopped red onion to a small bowl of cold water and let sit 5 minutes, then drain. This takes some of the "bite" out of the raw onion.

To a large mixing bowl, add dried broccoli florets, bacon, drained raw onion, cranberries, almonds, sunflower seeds, and cheddar cheese. Toss with citrus poppyseed dressing (start with about half the dressing, and increase to your liking).

Cover with plastic wrap and refrigerate for at least 30 minutes. Toss and serve.
Notes
Letting the broccoli salad sit in the fridge for 30 minutes or more allows the flavors to really combine, and will make for a more flavorful salad.  Can be made up to 24 hours in advance, which makes it great for a party!
Are We Friends on Pinterest?
Follow me for more great recipes! The Chunky Chef!