Mediterranean Pasta Salad
---
Step up your pasta salad game with this fresh and colorful Mediterranean pasta salad with a red wine vinegar and herb dressing!  Homemade is always the best!
---
Say goodbye to boring, flavorless pasta salads this summer!  This Mediterranean pasta salad has sweet heirloom cherry tomatoes, crisp cucumbers, mild red onions, salty feta crumbles, briny capers, and tossed in the most tantalizing homemade red wine vinegar and herb dressing!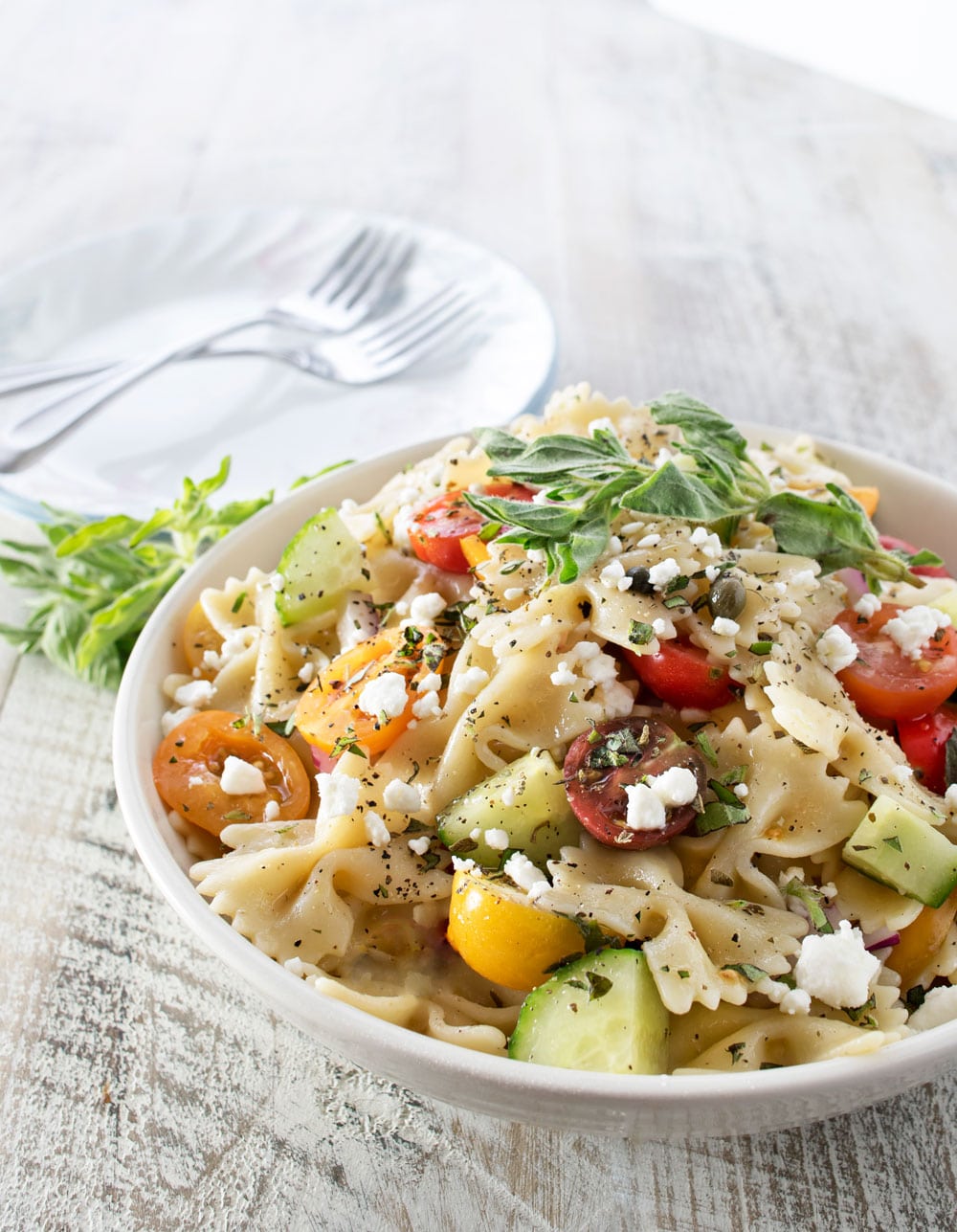 Pasta salads are such an iconic summer food… in fact, at just about every cookout this summer, you'll probably see a bowl of pasta salad.  Everyone loves the complex flavors, and they're the ultimate thing to BRING to a cookout, because you can make them up ahead of time.  That being said, some pasta salads are… well… pretty boring!  A handful of shredded cheese, mushy pasta, arbitrary vegetable, and some bottled dressing… sound familiar?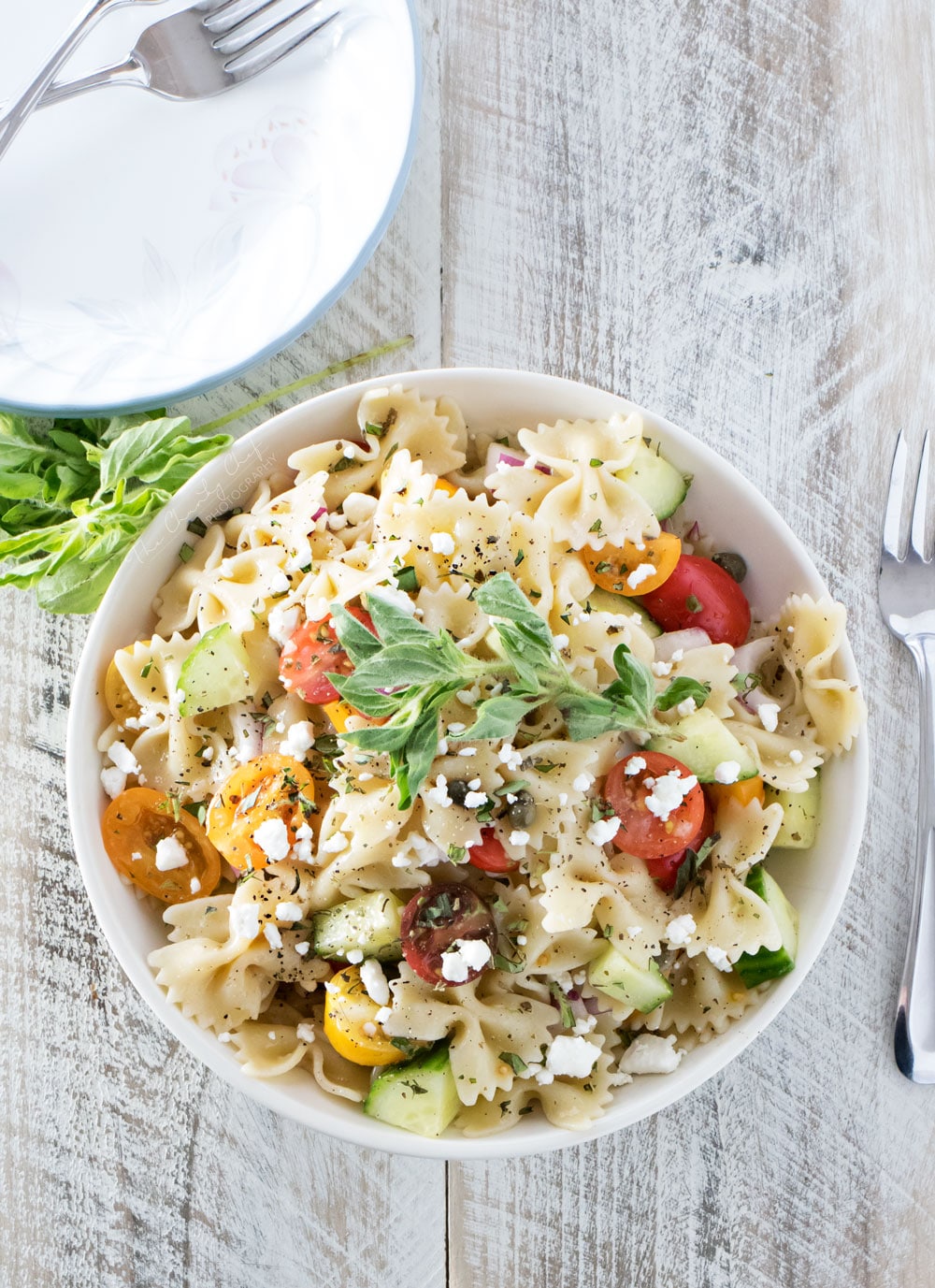 Funny story you guys… let's flash back about 10 years ago.  I had just moved in with my husband (boyfriend at the time), and quickly realized that I knew how to cook… well, just about nothing.  For real.  It was pitiful.  Microwaved scrambled eggs, brownies from a box and spaghetti (which I always horribly overcooked).  Oh it was so bad lol.  We ate a LOT of pasta for a little while.  A light bulb went off when I caught an episode of Rachel Ray's 30 Minute Meals one day and realized, I could totally try this whole cooking thing!
Up until this point, for family get togethers I was always the one designated to bring rolls, plates, pop, or some other item that didn't require any culinary skill whatsoever.  I'd laugh about it, but inside wonder how I went so wrong, as I come from a long line of amazing cooks!  One summer cookout, I showed up with my obligatory non-cooking item, but I also brought a bowl of pasta salad.  You guys, it was pretty much that bland, nasty pasta salad I described above, but I was SO proud of myself!!  I must have picked a good bottled dressing though, because people were enjoying it.  It was the start of me moving out of "plate-duty" and into an actual cooking role in the get togethers!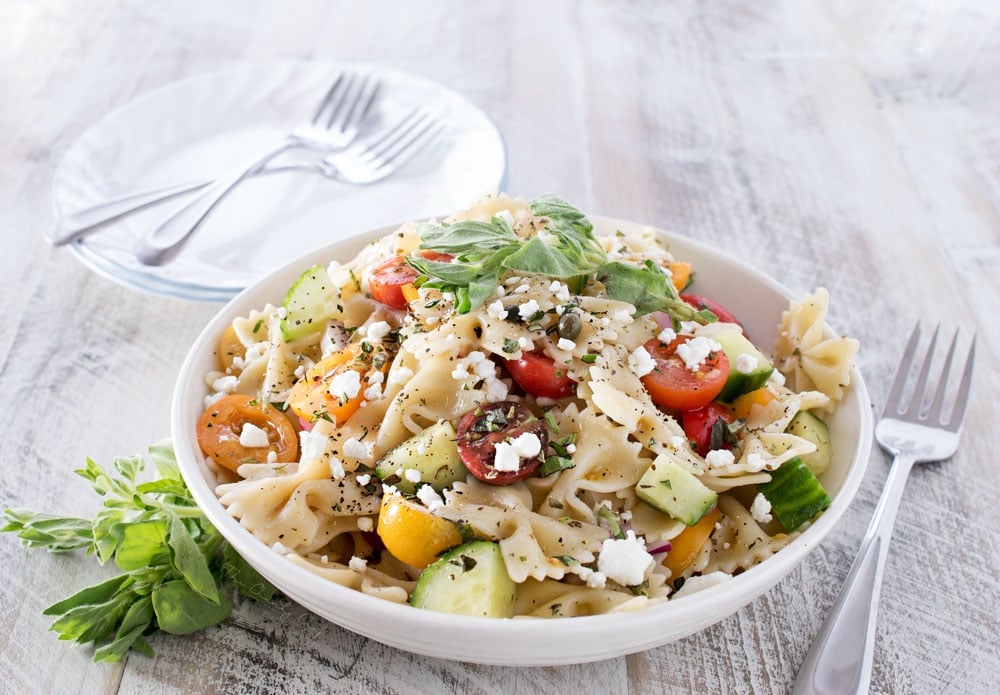 And now here I am with a food blog and an intense passion for cooking and baking… it's crazy!!
Okay, so THIS pasta salad.  This is the one recipe that you NEED.  It's mayo-free so you don't need to worry about it spoiling out in the heat, and the flavors of that homemade dressing are just insane!!  Bright and fresh with slightly sweet undertones, and the awesome punch from fresh and dried herbs… try it on a traditional salad as well!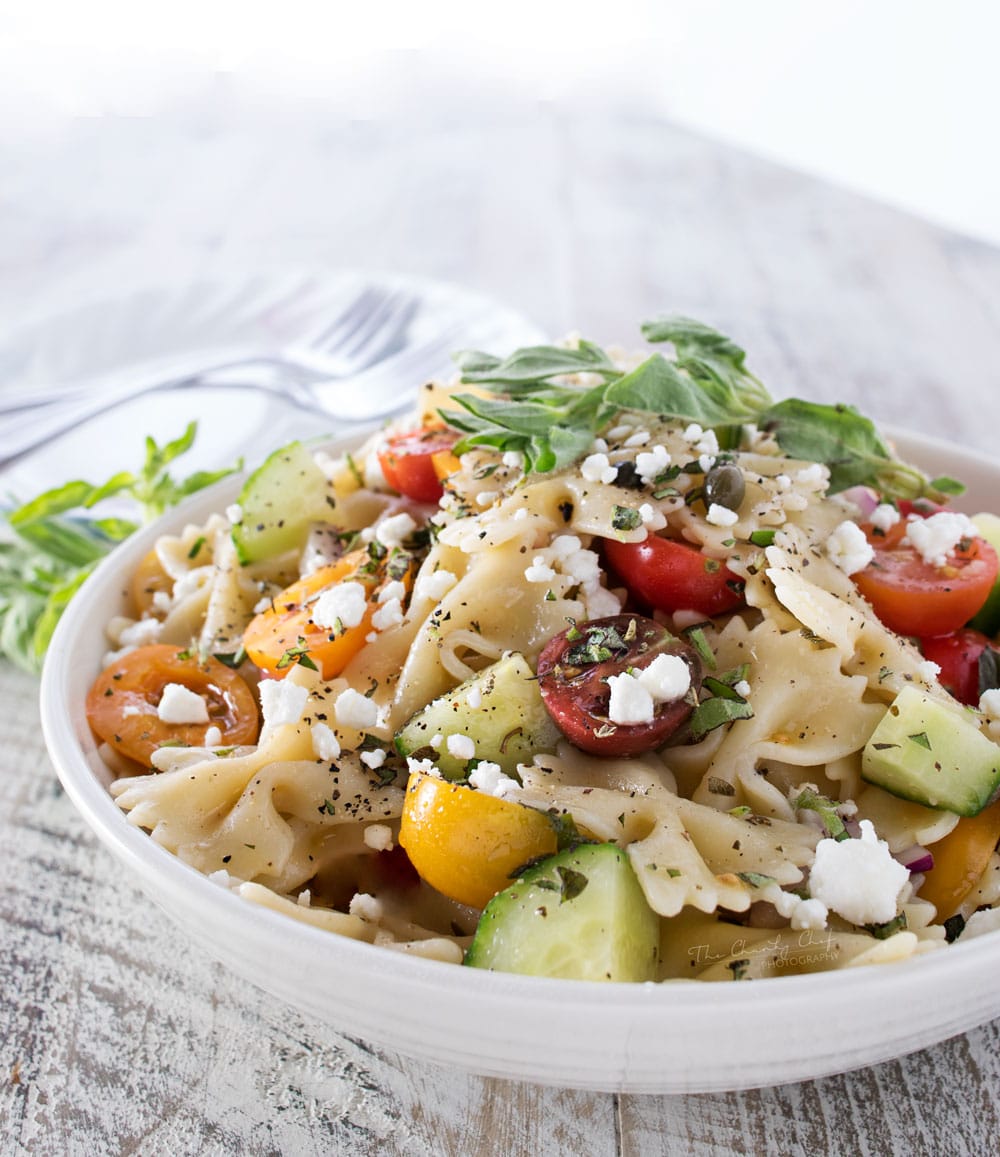 This Mediterranean pasta salad will soon be a staple in your house… I know it sure is here!  Like all pasta salads, it benefits from being made ahead so all the pasta and veggies can soak up that tantalizing dressing.  I usually make mine about 4 hours before I want to eat it.  However, you can definitely make it a day or so before, you just might want to toss the pasta salad with a drizzle of olive oil to liven it up a bit before serving.  You can even make it right before eating it, it just won't be quite as flavorful throughout.
Pasta salad goes great alongside an awesome, family favorite burger!
Do yourself a favor and put this Mediterranean pasta salad on your dinner menu… soon!  You deserve it 🙂
---
Let's Connect!
You can find me on Facebook, Twitter, Pinterest, Instagram and Google +, so follow me if you'd like… I love keeping in touch with all of you 🙂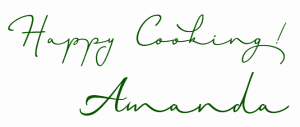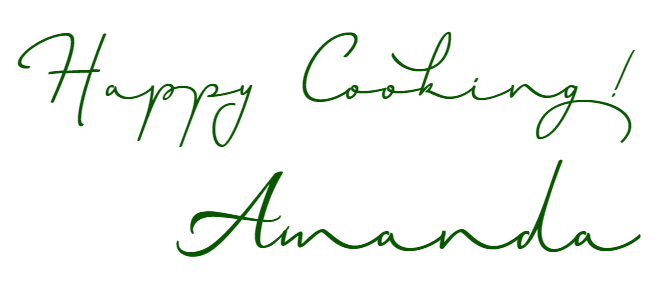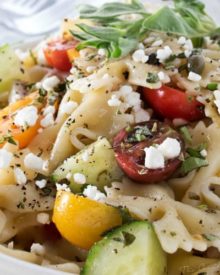 Mediterranean Pasta Salad
Step up your pasta salad game with this fresh and colorful Mediterranean pasta salad with a red wine vinegar and herb dressing! Homemade is always the best!
Ingredients
PASTA SALAD:
1 box uncooked short-cut pasta (I used farfalle but rotini or penne work as well), 16oz
2/3 cup sliced red onions
1 pint heirloom cherry tomatoes halved (regular cherry or grape tomatoes work as well)
1 cup diced cucumbers
1/4 cup pickled capers jarred
1 cup crumbled feta cheese
RED WINE VINEGAR AND HERB DRESSING:
1/2 cup red wine vinegar
2 1/2 tsp lemon juice freshly squeezed if possible
2 1/2 tsp minced garlic
1 1/2 tsp granulated sugar
1 tsp dijon mustard
1 tsp dried oregano
1 tsp fresh minced oregano
2 tsp fresh minced parsley
3/4 cup extra-virgin olive oil
Salt and pepper to taste
Instructions
Fill a large stockpot with water and bring to a boil over HIGH heat. Salt the water with about a tablespoon of salt. Add pasta and cook until just about 30 seconds past al dente.

Drain pasta and toss with a light drizzle of olive oil. Set aside to cool slightly.

While pasta is cooling, chop tomatoes, cucumber, and red onion. Set aside in a bowl and add capers to the bowl.

Add dressing ingredients, except for olive oil, to a bowl and whisk to combine. While whisking, slowly pour in the olive oil, and continue whisking until completely combined. Taste and adjust salt and pepper accordingly.

Add the chopped vegetables and crumbled feta cheese to the pasta bowl. Pour dressing over the top and toss to combine.

Cover bowl with plastic wrap and refrigerate for several hours, up to 1 day.

Serve cold or at room temperature, and enjoy!