Pasta salad is a classic summer recipe, and a must at all potlucks!  This Mediterranean pasta salad has sweet heirloom cherry tomatoes, crisp cucumbers, mild red onions, salty feta crumbles, briny capers, and is tossed in the most amazing homemade red wine vinegar and herb dressing.
Throwing a summer bbq?  Try my Potluck Potato Salad, Freezer Pickles, Brown Sugar Baked Beans, Smoked Ribs, or Coffee-Rubbed Burgers.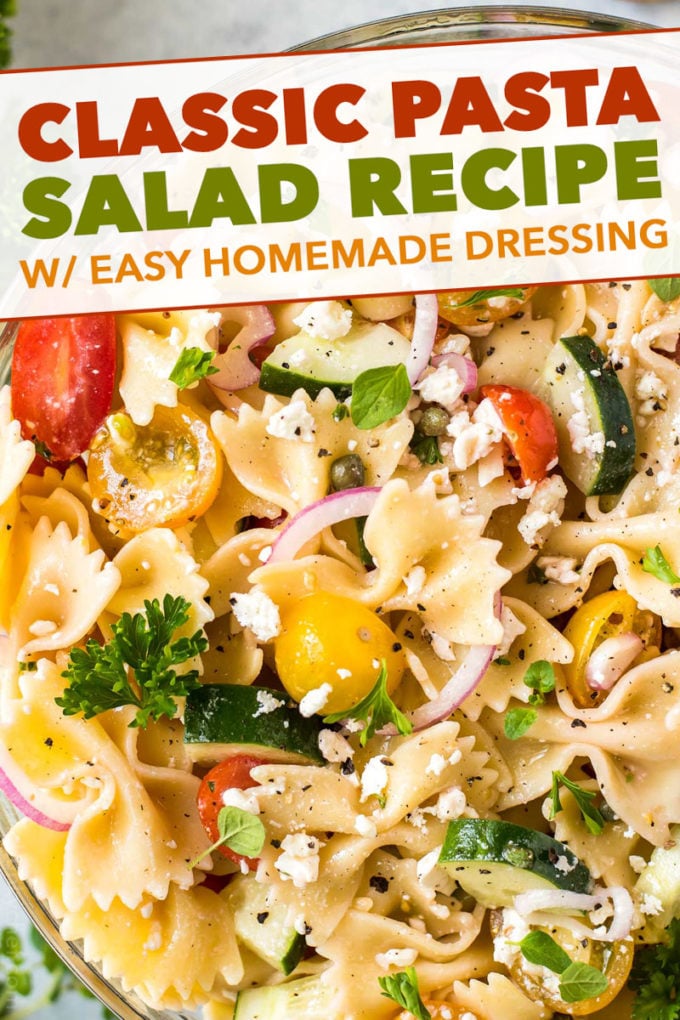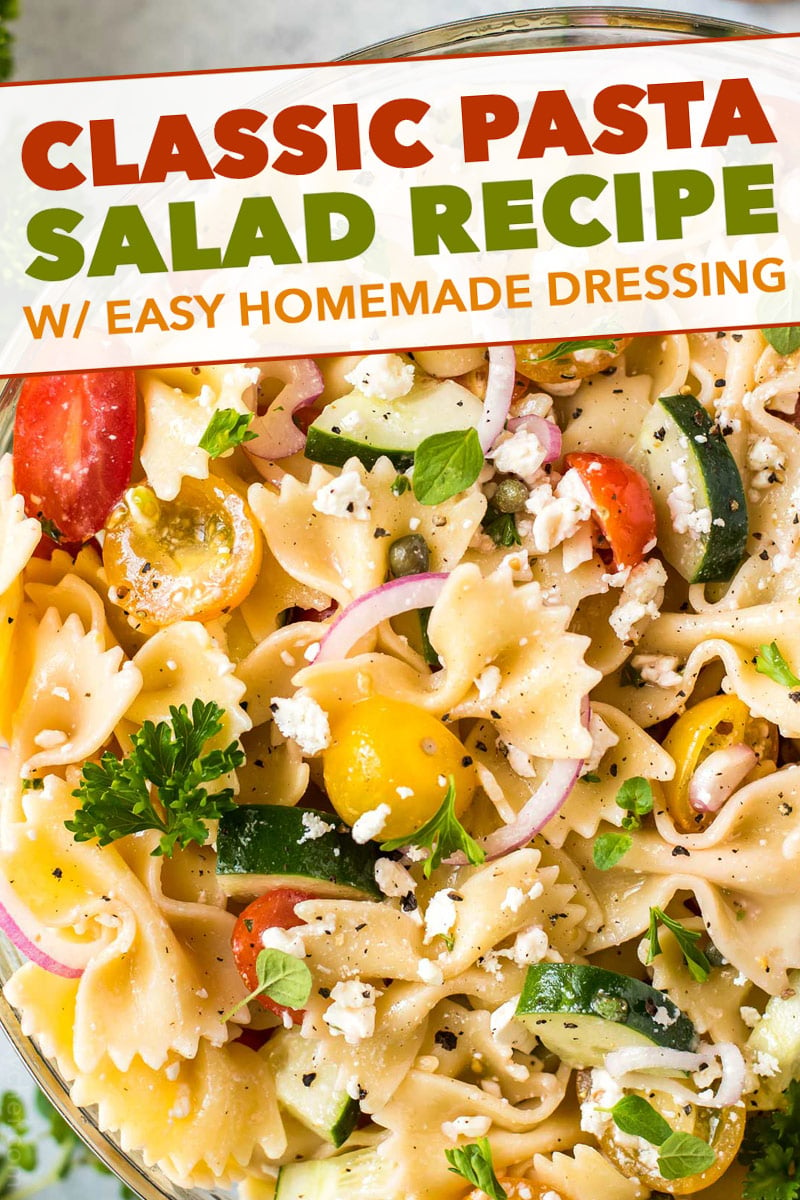 BEST POTATO SALAD
Pasta salads are such an iconic summer food… in fact, at just about every cookout this summer, you'll probably see a bowl of pasta salad.
Everyone loves the complex flavors, and they're the ultimate thing to BRING to a cookout, because you can make them up ahead of time.
That being said, some pasta salads are… well… pretty boring!  A handful of shredded cheese, mushy pasta, arbitrary vegetable, and some bottled dressing… sound familiar?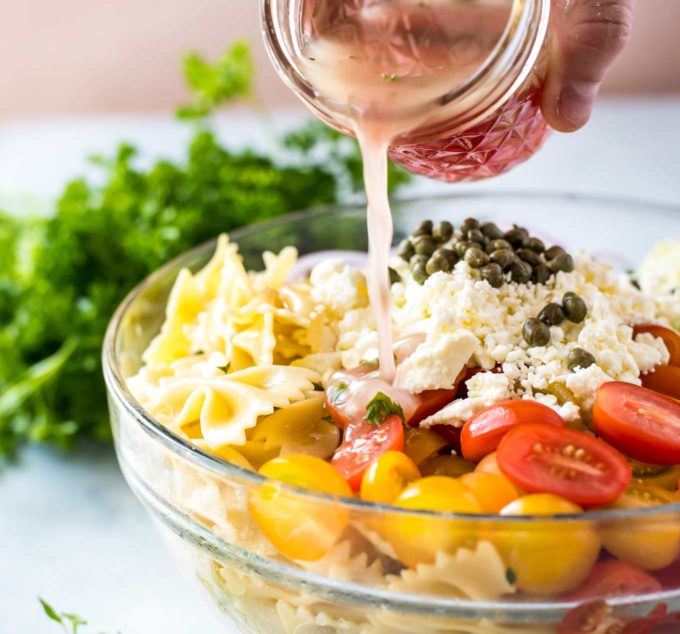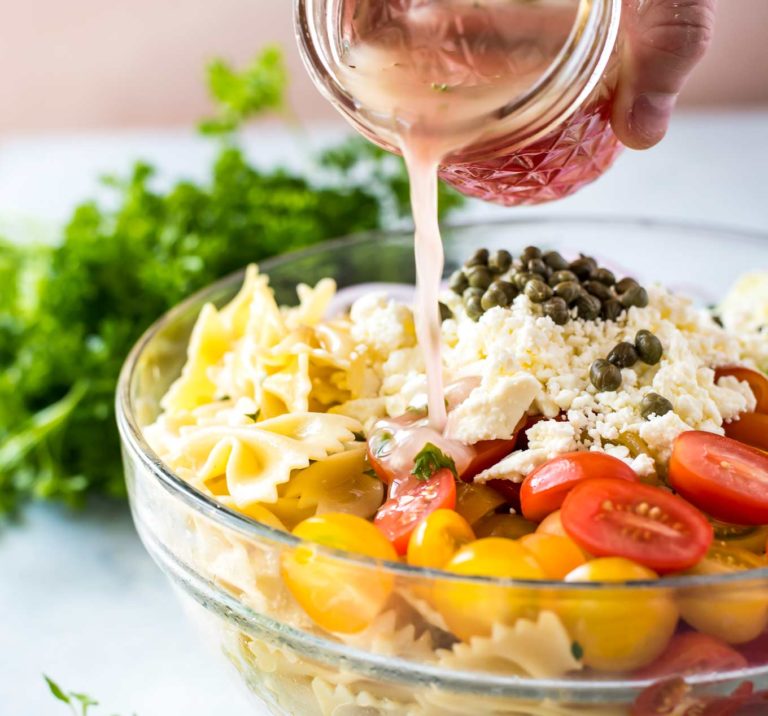 I bet it does… we've all had it before.  Except pasta salad can actually be amazing when done right!
In fact, several readers have emailed me to let me know that this exact recipe won 1st place in a potluck dish contest!
This is the one pasta salad recipe that you NEED.  It's mayo-free so you don't need to worry about it spoiling out in the heat, and the flavors of that homemade dressing are just insane!!
HOW TO MAKE THE BEST PASTA SALAD
Basic pasta salad has 4 main components; pasta, vegetables, cheese/meat, and dressing.  Here are my tips to truly make the best pasta salad ever!
CHOOSE THE RIGHT PASTA
I prefer short cut pasta for pasta salad, for ease of eating.  For this recipe I usually go with bowtie pasta or rotini, but any short cut variety will do.
I've seen pasta salad made with longer pasta noodles, like linguine, but I find it's harder to serve and eat that way.
USE THE FRESHEST VEGETABLES
Vegetables like tomatoes and cucumbers are in season during the summer months, so they'll likely be fresh and beautiful.  I love to add some red onion to the dish as well, to add a sharp savory flavor.
If you don't like the bite of raw red onion, you can soak the red onion slices in cold water for 10-15 minutes, and then drain well.  This will tame the flavor considerably.
ADD BOLD FLAVORS WITH CHEESE AND/OR MEAT
This recipe is a vegetarian one, but you could easily add some sliced pepperoni or salami to bump up the protein.
I love to add a bold cheese to really pump up the flavor!  Feta, Parmesan, sharp cheddar, etc.
MAKE THE DRESSING YOURSELF
I know it may seem like an unnecessary step, since a bottle of Italian dressing is so convenient, but homemade truly is the way to go.
Making a dressing takes just minutes, and I promise you, tastes 100x better than anything from a bottle.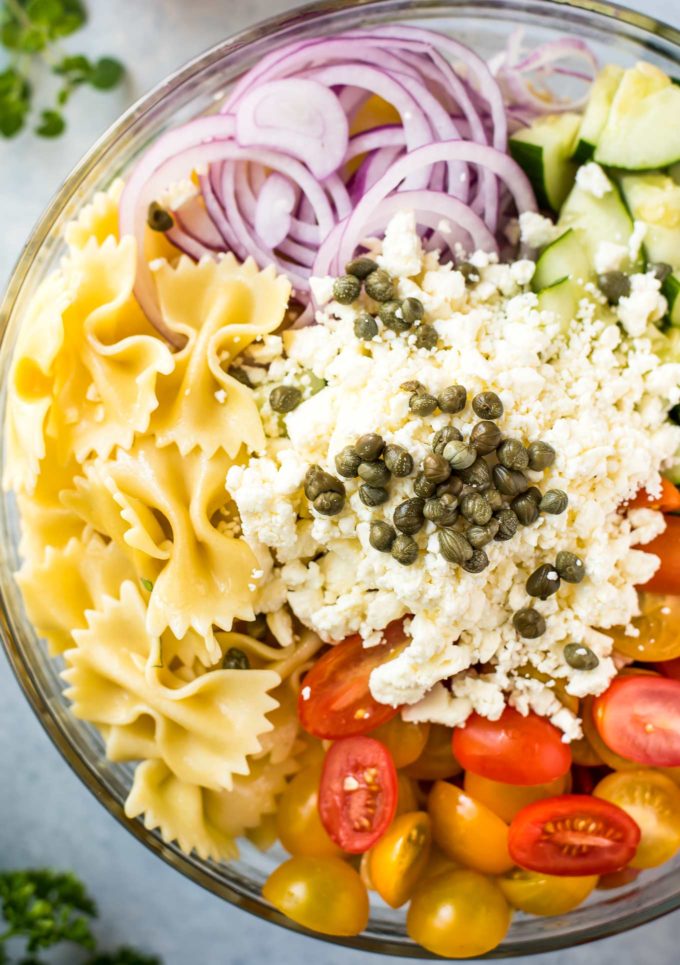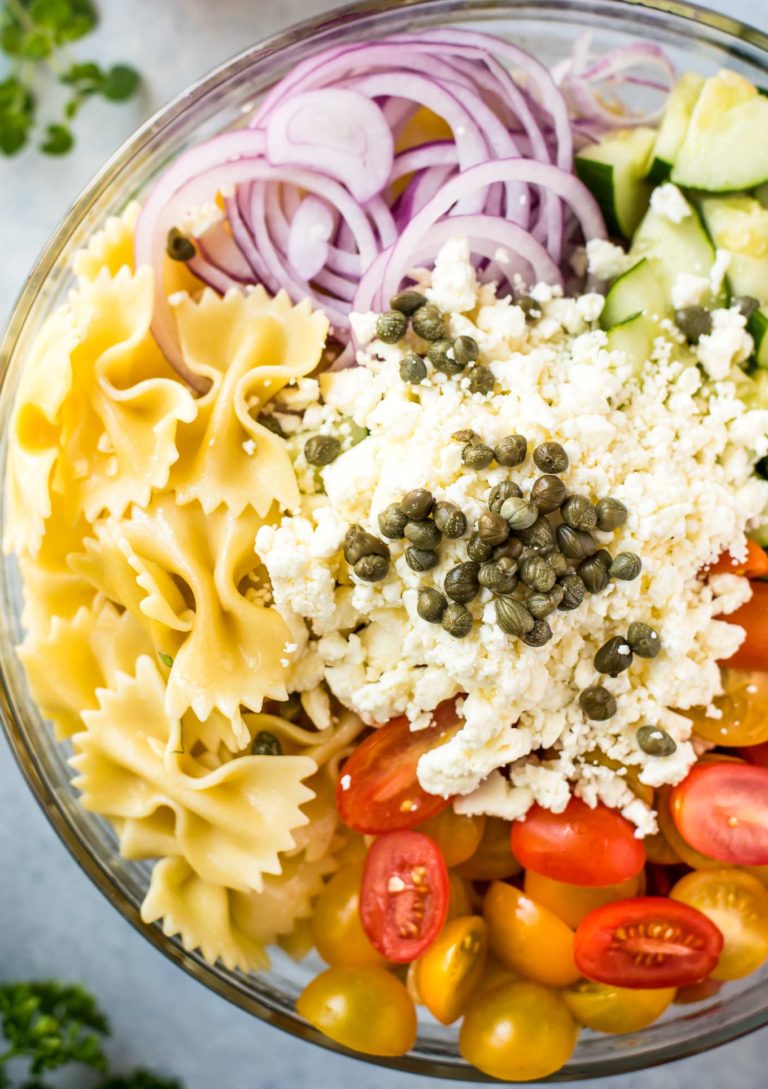 ADDITIONAL COOKING TIPS
THE PASTA – cook the pasta JUST to al dente, possibly even a little shy of al dente if you like more of a bite to your pasta.  Mushy pasta doesn't make for a very appetizing pasta salad.
THE DRESSING – looking for a great marinade for chicken or pork?  The dressing for this salad is PERFECT as a marinade!
VARIATIONS OF THIS RECIPE
PROTEIN – to make this pasta salad recipe non-vegetarian, try adding some mini slices of pepperoni, or salami!
DIFFERENT CHEESES – instead of Feta, try using some shredded Parmesan, tiny cubes of cheddar, etc.
DIFFERENT VEGGIES – zucchini, olives, bell peppers, etc are great additions to this pasta salad.  Use what's looking fresh and amazing at the store!
CREAMY – whisk a few tablespoons of mayonnaise into your homemade dressing to make this a creamier pasta salad.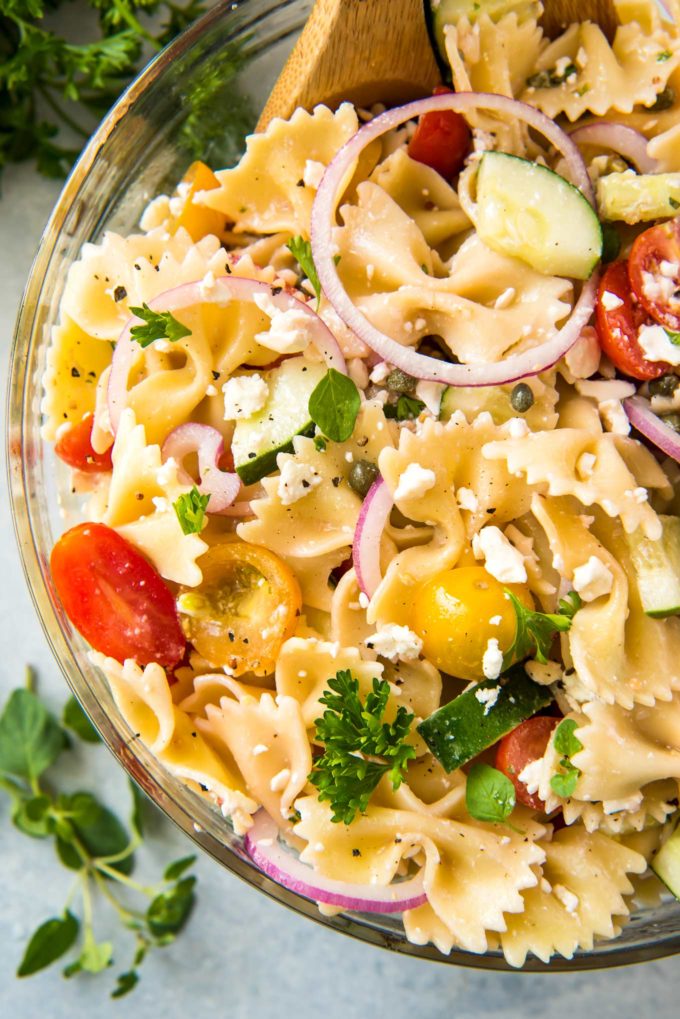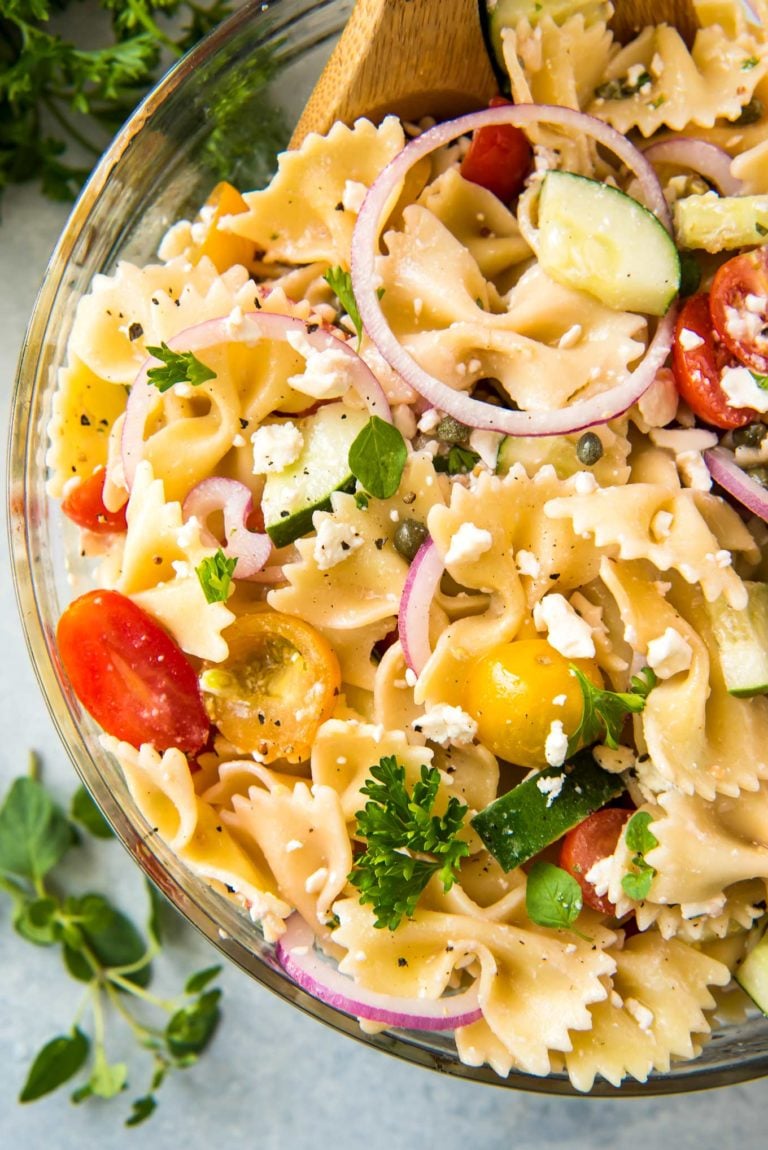 MAKING PASTA SALAD AHEAD OF TIME
Pasta salad recipes are the most popular thing to bring to a party or potluck.  Not only are they always a favorite, they're also the perfect make-ahead recipe!
In fact, this recipe tastes BETTER if made ahead of time.  I usually make mine 4-6 hours before eating it, but 1-2 days ahead works just as well.
Pro Tip: Make a little extra dressing and toss the made ahead pasta salad with it before serving.  It will make the salad taste freshly made and prevent any dryness.
STORAGE
Leftovers should be refrigerated in an airtight container for up to 5 days.
I love to add some leftover grilled chicken (or shredded rotisserie chicken – whatever you have on hand) to the leftover pasta salad for an easy lunch idea!


BE SURE TO SCROLL DOWN TO CHECK OUT OTHER READERS' COMMENTS FOR TIPS AND REVIEWS.
AND DON'T FORGET, IF YOU'VE MADE THIS RECIPE, LEAVE A COMMENT AND PLEASE GIVE IT A STAR RATING LETTING ME KNOW HOW YOU ENJOYED IT!
Recipe originally published in 2016 and has been updated in 2020 with additional information
Did you make this? Be sure to leave a review below and tag me @the_chunky_chef on Facebook and Instagram!
Homemade pasta salad that's perfect for any potluck or backyard bbq!
Ingredients
PASTA SALAD
1 box uncooked short-cut pasta (I used farfalle but rotini or penne work as well), 16oz
2/3 cup sliced red onions
1 pint heirloom cherry tomatoes halved (regular cherry or grape tomatoes work as well)
1 cup diced cucumbers
1/4 cup pickled capers jarred
1 cup crumbled feta cheese
HOMEMADE DRESSING
1/2 cup red wine vinegar
2 1/2 tsp lemon juice freshly squeezed if possible
2 1/2 tsp minced garlic
1 1/2 tsp granulated sugar
1 tsp dijon mustard
1 tsp dried oregano
1 tsp fresh minced oregano
2 tsp fresh minced parsley
3/4 cup extra-virgin olive oil
Salt and pepper to taste
Instructions
Fill a large stockpot with water and bring to a boil over HIGH heat. Salt the water with about a tablespoon of salt. Add pasta and cook until just al dente (according to package instructions).

Drain pasta and toss with a light drizzle of olive oil. Set aside to cool slightly.

While pasta is cooling, chop tomatoes, cucumber, and red onion. Set aside in a large mixing bowl and add capers to the bowl.

Add dressing ingredients, except for olive oil, to a bowl and whisk to combine. While whisking, slowly pour in the olive oil, and continue whisking until completely combined. Taste and adjust salt and pepper accordingly.

Add the cooked pasta and crumbled feta cheese to the large bowl with the vegetables. Pour dressing over the top and toss to combine.

Cover bowl with plastic wrap and refrigerate for several hours, up to 2 days.

Serve cold or at room temperature, and enjoy!
Want to save this recipe for later? Click the heart in the bottom right corner to save to your own recipe box!
Chef Tips
For best flavor, if making more than several hours ahead of time, make extra of the dressing and toss 1/4 cup of the extra dressing with the pasta before serving.
Nutrition Disclaimer
The Chunky Chef is not a dietician or nutritionist, and any nutritional information shared is an estimate. If calorie count and other nutritional values are important to you, we recommend running the ingredients through whichever online nutritional calculator you prefer. Calories can vary quite a bit depending on which brands were used.