Using the popular 3-2-1 method for smoking ribs is incredibly easy! Learn how to smoke ribs like a pro, and you'll be the star of any backyard bbq!
Do you love incredibly tender pork ribs?  If you do, then you're about to get reallllly excited!  This 3-2-1 method for smoking ribs will give you the most flavorful, tender and delicious ribs ever!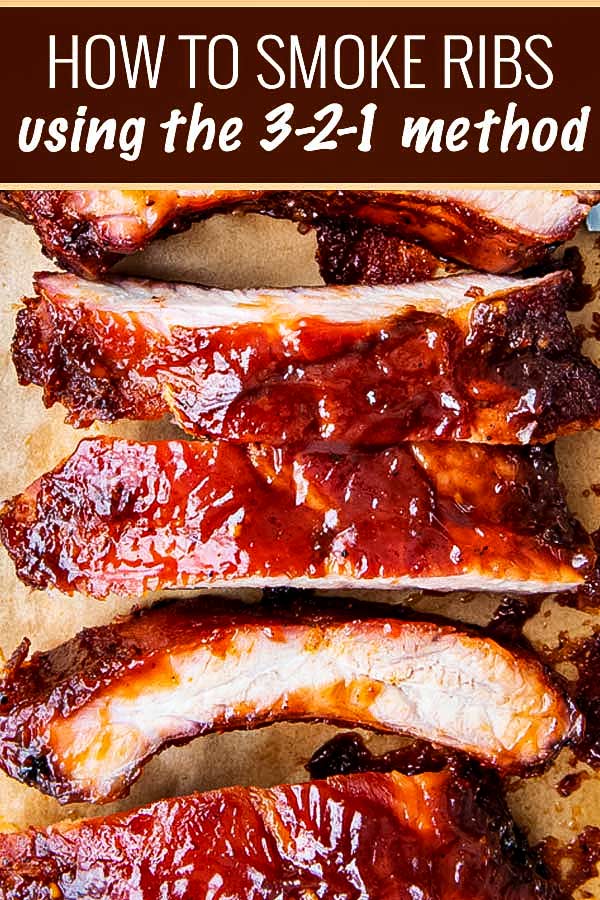 This post was sponsored by Ohio Pork, but as always, all opinions are my own.
I can't believe it's nearly September, and here I am posting a smoker recipe. But you know, I plan on using my smoker year-round, and even have one of those smoker blanket things in my Amazon cart ready to go for the bone-chilling winter. The amazing deliciousness of smoked meats and other foods just can't be narrowed down to a few measly summer months!
Plus, at the end of this recipe, I'll share how to cook these baby back ribs on a regular grill and in the oven. Obviously they won't have that classic smoked meat flavor, but they'll still be tender and yummy! Year-round ribs… comin' up!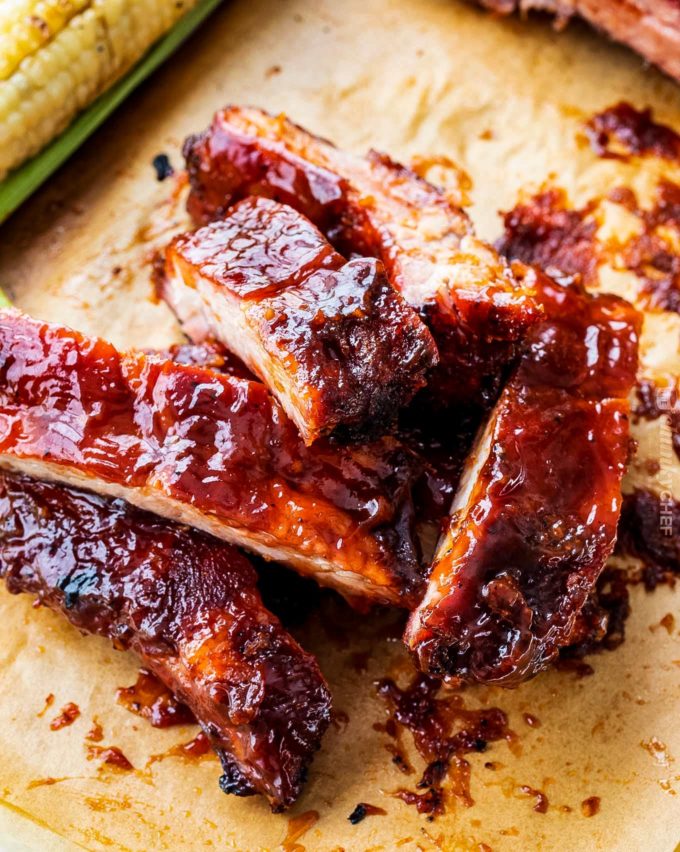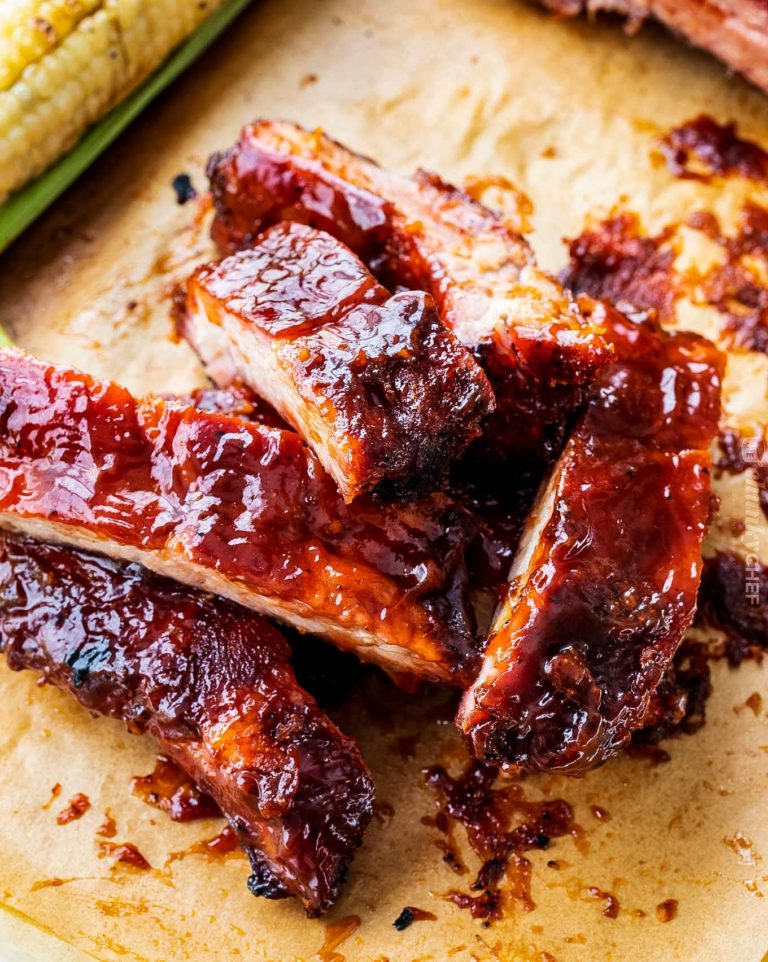 WHY THE 3-2-1 METHOD
A quick Google search for smoked ribs will show you a bunch of different ways to cook them. For a smoking newbie, like myself, it can be overwhelming! I have a trusty mini cookbook that came with my smoker, and it has a recipe called 3-2-1 ribs, and it piqued my interest. It seemed simple enough, and promised fall off the bone tender ribs. Here's the basics:
The first 3 hours, you're infusing the meat with smoke flavor.
The next 2 hours, you're "steaming" the meat, which makes it incredibly moist.
The last hour, you're basting and glazing the meat with a bbq sauce of your choice.
WHAT'S WRONG WITH THE 3-2-1 METHOD
Here's the rub…. pardon my shameless pun there… in bbq competition circles, fall off the bone ribs are terrible. For rib connoisseurs, a great rib should be tender, and pull away cleanly from the bone as you bite into it, but it shouldn't be SO tender that the bones slide out super easily. However, for most people, and myself included, fall off the bone ribs are the best way to enjoy ribs. So for probably 90-95% of people, these ribs would be perfect.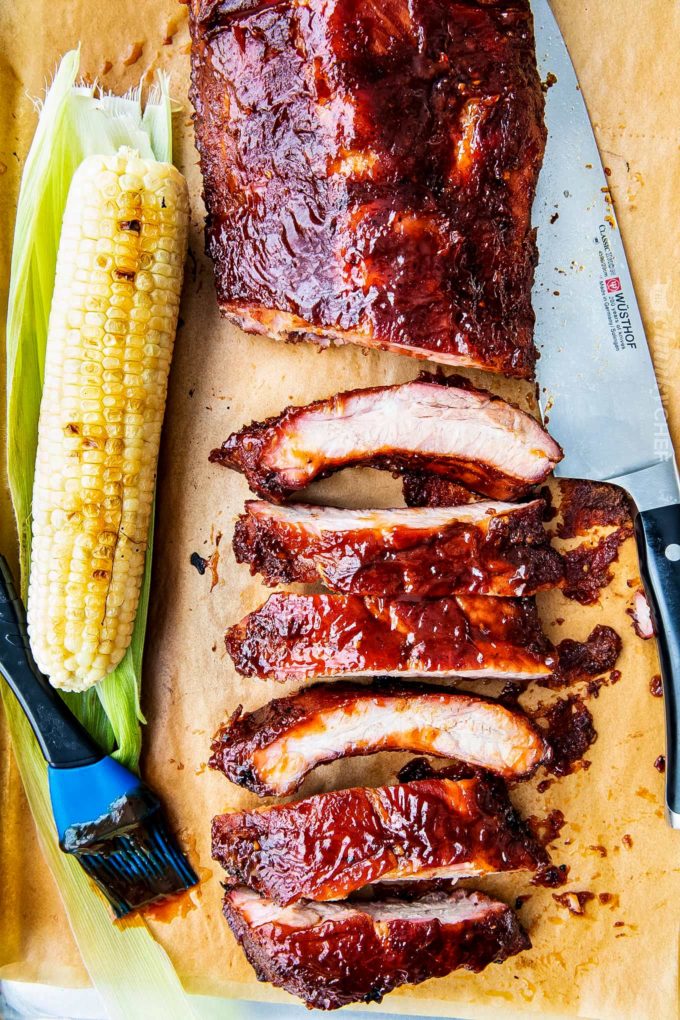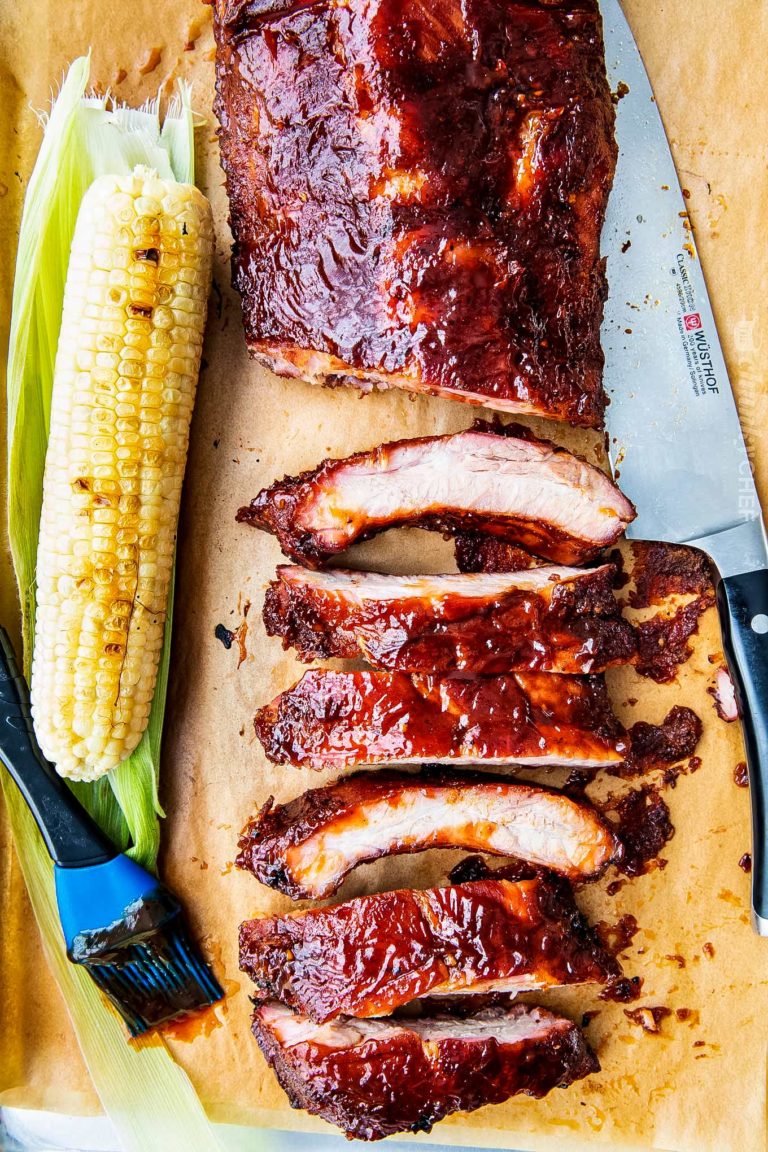 DO I SMOKE RIBS BONE SIDE UP OR BONE SIDE DOWN
I always smoke mine bone side down (so the meaty side is facing up), for two reasons. First, I want the smoke to penetrate the bone side too, so each and every bite of the ribs is equally smoky and delicious. Secondly, if you cook them bone side UP, the juices will pool in the concave center of the bones. Which sounds like it would keep the meat nice and juicy, and it does, but what it also does is create a barrier that blocks the smoke from penetrating the meat. So for me, bone side down, always.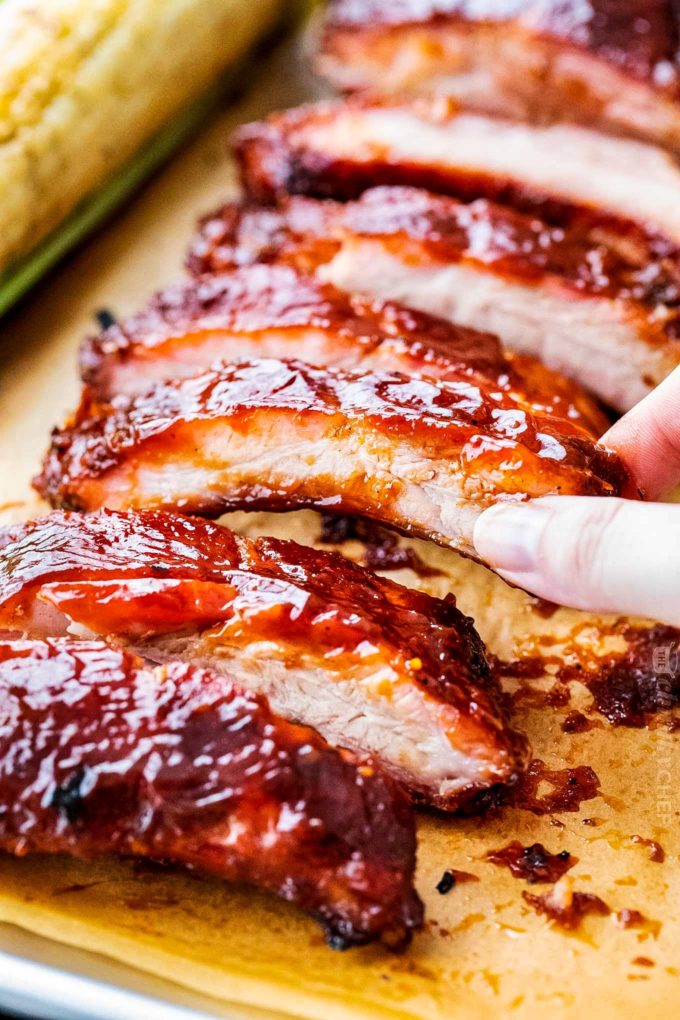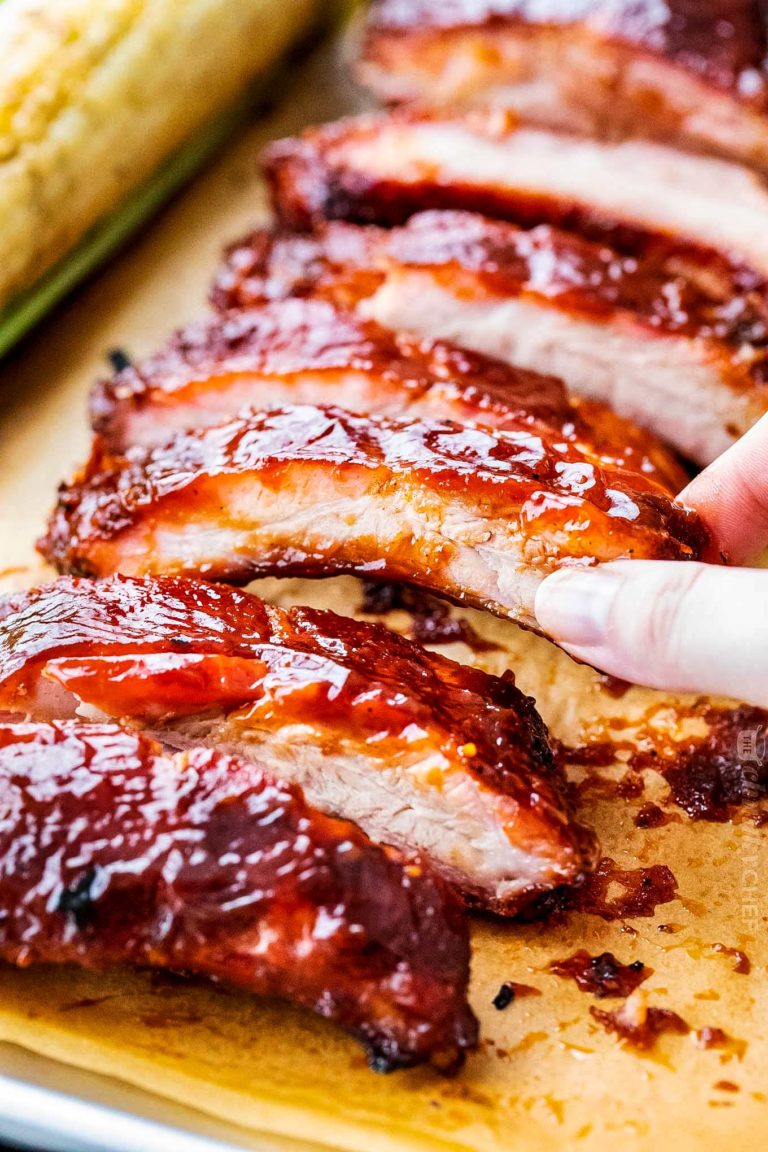 HOW TO SMOKE RIBS USING THE 3-2-1 METHOD
In it's simpler form, you're breaking the cooking time into 3 easy time blocks. A smoking time, a wrapped cooking time, and a basting time.
Set smoker to 225 F degrees. Brush a glaze over the ribs, on both sides. Sprinkle generously with rub, then smoke for 3 hours.
Transfer ribs to aluminum foil sheets, season with sugar, fold foil up on the sides and top with another sheet of foil, wrap together to seal the top and bottom sheets, leaving one end open. Pour in some liquid (apple cider, bourbon, etc), then seal completely and return to smoker for another 2 hours.
Remove ribs from foil and place back in smoker and brush with bbq sauce. Smoke for 1 hour, cranking up the temperature the last 15 minutes or so to get stickier ribs.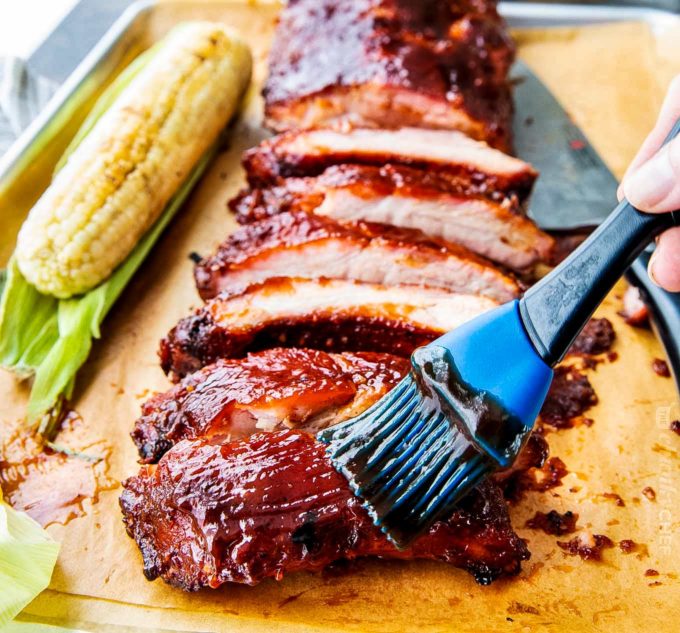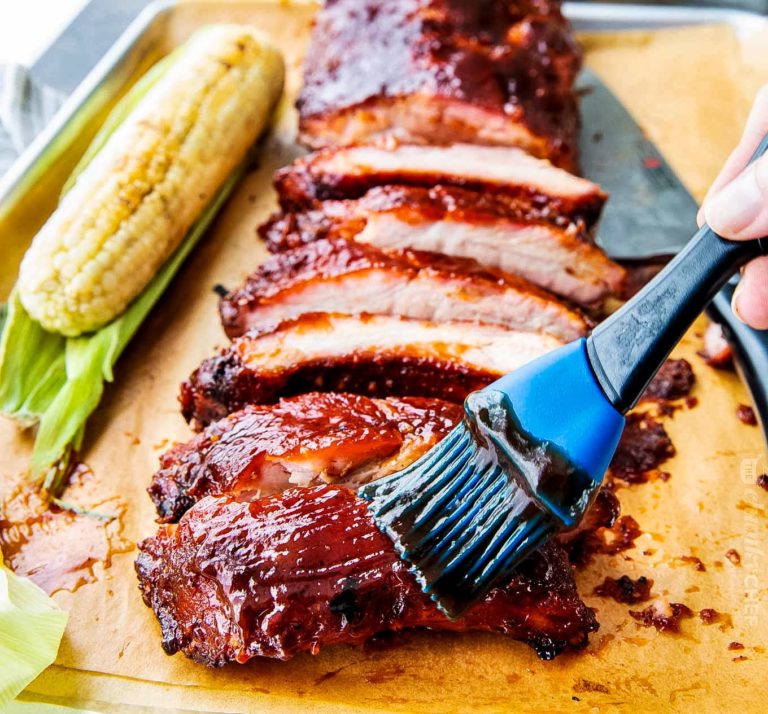 If you're in the mood for amazingly tender ribs, you simply have to try these 3-2-1 ribs! My version uses a store-bought rub for convenience, and you can use any bbq sauce that you love. If you're in the mood for something deliciously boozy, you've got to check out my bourbon bbq sauce!
RECIPES TO SERVE ALONGSIDE SMOKED RIBS
Did you make this? Be sure to leave a review below and tag me @the_chunky_chef on Facebook and Instagram!
Using the popular 3-2-1 method for smoking ribs is incredibly easy!
Ingredients
2 racks baby back ribs , membrane removed
1/3 cup yellow mustard
1/4 cup apple juice
1 Tbsp Worcestershire sauce
generous amount of your favorite dry rub
1/2 cup light brown sugar
1/3 cup honey
4 Tbsp butter
6 Tbsp bourbon , divided (or more apple juice)
1 cup your favorite bbq sauce
Instructions
Lay out 4 large sheets of aluminum foil and set aside. Fill hopper of smoker with wood pellets, I usually use hickory, but pecan or cherry would work as well.

Remove membrane from back of ribs. Slide a butter knife into the bone-side of the rack of ribs and make a small slit. Grab the membrane and pull it off. Use a paper towel to get a better grip on it.

Combine mustard, apple juice and Worcestershire sauce. Brush over ribs on both sides. Season ribs with dry rub on both sides. Be generous.

Start smoker on the smoke setting for 5-10 minutes. Increase heat to 225 F degrees. Smoke the ribs, meaty side up, for 3 hours.

Leave smoker on at 225 F degrees and place ribs on foil sheets. Sprinkle rack of ribs on both sides with half of brown sugar and honey, then top with 2 Tbsp of butter. Pour in 3 Tbsp bourbon. Repeat with remaining rack of ribs and remaining brown sugar, honey, butter and bourbon.

Add another foil sheet on top of the ribs and crimp to seal tightly. Return foil packs of ribs to grill and cook for 2 hours.

Carefully remove ribs from foil, and brush ribs with bbq sauce. Place ribs back on grill grate and grill for 1 hour. Slice and enjoy!
Want to save this recipe for later? Click the heart in the bottom right corner to save to your own recipe box!
Chef Tips
TO GRILL ON TRADITIONAL GRILL:
Set up grill so there is a hot area and a not hot area of the grill grates.   Soak wood chips for about an hour. 
Fill 3 aluminum foil pouches with wood chips, seal and poke a few holes in it to allow the smoke to come out.  Each time you open the grill door to tend to the ribs (at the beginning, after 3 hours, and after 2 hours), change out the pouches for a fresh one.
Start grill on HIGH, place 1 pouch of wood chips over the heat until you see smoke coming through the pouches' holes.  Lower heat and keep temperature around 225 F degrees.  Place ribs on the not hot side of the grill and cook as directed in above recipe.
TO COOK IN OVEN:
Preheat oven to 225 F degrees.  Follow recipe as written, except add a teaspoon or so of liquid smoke (found in the spice aisle of most grocery stores) to the mustard mixture you brush on the ribs before adding the rub.
Nutrition Disclaimer
The Chunky Chef is not a dietician or nutritionist, and any nutritional information shared is an estimate. If calorie count and other nutritional values are important to you, we recommend running the ingredients through whichever online nutritional calculator you prefer. Calories can vary quite a bit depending on which brands were used.