These Easy Bacon Baked Beans are the perfect blend of sweet, savory and smoky! Topped with bacon, they're always a hit, and are SO easy to make!
This Baked Beans recipe is one of those recipes we have with so many of our family dinners and for potlucks and bbq's.  We also love easy summer recipes like my Classic Pasta Salad and Smoked Chicken Wings.  This is one of my Side Dishes recipes I know you'll want to keep on hand!
This post was originally compensated by Collective Bias, Inc. and its advertiser.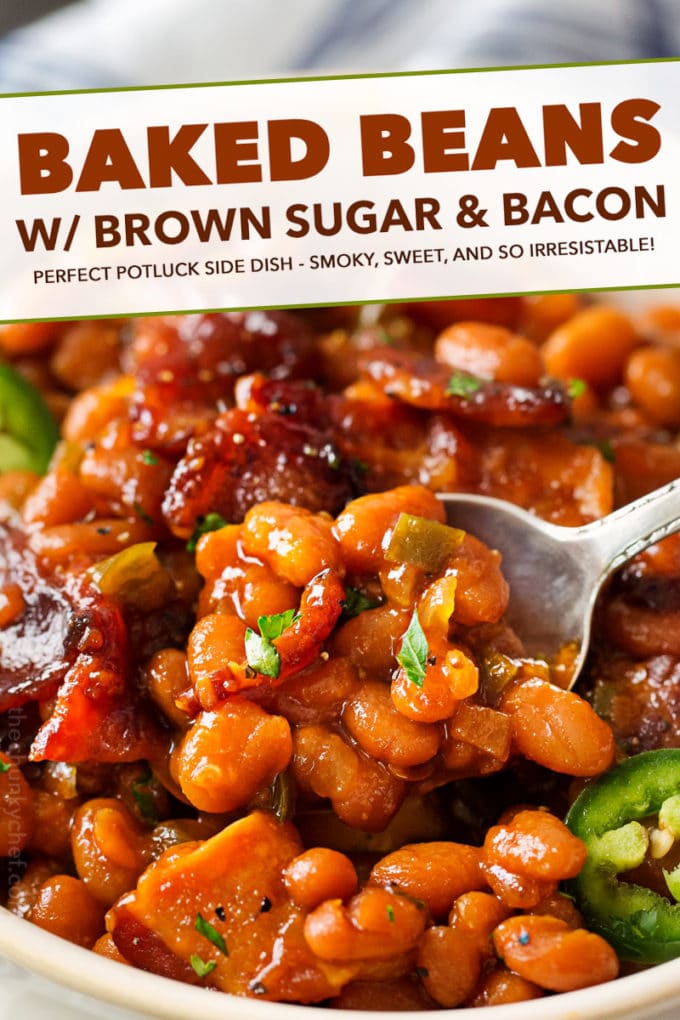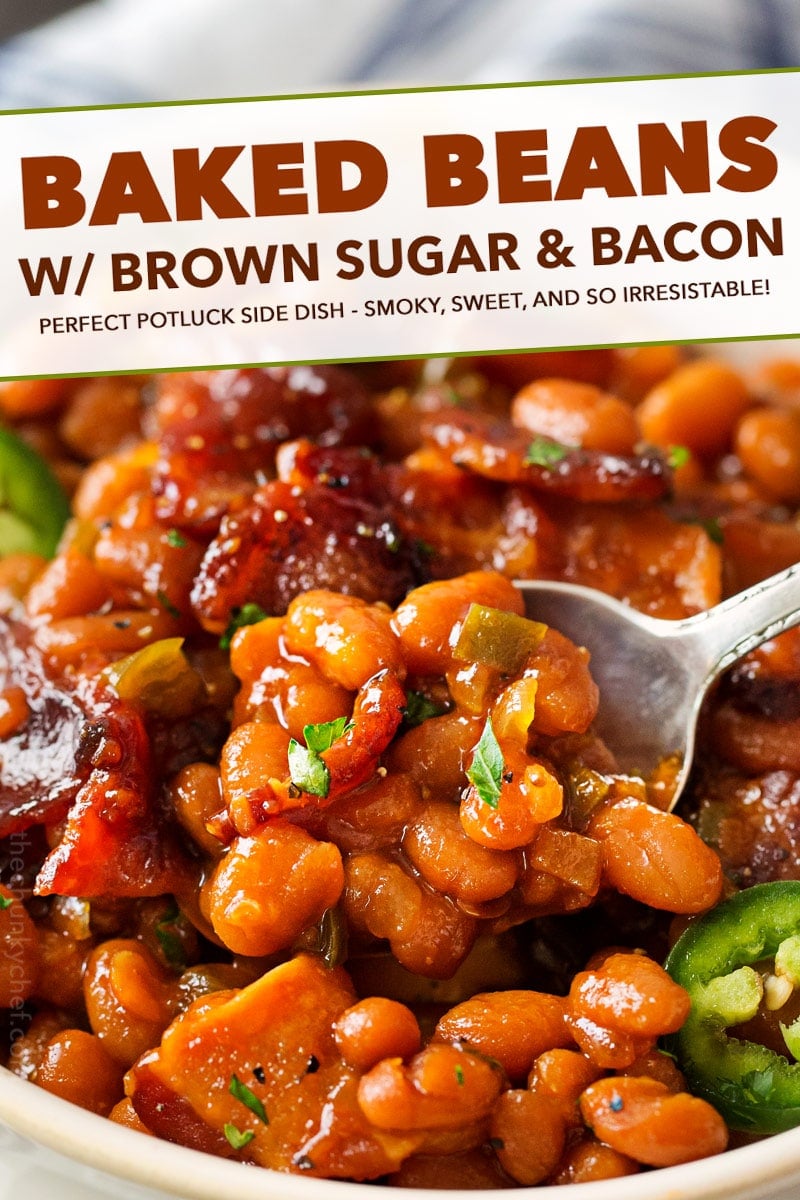 BAKED BEANS RECIPE
Baked beans are such classic summer cookout/bbq food… and really easy to make yourself!  Don't reach for a can of pre-seasoned and full of preservatives beans… whip up these easy and lip-smackingly delicious brown sugar and bacon baked beans instead!  Your mouth will thank you.
Baked beans are such a classic dish, and I love how many varieties there are!  Depending on your tastes and where you live, your beans might be more savory, more sweet, or more smoky.
These beans are a great combination of the 3!  You get the savory flavor from the sautéed onions and peppers, sweetness from the brown sugar, and the smokiness from the molasses and of course, the bacon 🙂
I also like to season my bacon with a sprinkle of black pepper, smoked paprika, chili powder, dried rosemary and brown sugar.  That's my signature bacon seasoning, it's SO addicting!
HOW TO MAKE BAKED BEANS
Making these baked beans is a cinch… in about 10 minutes they're ready to pop in the oven and then you don't have to mess with them for at least 2 hours.
Cook bacon halfway through in whichever method you prefer.  See my method for baking bacon below in the additional cooking tips section.  Once bacon has cooled enough to handle, roughly chop into bite-sized pieces.
Preheat oven to 325°F and set oven rack to lower-middle position.
Cook onion and pepper.  I like to use bacon grease to saute these in if I have it, but butter will work just as well.  Just saute until softened, about 4-5 minutes.

Add beans, ketchup, molasses, brown sugar, cider vinegar, and dry mustard.

  Stir to combine well and let cook a minute or two to make sure it's all meshed together.
Transfer bean mixture to a greased 3 quart baking dish or pot. 

Top evenly with partially cooked bacon.

Bake 2-3 hours, until beans are desired consistency.  I like my beans thick and brown, so I bake mine closer to 3 hours, but if you like yours more saucy, start checking the beans around 2 hours.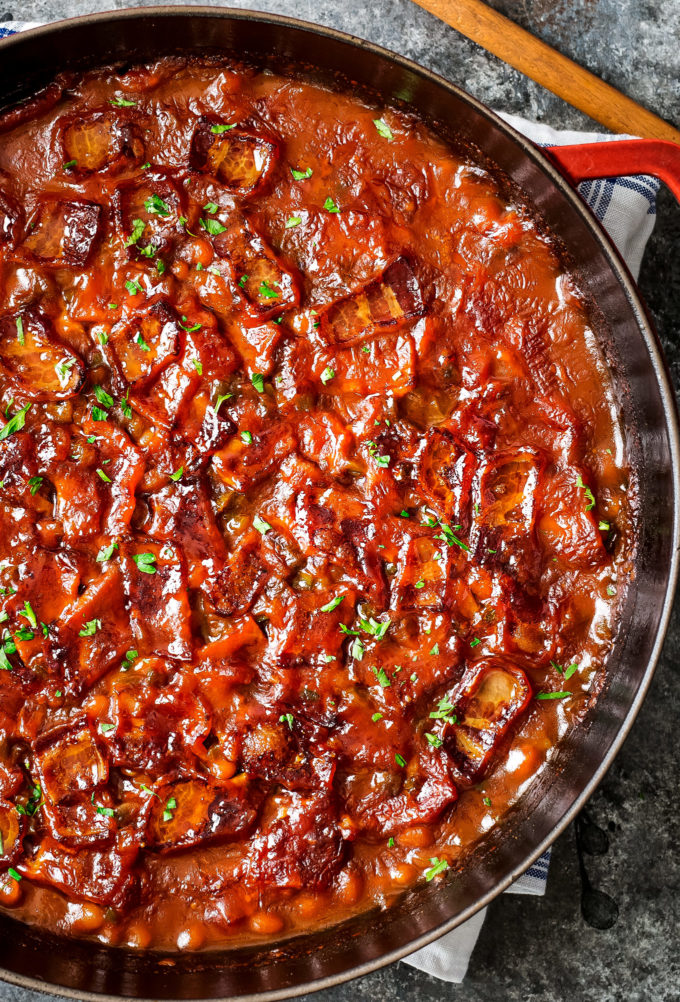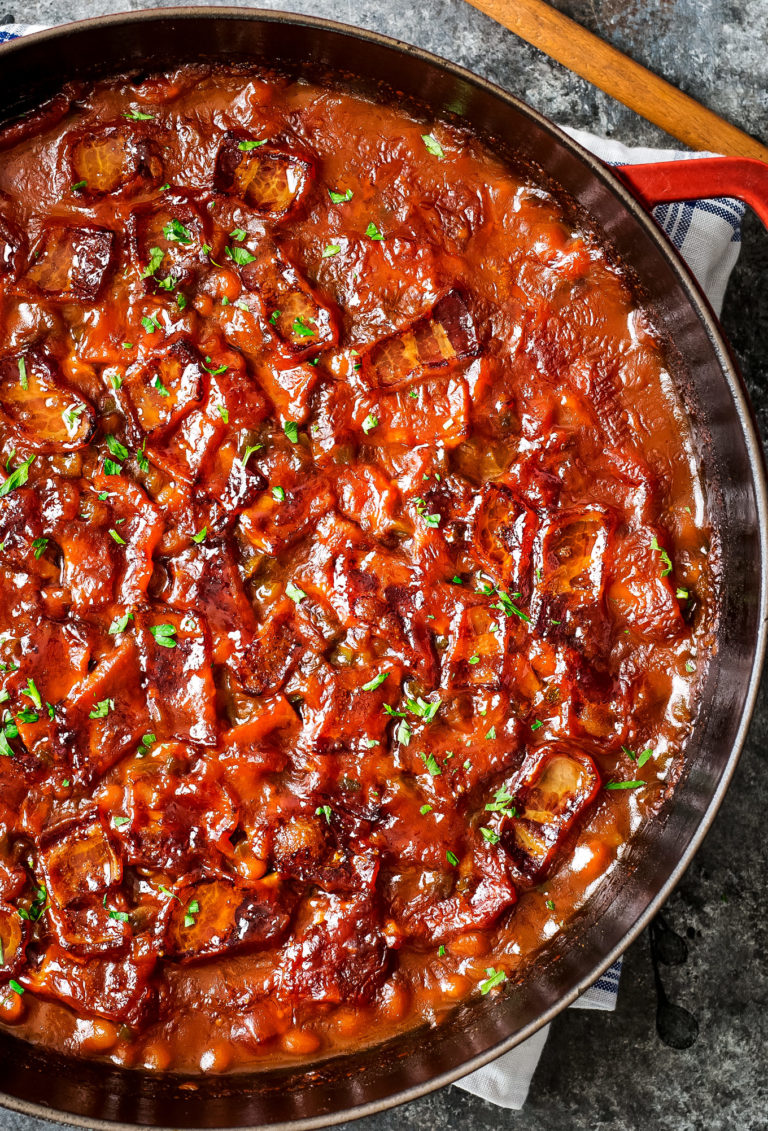 ADDITIONAL COOKING TIPS
Even though they're pretty straightforward, here are a few extra tips and tricks.
HOW LONG TO COOK BAKED BEANS
How long you cook them depends on how you like your beans… I like mine thick and pretty brown.  So I cook mine about 2.5 hours, sometimes up to 3.  If you like yours a little less thick, I'd cook them for 2 hours.
HOW TO BAKE BACON
Baking bacon is my preferred way to cook it, since there's NO mess, and it's pretty hands off.
Line a rimmed baking sheet with a double layer of aluminum foil (trust me on this).  Lay out your bacon so they're close but not actually touching.
Place baking sheet in a COLD oven, turn the oven on and preheat to 400°F.  Immediately start a timer for 18-19 minutes.
No need to flip them or anything, just walk away until the timer beeps.  If you like your bacon a bit crispier, you'll probably want to bake an additional minute or two.
BUT FOR THIS RECIPE YOU DON'T WANT TO COOK THE BACON ALL THE WAY THROUGH!
So when I bake my bacon for baked beans, I only bake it about 10-12 minutes.
My advice is to cook it about 1/2 to 2/3 of the way done.  That way it will be nice and crispy once the beans are finished!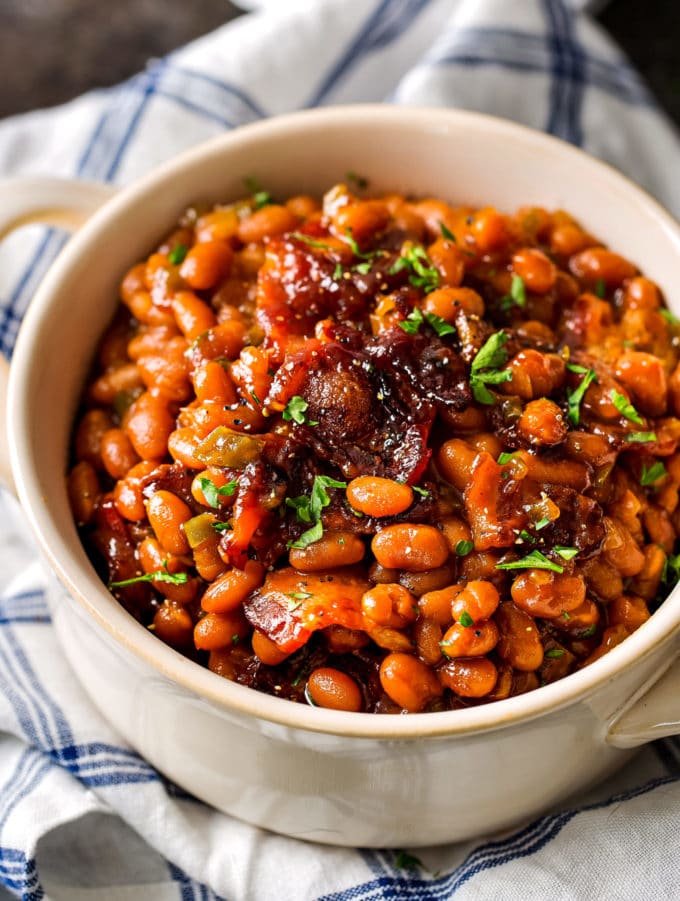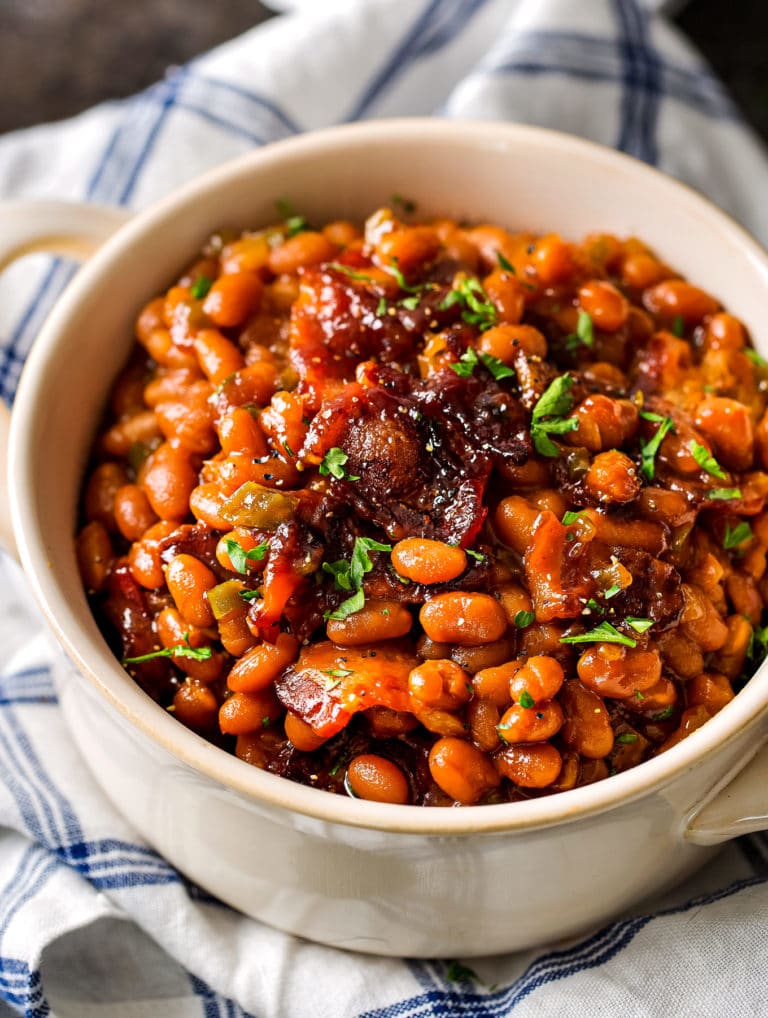 VARIATIONS OF THIS RECIPE
VEGETARIAN – to make this dish vegetarian-friendly, don't use bacon fat, and omit the bacon.  You'll also want to use 4 (15.5 oz each) cans of navy or pinto beans that have been drained and rinsed.  Increase the sauce ingredient amounts by 1/2 to make up for the lack of sauce in the pork and beans.
SPICY – if you prefer your baked beans to have some kick, use 1 – 2 diced jalapeños instead of the green bell pepper.  You can also add some cayenne pepper to the sauce, and top with some jalapeno slices!
EXTRA SMOKY – I don't know about you, but I LOVE smoky baked beans.  Try adding 1/2 tsp of liquid smoke to the bean mixture.  You could also smoke these baked beans in your smoker at 325 for about 2 hours!
SLOW COOKER – if you'd prefer to cook your beans this way, cook onion and bell pepper in butter as directed in recipe.  Cook bacon all the way through to desired crispness, then set aside.  Add all ingredients to slow cooker, stir and cook on LOW for 6-7 hours, or HIGH for 3-4 hours.  If beans are too thin, remove lid and continue cooking (on HIGH now), until thickened to your liking.  If your beans are too thick, stir in a little bit of water, as needed.  Top beans with bacon before serving.
MAKING BAKED BEANS AHEAD OF TIME
You can make these beans a day or so ahead of time.  I find that when I reheat my beans, they tend to dry out a bit though.
Alternatively, you can also assemble the bean mixture and pre-cook the bacon and store them separately in the refrigerator.  Then just add to baking dish, top with bacon and bake.  This will ensure your beans aren't dry at all.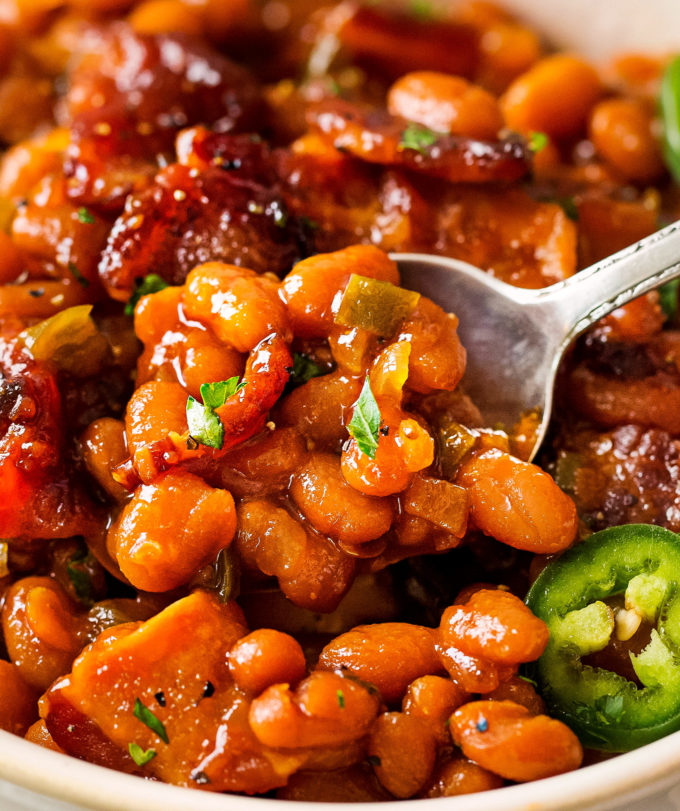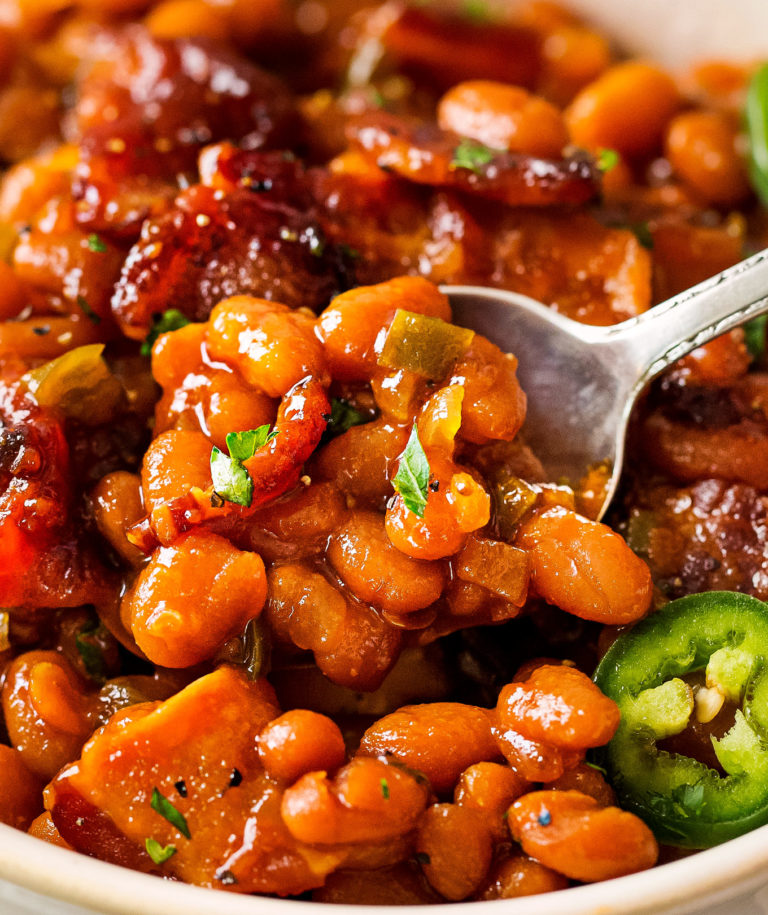 STORAGE
Leftovers should be refrigerated in an airtight container and consumed within 1 week.
FREEZING
Let baked beans cool completely, then store in a freezer-safe, airtight container for up to 3 months.
Thaw overnight in the refrigerator, then reheat at 350°F for 20 minutes or until hot and bubbly throughout.
SPECIAL EQUIPMENT FOR THIS RECIPE
3 quart baking dish – normally I use a glass dish like this one, and I love the included lid!
Alternate baking dish – if you like the look of the dish in the photo above, this is a very similar product and by the same quality brand.


BE SURE TO SCROLL DOWN TO CHECK OUT OTHER READERS' COMMENTS FOR TIPS AND REVIEWS.
AND DON'T FORGET, IF YOU'VE MADE THIS RECIPE, LEAVE A COMMENT AND PLEASE GIVE IT A STAR RATING LETTING ME KNOW HOW YOU ENJOYED IT!
Recipe originally published in 2015 and has been updated in 2020 with additional information.
Did you make this? Be sure to leave a review below and tag me @the_chunky_chef on Facebook and Instagram!
These baked beans are semi-homemade and the perfect blend of sweet, savory and smoky! Topped with delicious bacon, they're sure to be a hit!
Ingredients
10 slices bacon diced
1 yellow onion finely diced
1/2 green bell pepper finely diced
54 oz can pork and beans or 4 (15.5oz each) cans
4 Tbsp ketchup
1/4 cup molasses
2/3 cup brown sugar
1/4 cup cider vinegar
2 tsp dry mustard
Instructions
Cook bacon about half way through (in whichever way you want), and set aside to drain on a paper towel. Once cooled, roughly chop into semi-bite sized pieces.

Preheat oven to 325 degrees and set rack to the lower-middle rack position.

In a deep skillet, heat about 2 Tbsp of bacon grease (or butter) over MED heat. Add diced onion and green pepper and saute about 5 minutes, until softened.

Add remaining ingredients and stir to combine well. Let mixture simmer for a minute or so.

While the mixture is simmering, grease a 13x9 baking dish, or other 3 quart dish or pot.

Pour beans into the prepared baking dish and lay cooked bacon on top of the beans.

Bake for 2-3 hours, depending on your desired consistency.

Let the beans stand for 5 minutes before serving.
Want to save this recipe for later? Click the heart in the bottom right corner to save to your own recipe box!
Chef Tips
** if you want to feed a larger crowd, you can hover over the number of servings, and a slider will appear.  Slide until it shows the amount of servings you want, and it will automatically calculate the ingredient amounts for you! Garnishing with sliced jalapenos is great if you like a little heat!
Nutrition Disclaimer
The Chunky Chef is not a dietician or nutritionist, and any nutritional information shared is an estimate. If calorie count and other nutritional values are important to you, we recommend running the ingredients through whichever online nutritional calculator you prefer. Calories can vary quite a bit depending on which brands were used.