Slow Cooker Honey Garlic Chicken with Spicy String Beans in Garlic Sauce
Apparently I was on an Asian flavors kick when I planned this last week of meals lol.  Tis the time of year for slow cooker meals.  What could be better than putting a few simple ingredients in, pressing a button, and then several hours later, dinner is almost finished!  It's a busy mom's lifesaver… for sure.
When we go out for Chinese take out, the main dish I choose changes, but the side dish I am ALWAYS craving, is those Chinese string beans.  You know, the ones that come coated in that slightly spicy/sweet sauce?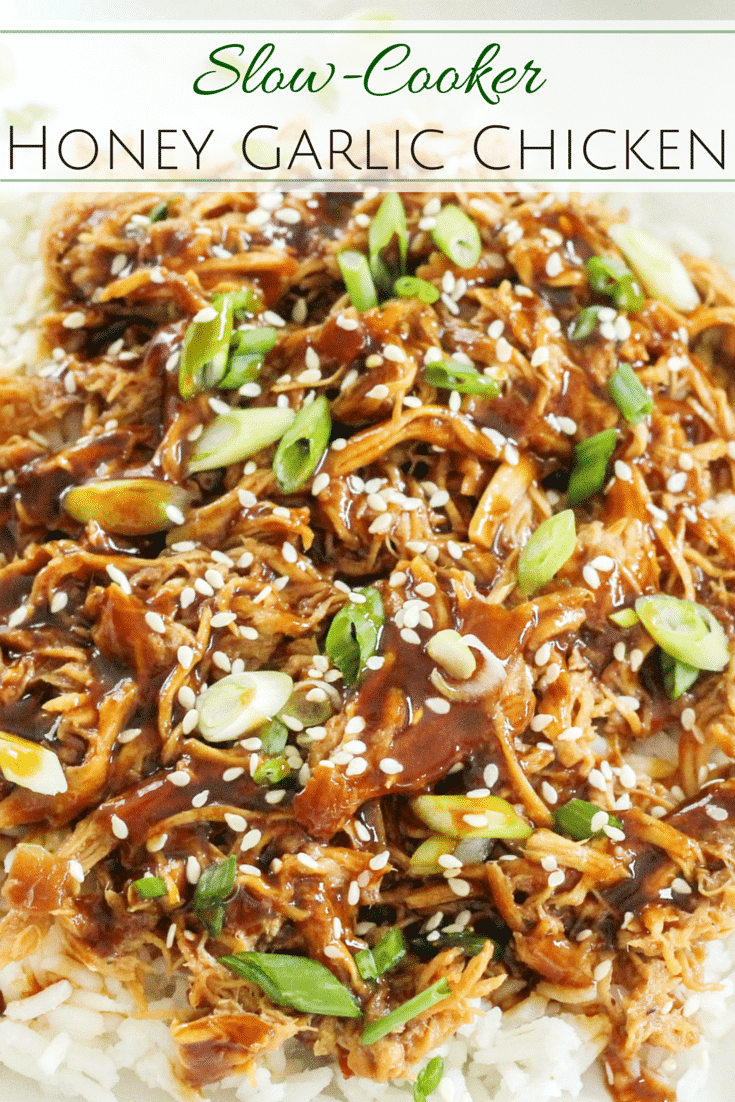 I could seriously eat only those for dinner, and be completely happy!  The downside around here is that those string beans only come in the big family size portion…. now I know what you're thinking… "ummmm WHY is that a downside?!".  Well, my stomach is saying, "Oh darn… guess I have to eat more string beans… 😛 ", but my wallet is not happy lol.  Especially because typically, I'm the only one who loves to eat them, and I can't justify spending that much on a family size dish, just for me.  Previously, my solution is that whenever we go to a Chinese buffet, I eat my body weight in the string beans to make up for missing them most of the time.  I mean sometimes I wish I could just grab the tray of them and take it back to my seat.  Hmm, I think I may have a problem…. lol.
So instead, I found a recipe online HERE that looked really good!  We eat a good deal of green beans around here… usually steamed, roasted, or in a casserole (mmmm green bean casserole!)… but somehow it never occurred to me to make this stir fried version at home.  Doh!  Now these do taste a little different than take out, in that I think they're spicier, but you could easily adjust that down to your tastes.
I'll start with the slow cooker chicken though, since that's what you'll need to work on first, earlier in the day.  I found this recipe on Pinterest.  Just a Taste, the blog the recipe comes from… is a great blog!!  I've used a couple of her recipes, and they. are. GOOD!  It uses bone-in chicken breasts, which admittedly…. I'd never cooked with before (eeeek).  The recipe calls for bone-in skinless chicken breasts, which I couldn't find.  All my stores had was bone-in skin-on breasts.  So I used those, and just removed the skin when it came time to shred the chicken.  Actually, hubby shredded the chicken for me (awwww) 🙂  I love the simplicity of these ingredients, but they lend such a flavor punch, it's awesome.
If you're making this for kids are really worried about the red pepper flakes, you can certainly omit them.  I used the full 1/4 tsp and it wasn't spicy at all, but it's up to you 🙂  I served my chicken over that Sticky Coconut Rice, but that's optional.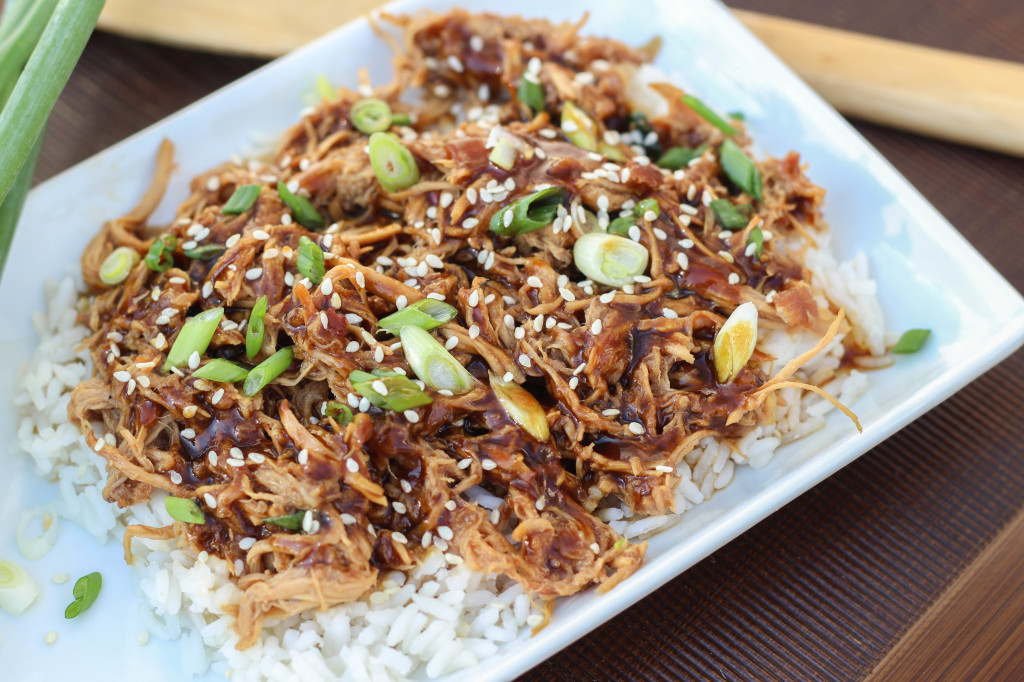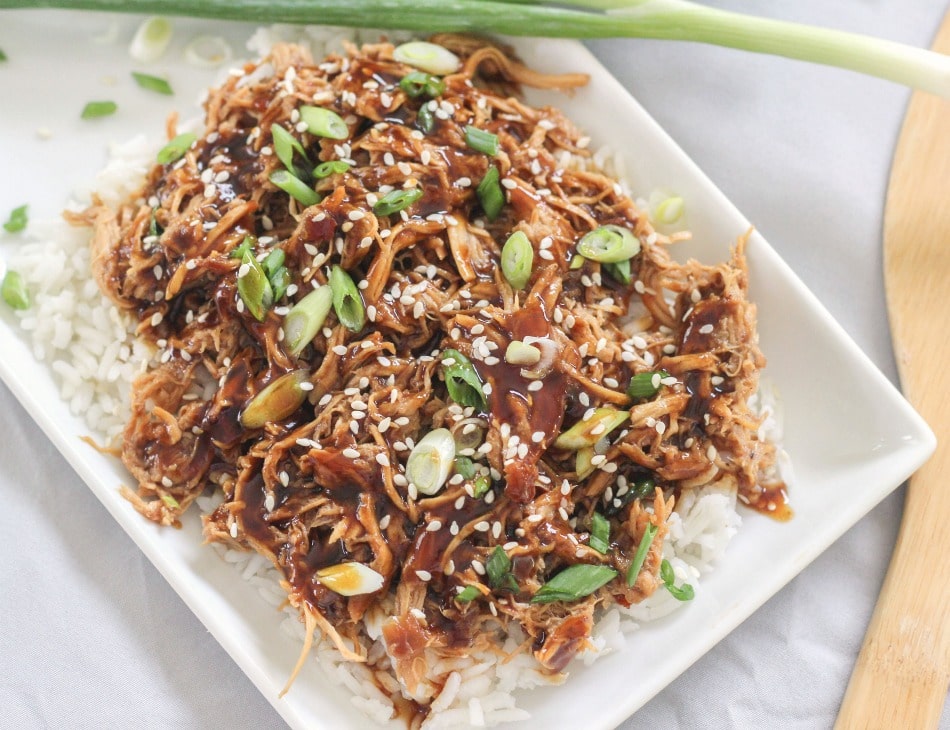 Alright, on to the string beans!
I recommend serving these with some rice to cool down the spice level.  They're hot, but man they are TASTY!!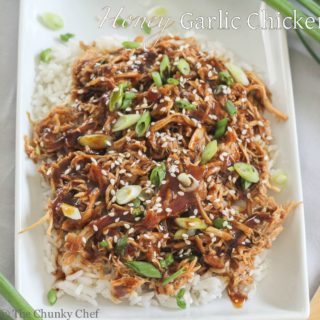 Slow Cooker Honey Garlic Chicken with Spicy String Beans in Garlic Sauce
You won't believe how easy this dish is to make!
Print
Pin
comment
Servings: 6 servings
Ingredients
2 in large bone- skin-on chicken breasts
1/2 cup honey
1/2 cup soy sauce
1/4 cup blackberry jam
1/4 cup hoisin sauce
2 Tbsp olive oil
3 cloves garlic minced
1/2 cup onion diced
1/4 tsp red pepper flakes
1 Tbsp cornstarch
Sliced scallions for garnish
Sesame seeds for garnish
Instructions
Place the chicken breasts in the bottom of your slow cooker, sprinkle with a little salt and pepper.

In a separate bowl, whisk together the honey, soy sauce, blackberry jam, hoisin sauce, garlic, onion, olive oil and red pepper flakes. Pour sauce over chicken breasts.

Cover and cook on LOW for 4-5 hours until the chicken is cooked through.

Remove chicken from slow cooker, keeping liquids in the slow cooker, and place chicken in a bowl. Remove the bones and shred chicken. Leave shredded chicken in the bowl.

In a small bowl, whisk together the cornstarch with 3 Tbsp of cold water. This is called a slurry, and it will thicken the sauce.

Transfer the liquids from the slow cooker to a small saucepan over medium high heat and whisk in the slurry. Bring sauce to a boil and cook until it reduces and thickens slightly. This took me about 3-4 minutes.

Pour half the sauce over shredded chicken and toss to combine. Top chicken with scallions and sesame seeds.

Pour the second half of the sauce into a small bowl or gravy boat to pour over chicken later if desired.
Are We Friends on Pinterest?
Follow me for more great recipes! The Chunky Chef!
Slow Cooker Honey Garlic Chicken with Spicy String Beans in Garlic Sauce
Like your favorite string beans from a Chinese takeout place, but so much better!!
Print
Pin
comment
Servings: 4 servings
Ingredients
1 lb green beans washed and ends trimmed
1 Tbsp black bean garlic sauce
1 Tbsp soy sauce
2 tsp Chinese rice vinegar
1 1/2 tsp sugar
1 Tbsp garlic grated or minced
1 Tbsp ginger grated or minced
2 scallions chopped
2 tsp chili paste
3 Tbsp vegetable oil
Instructions
In a small bowl mix together the bean sauce, soy sauce, rice vinegar and sugar. Set aside.

Bring a large skillet or wok to medium heat. Add 2 Tbsp of the oil. Add green beans and stir fry for 5-7 minutes until their skins blister and the green beans are tender. Transfer beans to a bowl.

Add 1 Tbsp oil to the pan, add the garlic, ginger and scallions. Stir fry for a few seconds, then add chili paste, sauce from step 1, and the green beans. Toss to coat all beans in the sauce.

Serve.
Are We Friends on Pinterest?
Follow me for more great recipes! The Chunky Chef!