Smooth and silky queso dip, made using NO velveeta!  Packed with flavor, yet so easy to make, and party ready in just 20 minutes!
Recipes like my Instant Pot Beef Barbacoa and 5 Minute Restaurant Salsa are great for when you want restaurant quality food, made easily at home. We love hearty Mexican-inspired meals, and this is one of my Mexican recipes you'll definitely want in your dinner rotation!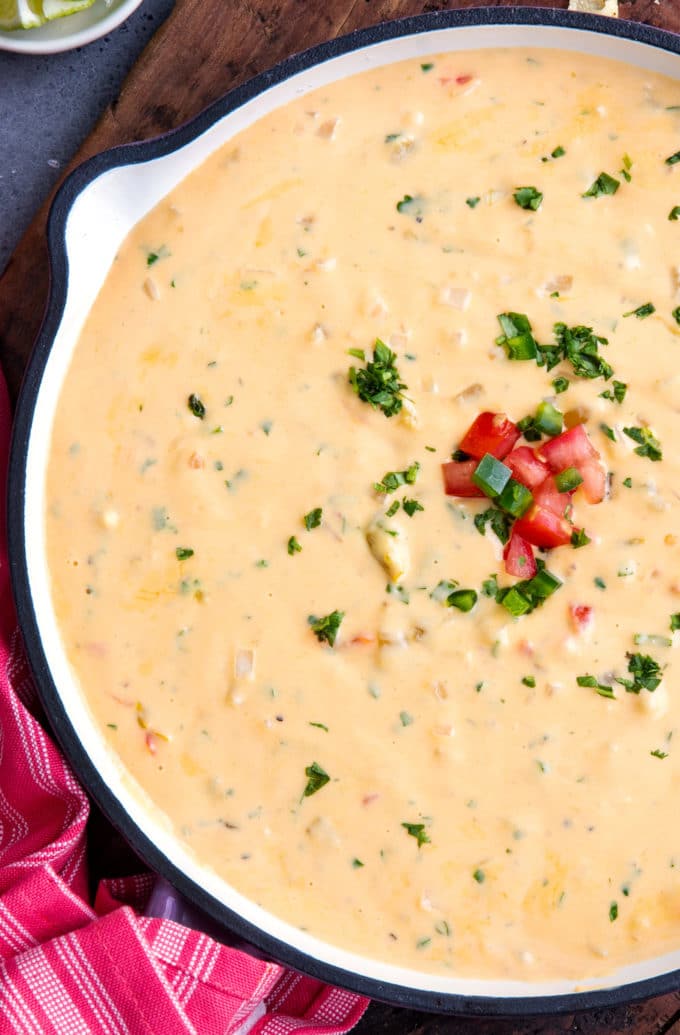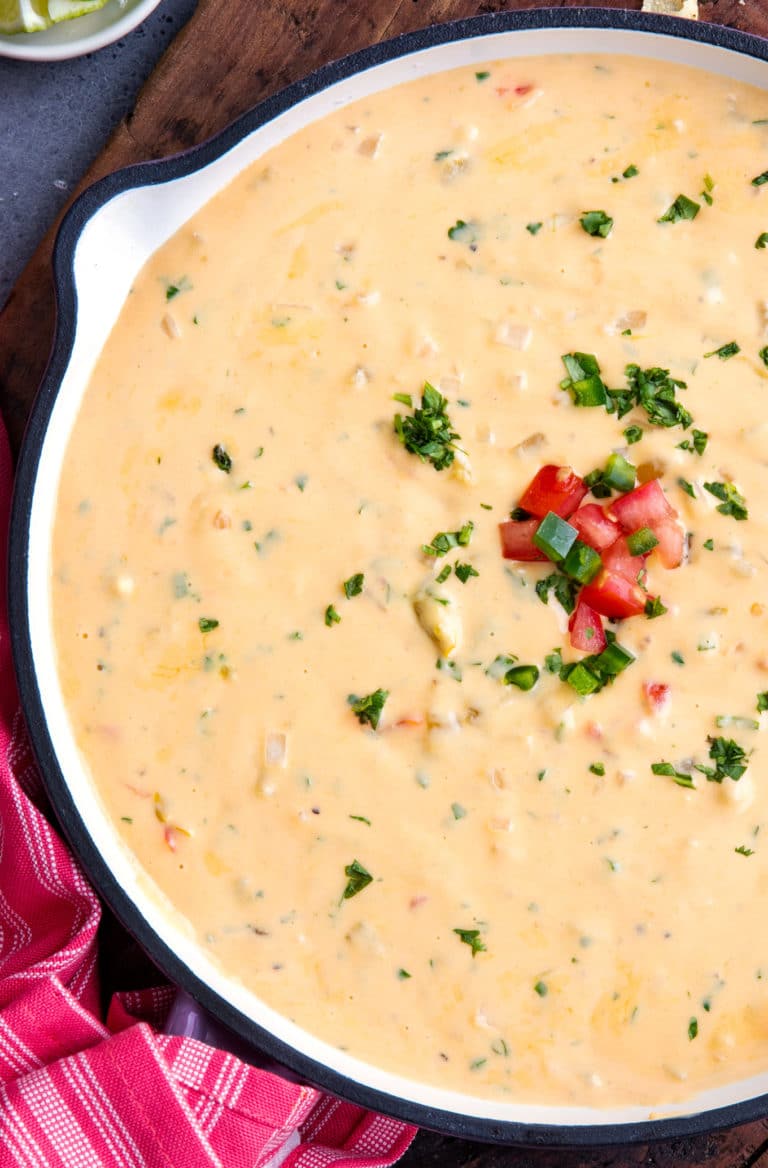 QUESO DIP
Do you have any food guilty pleasures?  I think we all do, we just may not want to admit them to other people right?  Well mine is the jars of salsa con queso dip that are sold by the tortilla chips in the grocery store.  Tostitos is the brand I grew up on.
I knew there had to be a way to make that deliciousness, but with real, natural ingredients.  The label always said "made with real cheese", but I can't quite wrap my head around "real" cheese that's shelf-stable lol.
I tried making it with a roux (heating butter and flour together until melted), then whisking in milk and thickening it that way… and it wasn't bad, but it just didn't have the right consistency to me.
The most amazing thing about this queso dip, is that even though it will get a "skin" on top as it cools (that's just an inevitable part of being a cheese sauce), it can be mixed right in with no clumping, no congealing grossness.
And this dip will be smooth, even when room temperature or cold!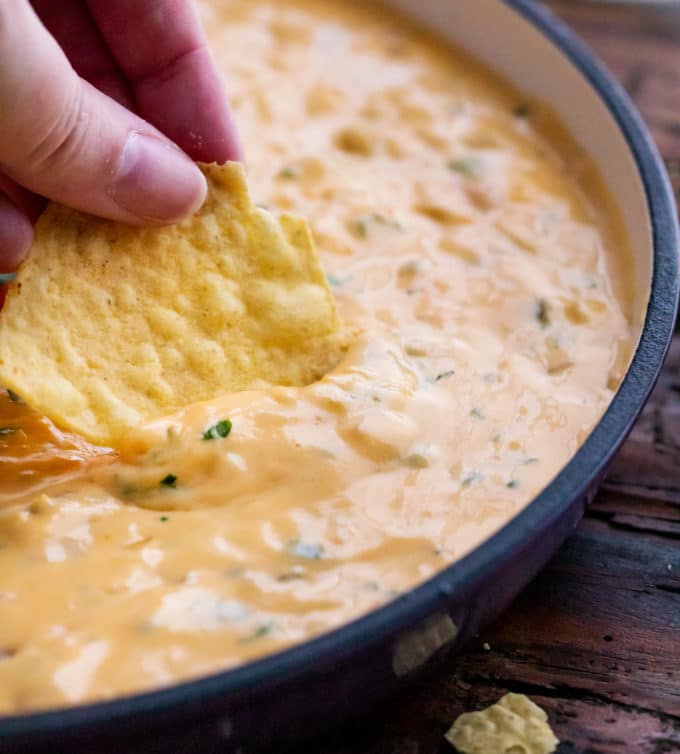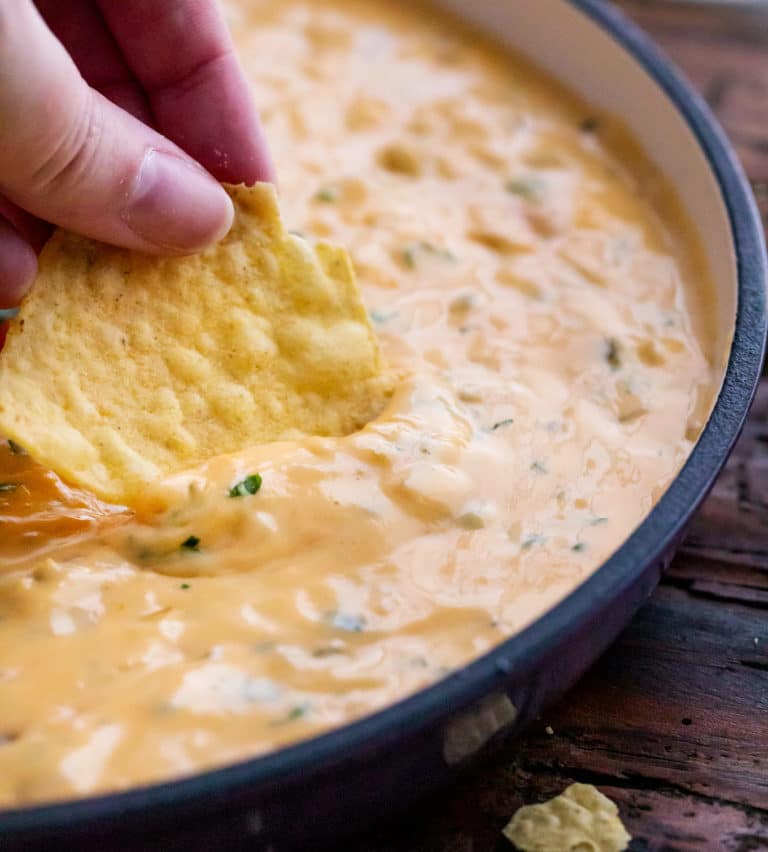 HOW TO MAKE QUESO DIP
Combine shredded cheese and cornstarch.  Toss gently so all the cheese is coated in the cornstarch.  This will help thicken the sauce into a dip-able consistency, and will also help prevent the cheese from separating into a greasy puddle while being heated.
Heat butter and oil, then cook onion.  I like to use both oil and butter here because I want the flavor of butter, but the oil will help raise the smoke point of the butter, so it won't burn when we have it heated over medium high heat.
Add garlic and tomato and cook until softened.  Stir in spices.
Add evaporated milk and cheese/cornstarch mixture.  Evaporated milk is best here because it has emulsifiers in it that keep the cheese from breaking (where it gets really oily), and ensures a smooth creamy dip.
Stir in green chiles and stir until cheese melts.  To be on the safe side, I usually turn down the heat when I'm stirring the cheese in.  Stirring in a figure 8 motion usually helps the cheese melt evenly.
Stir in cilantro and milk if needed.  You may find your queso is the perfect consistency, it's all a matter of preference.  Keep in mind that this queso will thicken a bit as a cools.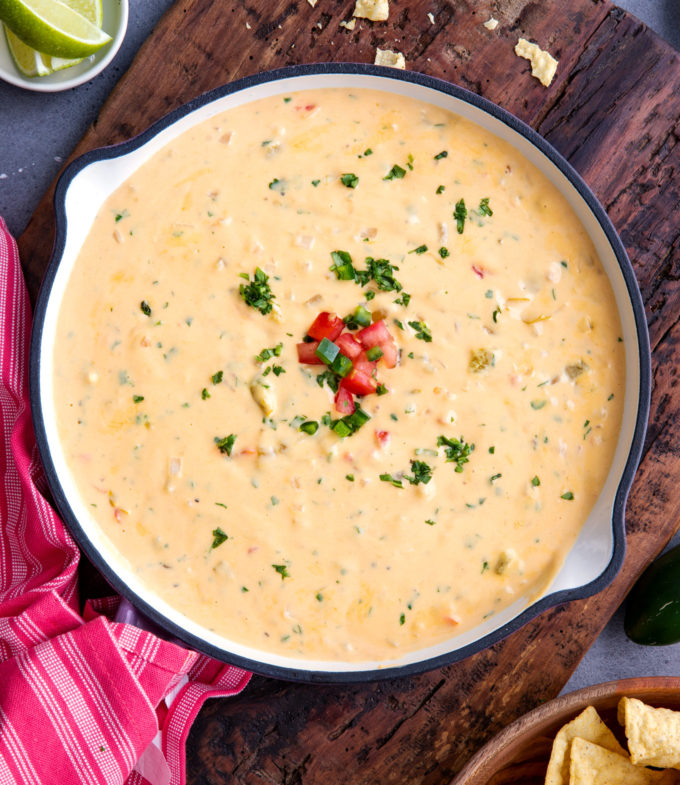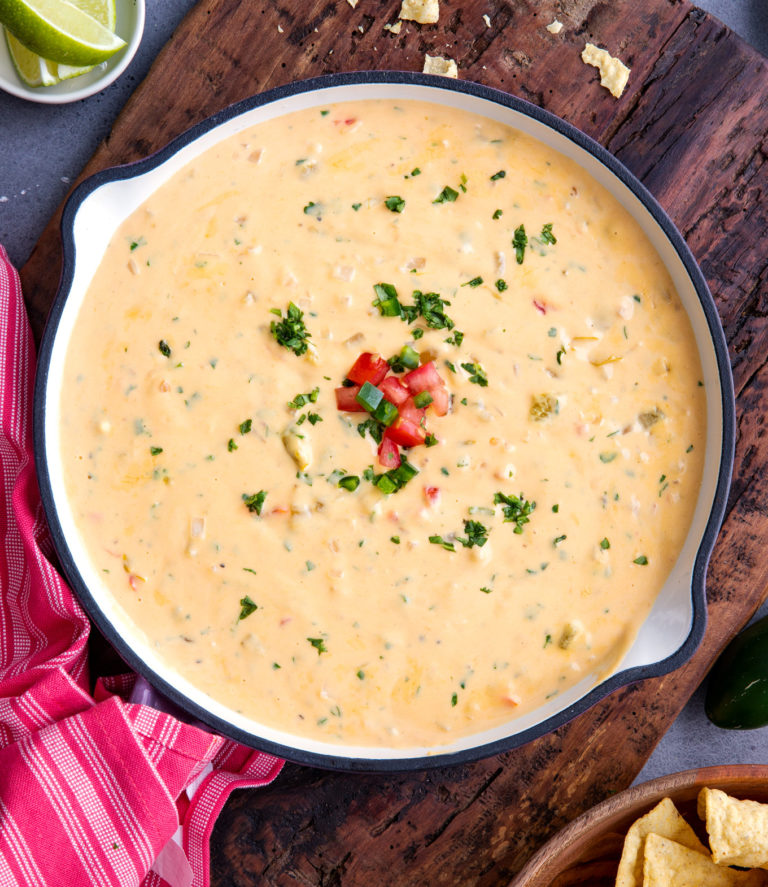 ADDITIONAL COOKING TIPS
Shred your own cheese – I know it's a pain, and it's SO tempting to use the pre-shredded cheese in the bags.  But those bags of cheese contain a starchy substance that keeps the cheese from clumping… which also prohibits it from melting as well as it should.
Rotel – Rotel is a brand of diced tomatoes and green chiles that come in a can together.  You could substitute that for the tomato and diced green chiles in the recipe, although you'll want to make sure to drain it really well.
VARIATIONS OF THIS RECIPE
SPICY – to make this dip spicier, you could use all or any of the following: hot diced green chiles, more cayenne pepper, hot sauce, diced jalapeno, diced serrano pepper.
MILD – this dip is what I consider to be a mild heat level, but if you're really concerned about heat, leave out the cayenne pepper.
CHEESE – I wanted this dip to taste similar to the jarred queso that's found by the tortilla chips, which uses cheddar; but you could use any good melting cheese you like.  American, Colby, Colby Jack, Monterey Jack, Pepper Jack, etc.  You could also use Velveeta if you prefer that consistency.
MEAT – For a fun twist, add some spiced ground beef (we like to use taco seasoning), or ground chorizo!  Just make sure you've drained the meat REALLY well, or you can make your sauce greasy.
TOPPINGS – Diced tomato, jalapeno, pico de gallo, sour cream, salsa, guacamole, cilantro… the sky is the limit!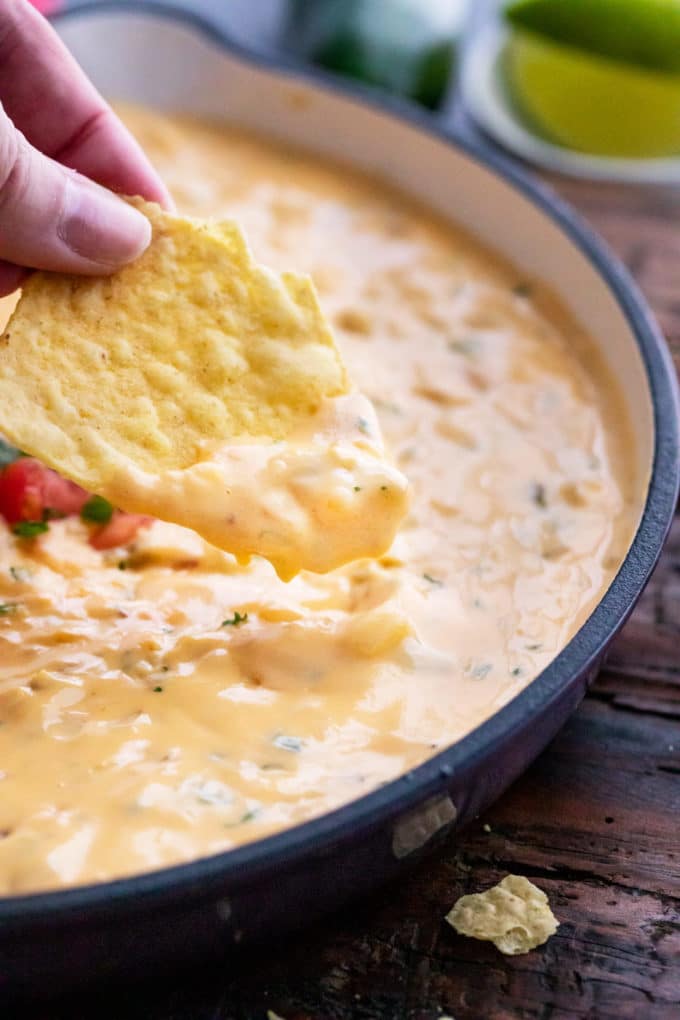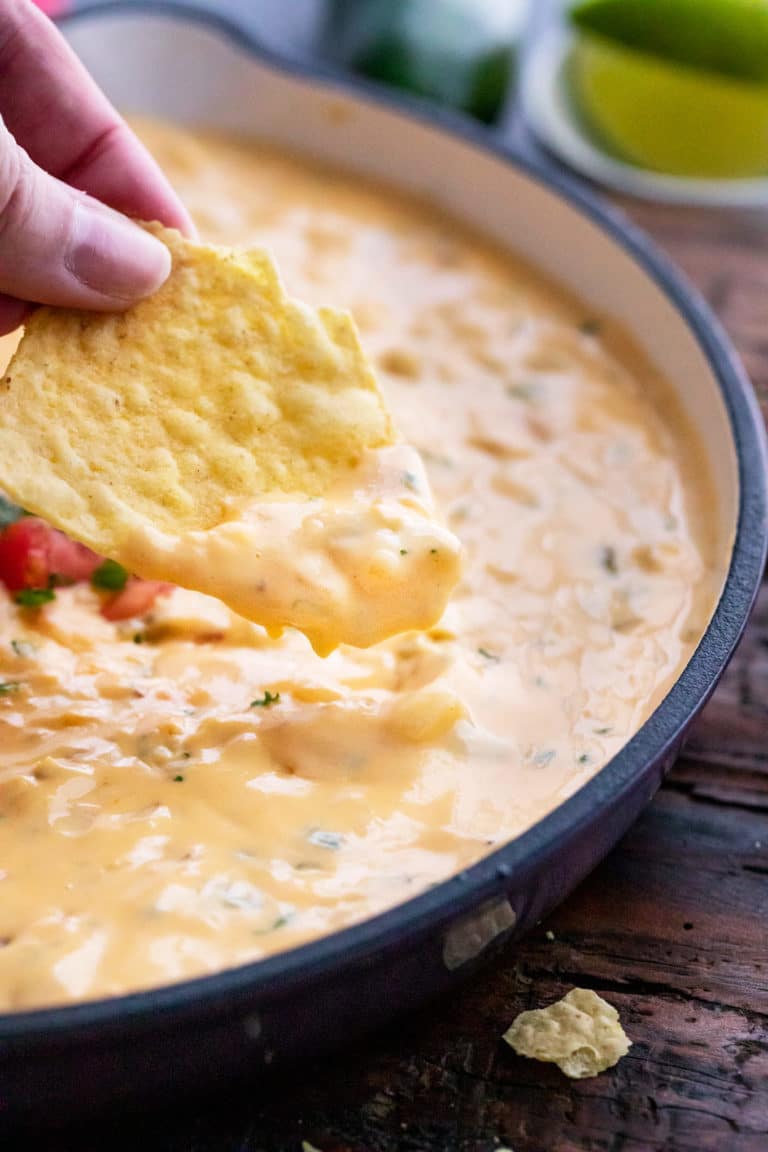 MAKING QUESO AHEAD OF TIME
This recipe doesn't take much time to come together, but if you'd rather make this dip ahead of time, you totally can.
You can also chop up your onion, tomato, garlic, cilantro, etc ahead of time to save prep time.
STORAGE
Leftovers should be refrigerated in an airtight container for up to 1 week.
Reheat either on the stovetop or in the microwave.  If queso is too thick, add a splash of milk when reheating.
CROCKPOT
I don't advise just adding all the ingredients to a slow cooker and letting it cook the dip… however, once you make this dip, if you want to keep it warm during a party or movie night, transfer it to a small crockpot and put it on the "keep warm" setting.
Again, a skin will probably form over time, so just give it a stir from time to time and you're good to go!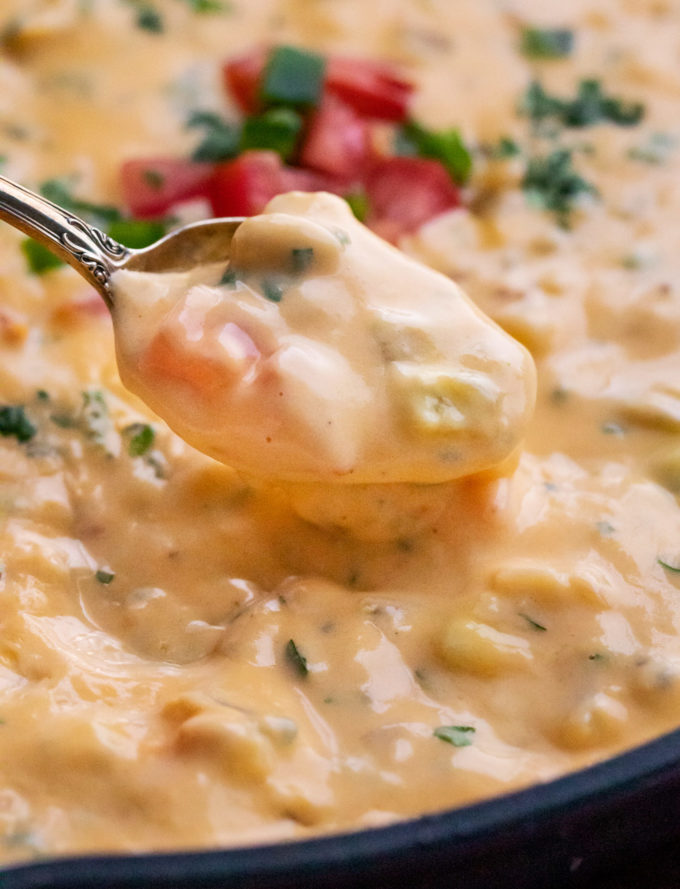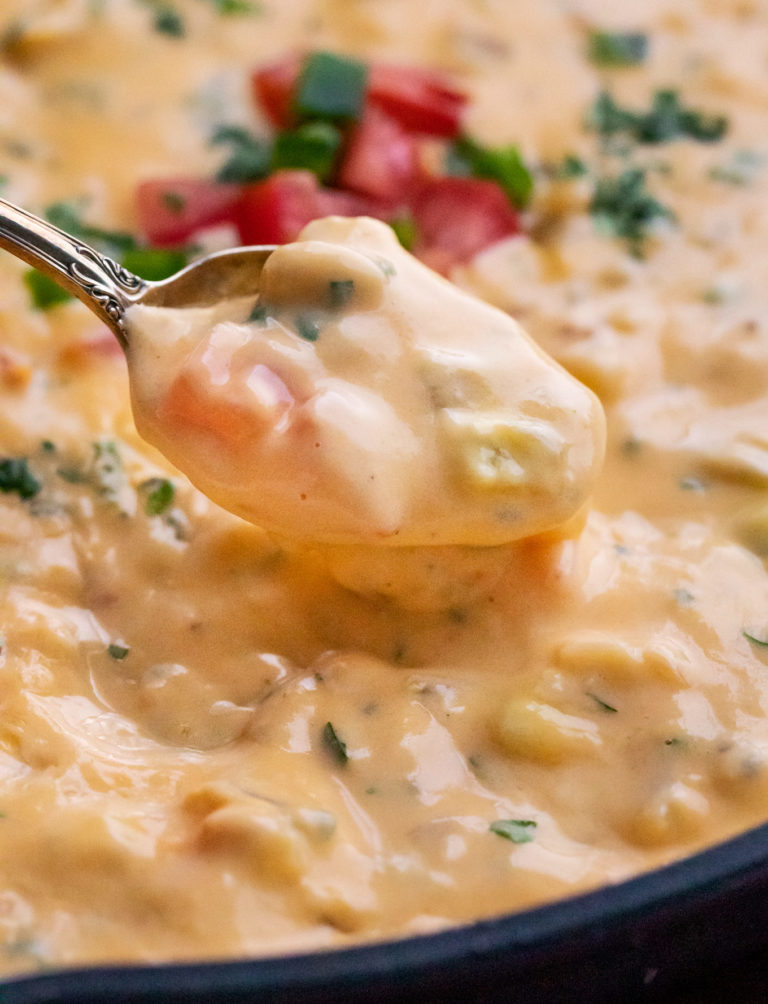 SPECIAL EQUIPMENT FOR THIS RECIPE
Saucepan – I generally make this dip in my trusty saucepan.
Skillet – But for serving, something like this is great for keeping the dip warm.
Mini Slow Cooker – If I need to keep this dip warm for longer periods of time, this little crockpot is great.


BE SURE TO SCROLL DOWN TO CHECK OUT OTHER READERS' COMMENTS FOR TIPS AND REVIEWS.
AND DON'T FORGET, IF YOU'VE MADE THIS RECIPE, LEAVE A COMMENT AND PLEASE GIVE IT A STAR RATING LETTING ME KNOW HOW YOU ENJOYED IT!
Did you make this? Be sure to leave a review below and tag me @the_chunky_chef on Facebook and Instagram!
Smooth and silky queso dip, made using NO velveeta! 
Ingredients
8 oz block cheddar cheese shredded
1 Tbsp cornstarch
1 Tbsp butter
1 Tbsp vegetable oil
1/2 medium yellow or white onion minced (about 1/3 - 1/2 cup)
2 cloves garlic minced
1 - 2 tomatoes diced
1/2 tsp kosher salt
1/4 tsp ground cumin
1/8 - 1/4 tsp cayenne pepper (optional)
12 oz can evaporated milk full-fat
4 oz diced green chiles drained
1/4 cup chopped fresh cilantro
1 - 3 Tbsp milk (if needed)
Instructions
In a medium mixing bowl, combine shredded cheese and cornstarch, stirring well to coat. Set aside.

Heat butter and oil over MED HIGH heat in saucepan. When hot, add minced onion and cook for 3-4 minutes, until soft and slightly charred.

Reduce heat to MED and add garlic and tomato and cook 1-2 minutes. Stir in salt, cumin, and cayenne pepper.

Add evaporated milk and cheese mixture. Stir in diced green chiles. Turn heat down to LOW and stir until cheese melts completely and mixture turns into a smooth cheese sauce.

Stir in cilantro and some milk if needed. Keep in mind, queso will thicken as it cools (usually I don't need to add any milk).

Remove from heat and serve warm.
Want to save this recipe for later? Click the heart in the bottom right corner to save to your own recipe box!
Nutrition Disclaimer
The Chunky Chef is not a dietician or nutritionist, and any nutritional information shared is an estimate. If calorie count and other nutritional values are important to you, we recommend running the ingredients through whichever online nutritional calculator you prefer. Calories can vary quite a bit depending on which brands were used.