Oven Roasted Corn on the Cob
---
The easiest method for cooking corn on the cob… roasting it in the oven!  This method yields perfectly cooked and naturally sweet ears of corn!
---
Everyone knows about grilling or boiling corn on the cob, but my favorite is actually the lesser-known oven roasted method!  Perfectly cooked, sweet ears of corn… every time!!!  Plus a mouthwatering orange basil butter to slather over the top!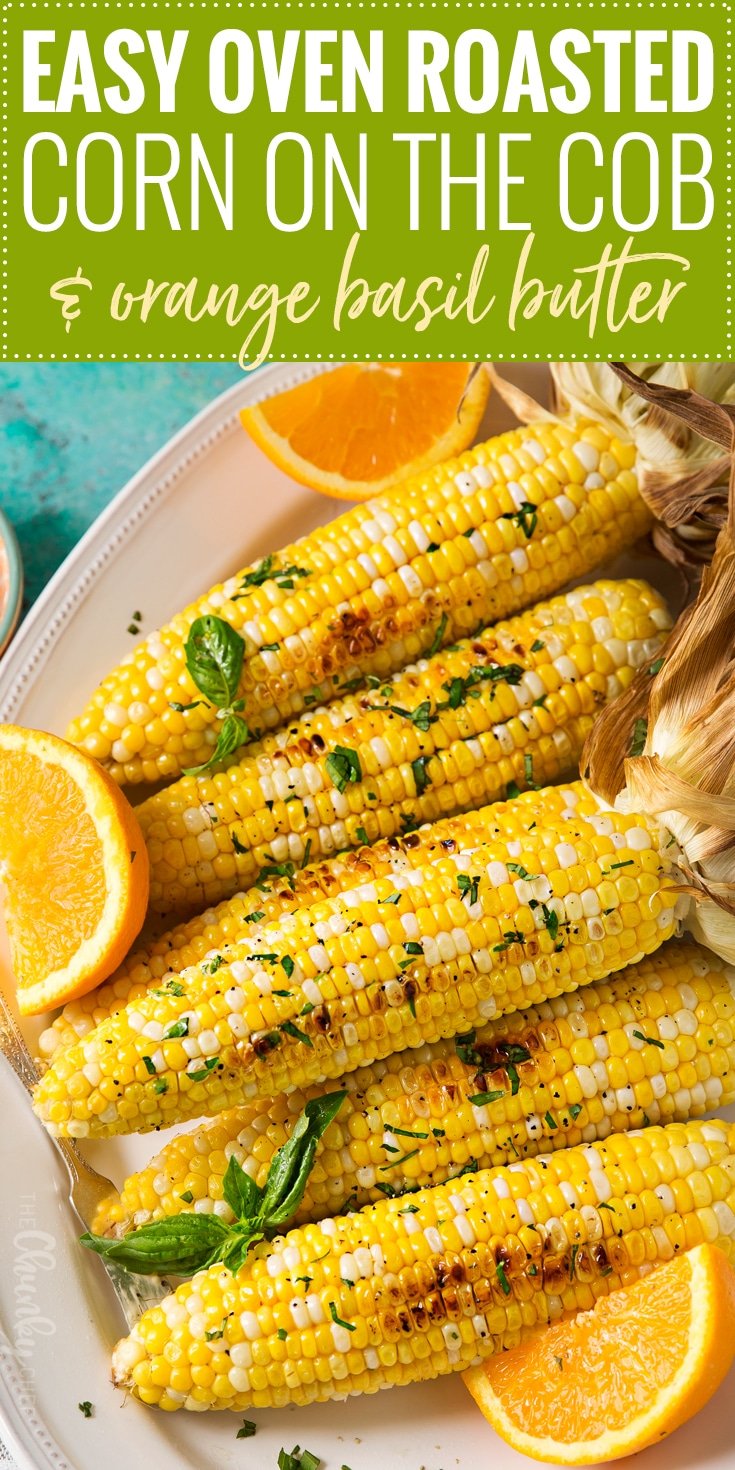 Everyone has their favorite way of cooking corn on the cob… and while I love a great grilled cob, sometimes the weather doesn't cooperate, or I just don't feel like firing up the grill.  That's when my new favorite method comes in handy… all you need is an oven and a baking sheet!
This time of year, corn is at it's finest (and cheapest!), so I love to take advantage of that and enjoy some great oven roasted goodness!  Plus, as a bonus, I like to roast a bunch of corn, cut the kernels off the cob and freeze it so I can enjoy summer corn on the cob year-round.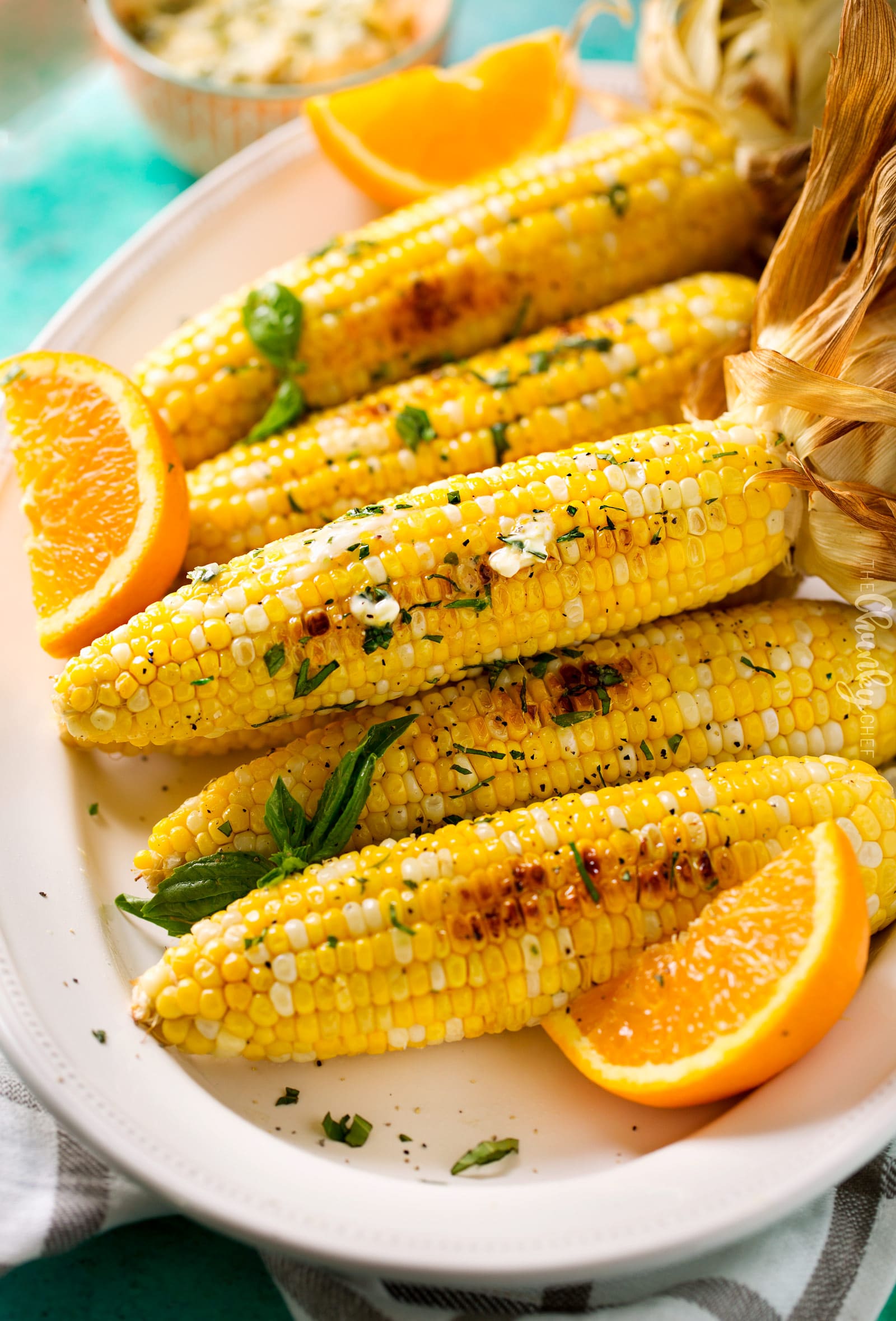 Is there anything better than a great ear of sweet summer corn slathered with a bit of salted butter?  I say yes!!!  You have to try your corn on the cob with my mouthwatering orange and basil butter… it will blow you away!!!  Plus you can absolutely make the butter ahead of time and try it on other things, like a slice of this crusty bread, or some grilled chicken.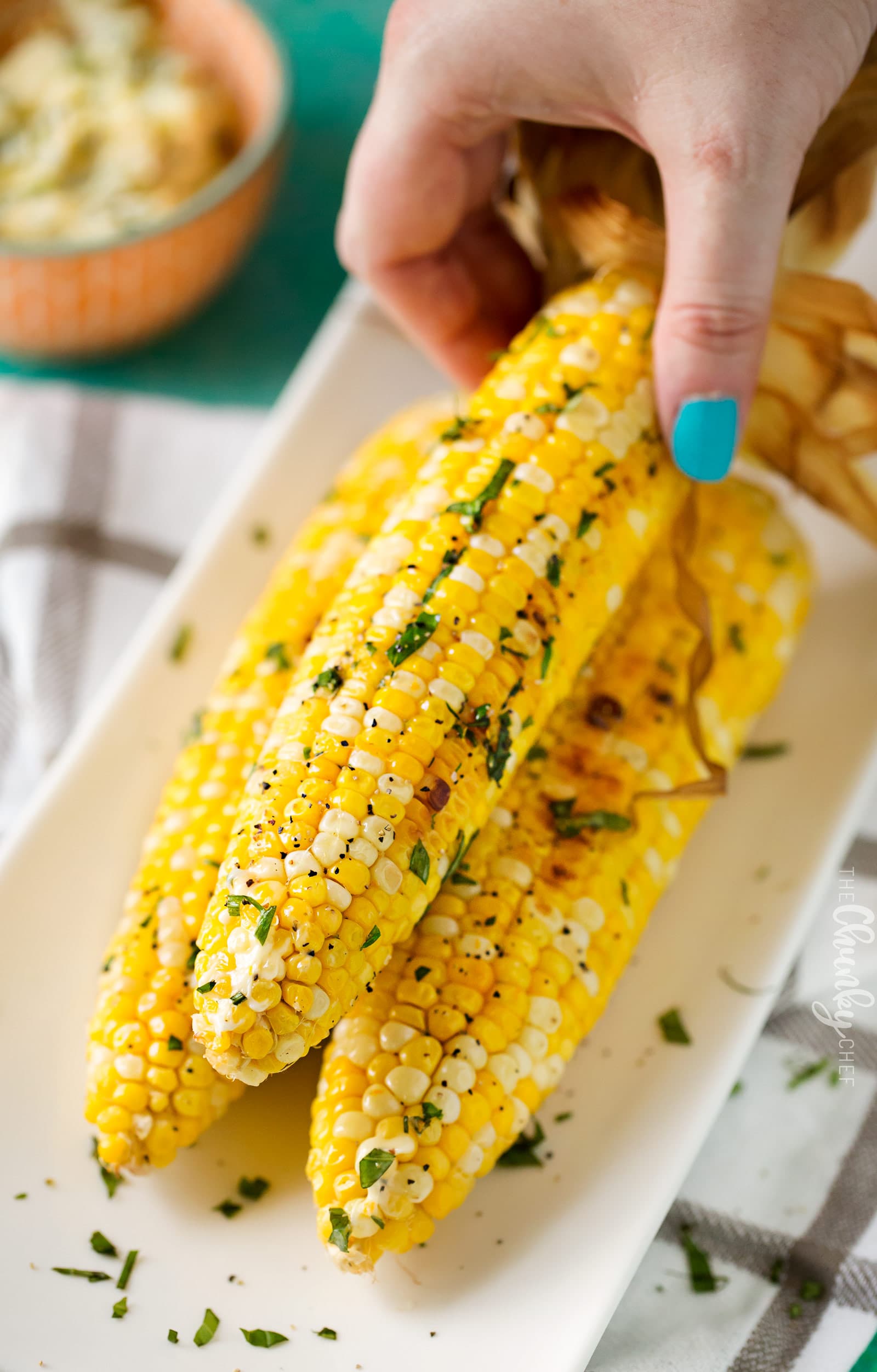 You might be thinking that orange and corn on the cob aren't exactly perfect matches for each other… and I was skeptical too.  But once I tested, adjusted the recipe, and tested it again, I hit the sweet spot, where there's just enough sweet orange flavor, but not enough that it overpowers the classic corn taste.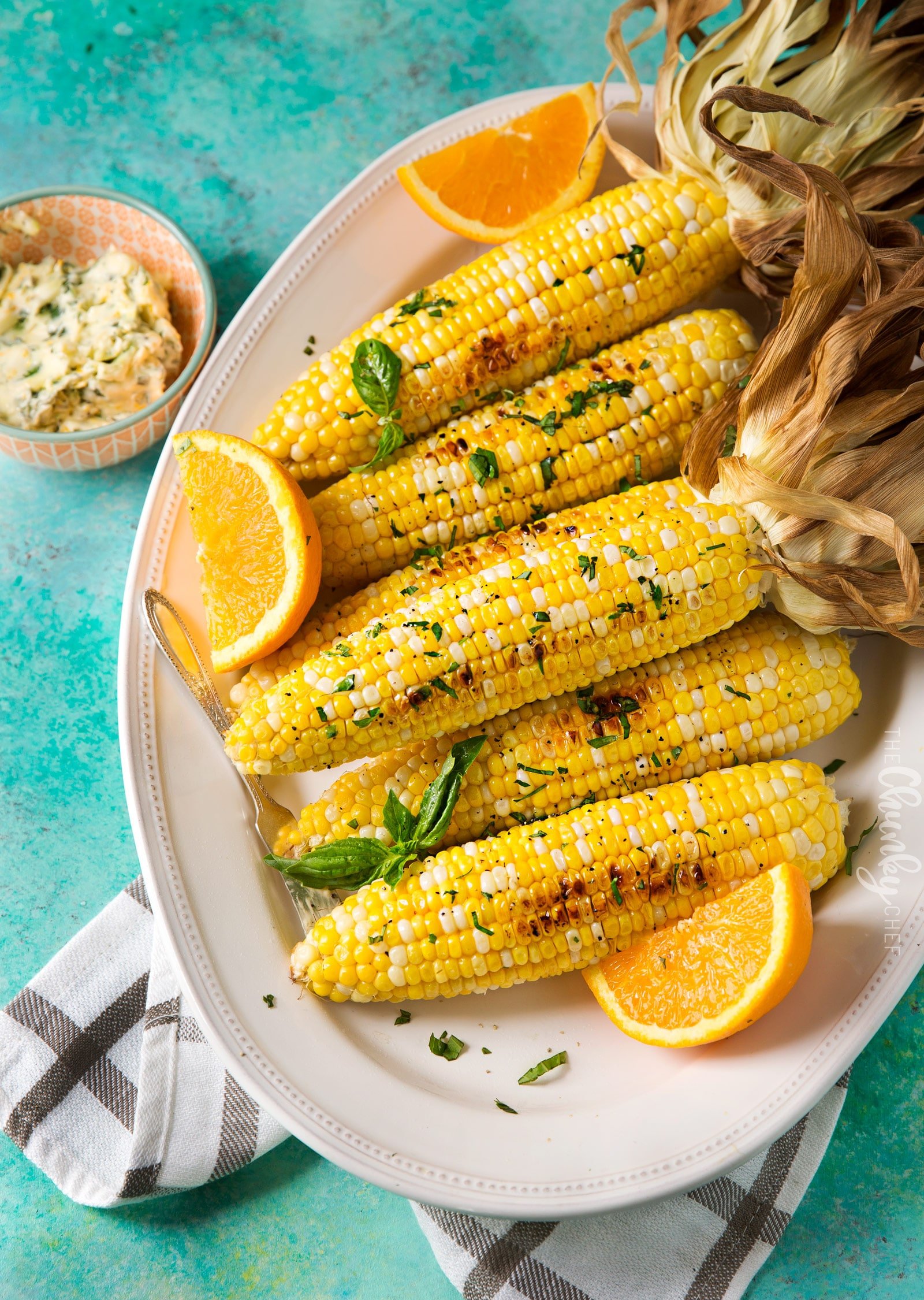 The next time you have a hankering for a fantastically sweet and juicy corn on the cob, instead of cooking them your usual way, give this super easy oven roasted method a try!  And don't forget the orange basil butter 😉
---
WANT TO TRY THIS ROSTED CORN ON THE COB?
PIN THEM TO YOUR SIDE DISHES OR SUMMER BOARD TO SAVE FOR LATER!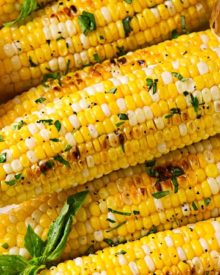 Oven Roasted Corn on the Cob
The easiest method for cooking corn on the cob... roasting it in the oven! This method yields perfectly cooked and naturally sweet ears of corn!
Ingredients
CORN:
6 ears of corn, shucked
softened butter (salted or unsalted)
kosher salt and black pepper
ORANGE BASIL BUTTER:
1/2 cup salted butter, at room temperature
1 tsp orange zest
3/4 tsp chopped fresh tarragon
2 tsp chopped fresh basil
small pinch of kosher salt
pinch of cracked black pepper
Instructions
Preheat oven to 400 degrees F. Line a baking sheet with a rim (like this jelly roll pan), with foil and set aside.

Rub softened butter over each ear of corn and sprinkle with salt and black pepper. Line ears of corn up on prepared baking sheet and bake for 35 - 40 minutes, turning halfway through.

While corn is baking, add all orange basil butter ingredients to a small mixing bowl and use a small rubber spatula (I love this one), or a spoon to combine well.

When corn is finished baking, slather them with the flavored butter and serve!
Recipe Notes
If you prefer to slice your kernels off the cob, check out my tips on how to do it with no mess HERE!
NEVER MISS A CHUNKY CHEF RECIPE: