You all know I love salsa… I mean really, who doesn't?!  There are so many types of salsa… traditional, chunky, smooth, tomatillo, black bean, corn, hot, mild, fruit, etc.  Wayyyy too hard to pick a favorite!  But this one is definitely one of my favorites… sweet with a kick… this corn and poblano salsa has a wonderful roasted flavor!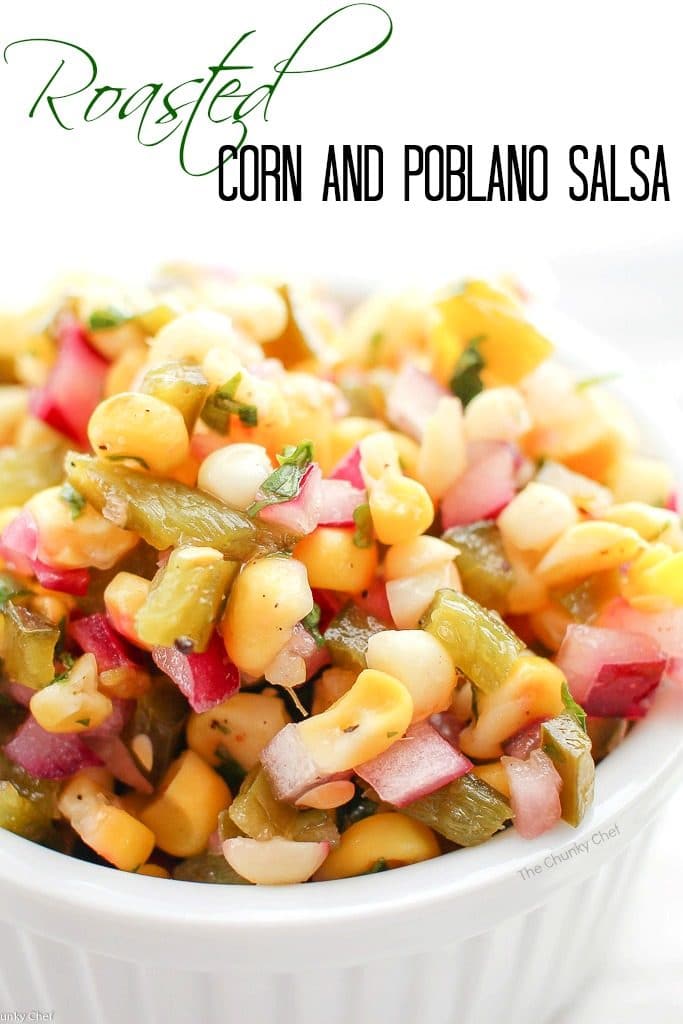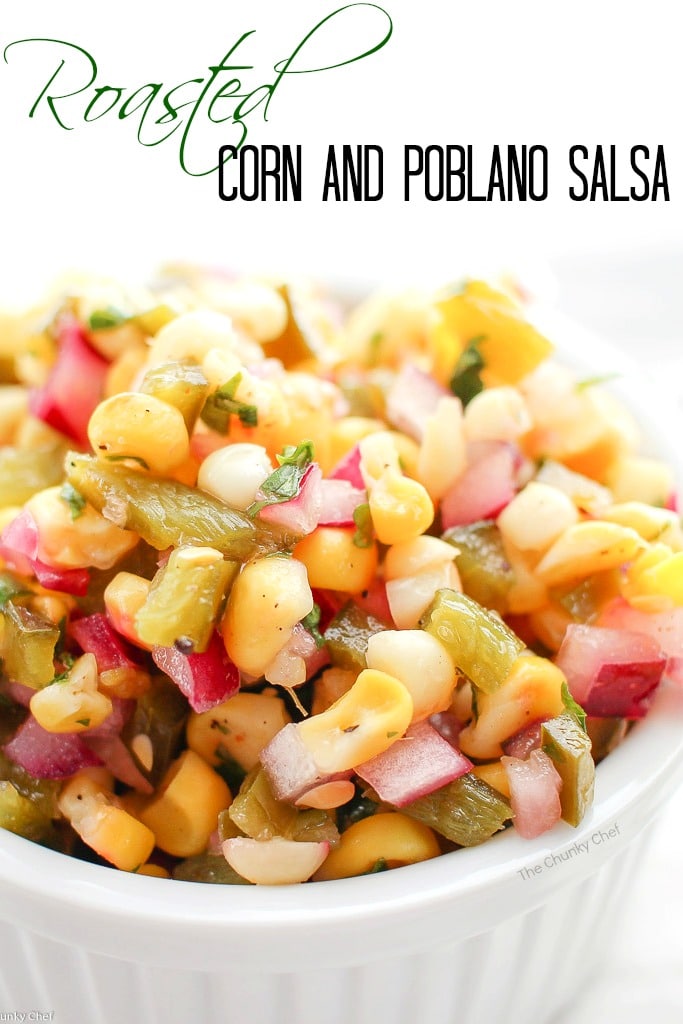 Have you ever roasted corn?  Ohhhh sweet Lord… you have to try it!  Even if it's not for this recipe (although you should really try this, seriously!)… the flavor of the fresh corn is intensified and just amazing.
I've been on a roasting kick here lately… peppers, broccoli, cauliflower, green beans, mushrooms, corn… it's like a magic flavor boost!
This recipe is similar to my Corn and Avocado Salsa, but it has a smoky depth of flavor that really sets it apart.  I would say this is pretty close to Chipotle's corn salsa… although it isn't a copycat 🙂  I came across this recipe on Twitter (come hang out with me there!) from a great blogger, Cheyanne from No Spoon Necessary.  This girl is talented!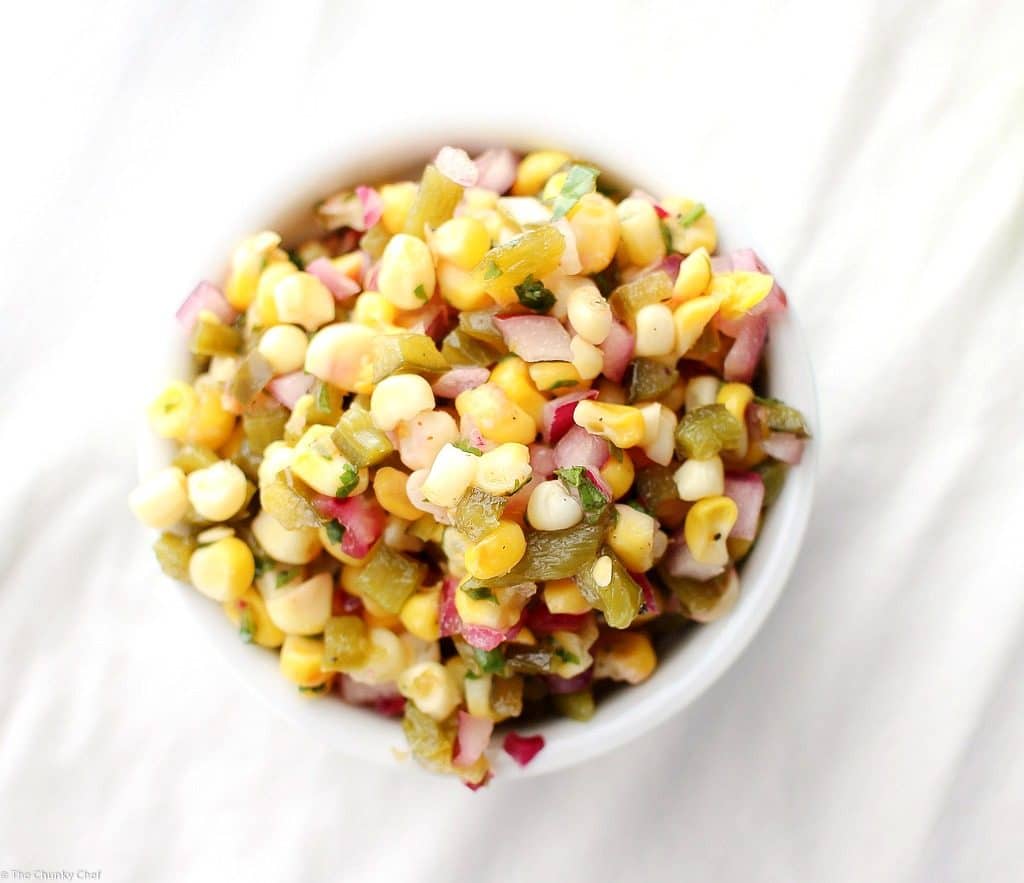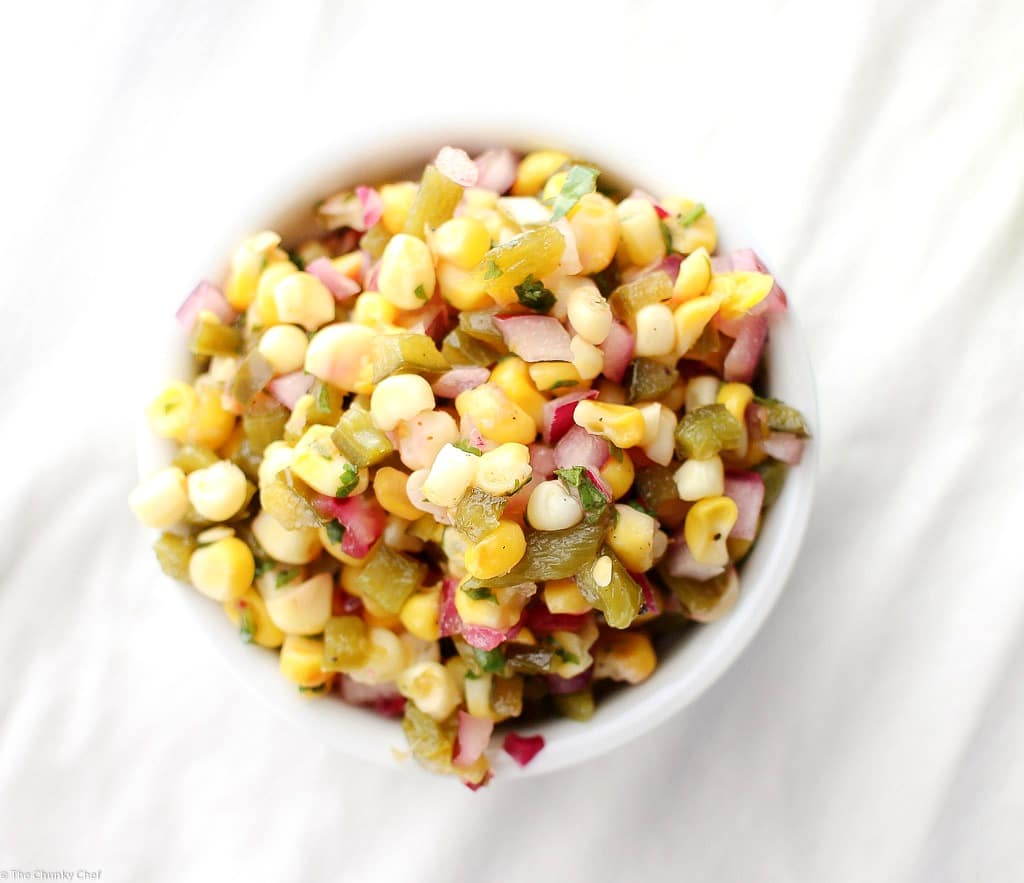 As soon as I saw that recipe, I just knew… it. was. about. to. go. DOWN!  My mouth was already watering thinking about sinking a perfectly crisp tortilla chip into that sweet, smoky and spicy salsa.
Sure enough, I was off to the store pretty soon to gather my ingredients.  It was time to start roasting!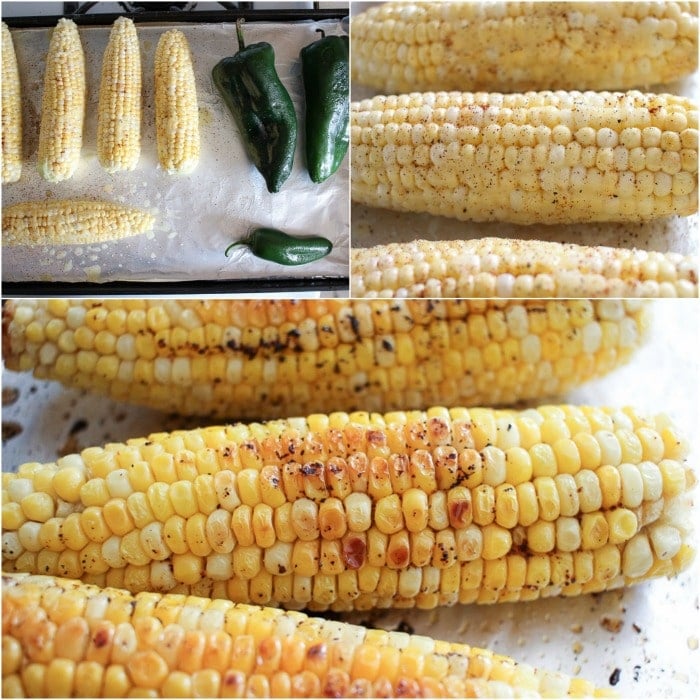 Oooooh those char marks!!!  LOVE them.  Roasting the corn and peppers is a super simple process, just takes a little bit of time.  SO worth it though, seriously!
Heat your oven up to 400 and line a baking sheet with foil.  Brush your corn with some melted butter and sprinkle with your seasonings.  Spray your peppers with some cooking spray and roast for 10 minutes.  Turn your corn, flip your peppers over, and roast another 10 minutes.
Now your corn is going to continue roasting, but at this point, your peppers are finished.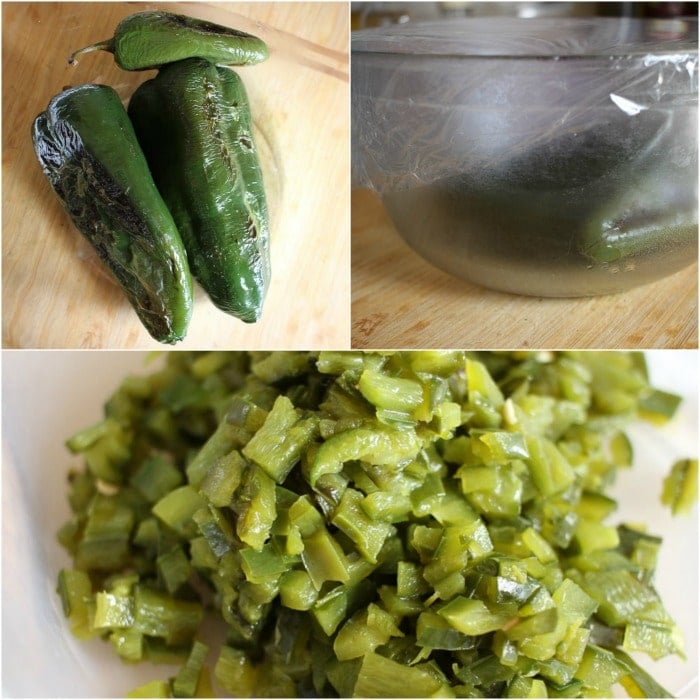 Place your peppers in a large glass bowl (or big ziploc bag), and cover with plastic wrap (or seal the bag tightly).  Let your peppers just steam in the bowl for 15-20 minutes.  Scrape off a good portion of the peppers' skin.  Don't worry if you can't get it all off… I think the char adds a great flavor!
Your corn is going to continue to roast another 15-20 minutes, turning every 10 minutes or so.  Once it's golden, set it aside so it can cool a little bit.  You don't want to burn yourself handling the corn!  Now you're going to cut the kernels off of the cob.  This can be tricky, but Cheyanne had a fantastic trick… I can't believe I never thought of it before!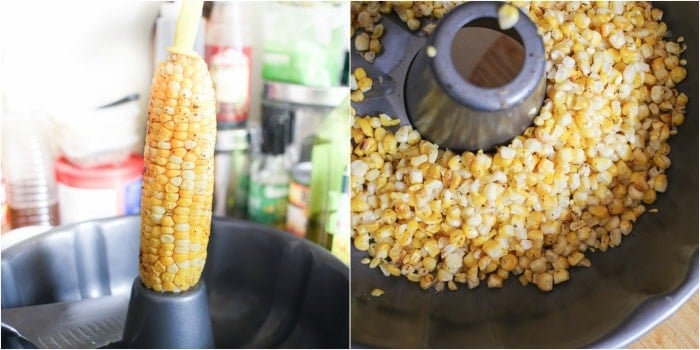 Drag out that old bundt pan!  This way all the kernels fan into the pan and not all over the counter 🙂
Place your diced red onion in a medium bowl with the red wine vinegar and let it sit for 10 minutes or so.  Toss in all your remaining ingredients and give it a stir.
Done!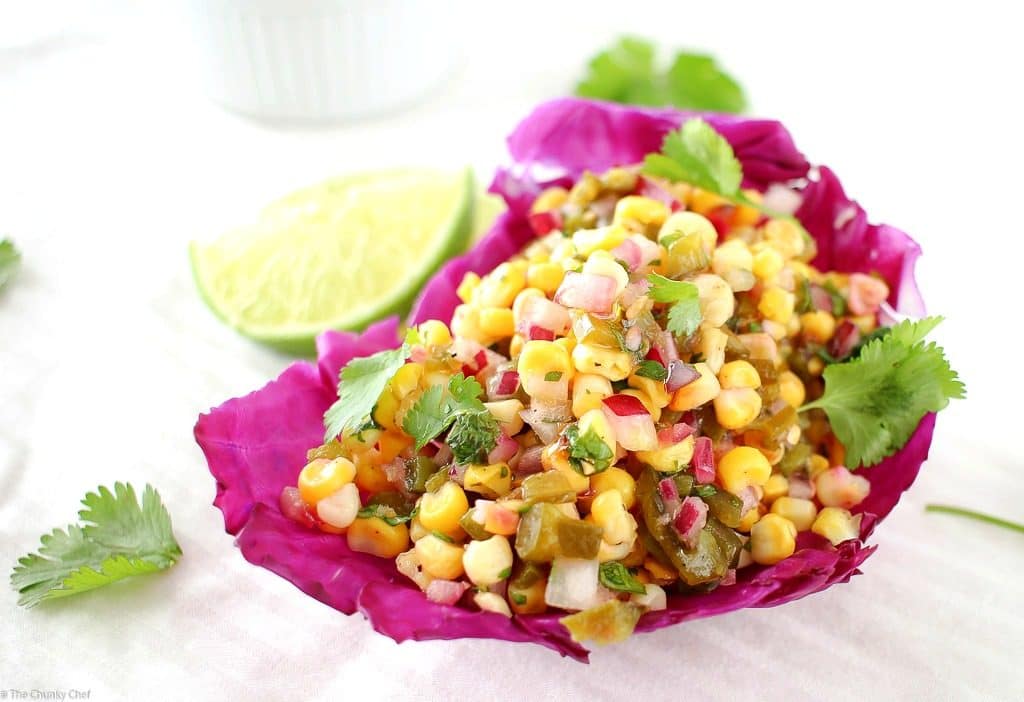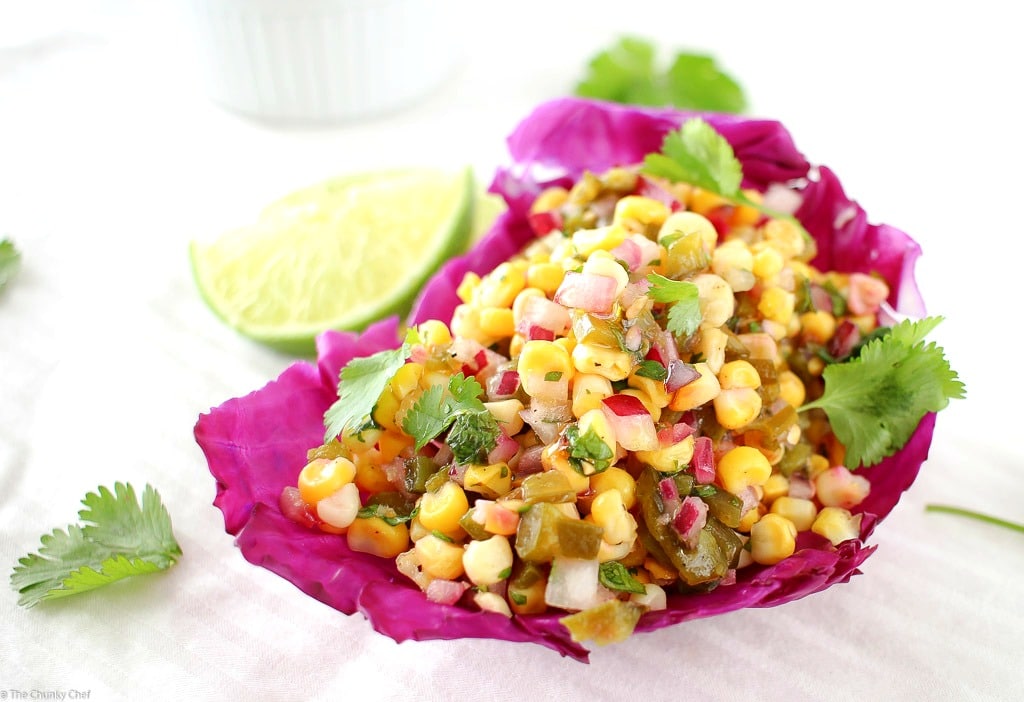 This stuff is just incredible!  I can only imagine that as the summer months come around and the corn gets sweeter… this will just get better and better to make 😀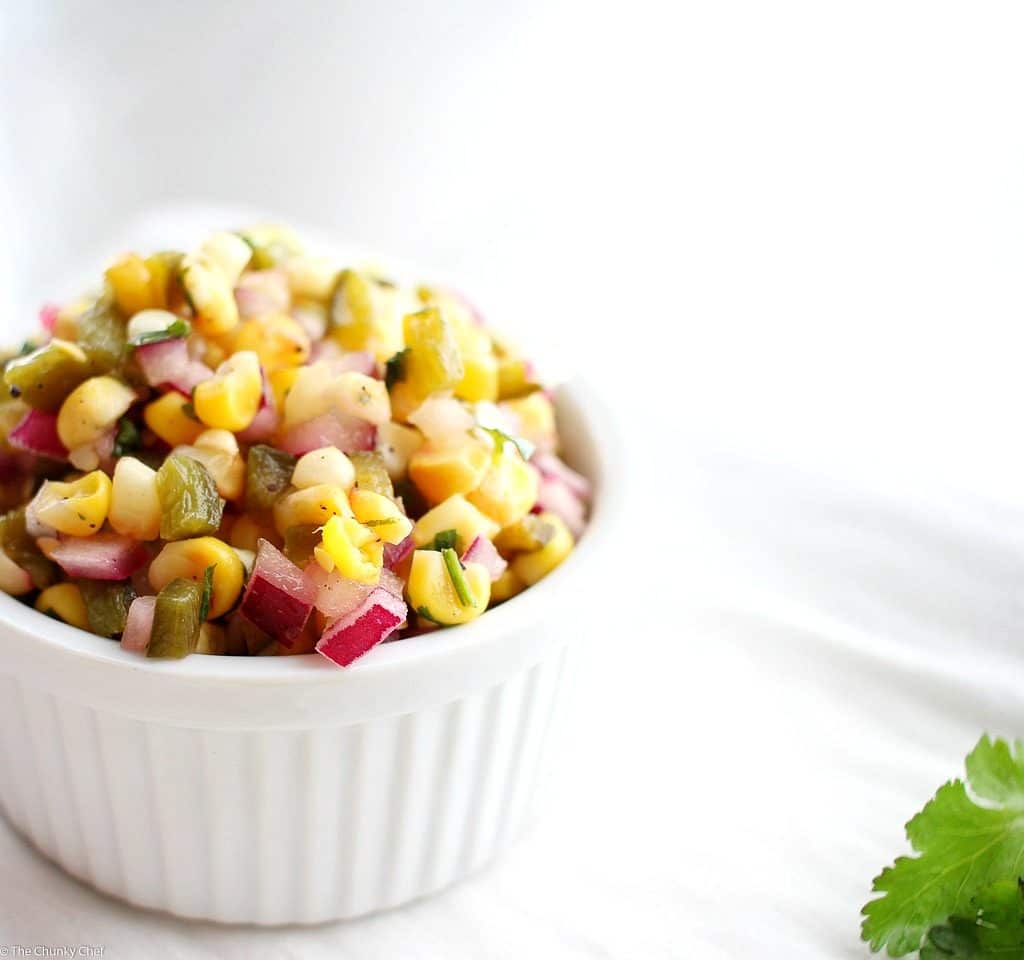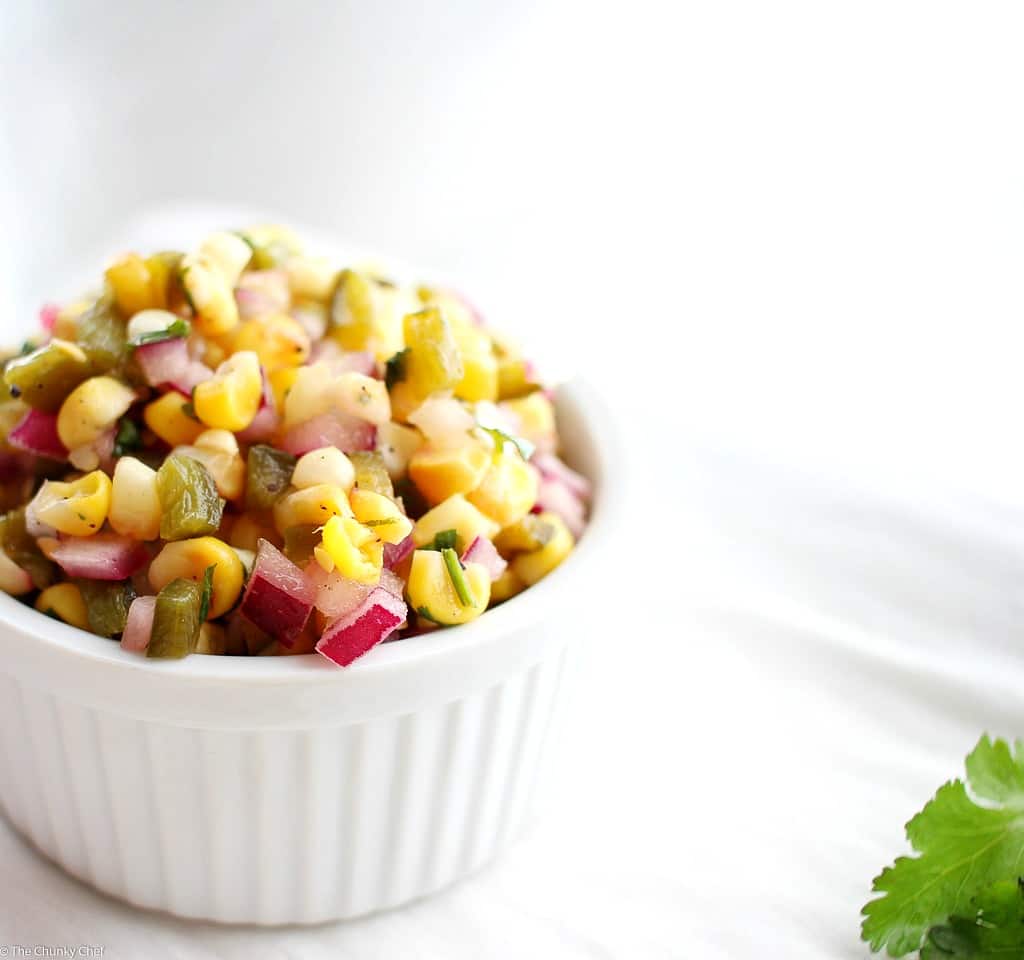 I like to make this salsa earlier in the day so it can sit in the refrigerator…  so that the flavors really deepen and mesh together.  It's so good on tacos, enchiladas, burritos, nachos, quesadillas and as a dip!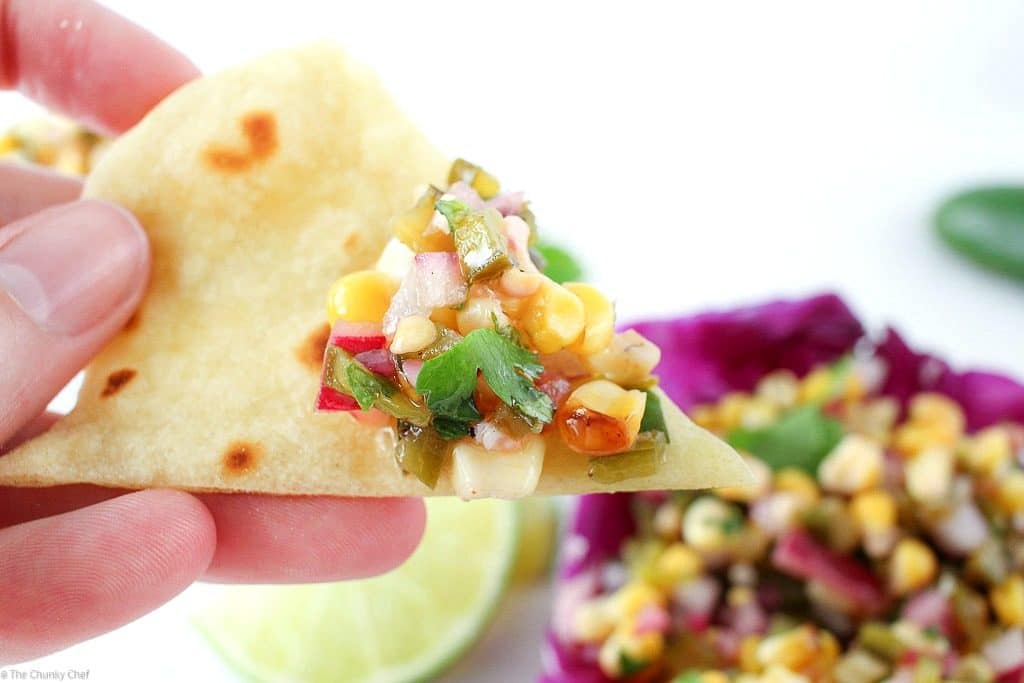 This chip is for you!!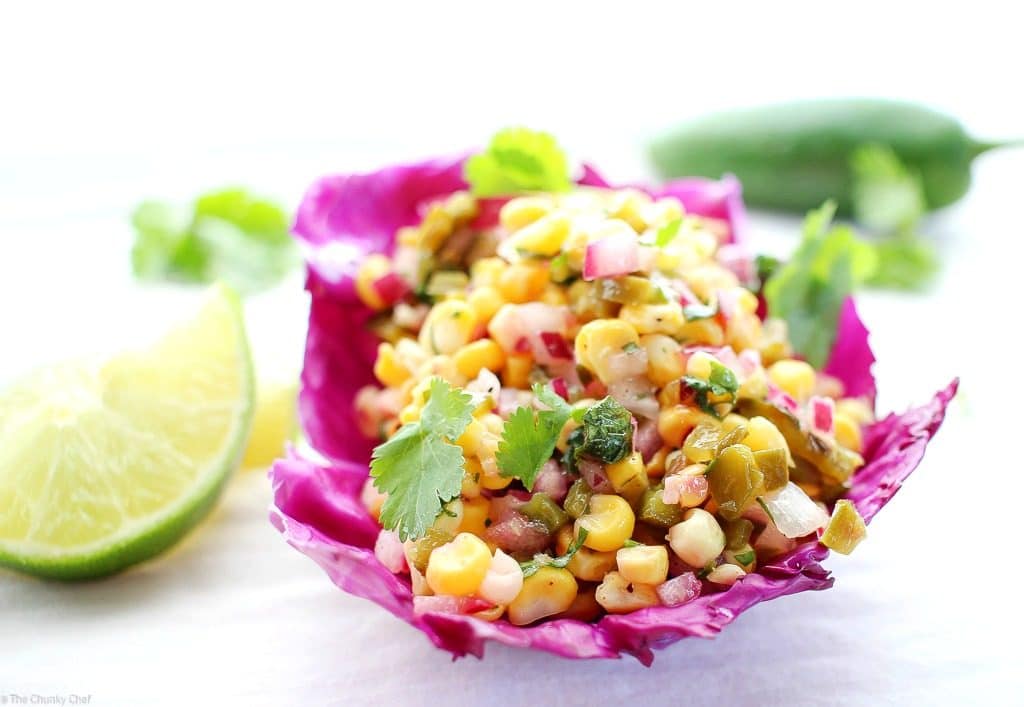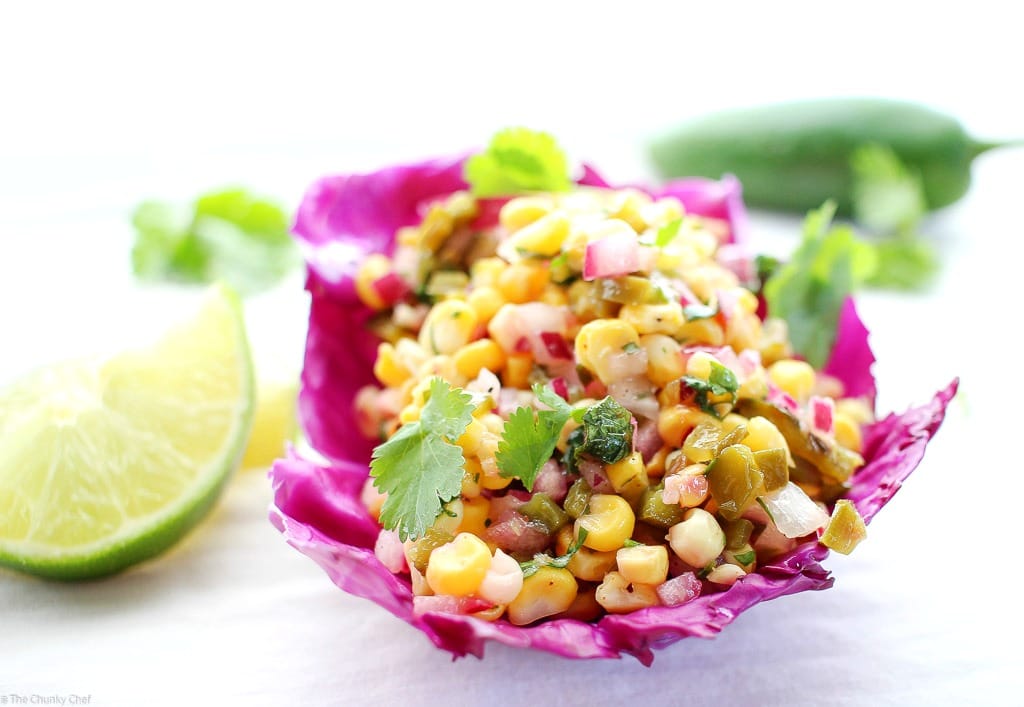 I have a recipe coming up that I used this salsa in… and trust me, you'll love it!!
Recipe adapted slightly from No Spoon Necessary
Did you make this? Be sure to leave a review below and tag me @the_chunky_chef on Facebook and Instagram!
Sweet with a kick... this corn and poblano salsa has a wonderful roasted flavor!
Ingredients
2 poblano peppers
1 jalapeno
4 or 5 ears of corn husk and silk removed
4 Tbsp unsalted butter melted
1/4 tsp chili powder
pinch of cayenne pepper
salt and black pepper to taste
cup Handful of fresh cilantro chopped (about 1/4 )
cup ¼ large red onion finely diced (about ½ )
1 Tbsp red wine vinegar
3 Tbsp lime juice
1 tsp sugar
tsp ½ salt
Instructions
Preheat oven to 400 degrees. Line a baking sheet with aluminum foil, spray with cooking spray. Place corn on the baking sheet and brush generously with melted butter. Season liberally with, chili powder, cayenne pepper, salt and black pepper.

Add jalapeno and poblano peppers to baking sheet and spray tops with cooking spray.

Roast in oven for 10 minutes. Turn the corn and flip peppers over. Continue to roast another 10 minutes.

Remove poblanos and jalapeno from oven and transfer to a bowl or large ziploc bag. Cover bowl tightly with plastic wrap or a tight fitting lid (or seal the bag if you're using one).

Let the peppers stand for 15-20 minutes. Turn corn and continue to roast another 10-15 minutes, or until golden and lightly charred.

You'll notice the peppers have been filling the bowl or bag up with steam. That will make the next step easier.

Use your fingers or a spoon to peel skin from the poblanos and jalapeno. Remove the stem, ribs and seeds (if desired), and discard. Finely dice the peppers.

Remove corn from oven and set aside for about 5 minutes. Cut kernels from cob (use your bundt pan for easy cleanup).

While the corn is cooling, in a mixing bowl, combine red onions with red wine vinegar. Let marinate for 10 minutes or so.

Add corn, diced peppers and remaining ingredients to the bowl. Stir to combine. Cover and refrigerate for 1 hour before serving (for best flavor).
Want to save this recipe for later? Click the heart in the bottom right corner to save to your own recipe box!
Chef Tips
** if you can't get fresh corn, you can use 2 1/4 cups of frozen corn (thawed).
** if you can't get fresh poblano or jalapeno peppers, you can use jarred roasted poblanos and jarred jalapeno slices (about 3/4 - 1 cup total, including both peppers).
Nutrition Disclaimer
The Chunky Chef is not a dietician or nutritionist, and any nutritional information shared is an estimate. If calorie count and other nutritional values are important to you, we recommend running the ingredients through whichever online nutritional calculator you prefer. Calories can vary quite a bit depending on which brands were used.