---
Thumbprint cookies are such a classic… this spin on them includes a gooey caramel center and drizzled melted chocolate.  Tastes just like a Twix!
---
Easy to make shortbread cookies filled with a decadent caramel sauce and salty pecan pieces, drizzled with creamy melted chocolate…. they taste just like a Twix bar mixed with a turtle candy!
Okay, I have a very serious question… what is your favorite candy bar?  I know, I know… it's hard to answer isn't it?  I like wayyyyyy too many to list, (I am the CHUNKY chef after all lol), but one of them is definitely a Twix bar!  That crisp bottom, gooey center, all covered in rich milk chocolate… *drool*.  So when I came across this recipe for a Twix inspired cookie, I knew I absolutely had to try it!
I bet you're probably thinking, "Ummm, twix doesn't have pecans, ya crazy lady".  And you're right 😉  But there's another candy I love, turtles, and I thought I would mesh the two together.  Man is it ever good!
I also made some regular Twix cookies, sans the toasted pecans… and they are equally good!
These cookies come together pretty quickly, the only real downtime you have is when the dough is chilling, and then once the cookies are cooling (although that doesn't take too long).
You only need 5 ingredients for the shortbread cookie, and another 4 for the caramel and chocolate… so only 9 ingredients.  That's all that's standing in your way of some of these fantastic cookies!
Start by creaming your butter, sugar, egg yolks and vanilla in a stand mixer (or with a hand mixer).  Once it is light and fluffy, slowly add in your flour.
Tip:  I always add in my flour in 1/3 batches.  So no matter how much flour I'm adding, I still only add it in thirds.  This ensures a well combined dough 🙂
Your dough at this point will be packed and fairly firm.  Cover the bowl with plastic wrap and refrigerate it for about 1 hour.
Roll some dough in your hands to form a ball, about the size of a marble.  I used my teaspoon measuring spoon and made it a rounded teaspoon of dough.  Place them on parchment paper lined baking sheets about 2 inches or so apart, I did 12 cookies per baking sheet.
Now you can use your thumb, or whatever you want, to make the indentation (the "thumbprint").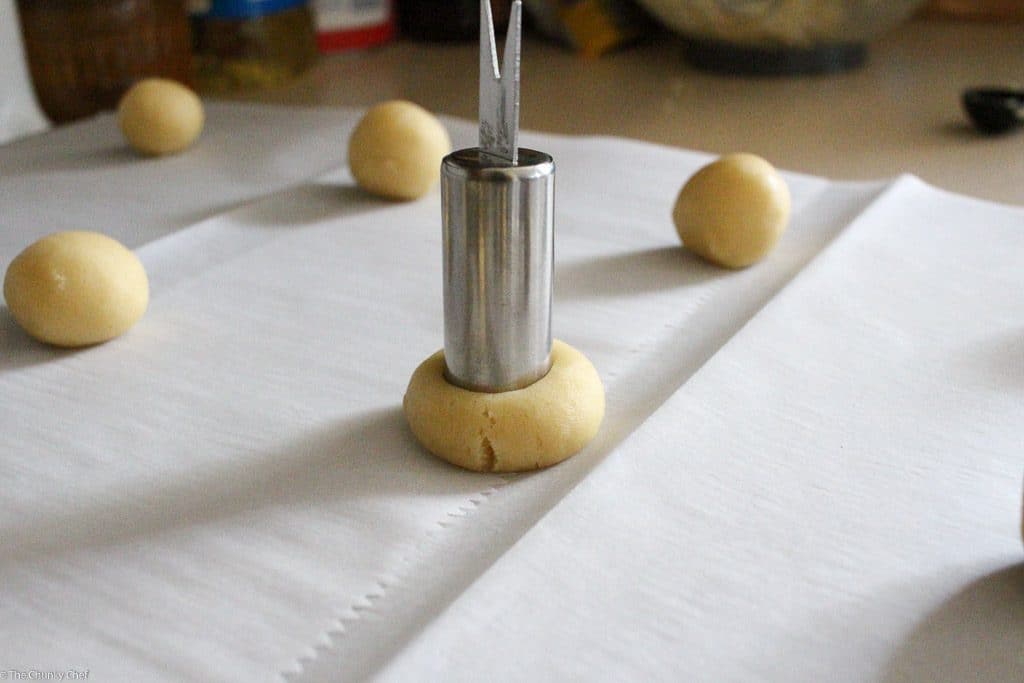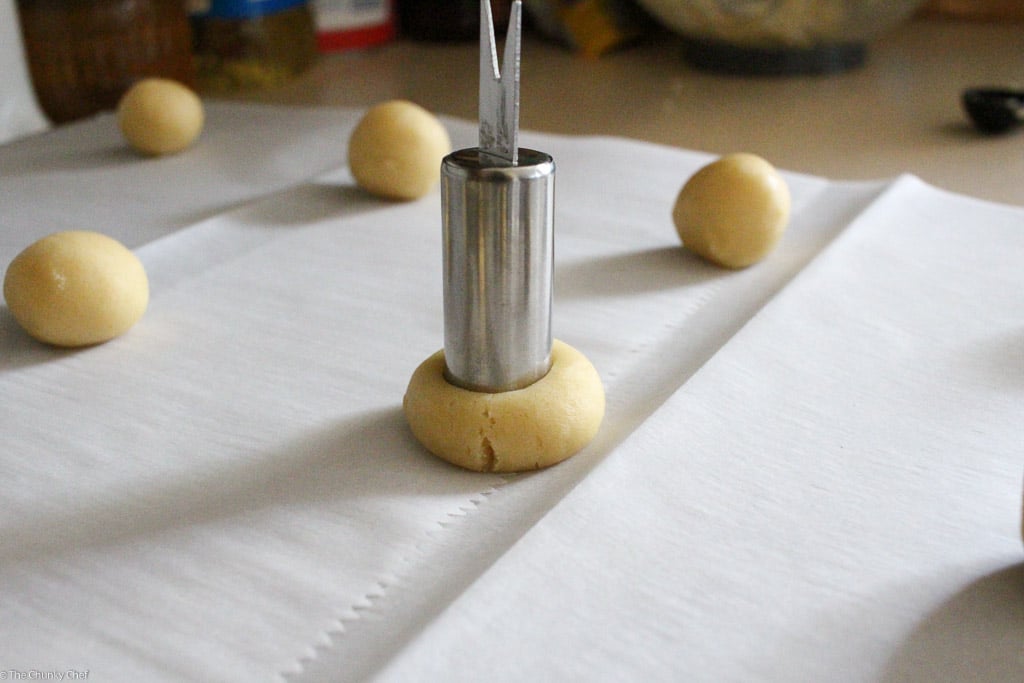 Bake the cookies for 7-10 minutes (mine were done in 8).  As your cookies bake, the indentations will sort of puff up… that's okay and easily fixed.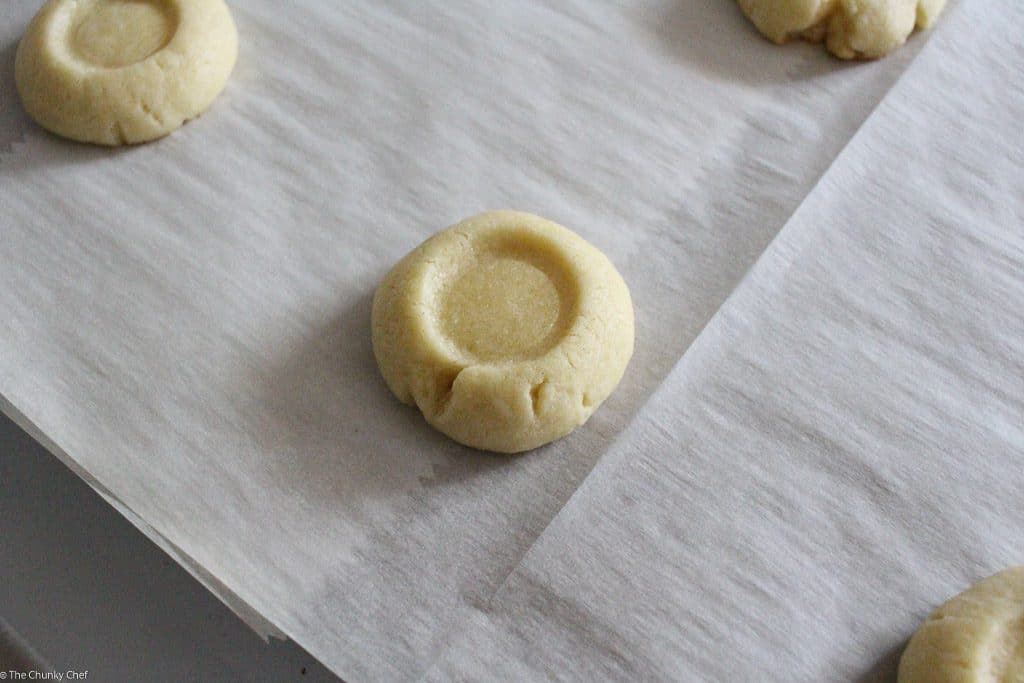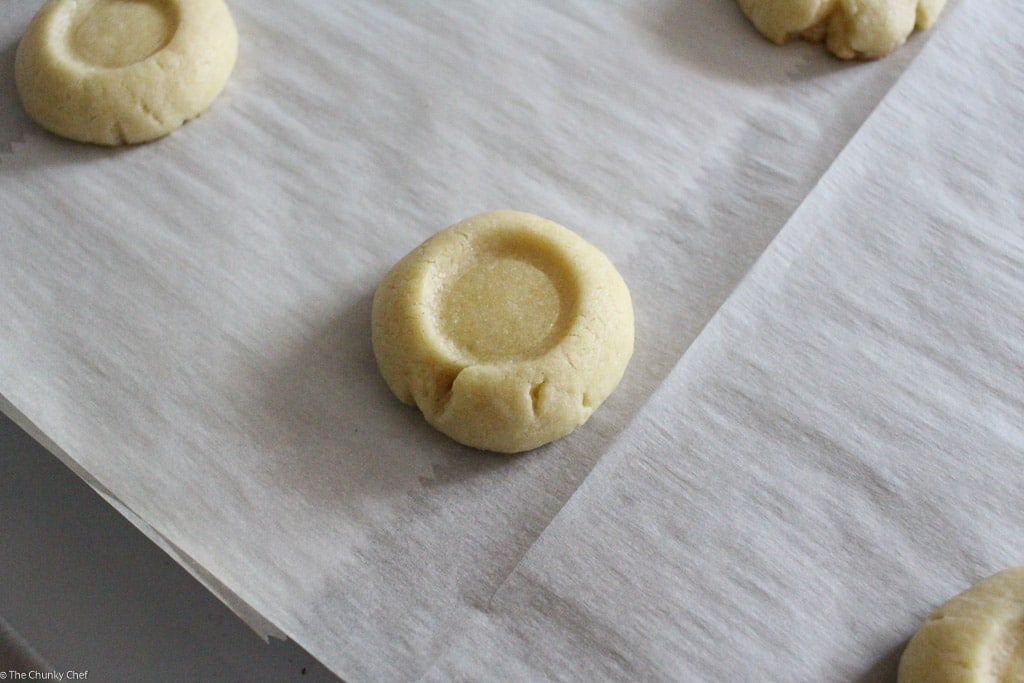 Lay your cookies on a wire cooling rack for about 30 minutes or so, or until cooled.
For the caramel sauce, if you wanted to make your own… go for it!  I actually wanted to make my own salted caramel sauce, but was running short on time, so I used the caramel baking squares (Kraft brand) and just added a pinch of salt once it was melted 🙂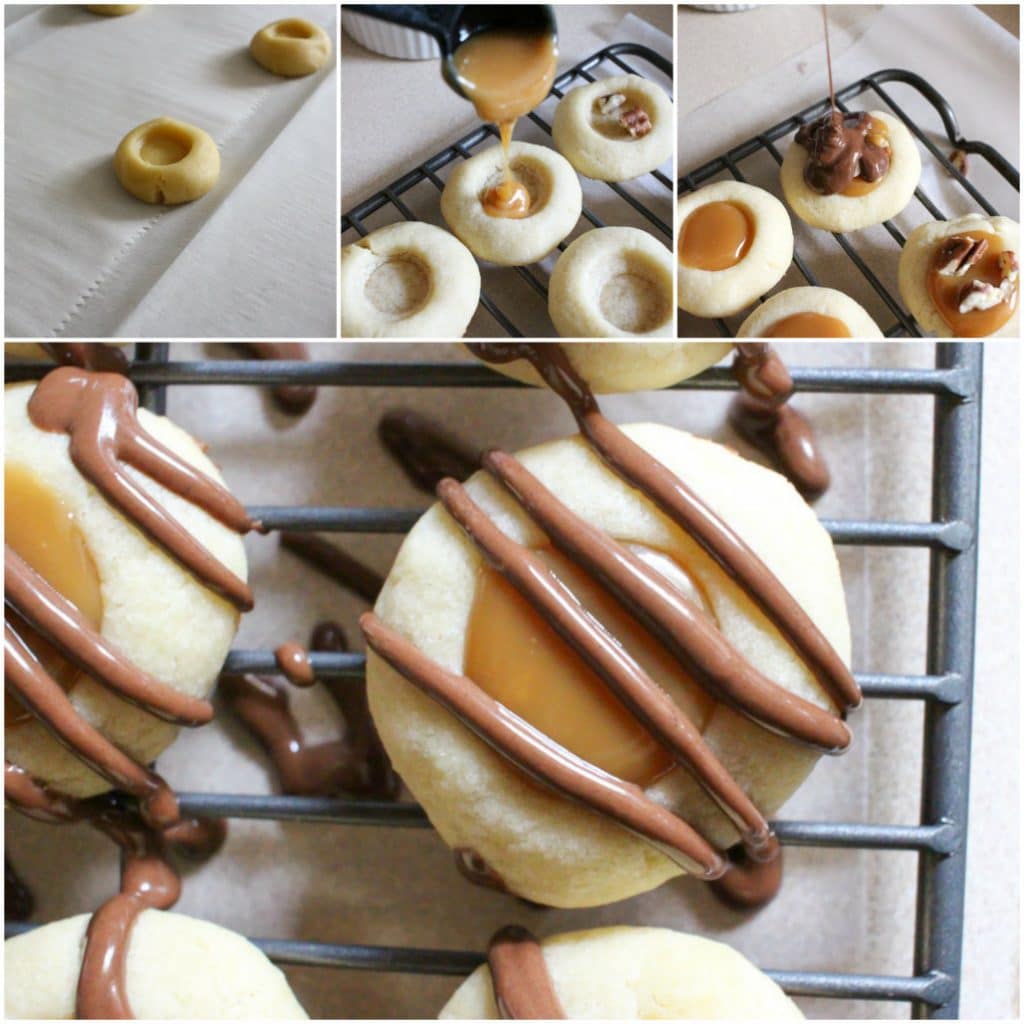 Use a teaspoon measuring spoon to pour a little caramel sauce in each cookie, careful not to overflow the indentation.  Although a little extra caramel is never really a bad thing 😉
Melt your chocolate chips and drizzle it over the cookies, let cool… then devour them!
I put the melted chocolate in a ziploc bag, sealed it, and then snipped off a corner to drizzle the chocolate.  However… I was a bit overzealous with the snipping, and cut off too much… so the chocolate pretty much just poured right out (as you can see in the top right picture in that collage).  Still tasted delicious, just wasn't as "pretty".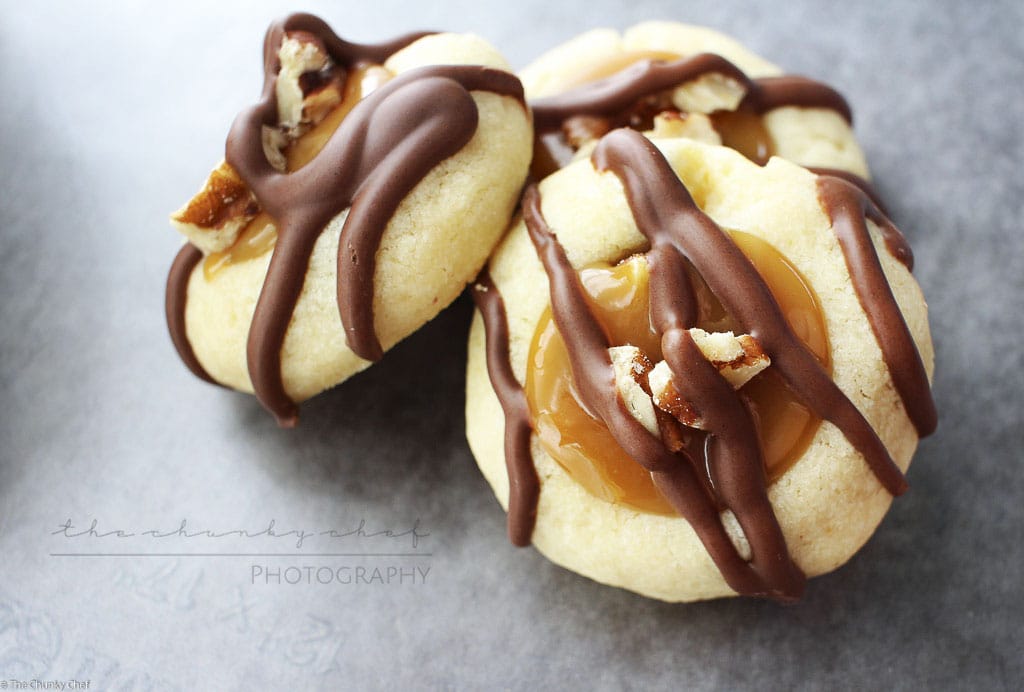 If you wanted to make your cookies "turtles" like I did… just chop some pecans, toast them for a few minutes in a small, dry skillet over medium low heat, until they smell toasty.  Add a few pieces inside the indentations of the cooled cookies, fill with caramel, top with a few more pieces, and drizzle with chocolate 🙂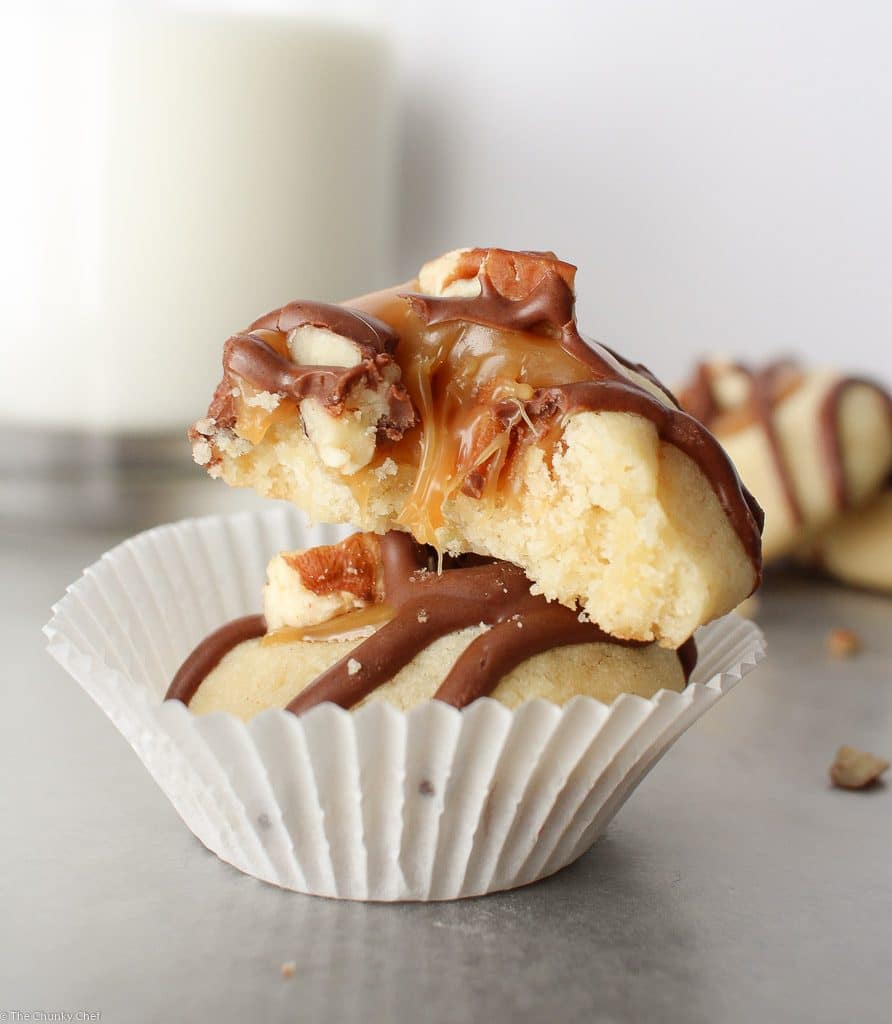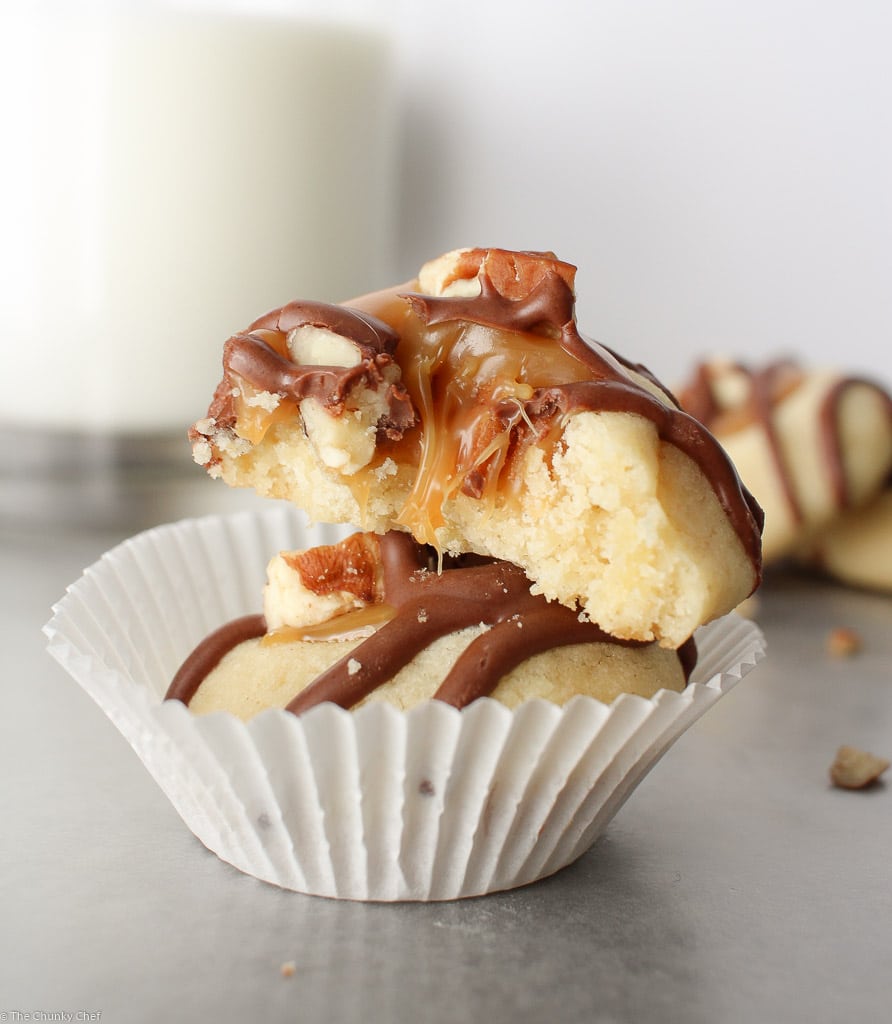 I loved the extra flavor and texture from the toasted pecans, although my husband preferred the regular twix cookies 🙂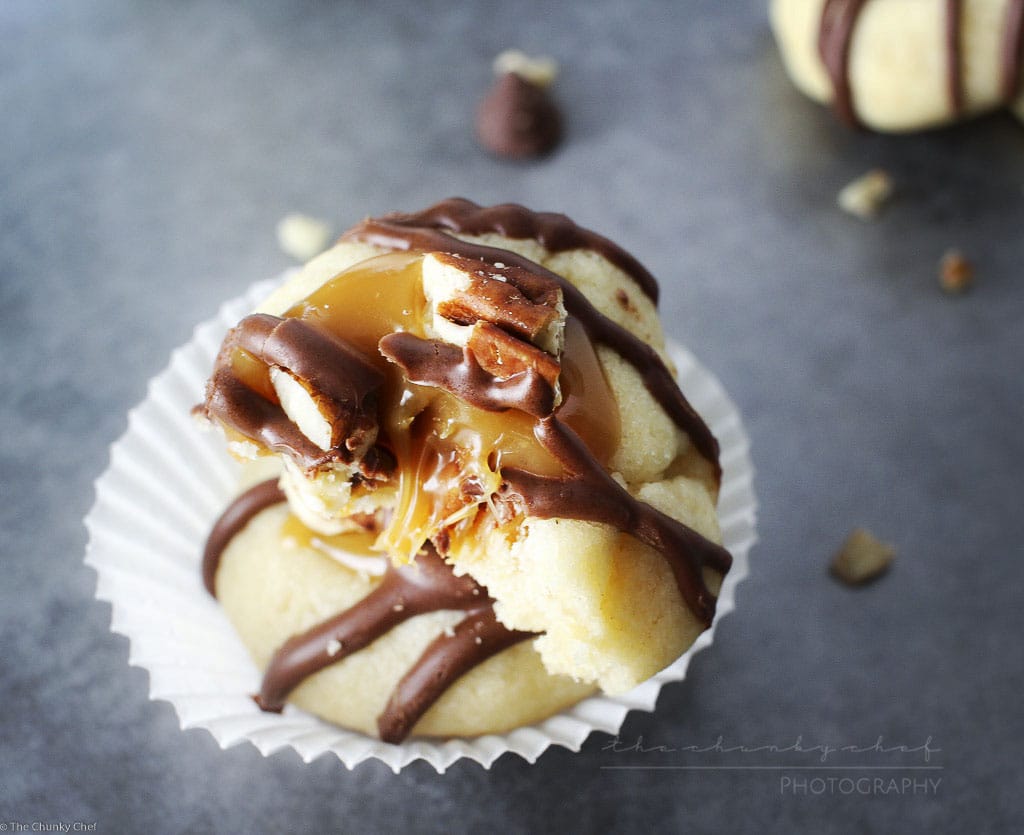 I've made these cookies several times, and each time is just as delicious as the first!  Once I didn't have milk chocolate chips, so I substituted semi-sweet chips, and it worked, and was still really good… although not quite as "twix-like" as they are with the milk chocolate.  It's really up to you 🙂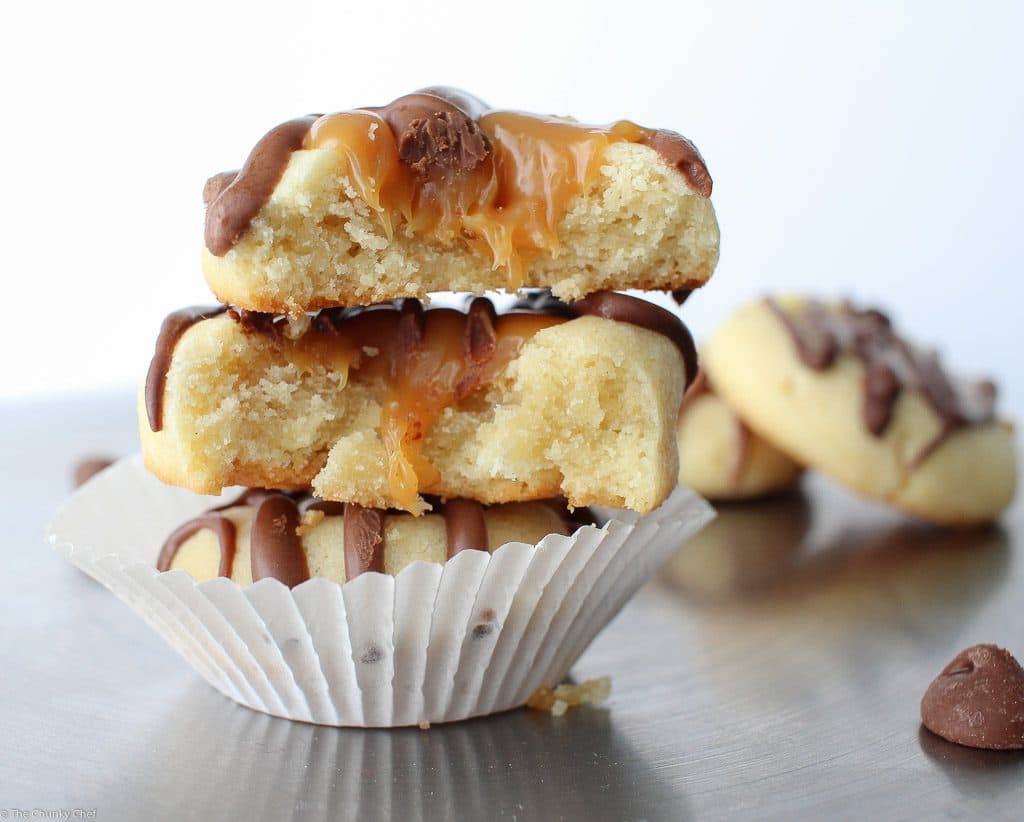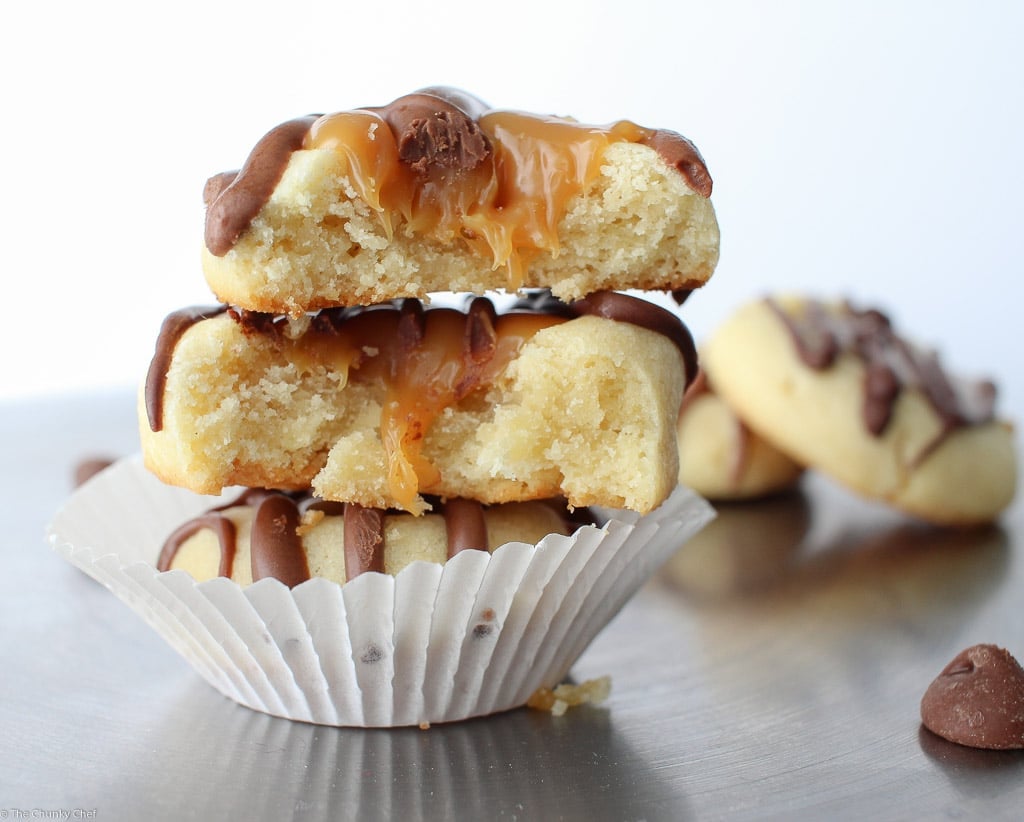 This recipe makes 24-36 cookies, depending on how small you make them, but could easily be doubled if you wanted.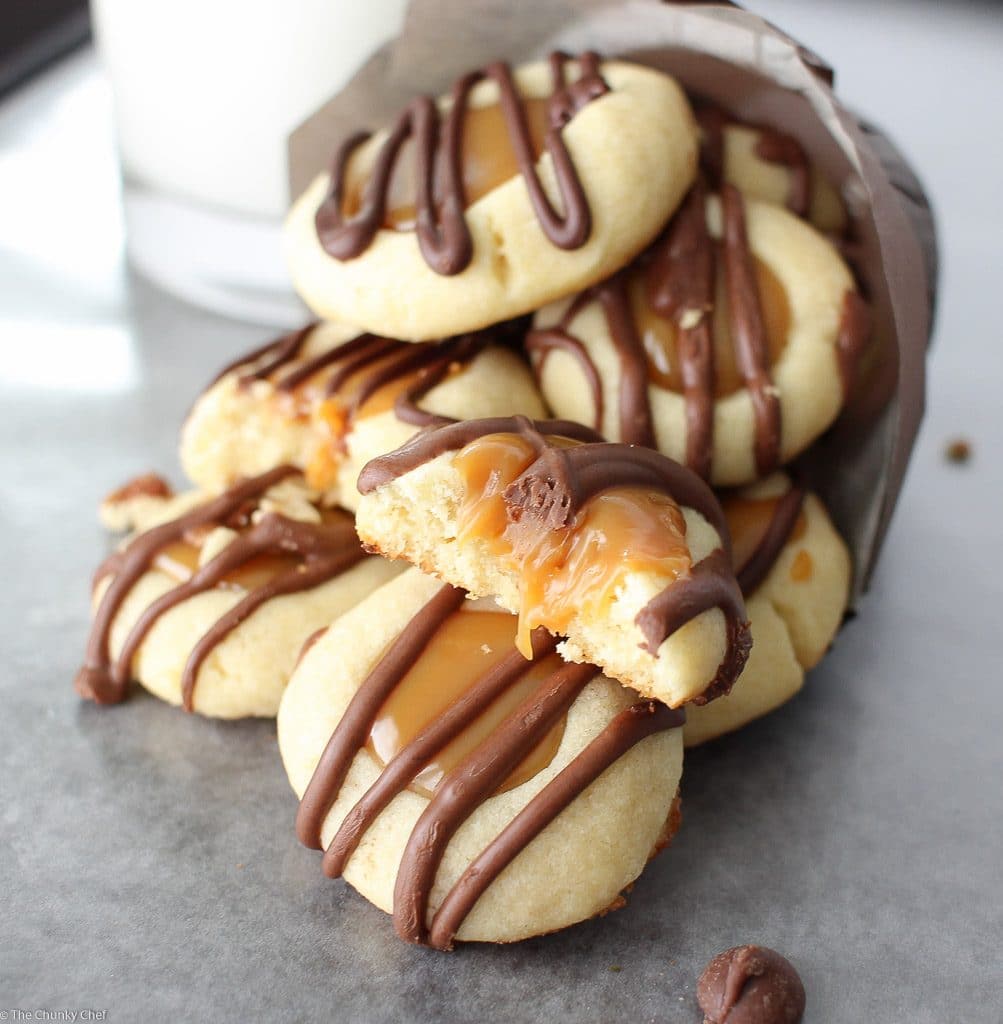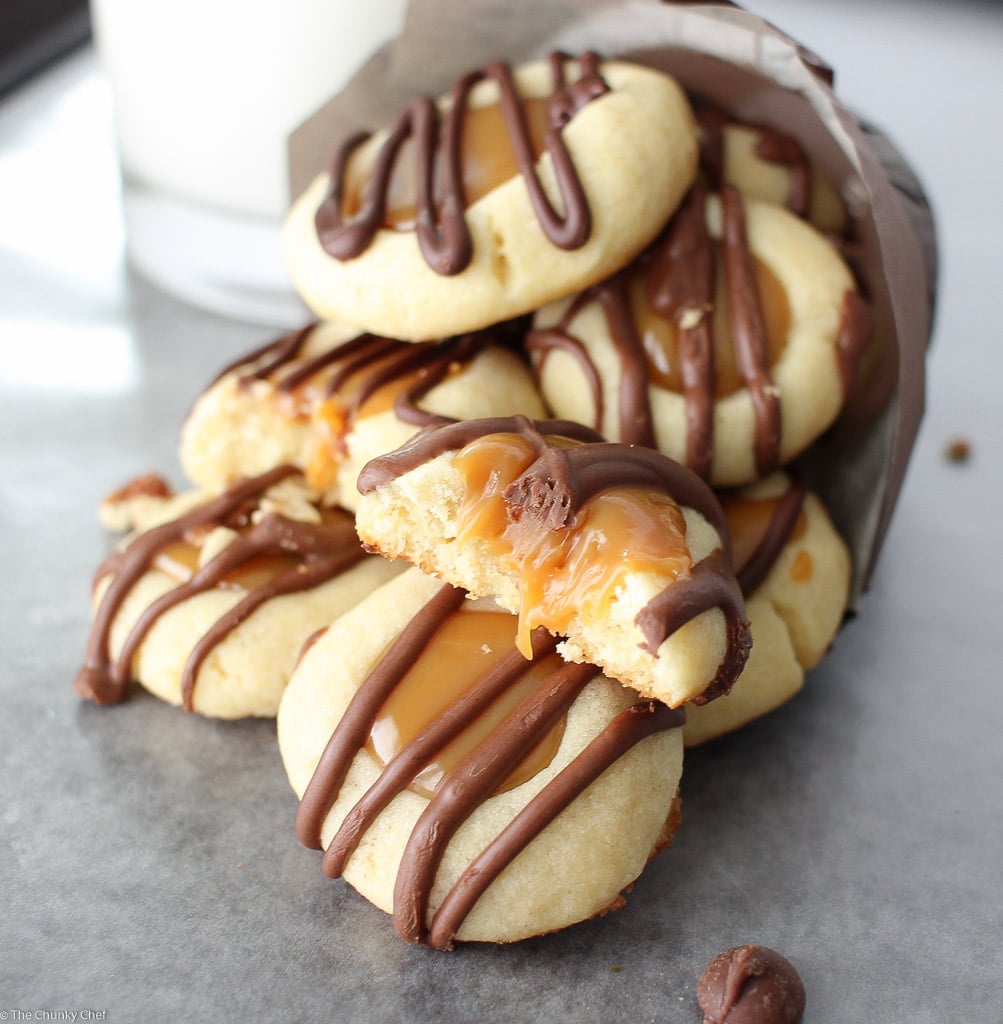 I'm not even going to tell you all how many of these cookies I've eaten… here's a hint… it's A LOT  lol.  But seriously you guys, once you try one, you'll understand… they're so insanely delicious, and really do taste like a Twix bar!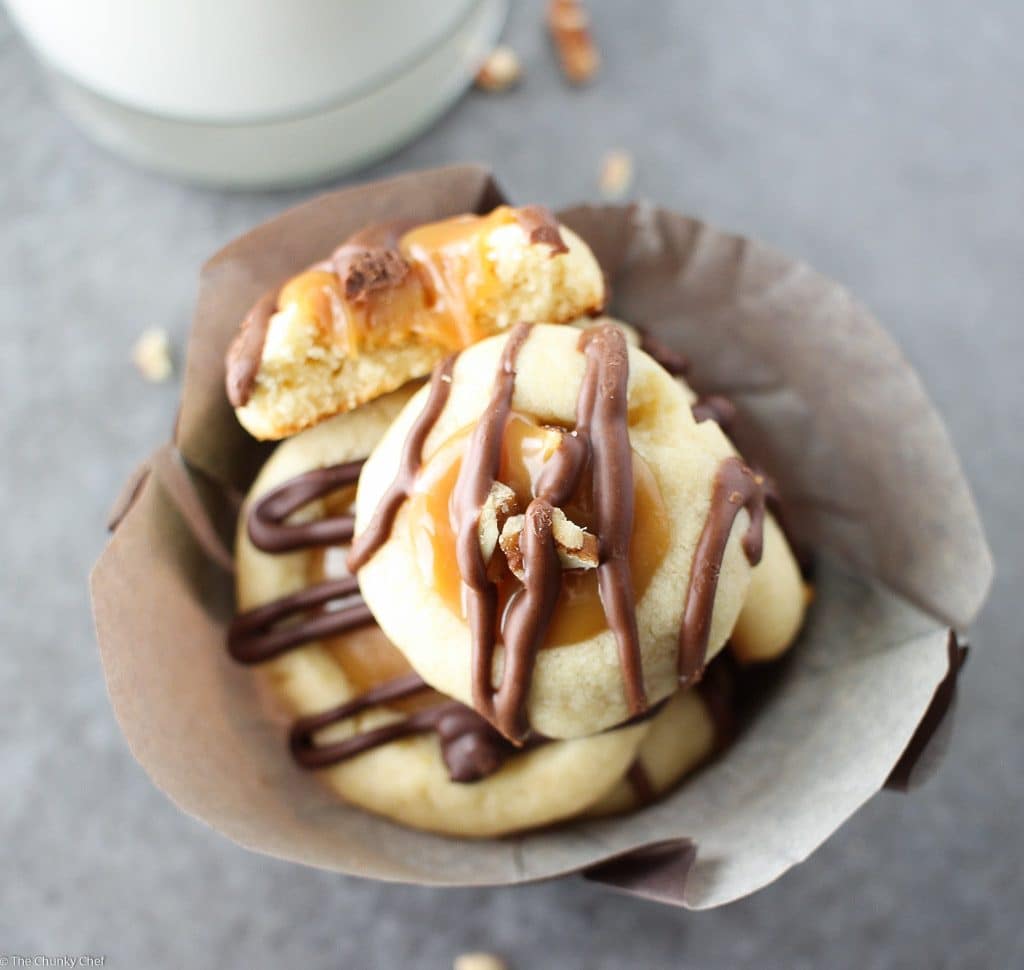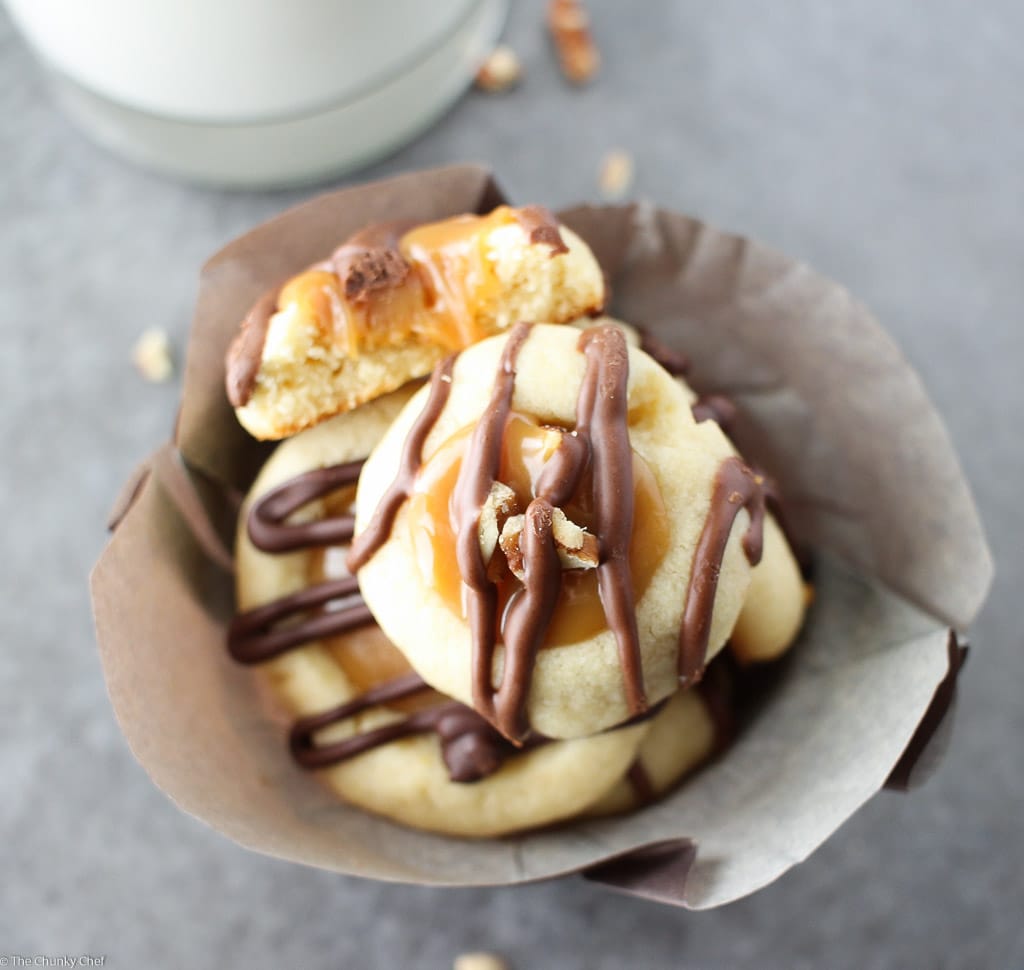 For the next batch, my husband has requested that they be dipped in chocolate… so that's definitely an option as well!
If you're a big fan of chocolate and caramel together, try my Gooey Carmelitas, you'll love them!  Like the small, bite sized cookies?  My Butter Pecan Cookies are perfect little morsels 🙂
Did you make this? Be sure to leave a review below and tag me @the_chunky_chef on Facebook and Instagram!
Thumbprint cookies are such a classic... this spin on them includes a gooey caramel center and drizzled melted chocolate. Tastes just like a Twix!
Ingredients
Shortbread Layer:
2/3 cup unsalted butter softened
1/2 cup sugar
2 egg yolks
1 tsp vanilla
1 1/2 cups all-purpose flour
Caramel Filling:
14 wrapped caramel candies like Kraft Caramels
3 Tbsp heavy cream
pinch of salt if desired
3-4 Tbsp chopped pecans toasted (optional)
Chocolate Drizzle:
6 ounces milk chocolate chips
1 Tbsp vegetable oil
Instructions
For the shortbread cookie:

In the bowl of a stand mixer, add softened butter, sugar, egg yolks and vanilla. Beat with the paddle attachment at medium-low speed, scraping the bowl often, until light and creamy. Add one third of the flour; beat at low speed until just combined, repeat with remaining flour. Cover with plastic wrap and refrigerate at least 1 hour.

Preheat oven to 375 degrees.

Roll dough into 1-inch balls. Place 2 inches apart onto parchment paper lined baking sheets. Make indentation in center of each cookie with your thumb or whatever tool you choose. Bake for 7-10 minutes or until edges JUST begin to brown.

Repeat indentation once cookies are done baking, if necessary. Cool completely on wire cooling racks.


For the caramel filling:

Melt the caramel and heavy cream in the microwave, stirring every 30 seconds or so until it is fully melted and smooth. Add pinch of salt and stir. Using a teaspoon measuring spoon, fill each indentation with the caramel.


For the chocolate drizzle:

Pour vegetable oil over chocolate chips and melt the chocolate in the microwave, stirring 30 seconds at a time until melted and smooth, and scoop into a ziploc bag. Barely snip the corner and drizzle over the cookies.
Want to save this recipe for later? Click the heart in the bottom right corner to save to your own recipe box!
Nutrition Disclaimer
The Chunky Chef is not a dietician or nutritionist, and any nutritional information shared is an estimate. If calorie count and other nutritional values are important to you, we recommend running the ingredients through whichever online nutritional calculator you prefer. Calories can vary quite a bit depending on which brands were used.