Gather 'round the table, it's Italian night!  I've told you all before how obsessed we are with Italian food… we have to have it lol.  I'm always trying to find and come up with new and different Italian dishes, so we don't always fall back on the standard spaghetti and meatballs.  In this dish, savory mushrooms, spinach and creamy ricotta cheese are rolled up in lasagna noodles and baked in a delicious marinara sauce.  A dish so hearty, you won't realize it's vegetarian!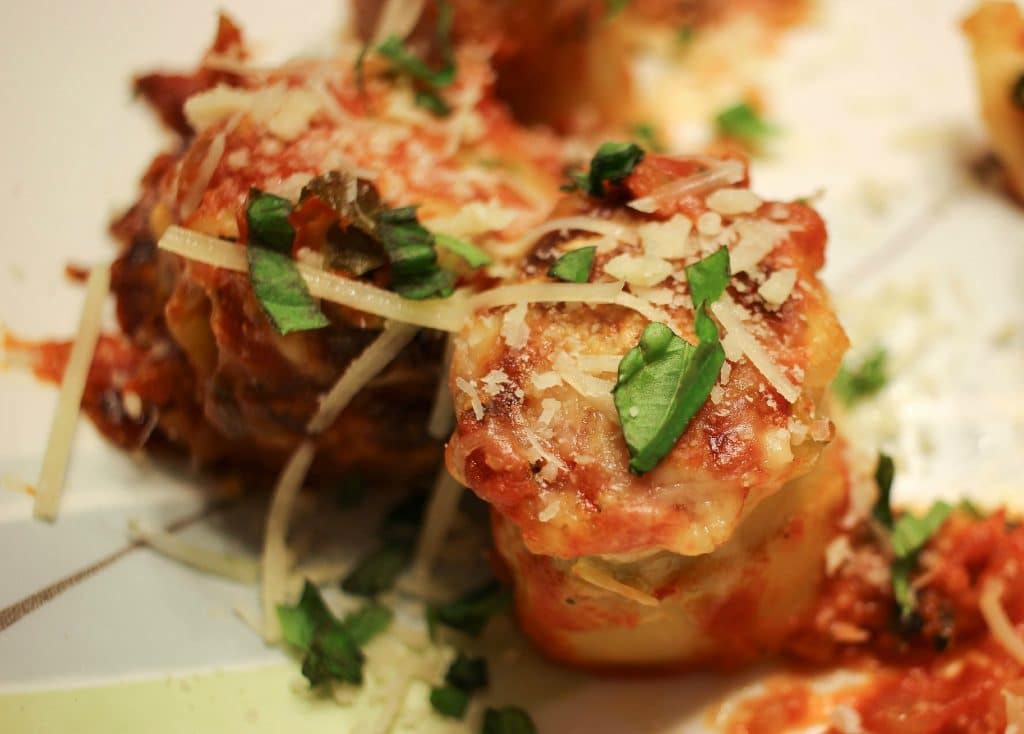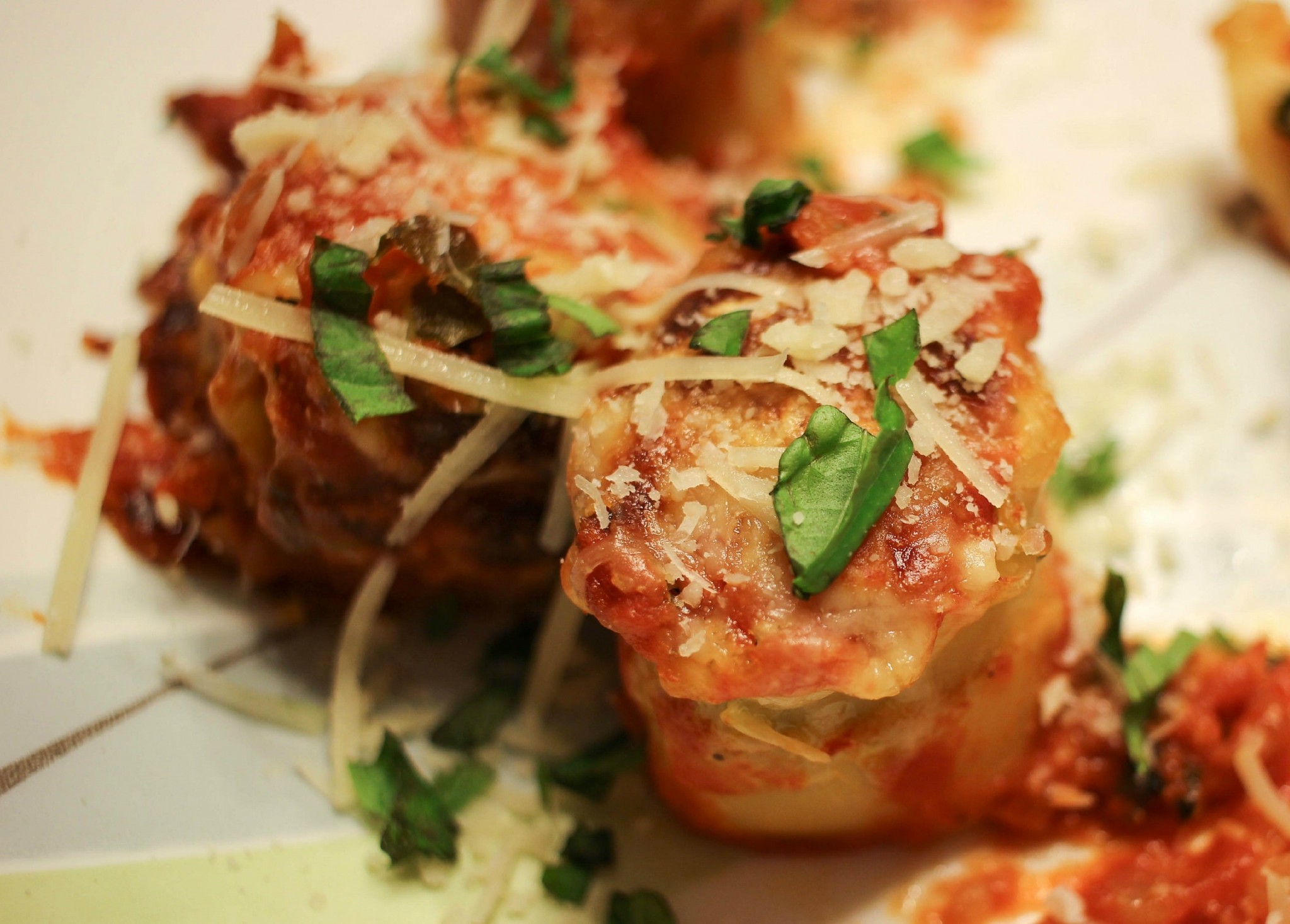 It's every bit as delicious as it looks!
Before I came across this recipe, I'd never heard of a rotolo (although it's fun to say!).  But it's basically a smaller version of cannelloni that's turned upright and then baked.  The best part about baking it this way is the crunchy browned cheese on top 😉  I might have possibly eaten that crunchy cheese and forgotten to take a picture first… I have no shame 😛
Now the original recipe, from Nagi over at RecipeTin Eats (which is fantastic site by the way, go check it out!), calls for fresh lasagne sheets.  But I couldn't find them, so I improvised 🙂  I used Barilla lasagna noodles, cooked them about halfway through, then laid them out on a wax paper lined baking sheet so they could cool enough for me to handle them.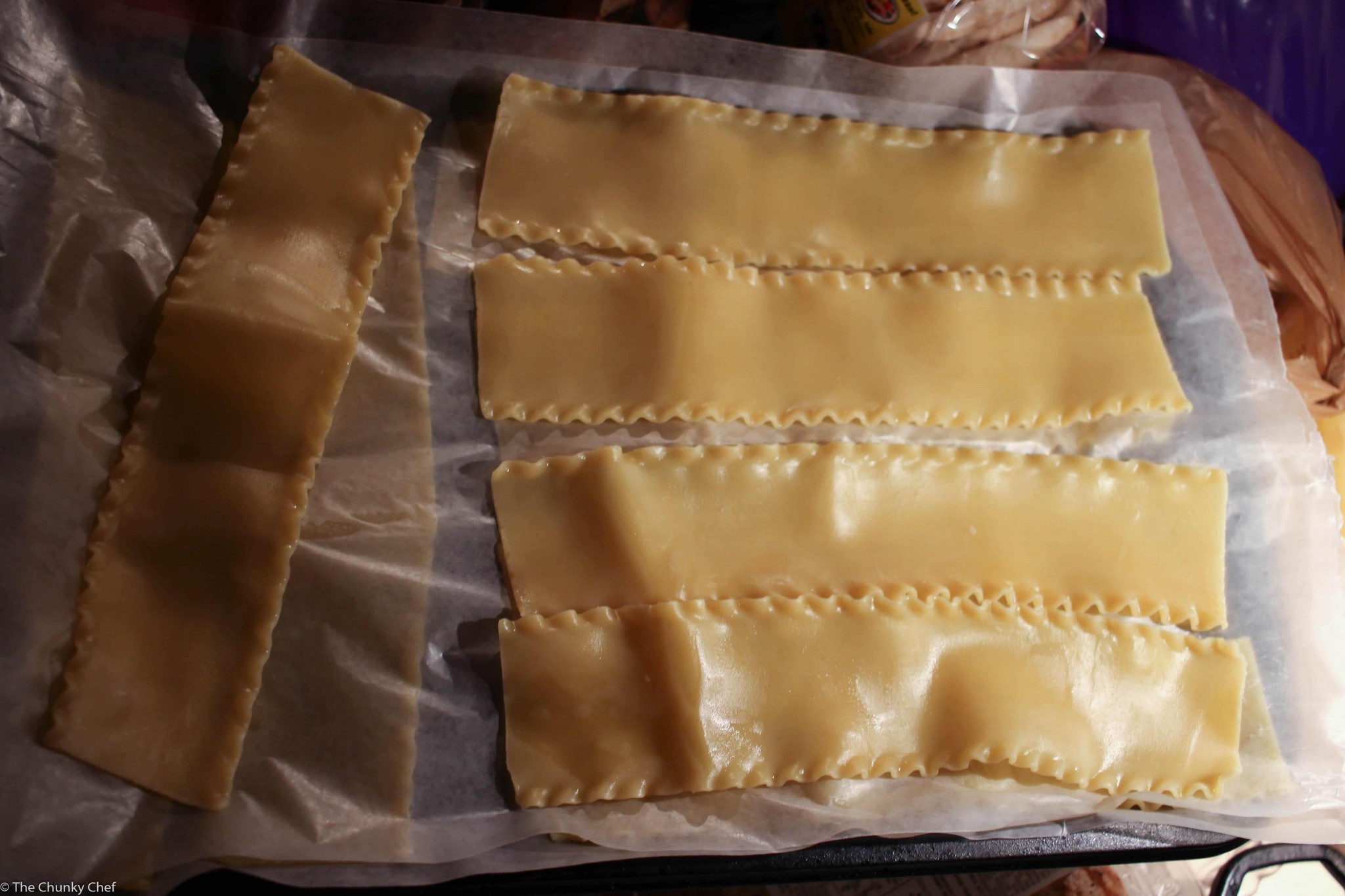 While the pasta water was coming up to a boil, I sauteed my onions, garlic, and mushrooms in an oven safe skillet (I used cast iron).  Once they were tender, I set them aside on a plate to cool.  To the same skillet, I added another diced onion and more minced garlic to saute for a few minutes.  Then I added my crushed tomatoes and seasonings.  Let it simmer while you get your rolls together.
Next I mixed up my filling in a bowl.  Add your sauteed garlic, onion and mushroom mixture to the ricotta cheese with an egg, parmesan cheese, defrosted chopped spinach, and seasonings.
Tip:  After you defrost your spinach, make sure you drain it in a colander, top with a couple of paper towels, and press all the liquid out.  Otherwise you'll wind up with a wet filling!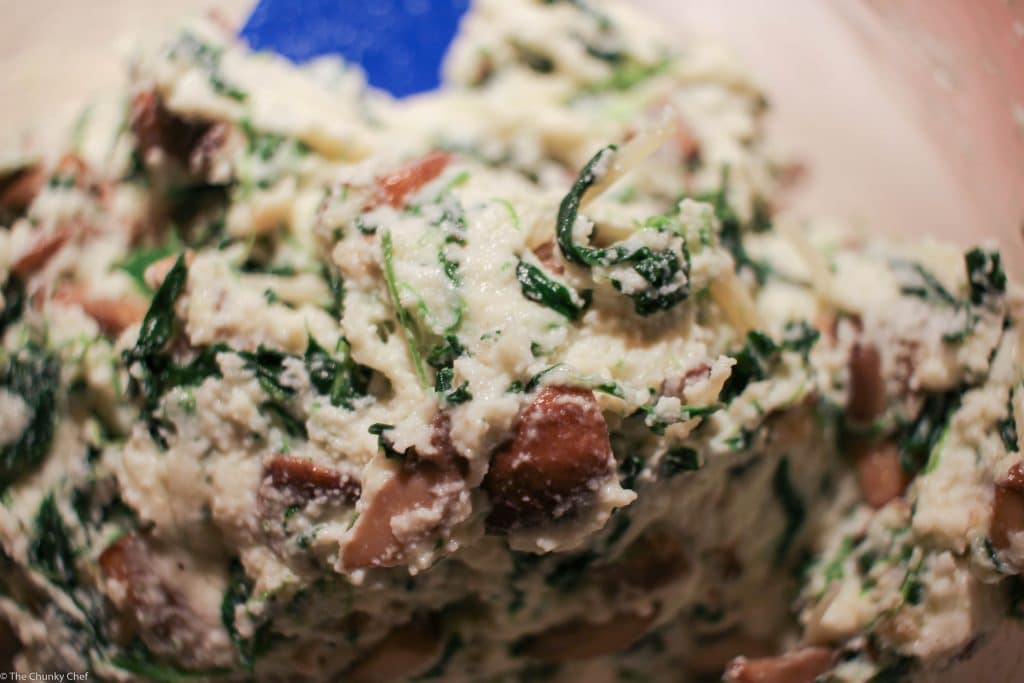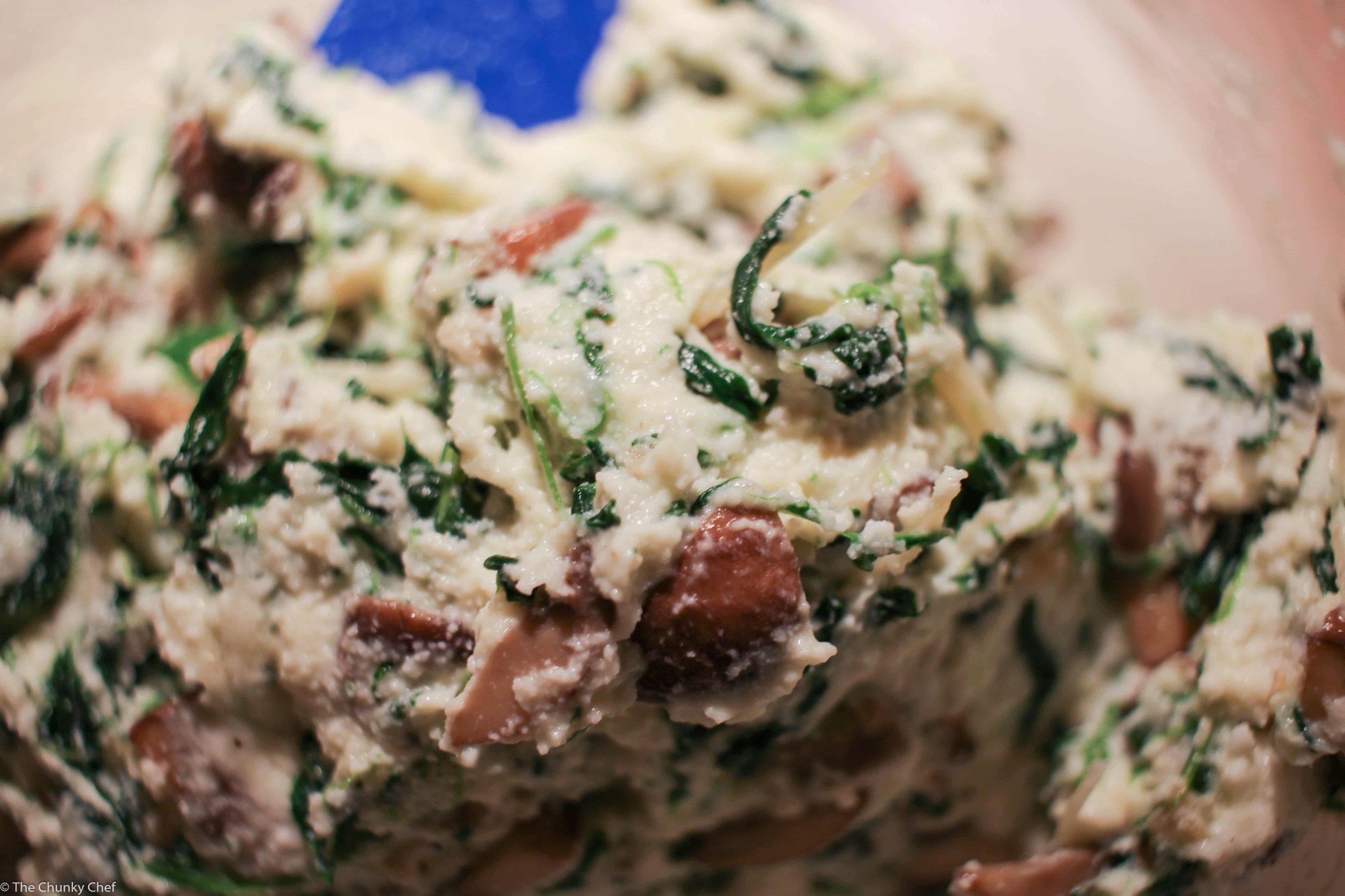 Now comes the fun, yet semi tricky part.  Take one lasagna noodle and lay it so the short edge is facing you and the length goes away from you.  Spoon a little of the filling onto the noodle, and spread it out.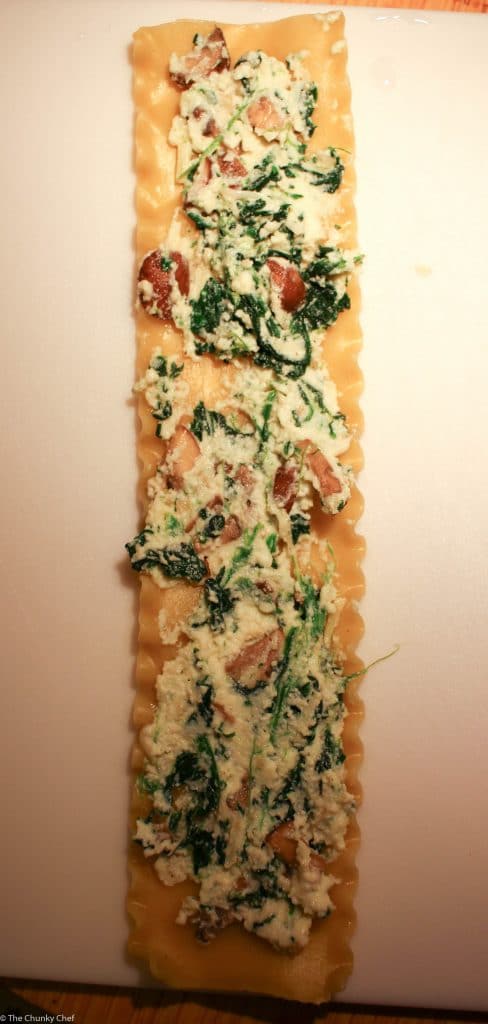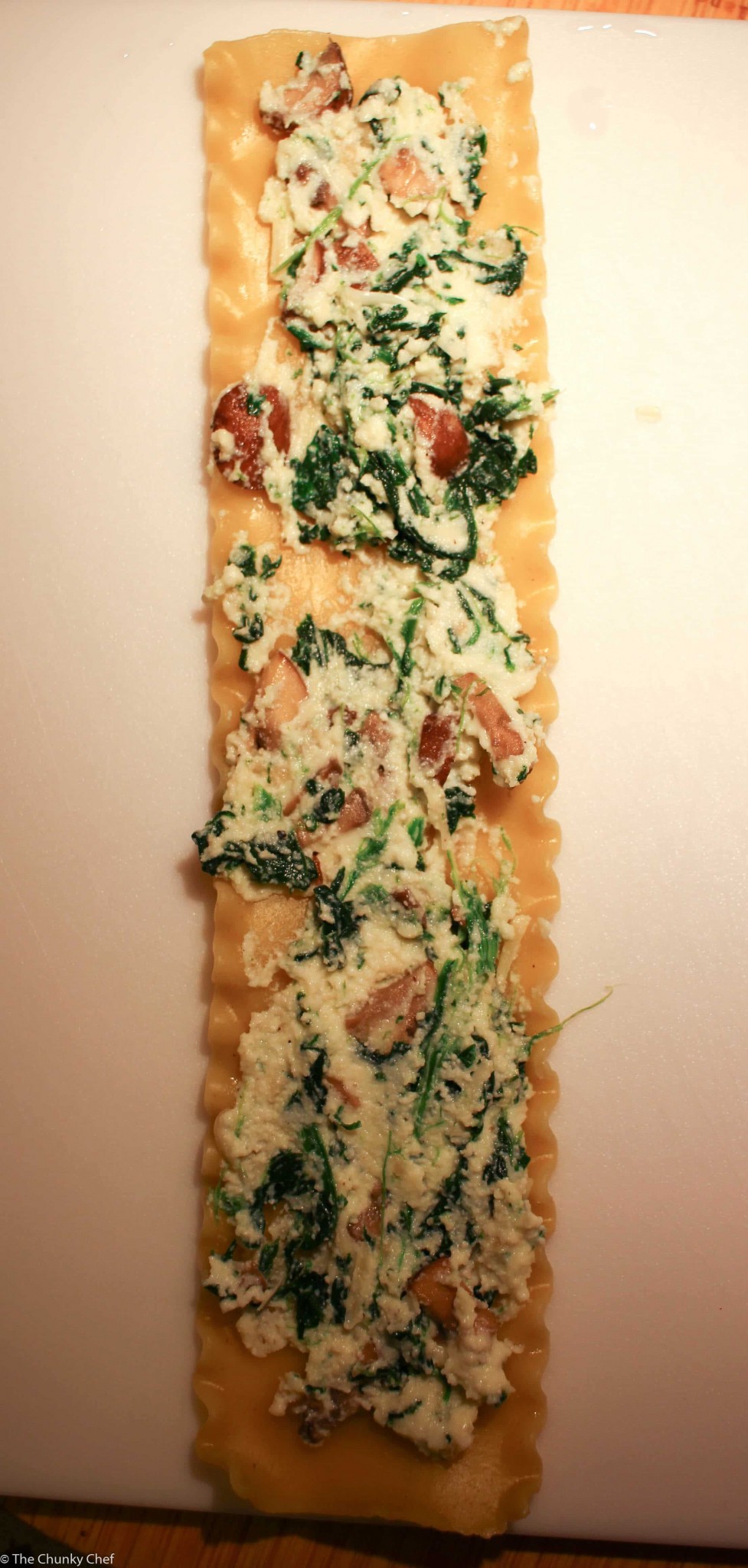 Roll it away from you, from the bottom up towards the top.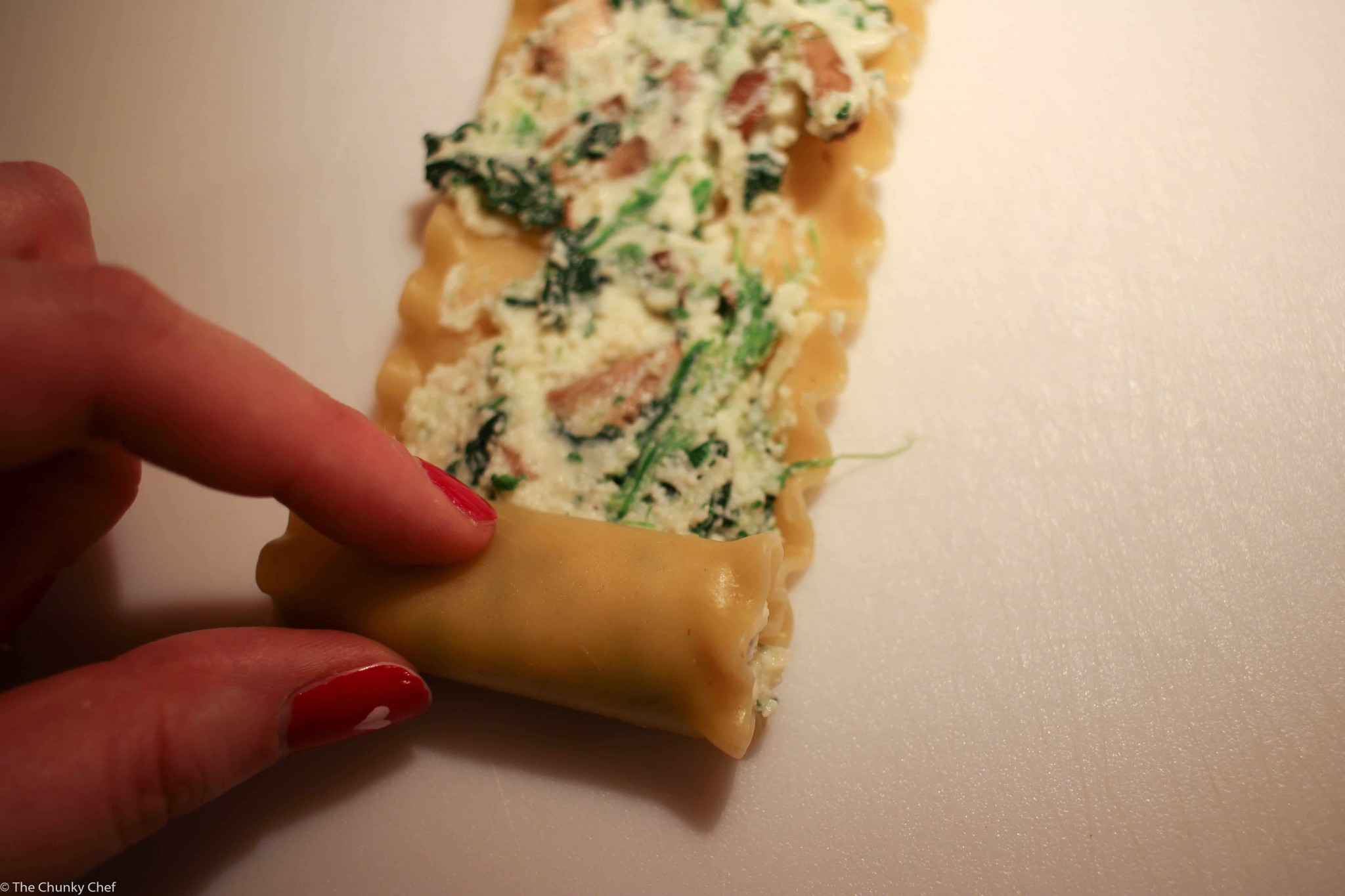 Wet your finger to seal the top edge of the noodle to the roll.  Make sure you have a sharp knife for this next part…
Slice each lasagna roll in half across, so you have two equal rolls.
Scoop out about 3/4 cup of your marinara sauce and put in a small bowl.  Next, nestle your lasagna rolls into the skillet with your marinara sauce.  Spoon the reserved sauce over the top of the lasagna rolls.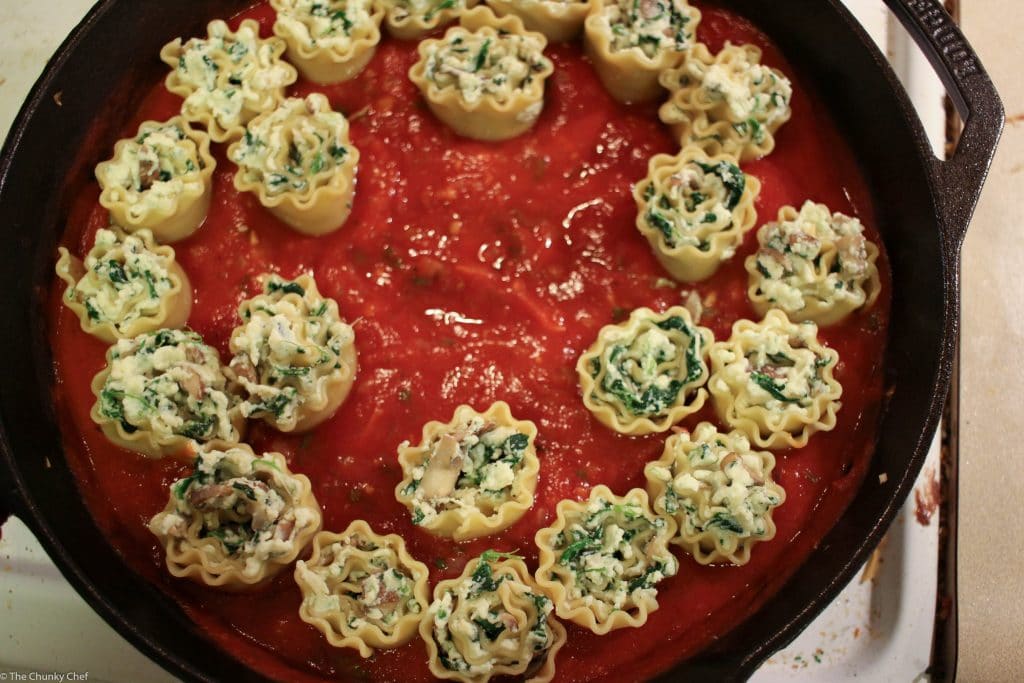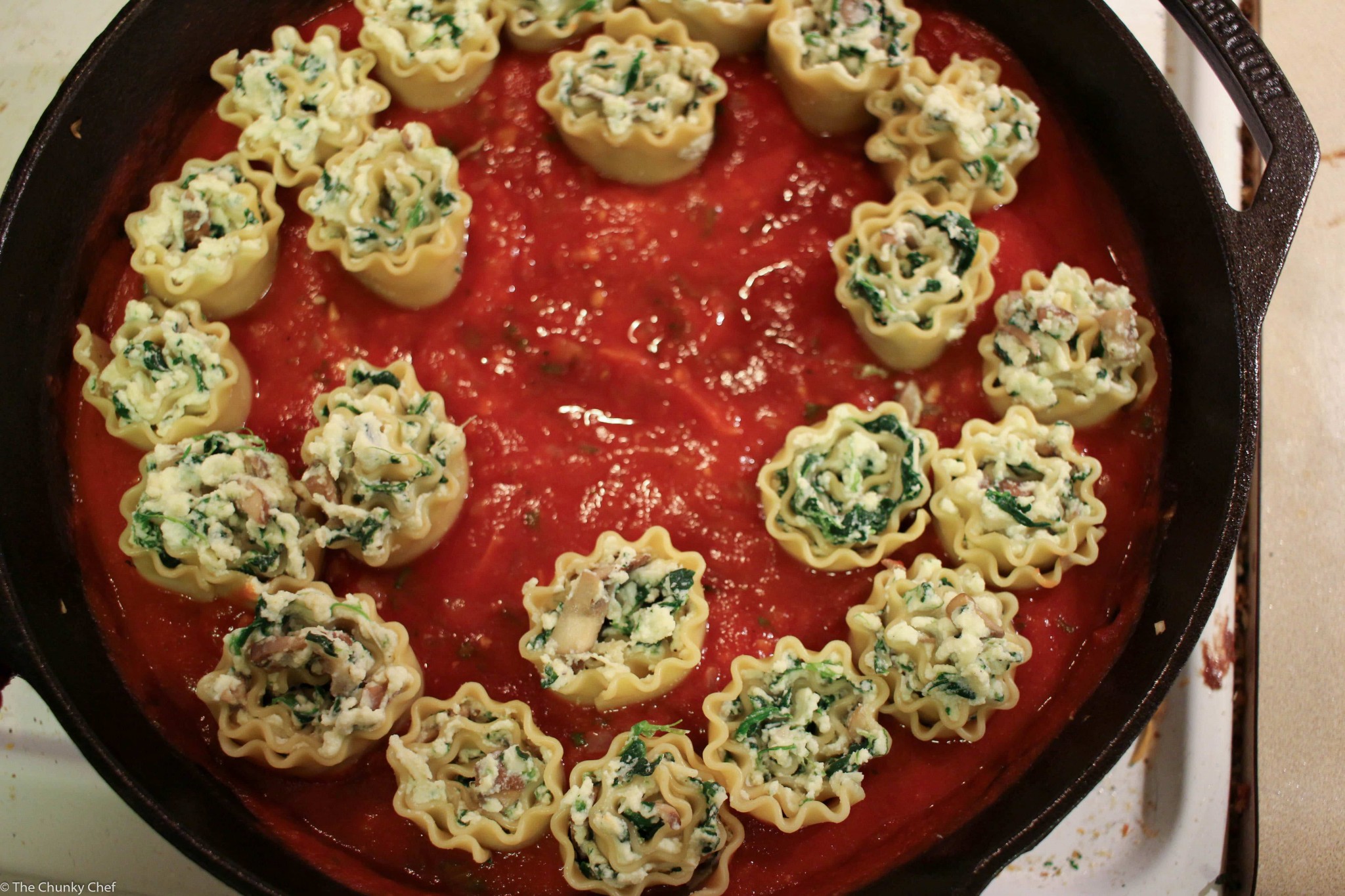 Now just slide the skillet into the oven and bake for about 20 minutes.  Remove the skillet from the oven, sprinkle with cheese, and bake another 10-15 minutes, until the cheese is all golden and bubbly.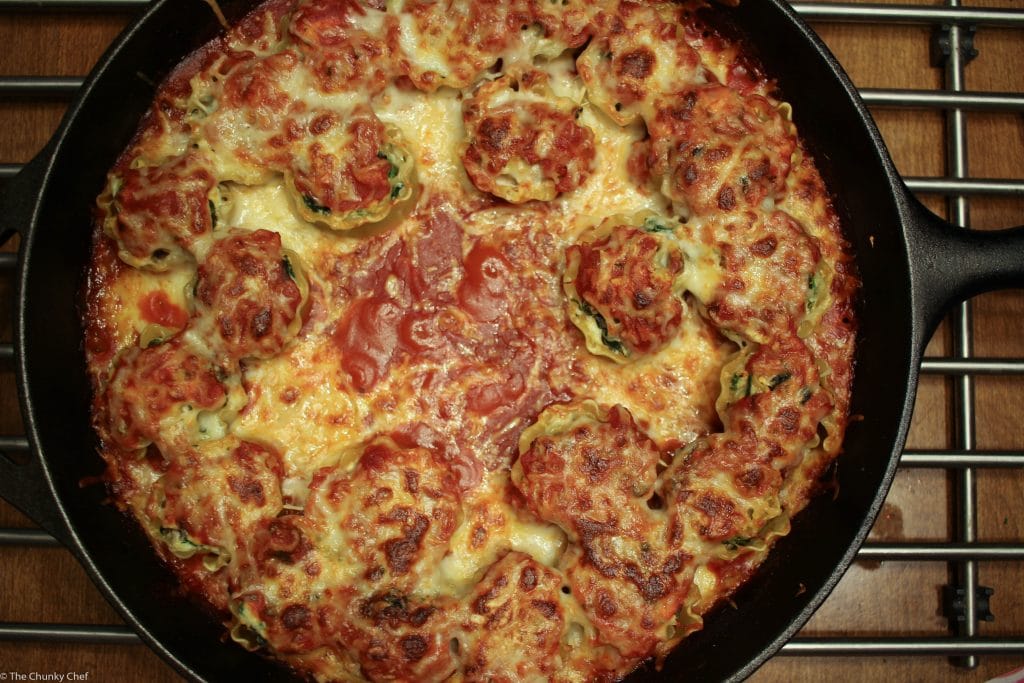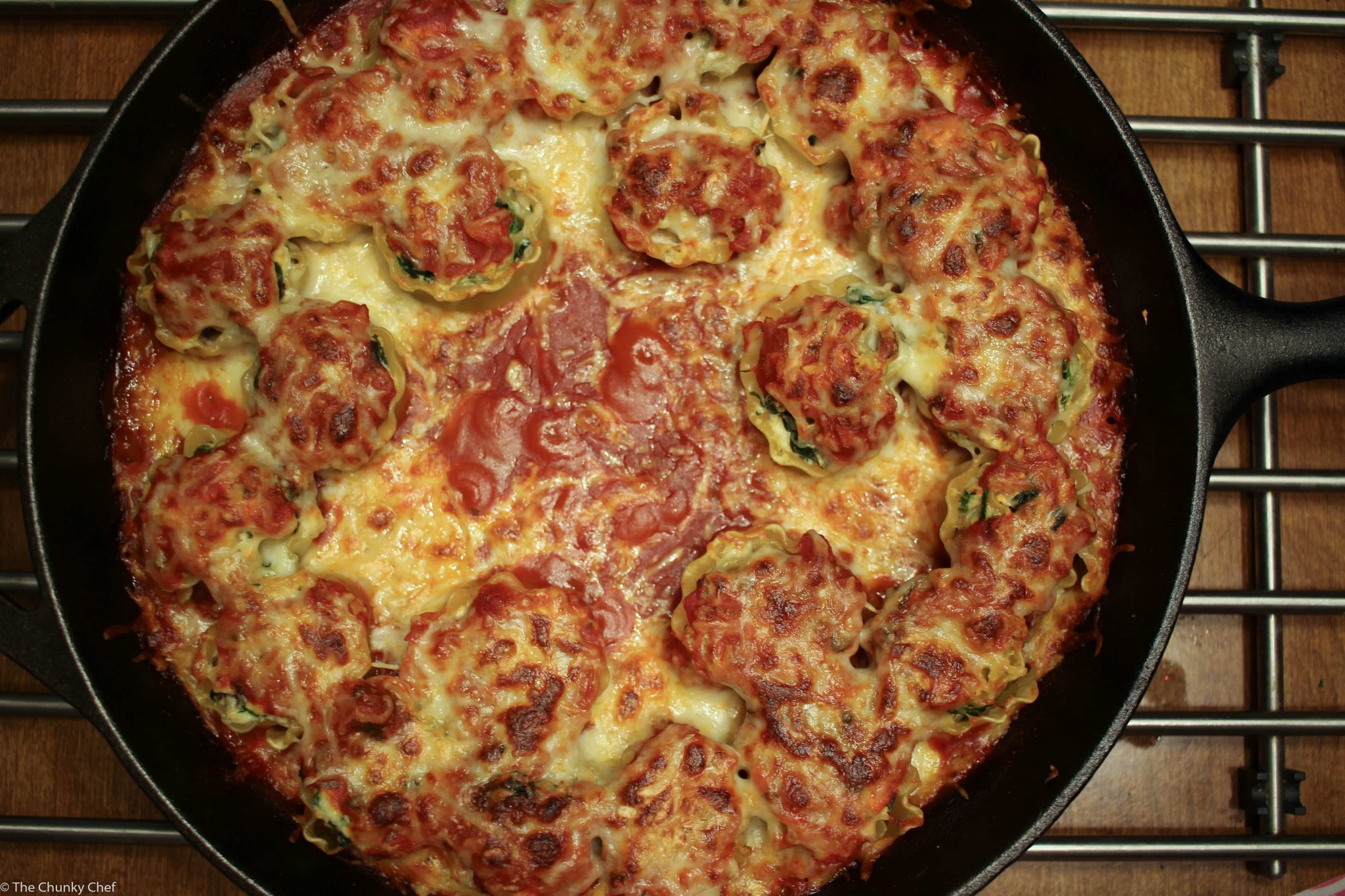 Let's zoom in for a close up, shall we?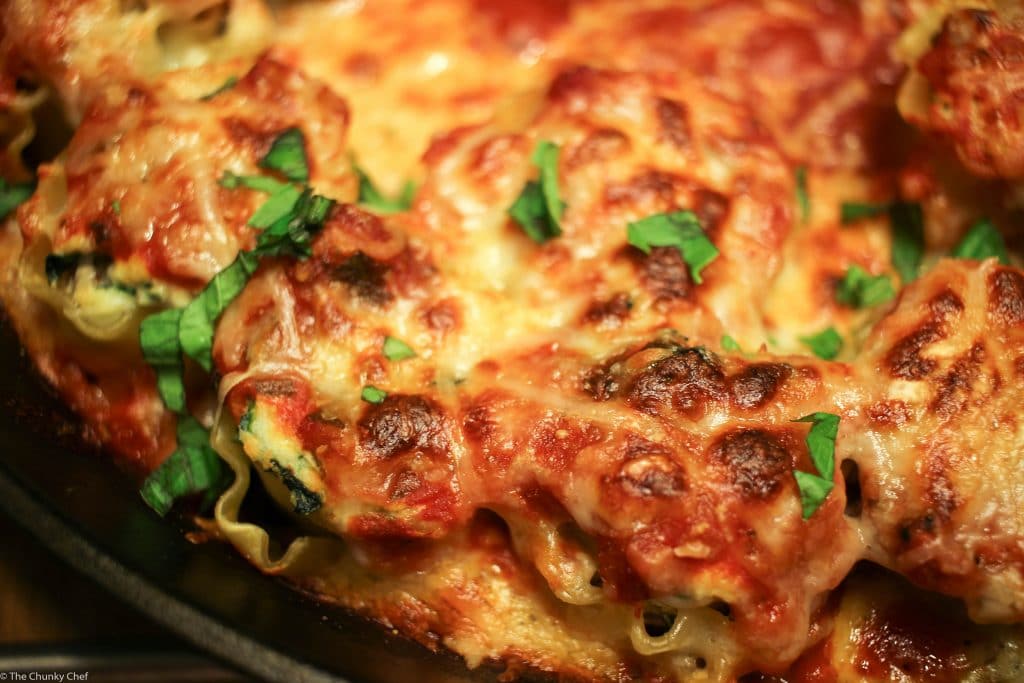 Oooooooh, see that brown, crunchy cheese?  *DROOL*  I seriously go nuts over burnt cheese… maybe I'm weird 😛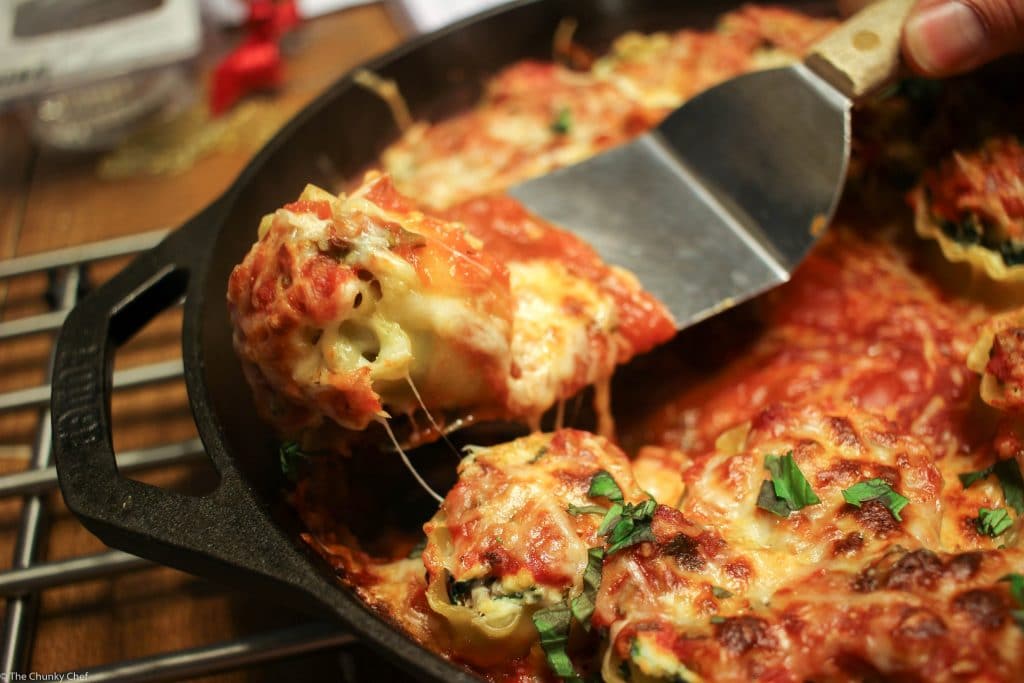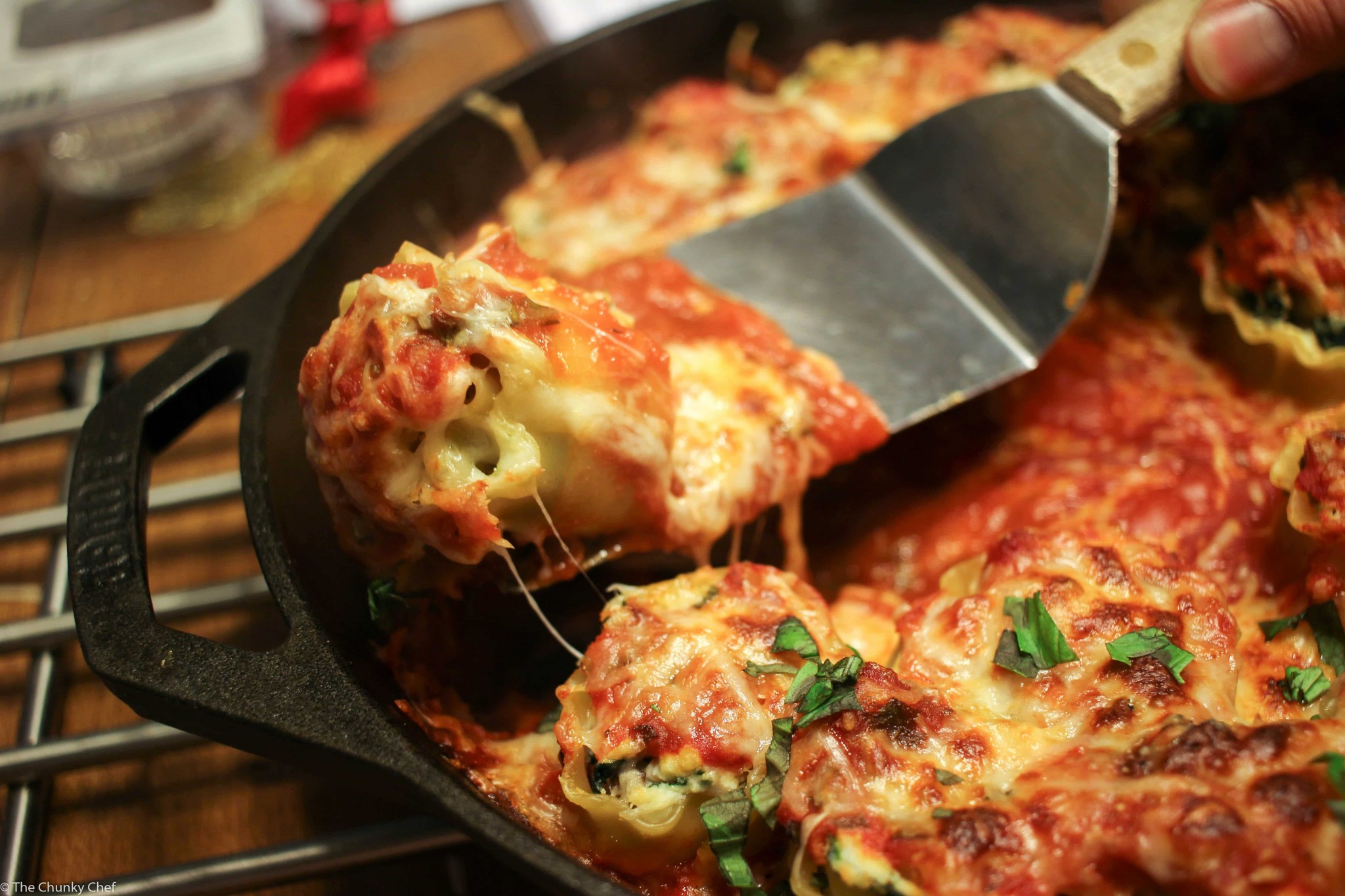 These rotolos are completely delicious… and also completely customize-able!  Don't like mushrooms?  Skip them!  Want some meat?  Add some finely crumbled and browned Italian sausage or seasoned ground beef!  Anything you'd like 😀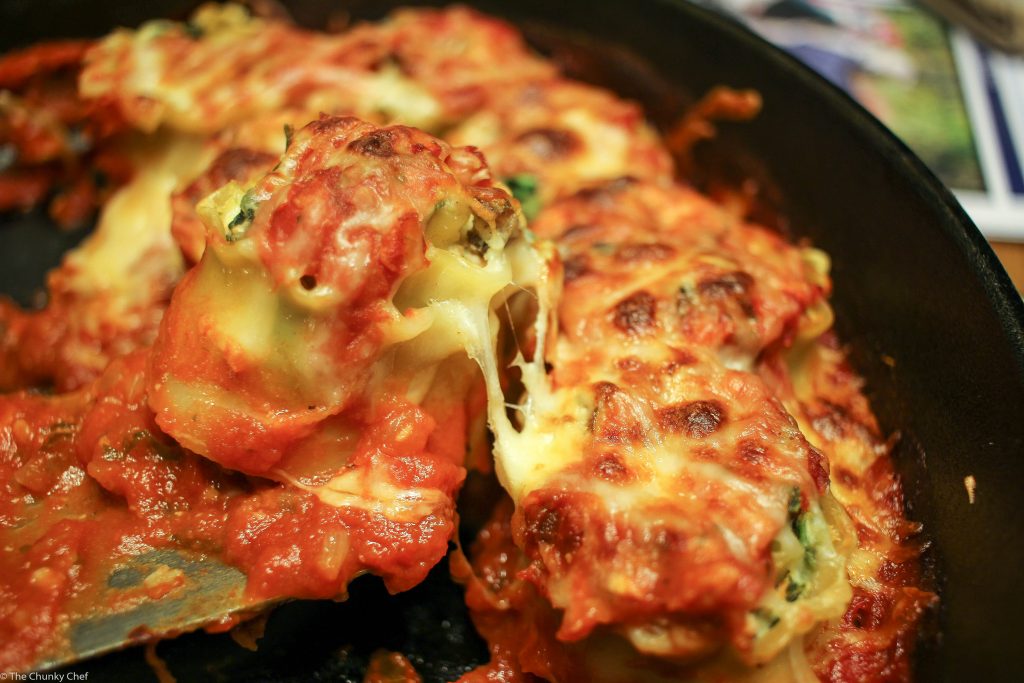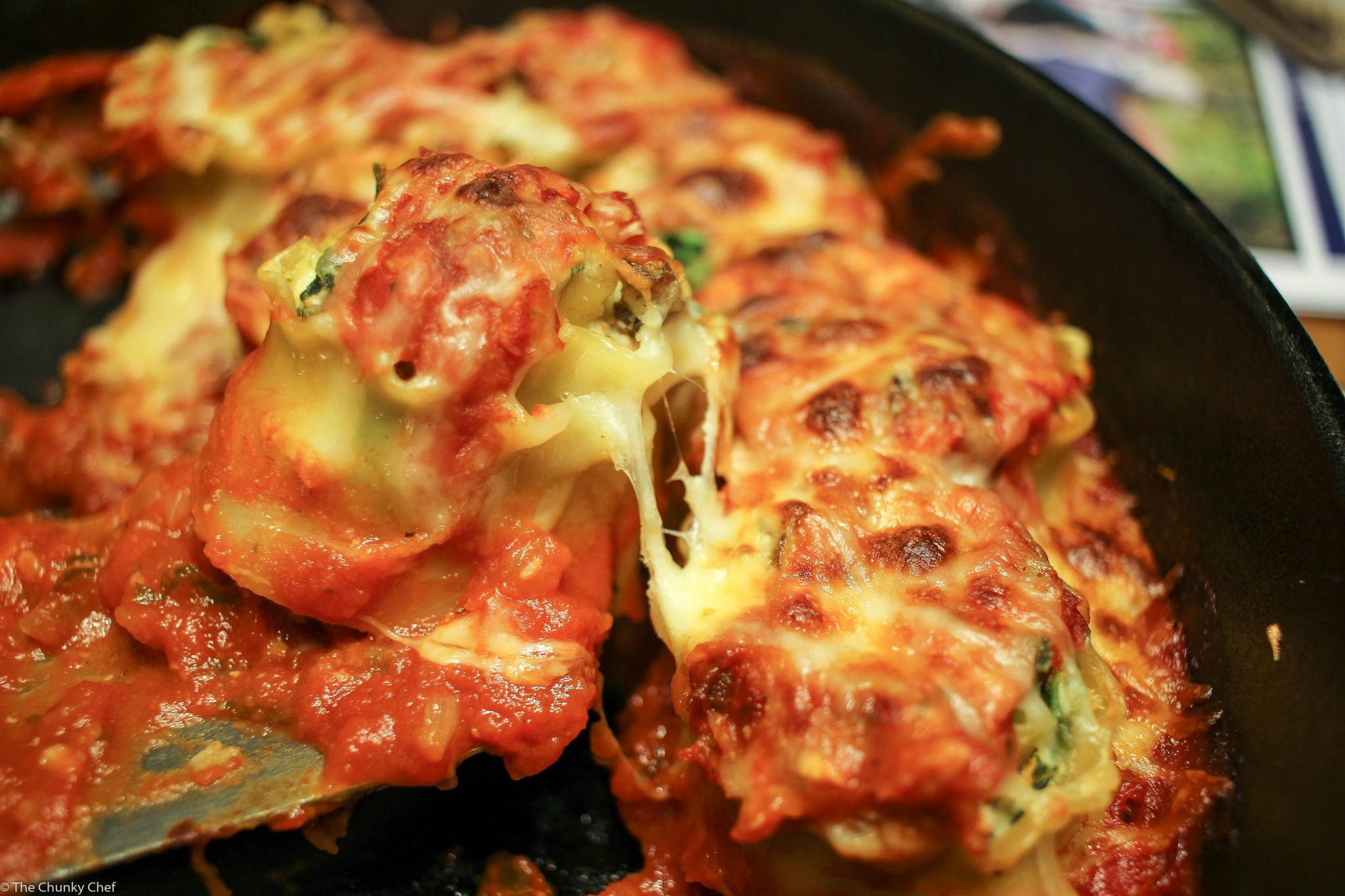 We devoured these rotolos!  I was definitely bummed that I didn't make enough of the lasagna noodles… but we all live and learn right?
I served these alongside a simple side salad and some of my copycat Olive Garden breadsticks… although once again, we ate all the breadsticks, so I couldn't get any updated (aka, much better lol) photos for you.  I promise, I will soon though!
If you'd like something else to serve these with, try my Garlic Roasted Broccoli, or Parmesan Crusted Roasted Prosciutto Wrapped Asparagus!

Recipe adapted from RecipeTin Eats 🙂
Looking for another roll-up inspired meal?  Try my Italian Stuffed Flank Steaks… so delicious!
Did you make this? Be sure to leave a review below and tag me @the_chunky_chef on Facebook and Instagram!
Savory mushrooms, spinach and cheese are rolled up in pasta and baked in a delicious marinara sauce. A dish so hearty, you won't realize it's vegetarian!
Ingredients
1 box Barilla dried lasagna noodles
1 cup Mozzarella cheese shredded
Grated Parmesan cheese for garnish
Handful of fresh basil leaves chopped, for garnish
MARINARA SAUCE:
2 Tbsp olive oil
1 large yellow onion diced
8 cloves garlic minced
28 oz can of crushed tomatoes
1 tsp sugar
1/2 tsp dried basil
1/2 tsp salt
Black pepper to taste
FILLING:
1 box of frozen spinach
8 oz mushrooms sliced and chopped
16 oz container of ricotta cheese I used whole fat
1 egg
1/3 cup grated Parmesan cheese
1/4 tsp fresh nutmeg grated
1/2 tsp salt
Black pepper to taste
Instructions
Preheat oven to 350 degrees.

Boil lasagna noodles halfway to al dente, drain, and lay out on a wax paper lined baking sheet to cool.

MARINARA SAUCE:
Heat oil in an ovenproof skillet over medium high heat.

Add diced onion and minced garlic to skillet and saute about 2-3 minutes. Scoop out half of the onion/garlic mixture and remove to a plate to cool. Add crushed tomatoes, salt, sugar, dried basil and black pepper to the remaining onion/garlic in the skillet. Stir and let simmer for 10 minutes or so.

Scoop out 3/4 cup of the marinara sauce, and set aside.

FILLING:
Defrost the spinach in the microwave on high for 3 minutes.

Place spinach in a colander, and press with paper towels to drain excess liquid. Add to a large bowl. Add in the cooled onion/garlic mixture from step 4.

Add remaining filling ingredients and mix well to combine.

ASSEMBLING:
Lay the lasagna noodle with the short end in front of you.

Spoon some filling onto the noodle, and spread over the noodle. Dab some water on the end furthest away from you (to seal the roll), then roll up towards the top, starting from the end closest to you.

Continue with remaining lasagna noodles.

Cut rolls in half across.

Place the rolls into the marinara sauce with the ruffled edge facing up.

Drizzle the reserved marinara sauce over the rolls, then bake for about 20 minutes.

Remove from oven and sprinkle the mozzarella cheese over the top. Return to oven and bake for 10-15 minutes or until the cheese is golden brown and bubbly.

Serve garnished with grated Parmesan cheese and chopped fresh basil leaves.
Want to save this recipe for later? Click the heart in the bottom right corner to save to your own recipe box!
Chef Tips
** Filling ingredients can be adapted to your tastes.
** Jarred marinara sauce could also be used, if you prefer.
Nutrition Disclaimer
The Chunky Chef is not a dietician or nutritionist, and any nutritional information shared is an estimate. If calorie count and other nutritional values are important to you, we recommend running the ingredients through whichever online nutritional calculator you prefer. Calories can vary quite a bit depending on which brands were used.