Not only do I have this great recipe for you all today, but I also have something new here on the blog… up in the menu bar you'll see a new section there titled Visual Recipe Index.  Now you can see all of my recipes, by category… for those of us who like to see a picture of the food 🙂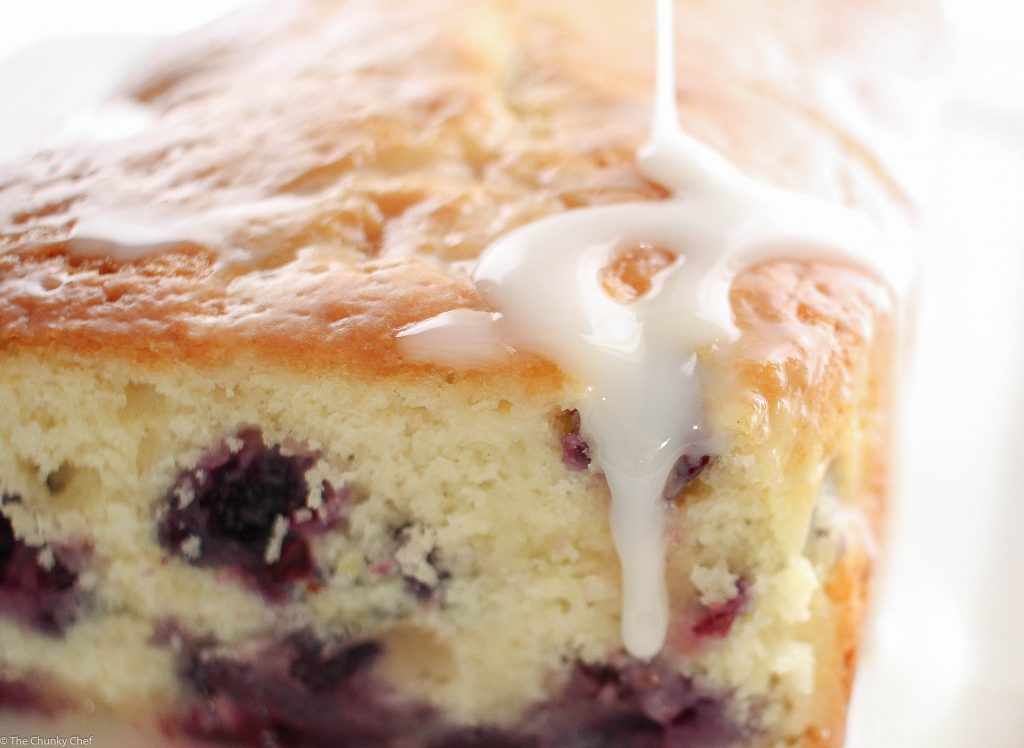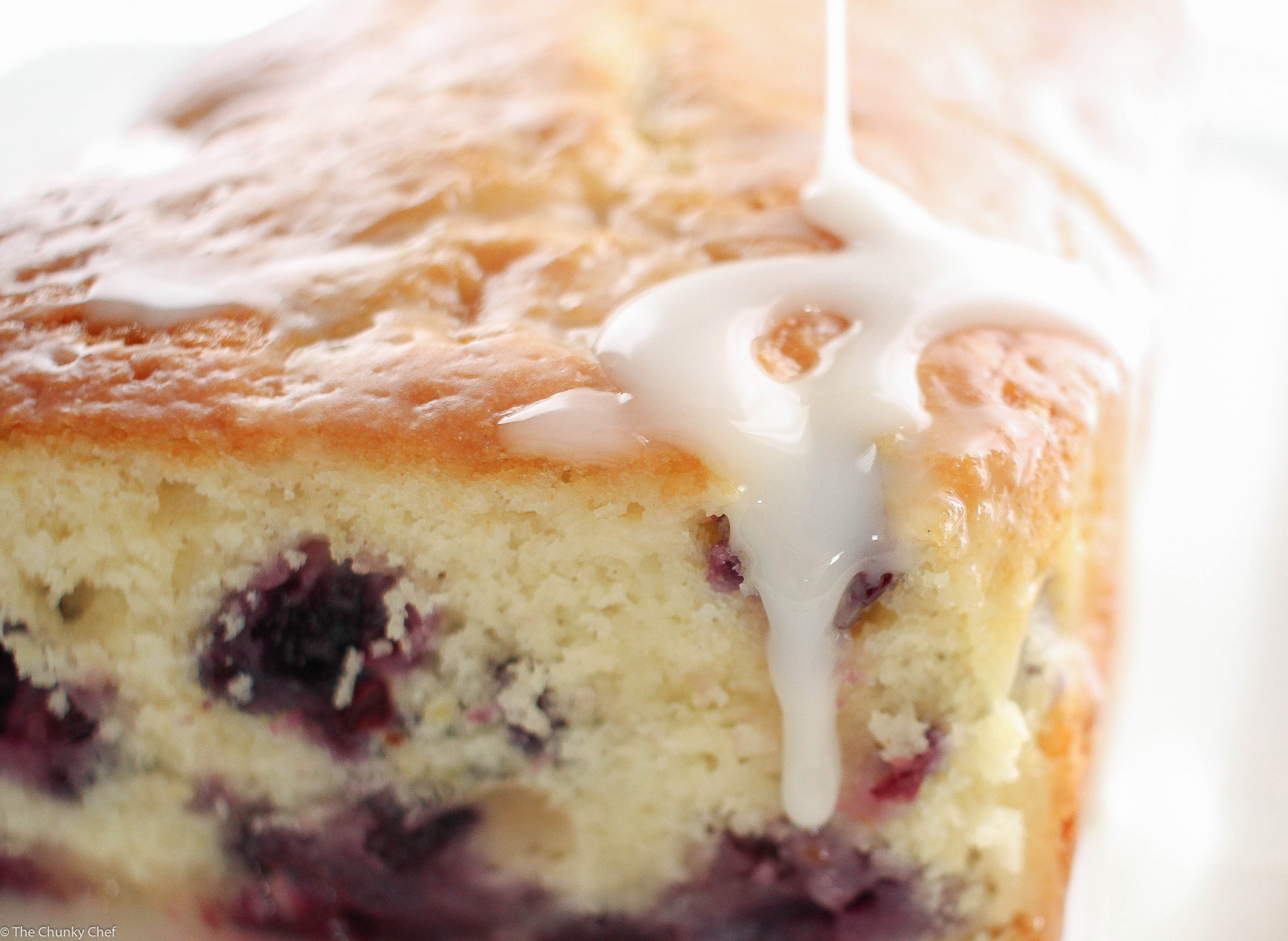 What's one of the greatest flavor combinations of all time?  Garlic and onion?  Steak and potatoes?  How about blueberry and lemon?  Ohhhhhh yeah!
Confession time… I don't actually bake with blueberries very often.  Although, I really don't know why… because I sure do love their flavor.  I think I usually get caught up in other flavors and forget about blueberries.  Or maybe it's because in my house, blueberries get practically inhaled by my kids.  Seriously you guys… my daughter and son could put away an entire pint of blueberries each!  I mean, I love that they LOVE fruit… of all kinds… but man it can be expensive to buy so many blueberries, especially in the off-season months!
So a little while back we had some extra blueberries in the fridge and I came across a recipe on pinterest that just made me drool at the very thought of it… a blueberry lemon bread 🙂  What a great flavor combination.  I added a bit of almond flavor to it as well, partially because I'm obsessed with almonds, and also because I thought it would go well together!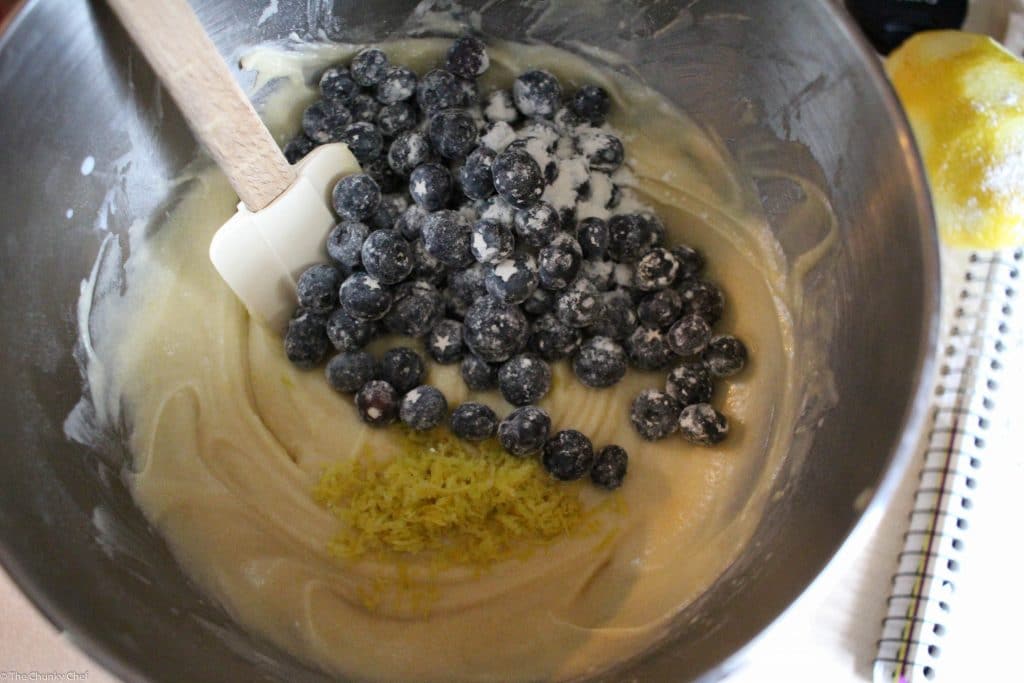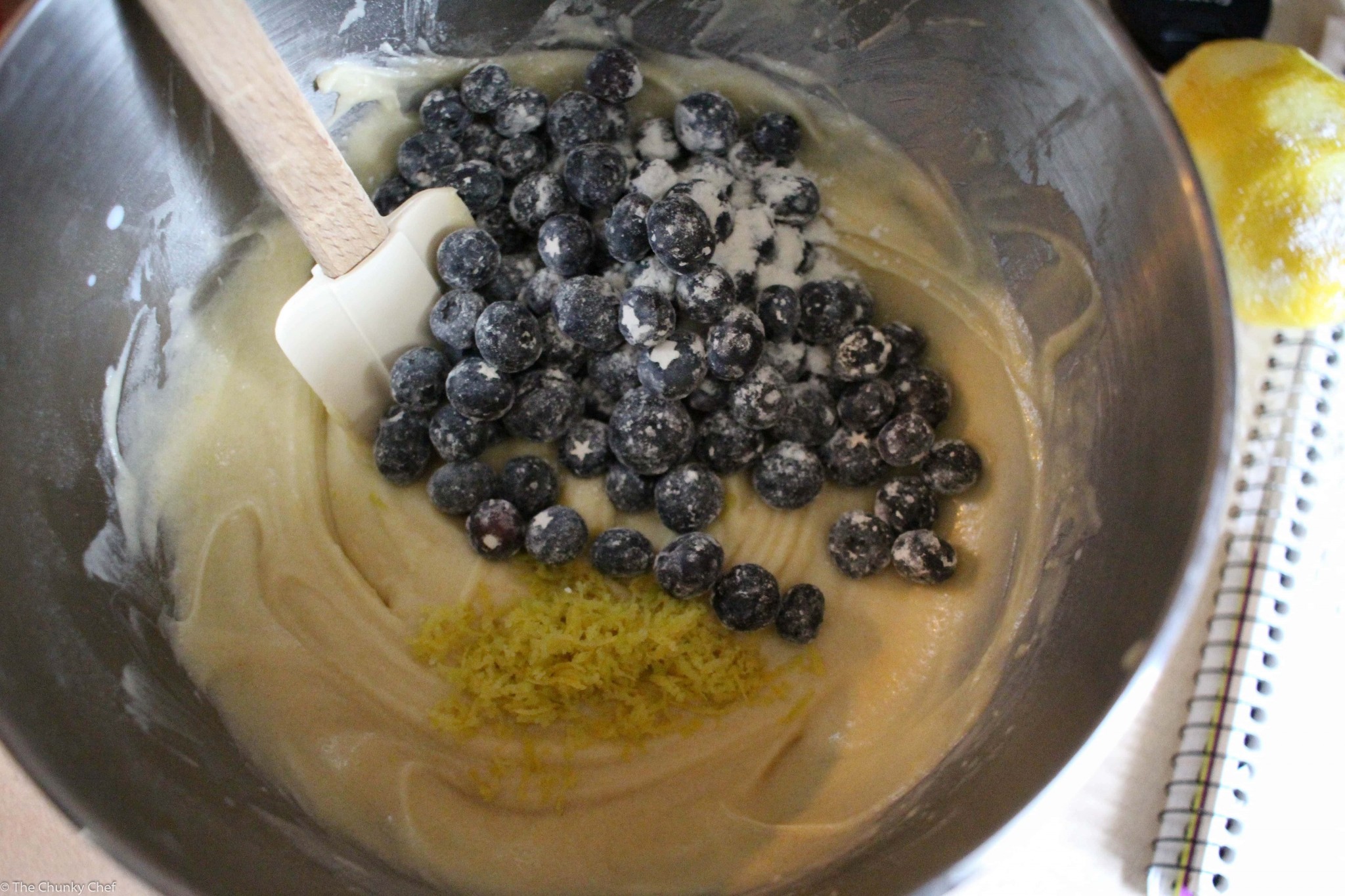 After you've mixed the batter together (I used my stand mixer, but a hand mixer would work just as well), you'll want to fold the blueberries and lemon zest in gently.
Tip: Toss the blueberries in a couple tablespoons of flour before adding them, this will help keep the blueberries from all sinking to the bottom of the bread
To make the process of removing the cooked bread from the pan a lot easier, I lined my loaf pan with parchment paper, so I could just lift it right out 🙂  The only problem with that is that my pre-cut parchment paper wasn't big enough to fold the extra over the sides, so they weren't exactly smooth.  But after one bite… I sure didn't care that the sides weren't smooth!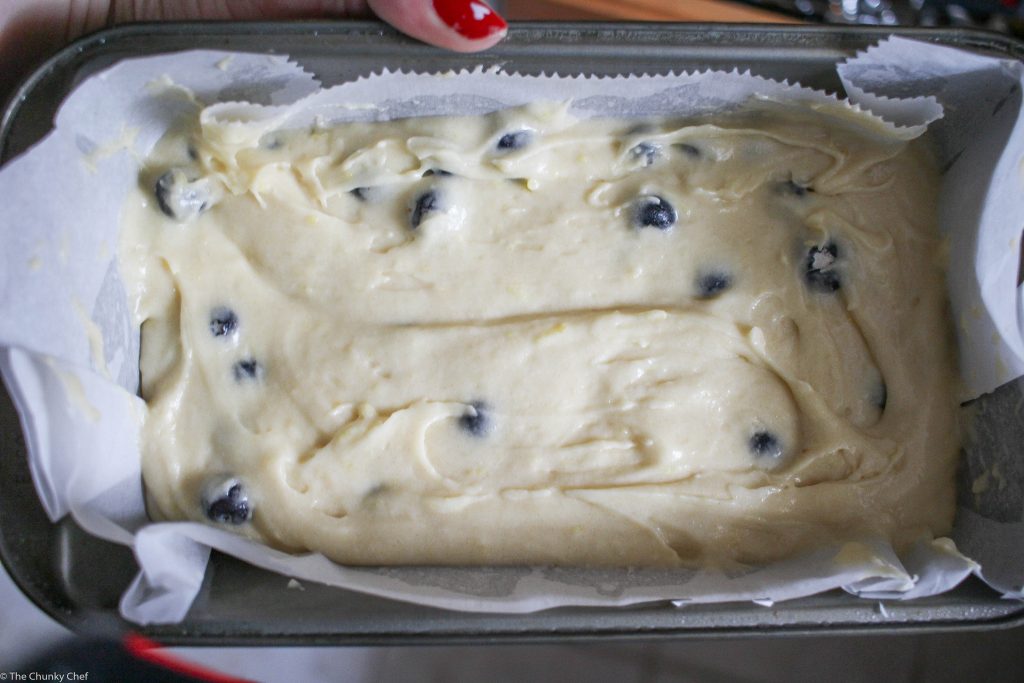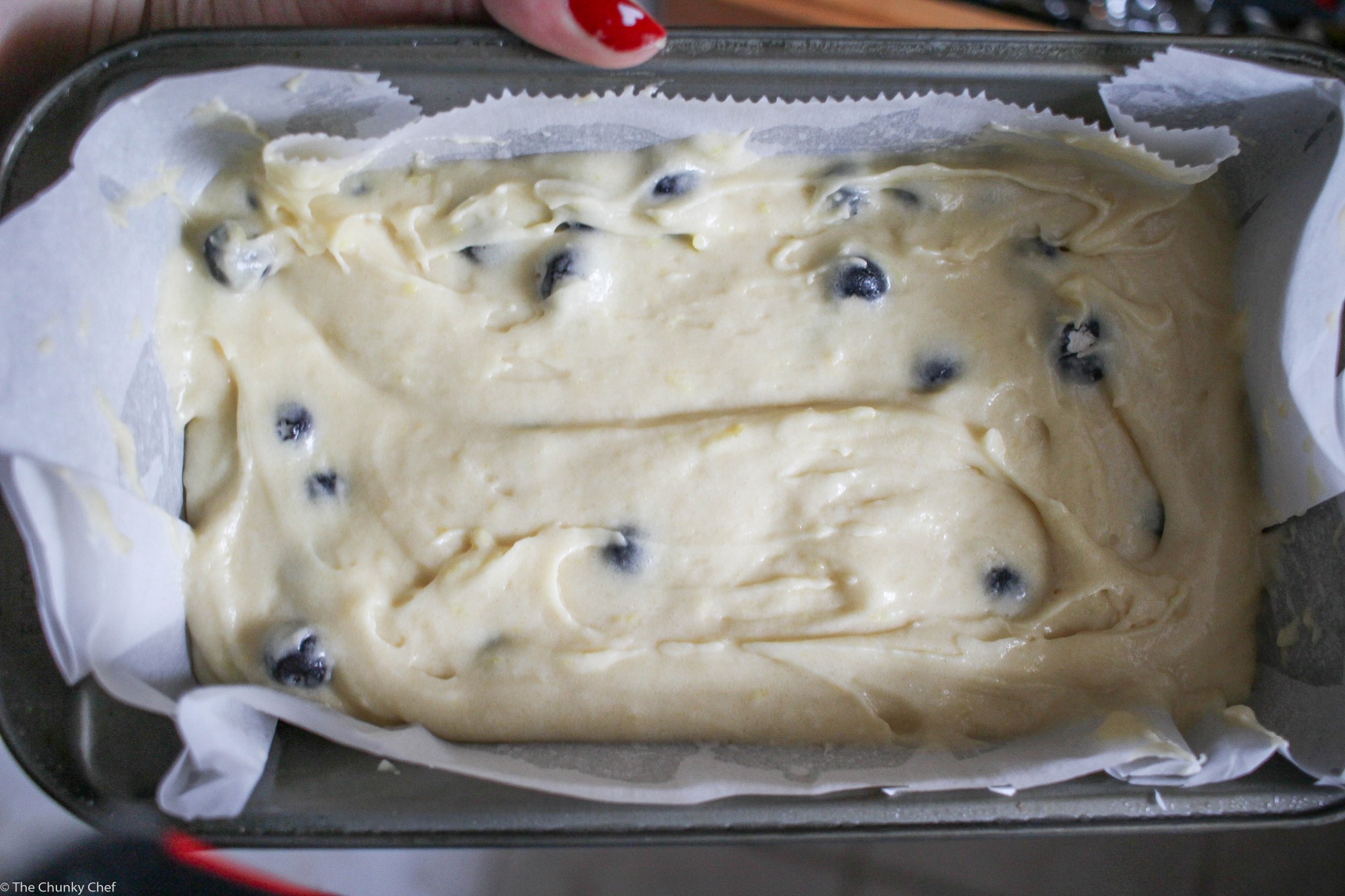 Bake about an hour, until golden brown on top and a toothpick inserted into the center comes out clean.  Is it just me, or do you have a hard time finding a toothpick when you need one?  I swear I have to dig through my whole drawer… smh.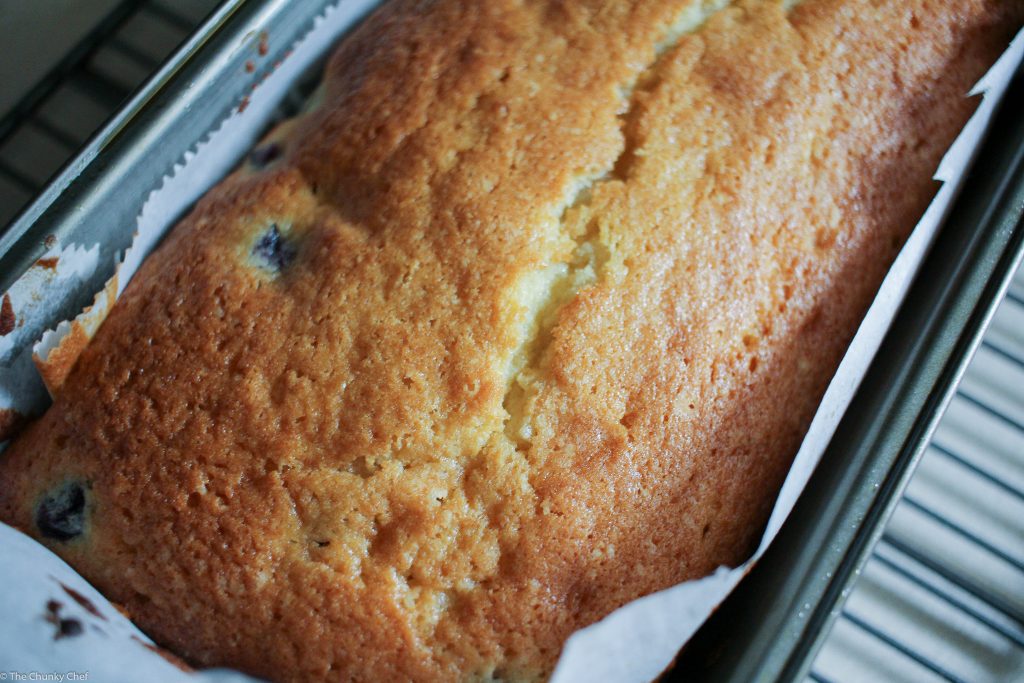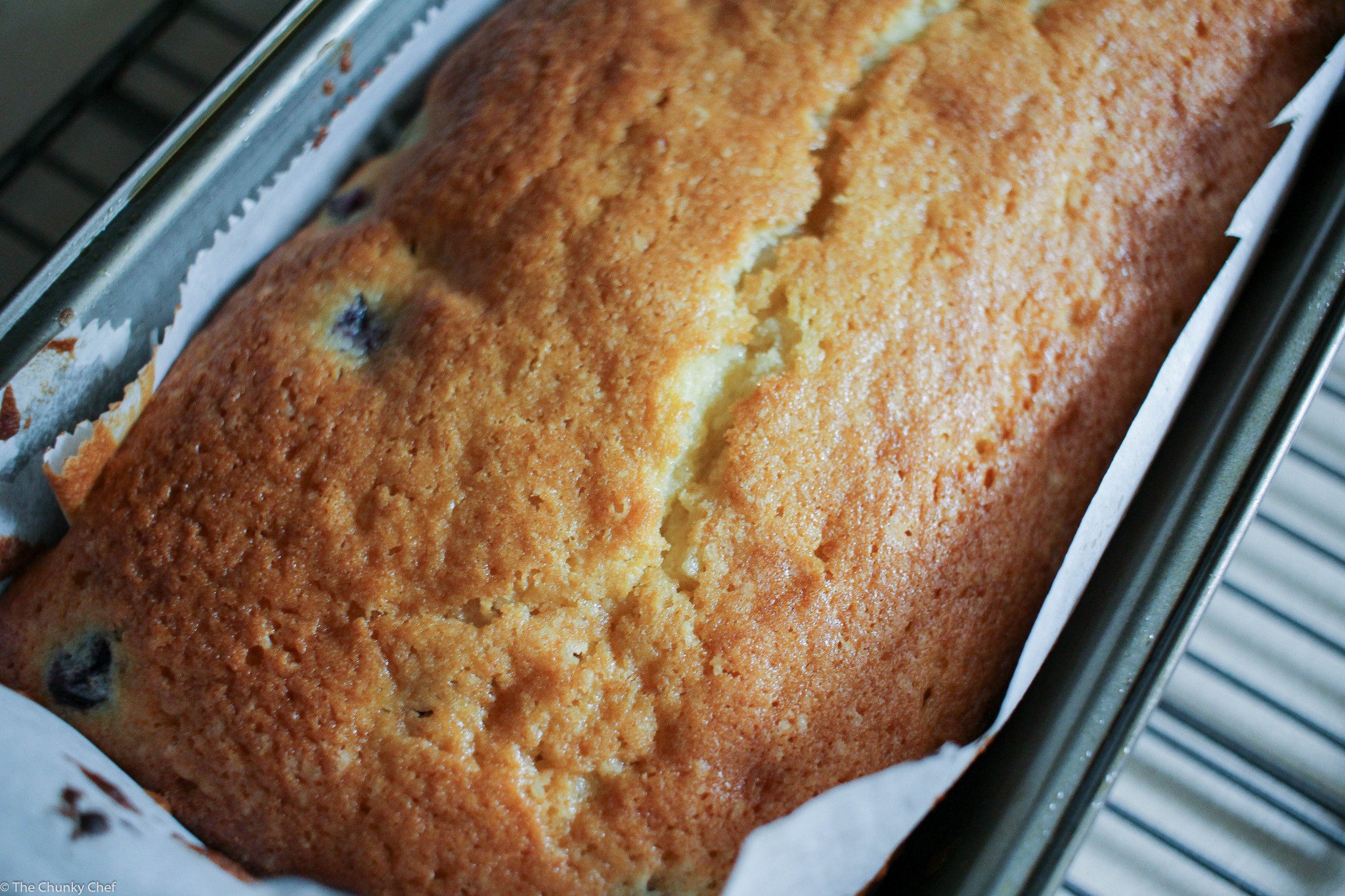 Can't you just imagine the sweet blueberry, lemon and almond scents coming from that bread?  Now as hard as it will be… don't eat it just yet.  Leave it in the pan, but place the pan on a cooling rack and let it cool for 40 minutes or so.  Take the bread out of the pan and allow it to cool completely.  It's torture… I know… but it'll be sooooooo worth it!
Once it's cooled, you can make your glaze and prepare to drizzle it all over the bread!  Combine your very softened cream cheese, lemon juice and powdered sugar and whisk it together until smooth.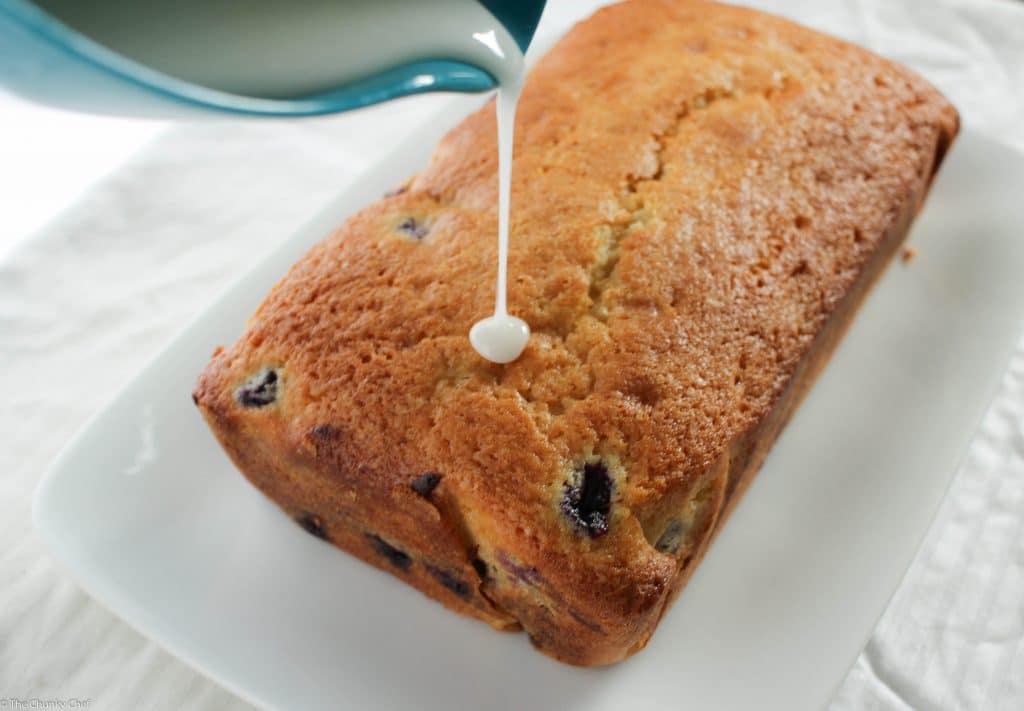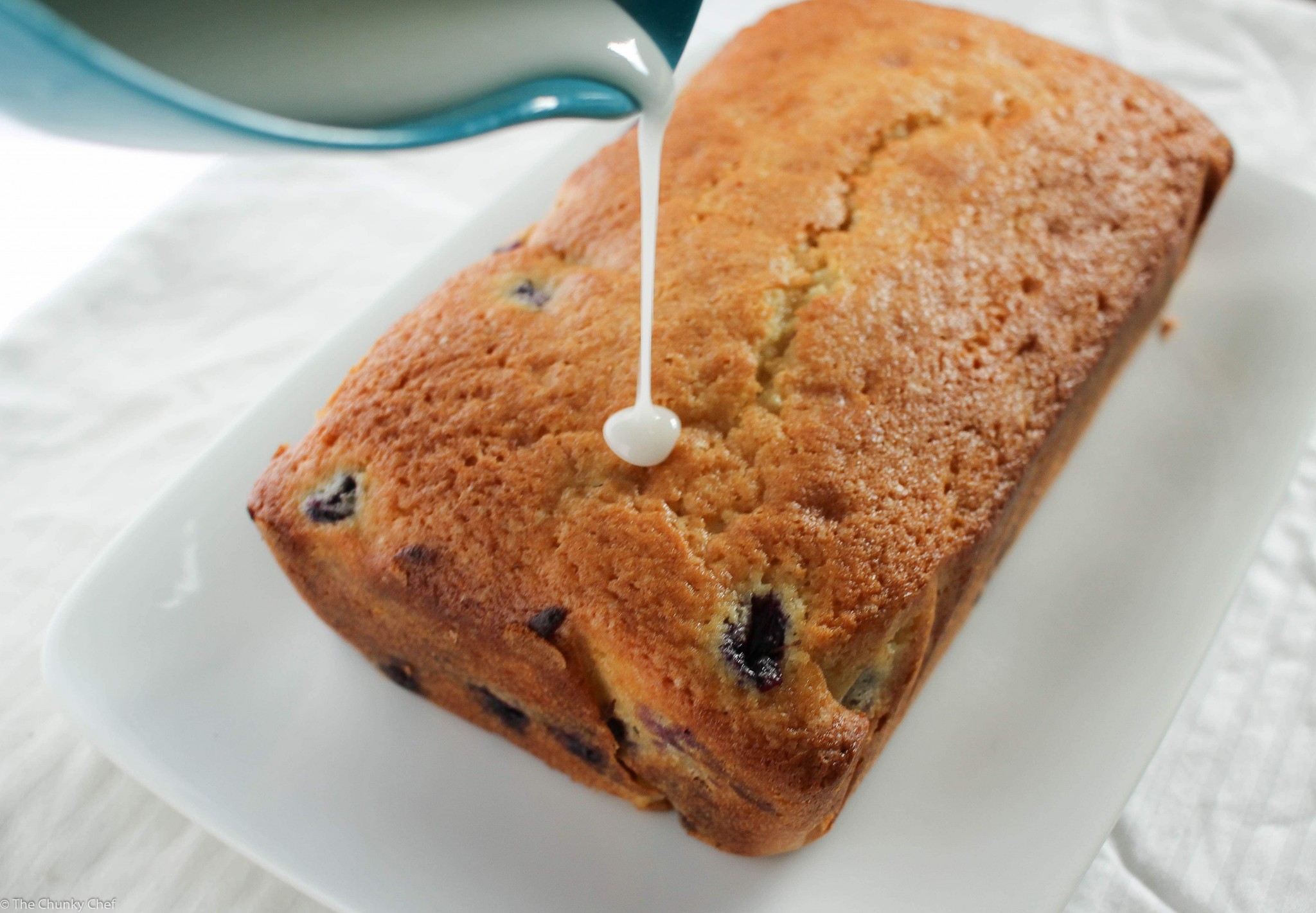 Now I would recommend lining your counter with some wax paper, placing the cooling rack with the bread on it on the top, and then drizzling the glaze.  I wanted to do it on the plate for the pictures, but that meant that the bread ended up sort of sitting in a pool of glaze (which isn't bad, just makes for a verrrrrry glazed bread lol).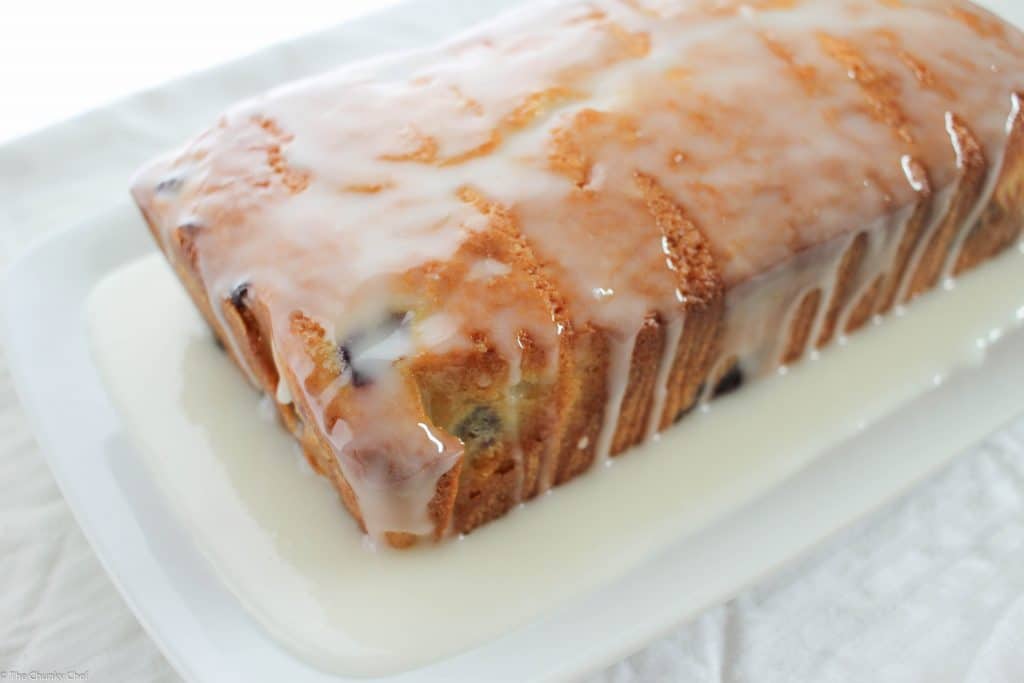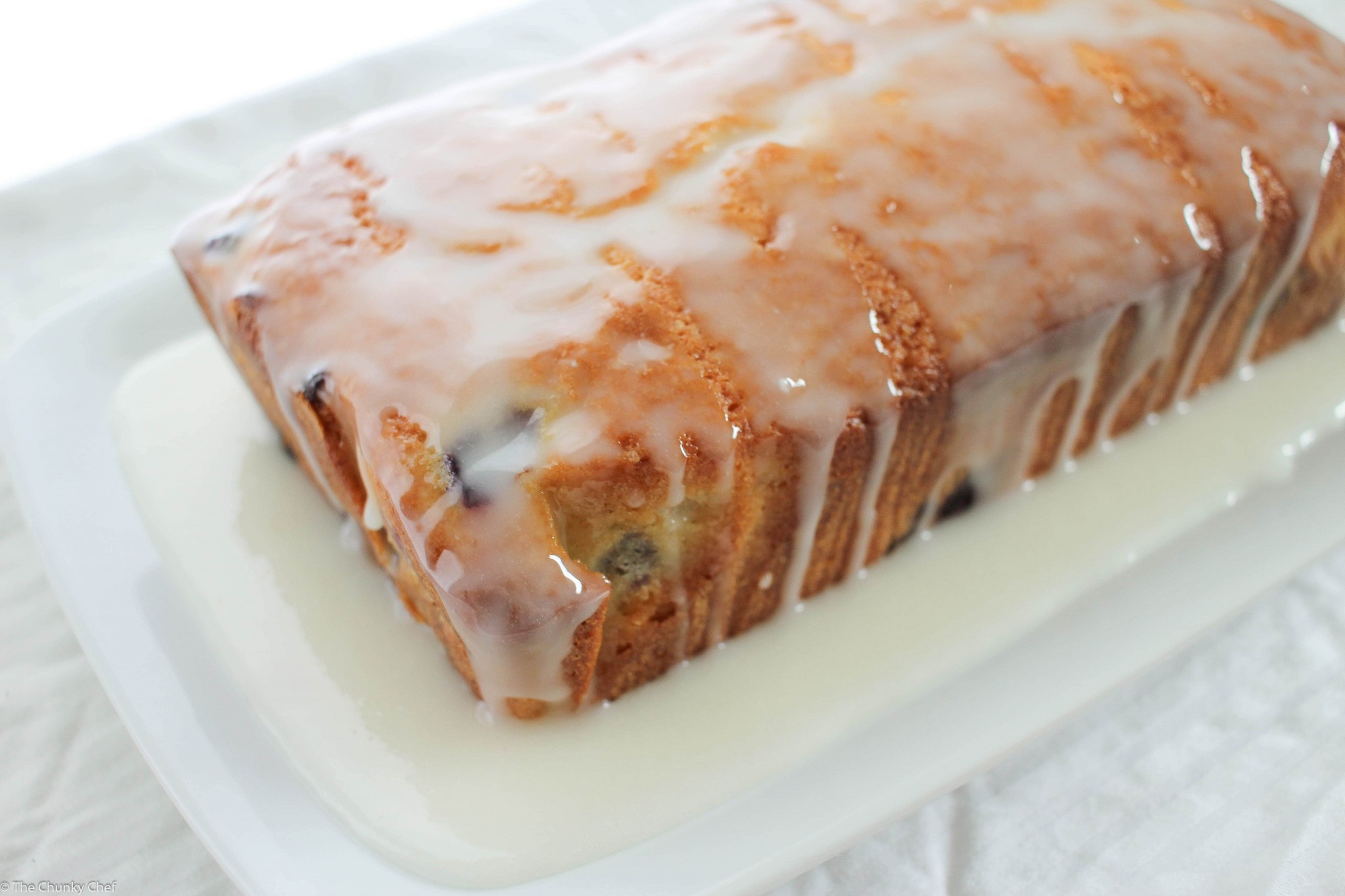 Do you want to lick the bread?  I wanted to as I was taking pictures lol.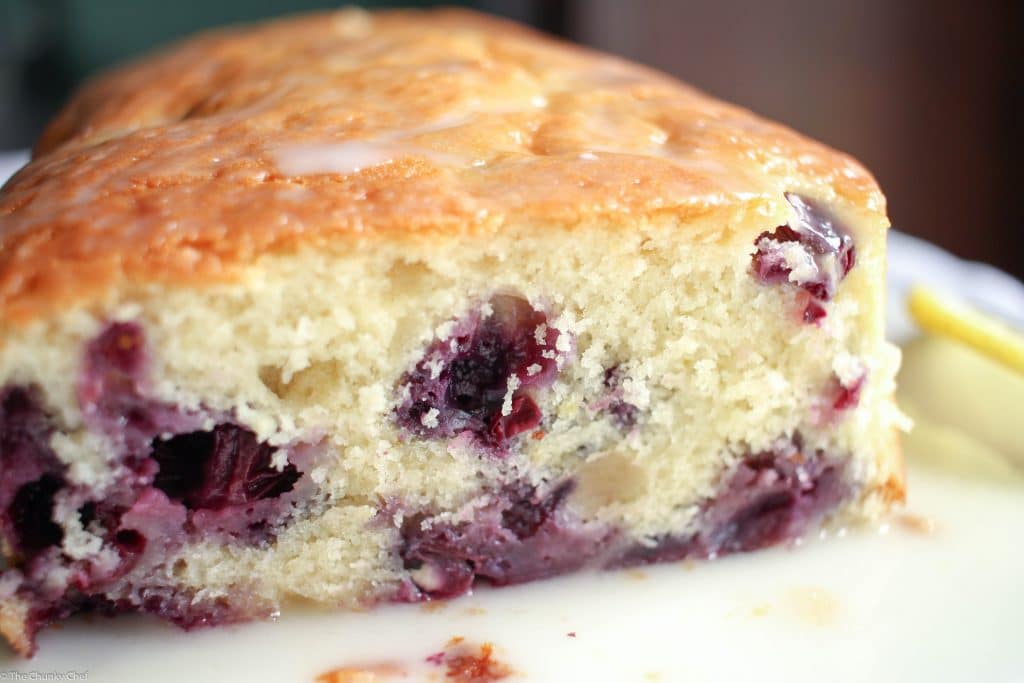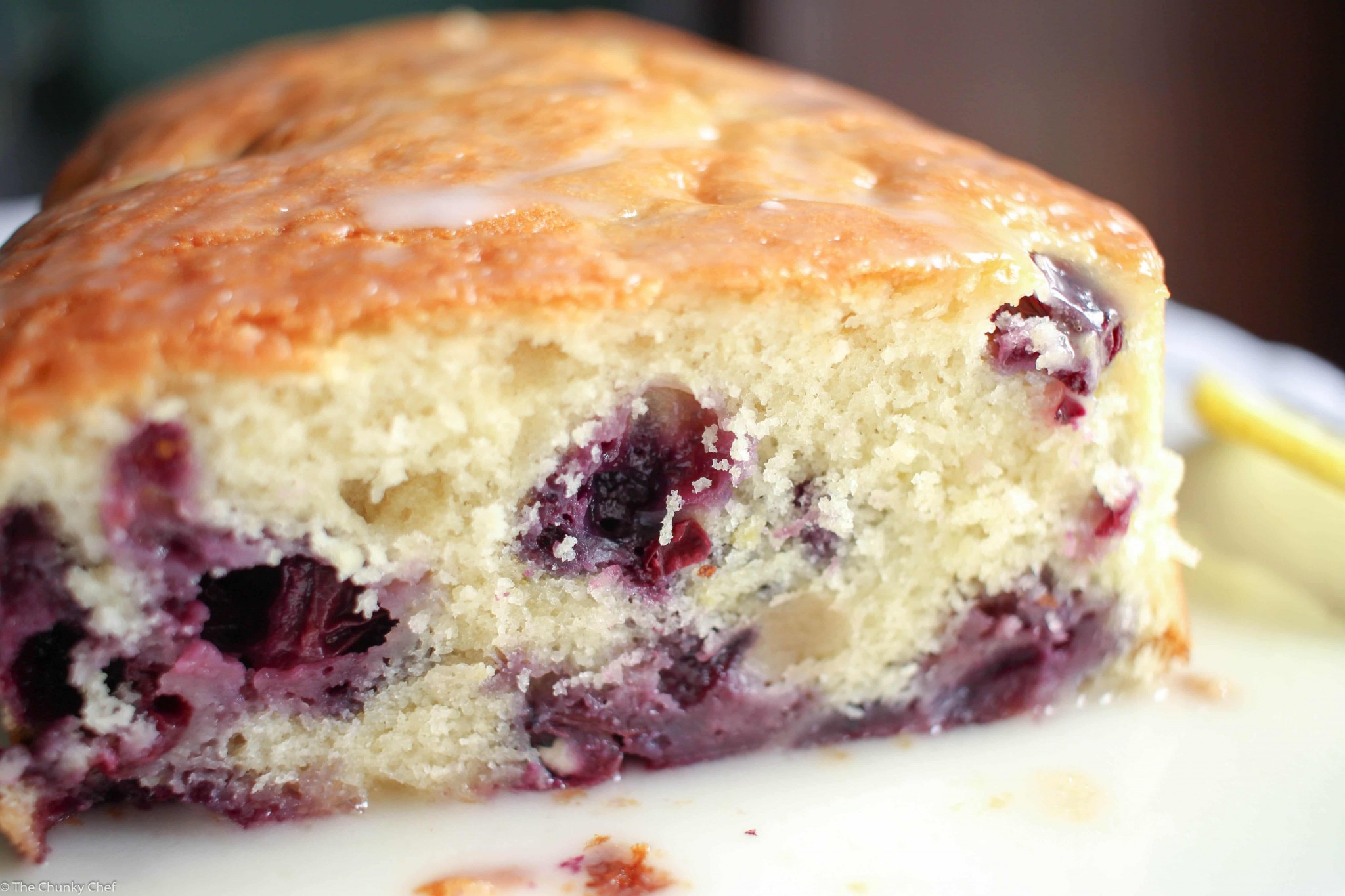 Ready for my favorite shot?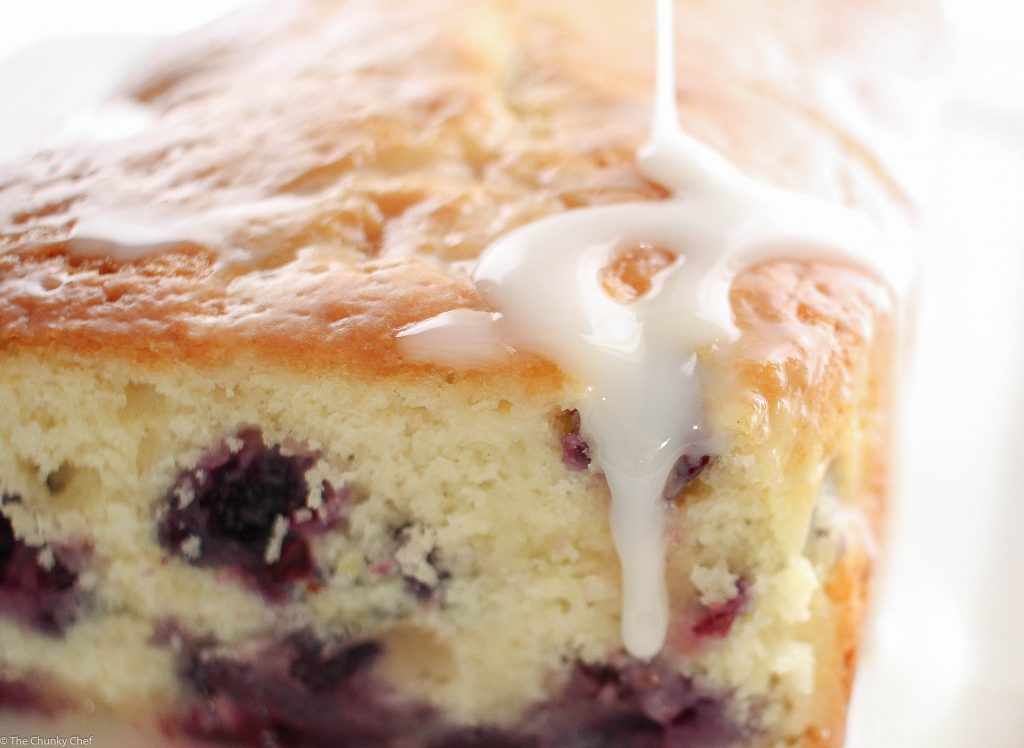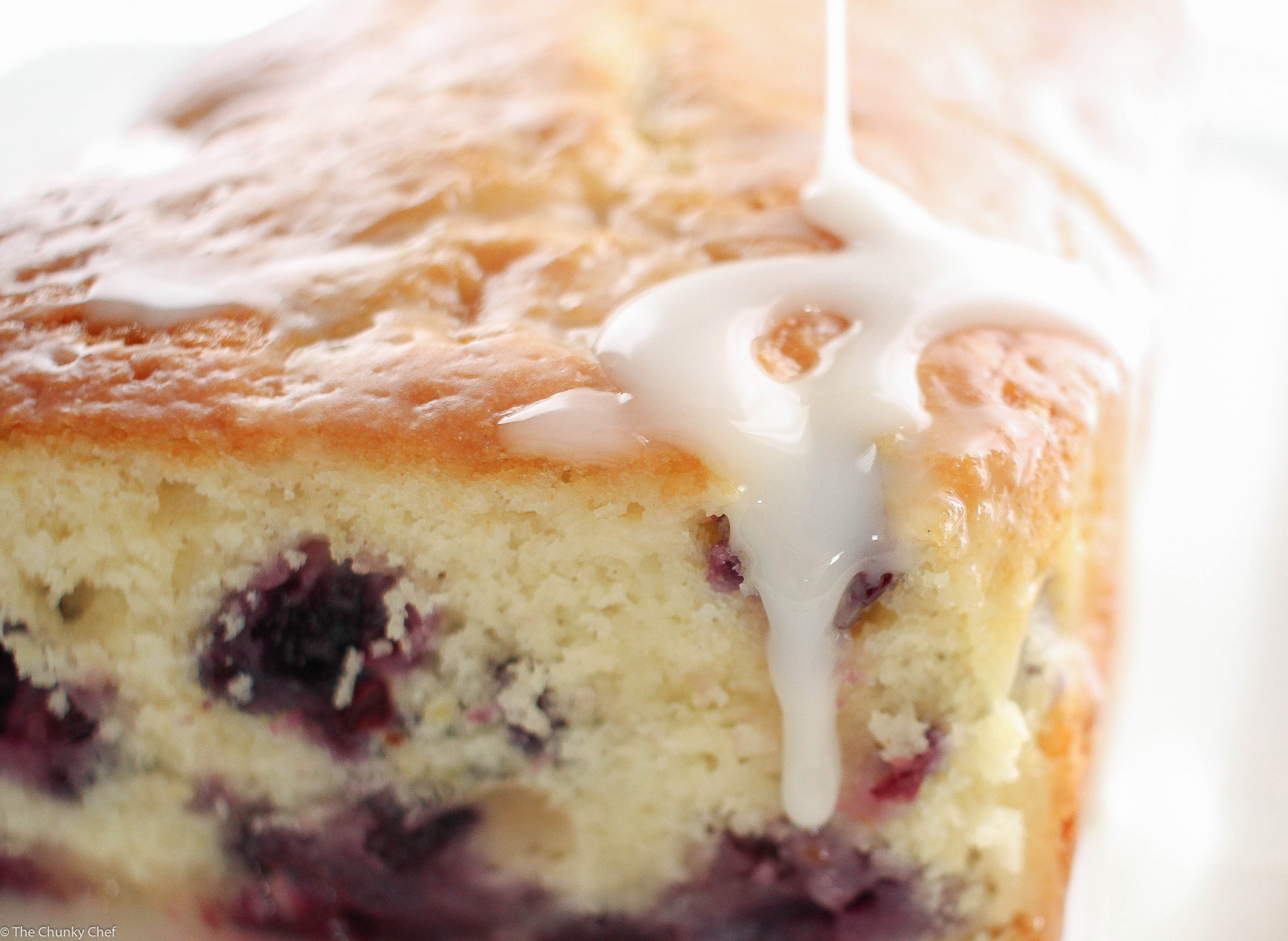 YUMMMMMM!!
Now in my excitement to take photos, I completely forgot to add the sliced almonds to the top of the bread 🙁  So please add some if you'd like!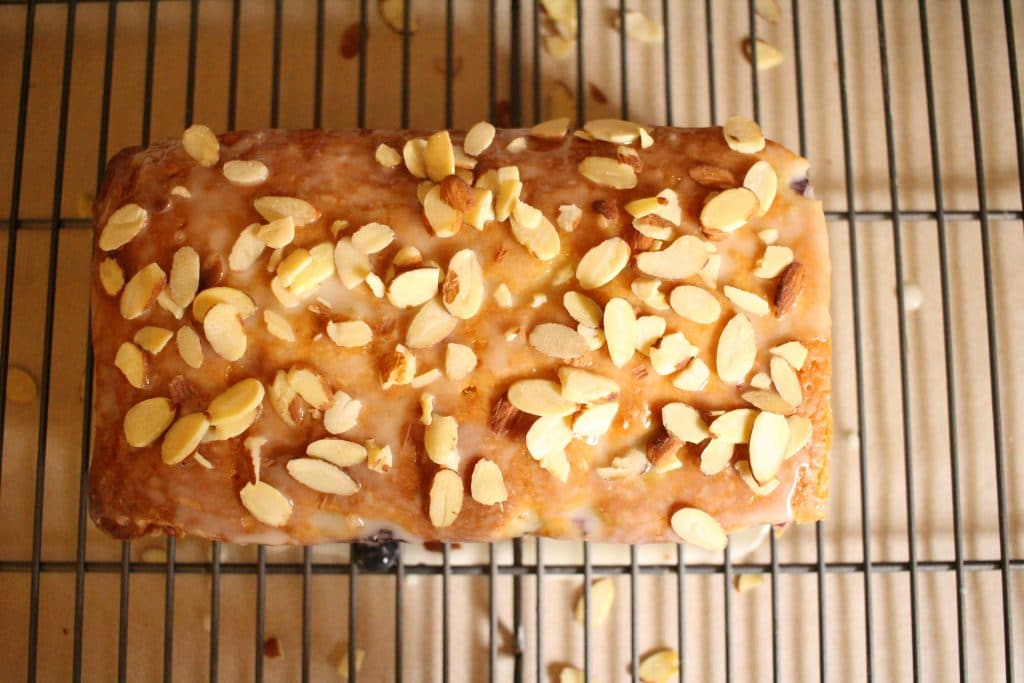 I kept my bread in the refrigerator, so the glaze stayed nice and thick.
This bread was so tasty, I hope you all try this one… I know you won't regret it!!
Stay tuned later tonight you guys, I have a surprise for you all 😀

Recipe adapted from Julia's Album
Don't miss a new recipe, enter your email below to stay updated!
[mc4wp_form]
You can find me on Facebook, Twitter, Pinterest, and Google +, so follow me if you'd like… I love keeping in touch with all of you 🙂
Linked to Made By You Monday | Melt in Your Mouth Mondays | Munching Mondays | Tickle My Tastebuds Tuesdays | Try a New Recipe Tuesday | Take A Look Tuesday | Totally Talented Tuesdays | Lou Lou Girls Fabulous Party | Simple Suppers | What's Cooking Wednesdays | Whimsy Wednesdays | The Wednesday Roundup | Wordless Wednesday | Showcase Your Talent Thursdays | Full Plate Thursdays | Favorite Things Blog Hop | Foodie Fridays | Fiesta Fridays | Pure Blog Love | Pin Junkie Pin Party | Foodie Friends Friday | Foodie Friday and Everything Else | Fresh Ideas for Your Home | Friday Favorites | Show Stopper | Best of the Weekend | Show and Tell Saturday | Link Party Palooza
Did you make this? Be sure to leave a review below and tag me @the_chunky_chef on Facebook and Instagram!
Sweet bread studded with fresh blueberries, hints of lemon, and drizzled with a decadent lemon cream cheese glaze
Ingredients
1/3 cup unsalted butter melted
1 cup granulated sugar
2 eggs
1 1/2 cups all purpose flour
1 tsp baking powder
1 tsp salt
1/2 cup milk
1/2 tsp vanilla extract
1/2 tsp almond extract
2 Tbsp lemon zest
1 cup fresh blueberries frozen can be used as well
1-2 Tbsp all purpose flour
For the Glaze:
4 oz cream cheese softened
2 Tbsp lemon juice
1 cup powder sugar
Instructions
Preheat oven to 350 degrees.

Line a regular size loaf pan (mine is 9"x5") with parchment paper or spray with vegetable oil cooking spray.

In a large bowl, cream together butter, granulated sugar, eggs, vanilla and almond extracts.

In a separate bowl, combine flour, baking powder and salt, then stir into egg mixture (adding half the mixture at a time) alternating with adding the milk.

In the same bowl where you combined flour, add blueberries and toss them in 2 tablespoons of flour. (remember that keeps the blueberries from sinking to the bottom)

Fold in lemon zest and blueberries into the batter. Do it gently but still rather quickly. Pour batter into prepared loaf pan.

Bake for about 50-60 minutes, until a toothpick inserted into center of the loaf comes out clean. (Mine took 60 minutes)

Cool bread in pan for 40 minutes on a wire rack. Remove bread from the pan, and continue to cool on wire cooling rack.

Whisk together glaze ingredients in a small bowl and drizzle over the completely cooled bread.

Sprinkle with sliced almonds if desired.

Store in refrigerator.
Want to save this recipe for later? Click the heart in the bottom right corner to save to your own recipe box!
Nutrition Disclaimer
The Chunky Chef is not a dietician or nutritionist, and any nutritional information shared is an estimate. If calorie count and other nutritional values are important to you, we recommend running the ingredients through whichever online nutritional calculator you prefer. Calories can vary quite a bit depending on which brands were used.