---
Breakfast pastries don't have to be complicated… this delicate and delicious lemon almond cheese danish is made easy with puff pastry!
---
Start your day off on a great note with this lemon almond cheese danish! Ready in just a bit over 30 minutes, it's impressive, unbelievably delicious, and the light lemon almond cream cheese filling is perfect as a dip for fruit as well!
**Post may contain affiliate links… meaning if you click on the link and make a purchase, I'll get a very small percentage in commission. There's never any extra cost to you, and I only link to products I actually own and use. Your support is greatly appreciated!**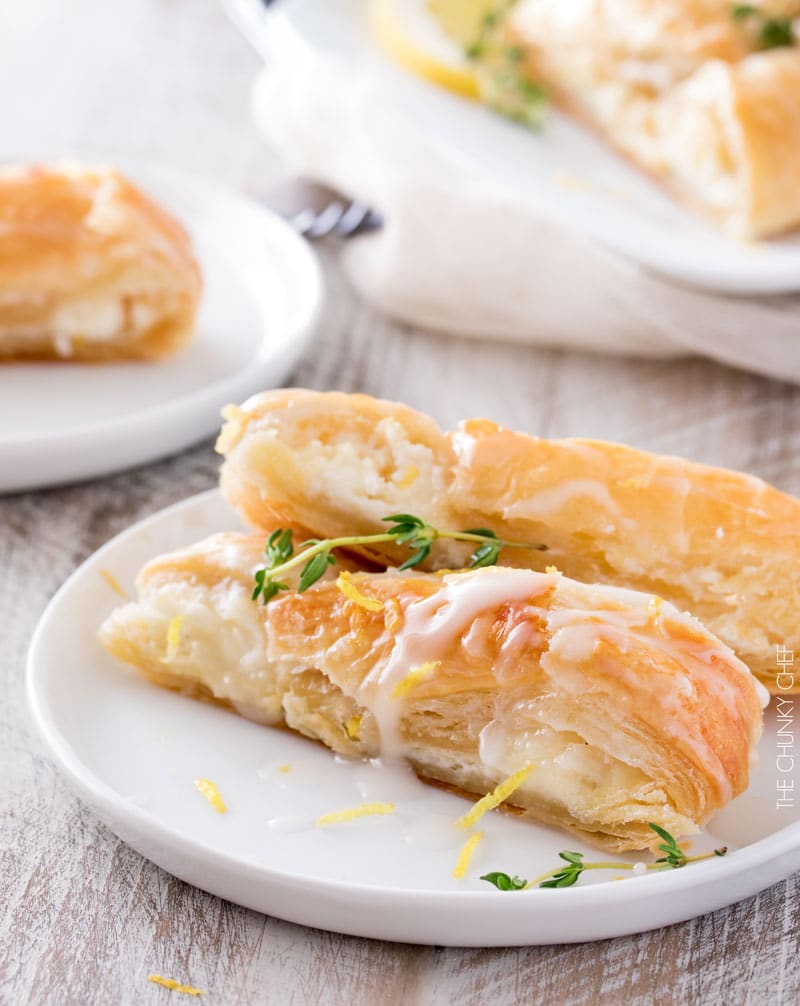 Picture this. You walk into your favorite bakery and stare, mesmerized, at the display cases full of the most delicious of baked treats… donuts and pastries. The buttery, flaky crusts, sweet creamy fillings, and then there's that mouthwatering glaze drizzled liberally allllll over. Hungry now? Ummm, me too! Now that I'm eating healthier, I don't eat pastries anymore (except for the occasional treat), but I simply had to share this delicious cheese danish recipe. I mean, just because I can't have some… that doesn't mean YOU can't right?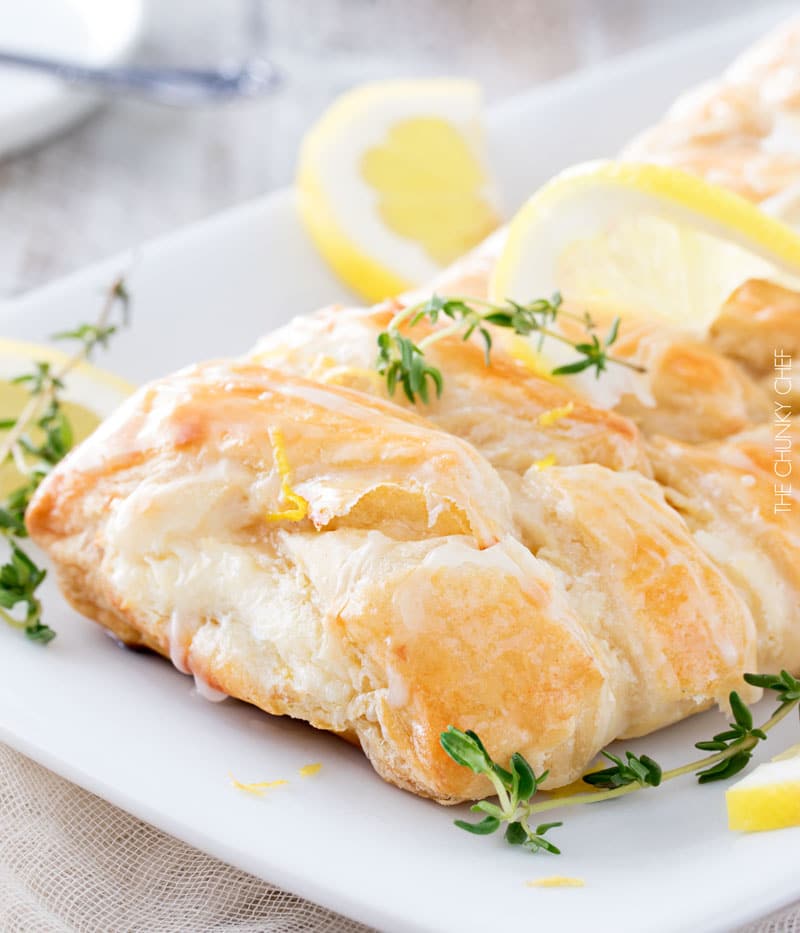 A cheese danish is my favorite pastry of all time, but my patience for actually making my own dough… well… let's just say I don't have any. Crescent roll dough is another way I've seen danish-like pastries made, but to me, it has that distinct flavor, and doesn't get as flaky as I like. Here's where puff pastry comes into play! I love to grab a box of frozen puff pastry when I'm at the store and keep it on hand in my freezer. It thaws relatively quickly, so I can just toss it in the refrigerator the night before.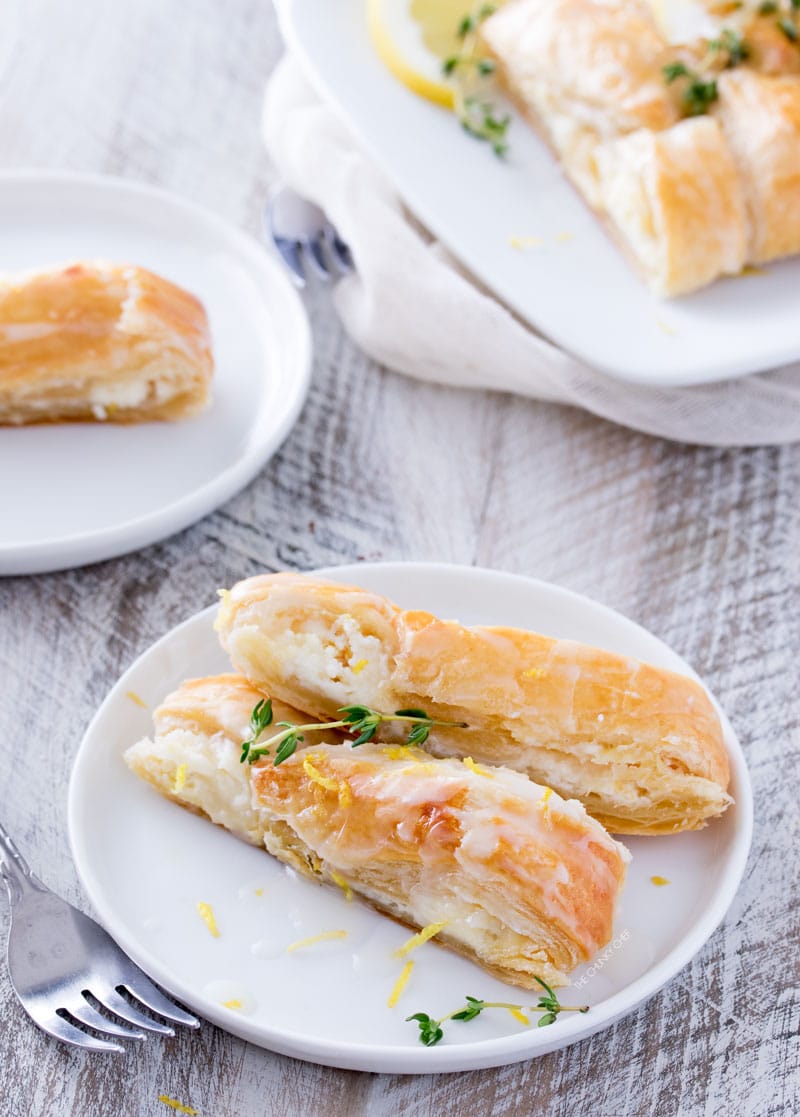 I chose lemon as my predominant flavor here, but if you'd prefer another flavor… go for it!
ALTERNATE FLAVOR COMBOS:
Use orange zest and juice in place of the lemon
Use all almond extract and sprinkle sliced almonds over the top of the glazed cheese danish
Swap out the cream cheese for mascarpone for an even more decadent treat
Dot the top of the cream cheese mixture with some fresh blueberries before wrapping up the pastry dough
Eliminate lemon from the cream cheese mixture, then spoon some cherry jam/preserves over the top before wrapping up the pastry dough (can also use strawberry)
Eliminate lemon from the cream cheese mixture, then spoon some apple pie filling over the top before wrapping up the pastry dough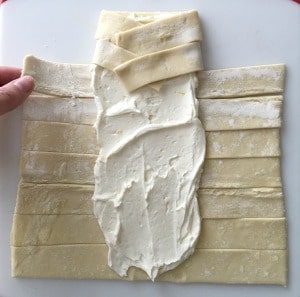 You could even stir in a pinch of minced fresh thyme for a great subtle flavor that really compliments the lemon. I do that with my bakery style blueberry muffins and everyone LOVES them. The thyme gives them that mysterious something, that everyone can't quite put their finger on 🙂
Back to the cheese danish though… one bite of this perfectly flaky crust, and you'll be in heaven! The buttery dough will make your mouth water, and the smooth and creamy cheese filling will make your knees weak!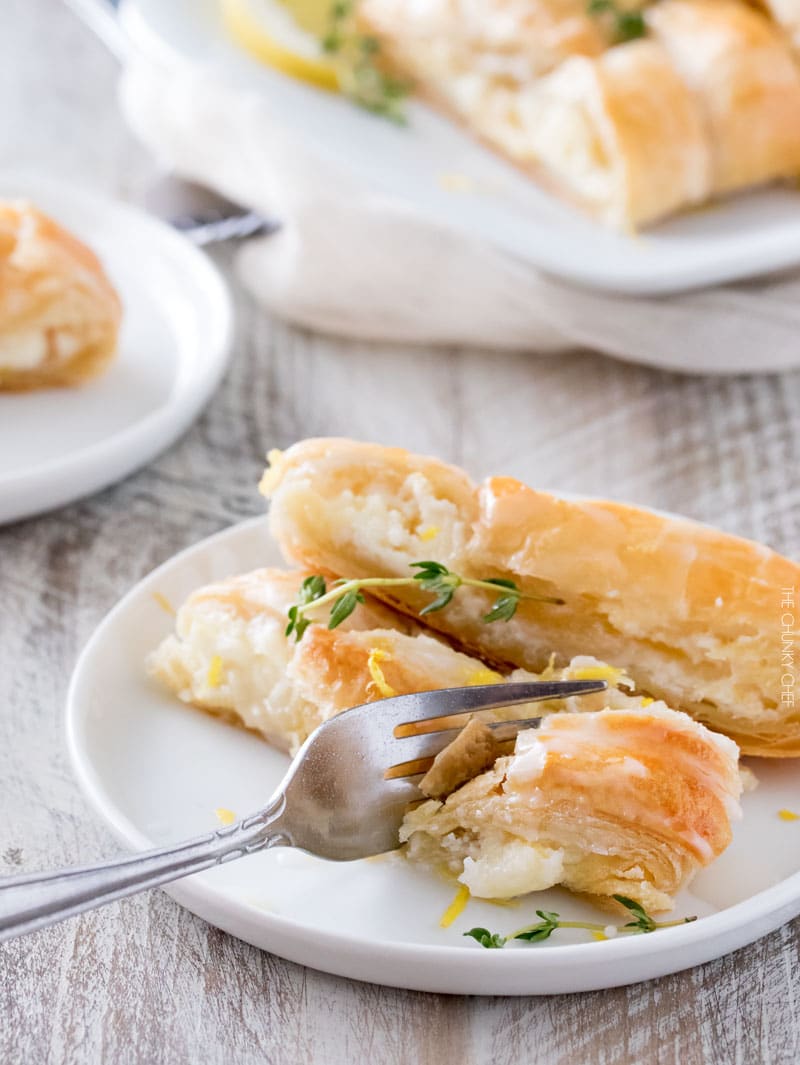 You can totally make this cheese danish ahead of time… like the night before, then pull it out of the refrigerator in the morning and drizzle it with some extra glaze 🙂
Is this a breakfast you should eat all the time? Probably not. But you know, we all deserve a treat now and then… and I say you deserve an extra treat… take my word for it!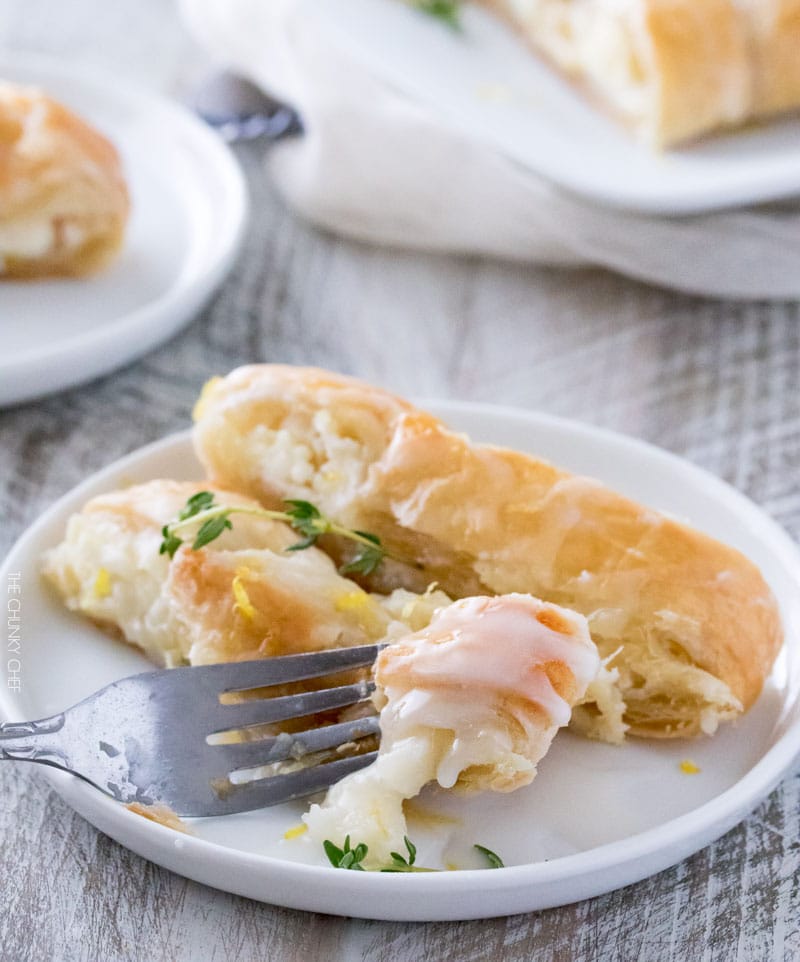 Some Tools Used to Make This Recipe:
White Marble Pastry Board – I use this board whenever I'm working with dough, since it stays cooler, the dough doesn't warm up too much and get too pliable.
Stainless Steel Zester – Makes zesting effortless!
Did you make this? Be sure to leave a review below and tag me @the_chunky_chef on Facebook and Instagram!
Breakfast pastries don't have to be complicated… this delicate and delicious lemon almond cheese danish is made easy with puff pastry!
Ingredients
1 sheet of puff pastry thawed
12 oz cream cheese softened
1/2 cup powdered sugar
1/2 tsp vanilla extract or vanilla bean paste for an even better flavor!
1/2 tsp almond extract
Zest of one lemon
Juice of 1/2 lemon
1 large egg
1 Tbsp water
GLAZE
1/2 cup powdered sugar
1 Tbsp lemon juice
1/2 Tbsp heavy cream
Instructions
Preheat oven to 375 degrees F. Line a baking sheet with parchment paper and set aside.

Add cream cheese, powdered sugar, vanilla extract, almond extract, lemon zest and lemon juice to a large mixing bowl. Beat with handheld mixer until well combined and creamy.

On prepared baking sheet, or large cutting board, unroll thawed puff pastry sheet. Carefully cut slits (approximately 1 1/2 inches), about 1 inch apart going down the side of the sheet. Repeat on opposite side.

Spoon cream cheese mixture down the center of the puff pastry sheet (leaving a border between the mixture and the slits).

Cross strips over the top of the cream cheese mixture, alternating one side, then the other, overlapping the ends.

Whisk together egg and water and brush over the top of the braided pastry.

Bake for 20-25 minutes, until top of pastry is golden brown.

Pastry will be puffed up, but will settle as it cools.

Let cool 5 minutes on pan.

In a small mixing bowl, add powdered sugar, lemon juice and cream. Mix until creamy and smooth. More lemon juice can be added per your tastes.

Drizzle pastry with glaze… reserving any extra glaze.

Store in the refrigerator and drizzle with remaining glaze (if desired).
Want to save this recipe for later? Click the heart in the bottom right corner to save to your own recipe box!