This simple lemon buttercream frosting recipe is silky and light, and bursting with fresh lemon flavors! Perfect for piping onto cupcakes, or spreading onto cakes, cookies, bars, and more!
This is one of my Dessert recipes I know you'll want to keep on hand!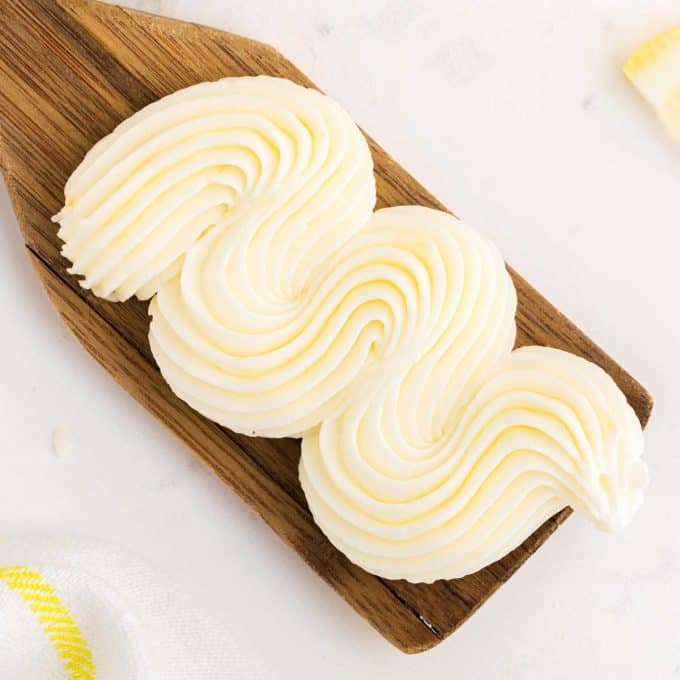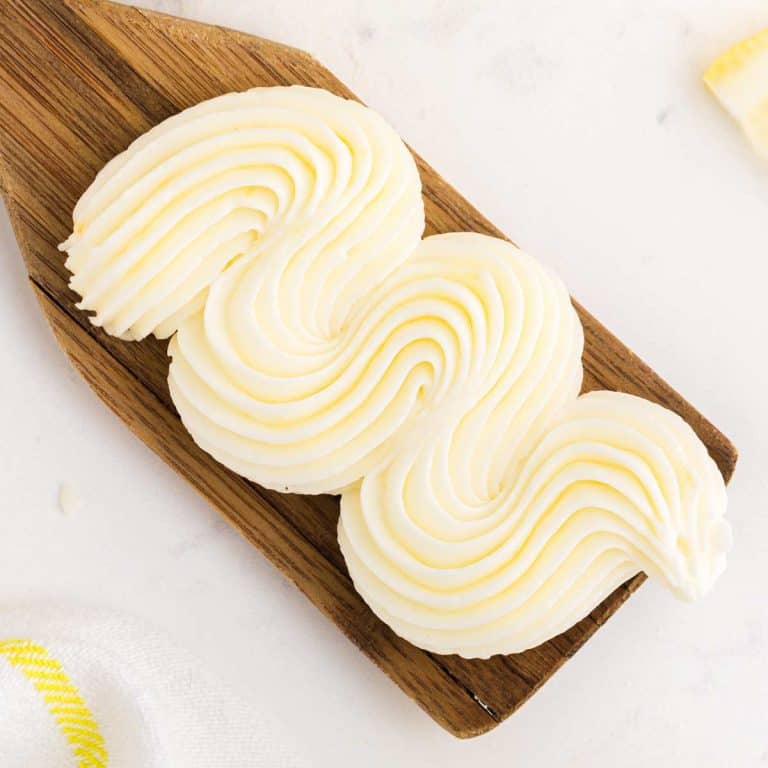 I hope you guys aren't sick of lemon desserts, because here I am with another one! We just can't get enough of that sweet/tart flavor combo.
This recipe is an absolute favorite of mine, since it's really versatile! A classic lemon buttercream frosting can go on so many things. Sugar cookies, vanilla cupcakes, strawberry cake, lemon cupcakes, or even just a spoon.
Because really, that's how deliciously creamy and full of bright lemon flavor this frosting is.
This is a little twist on a classic American buttercream frosting, in which butter and powdered sugar are creamed together and then heavy cream is added until a silky consistency is reached.
There are other kinds of buttercream frostings, but this type is incredibly easy to make. You just need a mixer, minimal ingredients, and a little patience.
How to make lemon buttercream frosting?
This is just an overview; the full ingredients and directions are in the recipe card toward the bottom of this post.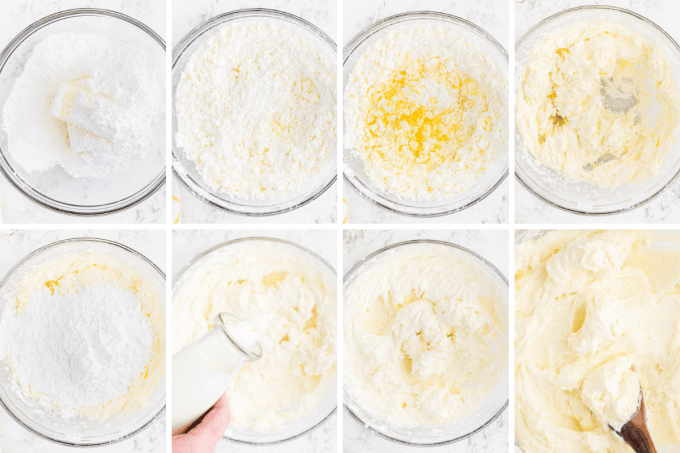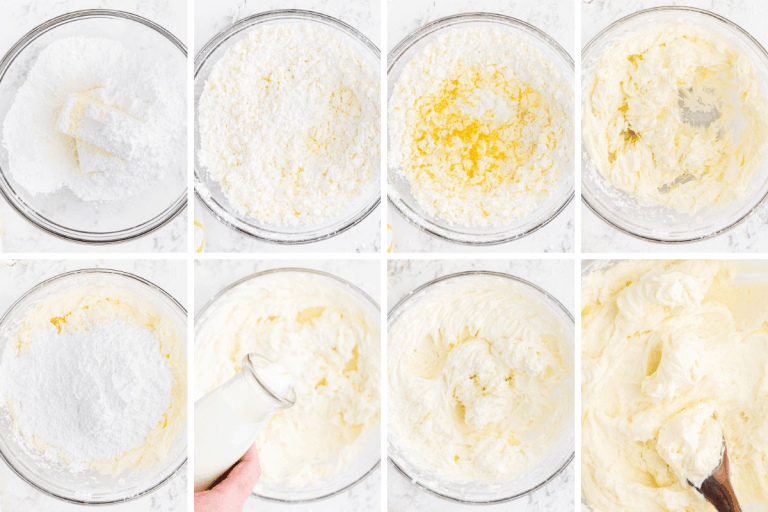 Beat butter and sugar. To keep the sugar from all flying out of the bowl, start off on a lower speed and gradually increase.
Beat in lemon zest and juice. I really recommend fresh lemon juice for this recipe.
Gradually add remaining sugar. I like to add mine about 1/2 cup at a time, mixing until it's almost incorporated, then add another 1/2 cup, and repeat until it's all added.
Beat in cream. This should be added gradually as well, so you don't end up adding too much and have a buttercream that's too soft.
Helpful Tip!
The biggest tip I can share with you when it comes to making buttercream frosting is to make sure the butter is softened. Room temperature butter is super important here! Ideally, let your butter sit out on your counter for about an hour before you make your frosting. The ideal temperature for room temp butter is 65-68°. So if your kitchen is warmer than that, you may not need the full hour for the butter to soften. If your butter isn't softened, it won't cream together with the sugar, and you'll have a lumpy, unappetizing frosting.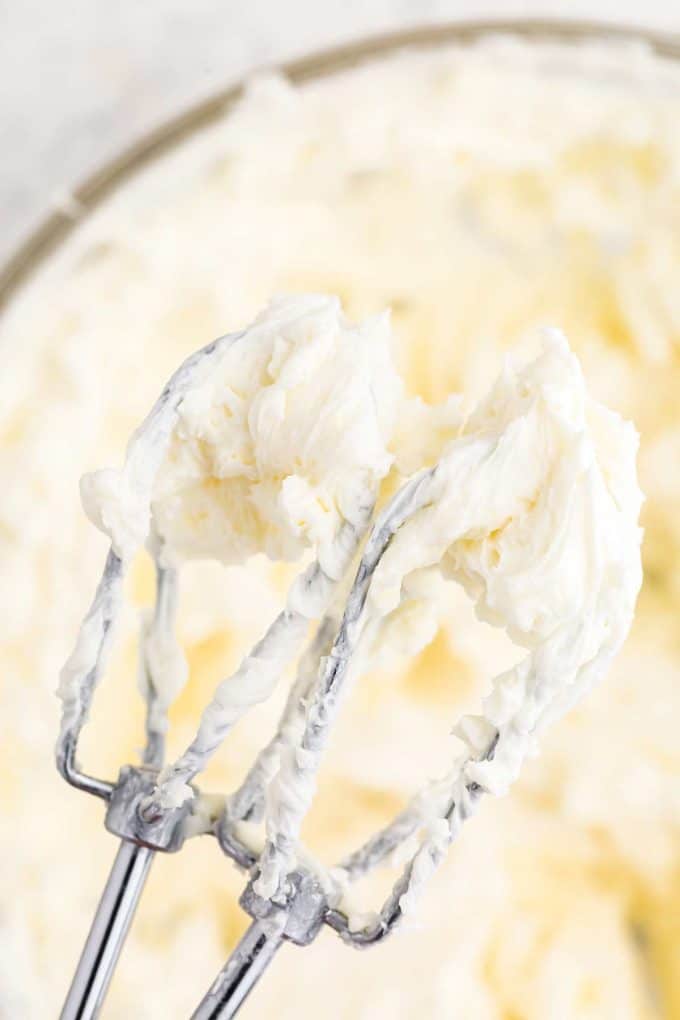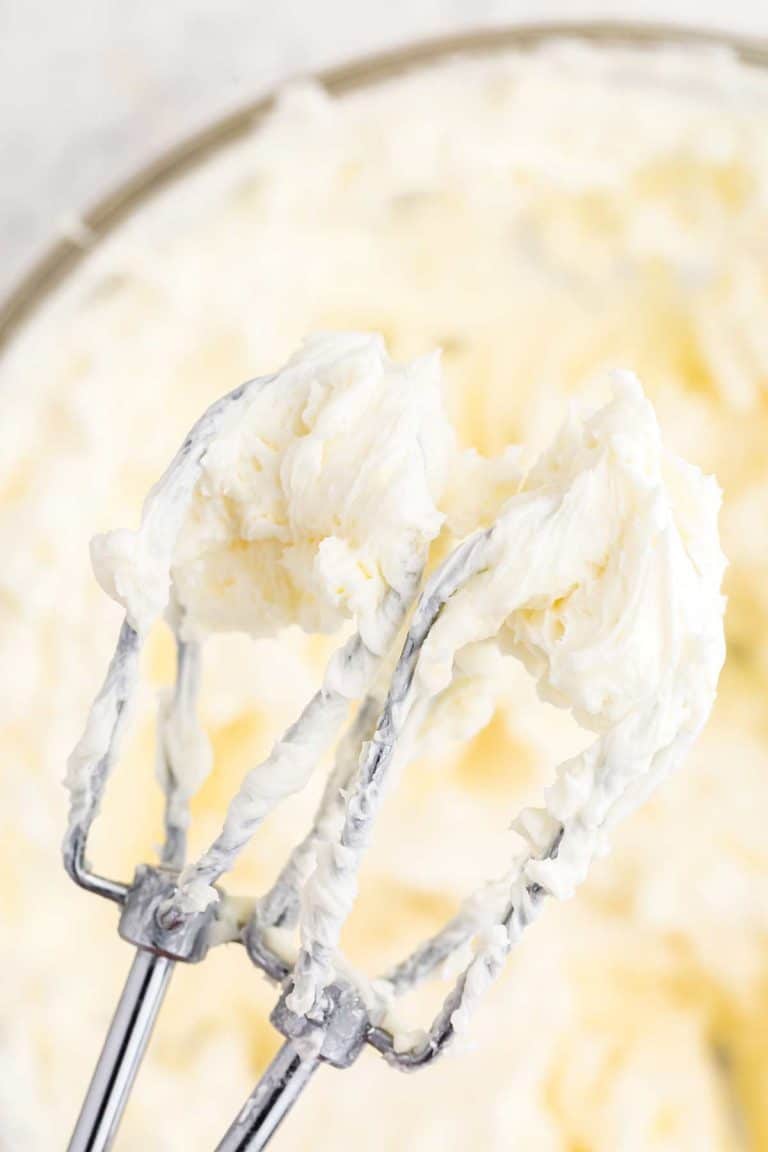 Variations of this recipe
Milk – if you don't have any heavy cream on hand, you can substitute with milk, although I'd recommend whole milk if possible.
No lemon zest – for a completely smooth buttercream, you can omit the lemon zest.
Lemon oil or extract – if you want even more lemon flavor, don't add more lemon juice (it can throw off the balance of the frosting and you'll end up with a less than ideal consistency). Instead, try adding a small amount of a food-grade lemon oil, or lemon extract instead.
Stiffer buttercream – as written, this is a silky, soft buttercream that will hold it's shape… but if you'd like a stiffer frosting that will hold more intricate shapes (like petals, Russian piping tips, etc), you'll want to add a bit more powdered sugar until you're happy.
Unsalted butter – I prefer to use salted butter, since adding kosher or iodized salt to frosting can make it a bit grainy at times, but if you'd rather not used salted, unsalted will work just fine (you'll just want to add a pinch of salt to the frosting as you're mixing it).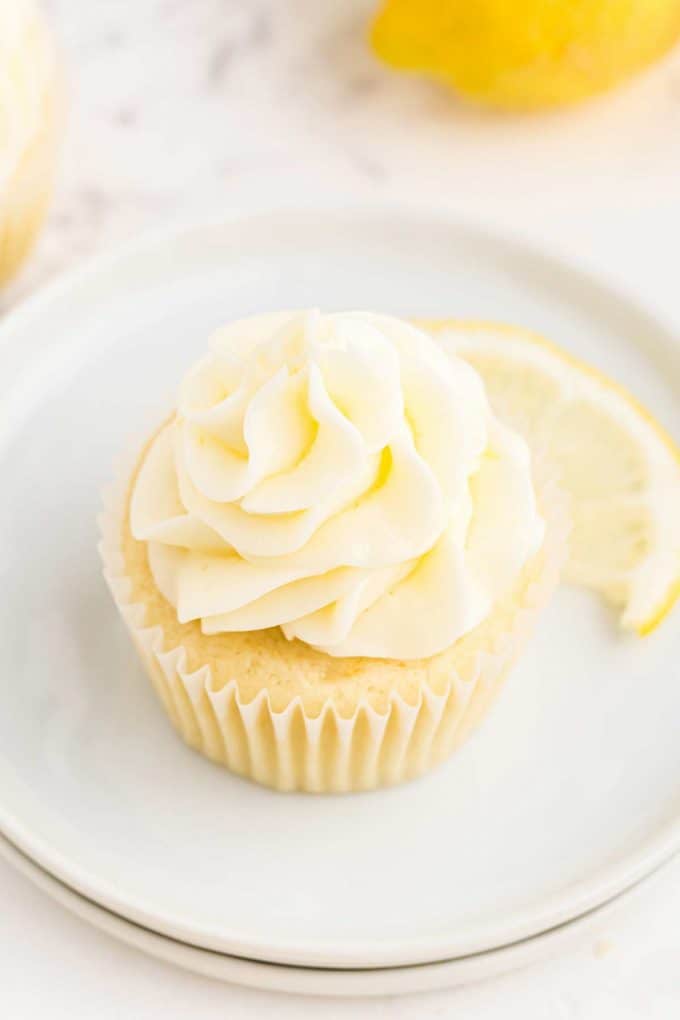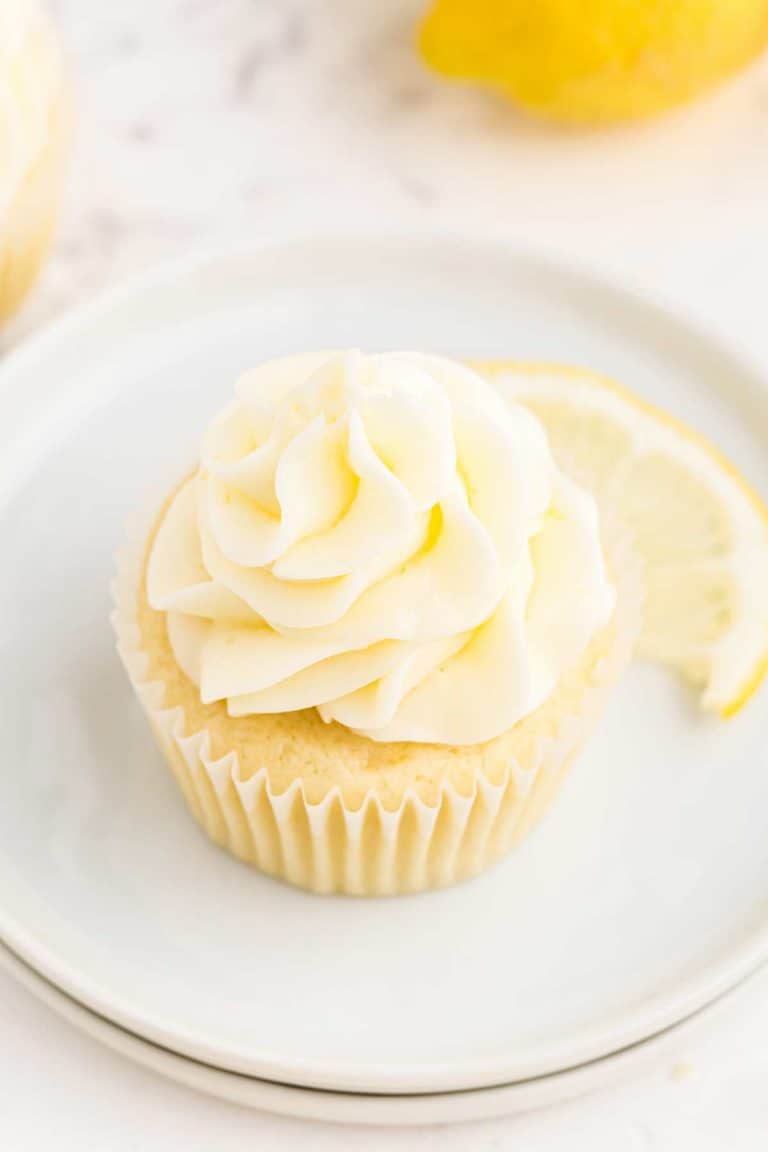 FAQ's
Why is my buttercream gritty/grainy?
It could be from the butter not being truly room temperature (and thus not fully blending with the sugar), not being beaten long enough, or the powdered sugar not being sifted.
What type of buttercream frosting is this?
This type of frosting is referred to as an American buttercream. It's one of the easiest frostings to make.
How can I thicken my buttercream without adding sugar?
If you've tasted the frosting and are happy with the sweetness level, but it's still a touch too thin/runny for your tastes, you can try beating in some softened butter, a little bit at a time. Softened cream cheese is also a good alternative as well, but will change the flavor. Sifted cornstarch is another alternative.
Does buttercream frosting need to be refrigerated?
I get asked this question a lot, and it's understandable! Buttercream frosting on a decorated baked good can stay at room temperature for up to 2 days. You can certainly refrigerate it if you'd like, but it's not necessary.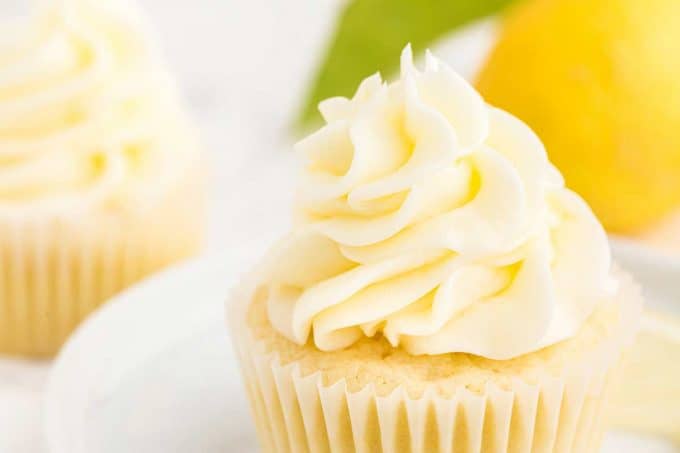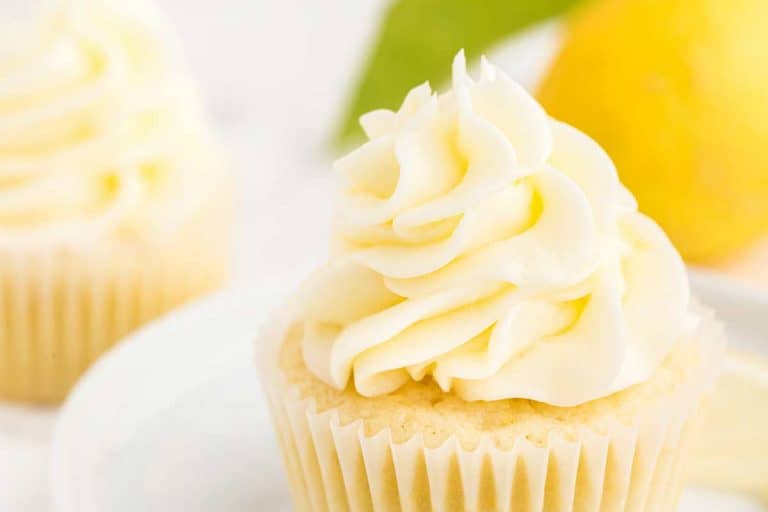 Making buttercream frosting ahead of time
I love making buttercream frosting ahead of time! It keeps great in the refrigerator or freezer, and makes decorating much easier.
If the buttercream is frozen, thaw it in the refrigerator before this next step.
To get the made ahead buttercream back to it's fluffy texture, it'll need to be beaten again. Just for a few minutes, and it'll be good as new!
Storage
Extra or leftover buttercream should be stored in an airtight container in the refrigerator for up to 1 week, or up to 3 months in the freezer.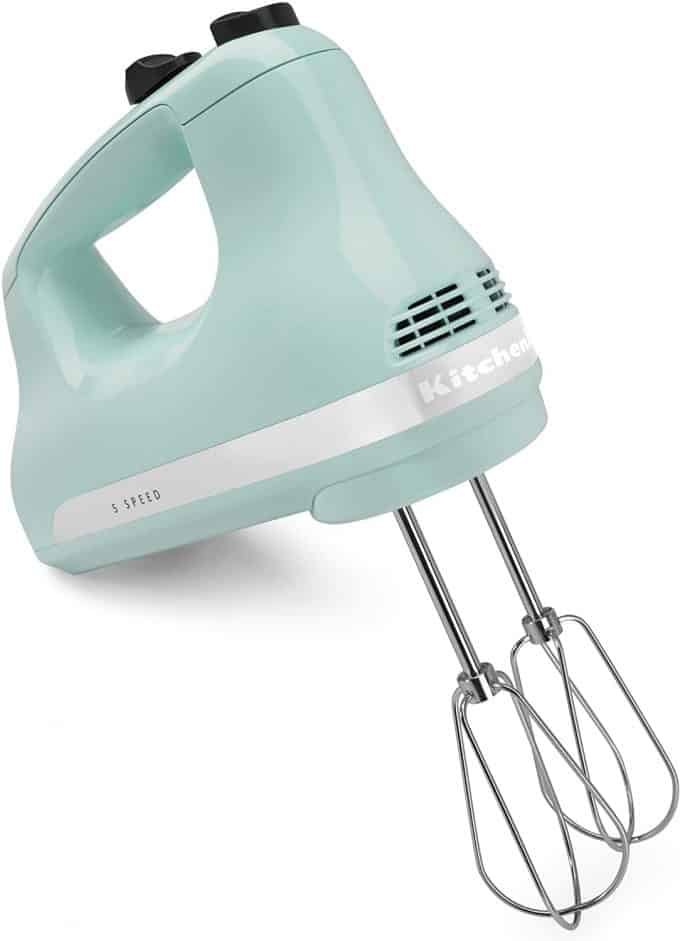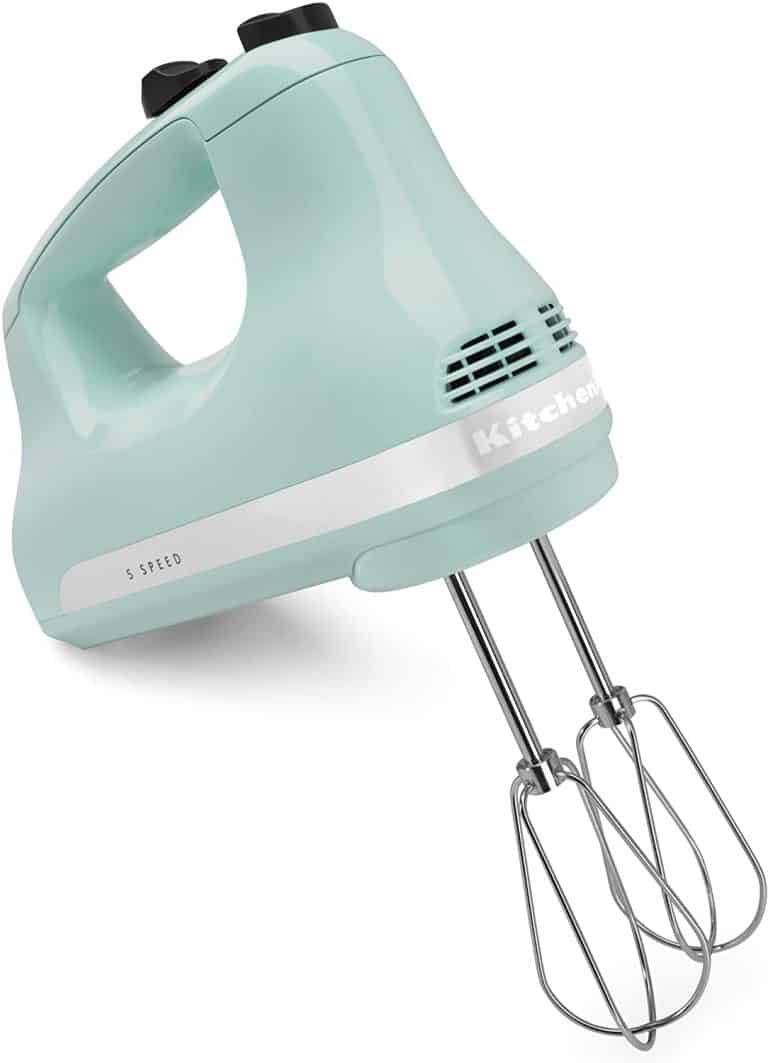 Stand mixers are great, but they're also pretty expensive and hard to come by right now. This hand mixer works like a champ and works really well for this frosting!
Did you make this? Be sure to leave a review below and tag me @the_chunky_chef on Facebook and Instagram!
This simple lemon buttercream frosting recipe is silky and light, and bursting with fresh lemon flavors!
Ingredients
1 1/2 cups salted butter softened to room temperature
4 cups powdered sugar sifted and divided
2 tsp lemon zest
3 Tbsp lemon juice fresh is best
3-4 Tbsp heavy whipping cream
Instructions
In a large mixing bowl (or the bowl of a stand mixer fitted with the paddle attachment), add butter and 2 cups of the sifted powdered sugar. Beat on low at first, then increase speed to about medium. It will be crumbly at this point.

Add lemon zest and lemon juice and continue mixing for 1 minute.

Add remaining powdered sugar, a little at a time, mixing on a lower speed to prevent the sugar from flying out the mixer.

Once all sugar is beaten in, keep the mixer on low speed, and slowly pour in the heavy whipping cream, about a Tbsp at a time, until frosting is creamy, light and fluffy. Adjust the amount of cream to change the consistency of the frosting (less cream = stiffer frosting and vice versa).

Use immediately, or add to an airtight container and refrigerate for up to 1-2 weeks or freeze for up to 3 months.
Want to save this recipe for later? Click the heart in the bottom right corner to save to your own recipe box!
Chef Tips
This frosting recipe is enough to frost 24 cupcakes, or 12 cupcakes that are piled HIGH with frosting.  It will also be enough for a 2 layer 9″ round cake.
Nutrition Disclaimer
The Chunky Chef is not a dietician or nutritionist, and any nutritional information shared is an estimate. If calorie count and other nutritional values are important to you, we recommend running the ingredients through whichever online nutritional calculator you prefer. Calories can vary quite a bit depending on which brands were used.