Beef Enchiladas with Homemade Enchilada Sauce
---
These beef enchiladas are filled with a flavorful beef, bean and chili mixture, covered in a delicious homemade sauce and smothered in gooey cheese!
---
 One bite of these beef enchiladas and you'll be hooked!  The filling is super flavorful and the homemade sauce really takes it from great to OMG fantastic!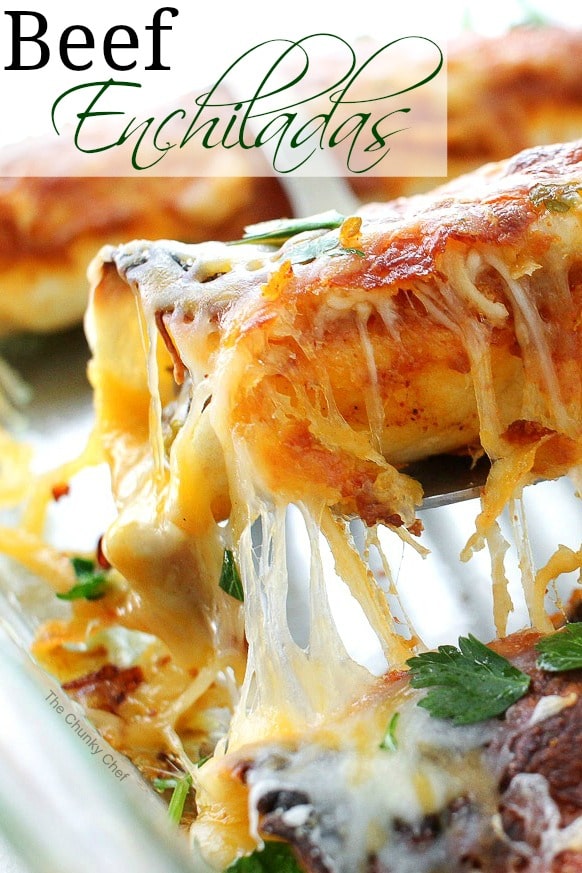 Mexican food… ahhhhh Mexican food.  I just simply do NOT get tired of eating it!  Tacos, nachos, burritos, chimichangas, fajitas, and enchiladas.  There are so many recipes for enchiladas, but this one is my absolute favorite one.  Beef enchiladas with something extra… a homemade enchilada sauce!
Look at that gooey, melted cheese in the photo above!!  *drools*
Okay Amanda, let's focus on the recipe here!  Making your own enchilada sauce is super easy!   All it takes is 15-20 minutes and a handful of ingredients I bet you already have on hand 🙂
You're just going to make a roux by heating some vegetable oil in a saucepan, whisking in some flour, and cooking it for a minute.  Add your seasonings and whisk in your vegetable or chicken stock to combine and remove any lumps.  Now just simmer for 10-15 minutes.  That's it you guys.  I had a brain fart the day I was making these and photographing them, so I don't have many shots of my sauce, apart from this one…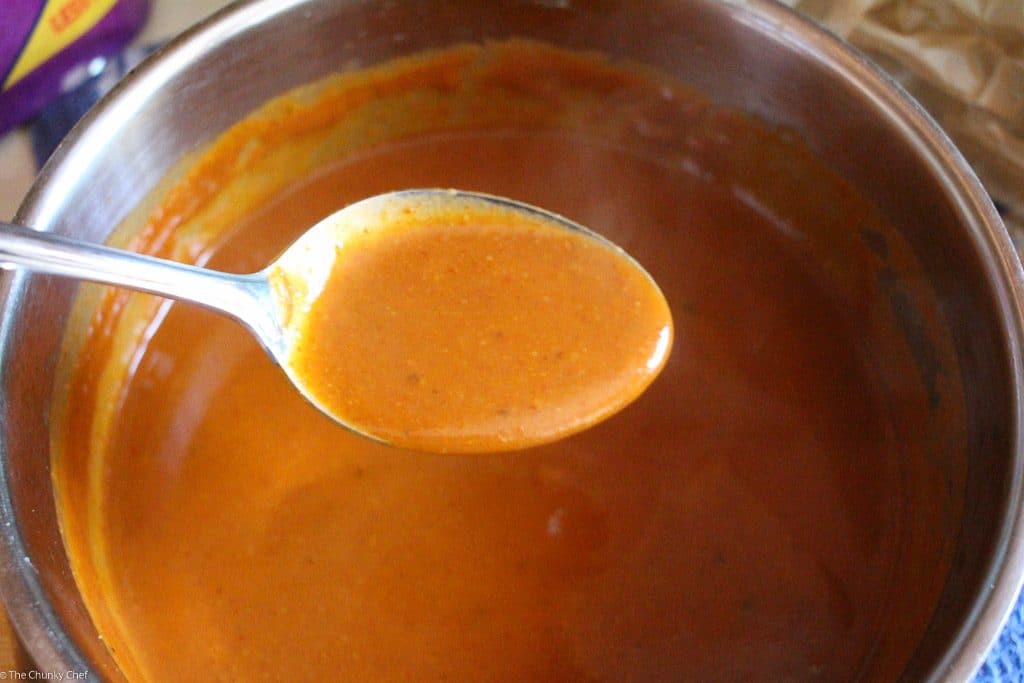 But HERE is where the recipe came from, and she is awesome!  Check it out!
Hopefully soon, I'll be learning to can, and then I plan to make a big batch of this sauce and can it so I can always have a jar ready to go 🙂
Alright, let's get to the filling!  Which do you prefer… chicken or beef?  I love them both equally, and what I love about these enchiladas, is that it works perfectly for either chicken or beef!  It would also work if you'd prefer a vegetarian bean filling.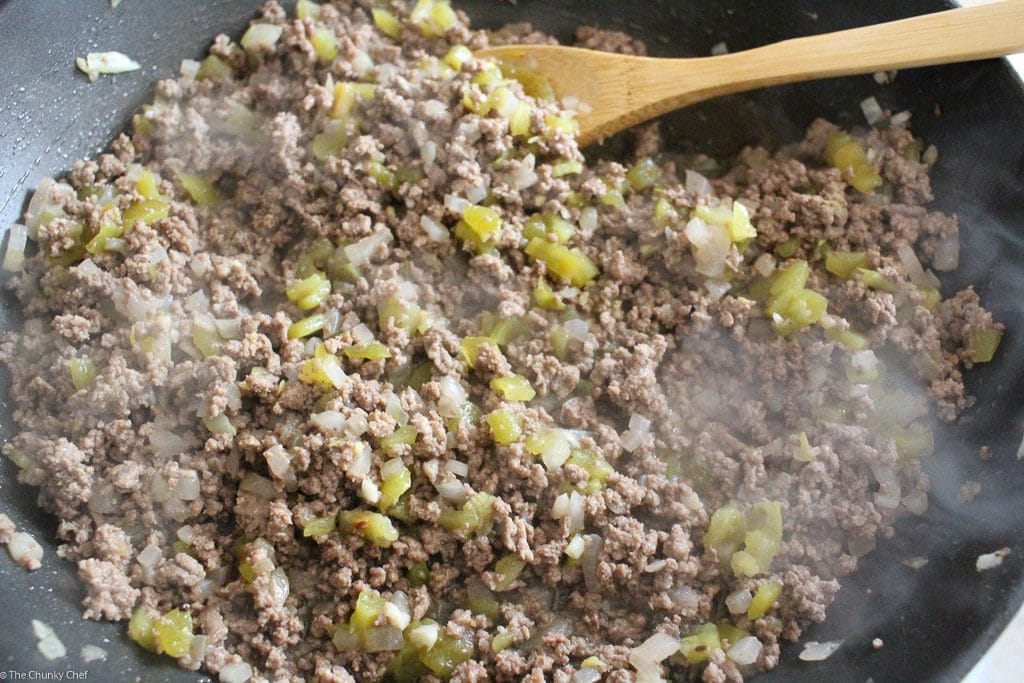 I used a ground beef with a higher fat ratio for extra flavor, and browned it in my BIG skillet.  Once the meat was most of the way browned, I added in my onion, garlic, and green chiles, to saute for a few more minutes.  Then drain the meat mixture and set aside.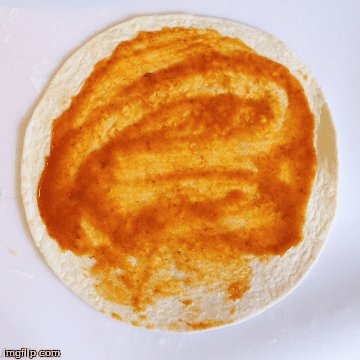 Now just set up an assembly area and add a couple of tablespoons of the enchilada sauce to a flour tortilla, add some black beans down the center, top with ground beef mixture, drizzle with a little more sauce, and top with some shredded cheese.
Roll up the tortilla and place in a greased 9×13″ baking pan.  Repeat with remaining tortillas, then spread sauce over all the tortillas and cover with shredded cheese.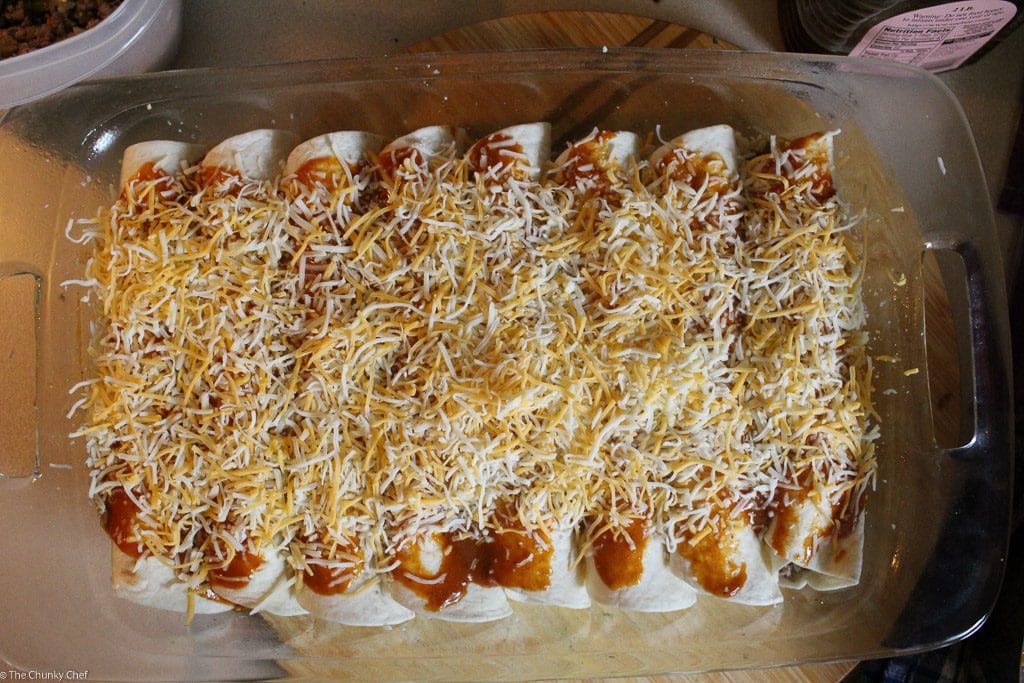 Bake uncovered for about 20 minutes, and broil the last couple of minutes if you want it more of a golden brown.  Garnish with some chopped cilantro and green onions, it adds such a great flavor!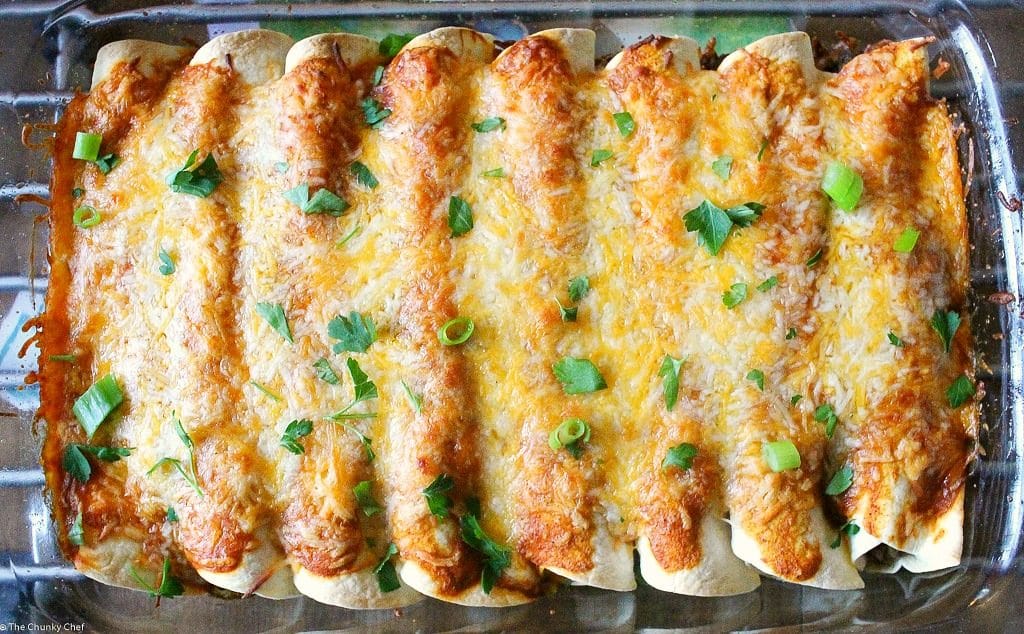 I like to serve my enchiladas with some sour cream, extra cilantro and green onions, and with some sweet corn on the side.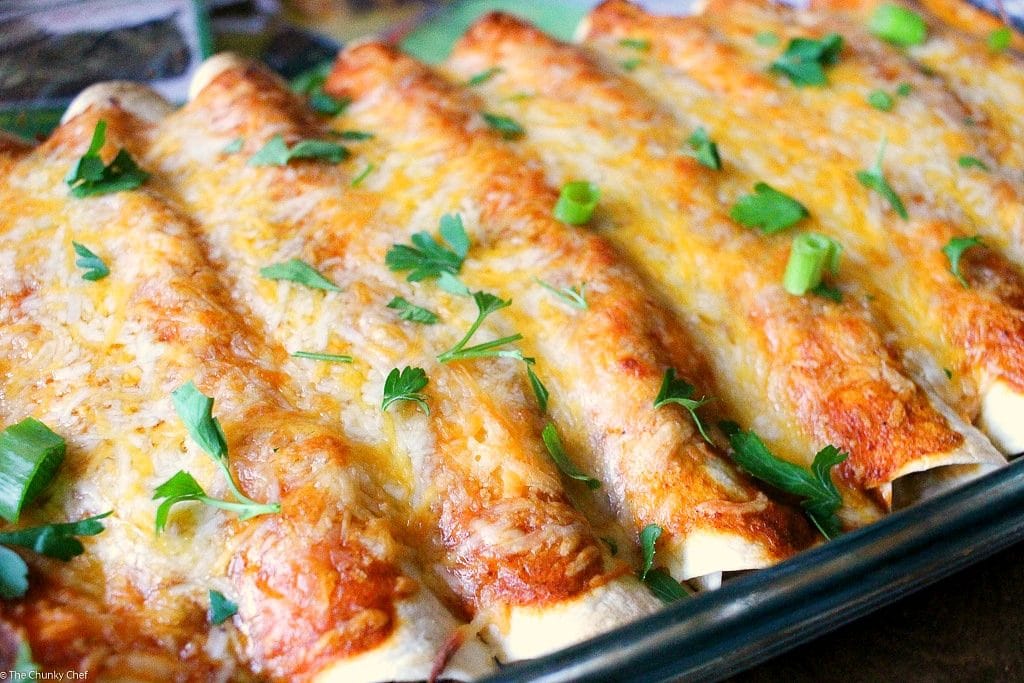 That cheese you guys… O…M…G!  So cheesy and gooey!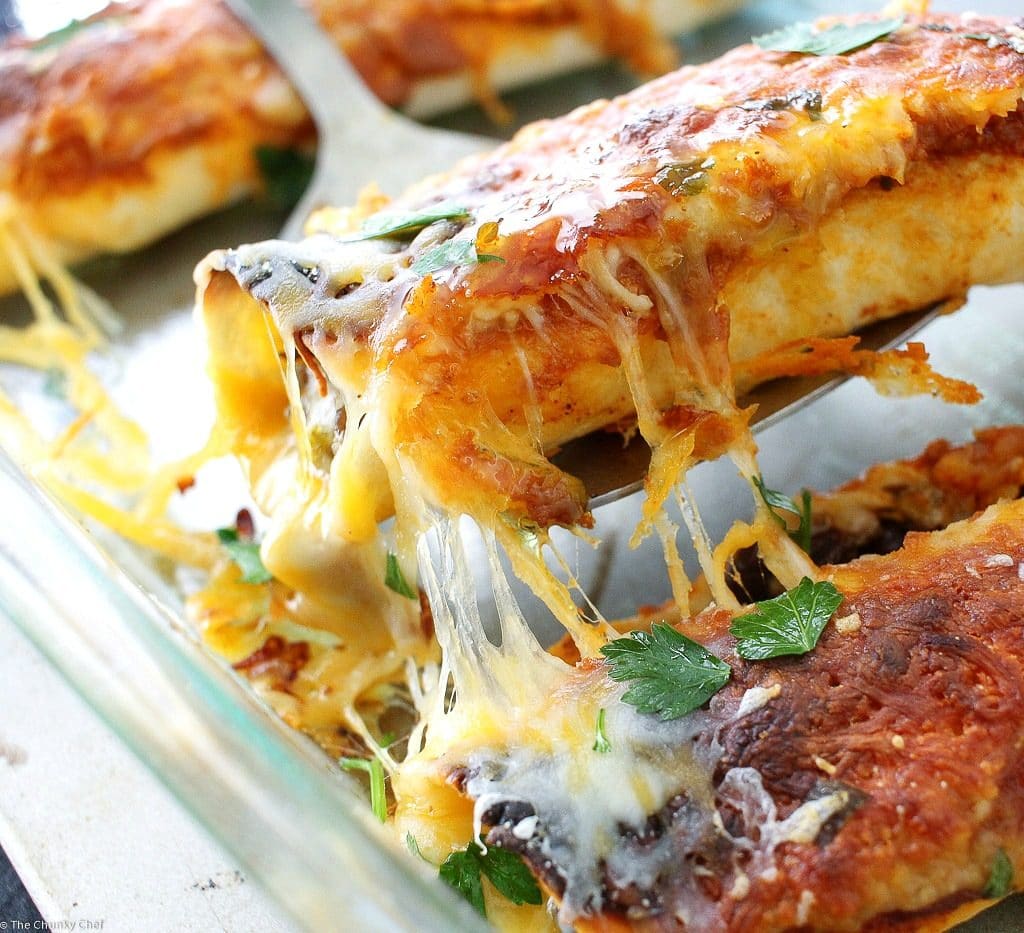 To complete your Mexican dinner fiesta, why not serve up some tortilla chips with a yummy roasted corn and poblano salsa, corn and avocado salsa, or some restaurant style salsa?  Can you tell I love salsa? 😉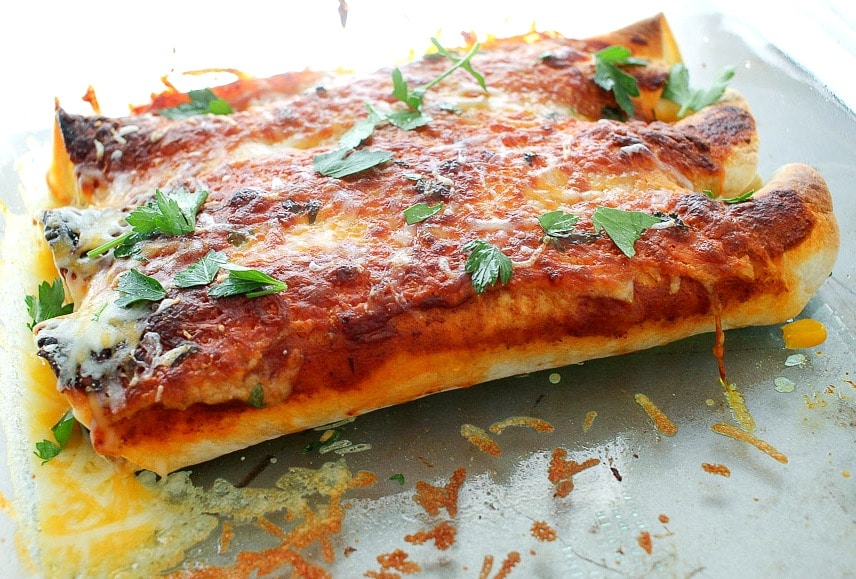 IF you have any leftovers, (and I say if because let's face it, once you try one, you won't be able to have just one, I promise you!) they reheat really well and make a hearty lunch 🙂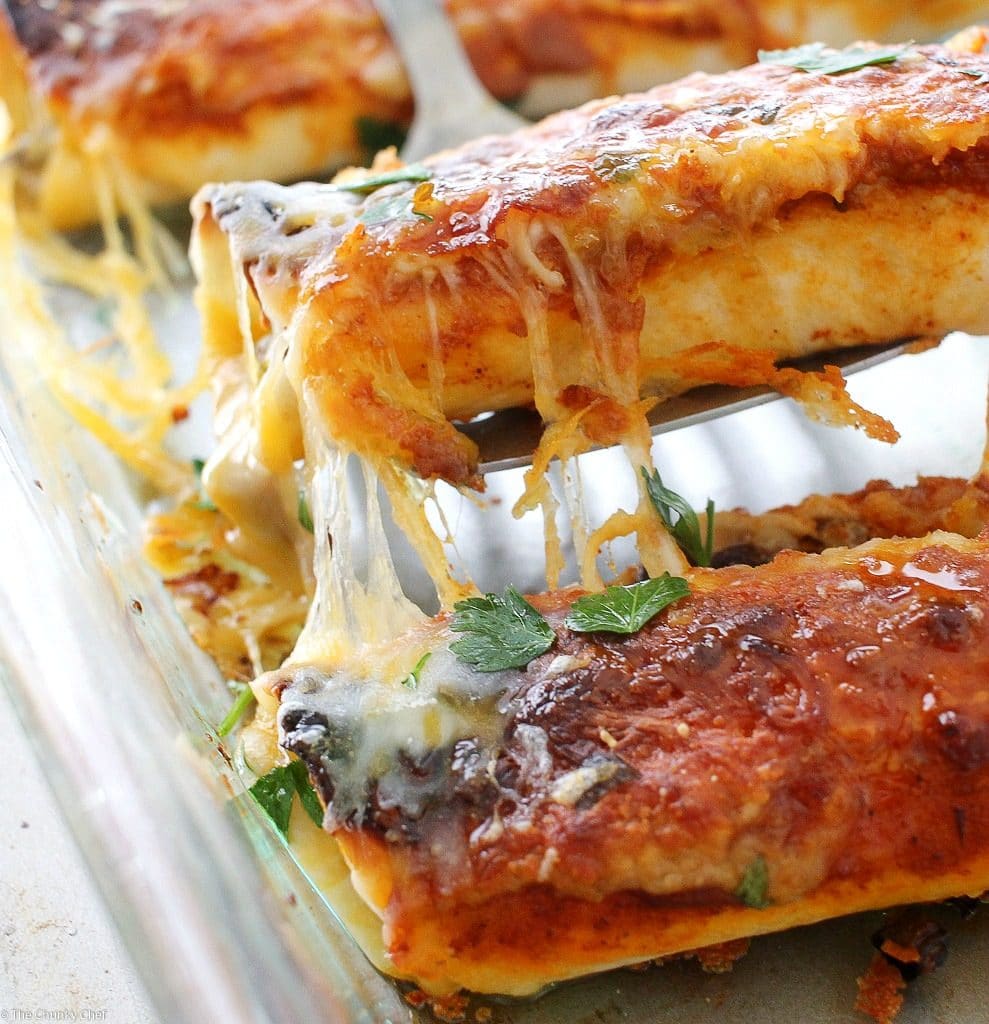 These would be perfect for any meal, but will also make a great Cinco de Mayo dinner 😉


---
Let's Connect!
You can find me on Facebook, Twitter, Pinterest, and Instagram, so follow me if you'd like… I love keeping in touch with all of you 🙂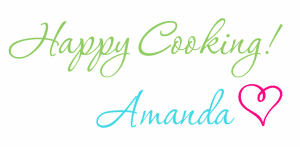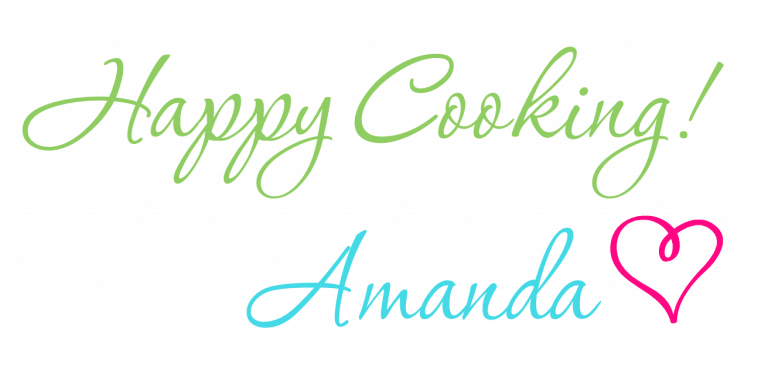 Recipe adapted and inspired from Gimme Some Oven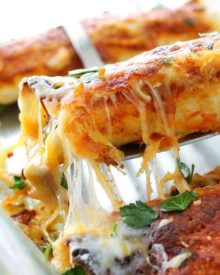 4 -6 servings
Beef Enchiladas with Homemade Enchilada Sauce
These beef enchiladas are filled with a flavorful beef, bean and chili mixture, covered in a delicious homemade sauce and smothered in gooey cheese!
Ingredients
2 Tbsp vegetable oil
1 yellow onion diced
2 cloves garlic minced
1.5 lbs ground beef
salt and pepper
4 oz can diced green chiles I used mild
15 oz can black beans rinsed and drained thoroughly
8-10 flour tortillas
3 cups Mexican-blend shredded cheese
1 batch homemade red enchilada sauce or 1 can store-bought enchilada sauce
chopped fresh cilantro and green onions for garnish
Instructions
If you're making homemade enchilada sauce, prepare it.

Preheat oven to 350 degrees.

Add oil to a big skillet and heat over medium high heat. Add ground beef and crumble (use a potato masher to make it easier). Once ground beef is about halfway cooked, add onion, garlic, and green chiles and saute for 3-6 minutes, stirring occasionally. Drain beef mixture.

To make the enchiladas, spread a couple of tablespoons of the enchilada sauce over the tortilla. Add beans in a line down the middle of the tortilla, then add in a spoonful of the beef mixture, drizzle some extra enchilada sauce over the meat, then add one third of a cup of cheese. Roll up tortilla and place in a greased 9 x 13" baking pan. Continue with remaining tortillas.

Spread the remaining enchilada sauce over the top of the tortillas, and sprinkle with the remaining shredded cheese.

Bake uncovered for 20 minutes, broiling the last few minutes if you want the cheese to be a more golden brown. Garnish with chopped cilantro and green onions.
Recipe Notes
** you could easily swap out ground turkey, diced chicken, pre-cooked shredded chicken or all beans for the beef in this recipe.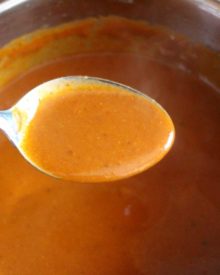 2 cups
Homemade Enchilada Sauce
You'll never want store bought enchilada sauce again!
Ingredients
2 Tbsp vegetable or canola oil
2 Tbsp flour
4 Tbsp chili powder use less if you are afraid of it being too spicy
1/2 tsp garlic powder
1/2 tsp salt
1/4 tsp cumin
1/4 tsp oregano
1/8 tsp cayenne pepper
2 cups vegetable stock or chicken
Instructions
Heat oil in a saucepan over medium high heat. Add flour and whisk together over the heat for one minute. Stir in the remaining seasonings (chili powder through cayenne pepper). Then gradually add in the stock, whisking constantly to eliminate lumps. Reduce to low and simmer 10-15 minutes until thickened.

Use immediately or refrigerate in an air-tight container for up to two weeks.