Step away from the canned sauce and give these homemade sloppy joes a try! They're truly the best version of a childhood favorite!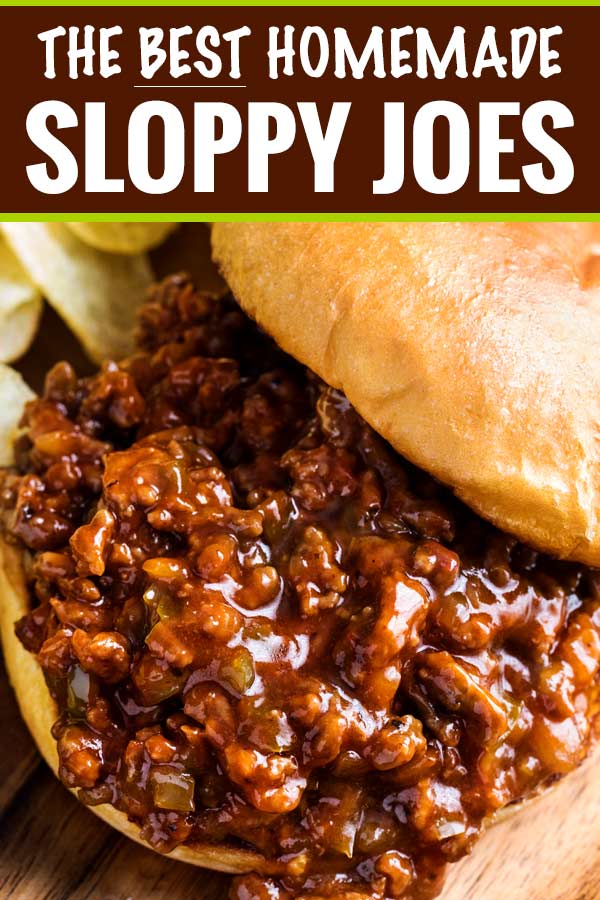 As we head into the upcoming holiday season, I've been thinking about family-friendly meals.  You know, those meals that your kids always want to eat.  In our house, this Creamy Baked Mac and Cheese is number one on our list… with these sloppy joes being number 2!  With two little ones myself, I know ALL too well how frustrating it is to cook a meal and have them promptly turn up their noses and say it's "gross". *facepalm*
I've always been a fan of classic sloppy joes.  There's something so innately satisfying about the sweet and savory combination and messiness of it all!  And I know you all love them too, since I've been getting a lot of requests for sloppy joe recipes.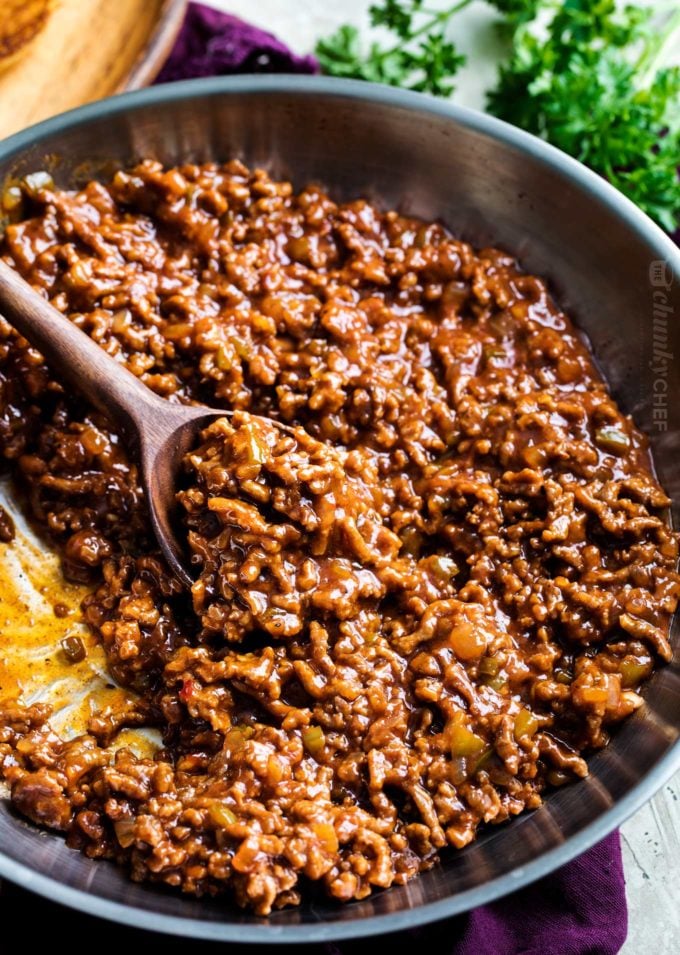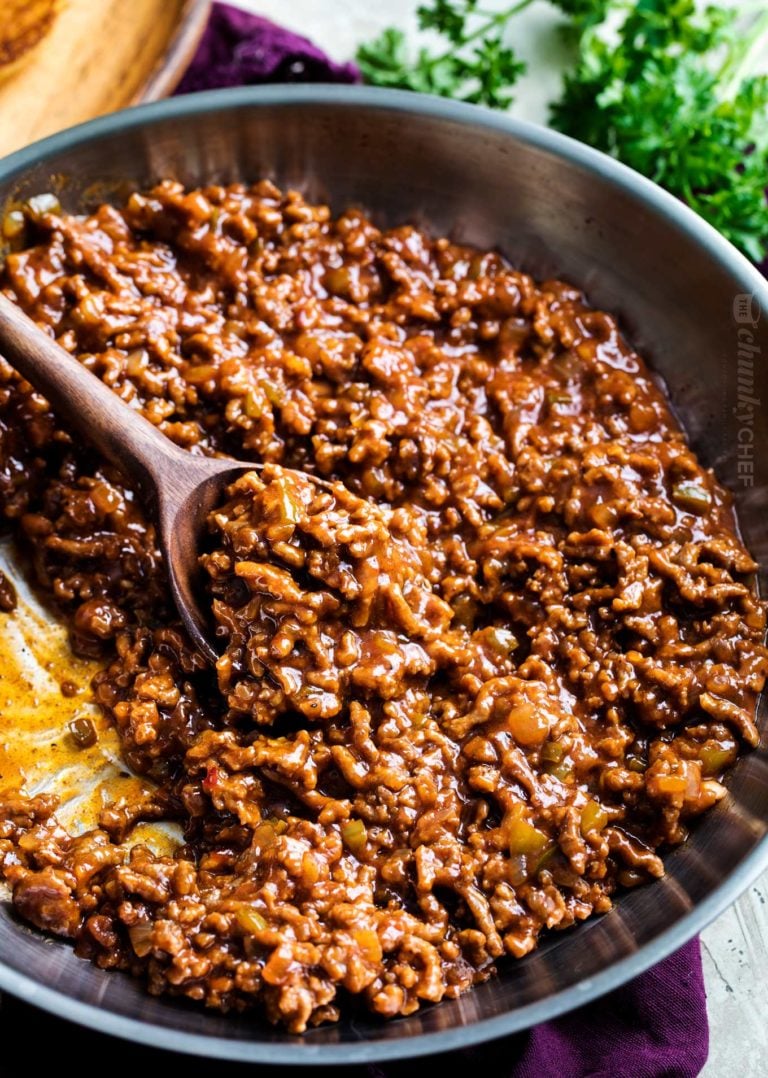 I've made a LOT of sloppy joe recipes lately, trying to come up with the perfect one.  Some were too sweet, others too spicy.  Well guys, I finally got it.  The perfect balance.  This sloppy joe recipe is sweet, tangy, zesty and savory, with the perfect texture and consistency.
HOW TO MAKE HOMEMADE SLOPPY JOES
Homemade sloppy joes are incredibly easy to make, and come together in one skillet in about 20 minutes or so.  Browned beef is mixed with onion and green pepper and simmered in a sweetened tomato/ketchup sauce.  The secret is in finding the right seasoning for the sauce!
WHAT'S THE DIFFERENCE BETWEEN MANWICH AND SLOPPY JOES?
Technically Manwich is a pre-made sauce that's used to make sloppy joes.  I'm not sure exactly what's in it, and have never tried it myself, so I can't say that my recipe tastes similar or not.  Manwich is marketed as a easy way to make sloppy joes… but in reality, homemade sloppy joes are JUST as easy to make!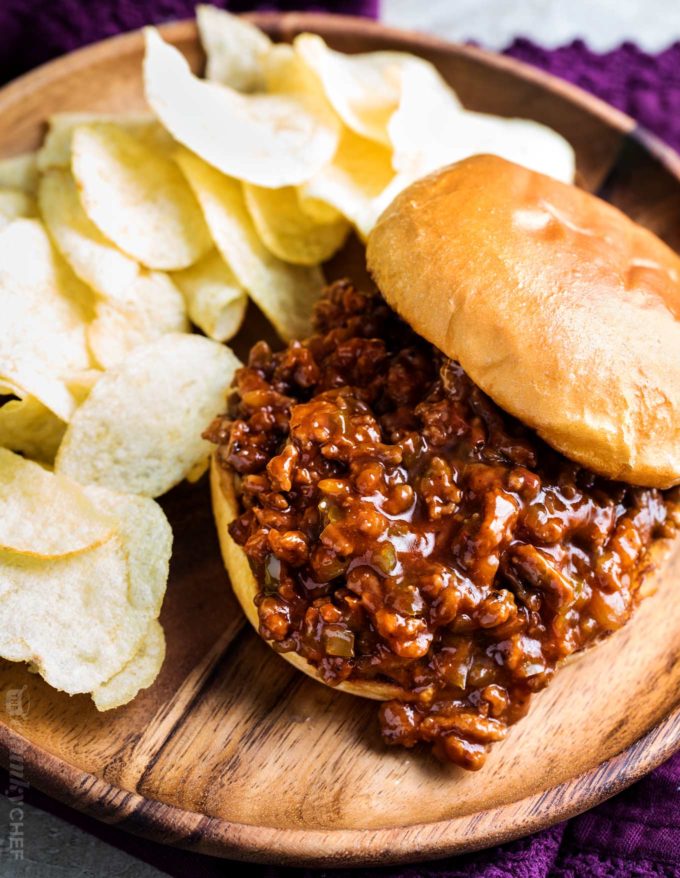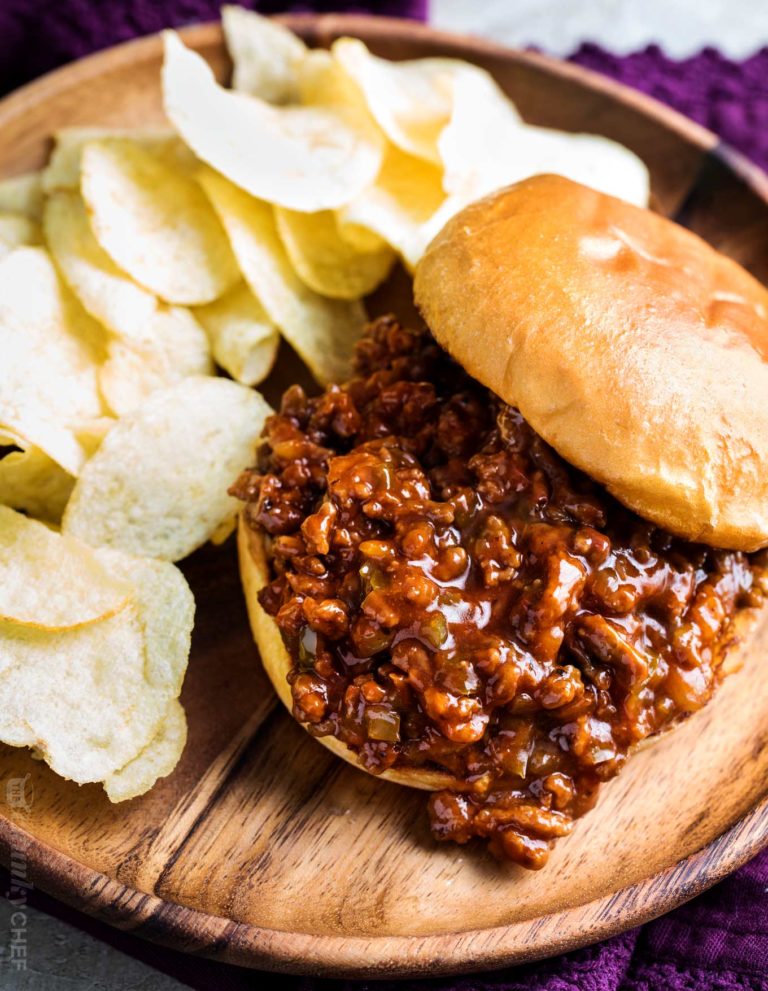 HOW DID SLOPPY JOES GET THEIR NAME?
From what I can glean from the good ol' internet, a cook named Joe in a cafe in Sioux City, Iowa added a tomato sauce to a loose meat sandwich.  It must have been a favorite and took off!
WHAT CAN I DO WITH SLOPPY JOE MEAT?
Number one, slap some on a toasted bun!!  After that, here are some of my favorite things to do:
Spoon some over some crispy waffle fries.  Bonus points if you also melt some cheese over the fries before adding the sloppy joe meat!
Add some to a grilled cheese.
Roll up in crescent roll dough and bake at 375 F degrees for about 12-15 minutes.  Cheese makes a great addition to these as well!
Add some on top of a burger.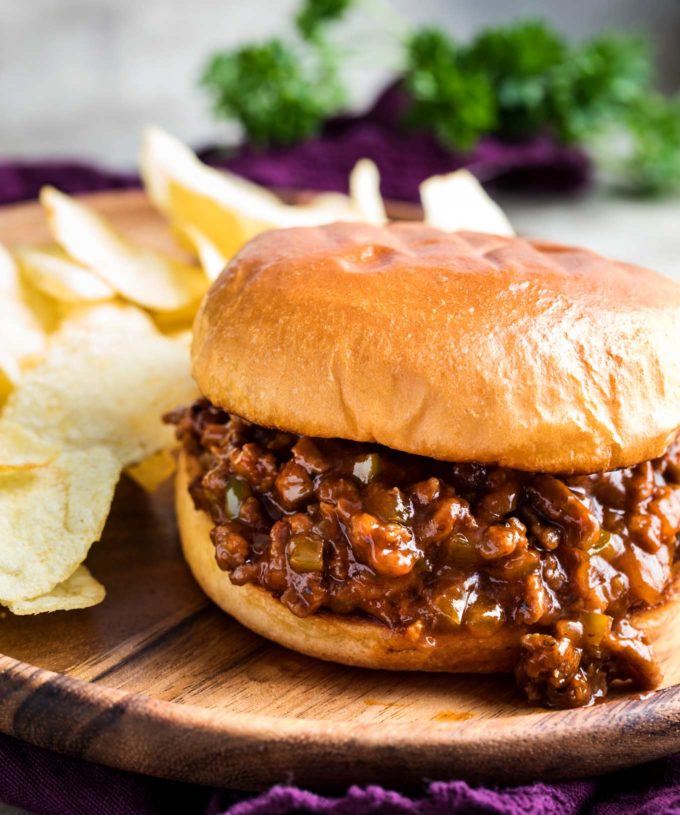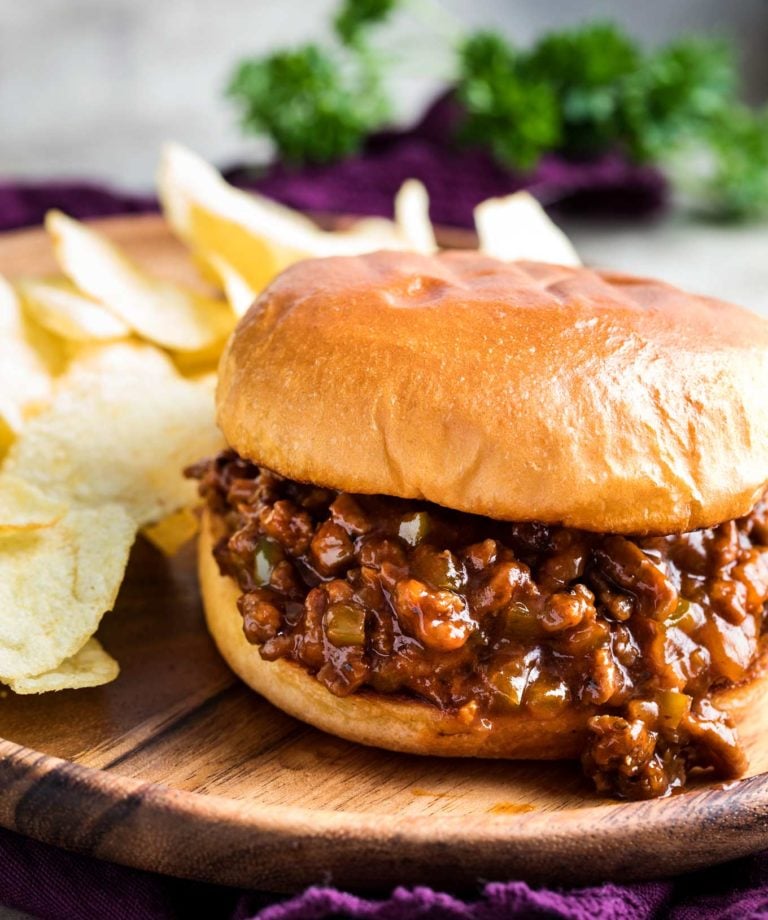 CAN YOU MAKE SLOPPY JOES IN A CROCKPOT?
You can!  Just brown the beef and add all the remaining ingredients (no buns though), and cook on LOW for about 4-6 hours, or HIGH for 2-3 hours.  This will have a softer texture than skillet sloppy joes though.
PRO TIPS FOR MAKING HOMEMADE SLOPPY JOES:
Before you get started, toast your buns.  Toasting the bun makes ALL the difference, and only takes a few minutes.  Crank up the heat under the skillet to high, and add a drizzle of vegetable oil.  When the oil is hot, add the buns, then place the buns cut side up on a cooling rack after they're toasted.
Watch the sauce so that it doesn't reduce too much.  When too much of the sauce reduces, it gives you a dry sloppy joe mixture.  Everyone likes theirs a little differently, but for me, I cook it down so that I can see the bits of meat, and when I drag my spoon through the sauce, it leaves a trail where the sauce is parted.  If the sauce immediately flows back into that trail, it's too liquid-y.  I want a few seconds before the sauce covers the trail, which gives me a saucy consistency that's not too liquid.
Choose your favorite type of bun.  I usually go for either a pretzel bun (like I did in these Beer and Chorizo Sloppy Joes!), or a brioche bun.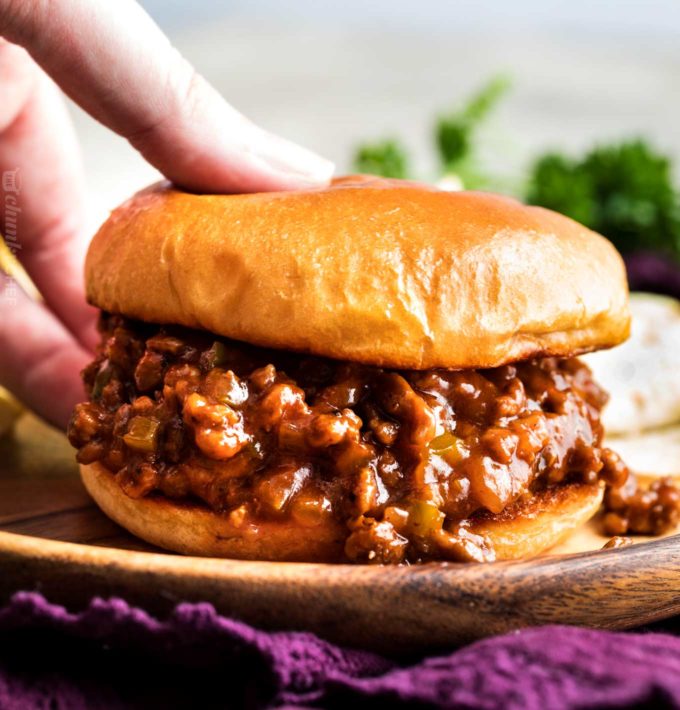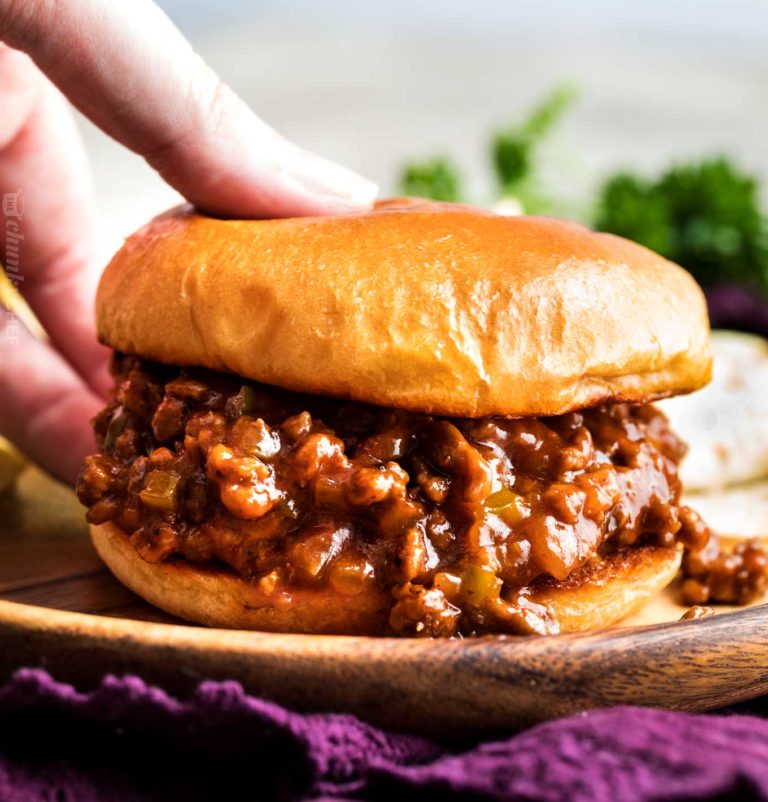 SHOP THE RECIPE:


Did you make this? Be sure to leave a review below and tag me @the_chunky_chef on Facebook and Instagram!
Step away from the canned sauce and give these homemade sloppy joes a try! They're truly the best version of a childhood favorite!
Ingredients
1 Tbsp butter
1 tsp olive oil
1 lb. ground beef
1/3 green bell pepper, minced
1/2 large yellow onion, minced
3 cloves garlic, minced
1 Tbsp tomato paste
2/3 cup ketchup
1/3 cup water
1 Tbsp brown sugar (or less, if you prefer)
1 tsp yellow mustard
3/4 tsp chili powder
1/2 tsp Worcestershire sauce
1/2 tsp kosher salt
1/4 tsp red pepper flakes (optional)
1/4 tsp black pepper
dash of hot sauce (optional)
Instructions
Heat butter and oil in large skillet over MED/MED-HIGH heat.  Add beef and brown, breaking apart into crumbles as it cooks, about 5 minutes.  Transfer to colander to drain.

Add onion and bell pepper to same skillet and cook 2-3 minutes, until soft. Add garlic and cook 30 seconds or so, until fragrant. Add beef back to the skillet and add tomato paste. Stir well.

Add ketchup, water, brown sugar, mustard, chili powder, Worcestershire sauce, salt, red pepper flakes (if using), and black pepper. Stir well to combine.

Cook over MED heat for 10-15 minutes, until mixture has thickened to your liking. Remove from heat and serve over toasted buns.
Want to save this recipe for later? Click the heart in the bottom right corner to save to your own recipe box!
Chef Tips
Sloppy Joe meat mixture can be frozen!
Cool the mixture completely, then add to freezer containers and freeze for up to 4 months.
Thaw overnight in the refrigerator and reheat before serving.
Nutrition Disclaimer
The Chunky Chef is not a dietician or nutritionist, and any nutritional information shared is an estimate. If calorie count and other nutritional values are important to you, we recommend running the ingredients through whichever online nutritional calculator you prefer. Calories can vary quite a bit depending on which brands were used.