Perfect for a quick dinner, these Tex-Mex Sloppy Joes are ready in 30 minutes or less!  Made with beef, jalapenos, corn, and zesty spices, these sloppy joes will soon become a new family favorite! 
This Tex-Mex Sloppy Joes recipe is a fun twist on a classic that my family really loves.  We enjoy recipes with simple ingredients, and beef recipes are always a winner… like my Cheesy Beef and Shells and Meatball Sub Casserole!  This is one of my Beef Recipes I know you'll want to keep on hand!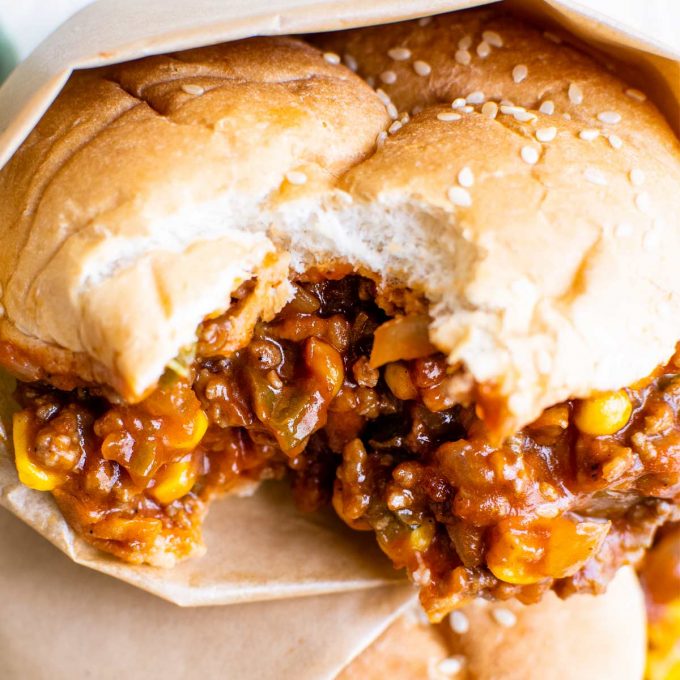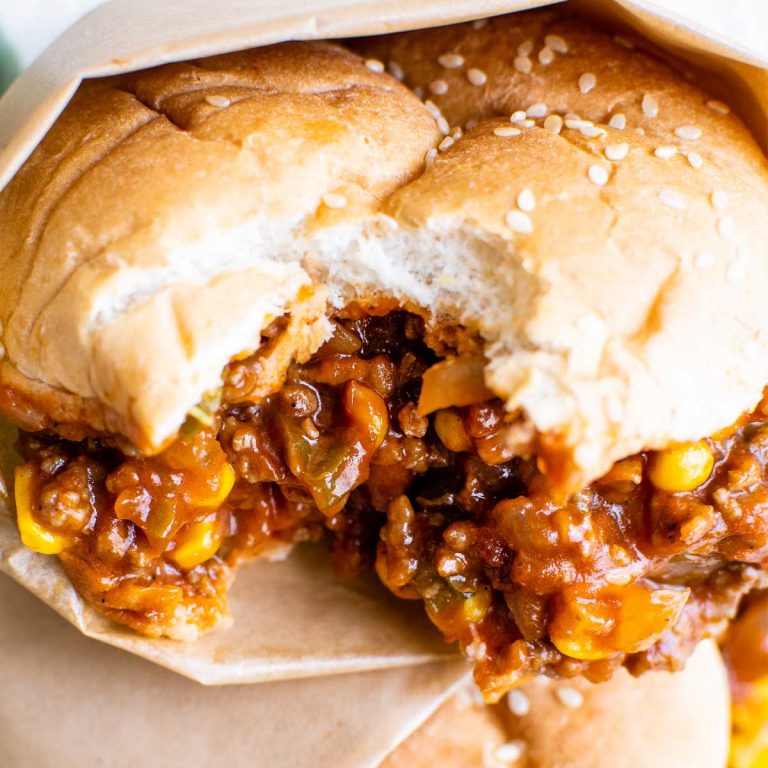 SLOPPY JOES RECIPE
As we head into the upcoming holiday season, I've been thinking about family-friendly meals.  You know, those meals that your kids always want to eat.  In our house, this Creamy Baked Mac and Cheese is number one on our list… with sloppy joes being number 2!
With two kiddos myself, I know ALL too well how frustrating it is to cook a meal and have them promptly turn up their noses and say it's "gross". *facepalm*
Especially this time of year when holiday stress is building.  You need a go-to meal, and you need it fast!
I've always been a fan of classic sloppy joes.  There's something so innately satisfying about the sweet and savory combination and messiness of it all!  And I know you all love them too, since my classic sloppy joes recipe has been insanely popular since I first shared it in 2018.
This Tex-Mex version is the perfect blend of slightly sweet, savory and zesty all rolled into one.  It's like taco night and sloppy joe night had a delicious baby!
HOW TO MAKE TEX MEX SLOPPY JOES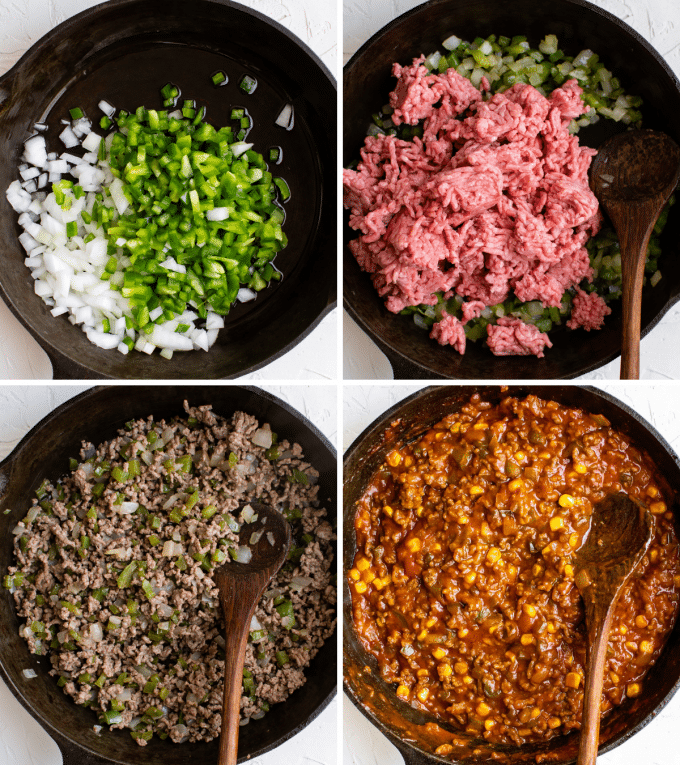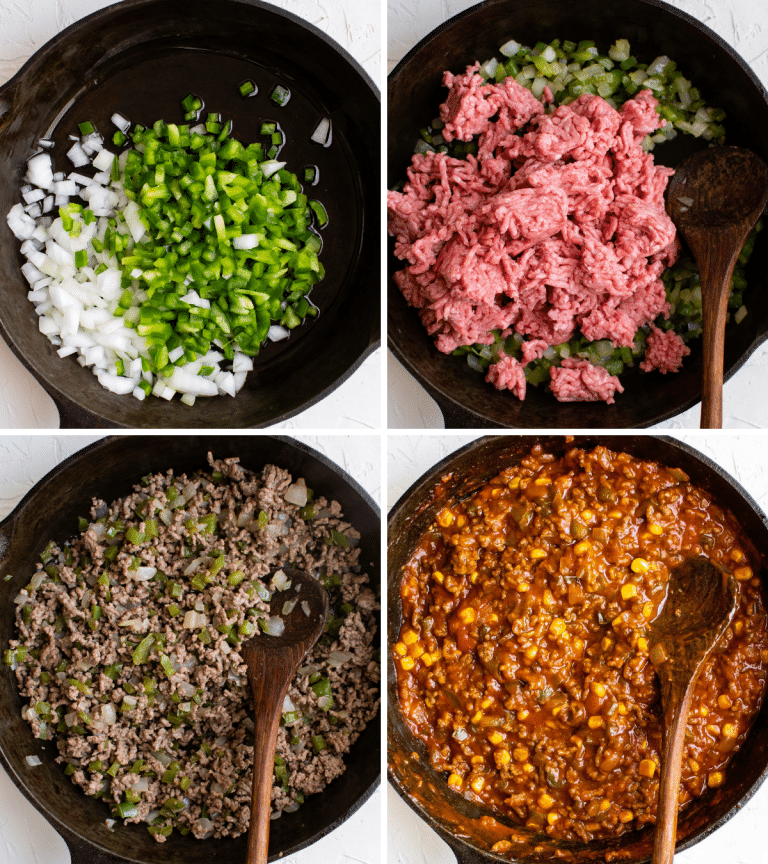 Combine sauce ingredients.  By mixing the sauce ingredients and seasonings separately, it's easier to add it all to the skillet later. Set aside.
Cook onion and peppers.  Cook both the onion and peppers in a large skillet, until soft, about 3-4 minutes.
Brown beef.  Add beef and cook until cooked through, crumbling as you cook.
Drain and add garlic.  Draining the beef ensures the sloppy joes aren't greasy.  Return beef to skillet and stir in garlic.
Stir in corn and sauce. 
Simmer. Cook the meat mixture, simmering for 10-15 minutes, until thickened to your liking.
Serve.  Serve hot, on toasted buns.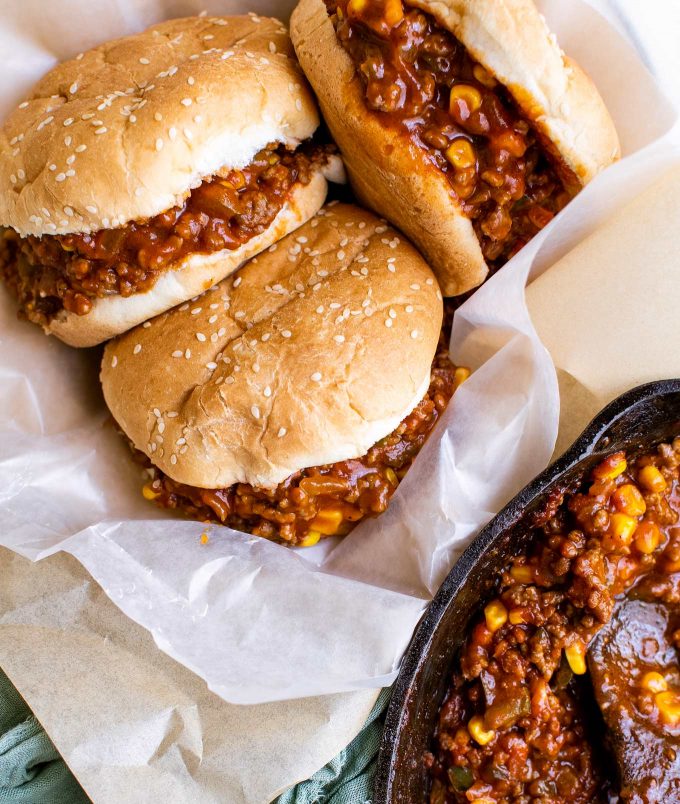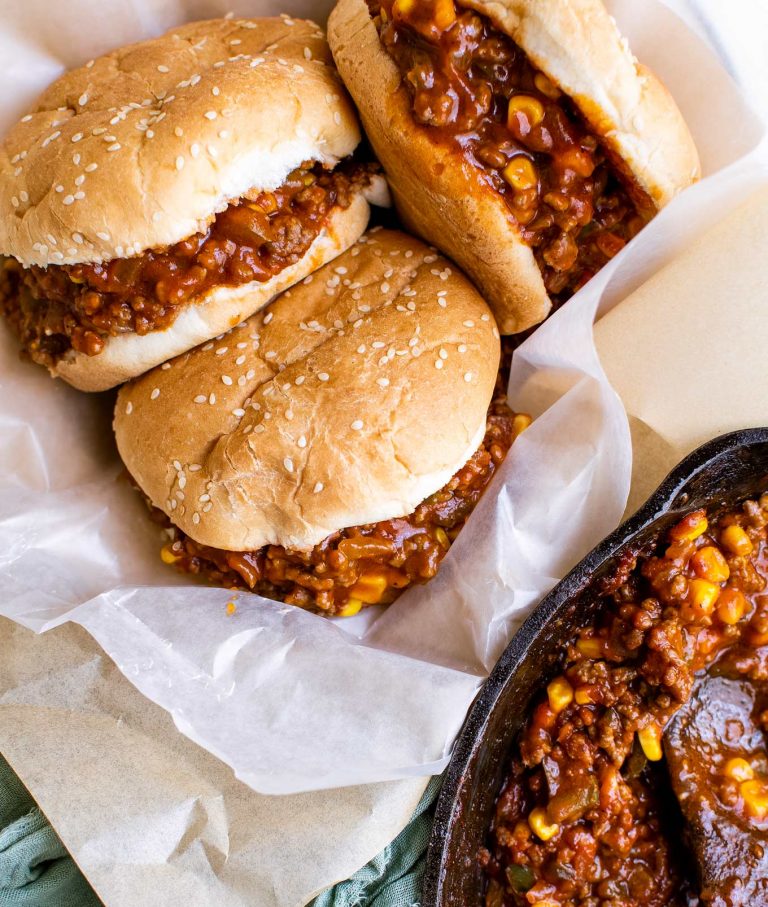 ADDITIONAL COOKING TIPS
TOASTING – Before you get started, toast your buns.  Toasting the bun makes ALL the difference, and only takes a few minutes.  Crank up the heat under the skillet to high, and add a drizzle of vegetable oil.  When the oil is hot, add the buns, then place the buns cut side up on a cooling rack after they're toasted.
THE SAUCE – Watch the sauce so that it doesn't reduce too much.  When too much of the sauce reduces, it gives you a dry sloppy joe mixture.  Everyone likes theirs a little differently, but for me, I cook it down so that I can see the bits of meat, and when I drag my spoon through the sauce, it leaves a trail where the sauce is parted.  If the sauce immediately flows back into that trail, it's too liquid-y.  I want a few seconds before the sauce covers the trail, which gives me a saucy consistency that's not too thin.
THE TYPE OF BUN – Choose your favorite type of bun.  I usually go for either a pretzel bun (like I did in these Beer and Chorizo Sloppy Joes!), sesame, or a brioche bun (like I did in these Classic Sloppy Joes).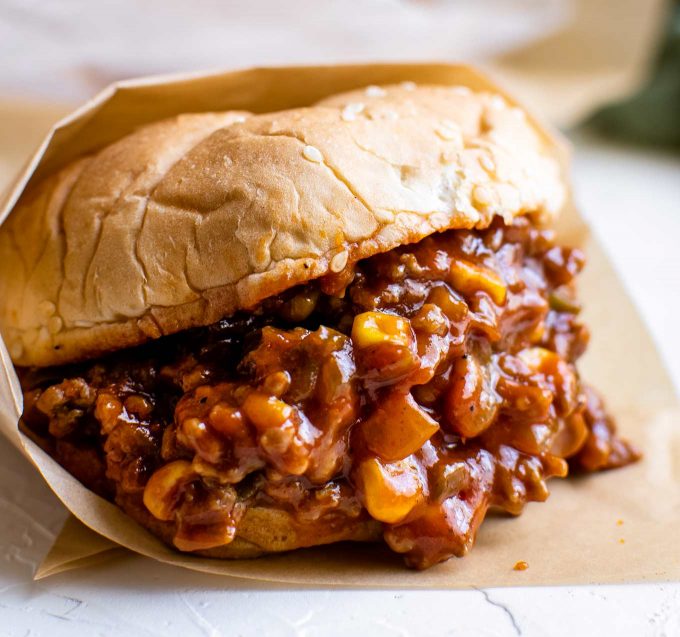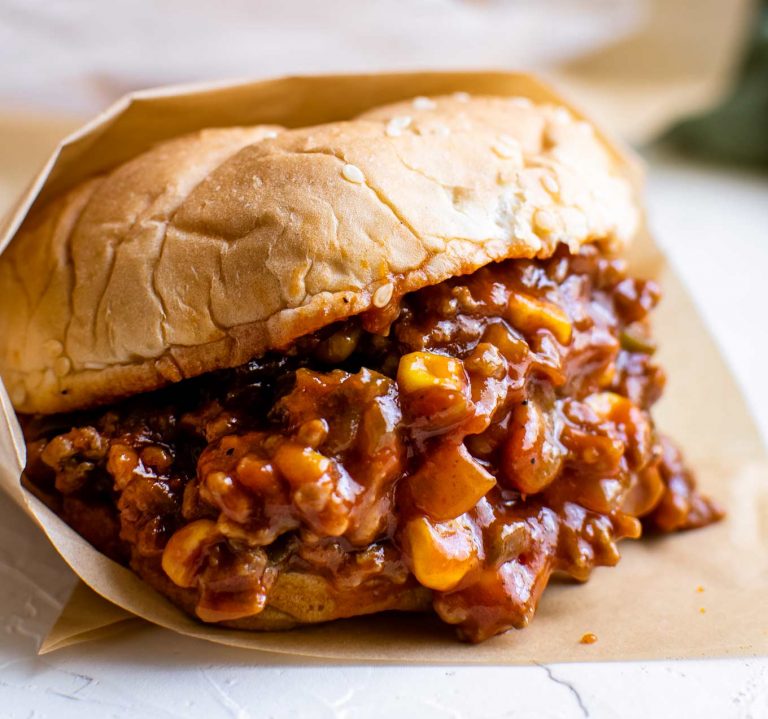 WHAT CAN I DO WITH SLOPPY JOE MEAT?
Number one, slap some on a toasted bun!!  After that, here are some of my favorite things to do:
Spoon some over some crispy waffle fries.  Bonus points if you also melt some cheese over the fries before adding the sloppy joe meat!
Add some to a grilled cheese.
Roll up in crescent roll dough and bake at 375 F degrees for about 12-15 minutes.  Cheese makes a great addition to these as well!
Add some on top of a burger.
VARIATIONS OF THIS RECIPE
TACO – for more of a taco flavor, omit the chili powder, paprika, cumin, coriander, and oregano and use a packet of taco seasoning.  Top sloppy joes with whatever you like to have on your tacos… sour cream, lettuce, tomatoes, etc.
SPICY – to add some extra spice to this sloppy joe recipe, try omitting the green pepper and using all jalapenos, and/or using cayenne pepper.
BEANS – to stretch this meal out a little further, try adding 8 oz of drained and rinsed black beans.
MEAT – ground beef is traditionally used for sloppy joes, but ground turkey or even ground chicken could be used as well.
CHEESE – sometimes we serve these with a slice of cheddar cheese on top, but if you like things cheesy, at the end of cooking, before serving, while the meat mixture is still hot, stir in about 1 cup of cheddar cheese.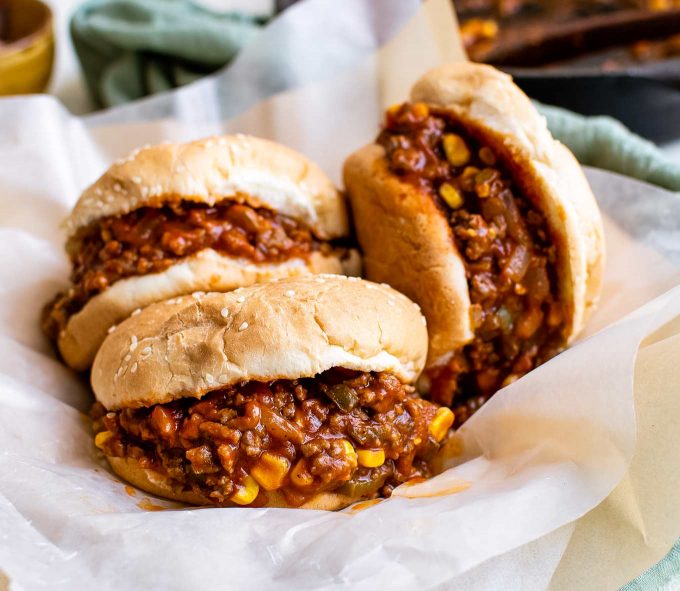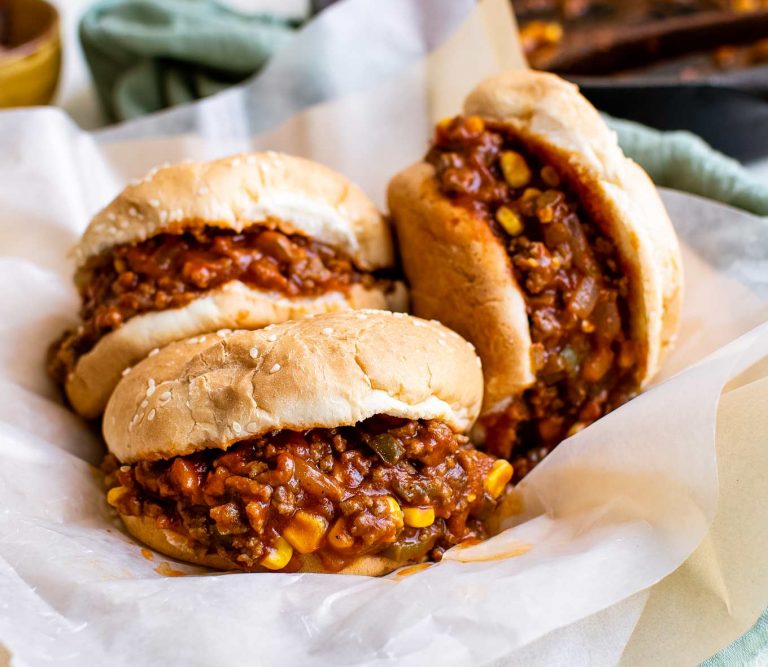 CROCKPOT – Just brown the beef and add all the remaining ingredients (no buns though), and cook on LOW for about 4-6 hours, or HIGH for 2-3 hours.  This will have a softer texture than skillet sloppy joes though.
INSTANT POT – brown beef, then add onion and peppers and brown on the saute function.  Stir in about 1/3 cup water and scrape the bottom of the pot to loosen any browned bits.  Add all remaining ingredients, but don't stir.  Secure lid and pressure cook on high for 5 minutes, then let the pressure release naturally for 10 minutes. After 10 minutes, release any remaining pressure.  If sloppy joes are still too runny, mix a bit of cornstarch and water and stir it into the mixture and cook on the saute function until thickened to your liking.
MAKING SLOPPY JOES AHEAD OF TIME
Sloppy joes can easily be made ahead of time, up to 1-2 days ahead in fact.
You can also prep this recipe ahead of time by chopping the onion and peppers and measuring out spices.
STORAGE
Leftover sloppy joe meat mixture can be stored in an airtight container and refrigerated.  Consume within 3-4 days.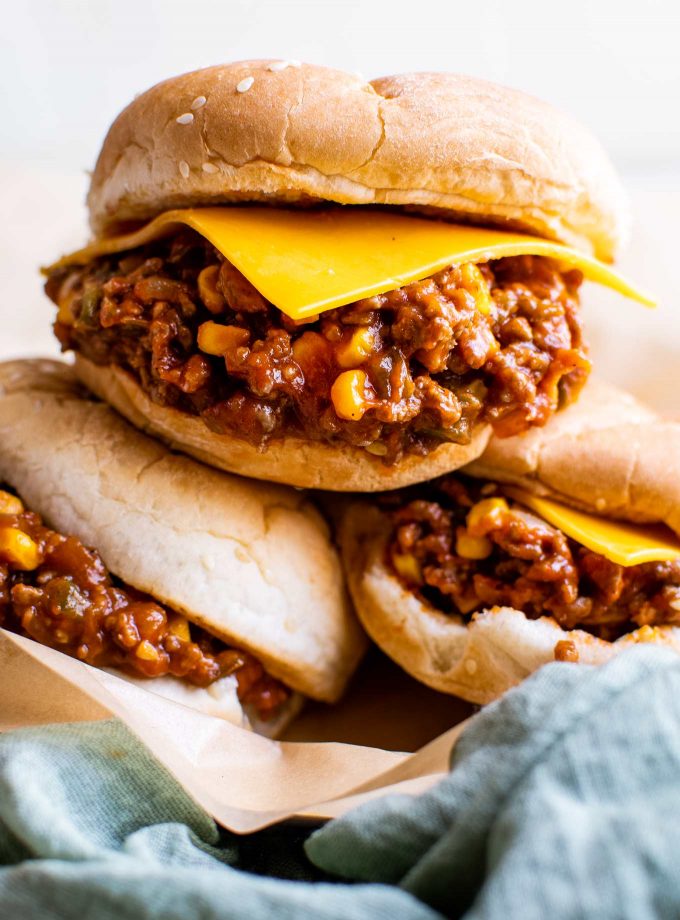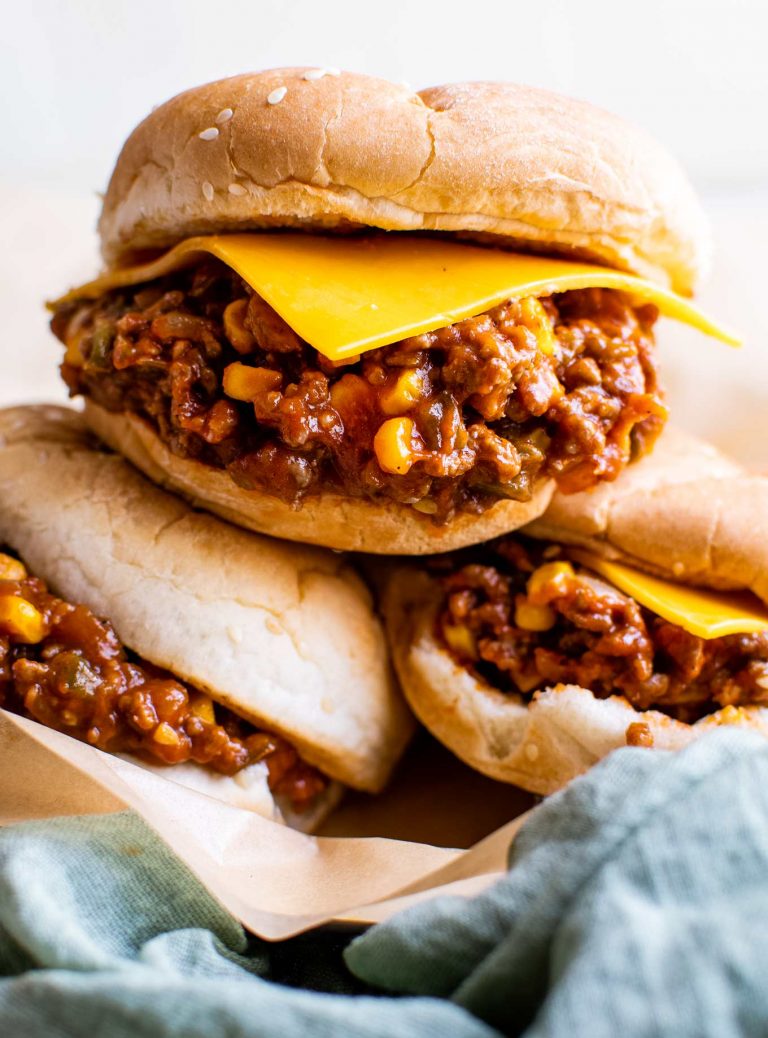 FREEZING
Cool the mixture completely, then add to freezer containers and freeze for up to 4 months.
Thaw overnight in the refrigerator and reheat before serving.
SPECIAL EQUIPMENT FOR THIS RECIPE
The following links are affiliate links.
The Chunky Chef, LLC is a participant in the Amazon Services LLC Associates Program, an affiliate advertising program designed to provide a means for sites to earn advertising fees by advertising and linking to amazon.com.  For more information regarding this program and what it means for you, please see my Privacy page.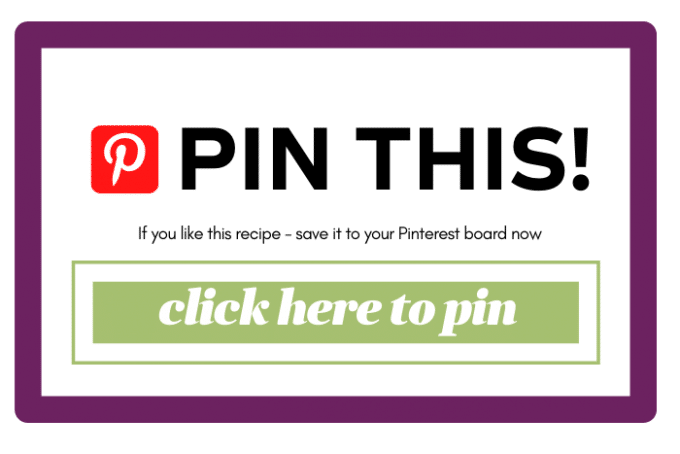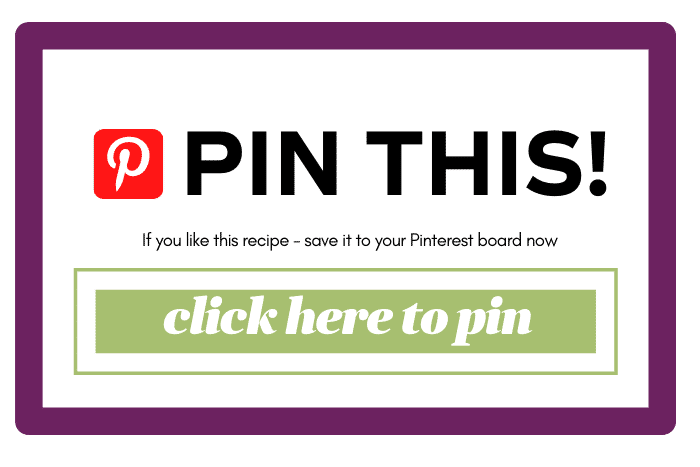 BE SURE TO SCROLL DOWN TO CHECK OUT OTHER READERS' COMMENTS FOR TIPS AND REVIEWS.
AND DON'T FORGET, IF YOU'VE MADE THIS RECIPE, LEAVE A COMMENT AND PLEASE GIVE IT A STAR RATING LETTING ME KNOW HOW YOU ENJOYED IT!
Did you make this? Be sure to leave a review below and tag me @the_chunky_chef on Facebook and Instagram!
Perfect for quick dinner, these Tex-Mex Sloppy Joes are ready in 30 minutes or less! 
Ingredients
2 Tbsp olive oil
1/2 medium white or yellow onion diced
1/2 green bell pepper diced
1 jalapeno seeded and diced
1 lb. lean ground beef
8 oz can whole kernel corn drained
3-4 cloves garlic minced
1 tsp Worcestershire sauce
2/3 cup ketchup
1 Tbsp light brown sugar
1 Tbsp yellow mustard
1 1/2 tsp chili powder
1 tsp paprika
1/2 tsp ground cumin
1/2 tsp kosher salt
1/2 tsp black pepper
1/4 tsp dried coriander
1/4 tsp oregano
1 cup mild salsa or tomato sauce, if preferred
hamburger buns
Instructions
In a mixing bowl, combine Worcestershire sauce, ketchup, brown sugar, mustard, paprika, chili powder, cumin, salt, pepper, coriander, oregano, and salsa. Whisk or stir to mix well, then set aside.
COOK ONION AND PEPPERS
Heat the olive oil in a large skillet over MED heat and add the onion, green pepper and jalapeño. Cook until onion is soft and translucent.
COOK BEEF
Add beef to the skillet and cook until beef is browned and cooked through, crumbling the beef as it cooks. Drain beef and return to the skillet.

Add garlic and cook about 30 seconds. Stir in drained corn.
ADD SAUCE AND SIMMER
Stir in combined sauce and heat to a high simmer. Reduce heat to MED LOW and simmer for about 1-15 minutes, until sauce has thickened to your liking. 
SERVE
Remove from heat and serve over toasted buns.
Want to save this recipe for later? Click the heart in the bottom right corner to save to your own recipe box!
Nutrition Disclaimer
The Chunky Chef is not a dietician or nutritionist, and any nutritional information shared is an estimate. If calorie count and other nutritional values are important to you, we recommend running the ingredients through whichever online nutritional calculator you prefer. Calories can vary quite a bit depending on which brands were used.