This recipe for Instant Pot Carnitas has perfectly seasoned and ultra tender pork with plenty of crispy bits for texture. So easy to make, and perfect for taco night, meal-prep, nachos and more!
This is one of my Instant Pot recipes I know you'll want to keep on hand!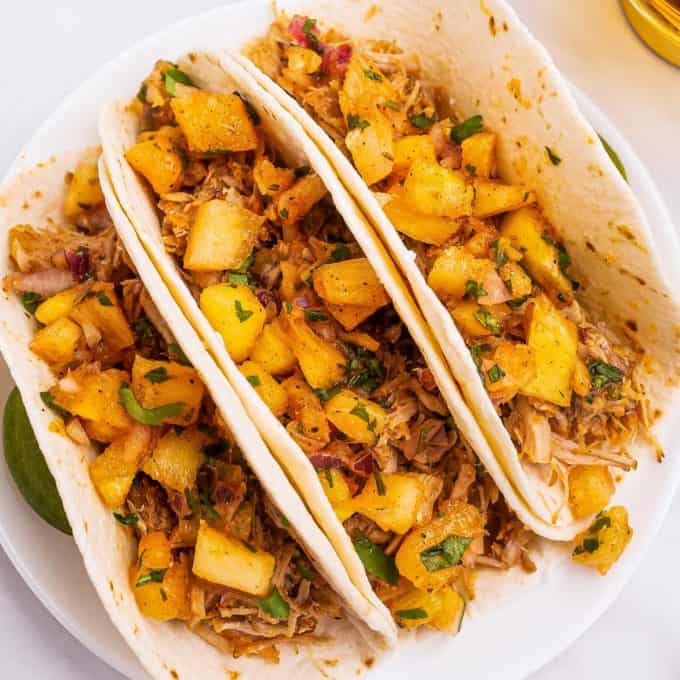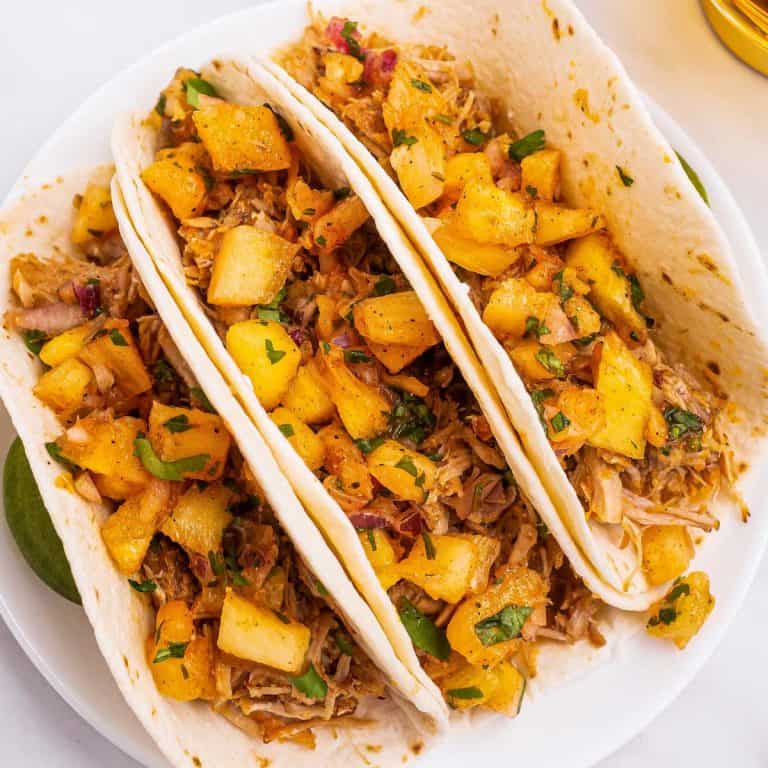 I've had a version of pork carnitas on the website for years (since 2015!), but I thought it was high time I get an Instant Pot version on here! Especially since that's the only way I've been making them lately.
Instead of having to get up earlier to get everything in the slow cooker and then being tortured by the amazing smell all day, these carnitas are ready in a fraction of the time!
It may not fit in your weeknight dinner time-frame, since let's face it, weeknights are pretty hectic for most of us. However, this recipe can absolutely be made ahead of time, and they're fabulous for a weekend meal.
Even better, make them and invite some family or friends over to enjoy them with you! Serve up some classic margaritas and Mexican rice and have a great fiesta-style party.
There are a lot of step by step photos for this recipe, but let me assure you, it's not because it's a complicated recipe. There are just several steps and I wanted to really illustrate those.
I promise you, this is a recipe you can absolutely pull off, and it's a meal that is sure to impress just about anyone!
How to make pork carnitas in the Instant Pot?
This is just an overview; the full ingredients and directions are in the recipe card toward the bottom of this post.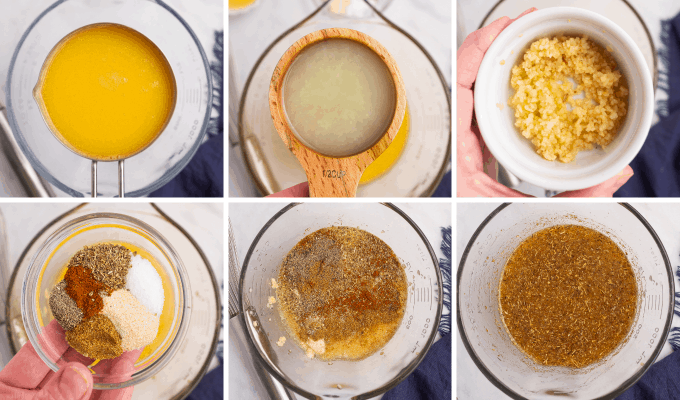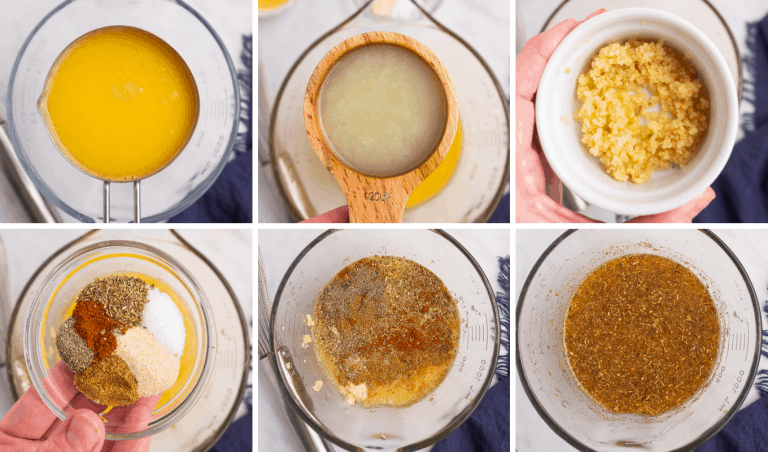 Add all cooking liquid ingredients (except the beer!) to a bowl.


Season pork, really rubbing it into the meat.
Sear pork in the Instant Pot in Saute mode. Do this in batches, and set aside on a plate.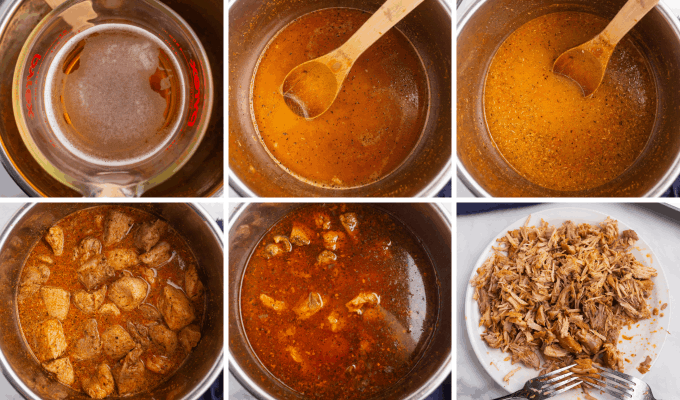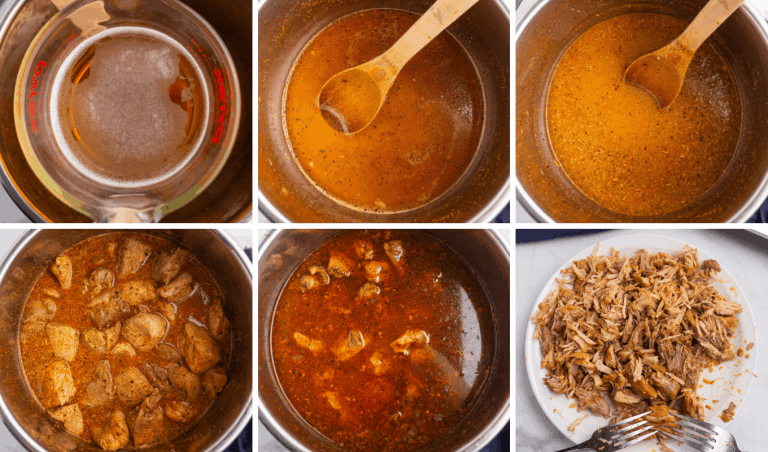 Deglaze with beer. Add the beer to the pot and scrape with a wooden spoon to get all those browned bits from the pork off the bottom of the pot.
Pour in cooking liquid.
Return pork to pot.
Cook. Pressure cook for 45 minutes, NPR for 15 minutes, then QR to release any remaining pressure.
Shred pork.


Add pork to baking sheet and toss with a bit of the liquid from the pot.
Broil. Then stir.
Add a bit more liquid from the pot, stir, then broil again to crisp.
Serve!
Helpful Tip!
If at all possible, don't skip the broiling step. It adds amazing texture and flavor, as well as being a bit more traditional. You can also sear the pork in a hot skillet with some oil.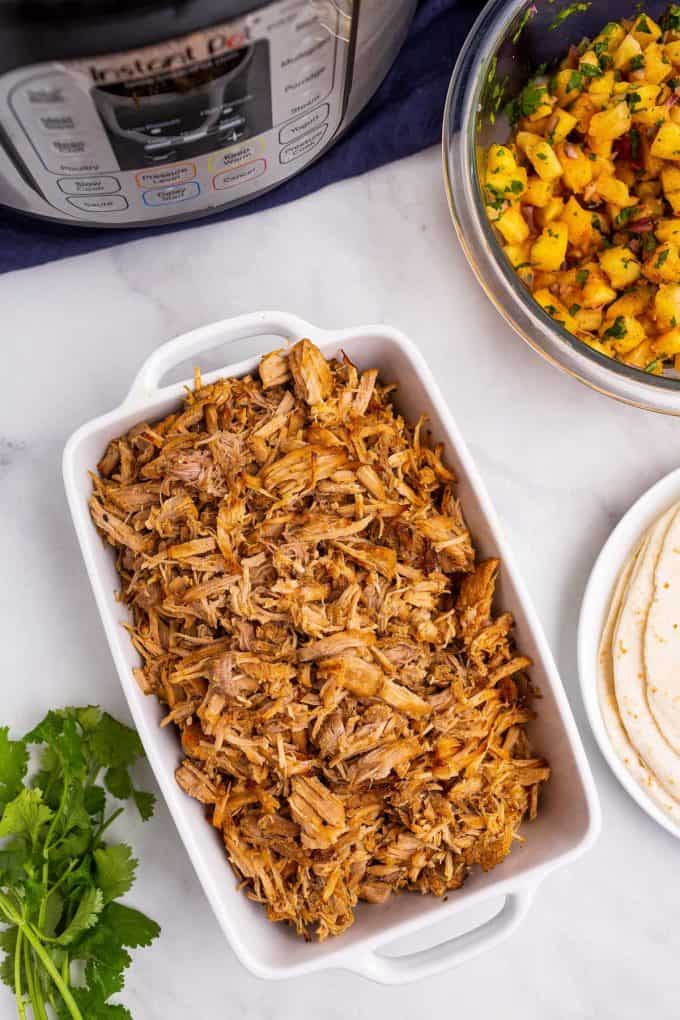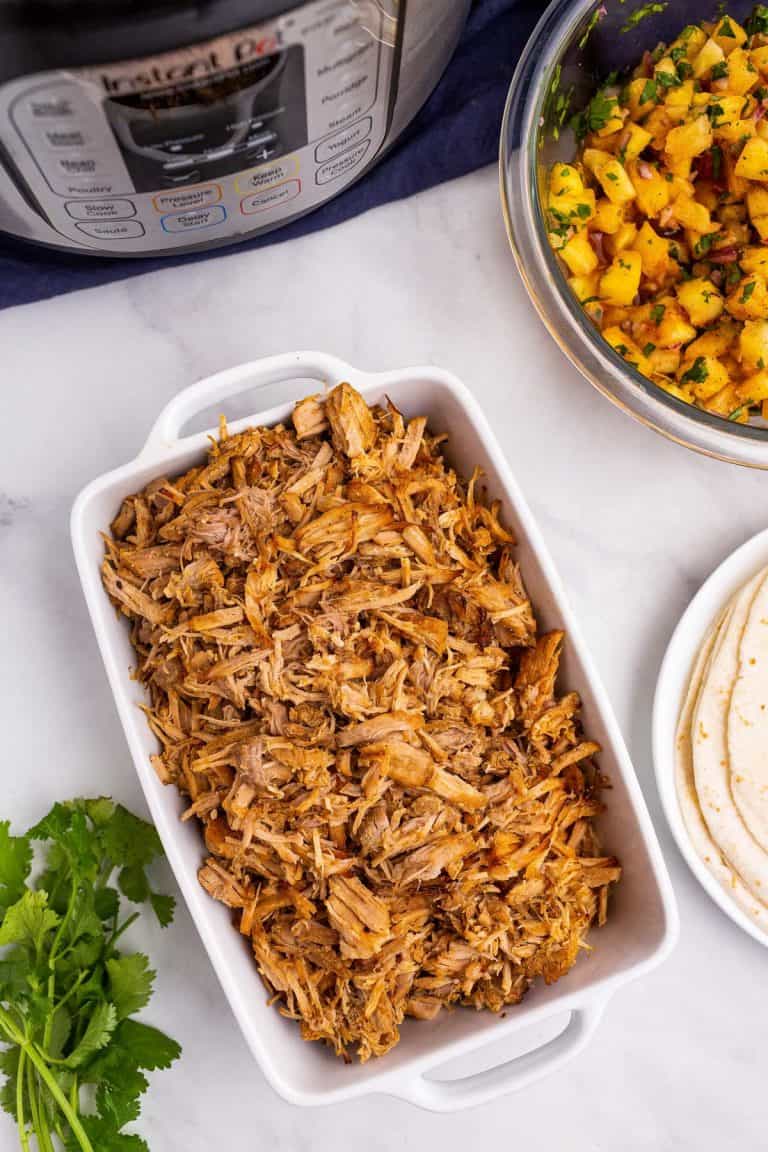 Variations of this recipe
Alcohol-free – I really think the beer adds fantastic flavor to the pork, but if you can't use alcohol, an equal amount of chicken or beef broth would work.
No sear – since the broiling step adds crispness and color, searing isn't 100% necessary. I still like to do it, as it does add flavor, but if you need to skip a step, it will still taste delicious.
Chicken – chicken breasts or thighs can be used in place of the pork.
Salsa options – I love the sweet spiciness of the pineapple salsa, but these carnitas are great with any salsa you'd like! Pico de gallo, salsa verde, red salsa, etc.
Serving options – normally we serve these taco-style, in either flour or corn tortillas, but carnitas are amazing in burritos, taco bowls, taco salads, quesadillas, in a salad, as the meat in nachos, etc.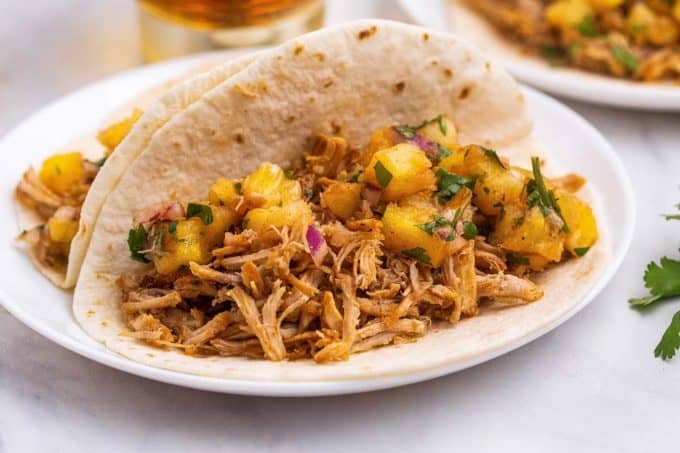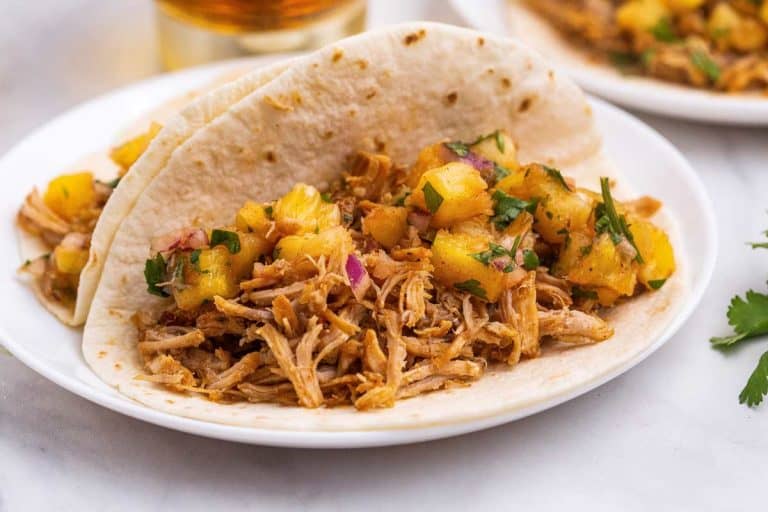 FAQ's
What's the best pork to use for carnitas?
Traditionally it's made using a very tough cut of meat, like a pork shoulder or pork butt. You're welcome to use a pork shoulder for this recipe, but we normally use a boneless pork loin. Not the tenderloin, the bigger loin. It's not as marbled with fat, which is why we do recommend searing it in a bit of fat (vegetable oil). I promise, it's not dry at all!
My pork isn't tender enough to shred. What happened?
It's a common misconception that when meat is tender after pressure cooking or slow cooking, it means it was overcooked. Most of the time, it's actually because it needed to cook a bit longer. Since all pressure cookers will cook a little differently, pork loins may be slightly different in size, etc, if you try to shred the pork and it doesn't want to pull apart, keep cooking it a bit longer.
How do I top carnitas tacos?
You can add anything you'd like! Crumbled Cotija cheese, Mexican crema, onion, cilantro, salsa, jalapeno, basically anything you'd put on a taco. Normally, we just add some red onion and chopped cilantro… but once we tried it with pineapple salsa, we fell in love. The flavors really go so well together!
Pineapple Salsa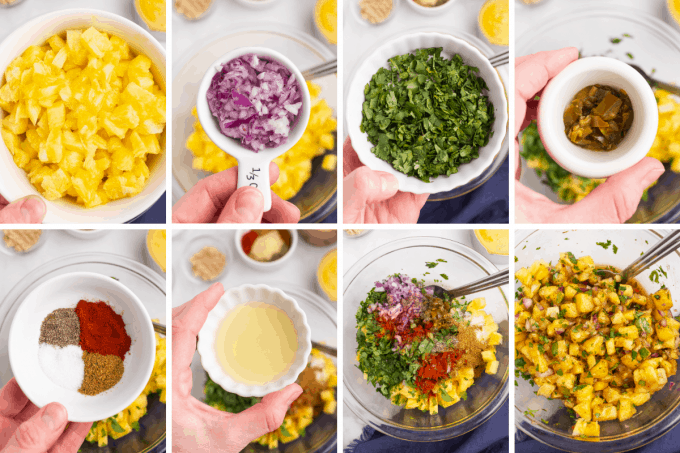 Making this pineapple salsa is super simple, and can absolutely be made ahead of time. It has that amazing sweet/spicy flavor combination that works really well with the spiced pork.
You can also tweak it to your tastes by adjusting the amount of jalapeno, red onion, spices, etc. Use it as a guide and truly make it your own!
Making carnitas ahead of time
I love making these pork carnitas one day, and serving the next. It makes dinner the next day ready in a snap!
Just cook the pork, shred it, but don't broil it. Add the cooking liquid from the Instant Pot and the shredded pork to an airtight container and refrigerate overnight.
Then just reheat and broil!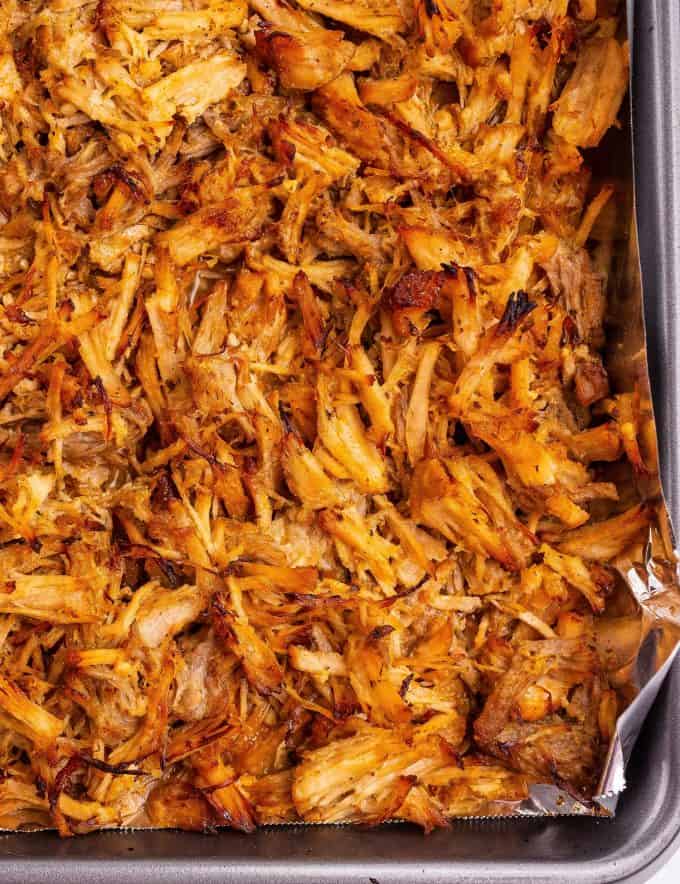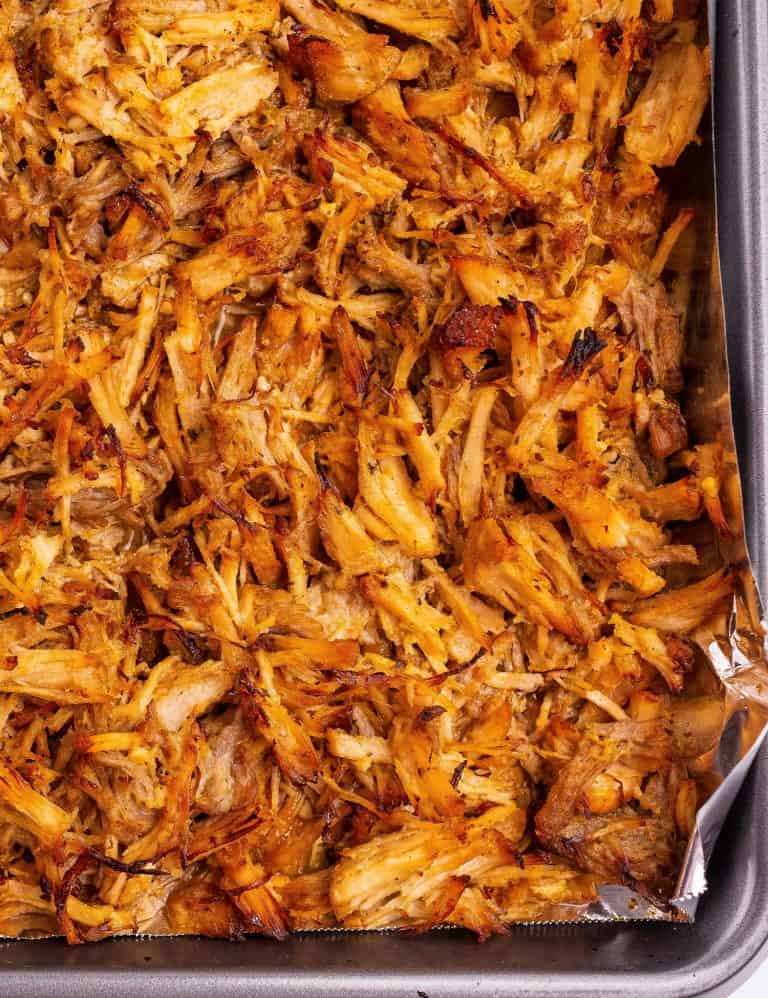 Freezing
The pulled pork in this recipe freezes beautifully! Just add the pork to freezer safe containers, with the cooking liquid, and freeze for up to 3 months.
Thaw overnight in the refrigerator, then heat and broil as directed.
To reheat, I like to add the pork to a baking sheet, cover with foil, and bake at 350°F for about 10-15 minutes, until hot. You can also microwave the pork if you prefer.
Storage
Leftover carnitas can be stored with plenty of cooking liquid in an airtight container for up to 3-4 days.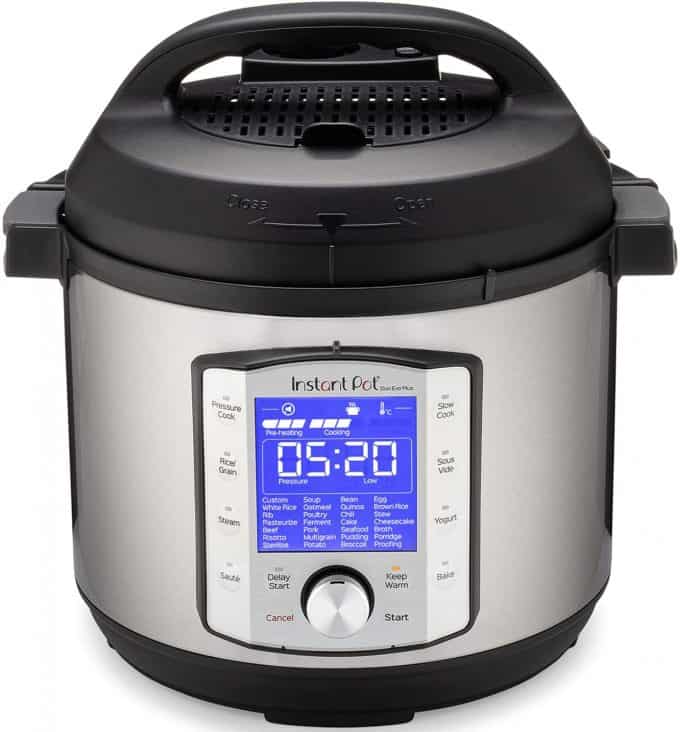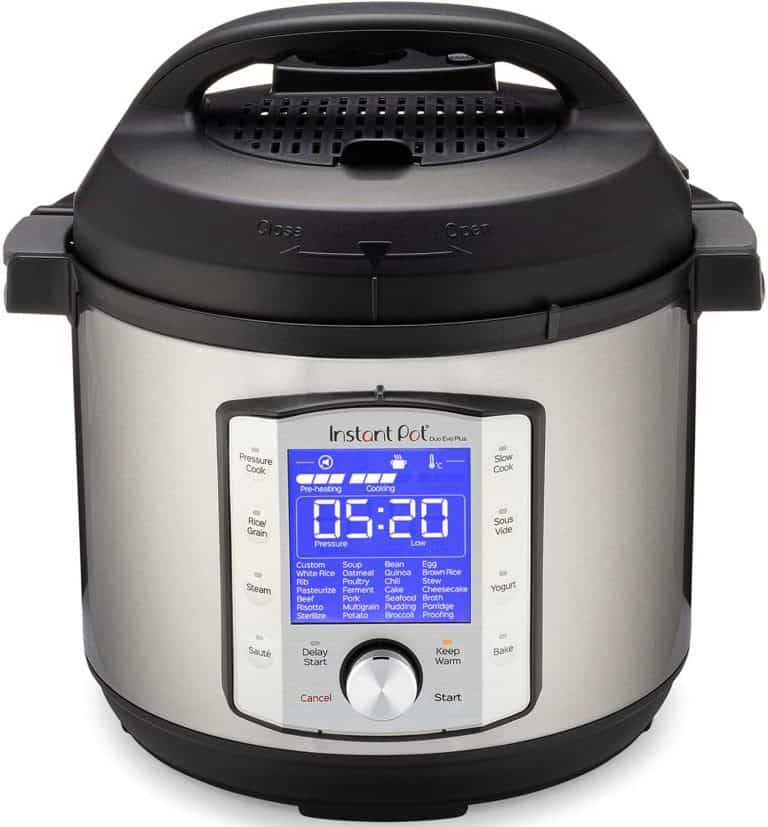 I love this model's features like a completely flat bottom insert, as well as a locking insert, making stirring super easy. Plus, it automatically switches to sealing when you lock the lid!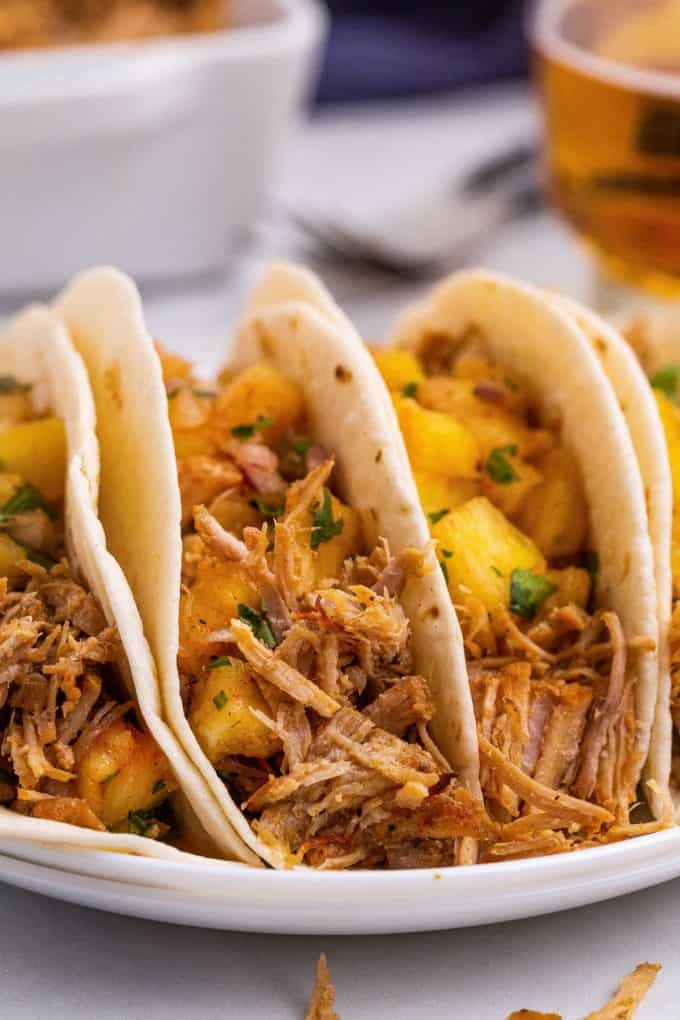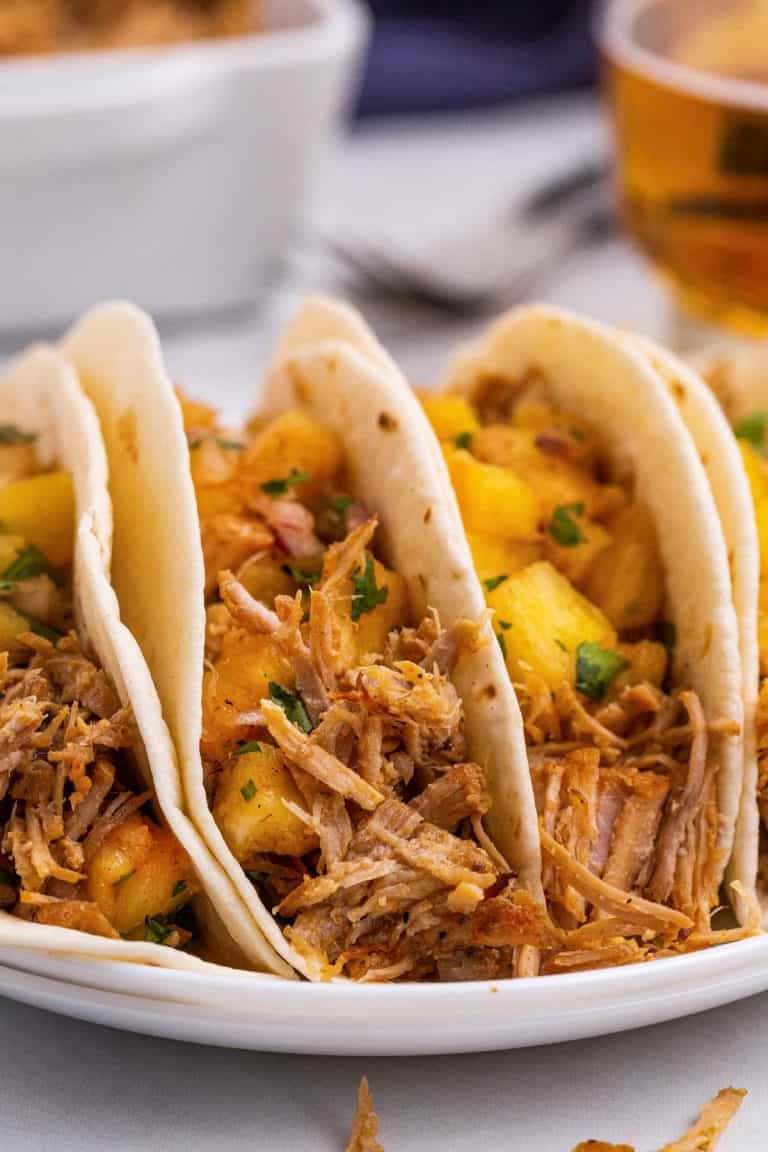 Did you make this? Be sure to leave a review below and tag me @the_chunky_chef on Facebook and Instagram!
This recipe for Instant Pot Carnitas has perfectly seasoned and ultra tender pork with plenty of crispy bits for texture.
Ingredients
Meat/Seasoning
2 tsp packed light brown sugar
1 1/2 tsp kosher salt
1 tsp black pepper
1 tsp garlic powder
1 tsp chili powder
1 tsp ground cumin
1 tsp paprika
1/2 tsp dried oregano
1/2 tsp dried basil
1/2 tsp ground coriander
4 lbs boneless pork loin cut into 2 inch pieces (pork shoulder may also be used)
2 Tbsp vegetable or canola oil
Cooking Liquid
1 cup fresh orange juice
1/2 cup fresh lime juice
6 cloves garlic minced
1 tsp kosher salt
1 tsp dried oregano
1 tsp chili powder
1 tsp onion powder
1/2 tsp ground cumin
1/2 tsp black pepper
12 oz Mexican beer (like Modelo)
Pineapple Salsa (optional)
2 1/2 cups diced fresh pineapple
1/3 cup minced red onion
1/3 cup chopped fresh cilantro
1 jalapeno minced
1/2 tsp ground cumin
1/2 tsp chipotle chili powder regular chili powder can be substituted
1/2 tsp kosher salt
1/4 tsp black pepper
2 Tbsp fresh lime juice
Instructions
Make Pineapple Salsa (if making)
Add all pineapple salsa ingredients to a bowl, and stir to combine.  Cover and refrigerate while you cook the pork.
Whisk Cooking Liquid
Whisk all cooking liquid ingredients (except beer) together in a separate mixing bowl and set aside.
Cook the Pork
Mix brown sugar, salt, pepper, garlic powder, chili powder, ground cumin, paprika, oregano, basil, and coriander in a small bowl.

Season pork pieces with seasoning mix, rubbing it into the meat.

Select "Saute" on the Instant Pot, and add oil.  Once hot, add half the pork pieces and sear for 1-2 minutes per side.  Remove to a plate and repeat with remaining pork pieces, adding more oil if needed.

Select "Cancel".  Pour in beer, using a wooden spoon or spatula to scrape the bottom of the pot to loosen the browned bits.  Once there are not browned bits left on the bottom of the pot, pour in the sauce you whisked together earlier.

Add seared pork pieces, along with any juices that have accumulated on the plate, and give a quick toss to coat.

Secure lid and select "Pressure Cook" or "Manual" and hit the +/- buttons until you select 45 minutes.

Once pressure cooking time has elapsed, don't do anything and let the pot naturally release the pressure for 15 minutes, then turn the knob to release any remaining pressure.
Crisp the Edges
While pork is cooking, line a rimmed baking sheet with foil and set aside.

Remove lid and shred pork.

Preheat broiler on HIGH and move an oven rack to be about 6 inches from the heat.

Spread shredded pork on prepared baking sheet and toss with about 1/4 cup of the cooking juices from inside the Instant Pot.

Broil for 4-5 minutes, until edges of the pork start to brown.  Remove from oven and add another 1/4-1/3 cup of the juice and stir.

Broil another 4-5 minutes, until edges are browned and crispy.
To Serve
To serve, add carnitas to a charred tortilla (flour or corn), and top with a bit of pineapple salsa and a sprinkle of minced fresh cilantro.
Want to save this recipe for later? Click the heart in the bottom right corner to save to your own recipe box!
Chef Tips
To make in the Slow Cooker follow the recipe, but with the following changes.
Halve all the cooking liquid ingredients.
Sear the pork in a skillet on the stovetop.
Deglaze the skillet with beer, scraping the bottom of the skillet to loosen those browned bits, and add the contents of the skillet, seared pork, cooking liquid, etc. to the slow cooker insert.
Cover slow cooker with lid and cook on LOW for 6-8 hours, or HIGH for about 4 hours, until pork is easily shredded.
Nutrition Disclaimer
The Chunky Chef is not a dietician or nutritionist, and any nutritional information shared is an estimate. If calorie count and other nutritional values are important to you, we recommend running the ingredients through whichever online nutritional calculator you prefer. Calories can vary quite a bit depending on which brands were used.