This ultra creamy Crack Chicken Chili is made in about 30 minutes in the Instant Pot.  Made with shredded chicken, beans, cheese, ranch seasoning and plenty of spice, it's the perfect weeknight dinner recipe the whole family will LOVE!
This Instant Pot Crack Chicken Chili is the perfect comfort food!  Recipes like my Instant Pot Sesame Chicken and Instant Pot Sausage Tortellini Soup are great for when you want an ultra-comforting family meal that's ready incredibly fast.  This is one of my Pressure Cooker recipes you'll definitely want in your recipe box!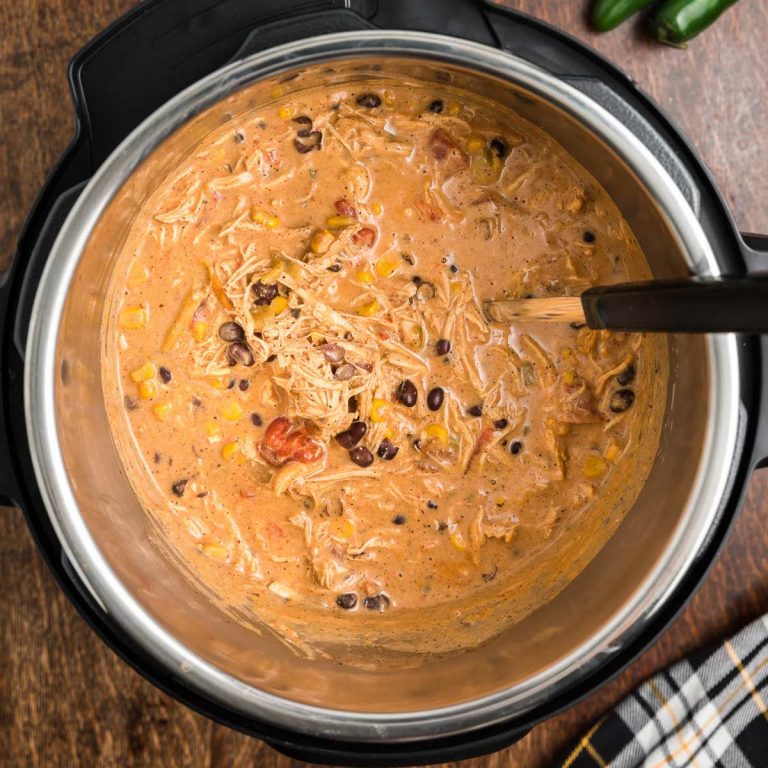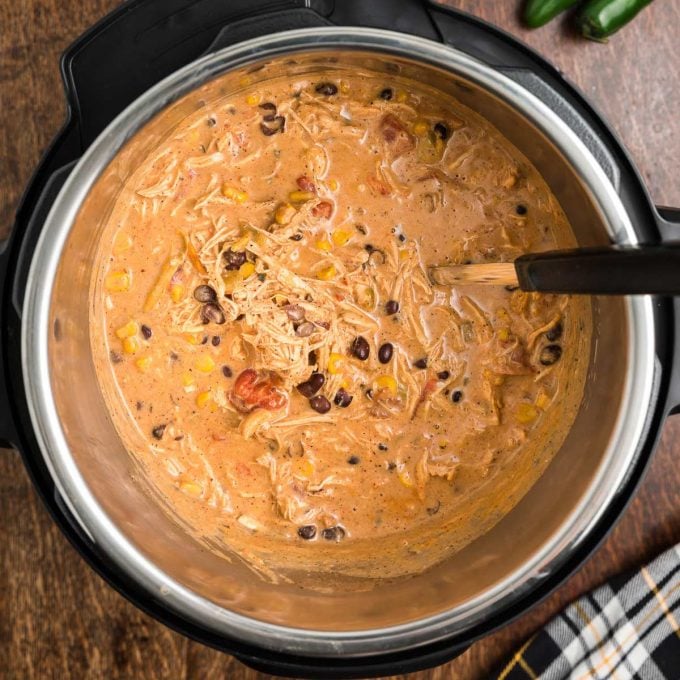 CRACK CHICKEN CHILI RECIPE
If there's any one type of recipe that you guys really seem to love, it's bowls of delicious comfort food!  And you know what, I'm right there with you.
There's nothing better than curling up on the couch with a good movie, a fuzzy blanket, and wrapping your hands around a big bowl of steaming hot chili, getting ready to dig in with a spoon.
While I love a good traditional chili, I find myself drawn to the chicken chilis.  My regular Creamy White Chicken Chili has become a true reader favorite, and is super popular at parties, potlucks and even chili cook-offs!
I know some of you may be balking at the name of this recipe… crack chicken chili.  Believe me, I'm not a huge fan of the name either.
I didn't come up with it, but "Crack" refers to the combination of cheese, ranch, and bacon.  Crack chicken became huge in the low-carb and keto circles, and now it's a full-blown viral sensation.
So whatever you want to call it, this chili is flat-out delicious, and I'm sure once you try it, you'll agree!
HOW TO MAKE CRACK CHICKEN CHILI IN THE INSTANT POT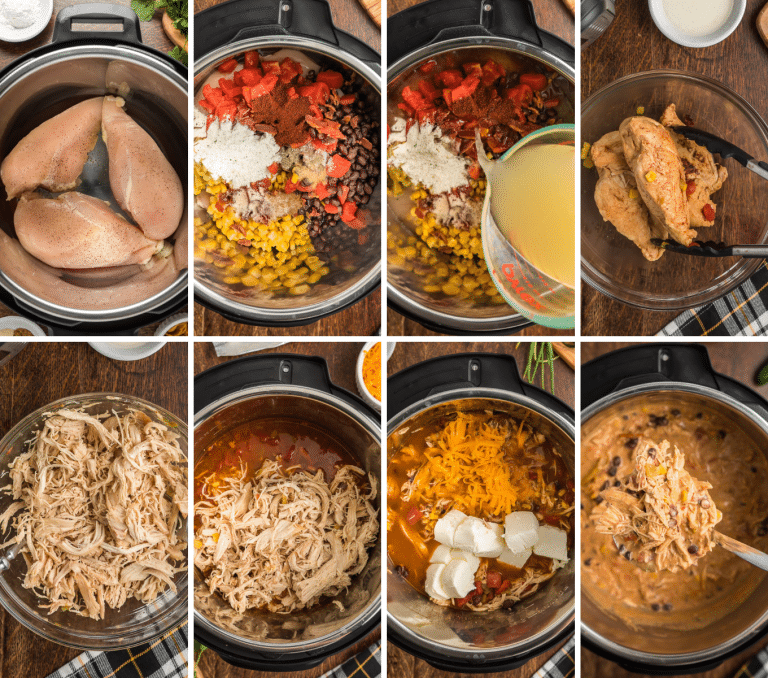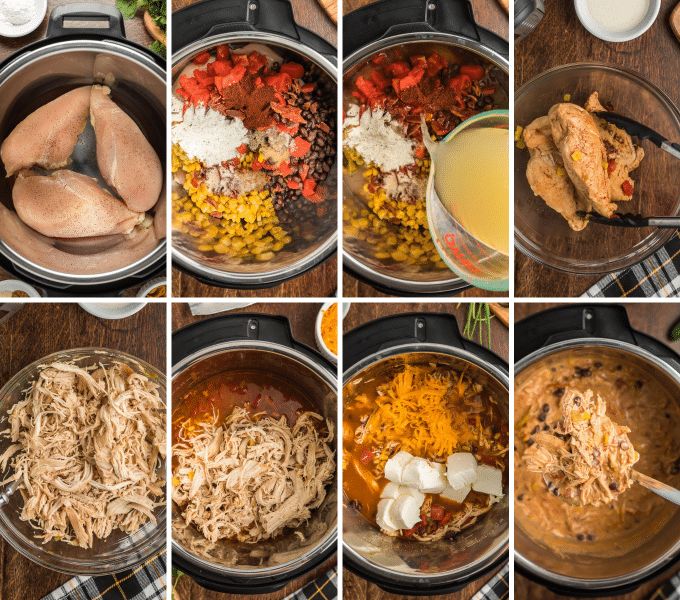 Add ingredients to Instant Pot.  Add all ingredients (except dairy) to Instant Pot, but don't stir.
Pressure Cook.  Pressure cook for 15 minutes, then perform a quick release.
Shred chicken.  I like to shred my chicken in a bowl, as it's easier to see how finely you're shredding it.  Once shredded, return it to the pot.
Make it creamy.  Add cream cheese and cheddar cheese and cook on Saute until cream cheese has melted into the chili.  
ADDITIONAL COOKING TIPS
Using Frozen Chicken – I chose to use fresh chicken breasts for this recipe since that's what I normally have on hand.  But I know a lot of us forget to thaw out the chicken from time to time. There's nothing worse than coming home from a long day at work to find out you only have frozen chicken. Thankfully, the Instant Pot can safely cook frozen chicken! If you have frozen chicken, increase the pressure cook time by 2 minutes.
Chicken Type – our family (specifically the kids), prefers white meat chicken, so we normally use boneless skinless chicken as written in the recipe. If you like dark meat, you can use boneless skinless chicken thighs.
Pressure Release Type – I use a quick pressure release (for help with other pressure cooker lingo, check out my Instant Pot Terms guide), so the chicken doesn't overcook.
Even Creamier – sometimes adding cream cheese to a hot chili/soup means it doesn't quite mix in well enough.  My trick for making it extra creamy solves that problem, but it does mean dirtying another bowl.  In a mixing bowl, add softened cream cheese (basically room temp) and about 2 large ladles of the hot liquid from the chili.  Use a whisk and really whisk it until smooth.  Then pour that mixture back into the chili and stir.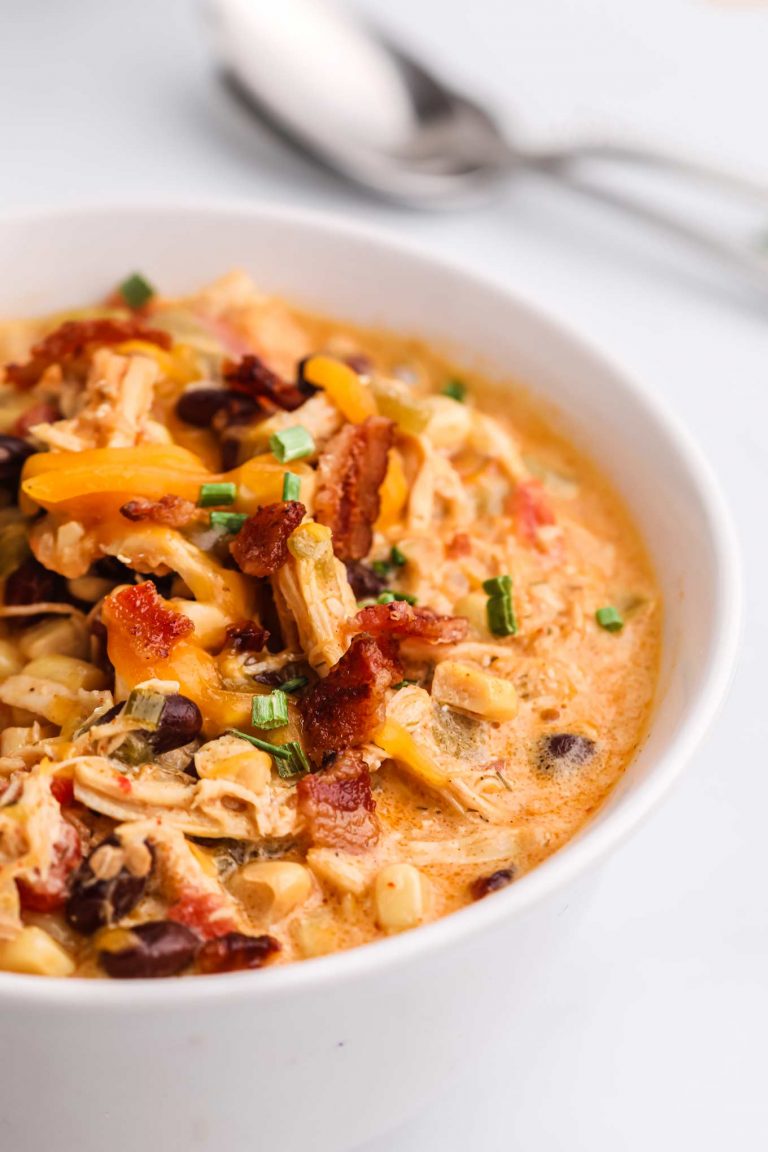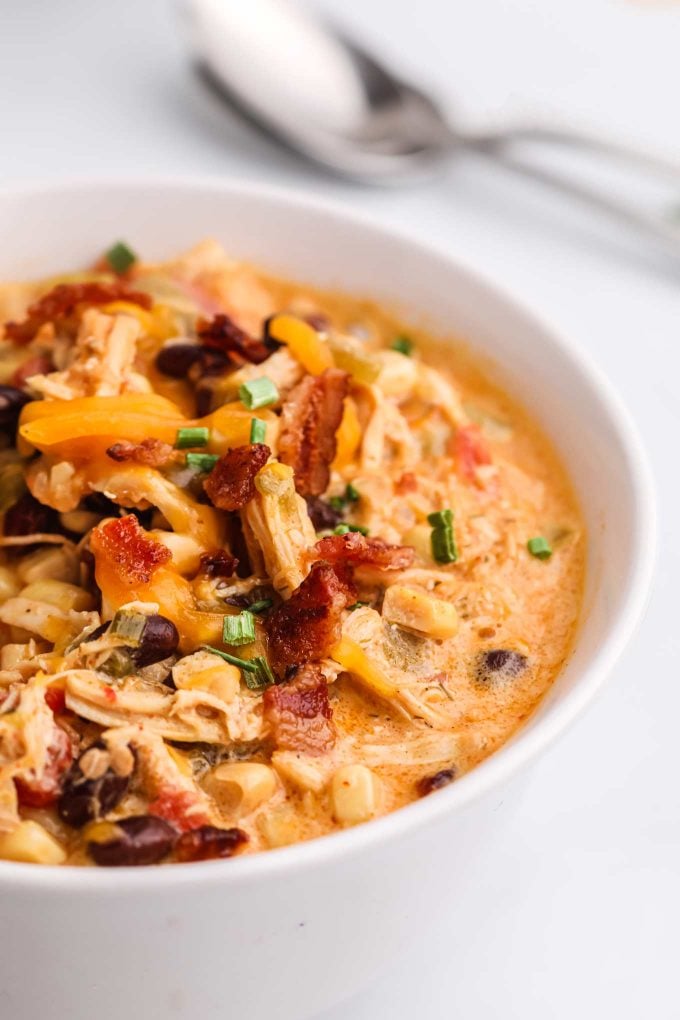 VARIATIONS OF THIS RECIPE
Other Protein – this chili is great with other mild proteins, like turkey or pork.  You can also used ground chicken, turkey, or pork as well.
Spicy – if you like some heat, you have several options!  Use HOT diced green chiles, add a diced jalapeno to the mix, add some cayenne pepper, and/or use Pepper Jack cheese instead of cheddar.
Mild – I think this chili is mild, but just to be safe, make sure you're using MILD diced green chiles, and take note of the fact that where you live can effect the chili powder. In the UK, chili powder is spicy chili peppers that have been dried and ground into a fine powder. American chili powder is a blend of spices which includes a very small amount of spicy ground chilis.
Slow Cooker – this chili can absolutely be made in the slow cooker/crockpot!  See the written directions below the recipe in the "Recipe Notes" section.
Stovetop – chili/soups like this really don't take too long on the stovetop, so if you'd rather use that method, see the written directions below the recipe in the "Recipe Notes" section.
Cooked Chicken – if you already have cooked and shredded chicken, either from a rotisserie chicken, or leftovers, you can just add the chicken and all the other ingredients to a pot on the stove and simmer about 10 minutes, or use your Instant Pot and and use the Saute mode.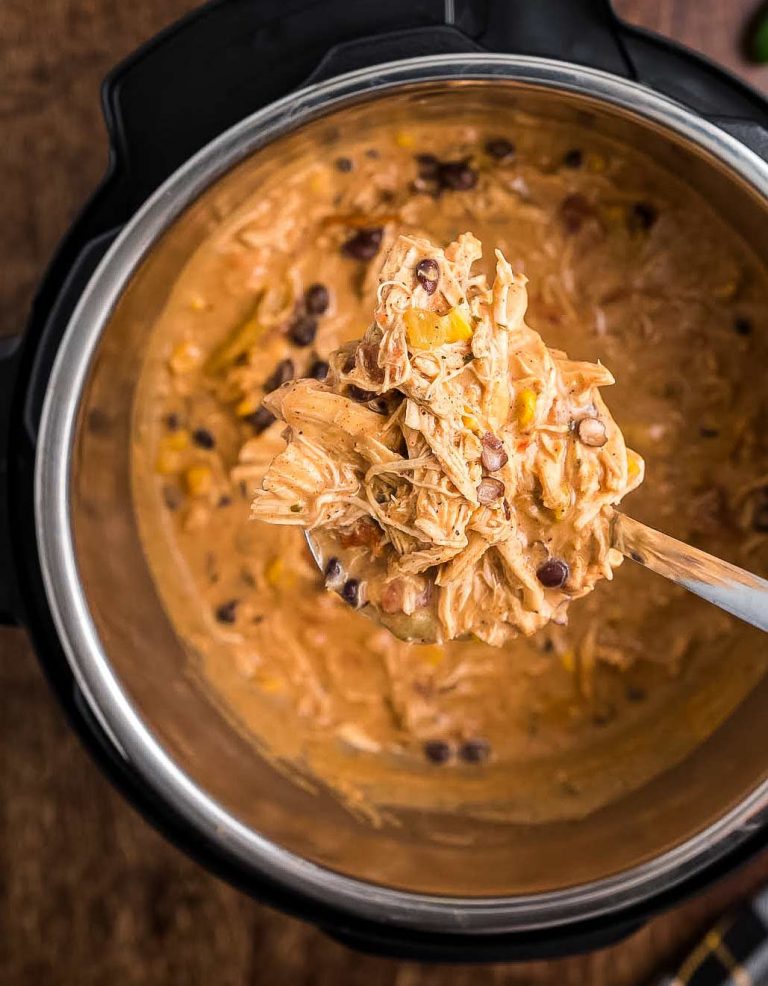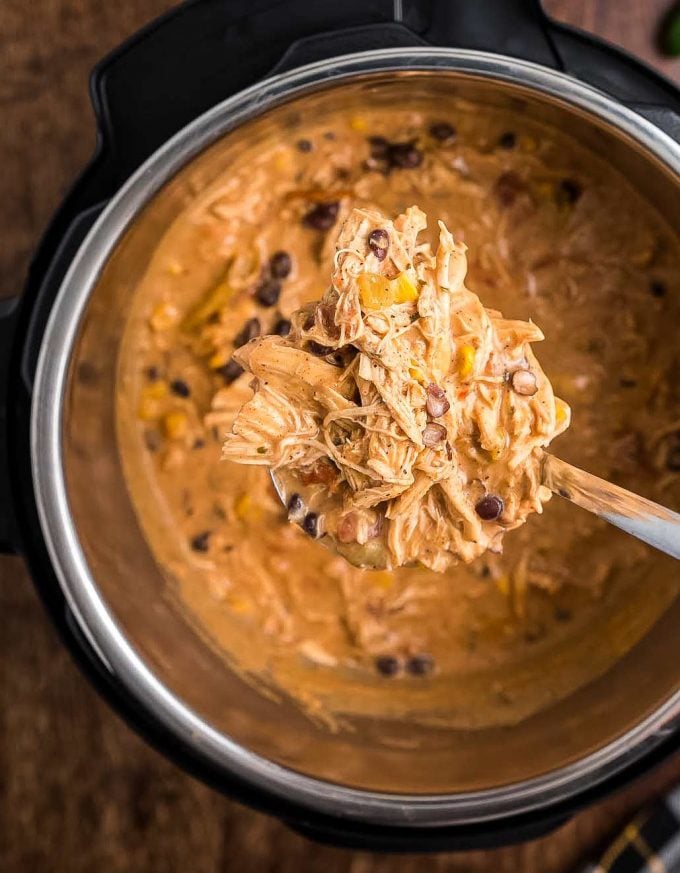 MAKING CRACK CHICKEN CHILI AHEAD OF TIME
As with most chili recipes, the leftovers are even better the next day, so you can absolutely make this chili ahead of time.
Make sure to cool it completely, then store in airtight containers.
STORAGE
Leftover chili should be refrigerated in an airtight container and consumed within 4 days.
FREEZING
Freezing chilis and soups with dairy in them can be tricky, as the dairy can sometimes separate during freezing and thawing process.
So while I don't recommend freezing leftovers, you can absolutely make this chili with the intention of freezing it.
There are two main ways:
Cook the recipe as directed, but leave out the cream cheese and shredded cheese (along with the cornstarch/water if using).  Let cool completely, then transfer to airtight freezer containers and freeze for up to 3 months. Thaw overnight in the refrigerator, then add the cream cheese/shredded cheese when reheating.
Add all ingredients (except for cream cheese, shredded cheese and cornstarch/water if using) to a resealable freezer bag.  Lay flat and freeze for up to 3 months.  Thaw overnight in the refrigerator, then add everything to the Instant Pot and proceed with the recipe as directed.

SPECIAL EQUIPMENT FOR THIS RECIPE
The following links are affiliate links.
The Chunky Chef, LLC is a participant in the Amazon Services LLC Associates Program, an affiliate advertising program designed to provide a means for sites to earn advertising fees by advertising and linking to amazon.com.  For more information regarding this program and what it means for you, please see my Privacy page.
Instant Pot – I recently upgraded to this model and I love it!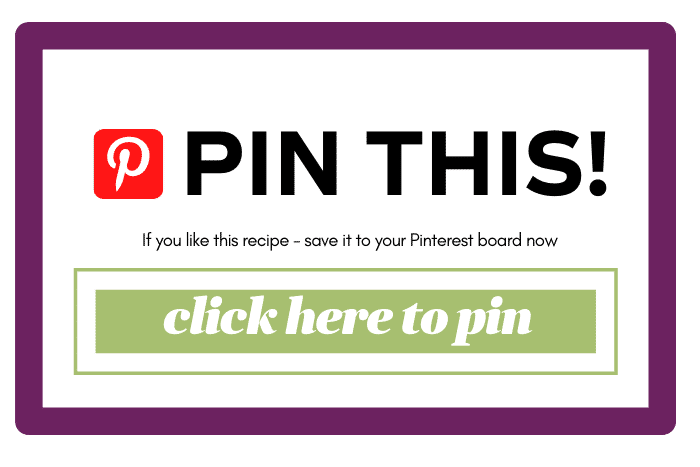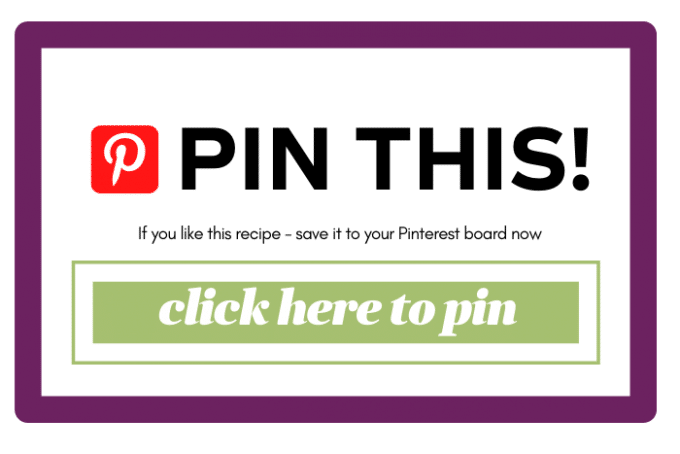 BE SURE TO SCROLL DOWN TO CHECK OUT OTHER READERS' COMMENTS FOR TIPS AND REVIEWS.
AND DON'T FORGET, IF YOU'VE MADE THIS RECIPE, LEAVE A COMMENT AND PLEASE GIVE IT A STAR RATING LETTING ME KNOW HOW YOU ENJOYED IT!
Did you make this? Be sure to leave a review below and tag me @the_chunky_chef on Facebook and Instagram!
Made with shredded chicken, beans, cheese, ranch seasoning and plenty of spice, it's the perfect weeknight dinner recipe the whole family will LOVE!
Ingredients
1 1/2 lbs. boneless skinless chicken breasts trimmed of excess fat
15 oz can black beans drained and rinsed well
9 oz can whole kernel corn drained
15 oz can petite diced tomatoes drained
4 oz can diced green chiles drained
6 slices bacon cooked and crumbled
1 oz packet ranch seasoning we like Hidden Valley
1 Tbsp chili powder
1 tsp ancho chile powder
1 tsp ground cumin
1 tsp onion powder
1/2 tsp kosher salt
1/4 tsp black pepper
1/4 tsp garlic powder
2 cups chicken broth reduced sodium is preferred
8 oz package cream cheese cubed and softened to room temperature
2/3 cup shredded cheddar cheese
2 Tbsp cornstarch optional - for a thicker chili
2 Tbsp cold water optional - for thicker chili
TOPPING IDEAS
additional cooked and crumbled bacon
additional shredded cheese
sliced green onions
minced fresh cilantro
slices of jalapeno
lightly crushed Fritos or tortilla chips
sour cream
Instructions
Add chicken to bottom of Instant Pot.  Top with black beans, corn, tomatoes, green chiles, bacon, Ranch seasoning, chili powder, chile powder, cumin, onion powder, salt, pepper, and garlic powder.

Pour in chicken broth.  Don't stir.
PRESSURE COOK
Secure Instant Pot lid, making sure it's set to "sealing".  Select Manual or Pressure cook and use the +/- buttons to select 15 minutes.

When timer beeps and pressure cooking is complete, perform a quick release by carefully moving the valve to "venting".  When the pin drops, remove lid.
SHRED CHICKEN
Use tongs to remove chicken breasts to a mixing bowl or cutting board and shred with two forks. Be careful when removing the chicken, as it will be very tender and may fall apart.
MAKE IT CREAMY/CHEESY
Select "Saute" on the Instant Pot and return chicken to pot.  Add cubed cream cheese and cheddar cheese and stir until both are completely melted into the chili.
THICKEN CHILI (OPTIONAL)
For a thicker chili, in a separate bowl, whisk cornstarch and water together until smooth.  Stir mixture into the chili and cook a few minutes, until thickened to desired consistency.
SERVE
Serve hot, with desired toppings.
Want to save this recipe for later? Click the heart in the bottom right corner to save to your own recipe box!
Chef Tips
SLOW COOKER DIRECTIONS
Add all ingredients (except cheddar cheese, and cornstarch/water if using), to slow cooker.
Stir, cover, and cook on LOW for 6-8 hours, or HIGH for 3-4.
Remove chicken to a bowl and shred.  Return chicken to slow cooker, stirring well to melt the cooked cream cheese into the chili.
Add cheddar cheese and stir to melt.
Serve with desired toppings.
STOVETOP DIRECTIONS
Increase chicken broth to 3 cups.  Add all ingredients (except cream cheese, cheddar cheese, and cornstarch/water if using), to dutch oven or large soup pot.
Cook over MED HIGH heat until chili comes up to a boil.  Once boiling, reduce heat to a simmer and cook for about 15-20 minutes, until chicken is cooked through.
Remove chicken to a bowl and shred.  
Add cream cheese and cheddar cheese and stir until it melts into the chili.
Return shredded chicken back to the pot, stir to combine, then serve with desired toppings.
Any nutritional information shared is an estimate, and is automatically calculated through a program.  If calorie count is important to you, I recommend running the ingredients through whichever online nutritional calculator you prefer.  Calories can vary quite a bit depending on which brands were used.

The Chunky Chef is not a nutritionist and doesn't provide full nutritional information for recipes as she wouldn't want to potentially and unknowingly pass along incorrect information.
If changing the recipe serving quantity, the recipe plugin will change the ingredient values for you, but it does NOT change the written instructions, those are manually added and not subject to a slider. You will have to extrapolate that multiplication to any amounts listed in the instructions.
For example: if an ingredient calls for 4 cups, and you doubled the recipe, it will automatically change to 8 cups. In the instructions, if I say "use 4 cups of cheese", you will have to realize that since you doubled it, you use 8 cups, not 4.