Pico de gallo is a fresh tomato salsa found on many Mexican foods. This recipe uses fresh, simple ingredients to make the perfect topping for tacos and more! This pico de gallo is perfect with chips, on tacos, nachos… just about everything!
Recipes like my Baked Mexican Rice and Roasted Salsa Verde are great for when you want restaurant quality food, made easily at home. We love hearty Mexican-inspired meals, and this is one of my Mexican recipes you'll definitely want in your dinner rotation!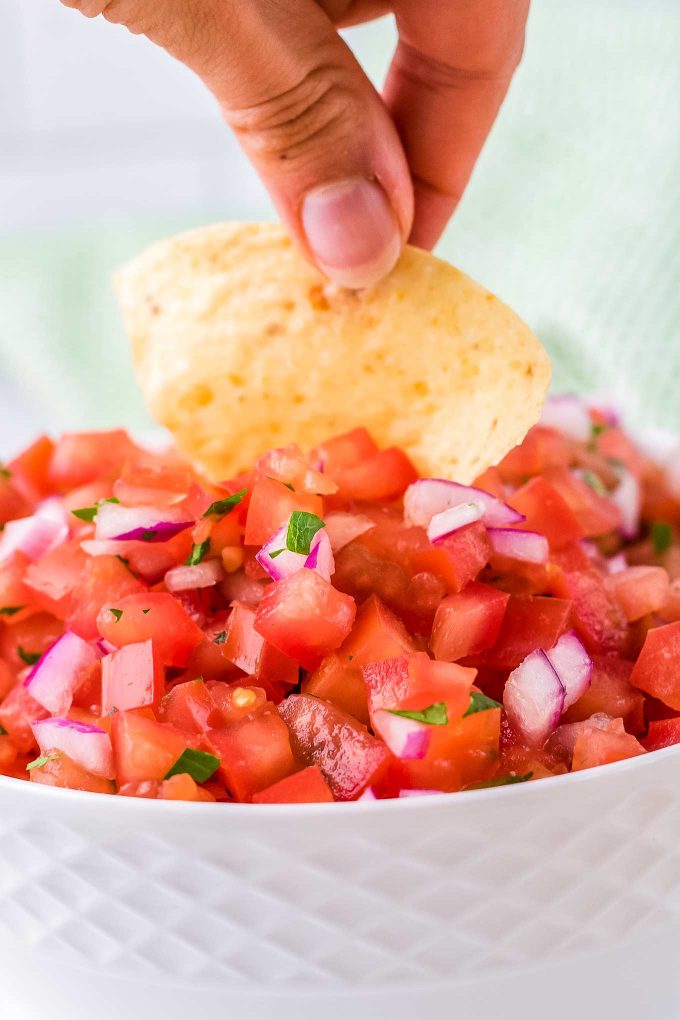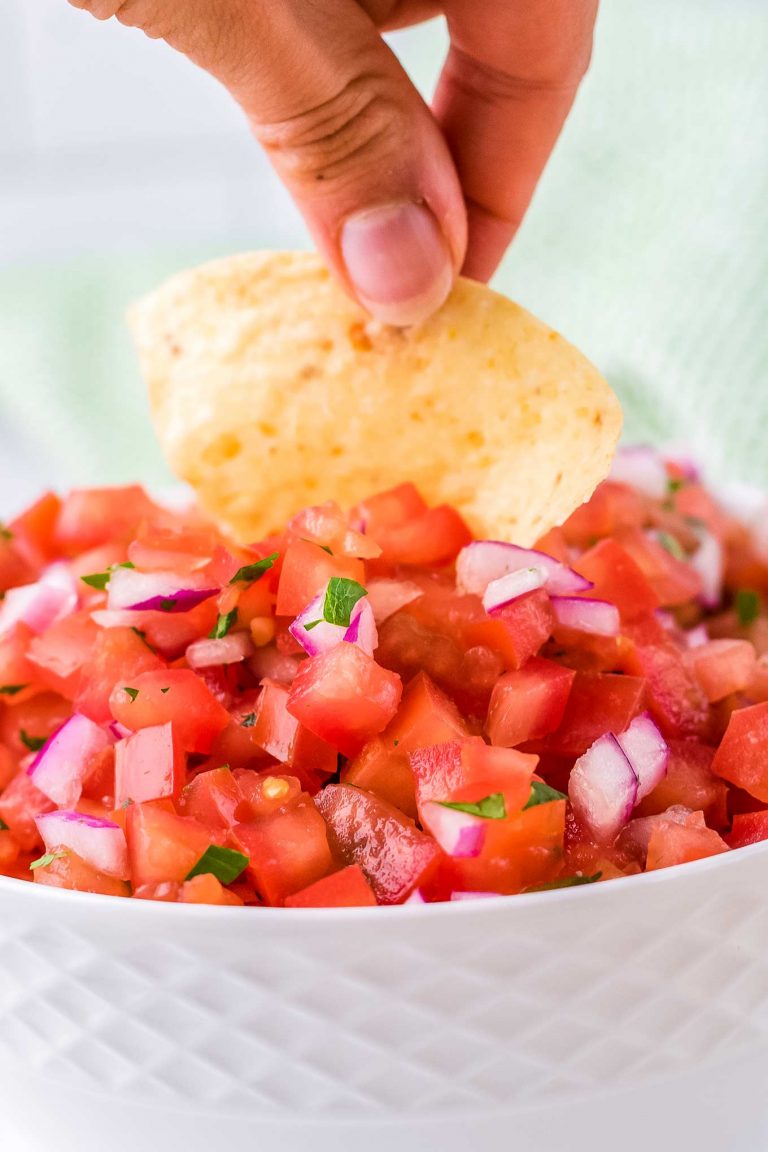 PICO DE GALLO RECIPE
Pico de gallo, also known as salsa fresca, is such a classic Mexican condiment.  I love how much flavor it packs into such a simple recipe.  5 common ingredients (plus salt and pepper) is all it takes to make the classic salsa.
In some ways, regular salsa and pico de gallo are similar.  They use a lot of the same ingredients!  But with pico the ingredients are chopped more coarsely and it's much less "wet".
Both delicious though!  If you're looking for a great tomato salsa recipe, try out this 5 Minute recipe!
I love the simple and fresh nature of pico de gallo, and it's such a great way to boost the flavor of any Mexican or Tex-Mex dish.  Tacos, nachos, enchiladas, chimichangas, quesadillas, or just on some tortilla chips… you really can't go wrong!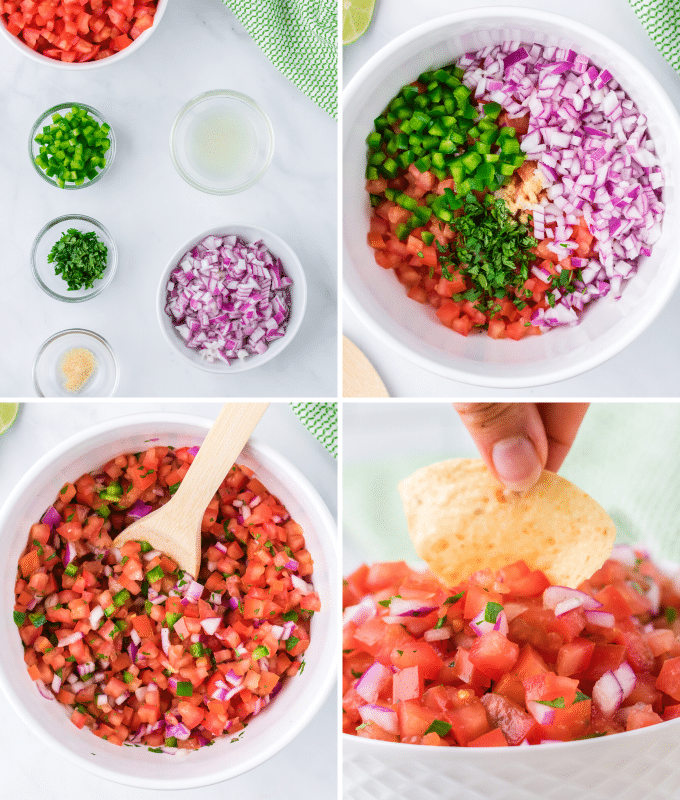 HOW TO MAKE PICO DE GALLO
You're going to laugh when you see how simple it is to make this amazing salsa.
Chop ingredients and add to mixing bowl.  I like to chop my ingredients pretty finely, so a bite of pico will have all the ingredients in it.
Stir to combine.  Stir gently so you don't squish the tomatoes too much, then either enjoy right away, or let it sit for at least 15-20 minutes for better flavor.
Just two easy steps!  You can do this, and once you try homemade salsa (of any kind), you won't go back to that store-bought stuff.
ADDITIONAL PREPARATION TIPS
USE THE BEST INGREDIENTS – since this is such a simple recipe (5 ingredients plus seasoning), it's only going to taste as good as the ingredients you use.  Unripe tomatoes just aren't going to make for a very tasty pico.  Look for the ripest tomatoes you can find, either from your garden, grocery store or farmers market (my personal favorite place to shop).
LET IT MARINATE – technically you can mix up a batch of pico de gallo and start eating it immediately, but it will taste SO much better if you let it sit for at least 15-20 minutes.  All the flavors really combine and it'll blow your mind.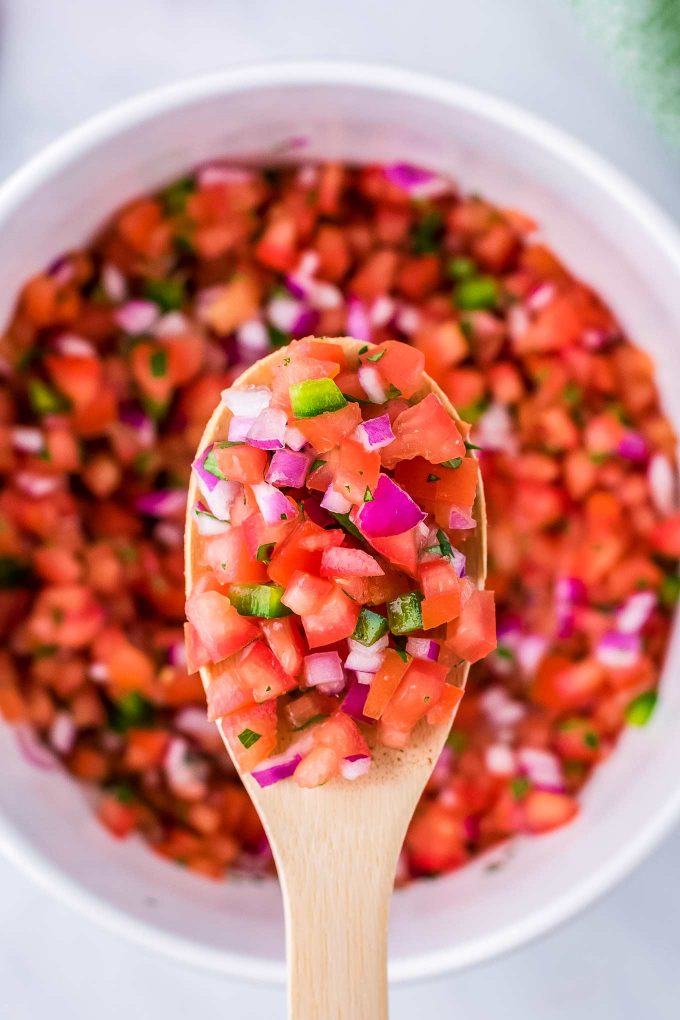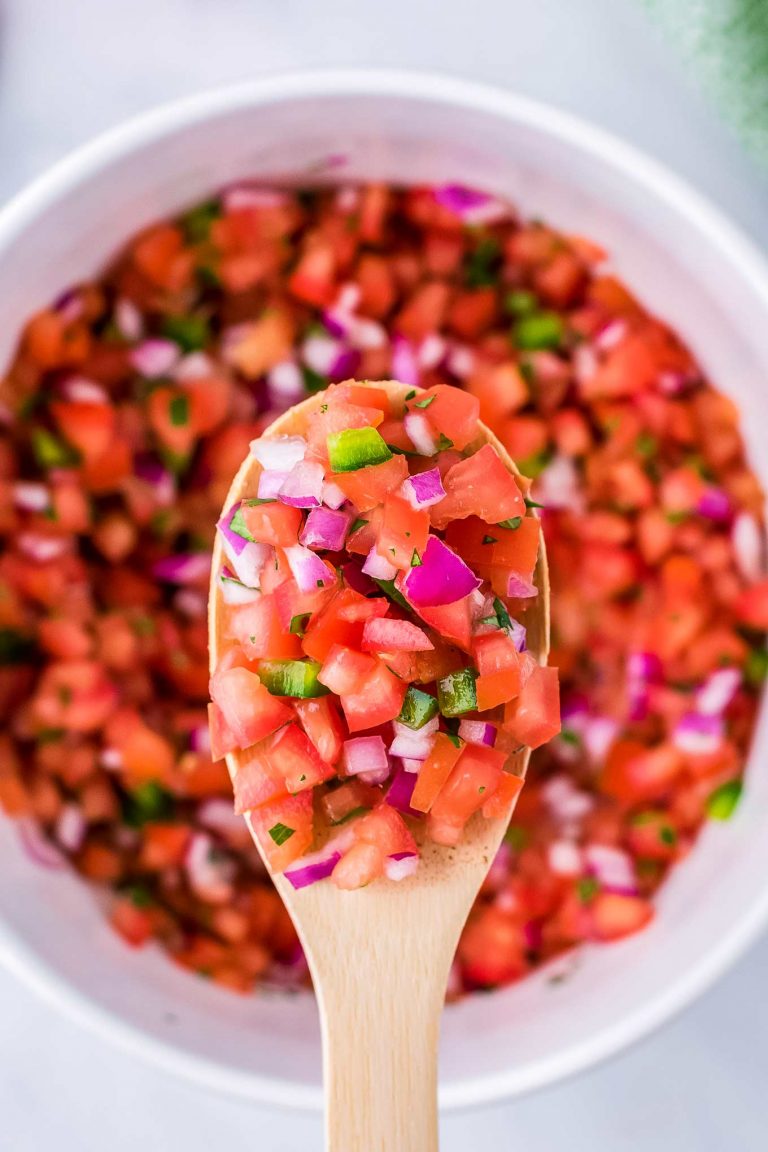 VARIATIONS OF THIS RECIPE
SPICY – My kind of folks!  Try leaving the seeds in the jalapeno, or using a serrano pepper.  You can also use more of the peppers.
MILD – As written, this is a fairly mild pico de gallo, but if you prefer no heat, you can omit the jalapeno and use a green bell pepper.
ONION – We like our pico with red onion, but a white (or even yellow) onion would work as well.
TOMATOES – I prefer roma tomatoes, since they're generally less watery, but you can make pico de gallo with any ripe tomato.
AVOCADO – adding some diced avocado to the pico gives it an almost buttery taste, and avocado is great in so many things.
GARLIC – I have an optional pinch of garlic powder listed in the recipe, but if you love garlic, go ahead and add a clove of minced garlic to the dish.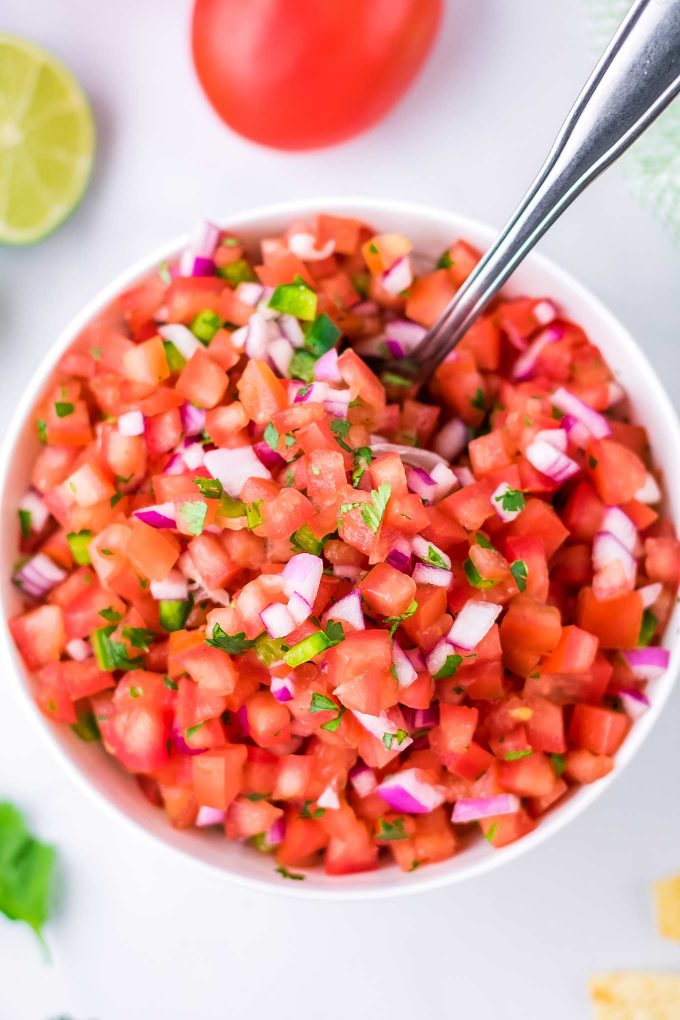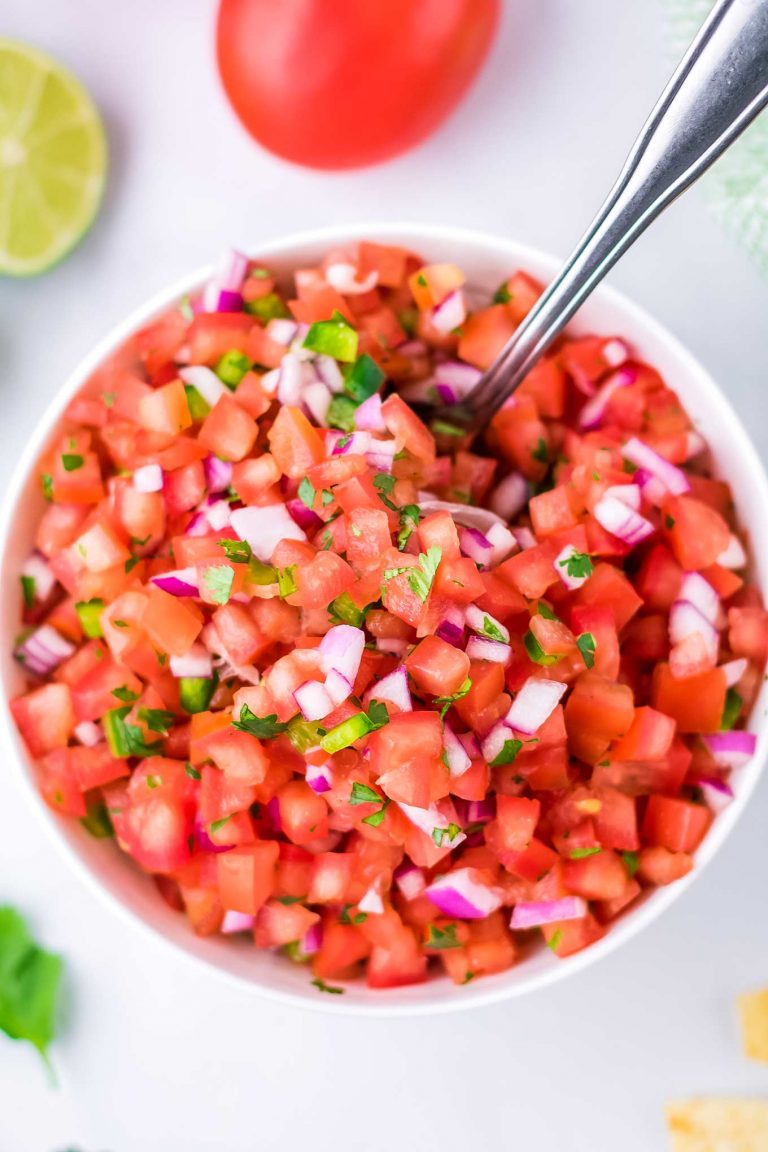 MAKING PICO DE GALLO AHEAD OF TIME
A lot of people like to make their pico de gallo right before dinner, but I'd rather make mine about 20 minutes ahead of time.  Granted, that's not much "ahead", but basically I make my pico before I start on the main dish that night.
Not only does this mean I have one less thing to do later, but the pico can marinate for 20 minutes or so, which results in a more flavorful salsa.
You can, however, make this pico de  gallo up to 1 day ahead of time.  Longer than that, and it will still taste good, but won't look nearly as appetizing.
STORAGE
Leftover pico de gallo can be refrigerated in an airtight container and consumed within 5 days.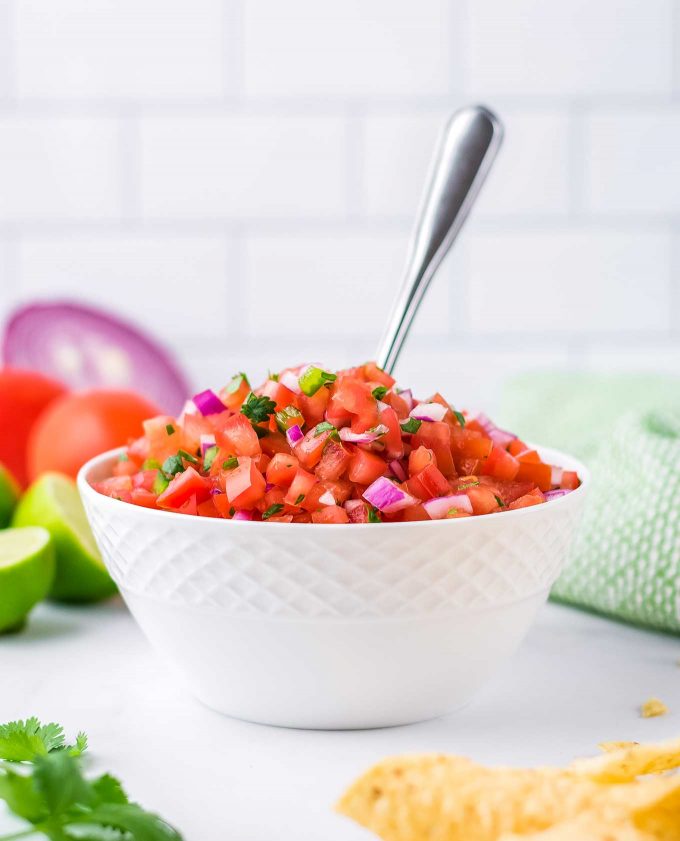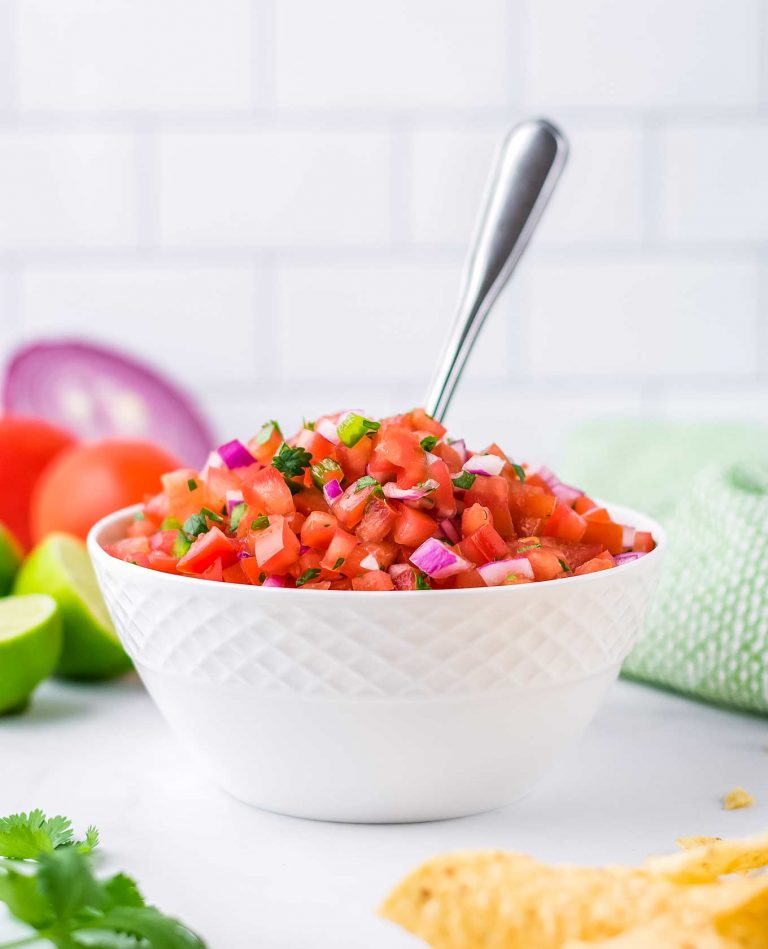 SPECIAL EQUIPMENT FOR THIS RECIPE
Mixing Bowl – no fancy tools here, just a lightweight and economical mixing bowl.


BE SURE TO SCROLL DOWN TO CHECK OUT OTHER READERS' COMMENTS FOR TIPS AND REVIEWS.
AND DON'T FORGET, IF YOU'VE MADE THIS RECIPE, LEAVE A COMMENT AND PLEASE GIVE IT A STAR RATING LETTING ME KNOW HOW YOU ENJOYED IT!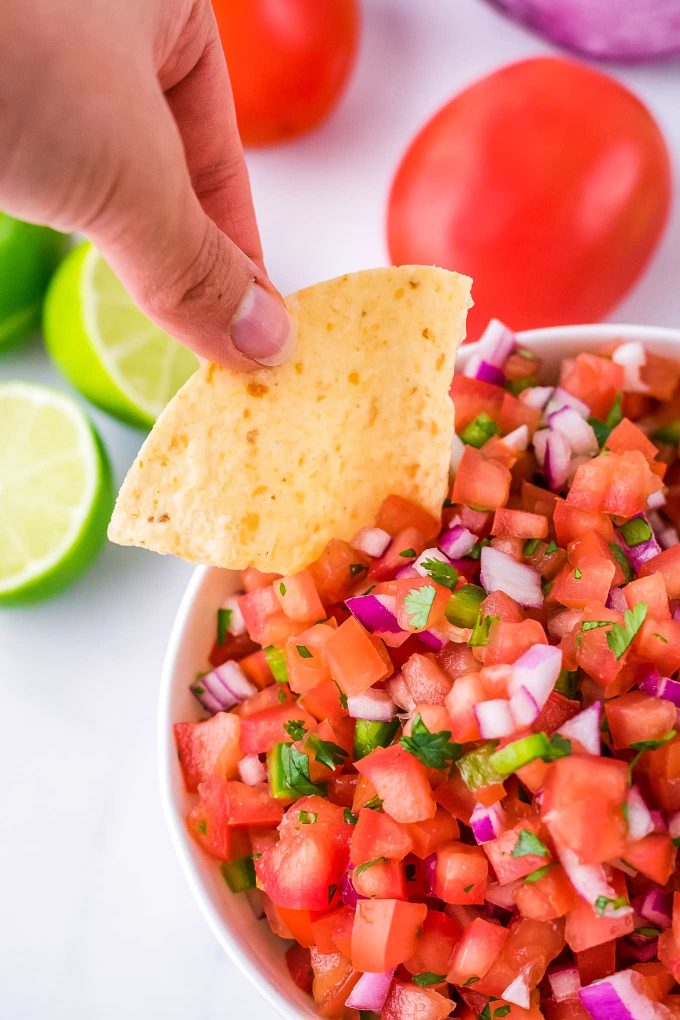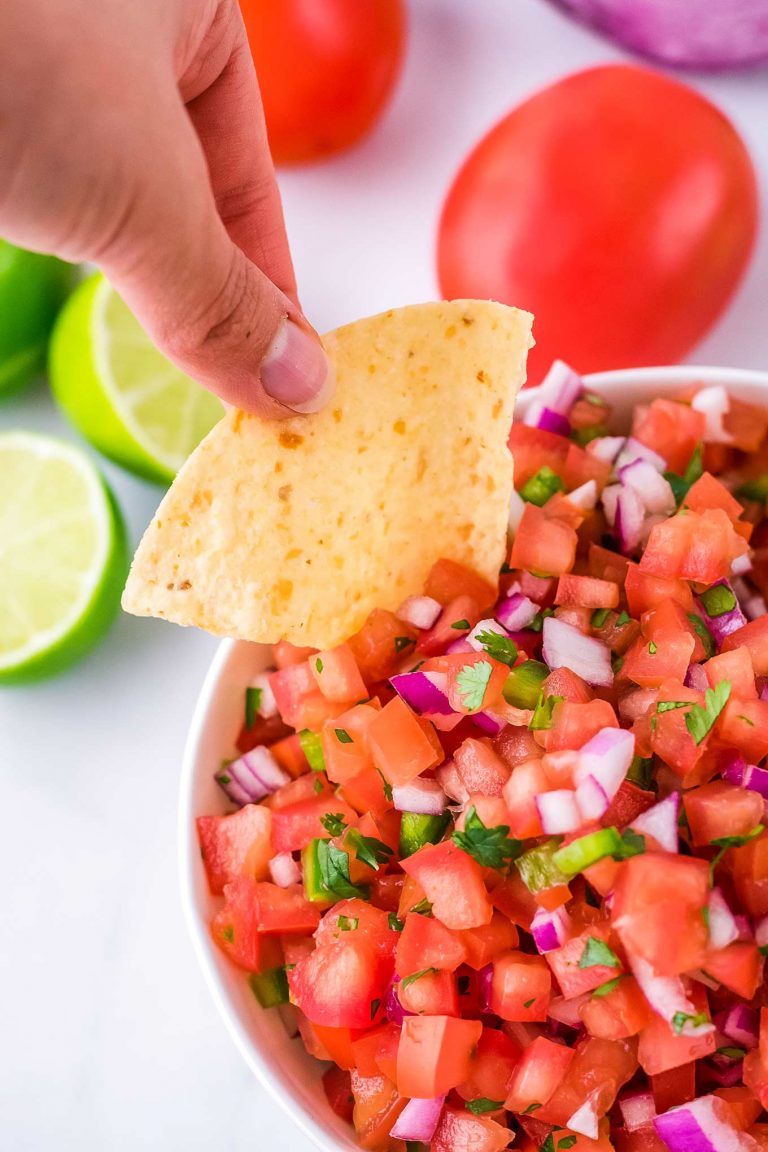 Did you make this? Be sure to leave a review below and tag me @the_chunky_chef on Facebook and Instagram!
Bright and fresh, this pico de gallo is perfect with chips, on tacos, nachos... just about everything!
Ingredients
7 roma tomatoes, seeded and diced
1 cup red or white onion finely diced
1 fresh jalapeno seeded and finely diced
1/3 cup fresh cilantro minced
1/4 cup fresh lime juice
3/4 tsp kosher salt
pinch black pepper
pinch garlic powder (optional)
Instructions
Combine all ingredients in a large mixing bowl, stirring gently.

Cover with plastic wrap and refrigerate for at least 30 minutes, or up to 3 hours.

To serve as a dip, give it a quick stir and you're ready to go. To serve as a salsa on top of Tex-Mex foods, serve with a slotted spoon to prevent too much watery liquid getting on your meal.
Want to save this recipe for later? Click the heart in the bottom right corner to save to your own recipe box!
Chef Tips
Think of this recipe as more of a method, and change up the amounts of the ingredients to your tastes.  Like less onion flavor, decrease the amount.  Prefer more lime, add some more juice.  It's very flexible and the amounts will likely vary from person to person.
Nutrition Disclaimer
The Chunky Chef is not a dietician or nutritionist, and any nutritional information shared is an estimate. If calorie count and other nutritional values are important to you, we recommend running the ingredients through whichever online nutritional calculator you prefer. Calories can vary quite a bit depending on which brands were used.