Blackened Tilapia Taco Bowls
Who loves seafood?  Honestly, confession time…. I don't.  Eeeeek!  Or at least, I thought I didn't.  This Blackened Tilapia Taco Bowl changed my mind… big time 🙂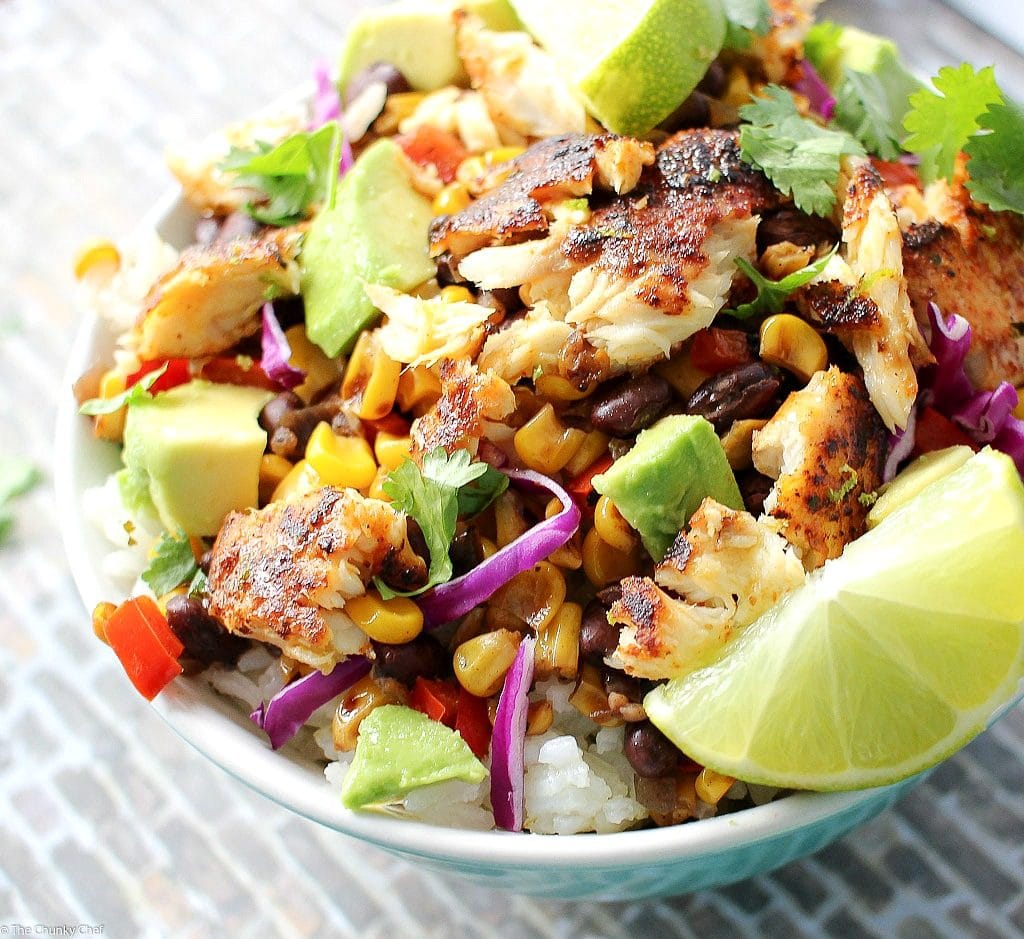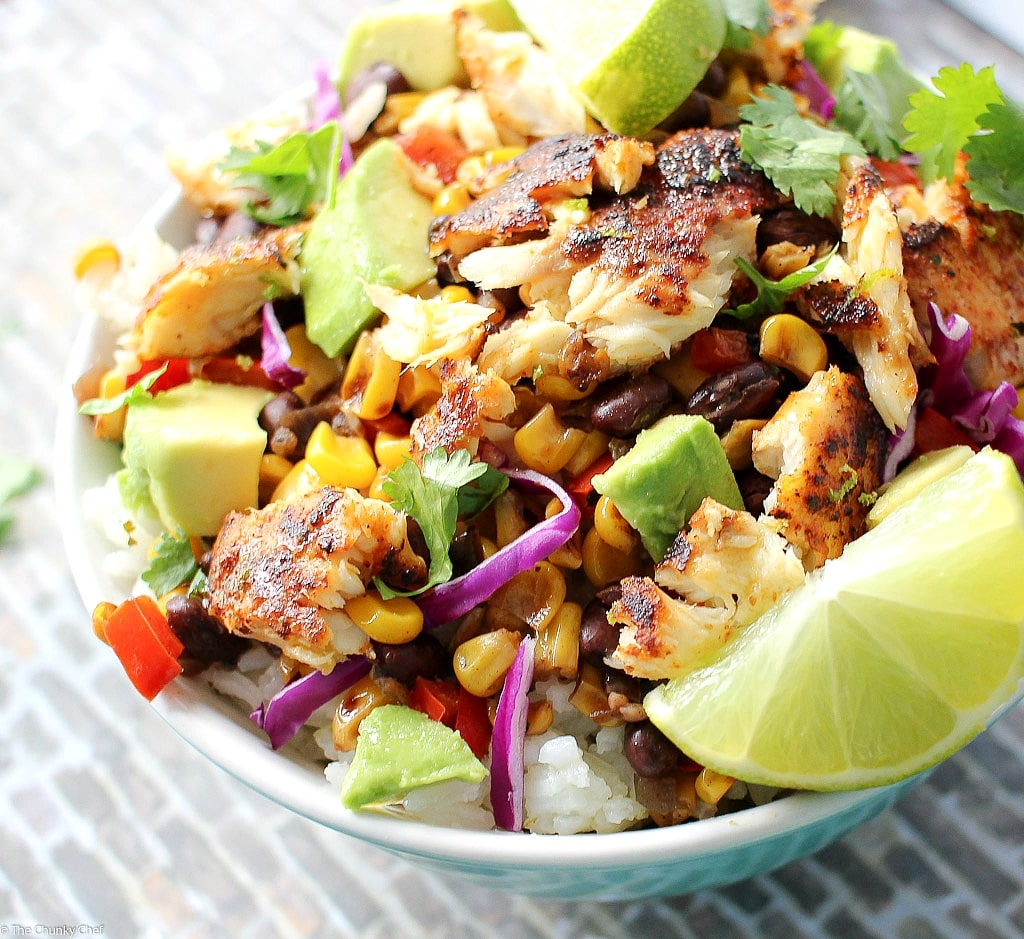 Look at all those pretty colors!  The freshness of these bowls is just amazing.
You can make fish taco bowls with any type of fish that you like, although I would recommend that it's a white, flaky fish… tilapia, cod, etc.
Living in Ohio, there's not exactly a huge abundance of fresh seafood lol.  And I think that's been my problem… when I'd tried fish in the past, it was frozen and/or not very fresh, and just tasted… well, not good.  So this time, we picked up some fresh tilapia filets from the seafood counter.  Ohhhh man, they were awesome!  They didn't smell, or taste, fishy at all.
You can season these any way you like, but I chose a simple blend of chili powder, cumin, cayenne pepper, smoked paprika, onion powder and oregano.  I seasoned them pretty liberally (I wanted that spicy crust on the outside), but feel free to do less seasoning if you'd like 🙂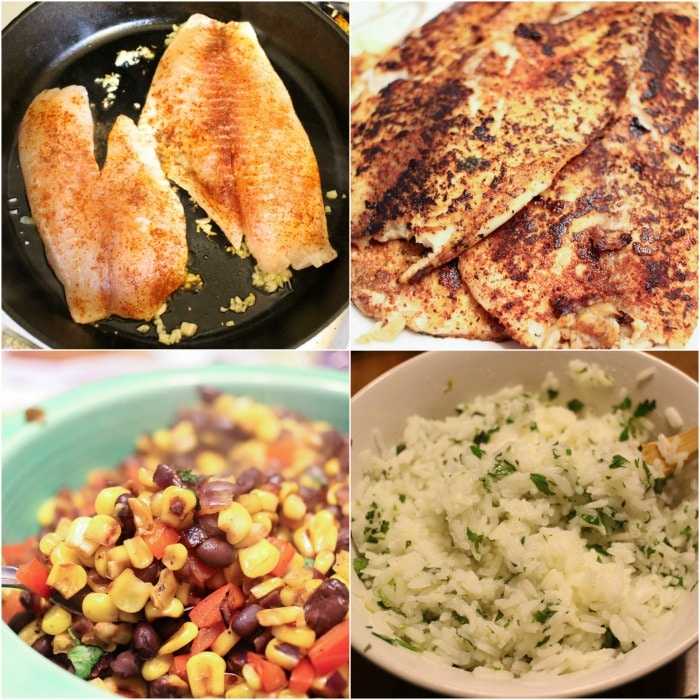 What you see in those photos are the main ingredients I chose for this recipe.  Obviously the tilapia, then some roasted corn, black beans, and red peppers, and my fresh and light Cilantro Lime Rice.
I cooked the fish by heating a large cast iron skillet to medium high heat, then adding a drizzle of olive oil and the minced garlic.  I cooked the tilapia filets, 2 at a time (don't want to overcrowd your pan or you won't get that great crust).  Once you place the filets in the pan, don't move them.  That will allow the fish to really sear and get that fantastic dark golden color.  Cook them for about 2-3 minutes, then carefully flip the fish over and cook on the other side for another 2 minutes or so.  You want the fish to be fully cooked, meaning all white, and flaky.  Remove them to a plate and cook the second batch of fish, removing them to the plate when finished.
Now add your chopped red onion, diced red bell pepper and corn kernels to the pan, spread into an even layer and let them sit for 1-2 minutes.  Don't stir them right away, you want them to caramelize a little.  Continue stirring then letting the veggies caramelize until they are roasted and caramelized.  Add in your black beans and cook another minute.  Remove to a bowl.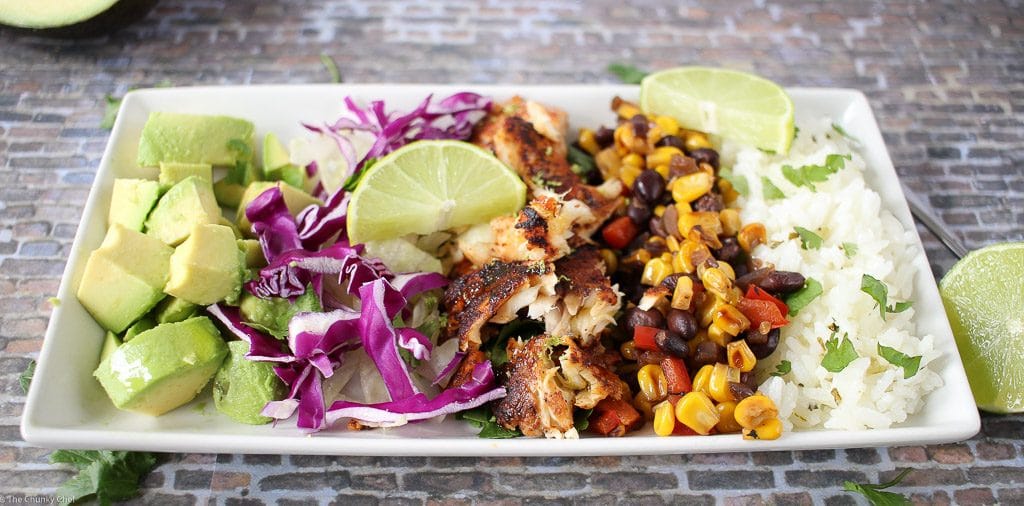 You're ready to serve!  You can lay all your ingredients out like this, and grab bits from each section, or toss it all in a bowl and go to town… your choice 🙂  The toppings are also all up to you.  I chose diced avocado (when do I not… I swear I'm addicted lol), shredded lettuce and purple cabbage, roughly chopped cilantro leaves and a splash of fresh lime juice.  You could also add some sour cream, shredded cheese, salsa, tomatoes or pico de gallo.  It's your meal, so your choice 🙂  Ooooh, you know what would be great on this?  My Honey Lime Cilantro Sauce or Avocado Cream Sauce!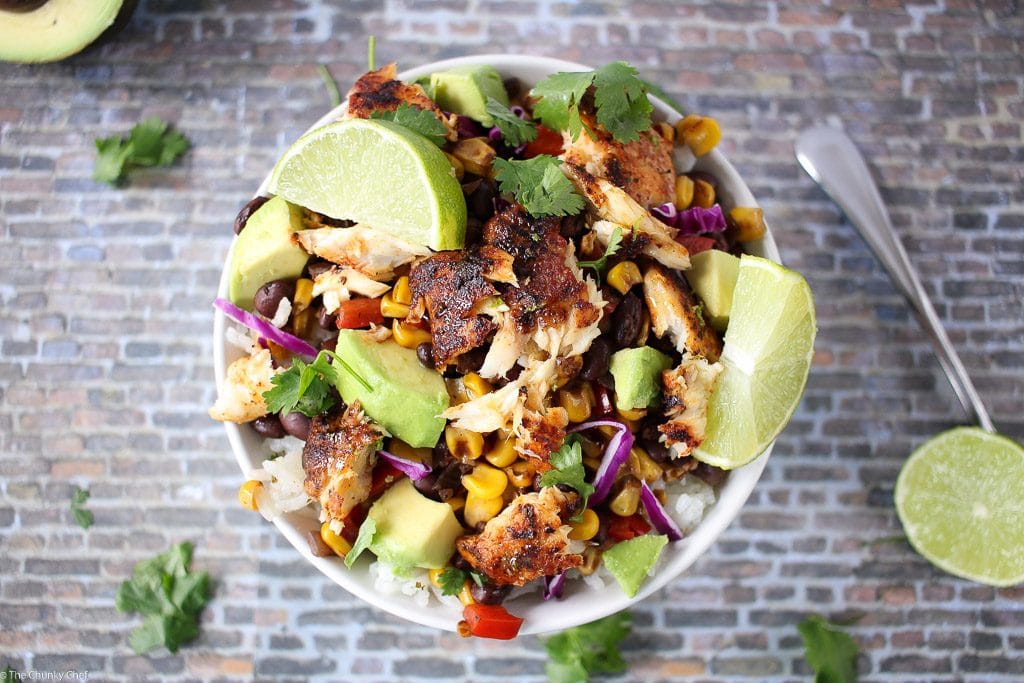 I love how simple this meal is to make, and customize.  You could make it even healthier by serving it over brown rice instead of the cilantro lime 🙂  I just love the extra boost of flavor you get from the rice.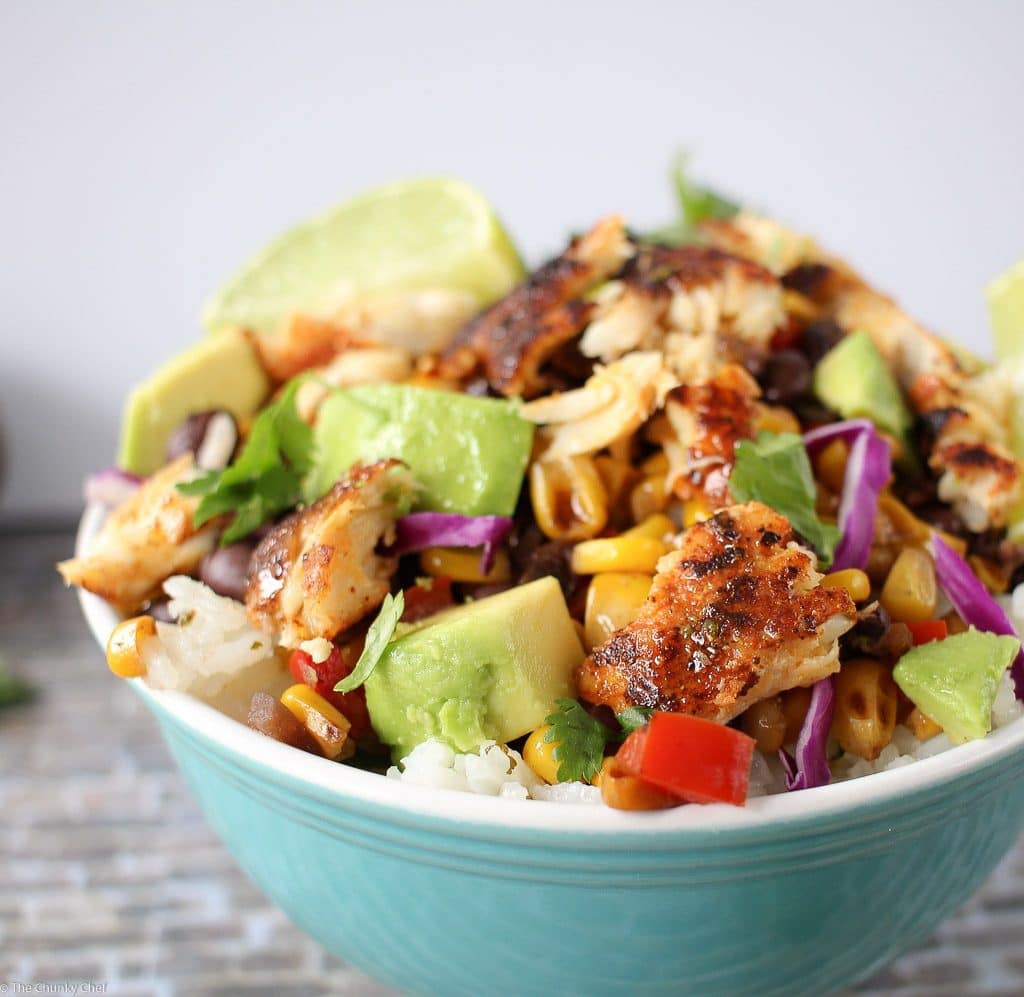 Fish not your thing?  The same spice mixture would be fantastic with thin cut chicken breast, shrimp, even pork.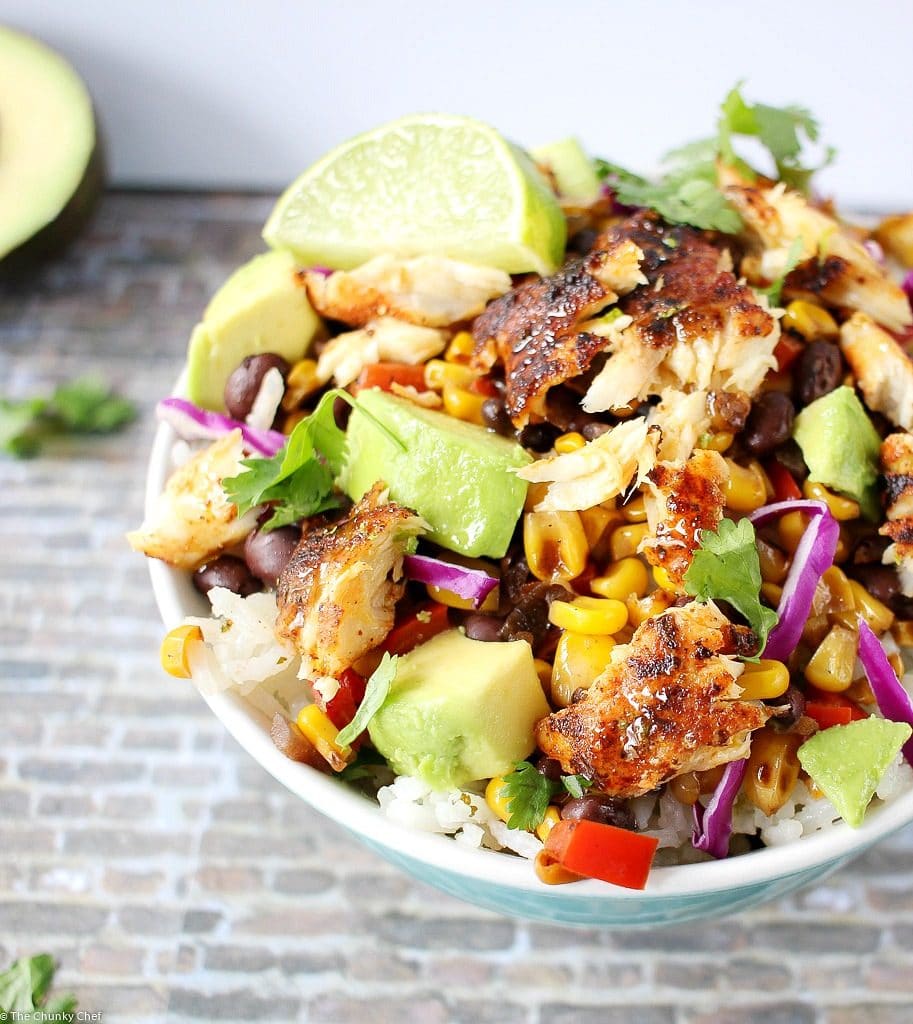 You could also take all the same ingredients, prepared the same way and add them to a corn or flour tortilla to make a killer fish taco!  If you do this, please try my Homemade Flour Tortillas, the flavor is just incredible!  Or you could toss the ingredients on a bed of romaine lettuce and have a salad.  Don't you just love having options?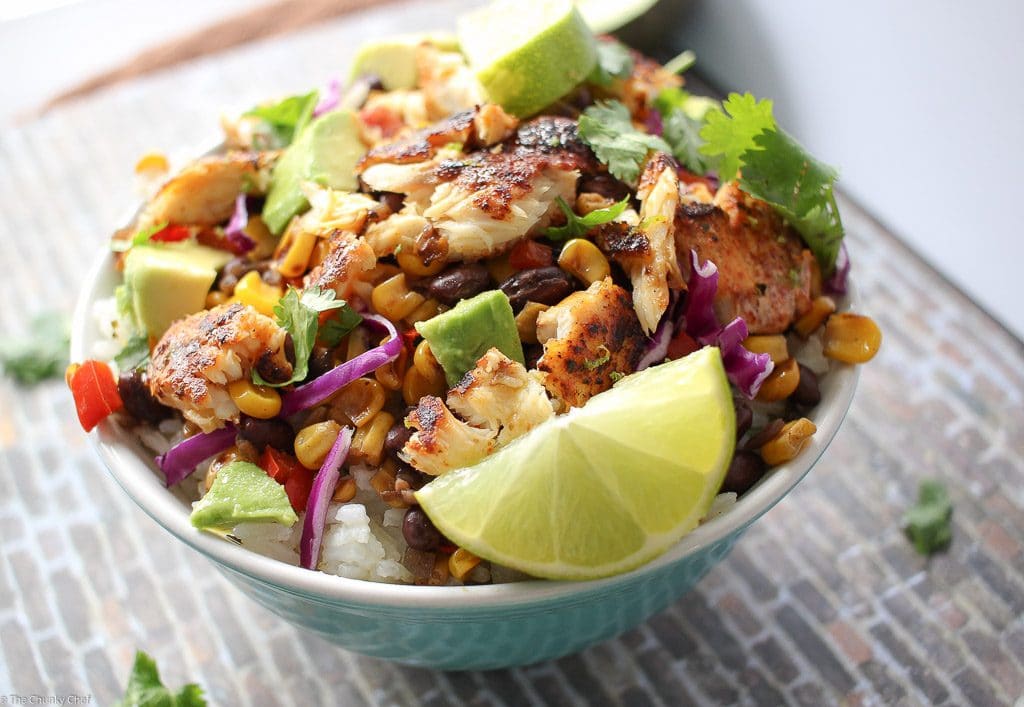 Dinnertime!!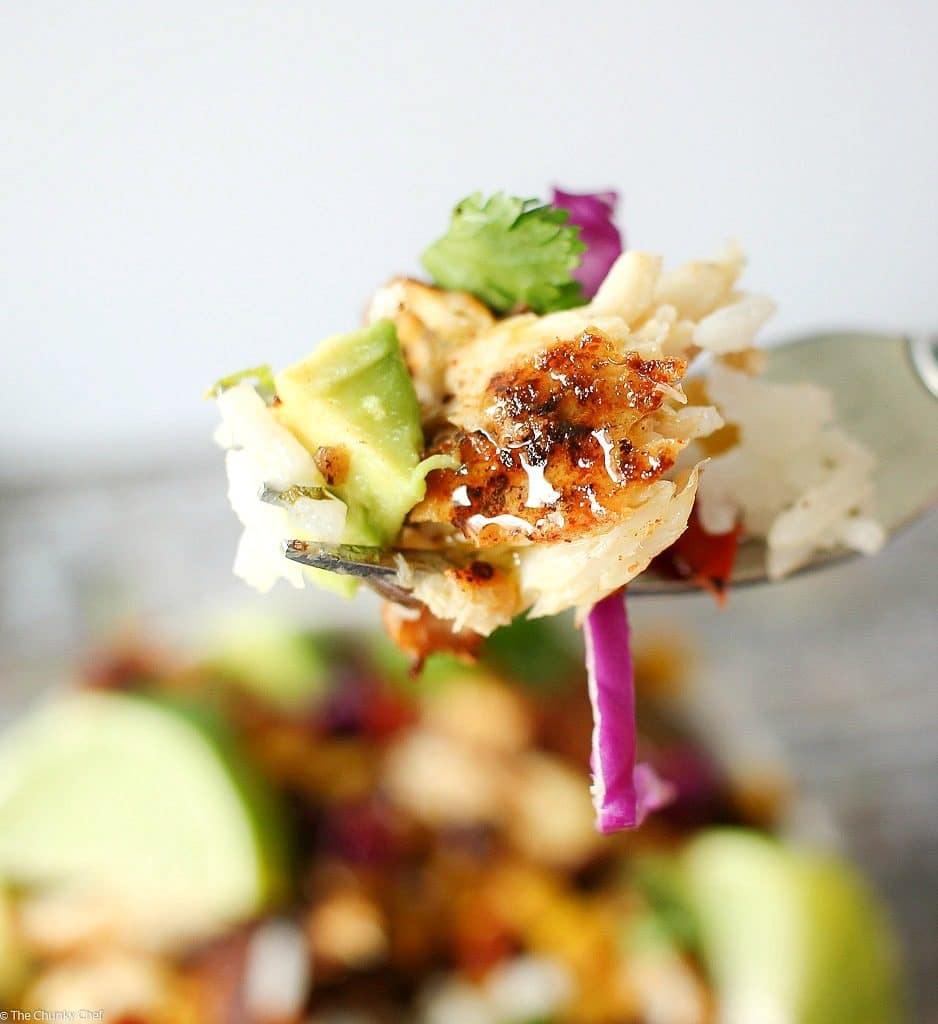 I hope you try this one guys… it's a great way to get your tastebuds ready for Spring 😀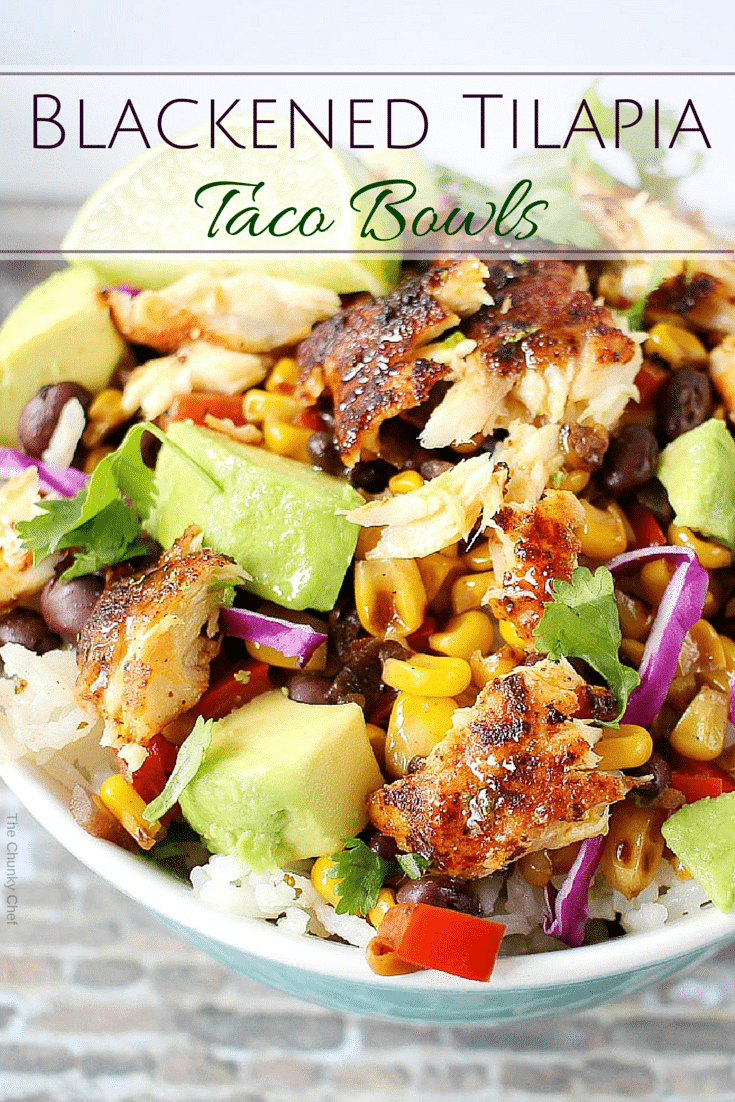 Recipe adapted from Pinch of Yum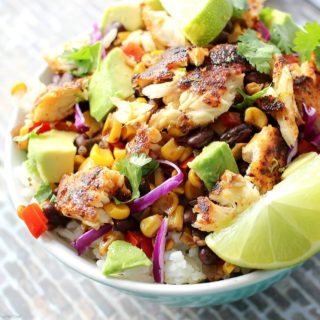 Blackened Tilapia Taco Bowls
Taco bowls get a healthy twist with the addition of spicy blackened tilapia filets, garnished with buttery avocados and a splash of fresh lime juice!
Print
Pin
comment
Servings: 6 servings
Ingredients
1 Tbsp chili powder
1 Tbsp cumin
1/2 tsp cayenne pepper
1/2 tsp smoked paprika
1/4 tsp onion powder
Pinch of oregano
Zest of 1 lime
4 tilapia filets or other white fish filet of your choice
3 cloves garlic minced
1 cup frozen corn kernels thawed (fresh corn from the cob would be awesome)
1 small red onion diced
1 red bell pepper diced
1 can black beans drained and rinsed
2 cups cooked cilantro lime rice
Fresh cilantro diced avocado, shredded lettuce, shredded purple cabbage, lime wedges
Instructions
Combine spices in a small dish. Sprinkle seasonings over tilapia filets, season with salt and pepper, rubbing the spices into the fish.

Heat a large cast iron skillet to medium high heat with a drizzle of olive oil. Add minced garlic and saute for about 20 seconds, then add in your tilapia filets. Careful not to add too many and crowd your pan, I cooked just 2 filets at a time. Once you add your fish, don't move them around, let them really sear. Cook for 2-3 minutes, then flip and cook another 2 minutes or so. Check to be sure fish is completely cooked (fish will be completely white and flaky throughout). Remove to plate and repeat with additional fish filets. Sprinkle fish with lime zest.

Add a drizzle of olive oil, corn, red onion and red bell pepper to the same skillet. Cook for 1-2 minutes without stirring to allow them to roast and sear. Then stir and let them cook again another couple minutes until vegetables are tender and caramelized.

Add in drained and rinsed black beans and heat for 1 minute.

To serve:

Add 1/3 to 1/2 cup

cilantro lime rice

to a bowl and top with the corn/beans/pepper mixture, pieces of blackened fish, and any toppings you desire.
Notes
** Additional toppings could include shredded cheese, sour cream, chopped tomatoes, salsa, or pico de gallo. ** Additional ways to serve would be laid out on a plate, mixed together in a bowl, in a soft taco, on a salad, or with shrimp, chicken or pork.
Are We Friends on Pinterest?
Follow me for more great recipes! The Chunky Chef!